Customer service apps are great. They help us communicate with customers very easily, and engage them effectively, all while staying under budget.
Unfortunately, a customer service app will only be effective as long as it's good for you, your company, and your customers.
Here are over 15 customer service apps your CS team will love, their pros and cons, and the platforms they're available for.
Let's get started.
How to Pick the Customer Service App That Suits Your Business
Don't know how to choose between apps? Don't worry. Just review the following aspects of each app to see which app is best for you.

Pricing
The best app should not only be one you can afford but one that will save you more time and money than it costs.
Some platforms have a forever-free tier, a limited tier they'll never be charged for. They're great for individuals, small businesses, and startups, since the tool can grow along with their needs.
We'll use terms like "averagely priced" and "above the industry's standards" to give you an idea of where they stand compared to the rest.
Features
Ask yourself two questions: "What are my current needs?" and "How can this tool solve them?".
The best features aren't the flashiest or most complex, they're the ones that will make everyone's job easier, regardless of their position. Make a list of "must-have features" and "nice-to-have features" to differentiate between the most pressing needs.
When you've chosen your tool, write down how you expect the tool to integrate into your process, and use the free trial to see how successful the app was in achieving those goals.

Integrations
Which tools are you already working with? How should your new tool interact with your current system?
For example, you may have a CRM already, so it would save you time if you could "sync" it with your email platform.
Measure how much time you'd save if you had that integration to figure out which ones make more sense to prioritize.

Best Customer Service Apps That Will Streamline Your CS Processes
Here are the best customer service apps that your customer service team will love:
All-in-One Customer Service Apps
All-in-one customer service apps can handle most or all of your messaging and customer needs. Using a tool that's built to have its features work together can save you time and money.
Here are the best ones:
Messagely – Best all-in-one customer support tool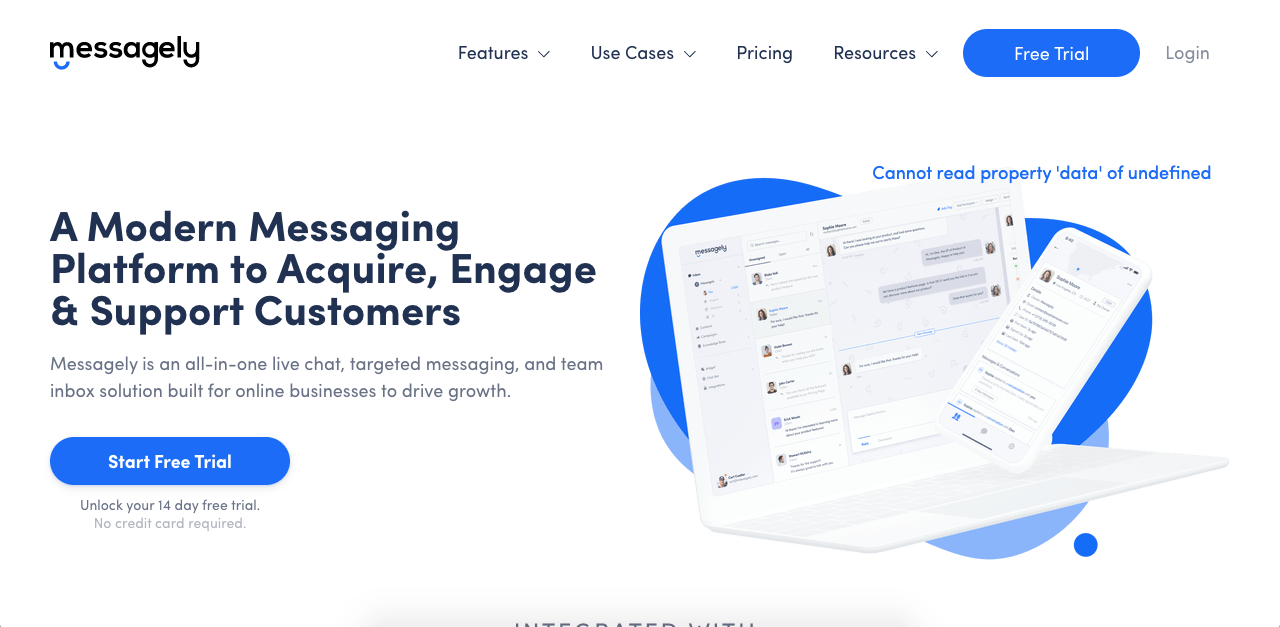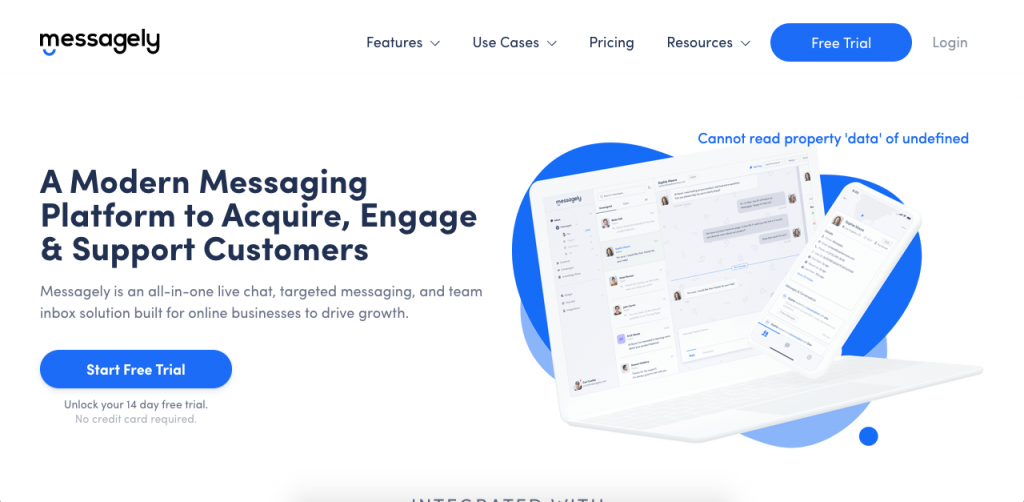 Messagely is a powerful, all-in-one customer support solution that combines all the features you need with a price you can afford. With Messagely, you can develop strategies and connect with your customers through automated messages, easy segmentation, and powerful integrations.
Messagely takes care of your customers at every step of the process, helping you onboard new customers, track customer engagement efforts, and consolidate all of your customer service channels.
Plus, it's so easy to use, you'll be training new customer service representatives in no time.
With Messagely, you get an easy-to-use live chat, ticketing system, shared inboxes, knowledge bases, and many other features. You can also integrate it with tools like Salesforce, Slack, Pipedrive, Shopify, Google Analytics, Zapier, and many more to streamline your customer happiness processes.
If you want a simple, powerful, all-in-one app, try Messagely.
Pros
Very easy to use and install
Works with the tools you're already using
Powerful tool at a lower price than separate tools
Integral approach to customer service
Priced below the industry's standard
Cons
No mobile apps (currently under development)
Apps:
Mobile app only
Start your free trial today.
Intercom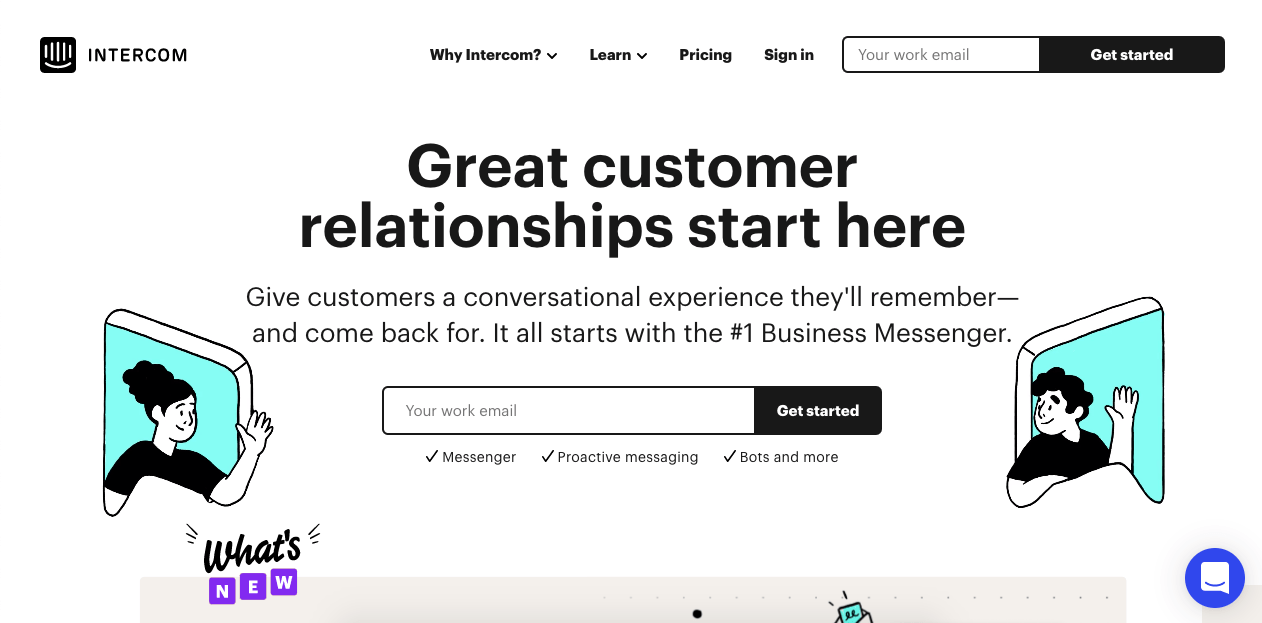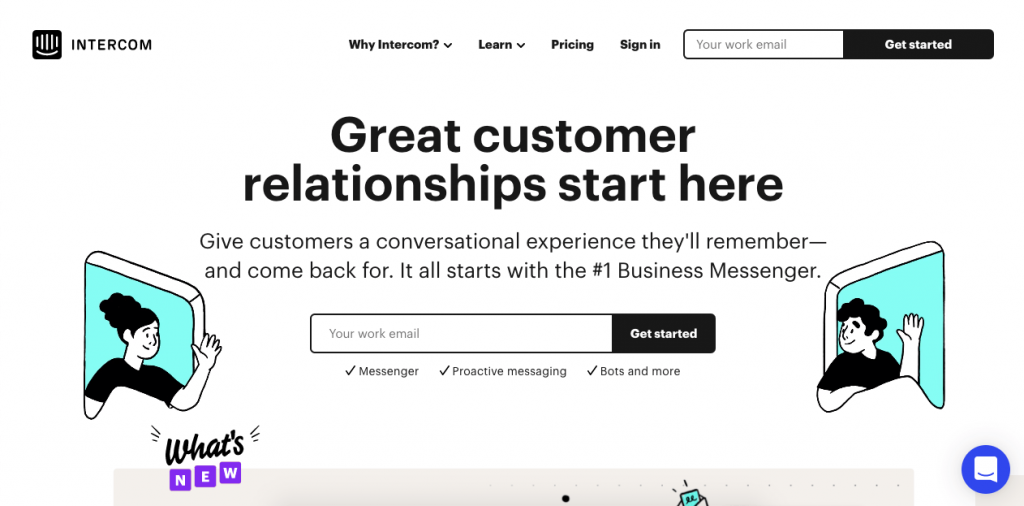 Defining itself as a Conversational Relationship Platform, Intercom is another popular customer service solution.
The app is easy to use, with an effective ticketing workflow and good automations, including assignment rules and chatbots. However, Intercom's best features are locked behind the most expensive pricing plans. If you only want to use the basic plans, you may be spending more than average.
It's a good tool for companies in need of advanced features and with a large enough budget to pay for them.
Pros:
Good support system
Simple automations
Great UI
Advanced features available
Cons:
Best features only come with very expensive plans
Basic plans priced above the industry's standard
Confusing pricing structure
More expensive than other options
Apps:
Web and mobile apps
Help Scout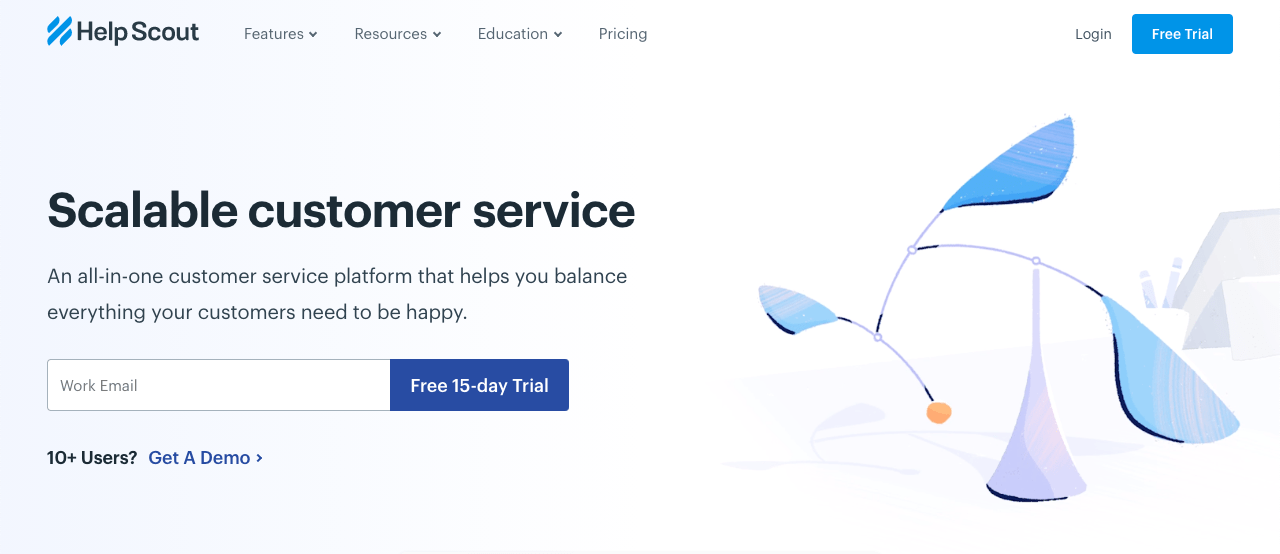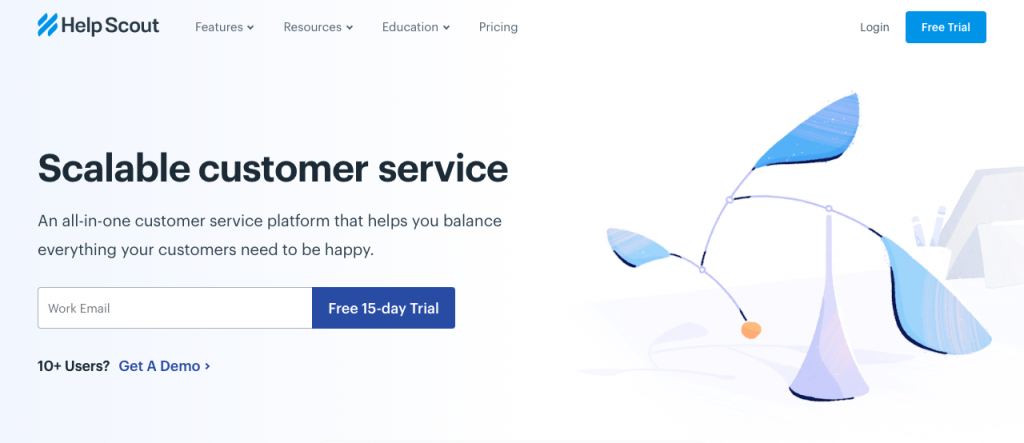 Help Scout is another all-in-one customer service suite, with features like live chat, help desk, knowledge bases, and more.
The platform has great reporting capabilities that can help managers stay involved with their teams, even if they're not always together. Although the capabilities of this platform are great, its workflow functionality is lacking, so it's probably not a good option for anyone looking for powerful automation capabilities.
Pros:
Great customer support
Very easy to use
Fairly affordable
Reliable features
Cons:
No customizable interface
Lacking workflow functionality
Lacking reporting
No automation rules and macros
Apps:
Web and mobile apps

Help Desk Apps
Help Desk Apps help you with customer care to issue and manage customer requests and other issues.
Here are the best options:
Messagely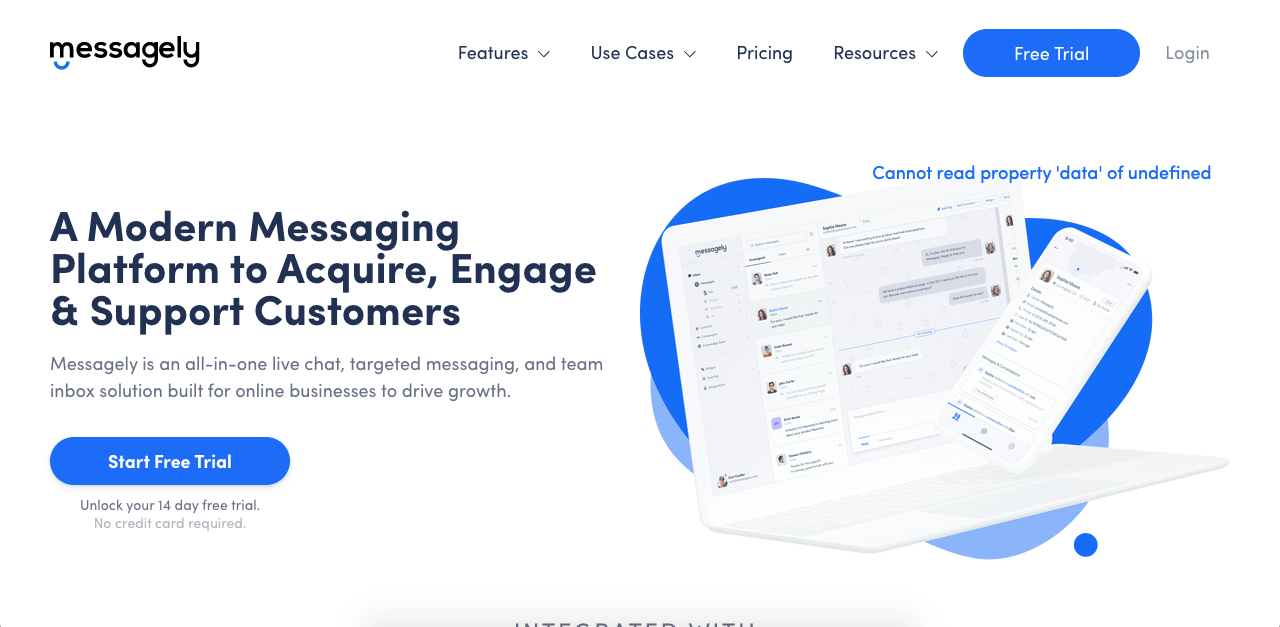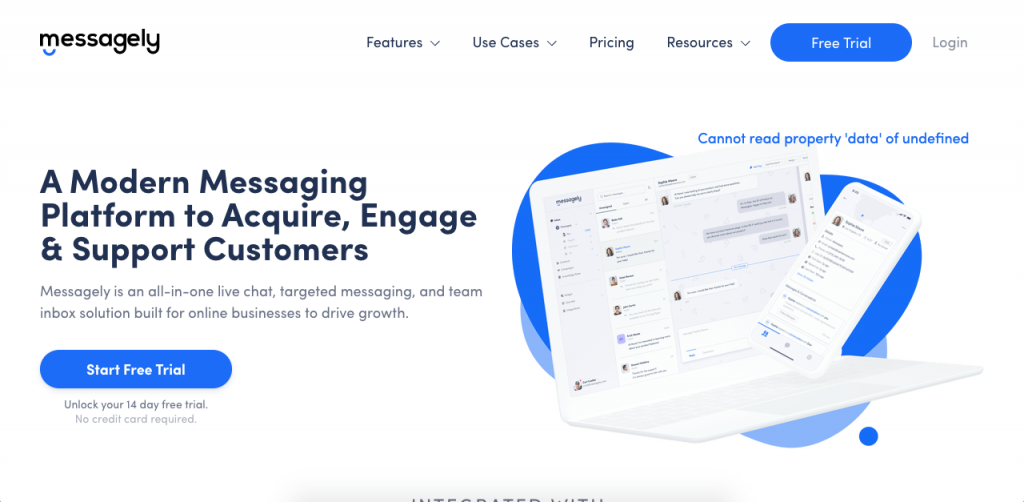 Messagely is a powerful solution for all your customer communications, including help desk.
With Messagely, you get an easy-to-use live chat to kickstart your ticketing system. Messagely also integrates with other Calendly, HubSpot, Outlook, Stripe, and Zapier.
Messagely does more than create tickets. In this platform, you can also find solutions like knowledge bases and integrated inboxes so you can offer the best customer service.
If you want a full help desk software that seamlessly works with a live chat, powerful chatbots, and anything else you require to communicate with your customers, Messagely is the right tool for you.
Pros
Works with the tools you're already using
Very easy to use and install
Integral approach to customer service
Cons
Best for users aiming to solve all their customer service needs, not those simply looking for help desk features
Apps:
Mobile app
JIRA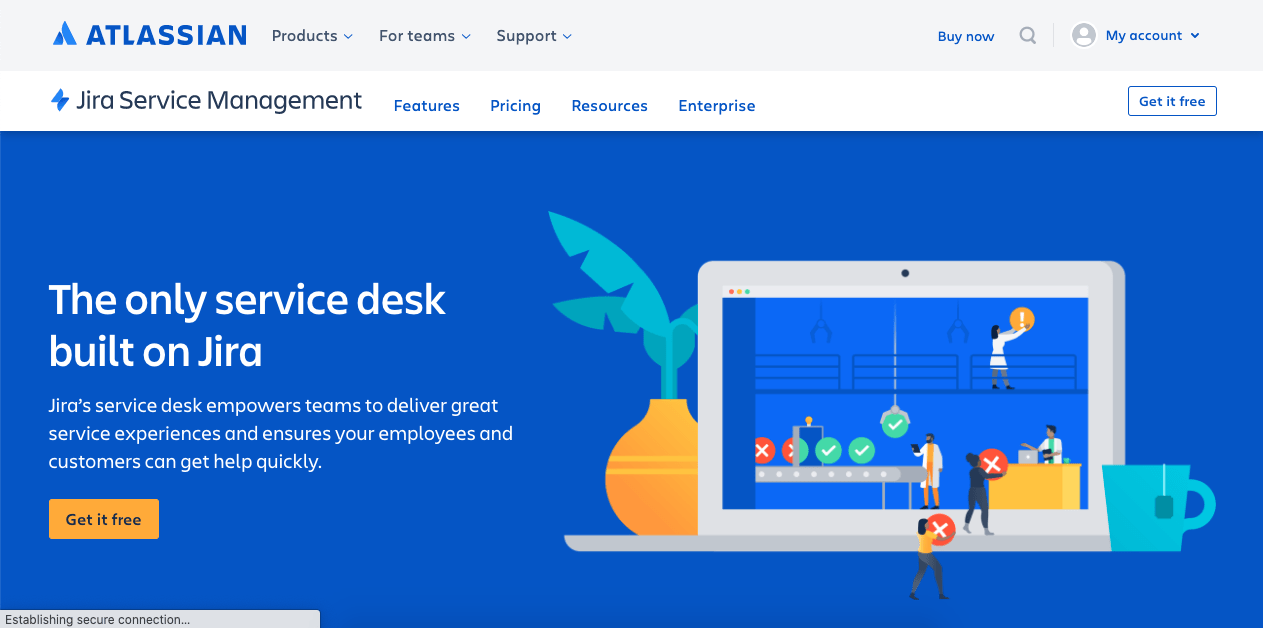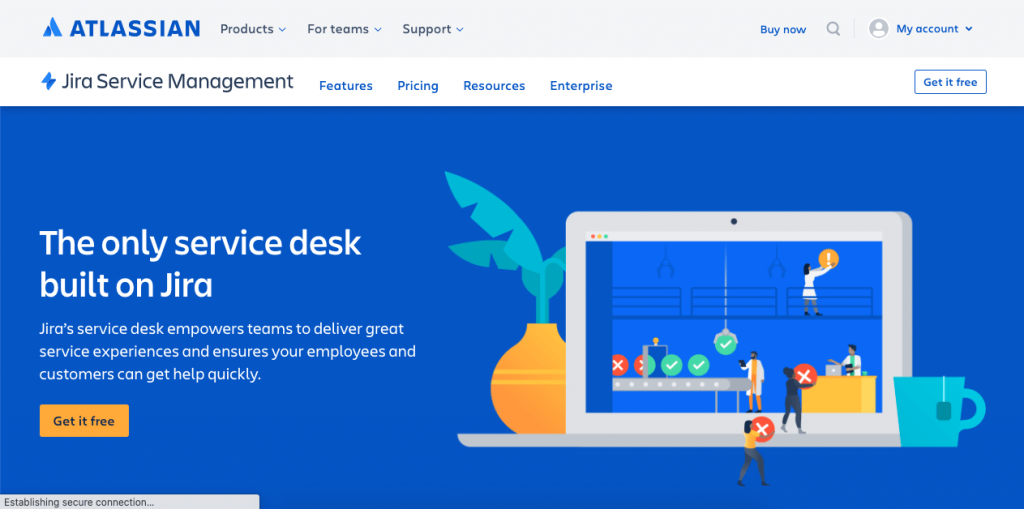 Jira Service Desk is another help desk app with a fair amount of functionality. The platform is catered toward users managing and solving incidents, issues, changes, requests, and assets in one platform.
The platform offers many useful features, like custom automation, self-service features, asset tracking, problem management reporting, and SLA policies, to help users provide their customers with a quality help desk experience.
Pros:
Free version available
Numerous integrations
Good dashboard customization
Self-service features
Cons:
Slightly harder to master than most other tools
Doesn't integrate with social media
Apps:
Web app only
Vision Helpdesk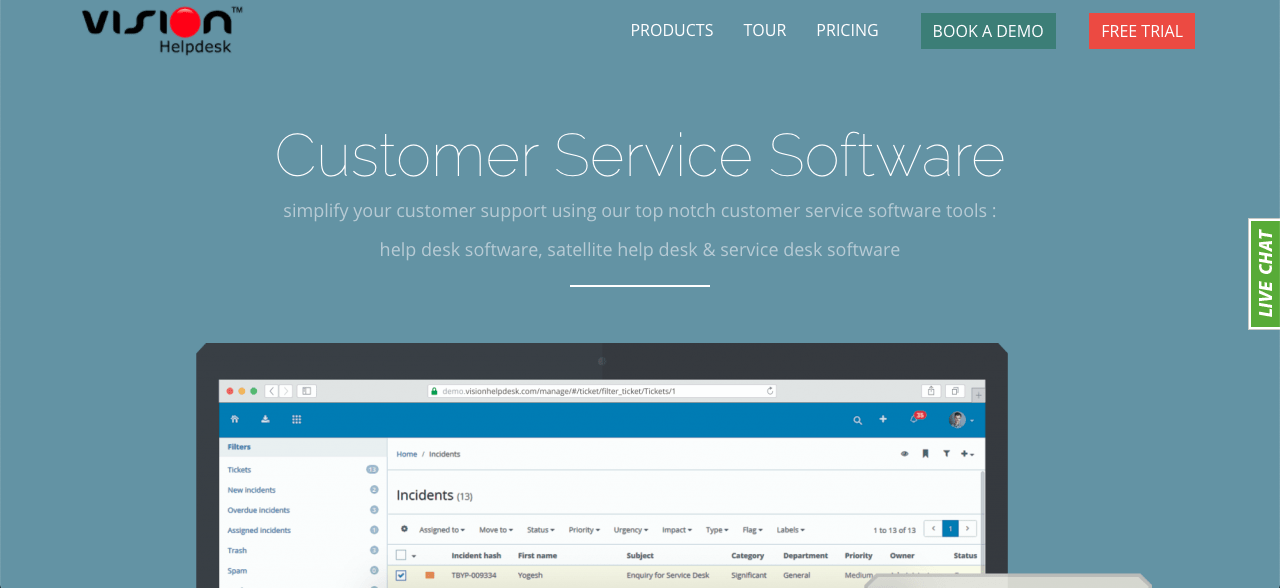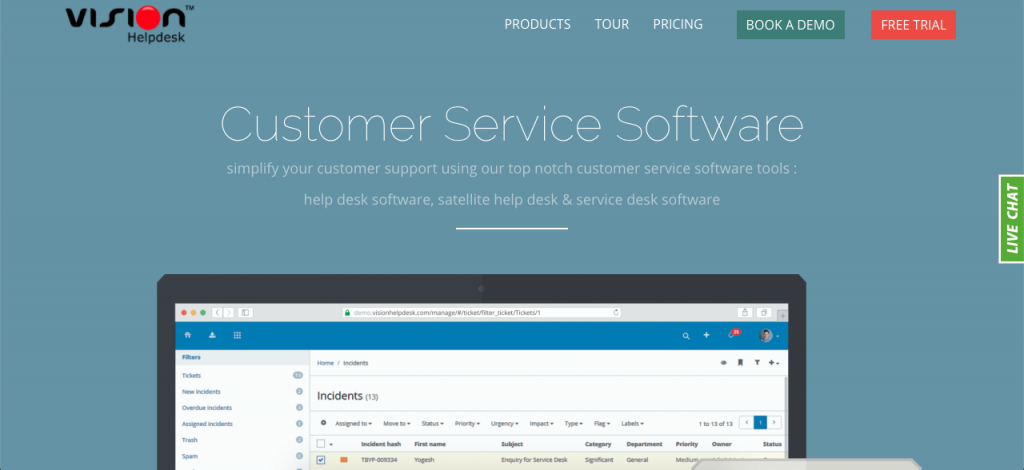 Vision Helpdesk is an award-winning all-in-one help desk app. With this easy-to-use platform, users can access useful advanced functionalities.
Its comprehensive help desk features are great for companies of all sizes looking for a solid help desk software with advanced features and capabilities, although it may be too expensive for a user requiring a simpler experience.
Pros:
Very advanced features
Multiple ticketing options
Good for self-help capabilities
Integrates to social media
Cons:
Probably too expensive for users needing a simpler option
Somewhat steep learning curve for advanced features
Apps:
Web and mobile apps
HIVER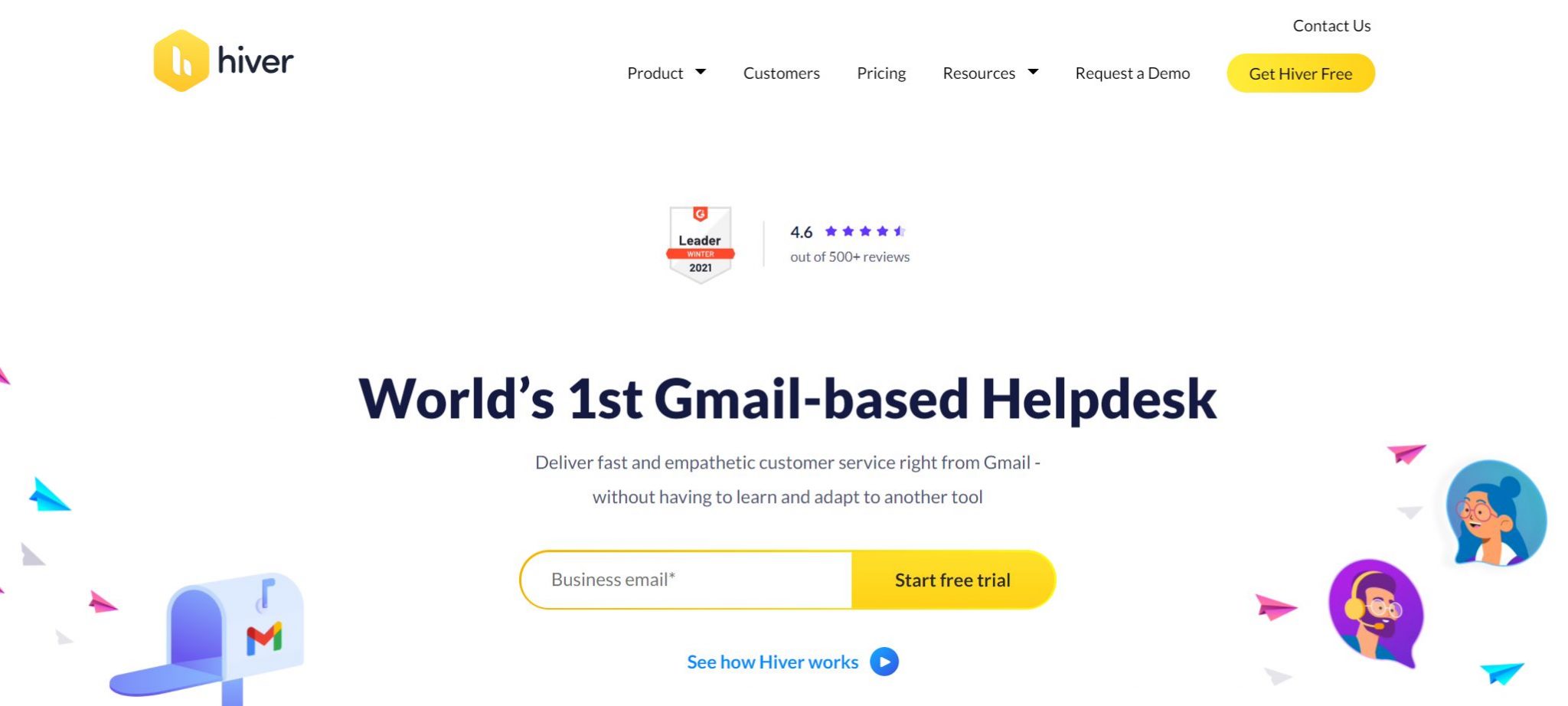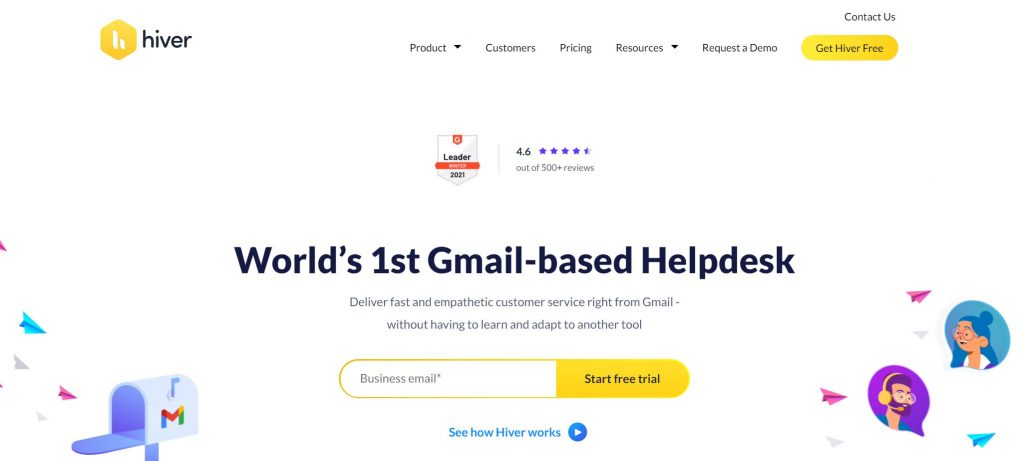 Hiver lets you manage customer queries arriving in shared inboxes such as support@ and help@. With Hiver, you can assign customer queries as tasks, track them in real-time, and also collaborate on them internally, without Ccs and forwards.
Hiver allows you to automate repetitive tasks and auto-assign customer emails to team members based on predefined rules. It also helps measure team performance and track key metrics such as first response time, average resolution time, and more.
And since Hiver fits intuitively within Gmail's native UI, support agents hardly require any training to get started.
Pros:
Works within Gmail. You don't need to switch to an external helpdesk.
Auto-assign email queries based on pre-defined rules.
Track team performance in a detailed manner.
Collaborate with your team without using Ccs and forwards.
Cons:
Only compatible for teams that use Google WorkSpace
Live Chat Apps
Live chat apps allow you and your agents to have a real-time written conversation with your customers and users.
Here are the best options:
Messagely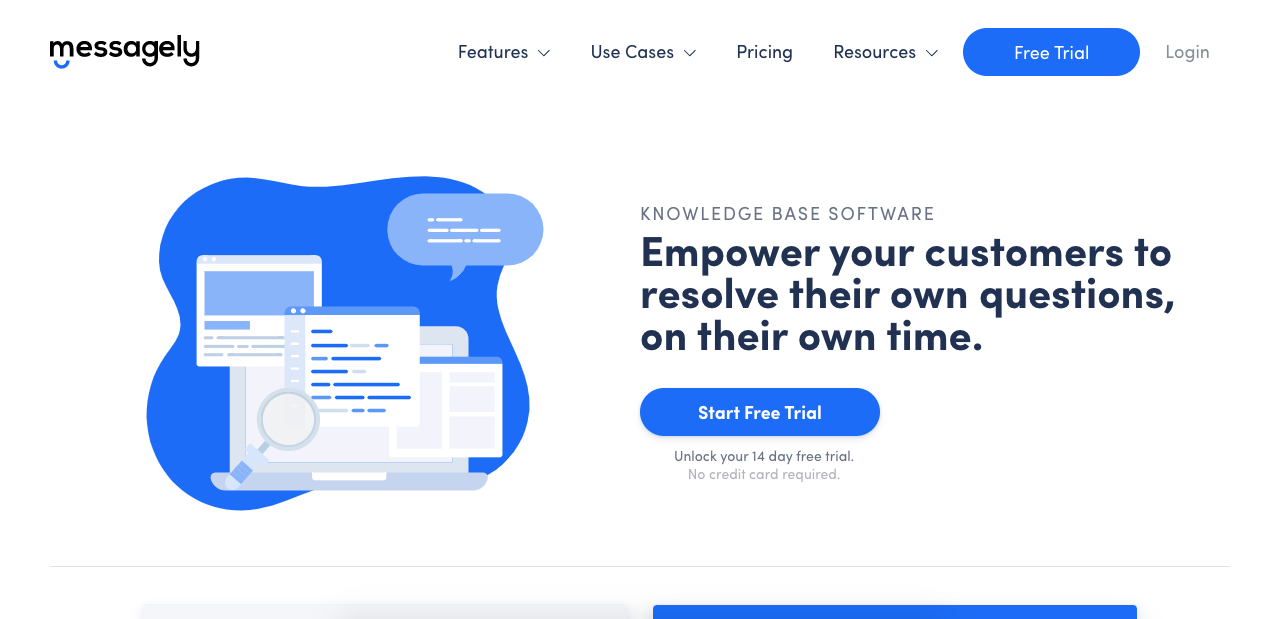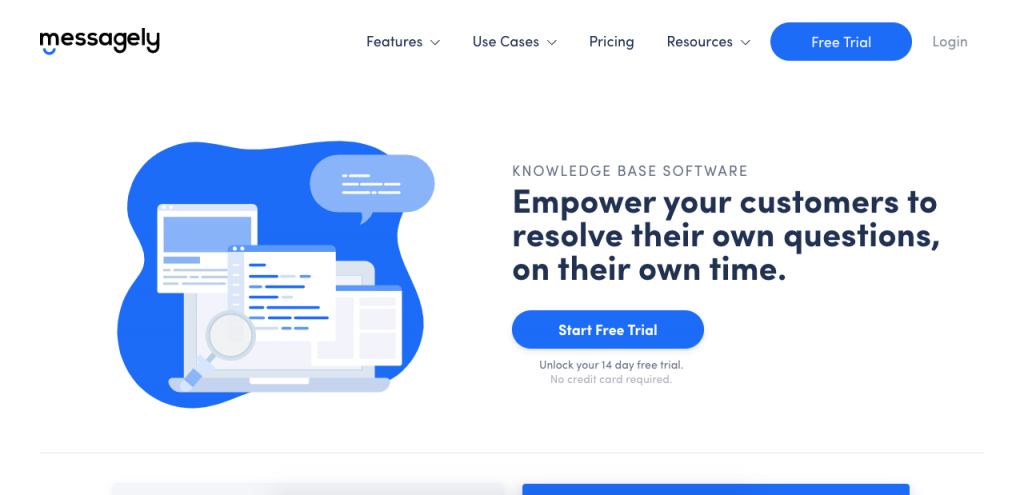 Messagely's all-in-one solution gives you access to a live chat that's easy to use and install on your website and comes with a lot of helpful features.
If you don't have people working around the clock, or if you have too many customers for your team to handle, Messagely will easily create powerful chatbots in just minutes. Messagely also solves the rest of your messaging needs, so you don't need to pay more for multiple customer service tools.
Pros
Very easy to use
Easy to install on your website
Powerful automations and chatbots
More than just live chat
Integral approach to customer service
Cons
Best for users looking for a solution to all their customer service needs, not just a live chat
Apps:
Web app
Start your free trial today.
LiveChat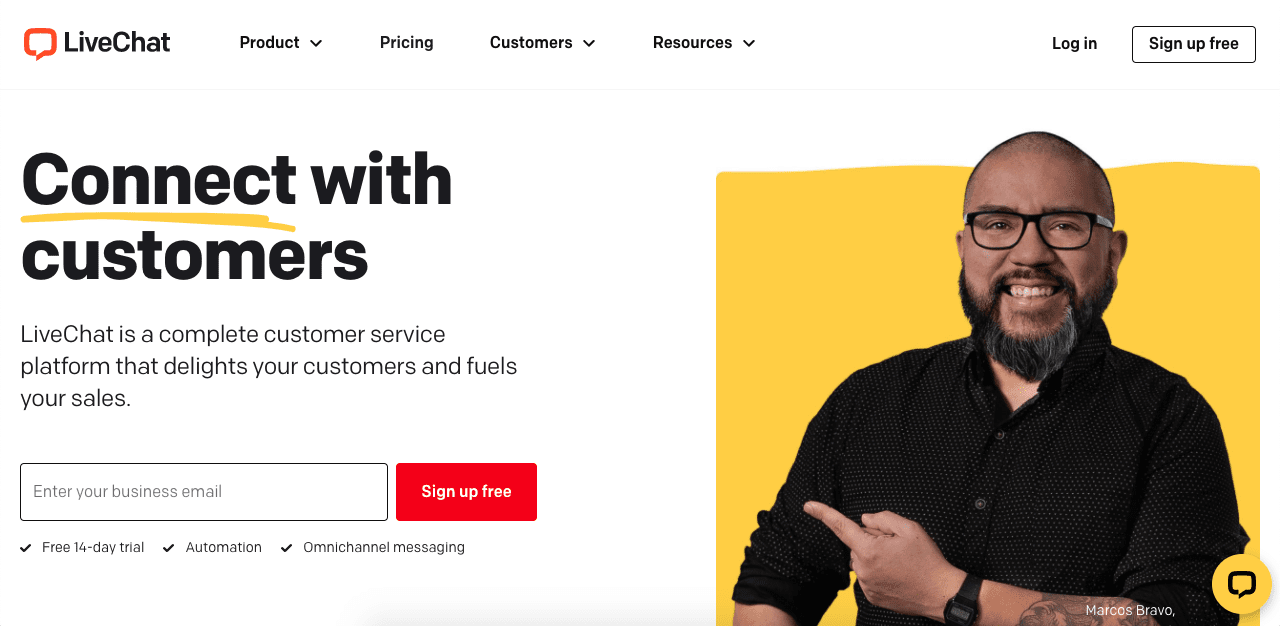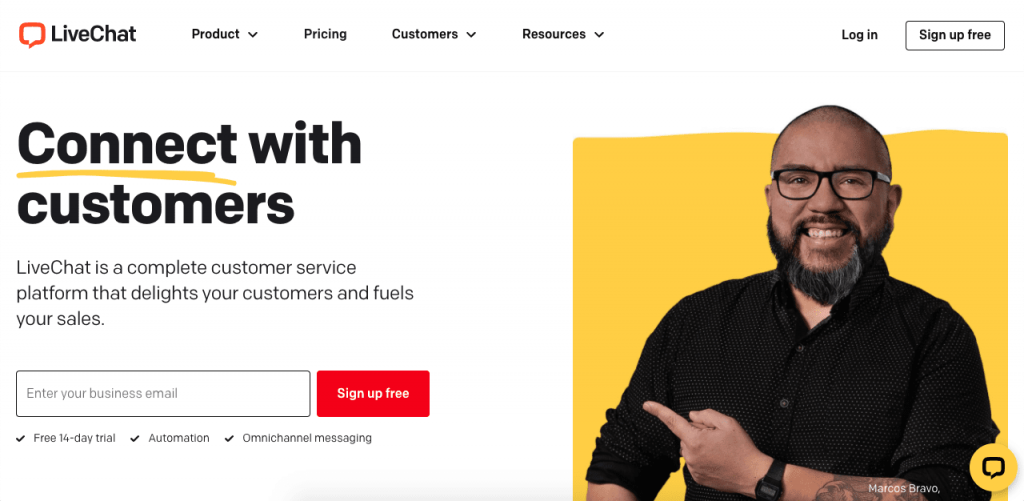 LiveChat is another all-in-one customer service platform with live chat capabilities.
The platform allows users to consolidate all chats and questions in a single inbox to improve teamwork. Its AI routes conversations to the right customer service member of your team and can also be used for advanced lead generation and segmentation.
Pros:
Very simple UI
Provides many features to its customers
Supported on mobile devices
Cons:
Automations are expensive and limited
Expensive for larger teams
Apps:
Web and mobile apps
Olark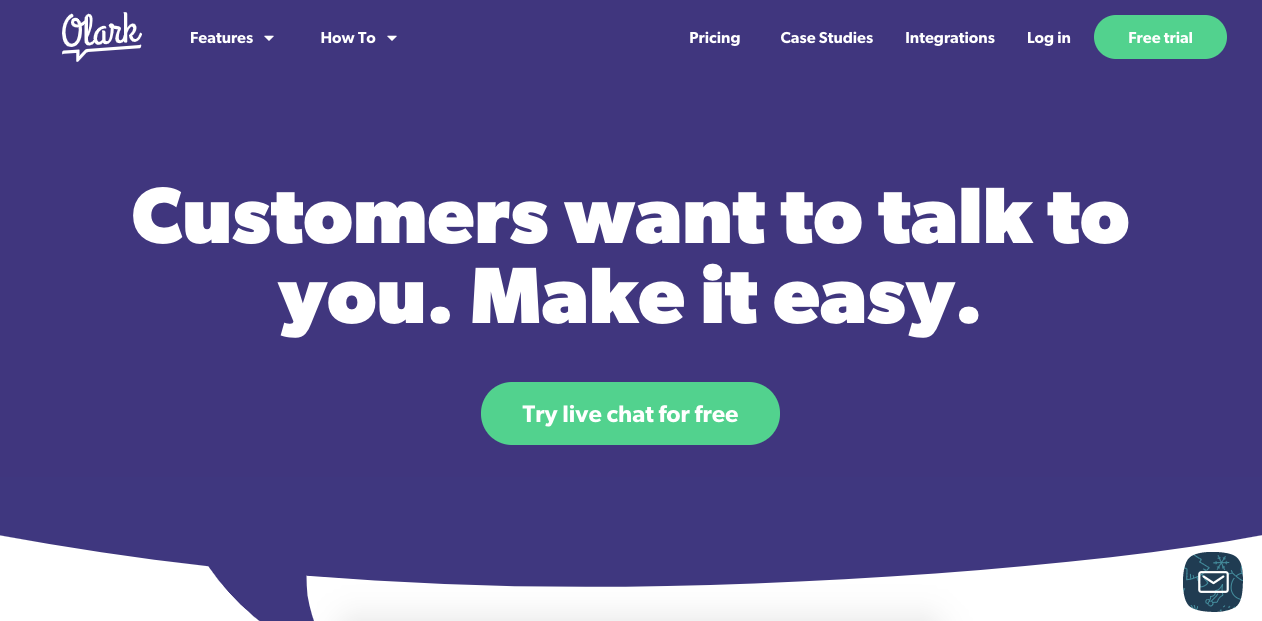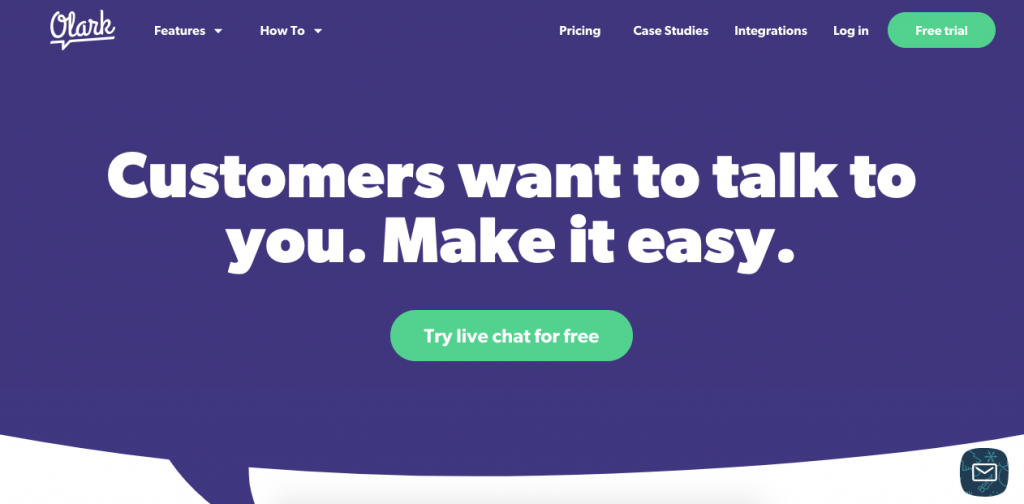 Olark is a very simple app. and although it's not great for users with advanced needs, it's very popular for small websites and startups that are new to using live chat.
With Olark, users get an easy-to-use live chat function to connect with customers. All of the chats are recorded in live chat transcripts, which are very easy to browse. However, the lack of more basic functionality, like chatbots or advanced customer service tools, makes it a more basic tool than Messagely.
Olark also integrates with HubSpot, Groove, MailChimp, WordPress, Salesforce, and Google Analytics.
Pros:
Simple platform
Friendly UI
Quite affordable
Cons:
No advanced automation
No chatbots
Limited integrations
Apps:
Website and mobile apps
Knowledge Base Apps
Knowledge base apps are programs and online solutions that can be used to create, file, and populate a knowledge base.
Here are the best options:
Messagely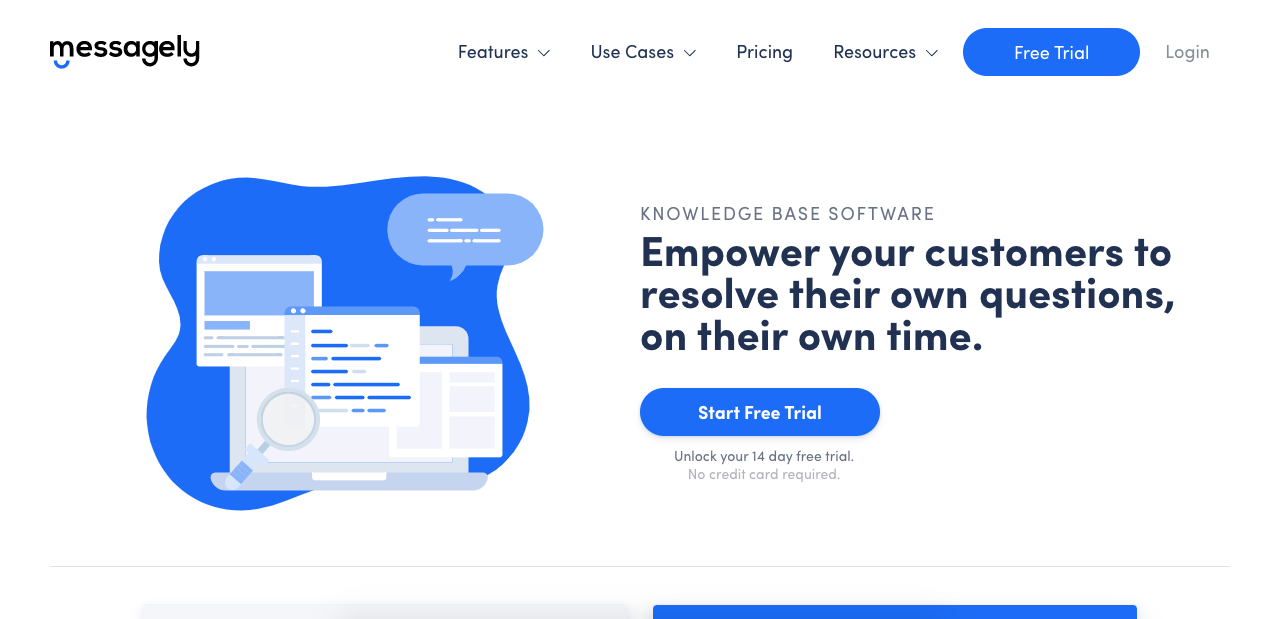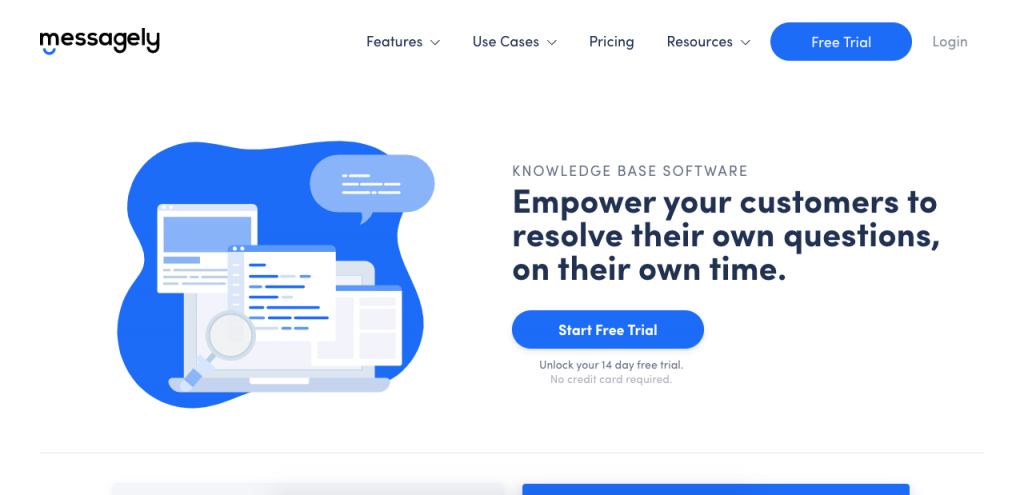 Messagely has a powerful and easy-to-use knowledge base software to let you empower customers actively looking for solutions.
With Messagely, you can build a documentation-rich knowledge base that's easy to make and browse, so your customers can solve their own questions 24/7.
Messagely's knowledge base software seamlessly integrates with the rest of the Messagely platform, including the live chat option.
Receiving feedback on articles is easy. Your customers can rate your articles and let you know if they were useful. With this feedback, you can keep improving your knowledge base on actual data, instead of writing and hoping for the best.
Pros
Very easy to use
Easy to install on your website
Gathers customer satisfaction levels
Gives you access to more customer service options
Cons
Best when used along with all its other customer service capabilities, not just as a knowledge base
Apps:
Web app
Start your free trial today.
HappyFox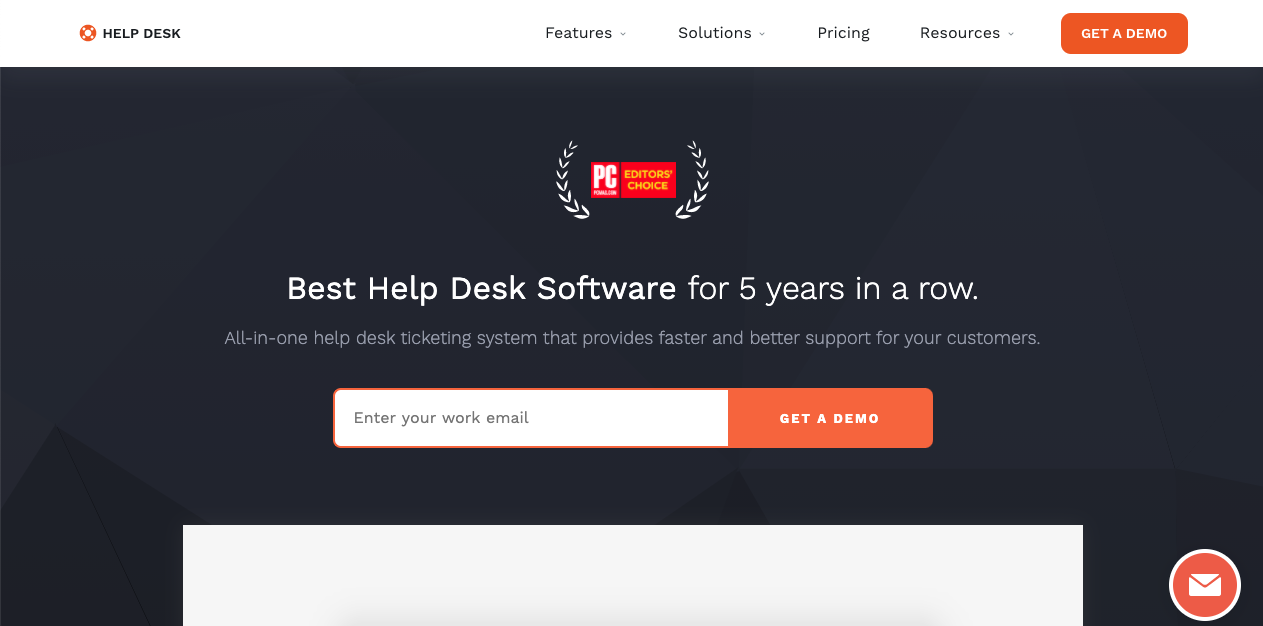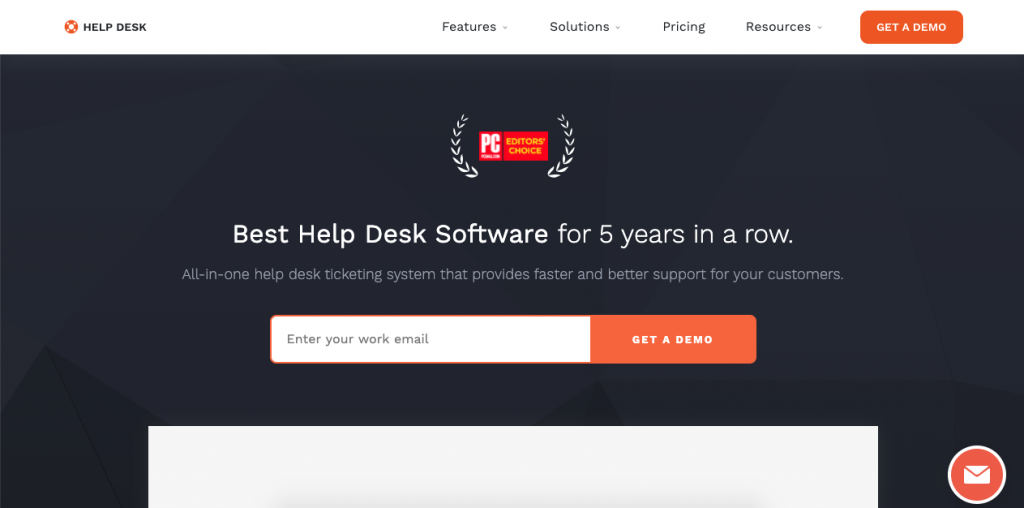 HappyFox is an award-winning help desk software with good ticket management capabilities.
The platform allows users to manage their rockets through automated SLA management, canned actions, and round-robin assignment. Managers can also get real-time reporting, and self-service options to keep users engaged.
Pros:
Very functional ticketing system
Easy to use
Real-time reporting
Supports self-service
Cons:
Doesn't integrate with many tools
Very limited lower pricing tiers
Apps:
Web and mobile apps
Zoho Desk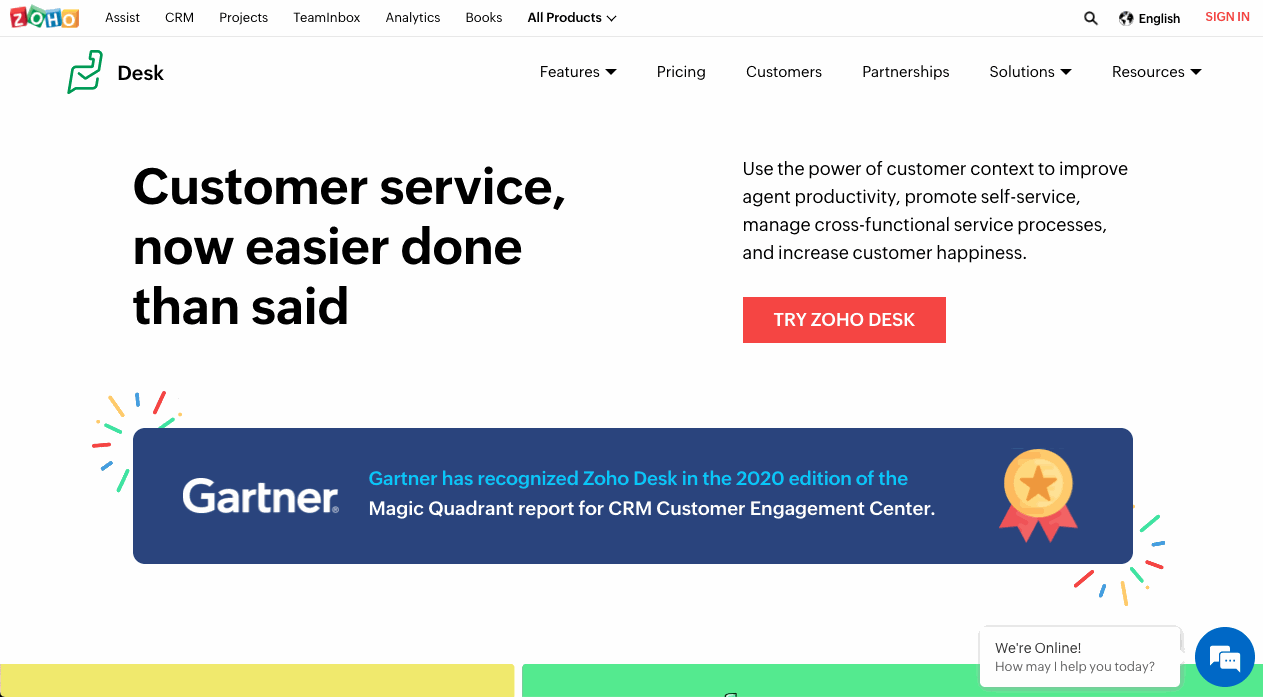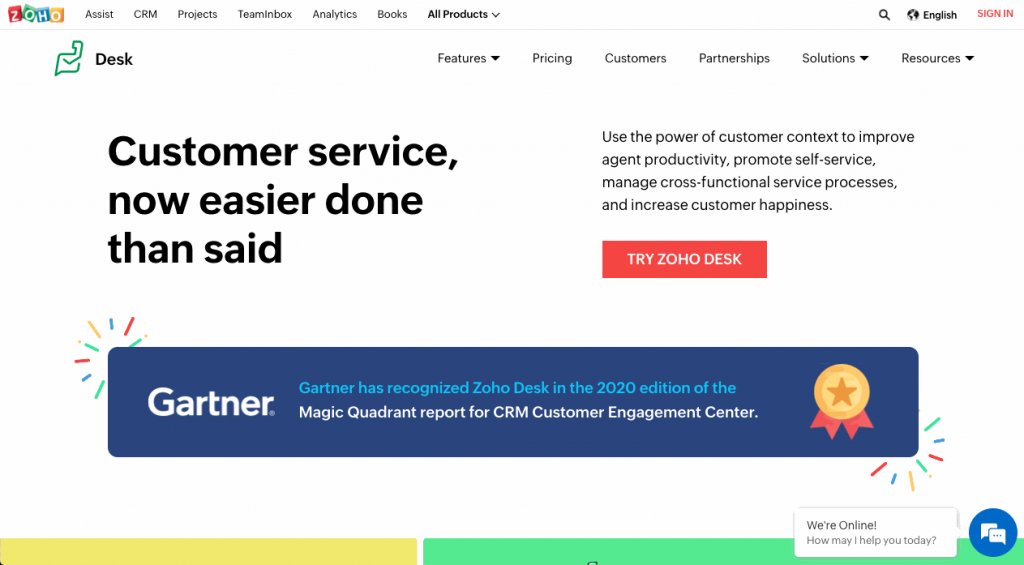 Zoho Desk is an award-winning platform with good IT support and knowledge base capabilities.
Besides knowledge bases, Zoho Desk can also handle some advanced features, like voice over IP (VoIP) and social media integration. The platform also offers good customer service interaction data to managers and integrates with the rest of the Zoho platform and many other tools.
Pros:
Good for small businesses
Integrates with the rest of the Zoho platform
Easy to use
Cons:
Not great for larger companies
Limited integrations
Apps:
Web and mobile
Social Customer Satisfaction Apps
Social customer service allows you to consolidate all messages from your social media pages.
Here are the best social customer service apps:
SproutSocial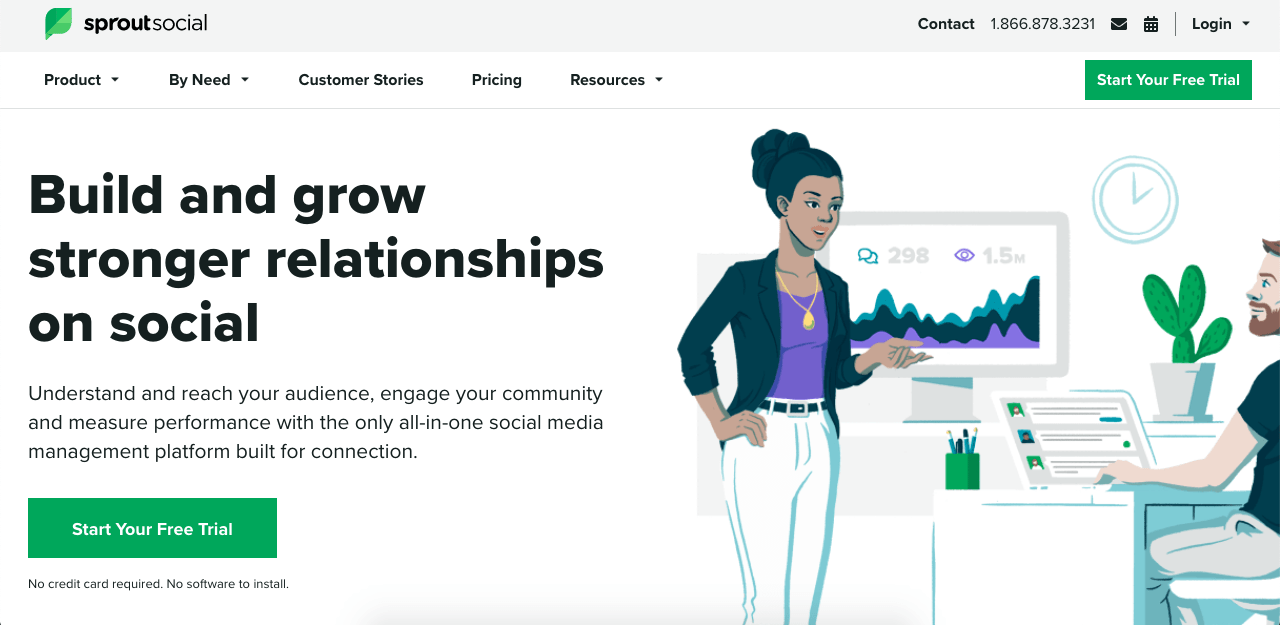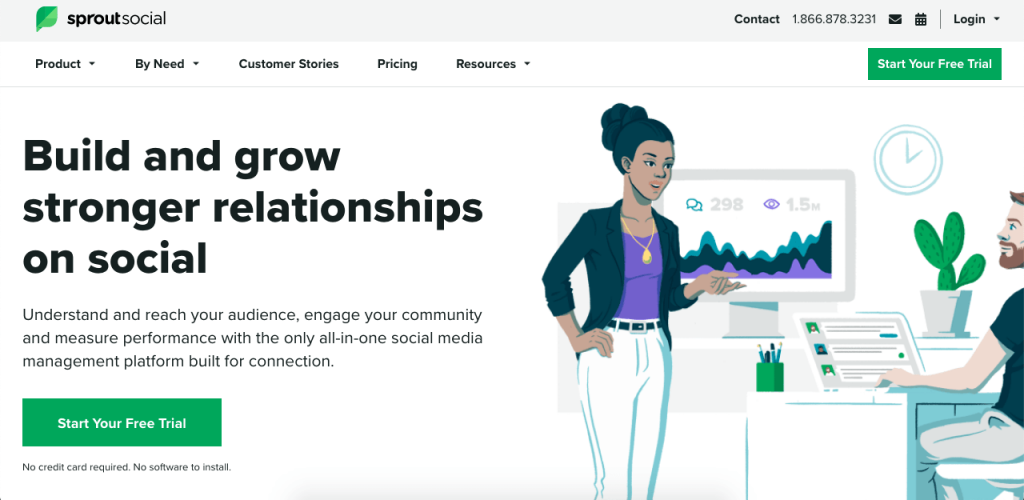 SproutSocial is a cloud-based platform that focuses on helping users stay in touch with their social media following.
It allows users to schedule posts to plan their marketing strategy deployment and assign messages to the right team members.
SproutSocial works with most social media platforms, such as Facebook, LinkedIn, Twitter, and Instagram, and it integrates with Shopify, Salesforce, UserVoice, and many other tools to easily connect your social media data to the tools you're already using.
Pros:
Feature-rich platform
Pre-scheduled posting
Good reporting capabilities
Cons:
Pricey tiers
Very limited advanced features
Buffer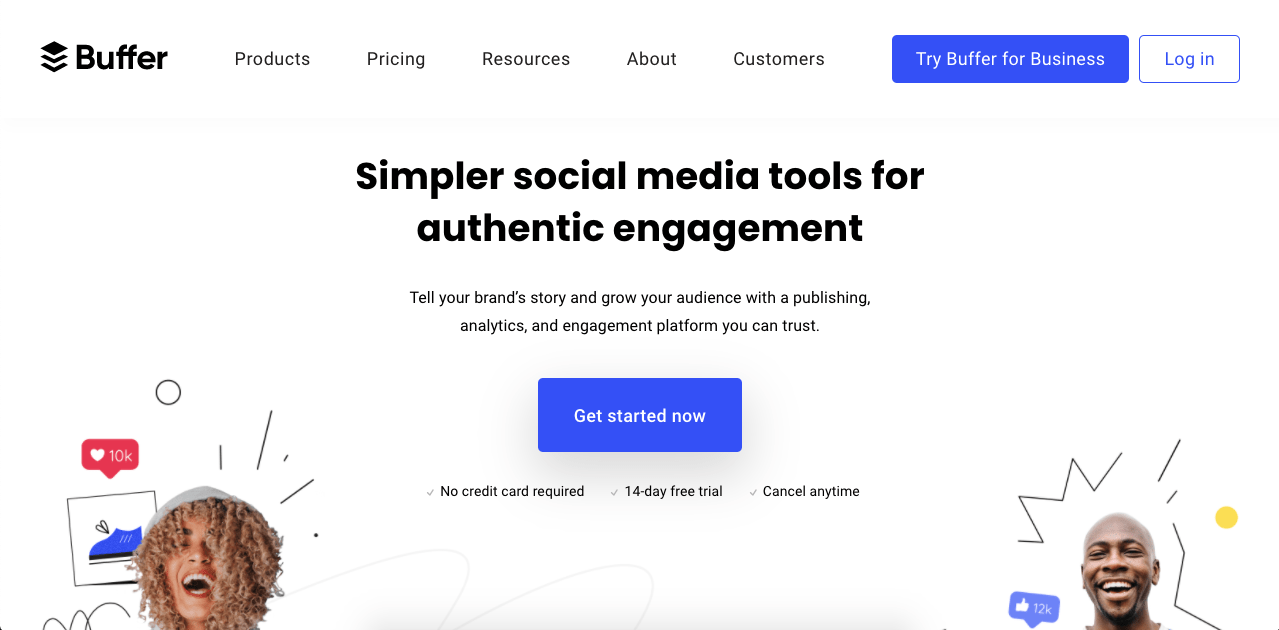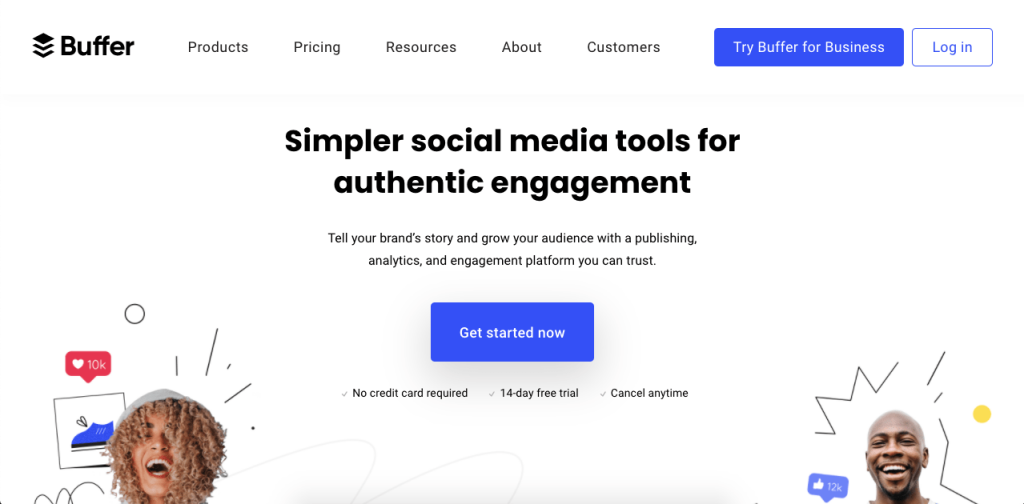 Buffer is another social customer service tool that's affordable for practically anyone. Its pricing packages ensure you're only paying for what you need.
For example, the "Reply" packages are perfect for anyone looking to consolidate their social media channels into a single place to easily reply to every customer.
This allows users to get a bundle of all the features they need on the platforms they're using, instead of getting into a tier, paying for features they will never use.
Pros:
Affordable pricing
Personalized pricing tiers
Scheduled postings
Great calendar views
Cons:
Not affordable for teams with multiple team members
Not great for companies looking to handle a large number of messages
Apps:
Web and mobile apps
Mention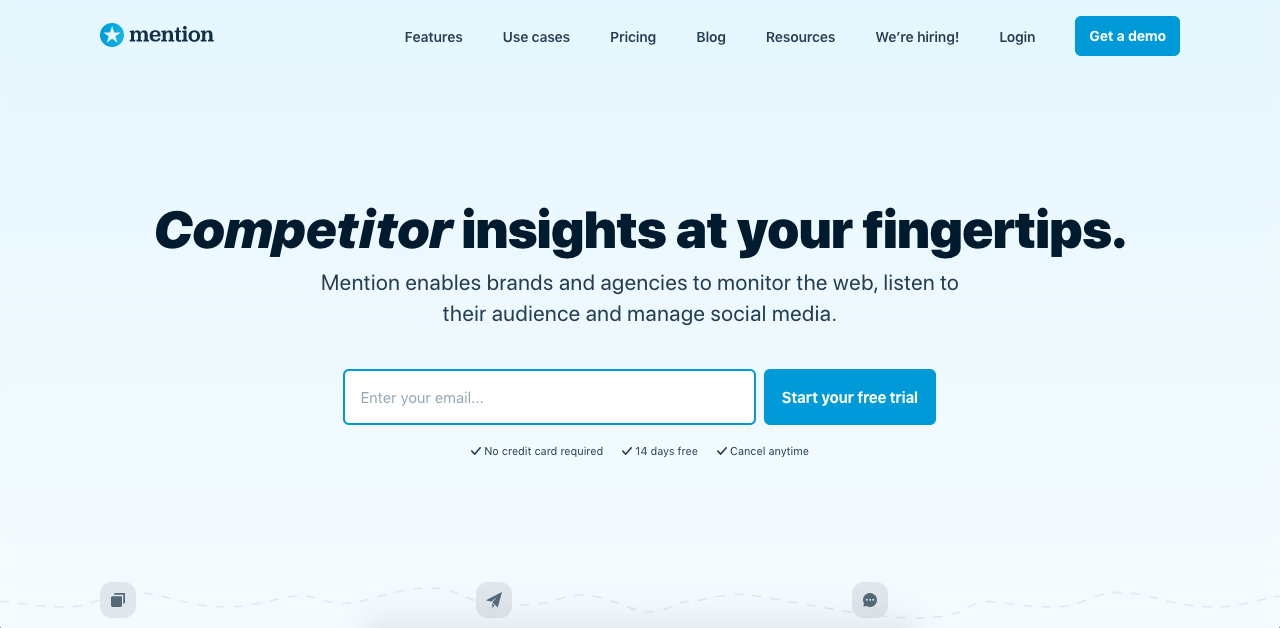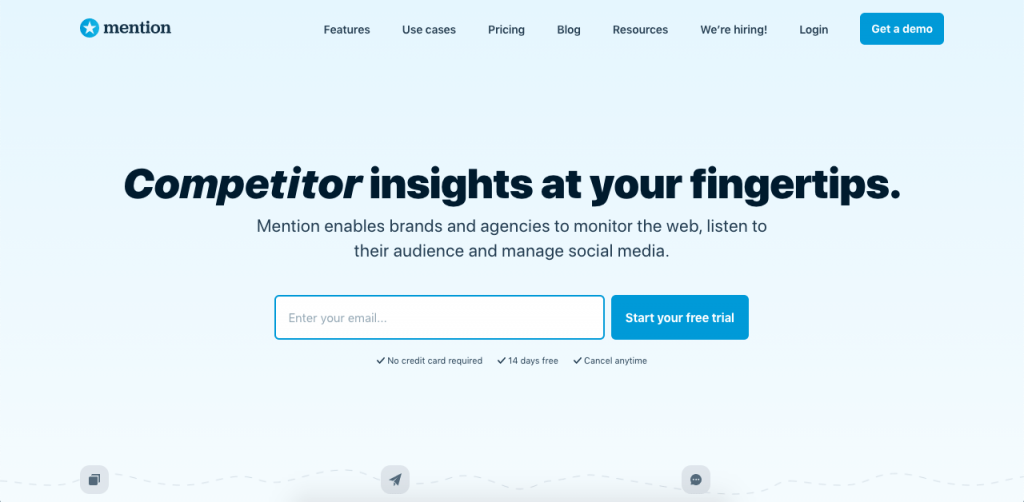 Mention is a great tool for any user looking for powerful social media monitoring. With Mention, users can easily generate leads, improve reputation, and enhance customer relations in social media.
The tool actively monitors the internet to identify who's mentioning your brand online. This allows you to get a better sense of how your tool is perceived and proactively answer customer queries.
Pros:
Cons:
Can't handle advanced social media management needs
Apps:
Web and mobile

Customer Feedback Apps
Customer feedback apps allow you to survey your customers to learn more about their experience and needs.
Here are the best customer feedback apps:
SurveyMonkey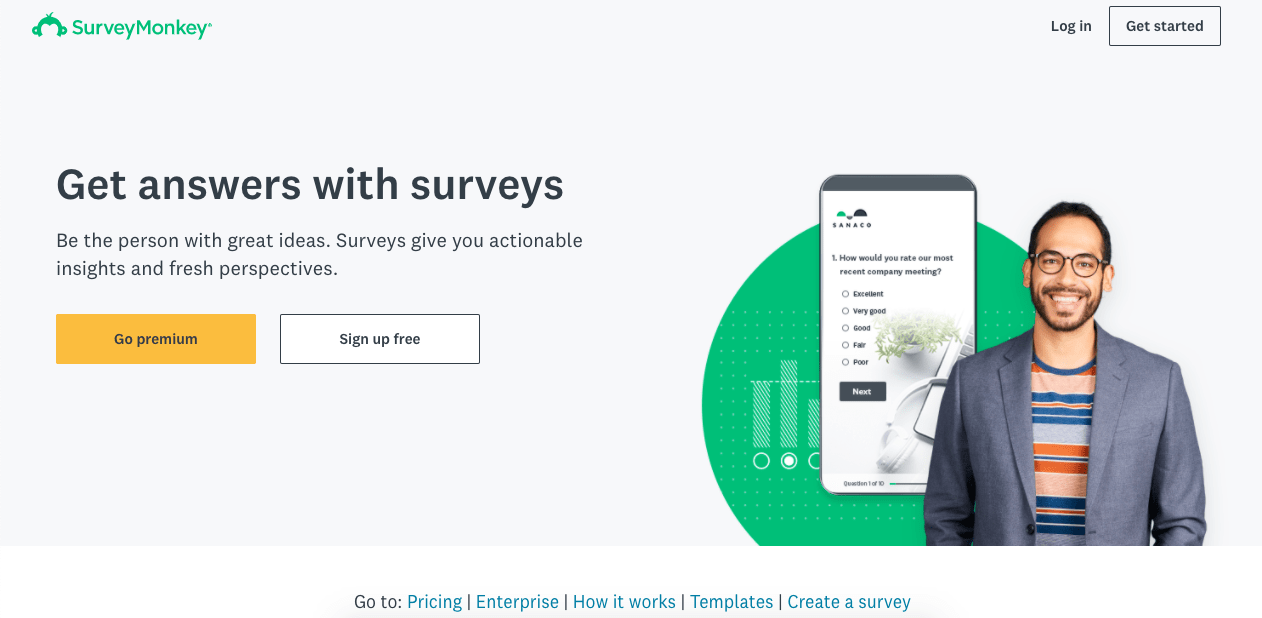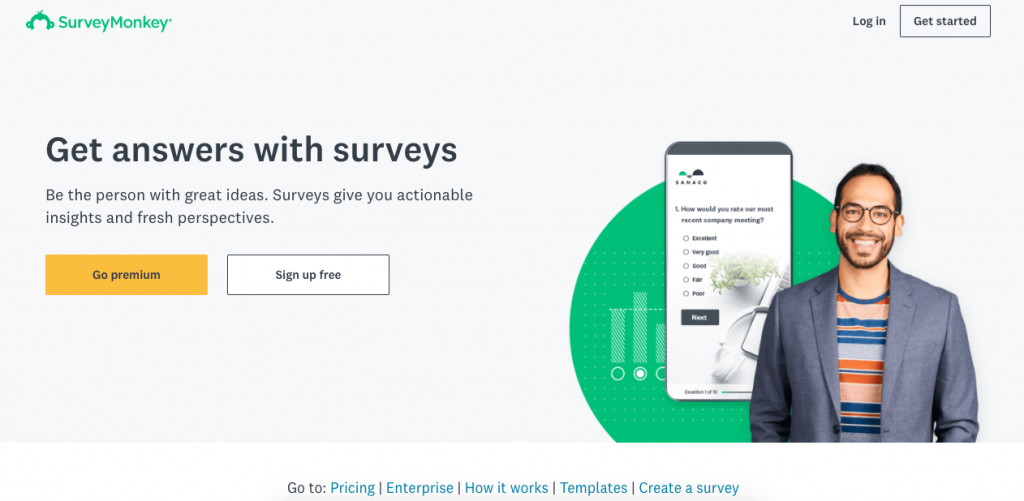 SurveyMonkey has positioned itself as one of the key players when it comes to online surveys. The platform allows users to create bright and easy-to-fill surveys through multiple templates. Plus, its UI makes it more likely for users to fill out surveys all the way to the end.
The platform also integrates with over 100 tools, so you can easily consolidate your needs, share data, and expand your processing capabilities.
Pros
Award-winning platform
Very easy to make surveys
Multiple integrations
Engaging surveys for better user interaction rates
Cons:
Can only be paid for annually
Very limited free tier
Apps:
Web and mobile apps
Hotjar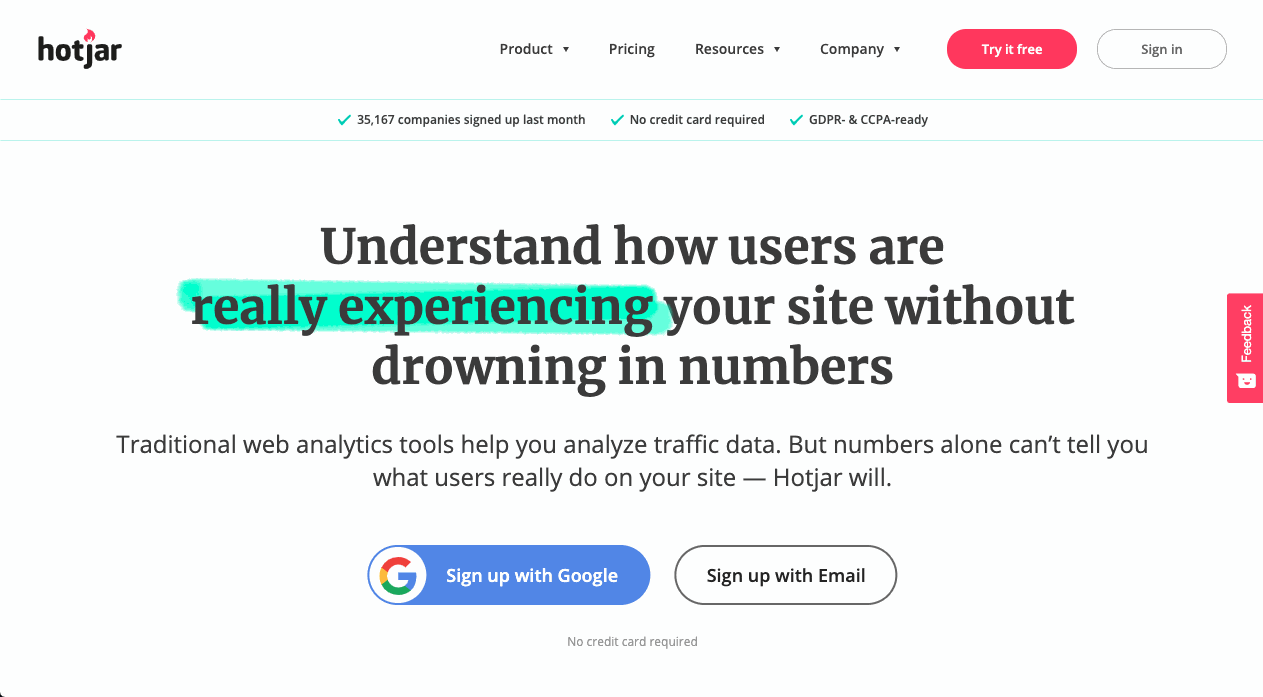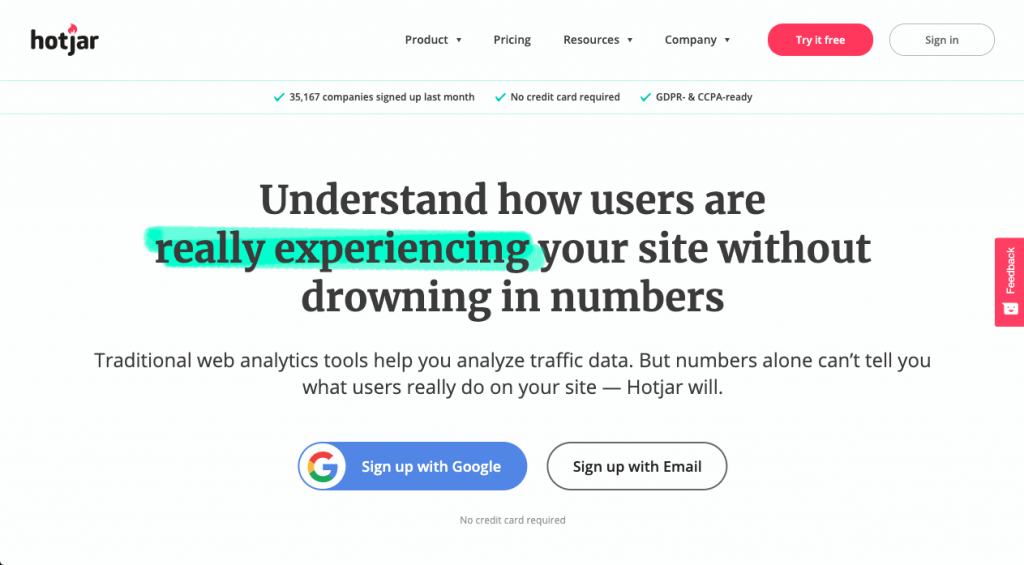 Hotjar is a company designed to give users a better understanding of their brand image and to collect customer feedback from user mentions. It achieves this through behavior analytics that translate into powerful yet easy-to-use capabilities, like session recordings, heatmaps, and customer surveys.
The platform makes it easy to understand user feedback collected from multiple data points, and finds ways of applying that feedback into your processes.
Pros:
Very easy to use
Integral approach to customer feedback collection
Easy to understand insights
Great data visualizations
Cons:
Not great for specialized needs
Not for specialized data analyzers
Apps:
Web and mobile apps
Podium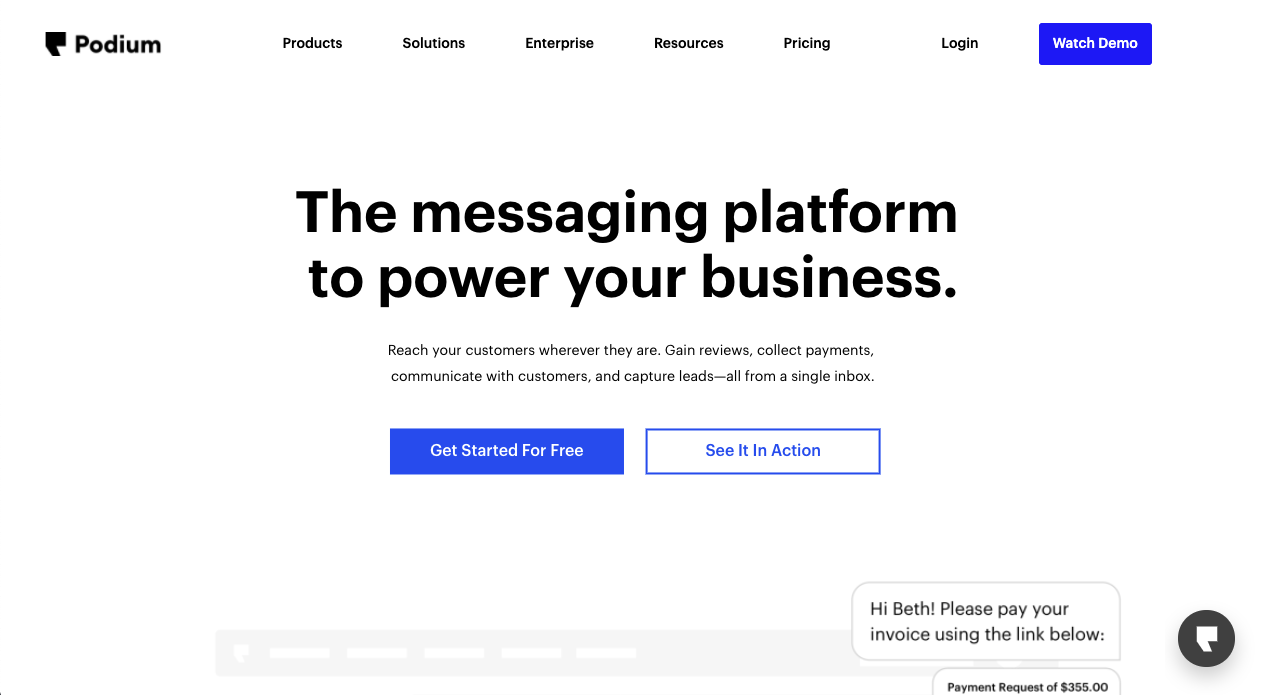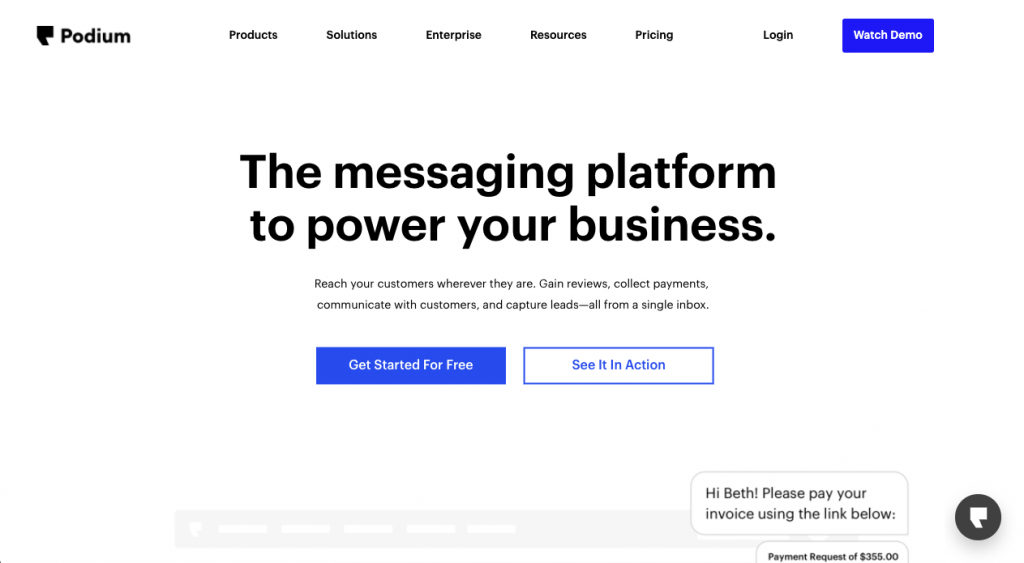 With Podium, users can increase their customer base by managing local listings and reviews online.
The platform has multiple integrations with other apps and POS, allowing customers to easily leave a Google review. Plus, its mobile app helps you manage your platform from anywhere.
Although Podium is fairly expensive (reportedly starting at $399 per month for one location), it's a good platform for any business that's desperately looking to improve its Google ratings and drive more customers through automated suggestions.
Pros
Good at improving Google's ratings
Very easy to use
Easy, effective way of controlling online conversations
Cons
Fairly expensive
Limited reach
Apps:
Web and mobile apps

Phone Support Apps
Here are some of the best apps to aid your phone support and sales teams:
Aircall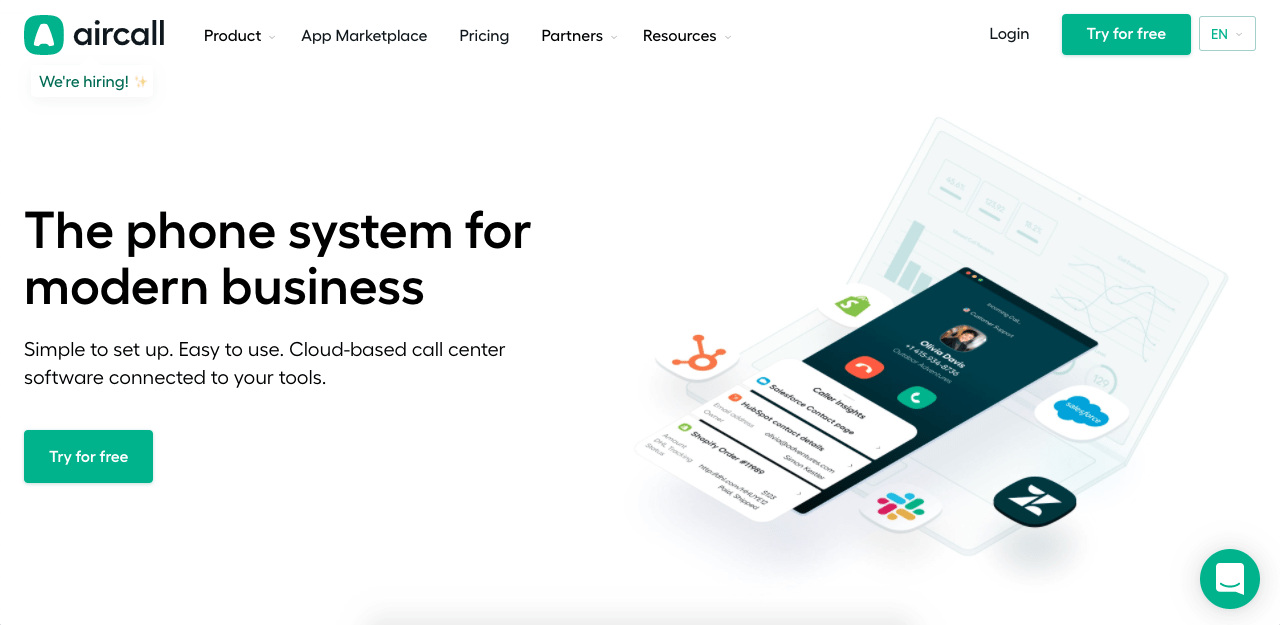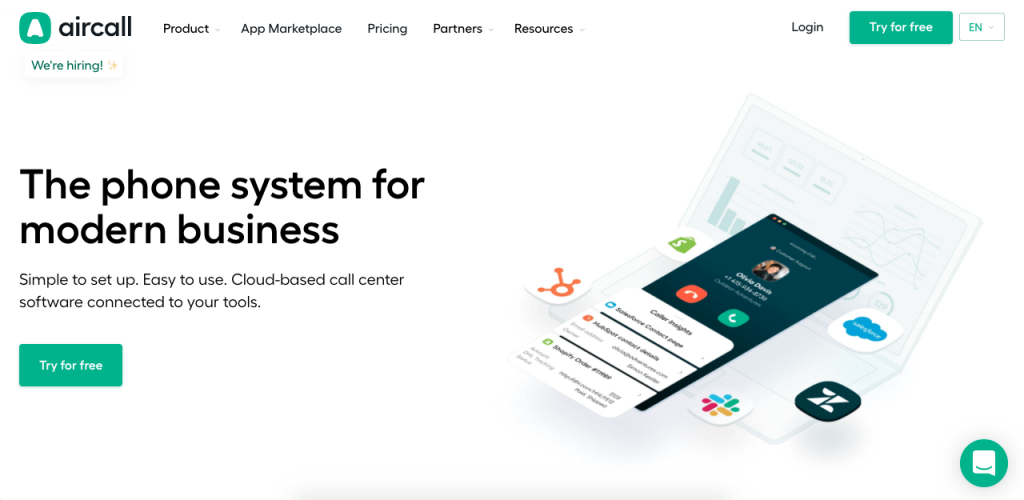 Aircall is a simple and powerful cloud-based phone system. The platform is extremely easy to scale up, growing with users as they need it.
The platform is also great at providing flexibility in a cloud-based phone system. It easily integrates with multiple CRMs to immediately populate the app so users can start calling numbers from over 100 countries.
Plus, its pricing is extremely flexible. Users can easily scale the plan up or down to adapt to each season's traffic. Aircall is also optimized for all remote users someone can hire as well, allowing businesses to easily manage their remote teams.
Pros:
Flexible pricing
Powerful cloud-based phone system
Good for remote user management
Great integrations
Cons:
Not for SMS communication
Pricing is slightly above the industry's average
Lacking customer support
Apps:
Mobile and web apps
JustCall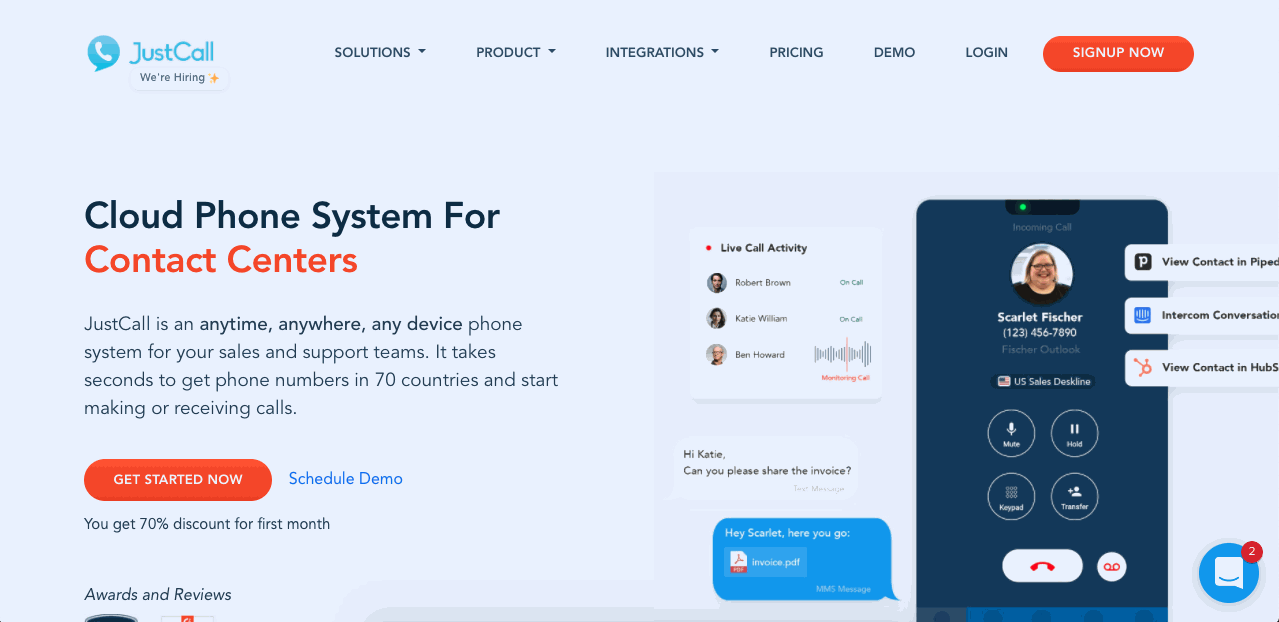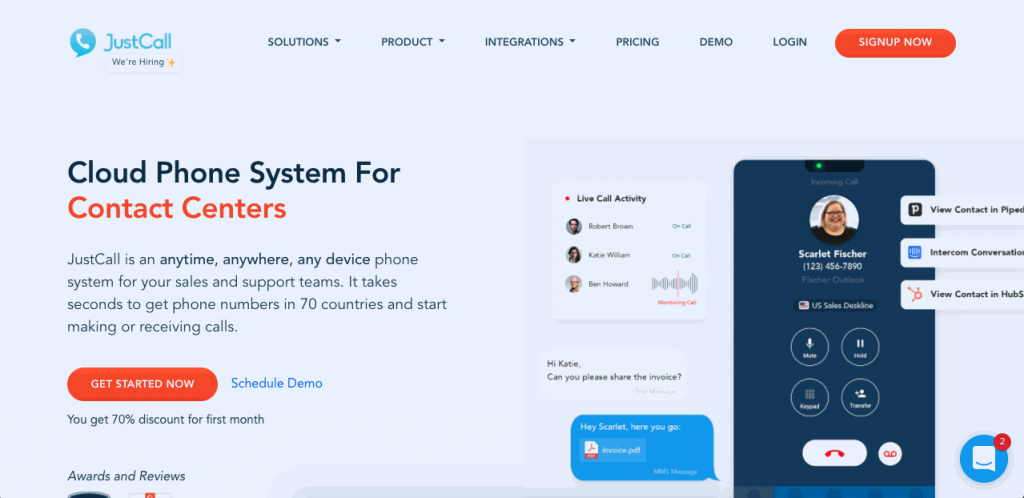 JustCall is an award-winning cloud phone system with support for phone numbers from 70 countries.
Used by companies like Jaguar, Domino's, and Pipedrive, JustCall gives users the ability to set up a cloud phone system that easily adapts to their needs. The platform seamlessly integrates with multiple CRMs and can be used from any device.
Pros
Very easy to use
Many powerful CRM integrations
Good customer support
Affordable for small to medium companies
Cons
No free trial
Somewhat rigid pricing
Apps:
Web and mobile apps
RingCentral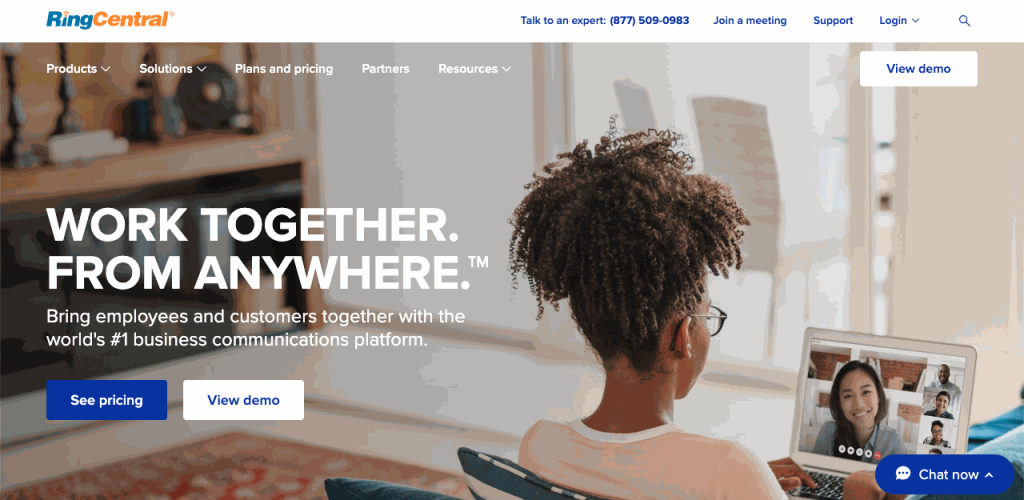 RingCentral is another cloud-based phone solution that's popular with multiple companies.
RingCentral also integrates chat and video call capabilities, allowing users to connect to customers as they feel comfortable doing so. Its remote-managing capabilities and compatibility with multiple devices make RingCentral a very popular and flexible option.
Pros
Multiple communicaiton channels
Great VoIP features
AI integrations
Good for remote worker management
Cons
Not very intuitive UI
Expensive for larger companies
Apps:
Web and mobile apps
All FAQs About Customer Service Apps You Need to Know
Here are the answers to popular questions about customer satisfaction tools:
What are the most relevant communication channels you want to cover with your customer service apps?
It will depend on your audience. However, a good customer service app will adapt to most customer service teams by focusing on live chat, social media communication, and email communication.
What is the best customer service app?
The best customer service app is the one that adapts to your company and allows you to offer a better customer experience.
If you want to go with a great, all-in-one customer service app, you can't go wrong with Messagely.

What customer service apps do you need to use?
Ideally, you should use a customer service app that allows you to provide better customer service among all your communication channels. Choose customer service solutions that cover all your channels, such as live chat, social media, and self-help services.

What is the best kind of customer service?
The best kind of customer service is the one that gives the client what they didn't know they needed and fulfills all their needs.

Conclusion
Customer service software allows you to improve your customer experience for both big and small businesses alike, It makes your customer service representatives' job far easier.
Get started now with an all-in-one customer service tool like Messagely to take your customer service needs to the next level.