In this article, we'll go through the best 20 live chat tools for your company.
We'll rate them based on:
Capabilities
Pricing
Integration
Automation
Easy of use
And much more
We'll also let you know the pros and cons of all tools so by the end of the article, you'll know exactly which live chat tool you will require.
Let's get started.
What Is a Live Chat Tool?
Live chat software is a digital program that allows real-time written communication between a customer and a company.
This type of service has been gaining a lot of popularity since it lets a customer air their concerns and questions, usually without changing the page or using any other tools. This allows the company to keep the user on-page and engaged for longer and allows the user to receive quick answers to their queries.
These and many more reasons are why live chat has become a default for many companies, particularly those who sell software as a service.
Best 20+ Live Chat Tools for SMBs and Enterprises
There are the best live chat tools:
1. Messagely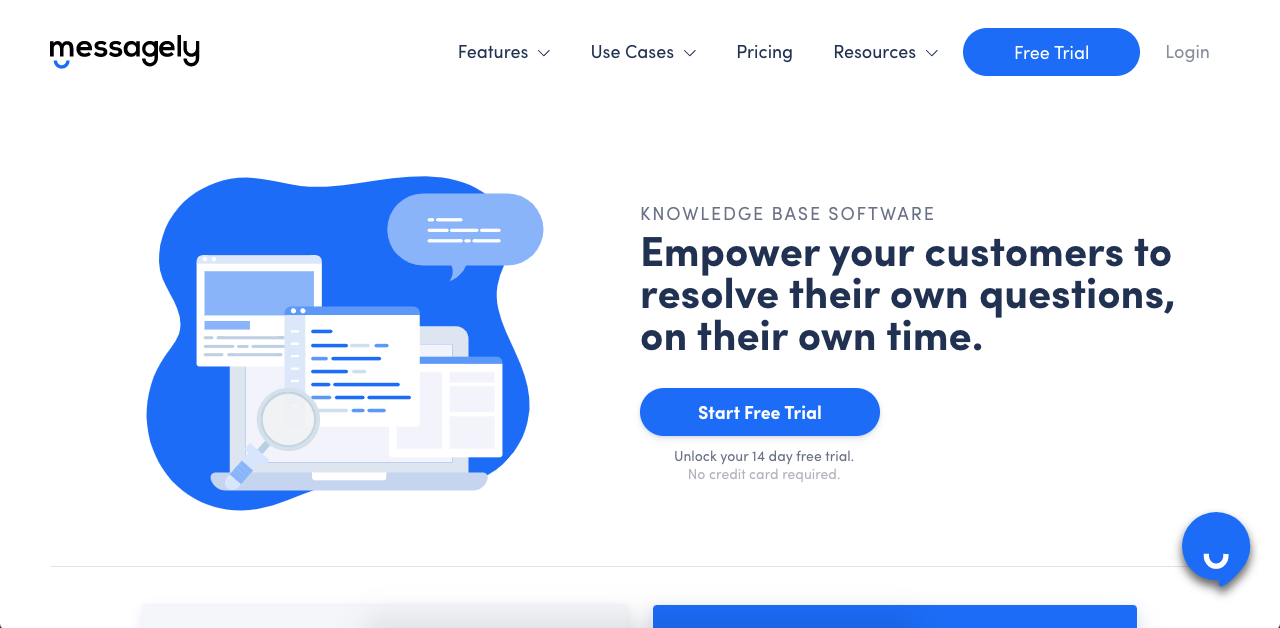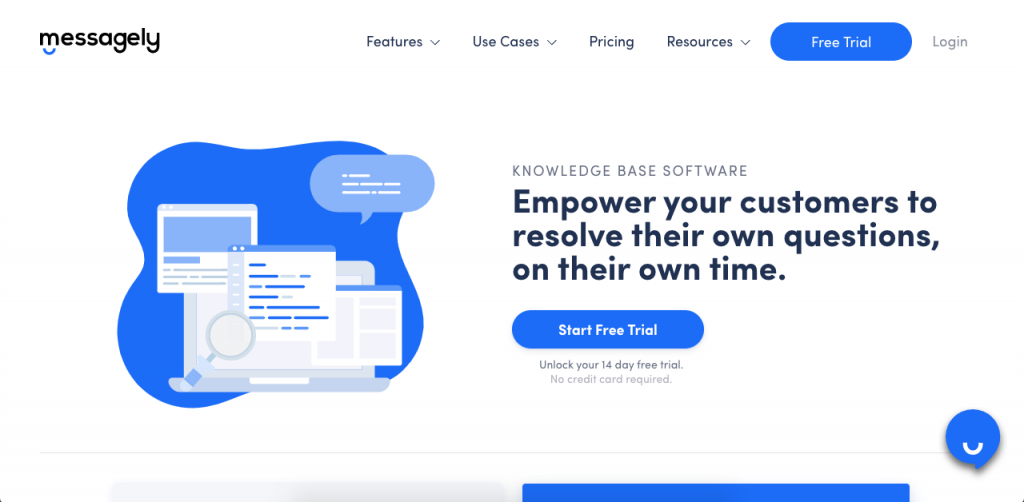 Messagely is a powerful all-in-one customer support solution, for all your customer communications.
With Messagely, you get an easy-to-use live chat that's easy to install and comes with a lot of useful features.
Messagely integrates with tools such as Salesforce, Slack, Pipedrive, Shopify, Google Analytics, Zapier, and many more to streamline your customer communication process and make it as effective as possible.
With Messagely, you receive powerful chatbots that can be set up in minutes. With these chatbots, you can give customers your attention 24/7, regardless of your office hours.
Messagely isn't only for live chat. In the platform, you can also find solutions like knowledge bases and integrated inboxes so you can offer the best customer service.
With Messagely, you don't need to pay more for multiple customer service tools.
Pricing
Pricing for Messagely starts at $29 per month for the Basic tier and includes 1000 contacts, live view, targeted messages, shared inbox, and one seat.
You can purchase an additional thousand contacts for only $10 per month, and additional seats for $15 each. This plan also includes live chat, targeted messages, knowledge bases, live view, iOS and Android apps, and multiple integrations.
Messagely's most popular plan starts at $49 per month for the Plus tier. This includes everything on Basic plus advanced customizations and automation.
Finally, for $79 per month, you can purchase the Pro plan, which includes everything that comes with the Basic and Plus tiers as well as chatbots, Account-Based Marketing, and more advanced integrations.
The chatbots alone are worth the price of admission for many users since they will make live chats far more functional than live agents.
Pros
Easy to use
Easy to install on your website
Powerful integration with the tools you're already using
More than just live chat
Integral approach to customer service
Cons
Best for users aiming to solve all of their customer service needs, not those simply looking for a live chat option
Start your free trial today.
2. Olark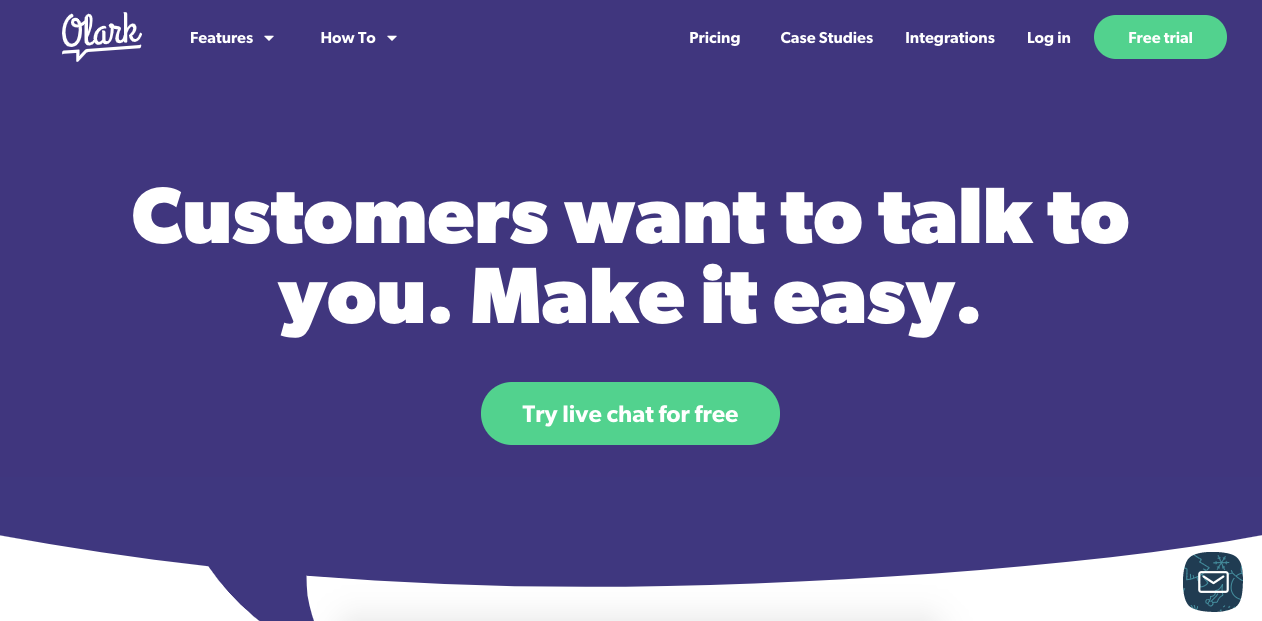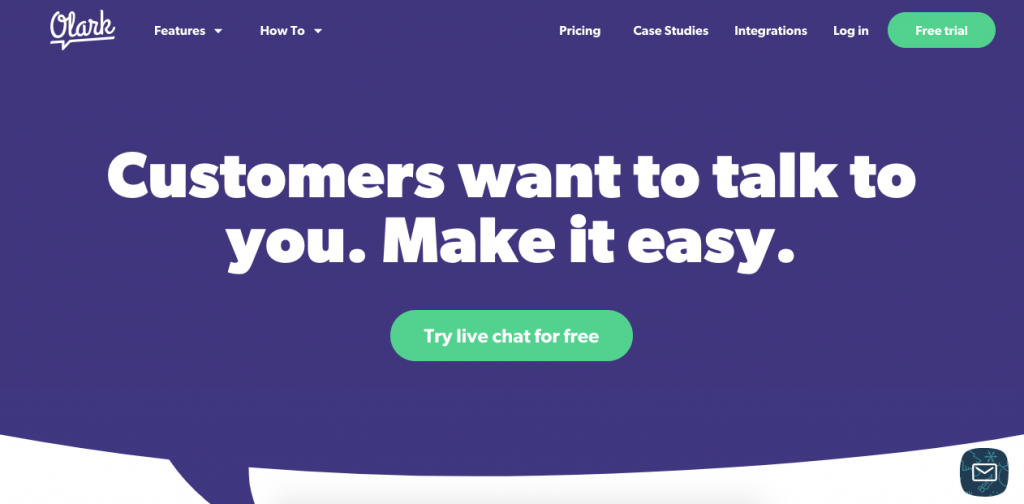 Olark is a very simple live chat tool, which makes it popular for small websites and startups that are new to using live chat.
With Olark, you will receive a simple live chat function to get you and your customers in touch. You will also receive live chat transcripts, which are very easy to browse. There are no chatbots or advanced customer service tools, making it a more basic tool than Messagely.
Olark also integrates with HubSpot, Groove, MailChimp, WordPress, Salesforce, and Google Analytics.
Pricing
Olark's pricing starts at $12 per agent per month, but that's only if you sign a two-year contract. If you want an annual contract, you'll pay $15, and if you want to pay month to month, the cost is $19 per month.
Pros:
Very easy to use
Friendly UI
Very affordable
Cons:
No advanced automation
No chatbots
Limited integrations
3. Help Scout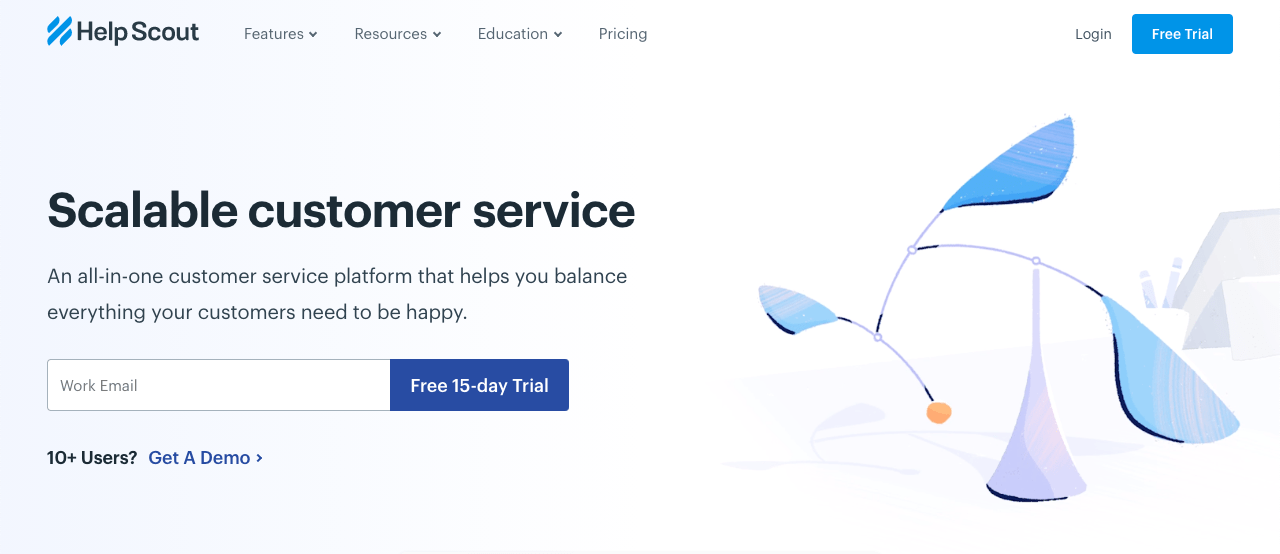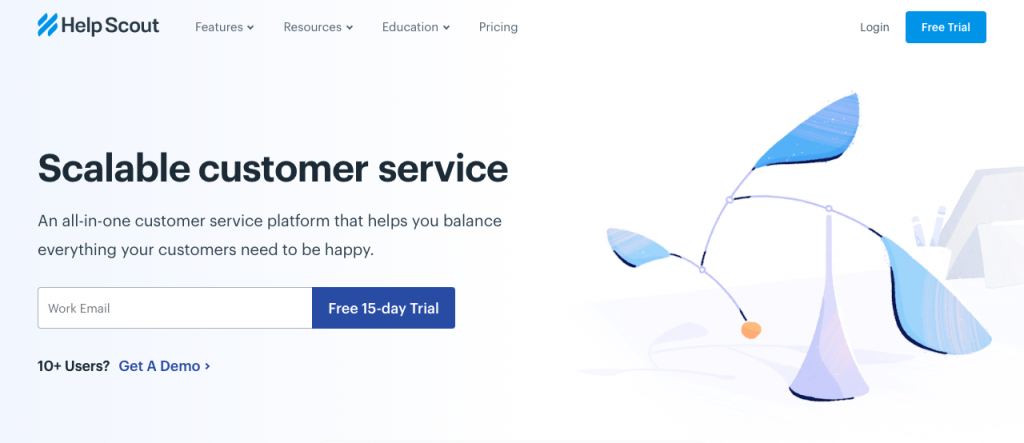 Help Scout is a customer service suite that's packed with tools and features. With it, you'll not only receive live chat, but also knowledge bases, a help desk, and powerful integrations.
Its live chat is very customer focused, allowing you to recommend articles for further reading and letting your customers start a live chat with your team any time they feel they need to.
Your teammates will also have a mailbox to synchronize all your emails within one dashboard. This allows them to tackle customer communication as a team, knowing who said what, and understanding where the customer is in their journey at a glance.
Unlike Messagely, it doesn't include chatbots or advanced customer support capabilities.
Pricing
Help Scout has two pricing tiers. Its first tier begins at $20 per user per month and includes messages, customer properties, automated workflow, and integrations.
Its "Plus" tier, at $35 per user per month, also includes team support; integration with Salesforce, Jira, and HubSpot, and SSO/SAML authentication.
Help Scout also has a customizable option focused on companies with larger needs.
Pros:
Great customer support
Fairly affordable
Easy to use and install
Great team approach
Mobile apps
Cons:
No customizable interface
Lacking reporting
4. Zendesk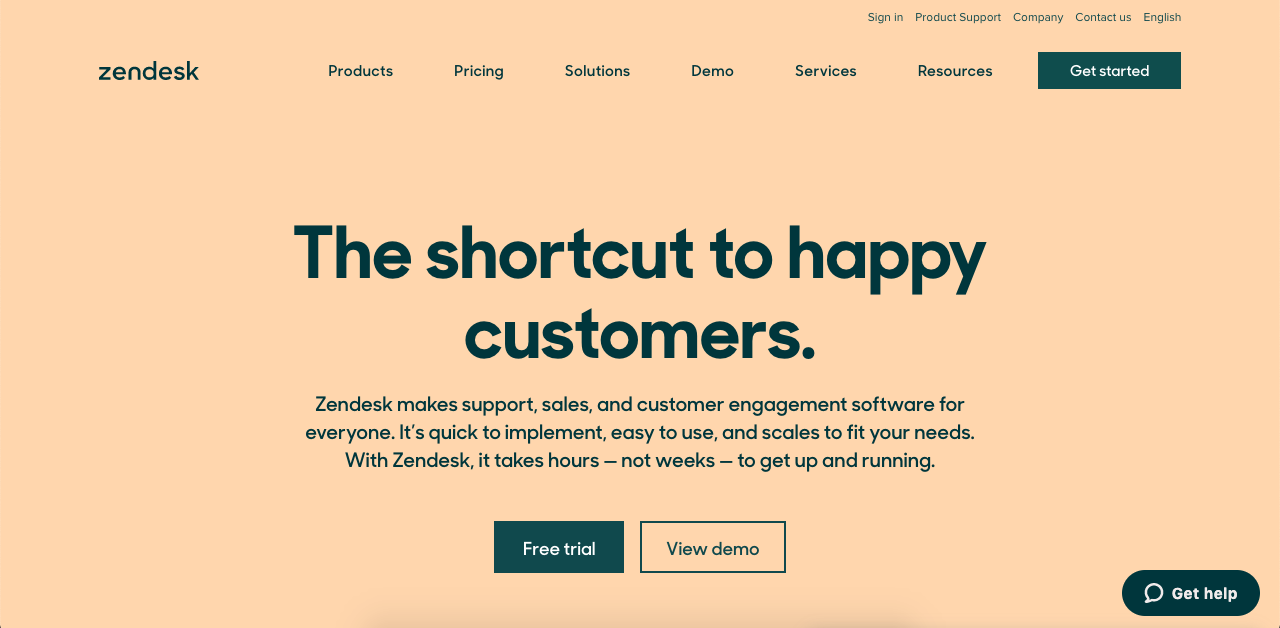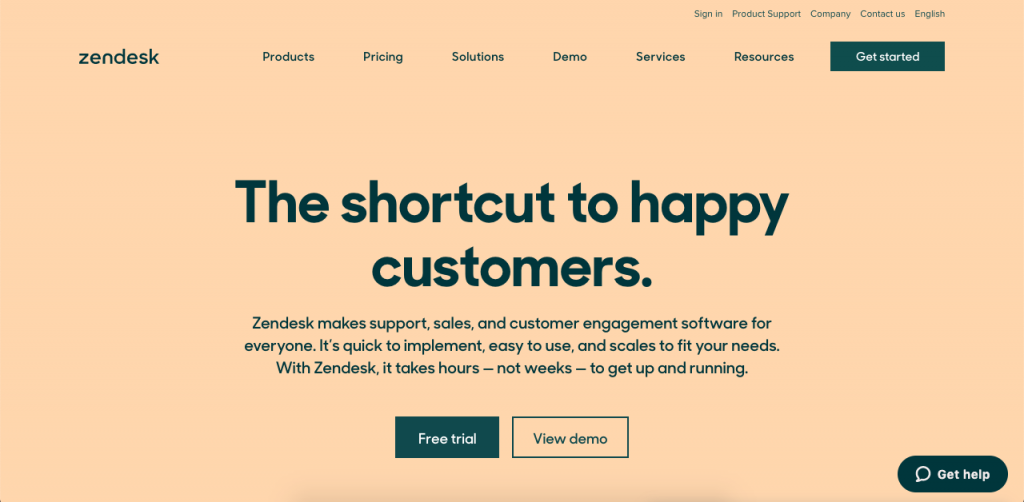 Zendesk is another highly popular customer service suite with a long record, which makes its live chat function seasoned and easy to use.
Zendesk's live chat works online and in mobile apps, allowing you to reach out to your customers to remind them you're there for them before they even ask anything.
You can keep up with your customer engagement through powerful analytics, which will show you agent performance, customer satisfaction levels, and many more data points to help you streamline your approach.
The Zendesk platform also allows you to manage cloud call centers, create powerful knowledge bases, and deal with many more of your customer service needs.
Its powerful ticketing system is incredibly functional and feature-rich, which makes it ideal for companies looking for a ticketing-system-based customer service suite.
Pricing
Zendesk has a free account that gives you access to one concurrent chat and chat rating. With it, you also get a 14-day chat history.
Its Team tier starts at $14 per agent per month and comes with unlimited chat, widget customization, and a few other features.
Its Professional tier starts at $29 per agent per month and comes with unlimited triggers and departments, powerful reporting, and conversion tracking.
Finally, with the Enterprise tier, you get real-time monitoring, widget unbranding, and 24/7 live chat support, to name a few.
Pros:
Great ticketing management
Powerful reporting at higher tiers
Multiple integration options
Cons:
Unbranding only comes at the most expensive tier
Good features are locked behind higher price tags
No chatbots
More expensive than other options
5. Intercom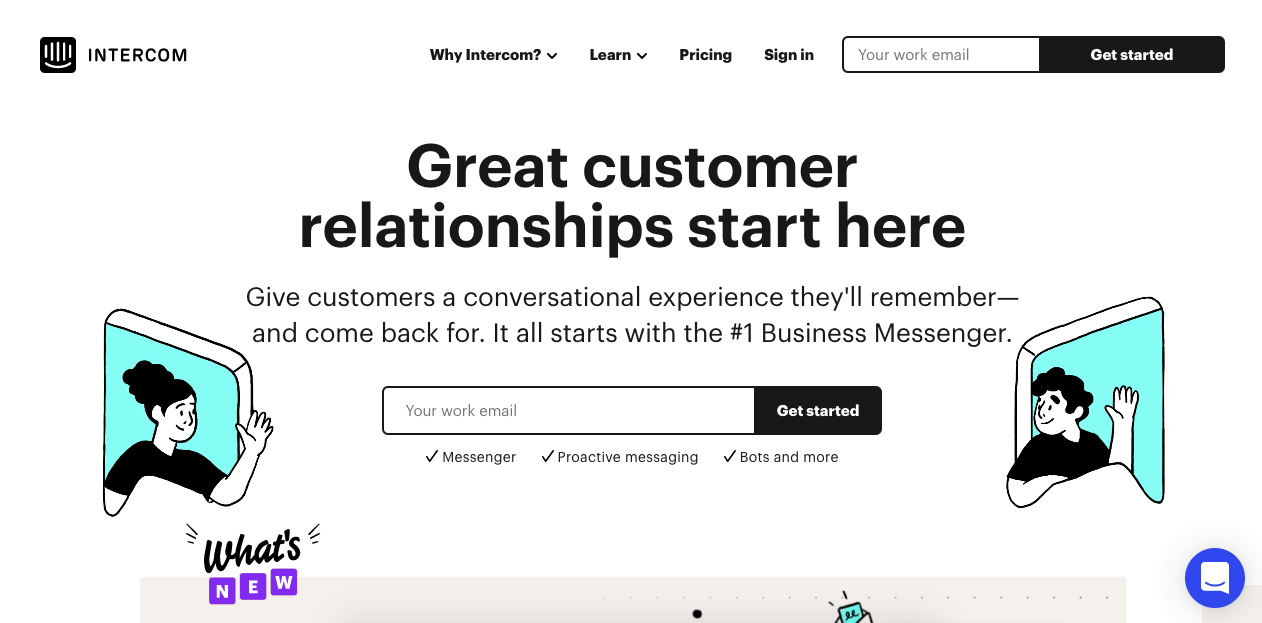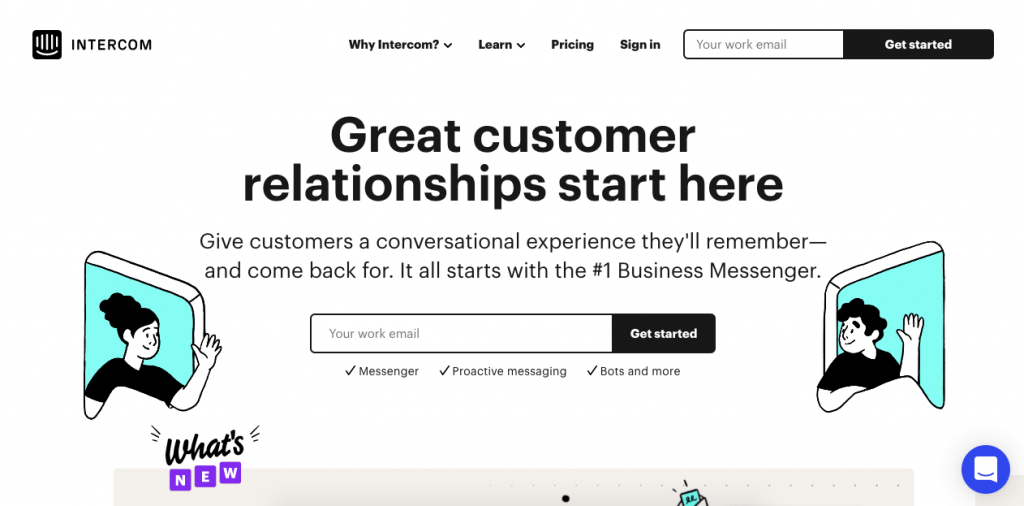 A self-defined Conversational Relationship Platform, Intercom helps you connect with clients in more ways than just live chat.
With it, you can provide live chat on any website or with any web-based product, send behavior-driven messages, use predictive responses, and send automated targeted content, to name a few.
Pricing
Intercom essentially offers four different pricing ranges that will depend on your needs and business size.
If you want only the most basic chat and messaging options, you can choose between "Start", from $39 per month, or "Grow", from $99 per month.
If you also want large messaging capabilities and automation, you'll have to choose between "Accelerate, from $499 per month, and "Scale", from $999 per month.
Pros:
Great support system that's continuously updated
Incredibly useful and advanced features for customer communication and segmentation
Powerful and simple automation capabilities
Great ticketing software
Detailed analytics
Cons:
Best features only come with very expensive plans
Its basic plans are also expensive for the value
Confusing pricing structure
More expensive than other options
6. Drift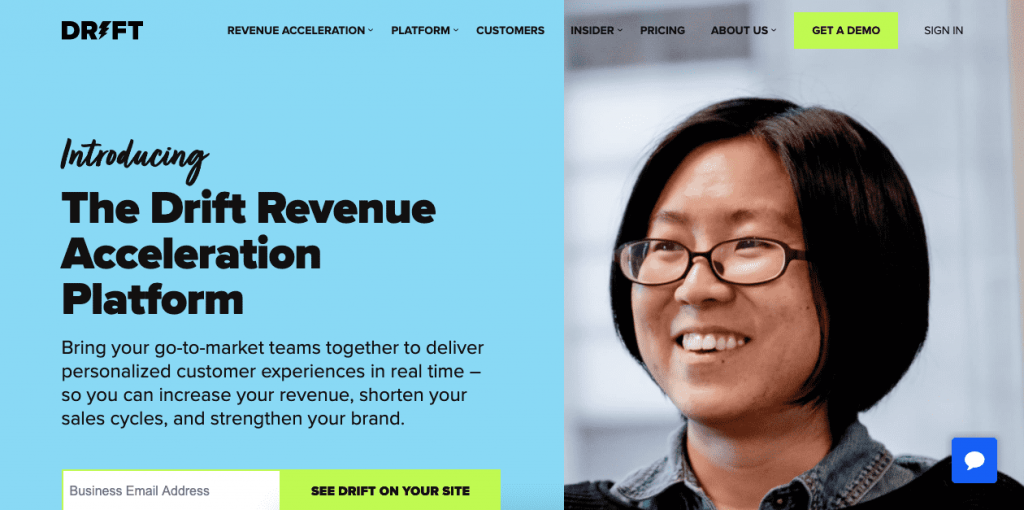 A B2B-focused platform, Drift combines both live chat and chatbots to help you provide answers faster and increase conversions. With powerful integration with CRMs and email marketing services, Drift is perfect for any company that already has a customer service plan in place, and it's looking for an upgrade.
Drift's features include the Drift bot, account-based marketing, scheduling, anonymous visitor intelligence, and many more features to allow you to sell more and talk to more customers.
Pricing
Pricing starts at $50 per month and comes with two seats. However, automation features only come with the Pro plan tier, which starts at $500 per month and includes five seats.
Pros:
Good 24/7 customer support
Very easy to install
Crisp and polished UI
Advanced automation features
Cons:
Chatbot features are very expensive
Admin management is confusing and comes with a high learning curve
Works best only for B2B companies
More expensive than other options
7. LiveChat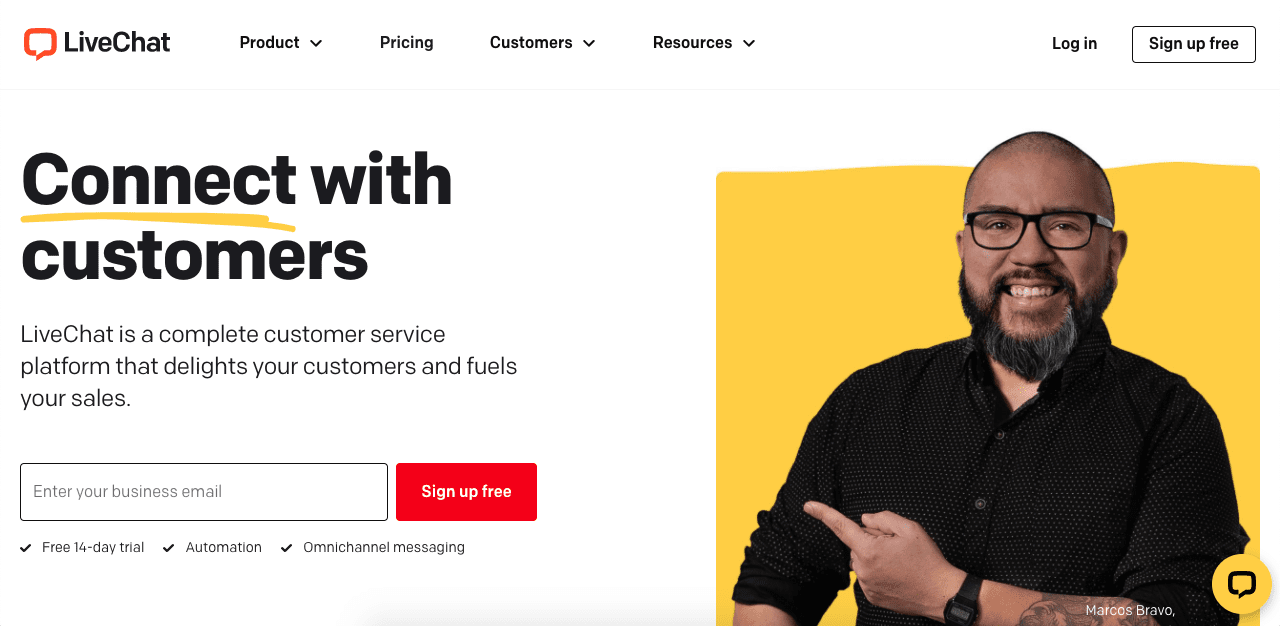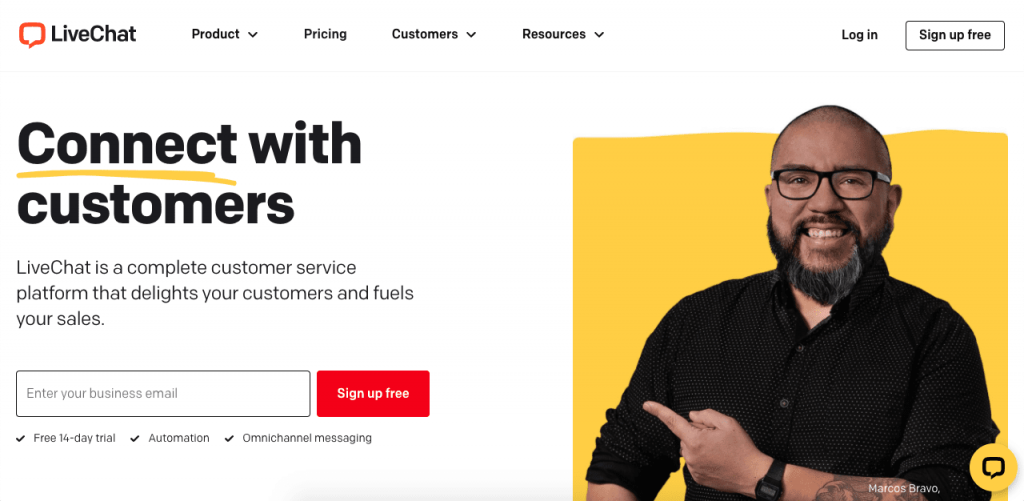 LiveChat is a popular, all-in-one customer service platform with great live chat features and an enviable customer list.
With LiveChat, all your chats and questions are consolidated into a single inbox so your team can quickly answer your customers. LiveChat comes with a powerful AI, which routes communication to the right customer service rep, generates leads, creates tickets, and even segments your visitors.
LiveChat also has great integrations with multiple platforms, including Shopify, WordPress, Salesforce, and HubSpot, allowing you to integrate the tools you already use.
Pricing
LiveChat pricing starts at $16 per agent per month and comes with basic widget customization, a ticketing system, and 60-day chat history.
For $33 per agent per month, you get unlimited chat history and full widget customization, as well as basic reporting and multiple brandings.
Finally, its Business tier starts at $50 per user per month and comes with advanced reporting, work scheduler, staffing prediction, and many more business-focused features.
You can also contact them to get a customized solution.
Pros:
Attractive UI that's very user friendly
Lots of features
Mobile support
Cons:
8. Front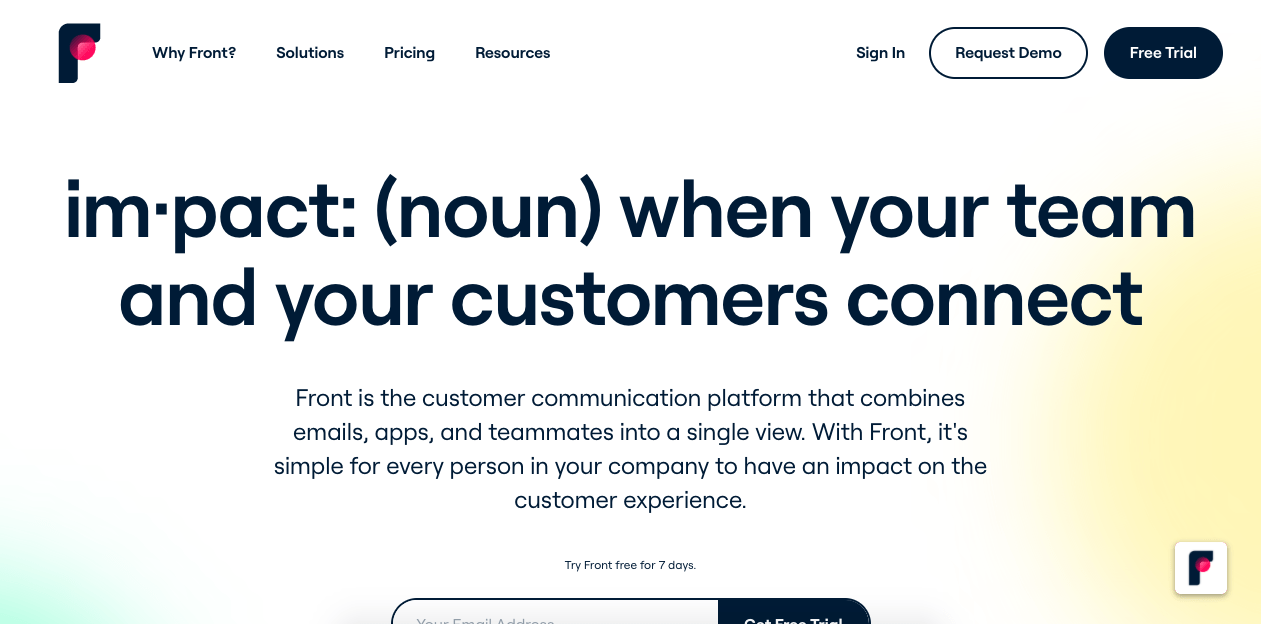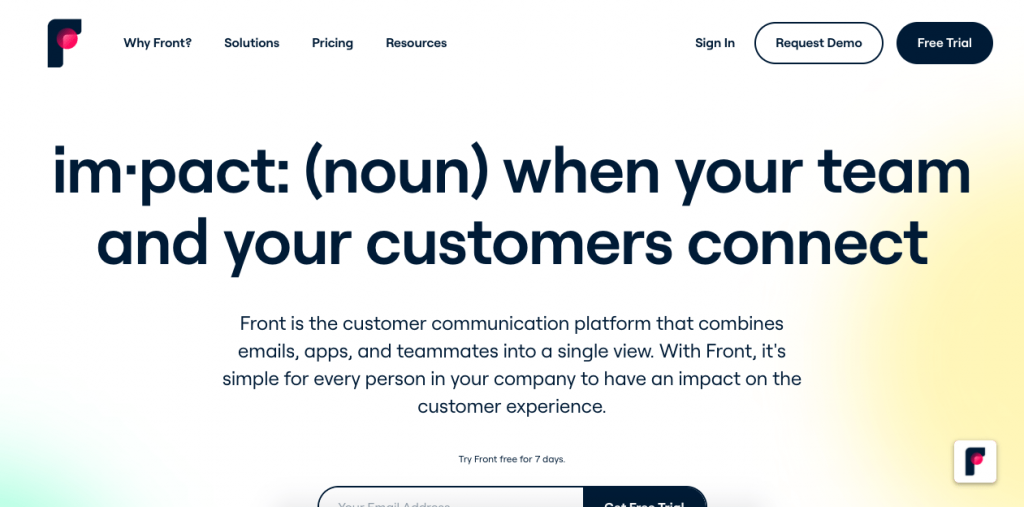 Front is a collaborative email platform, perfect for teams of remote workers to work together in the same communication system.
With Front, you can easily adapt and scale up your customer service. Front gives you workflows to route messages and automate customer service, email analytics to get insights on your customer communications, and a very friendly UI—which integrates with many tools like email marketing services and CRMs.
Pricing:
Front's pricing starts at $9 per month per user, which includes three team channels and individual email boxes.
The "Plus" tier starts at $24 per user per month and also includes basic integrations and unlimited basic rules.
Starting at $49 per user per month, its "Prime" tier adds all integrations and analytics, plus advanced rules and more channels.
Finally, starting at $79 per user per month, its "Enterprise" tier includes 100 team channels, advanced admin controls, and shift scheduling.
Pros:
Perfect solution for remote teamwork
Multichannel approach
Powerful automation features
Great analytics and reporting
Cons:
Not enough resources for self-help
Expensive for larger teams
9. HelpCrunch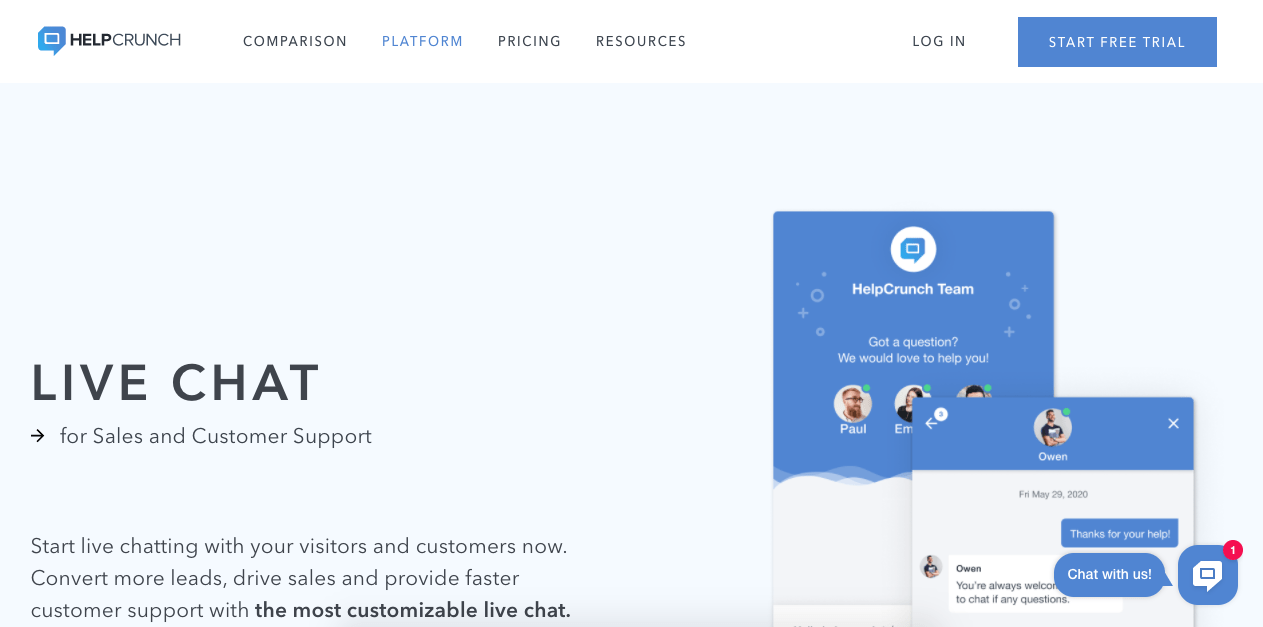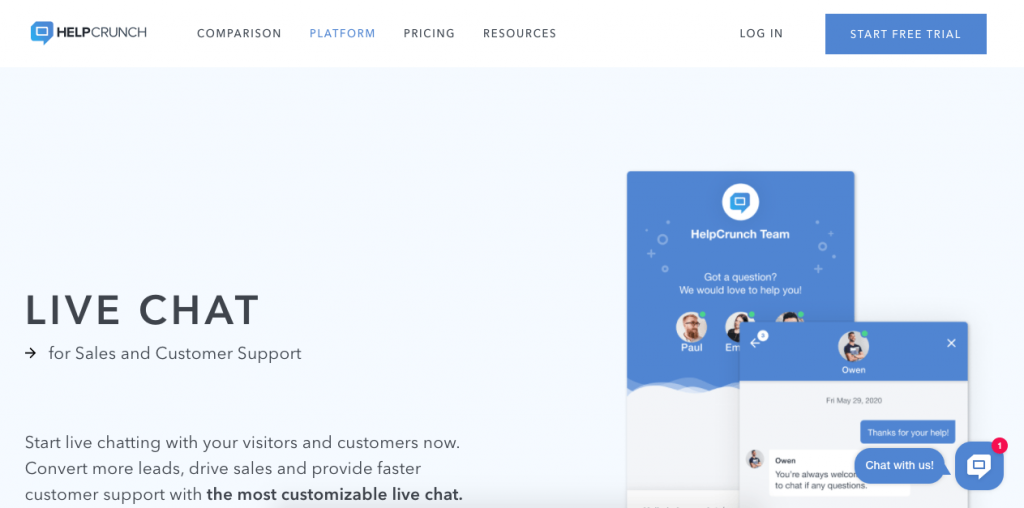 HelpCrunch is a full customer service tool with all the features you'd expect: ticketing, knowledge base, email marketing, and of course, live chat.
Its live chat is highly customizable and easy to use and install. With it, you can pre-qualify your leads based on their messages and contact information that your users fill offline.
Your agents can handle up to five customer chat sessions at the same time in a crisp clear interface with pre-made answers that streamline your customer communication. Your customers can rate their chat session after closing a conversation, and your agents can see what your customers are typing before they even send their responses.
Pricing
Pricing starts with its 'Standard' tier at $12 per month per user, and that includes one chat widget, three auto messages, a help desk, a knowledge base, full customization, and three popups.
Starting at $20 per month per user, you get to remove HelpCrunch branding and receive unlimited auto messages, popups, advanced customization, and high priority live chat support. You can also contact them for a customized solution.
Pros
Very affordable option
Full customer service software
Very friendly design
Great customization features
Cons
Lacking advanced automated features
Reportedly buggy platform
10. Trengo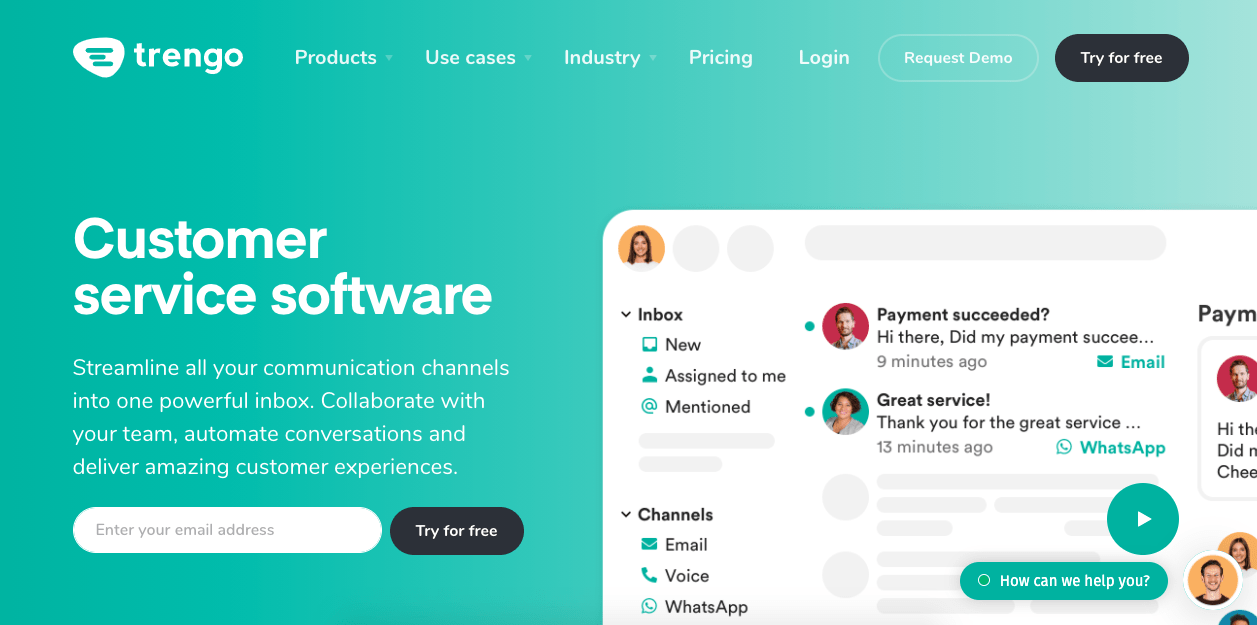 Trengo is an integrated inbox app with notable clients such as Volkswagen, Oppo, Audi, and Cold Jet. With Trengo, you can consolidate messages from a variety of platforms like Facebook, WhatsApp, Instagram, and more, into a single platform.
Trengo's live chat supports multiple sessions so your customer service reps can handle many customers at the same time. You can also create help centers and chatbots to further help your users with more information, even if your team is offline.
Pricing
Trengo's pricing starts at €5 per agent per month for its basic live chat and mobile apps. At €15 per user per month, you can also include the flow bots feature for an extra €49 per month.
Pros:
Easy to use
Effective
Highly customizable
Multi-channel approach
Cons:
Doesn't save previous conversations
Can get expensive with multiple features
11. Tidio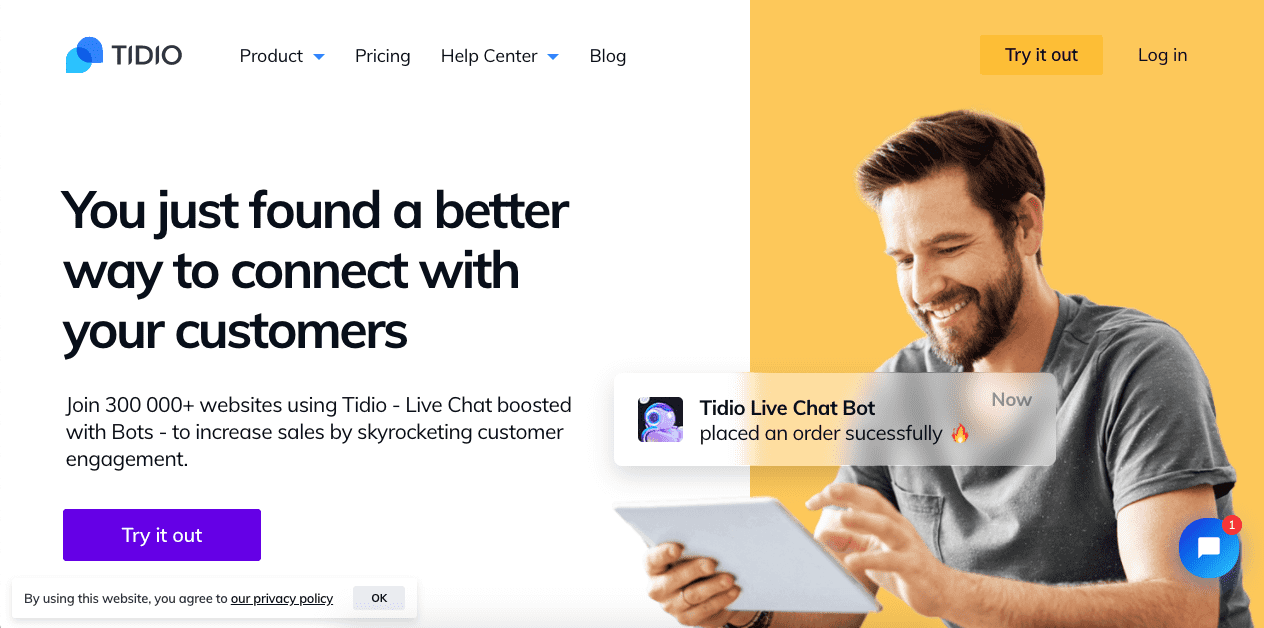 Tidio is another cloud-based platform that allows you to use chatbots and live chat to solve your customer's queries immediately, both on your website and on Facebook Messenger.
You can also use Tidio for lead qualification, by qualifying leads through automation and AI-powered chatbots to ensure the right sales reps are spending time with highly-qualified leads. This is perfect for startups and small to medium companies looking to increase their online sales.
Tidio also allows you to track your customers' journeys through your website, easily program chatbots through its templates, and integrate with multiple third-party tools.
Pricing
Tidio has a generous forever-free plan with up to three chat operators, unlimited chat, mobile and desktop apps, and a JavaScript API.
If you want chatbots, pricing starts at just $18 per month and includes unlimited chatbots, chatbot templates, chatbot editors, and Zapier integration.
For the same price, you can instead get live typing, live visitors list, new incoming visitor notification, and visitor viewed pages.
Pros:
Generous forever-free plan
Automations are very affordable
Very easy to use and set up
Cons:
Very limited integrations
Not many channels supported
Limited user reporting
12. LiveAgent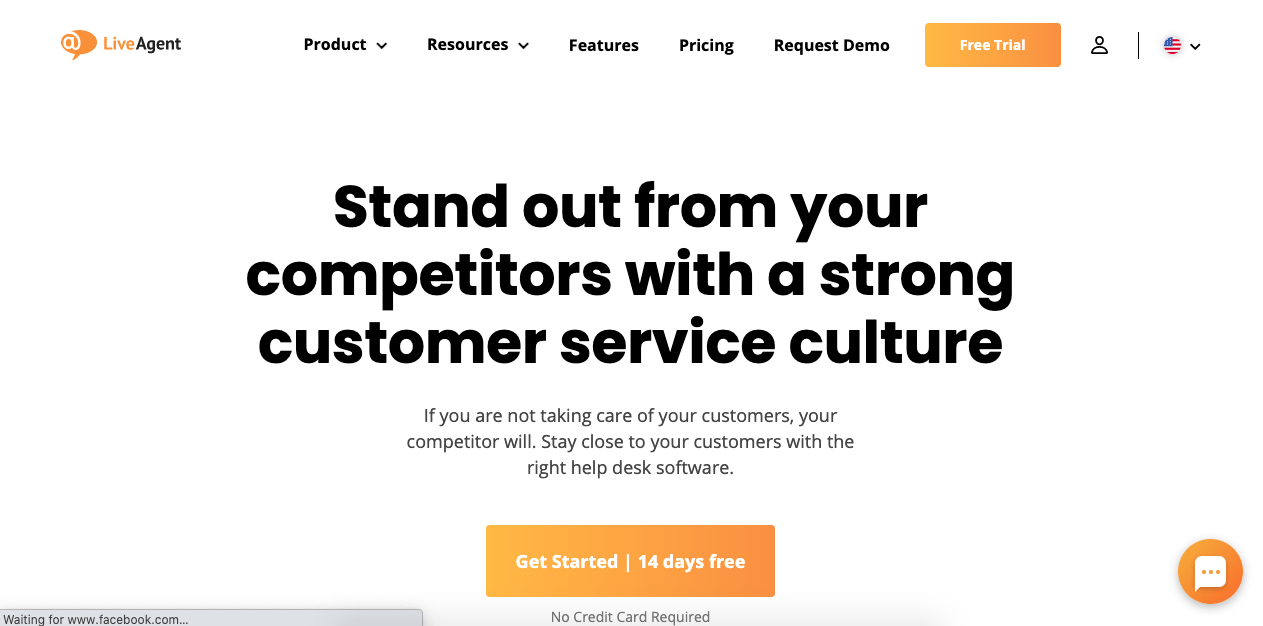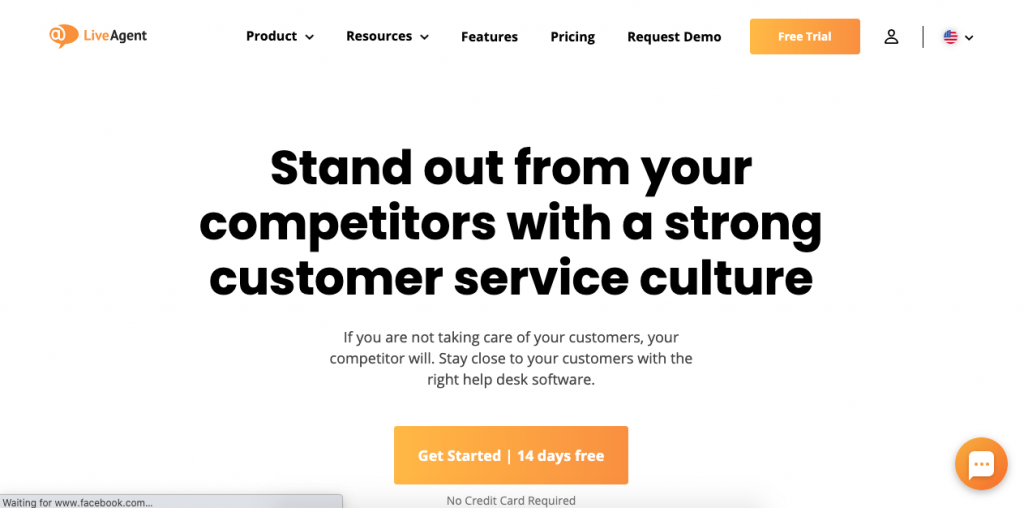 LiveAgent is a comprehensive tool for social media monitoring and management with live chat capabilities. Its live chat claims to be "the fastest on the market," with proactive chat invitations, a real-time typing view to see what the customer is typing before they send it, and a powerful and responsive ticketing feature.
Its live chat also integrates quite well with the rest of the platform, so you can use the same software to answer all customers from multiple social profiles, and consolidate all of them into a single view.
Pricing
LiveAgent has a forever-free account with one chat button included and 7-day ticket history. Its first pricing tier, starting at $15 per agent per month, offers unlimited ticketing history and email tickets.
However, if you're looking for live chat, you'll likely have to choose between its top two tiers. The "Ticket+Chat" tier, starting at $29 per agent per month, includes gamification, chat invitations and surveys, feedback management, and unlimited live chat buttons. The "All-inclusive" tier, starting at $39 per agent per month, also includes video calls, IVR, and all social media support.
Pros:
Fairly affordable
Free limited live chat option
Automated ticketing system
Can handle all social media messaging
Cons:
Hard to differentiate between communication channels
Main window may be overwhelming for new users
13. Freshchat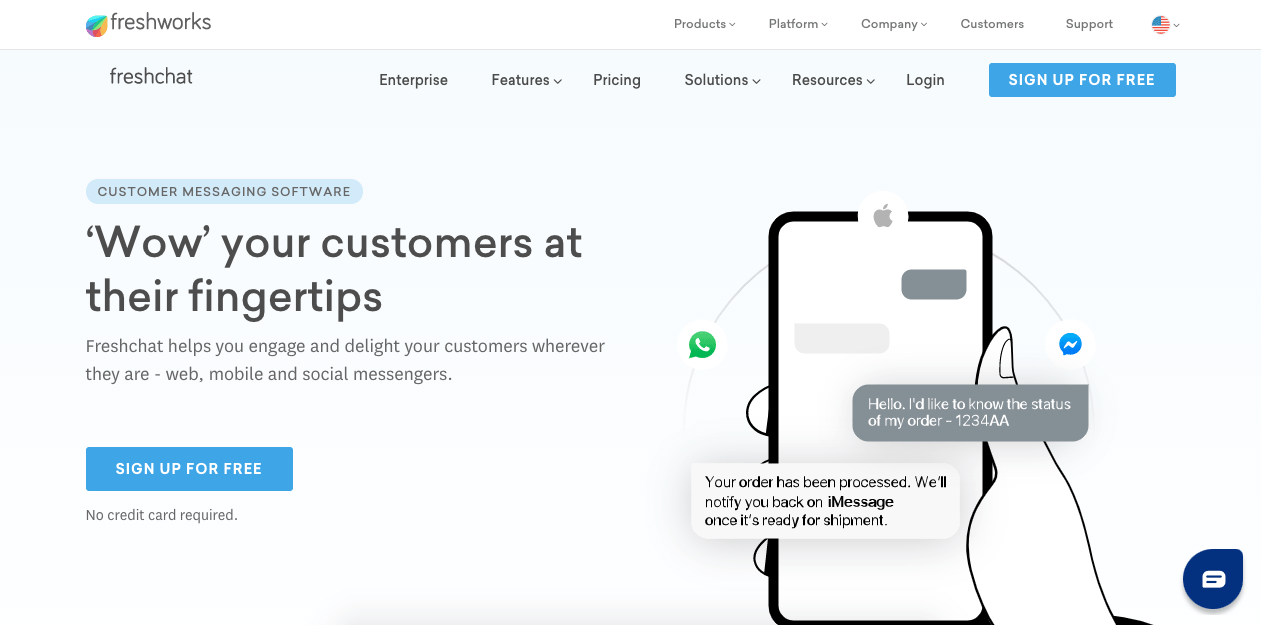 Backed up by Freshworks, Freshchat is a powerful live chat that integrates well with other customer service tools and all your social media.
Freshchat is perfect for companies looking to update their customer support and consolidate multiple channels into one. With Freshcaht, you can receive AI automation, intelligent chat routing, multiple integrations, and live translate, all in a very secure platform.
Pricing
Freshchat has a limited free plan for up to 100 agents with inbox views, team inbox, desktop and mobile notifications, and great integrations with WordPress and the rest of the Freshdesk platform.
Its Blossom tier for small teams starts at $15 per user per month and includes canned responses, business hours, FAQs, Facebook Messenger, and private notes. The Garden tier for growing teams starts at $29 per user per month and also includes auto-resolve and WhatsApp business, to name a few.
The Estate tier for large teams at $45 per user per month adds live translate and multilingual support, advanced automation, dashboards, and roles and permissions. Finally, the Forest tier for enterprises, at $69 per user per month, also adds chatbots, allowed domains, and user authentication.
Pros:
Free live chat plan
Great omnichannel support
Team collaboration tools
Great multilingual support
Cons:
Automations and chatbots are fairly expensive
Limited integrations
Reportedly buggy platform
14. SnapEngage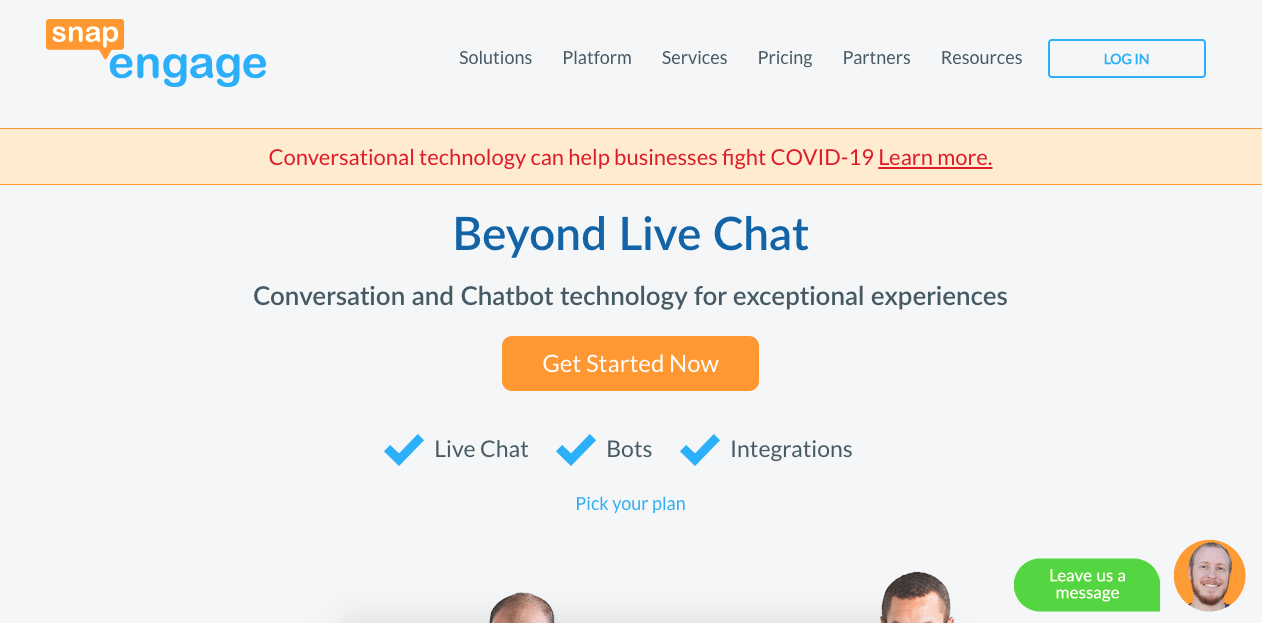 SnapEngage, although pricy, comes with features you won't find anywhere else, which can make it particularly attractive for large businesses.
With SnapEngage, you can integrate multiple CRM databases and social media platforms to be managed in one window. SnapEngage is also HIPAA compliant, so it's a great choice for medical businesses handling patient information. Its chatbot is fairly responsive and takes visitor information so you can follow up with them later.
You can also create custom workflow mapping to expedite and streamline your sales workflow. And if you get stuck anywhere or need help, you can contact SnapEngage's implementation specialists to help you with the setup process.
Pricing
SnapEngage pricing starts at $16 per month per user, with a minimum of 3 users for its Essentials tier. It includes omnichannel communication, canned responses, chat transfers, chat surveys, proactive messages, and great encryption and security features.
Its Professional tier, starting at $26 per user per month with a minimum of three users, also includes Salesforce integrations, click-to-call, real-time auto-translation, and implementation specialist assistance.
However, HIPAA compliance, chatbots, and many more useful features are locked away behind extra costs.
Pros:
Great advanced features for specialized live support
Award-winning customer support
Personalized live chat attention with agent photos
Cons:
Best features are locked behind extra costs
Can quickly become expensive with add-ons
No site monitoring
15. Userlike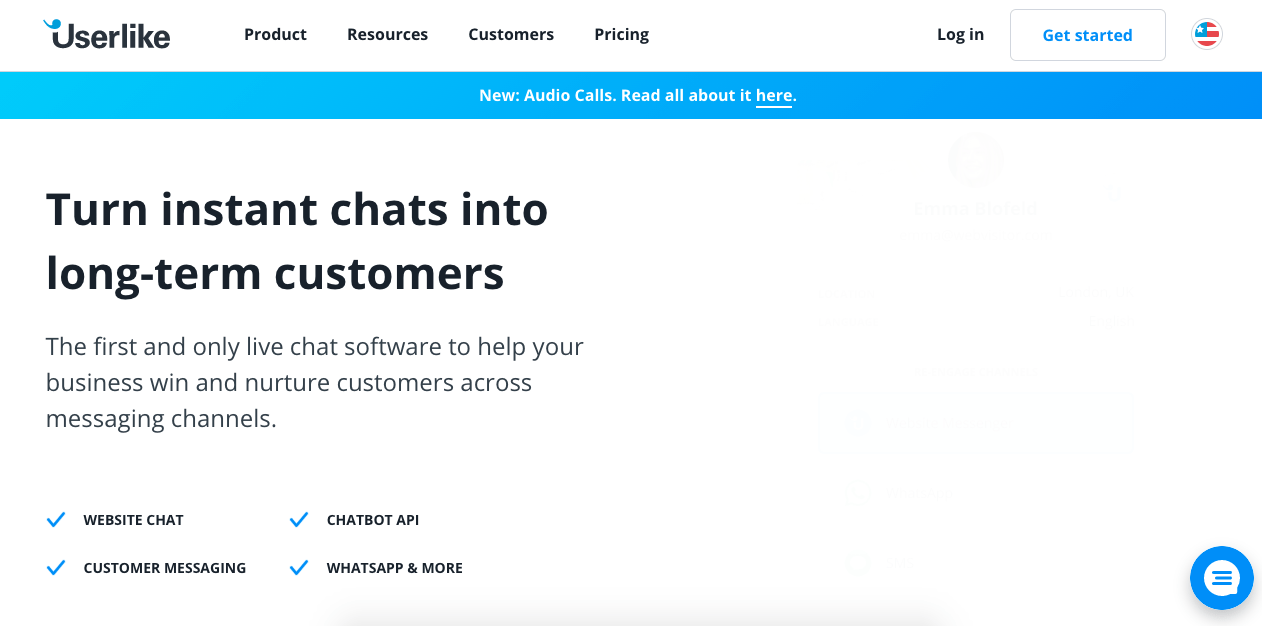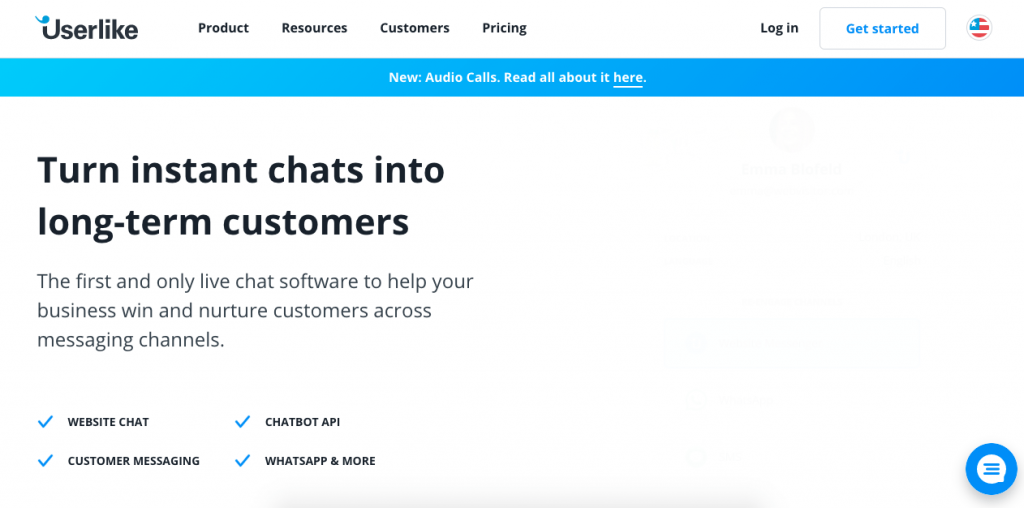 Userlike is another live chat platform with great personalization options when it comes to customer support.
With it, your users can choose the department they want to talk to and the skills the rep needs to have. This is perfect for segmenting your users and making sure they're receiving the attention they need from experts in their field. However, Userlike has yet to automize this feature since right now the conversation still needs to be manually forwarded.
You can also integrate Userlike with various CRMs and customer service tools.
Pricing
Userlike pricing starts with a free limited option for one widget and one seat. Its Team tier starts at €90 per month and includes four seats and one extra channel.
The Corporate tier starts at €290 per month and includes three channels, live translation, analytics, and audio calls.
Finally, the Business tier, at €720 per month for 20 seats, includes white-label, chatbots, WhatsApp channel, API access, and up to five channels.
Pros:
Free plan available
Customer chat rating
Customizable chat window
Multiple integrations
Cons:
Very expensive if you want white-label, WhatsApp support, or chatbots
No automatic rerouting
16. Chatra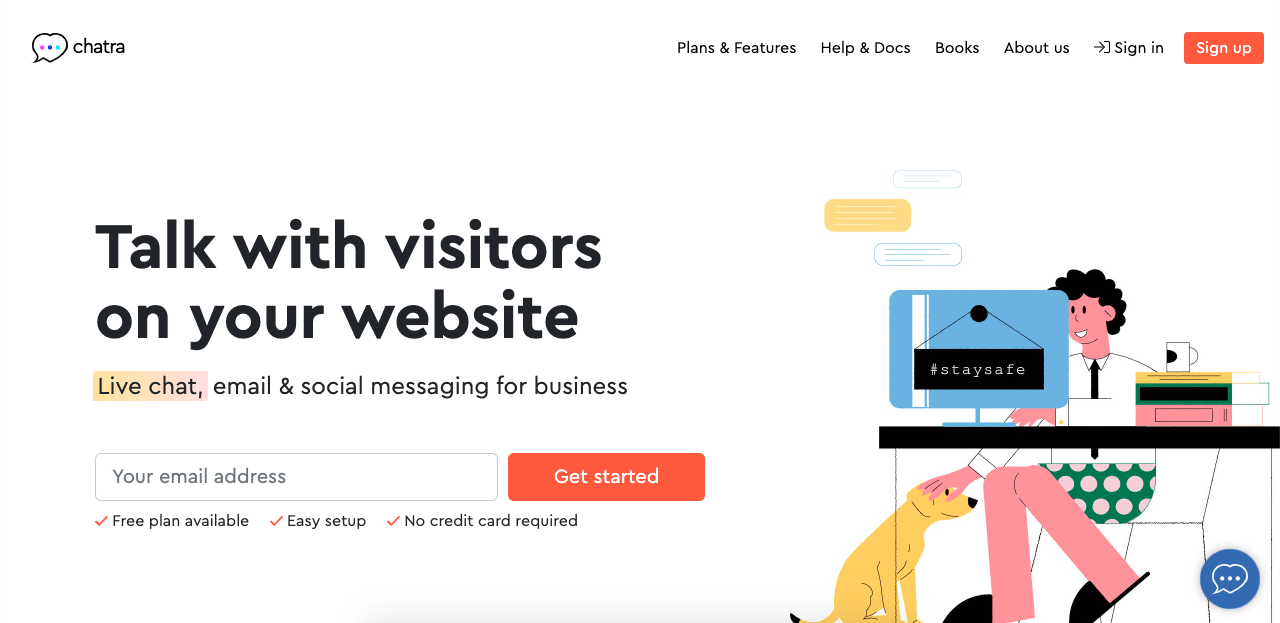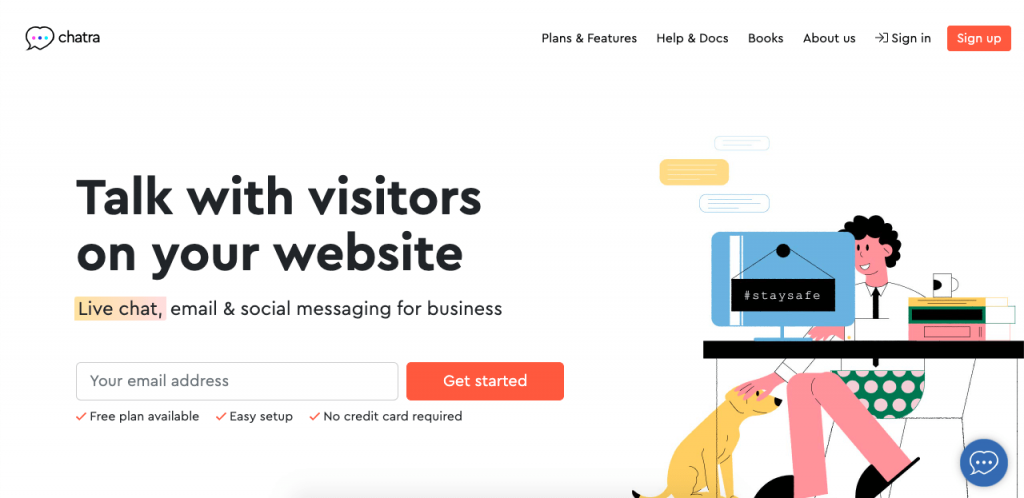 With a very generous forever-free plan, Chatra is perfect for small startups and entrepreneurs looking for unlimited chats and chat history for free.
With Chatra, you can also receive many paid features, such as group chat, targeted messages, customer data, operating hours, and many more features perfect for larger operations.
Pricing:
Besides the free plan, Chatra offers two tiers. The Essential tier starts at $15 per user per month and includes Facebook messenger support, chatbots, targeted messages, visitor info, and many features useful for agents to organize themselves.
The Pro tier, at $23 per user per month, also includes operating hours, agent groups, chat ratings and reports, as well as REST API and advanced integrations.
Pros:
Very generous and feature-filled free plan
Very affordable chatbots and automation
Affordable integrations and advanced options
Cons:
No ticketing system
Very basic reporting
17. Pure Chat
Pure Chat is another platform with a generous free plan. With it, you get up to three agent seats with unlimited chat and full chat customization for free, making it perfect for smaller businesses.
Its paid plans also include visitor tracking and chat unbranding features. Pure Chat also offers paid features for new chat SMS notifications to keep you connected without the need for a mobile app.
Pricing
Paid plans start at the Growth tier at $39 per month, with additional users starting at $13 each. This tier includes all integrations, canned responses, notifications, visitor tracking, and nearly all other live chat features.
The PRO tier, at $79 per month, with additional users starting at $8 per month, is almost the same as the Growth tier but supports an unlimited number of websites, 1,000 SMS notifications, and removes the Pure Chat branding.
Pros:
Generous free plan with up to three seats
Clean and crisp UI
Advanced reporting
Fairly affordable, if you don't mind the Pure Chat labeling
Cons:
Doesn't support attached documents
No automation
18. tawk.to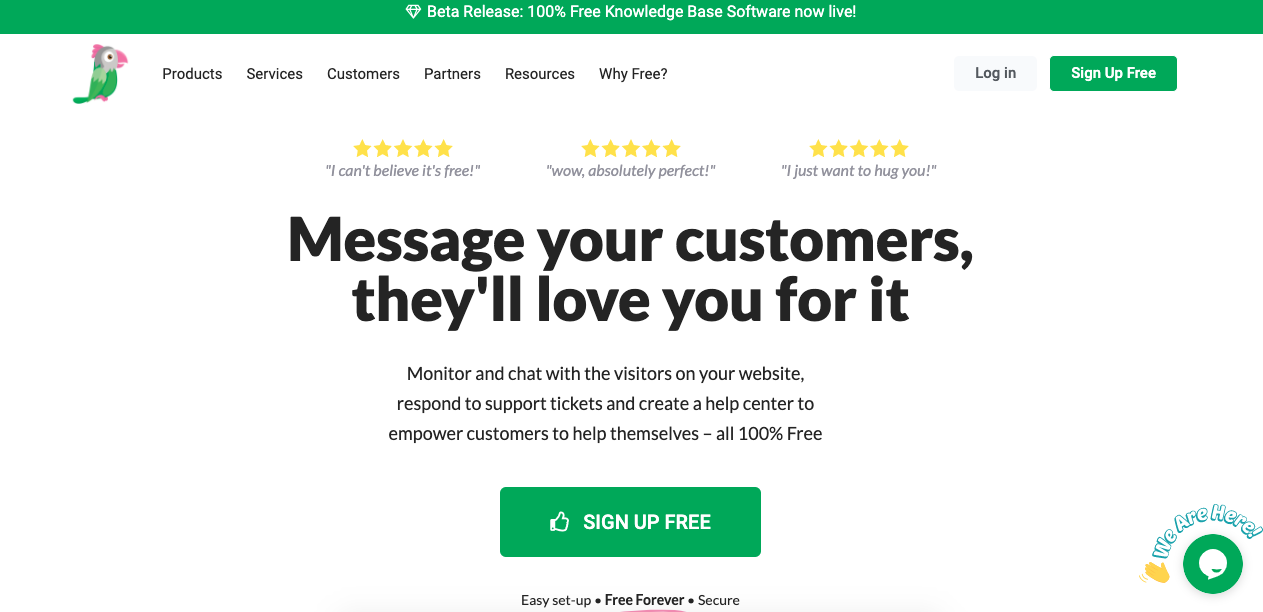 tawk.to is a live chat software that works with websites, apps, and platforms like Joomla, Magento, and WordPress.
tawk.to has great features such as its video and voice chat, and its screen sharing, making it perfect for anyone who wants to provide "face-to-face" support and needs to see the user's screen. It also has multilingual chat, automated messaging, advanced reporting, and great integrations.
The best part?
It's completely free.
Pricing:
Using the platform is free. If you want to remove the tawk.to label, you'll have to pay $15 per month. You can also hire them to answer your chat for $1 per hour.
Pros:
Website and mobile compatibility
Video and voice chat
Shared screen
Completely free without white label
Easy implementation
Cons:
No chatbots our automation
Old fashioned UI
Limited analytics and reporting
Not for companies needing airtight security
19. Crisp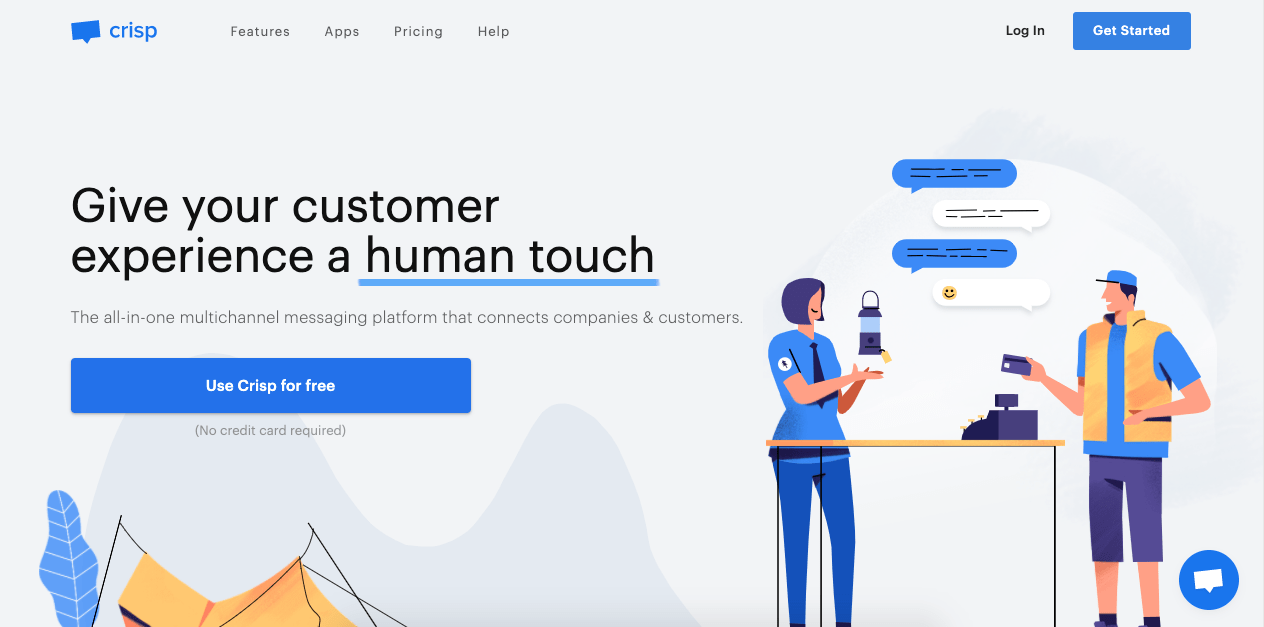 Crisp is a customer service software with multiple live chat features. With Crisp, you get a shared inbox to centralize all your conversations from your website, email, social media, and more.
You also get a full-fledged CRM, making it perfect for smaller companies looking to streamline their customer service approach with one tool. Crisp also allows you to build responsive chatbots without any coding by creating simple workflows.
Pricing
Crisp offers a free plan with up to two seats with limited capabilities.
Its Pro tier costs $25 per month and includes 4 seats, as well as canned responses, private notes, customization, and social media support.
Finally, its Unlimited tier at $95 per month includes unlimited users, a knowledge base, automated replies, chatbots, and CRM and Zapier integrations.
Pros:
Great features for companies of all sizes
Multiple integrations
Great pricing for large customer support teams
Cons:
No teams function
Expensive to remove Crisp label
Integrations, chatbots, and automations are only available in the most expensive tier
20. JivoChat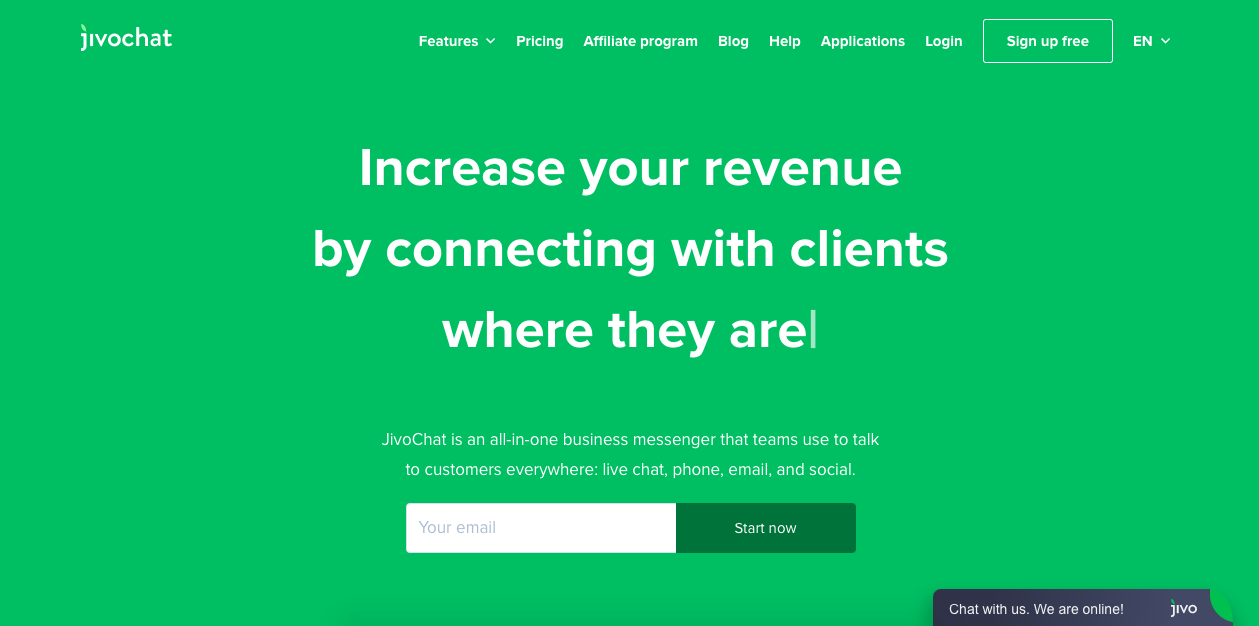 Self-described as an all-in-one business messaging solution, JivoChat lets you communicate with your customers not only through live chat, but also through phone, email, and social media, all within a single platform.
You can integrate the platform with the most popular tools, like Shopify, Slack, and multiple CRMs. Its live chat works on any device and browser and has powerful multilingual capabilities for international brands.
The platform also notably offers unlimited chats and websites on every plan, including its forever-free version.
Pricing
Its forever-free account includes five agents, customizable chat in 20 languages, and 24/7 support.
Its professional version starts at $13 per agent per month and adds canned responses, smart triggers, chat transfers, real-time monitoring, file sharing, and more advanced features.
Pros:
Great multilingual support
Very generous free plan
Sneak peek to see what your customers are typing as they type it
Great monitoring and reporting
Cons:
No chatbots or full automation
Limited integration
21. HubSpot Live Chat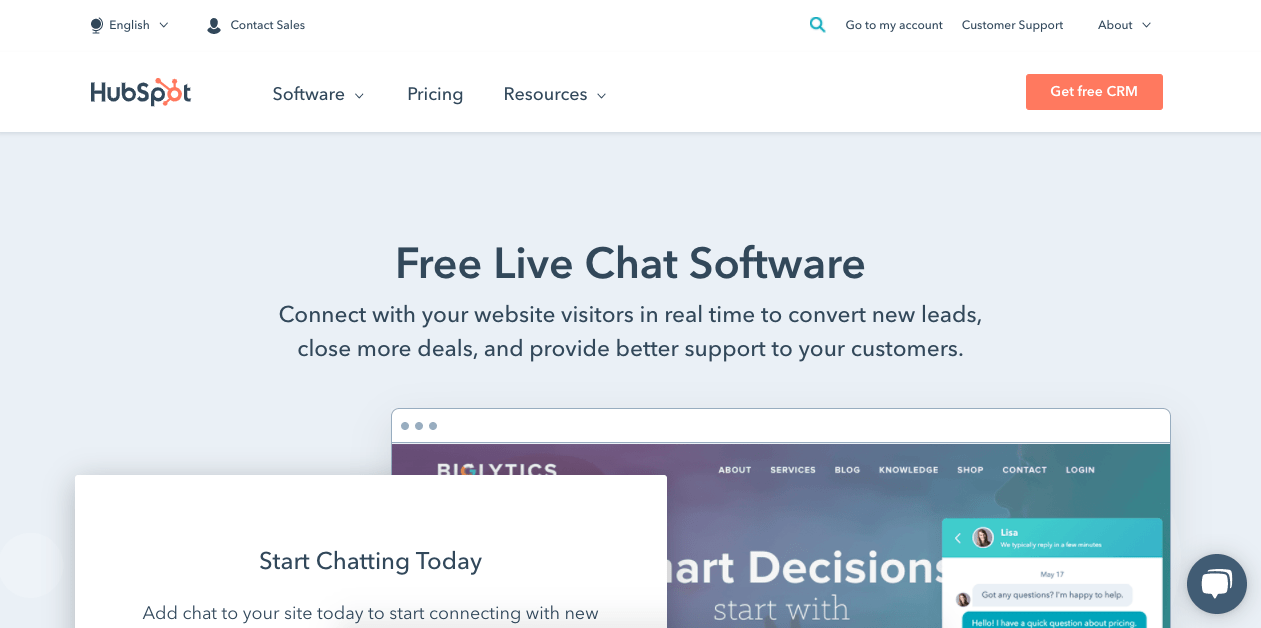 Lastly, HubSpot is a tool that needs no introduction. Its acclaimed forever-free CRM also comes with a free live chat. This live chat includes custom branding, targeted messages, chatbots, and many more features, and it's perfect for anyone already using HubSpot CRM.
The live chat is very easy to customize and very friendly for teams, consolidating all messages into a single inbox for easy reading.
Pricing
HubSpot Live Chat comes free with its CRM software, which has a forever-free option. If you're looking for alternative providers, check out this guide on CRM software.
Pros:
All-in-one solution to customer service
Very easy-to-build automations
Great for calendar booking
Free and powerful
Cons:
Only available for HubSpot users
Chatbots can easily miss conversations
limited widget customization
Everything About Live Chat Tools
Here are the answers to the most asked questions about live chat tools
Why should you care about a live chat program?
Live chat programs allow you to give your customers the care they need as soon as they need it without abandoning your website.
What features should you look for in a website chat tool?
It depends on your needs. In general, you should look for a chat tool that's easy to use and easy to install. Check how much it costs to fully remove labeling, and how easy and effective the chatbots and automations are since that will save you a lot of money in the long run.
Depending on your needs, you may also want a ticketing function, attachment capabilities, targeted responses, and support for other channels like social media and email.
How much should you budget for when purchasing a live chat system?
It will depend on the number of reps you have, your usual customer pain points, and the capabilities you're looking for. Live chat systems usually charge anywhere from $10 to $100 per user per month, depending on the platform and the capabilities.
Write a list of "must-haves" and always use the free trial to test out the platform before committing.
What is the best live chat tool?
The best live chat software is the one that fits your needs. That's why an all-in-one platform like Messagely, with multiple features and attractive pricing, is so popular because it ticks all the boxes for many companies.
What is the best free live chat tool?
Nearly all live chat tools come with a free trial. If you want a forever-free version, you can try Tidio, LiveAgent, Chatra, and JivoChat.
Why do companies use live chat tools?
To provide in-page communication and solutions to online users as quickly as possible.
How do you use live chat system for lead generation?
Find a live chat that gets the user's contact information beforehand, and make sure your live chat has powerful chatbots to provide customer care 24/7 and redirect qualified leads to live agents.
Conclusion
Live chat software is a must in the digital world. If you have a website, you should also have live chat to allow your customers to contact you as soon as they need to.
If you want a simple, powerful, and affordable option, try Messagely for free today.