With live chat, turn your website into a lean, mean, revenue-generating machine.
Live chat helps you generate, qualify and nurture leads, without lifting a finger.
Unlock your 14 day free trial.
No credit card required.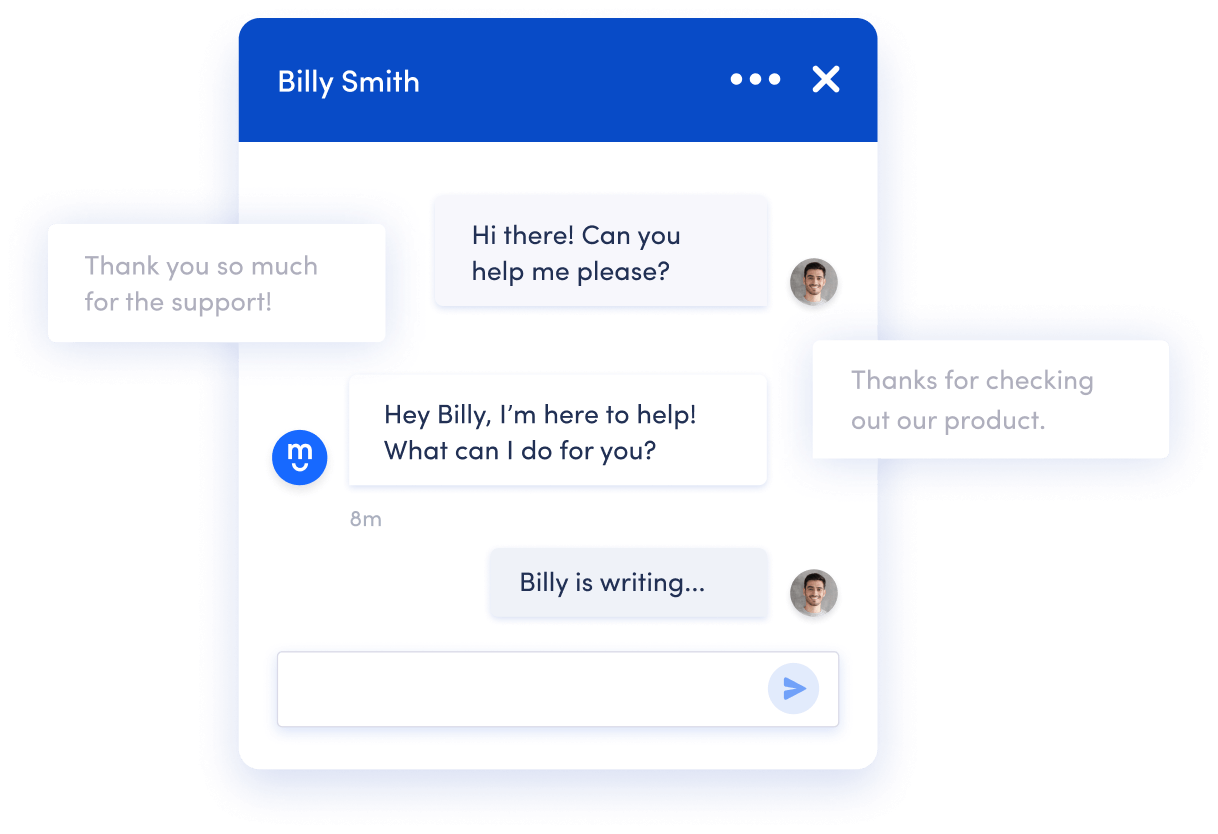 You can use Messagely for
Piping hot leads, delivered fresh to your inbox.
Want to generate leads faster than you can close? The secret lies in live chat. With Messagely's customer acquisition software, you can easily send personalized messages to your website visitors, and entice them to convert as leads.
Drill Down To Highly Specific Customer Segments
Target website visitors by how many pages they've accessed on your website, how long they've spent on your website, or their referring source.
Unlock The Power Of Account Based Marketing
Craft personalized messages to welcome your ideal customers, and fast-track their accounts to the sales team.
Enrich And Enhance Your Existing Data
Use Messagely's data enrichment feature to reveal insights about leads, and gain valuable context.
Identify your hottest leads and schedule meetings.
Don't waste your reps' time on manually qualifying leads (or setting up meetings). Messagely's lead generation software comes with chatbots that do all the heavy lifting.
Qualify leads automatically
Trigger pre-determined questions to your leads to qualify them, then route your hottest leads to the sales team.
Schedule meetings with zero fuss
Automatically schedule sales meetings without any tedious back-and-forth.
Sync data and updates automatically
Sync all your data to Salesforce, HubSpot, or your CRM of choice.
Connect with your leads, and close them in record time.
As any experienced sales rep will tell you, you snooze, you loose. Use Messagely's customer acquisition software to route qualified leads to the right reps instantly, boosting your team's closing rates.
Based on account owner, location, and deal size, automatically route and assign leads.
Jump On A Call Without Leaving Messagely
Messagely comes with in-built call apps (including Aircall and Google Meet) to help you connect with your leads more efficiently.
Follow Up With Personalized Pricing Information
Using the Stripe integration, send personalized pricing offers to your leads, and move them further down the sales funnel.
Warm Up Leads Using An Automated Drip Campaign
Trigger hyper-personalized email campaigns to your leads, and immediately stop messages when a lead signs up.
Get Notifications, Even When You're On The Move
Use Messagely's iOS and Android apps to get notified about hot leads (and respond to them immediately).
Track your funnel and resolve bottlenecks easily.
It's important to keep an eye on the big picture. See how your leads are moving through your pipeline, and quickly hone in on bottlenecks that are prolonging your sales cycle.
Filter and sort your landing pages to identify the ones that generate the most leads.
Track your team's outreach efforts, including first response time.
Get real-time figures that tell you how your chatbots are impacting your bottom line.
Unlock your 14 day free trial.
No credit card required.