If your customers have an issue with your product or service, they expect you to offer fast, reliable, and convenient customer support. If you fail in this important area, you might lose a customer forever. In this handbook, we're going to look at the key ways to help you master the art of customer support.
What Is Customer Support?
This term refers to the strategies, techniques, and paradigms use to help customers when they have a problem or issue.
Customer support has changed dramatically over the years. In the past, post-sale customer support was primarily offered over the phone. But now there are a number of exciting techniques and tools that have modernized customer support.
These techniques and tools help businesses offer effective customer support. So they give businesses the opportunity to help their customers unlock the maximum value of their products or services, and it also reduces churn.
Customer Support vs Customer Success vs Customer Service
Too many businesses fail to make a clear distinction between customer service, customer support, and customer success. These three important areas are often lumped together, which negatively affects the way businesses are able to serve their customers.
To help you focus your efforts, here's a closer look at the key differences between these terms. 
Customer Support
When a customer has a question or issue with a product or service, they require efficient and effective support. To offer outstanding support that impresses customers and enhances their satisfaction, businesses must build strong customer support teams.
Many customers are often frustrated when they require customer support. To satisfy their customers and build stronger relationships, businesses need to rise to the occasion and capitalize on this opportunity.
Customer Success
This term involves the science of ensuring your customers get the most from your product or service. Businesses around the world are keen on building strong customer success departments because they want to keep their customers happy, upsell new products and services, and reduce churn.
Research from Salesforce shows that 67% of customers say their standard for good experiences is higher than it's ever been. Businesses use customer success to meet these high standards and retain high-value customers.
Customer Service
This term is often defined as the support businesses offer a customer during and after a purchase phase. Businesses offer customer service to make sure the purchasing experience is as clear and straightforward as possible.
It's important that businesses offer quality customer support, in order to make the purchasing process as straightforward as possible and close new deals. Statistics from Salesforce suggest that 74% of customers will switch brands if the purchasing process is too difficult.
How to Stay Relevant: 5 Customer Support Trends in 2020
Most businesses are in a constant state of flux. For instance, businesses constantly change their products and services, and customers come and go. Therefore, it's very important for businesses to constantly monitor their customer support strategy and incorporate their latest best practices.
Here are five customer support trends that might just boost your results in 2020.
1. Next-level chatbots
While chatbots have already been around for many years, their profiles will truly expand throughout 2020. In fact, estimates show that 80% of businesses will have some type of chatbot automation by next year.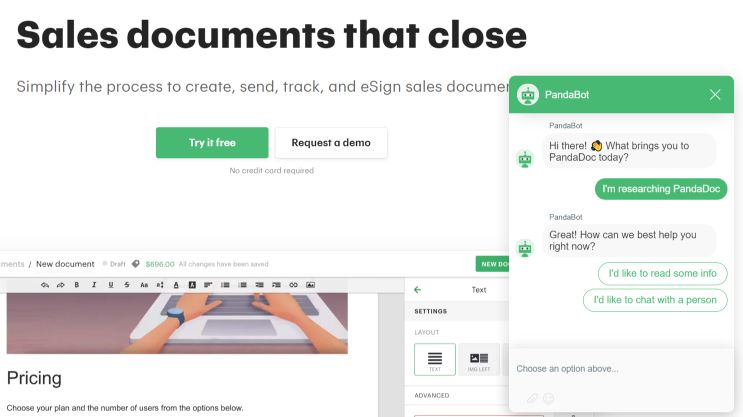 Due to the prevalence of chatbots, they will become more effective and functional than ever before. Chatbots will learn how to better imitate human-based support and understand customer queries. This development will improve customer support satisfaction and help businesses more effectively manage related costs.
2. Video support
Very few customers enjoy speaking on the phone. Here are some of the key reasons why this mode is failing as a customer support channel: long waiting times, disconnections, and awkward interactions.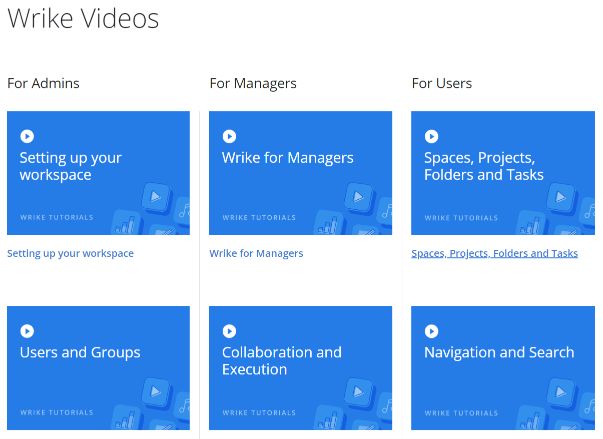 In 2020, we can expect more businesses to start investing in video support. Prerecorded video content will offer in-depth guidance, while live video support will help create closer ties between businesses and their customers.
3. Enhanced personalization
Personalization can help businesses establish a sense of trust and confidence within customers. These feelings help breed loyalty among customers and give businesses the opportunity to secure repeat business.
In 2020, we'll see more businesses start using cutting-edge tools that deliver more personalized customer support. For instance, these tools may help give businesses the edge by offering detailed records of customer interactions and sophisticated analytics. Businesses can leverage these features by creating personalized experiences.
4. Closer social media ties
Social media has cemented itself as an invaluable customer support channel for businesses. In fact, 67% of customers have used social media to access customer support. And this trend will only increase.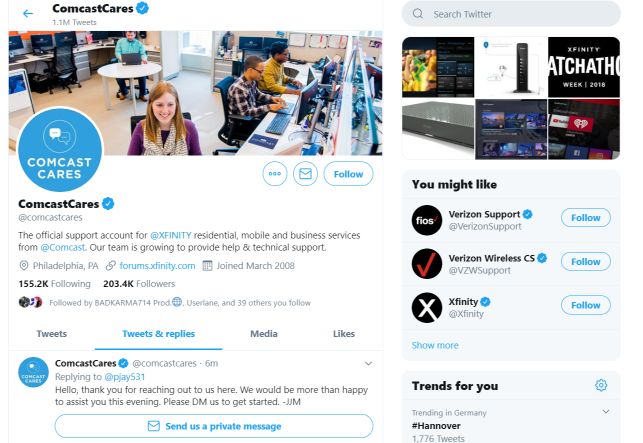 Next year, we're going to see more brands make the most of social media and deliver excellent customer support. Brands will follow these kinds of best practices:
Performing social listening

Immediately replying 

Making profiles more prominent

Personalizing social media communications

Making the most of chatbots
5. More self-service options
The demise of telephone support means that customers often take matters into their own hands. A staggering 89% of millennials perform an online search before calling customer support.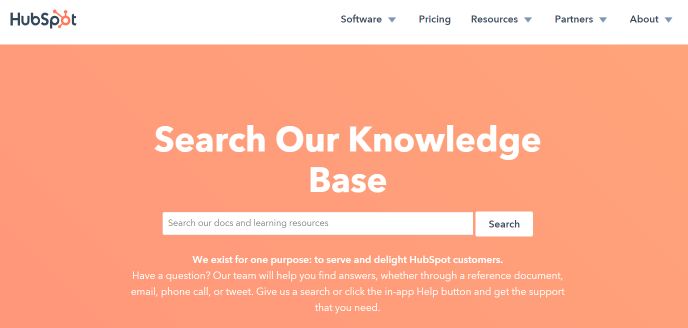 This dynamic means we'll see more businesses put together strong non-interactive customer support content. For instance, the knowledge bases are going to become very popular. Businesses will use sophisticated knowledge-base services to put together clear instructions and user manuals for common customer issues.
Where to Communicate: Most Important Customer Support Channels
To keep pace with their customer support expectations, businesses must carefully monitor the habits of their customers. So businesses have to track the places their customers expect to receive customer support.
Here's a closer look at ways you need to communicate, in order to offer great customer support. These channels are further divided into two self-explanatory groups: interactive and non-interactive.
Interactive
Email
Email might seem somewhat outdated, but it's here to stay. There are an estimated 3.9 billion active email users around the world. And the average American worker receives an average of 126 emails each day.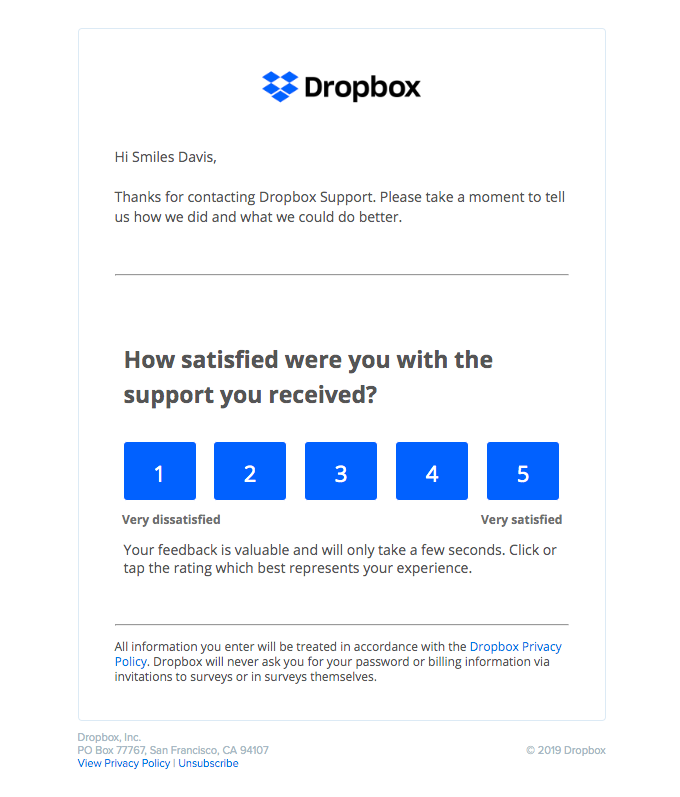 Due to the popularity of this channel, businesses must offer reliable, timely customer support via email. There are a number of tools that can help customer support representatives stay on top of emails and monitor customer relationships, whether it be to pitch your brand, follow-up, or a multitude of reasons.
Social Networks
As we touched on earlier, social media is going to become even more important for customer support in 2020. To make the most of each social media platform, businesses must hire the right team members.
The key platforms each vary, in terms of specifics and mechanics. So businesses must find the right tools to properly configure each platform and facilitate customer enquiries. 
The key platforms include:
Facebook

Twitter

LinkedIn
Review Directories
Review directories are very important customer support channels. Customers often go to these platforms to find solutions to their issues and discuss your product or service with other customers. So you need to be part of the conversation.
Your customer support team needs to carefully monitor these review directories. This endeavor will give you the opportunity to reply as quickly as possible. Then you can transform a potentially troubling experience into a positive one.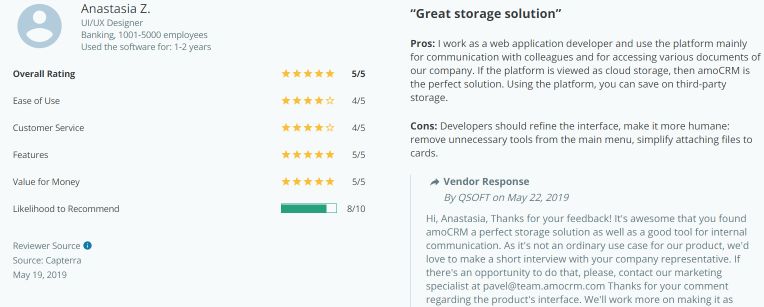 The key review directories include:
G2 Crowd

TrustPilot

Yelp

Capterra
Live Chat
Modern life moves very quickly. Your customers now expect fast, accurate responses in a matter of moments. In fact, the average customer will wait for just 45 seconds to receive a live chat response.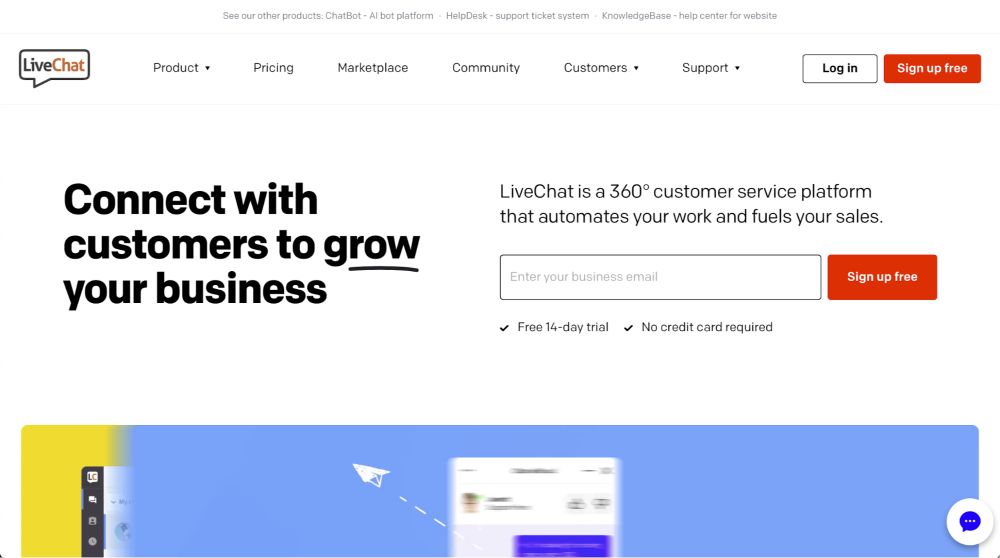 If your business is going to offer reliable live chat support, you have to put the right pieces in place. To deliver accurate solutions at lightning speed, you'll need a well-trained team that can use the latest live chat tools.
Phone
While the appetite for phone support is wavering, it's still an important channel that you have to maintain. After all, some customers have a natural preference for this channel, and it's often the best choice for tackling a particularly complex issue.
Businesses need to work very hard to find talented customer support representatives who can handle calls well. This task can be especially difficult because customers are often frustrated and need effective support.
Forums
Even if you maintain a comprehensive knowledge bank, you might find that certain forums outrank you in organic search results. Therefore, businesses need to monitor the key forums out there, in order to deliver authoritative, accurate customer support.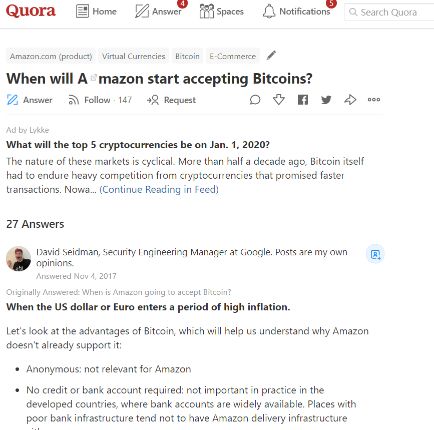 Businesses can't afford to let forum posts go unanswered. This neglect could reflect poorly on the customer support offered by that business, and it could become a reputational risk. 
So customer support teams should keep a watchful eye on key forums, such as:
Reddit

Quora

Industry-specific forums
Non-Interactive
Knowledge Base
A comprehensive, high-quality knowledge base is essential for any business that wants to deliver outstanding customer support. Your knowledge base can act as a one-stop-shop for all the information related to your product or service. This base will empower your customers to serve themselves and find quick solutions.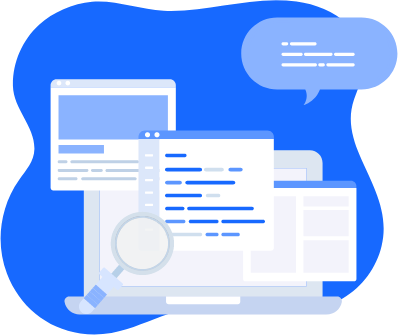 A knowledge base can also ease the burden on your customer support representatives, as it allows them to focus on monitoring and servicing other interactive channels. 
Here's a look at some more benefits of a great knowledge base:
Offers consistent customer support

Is a great resource for SEO

Encourages inter-departmental collaboration

Is simple to update
How to Build a Customer Support Team
Now that our overall picture of customer support is clearer, it's time to think about the practical side of putting together a great customer support team.
Of course, the exact steps vary from one organization to the next. But here's a look at a general outline.
1. Define what customer support means in your company.
The first step involves really considering what customer support means in your company. To really build a clearer picture, think about the following questions:
What do your competitors offer?

What is the industry standard?

Specifically, where could your customers need support?

Which channels does your audience use?

How much can you invest in customer support?

Is churn likely to be an issue in your industry?
2. To identify how your customers behave, dig into the data. 
Now that you have a clearer idea of what customer support means for your business in your industry, it's time to dig into the data. Then you can more fully understand how to deliver the exact items your customers are looking for.
The following section details the key sources of information you'll want to use, including the reasons to use them. 
Data Analysis 
If your company has a data analyst, he or she will be able to give you important information about how your product or service is used. For instance, this analyst might be able to relay that each new update brings a certain number of new customer support requests.
Market Analysis 
Your marketing team will be able to tell you more about your customers and their behavior. For instance, they might know that your users are predominantly found through Facebook advertising, which is where they expect support from your business.
Analytics can also be very revealing. For instance, certain pages on your website (or within your knowledge base) might receive higher amounts of traffic, which can help you focus your efforts.
Social Listening
To identify any mentions of your business, you should browse the web and do research on social media. This endeavor can help you gauge the conversation and more fully understand the sentiment of your customers.
If you pay close attention to the details of those conversations, you might just find a problem area that your average customer struggles with.
3. Make the right hires.
Now you have an idea of the places where your customers expect support, and how they might perceive your product. So it's time to put your team together.
You should try to accurately assess your needs, in order to be able to predict the way you'll need to grow your team over time. The best customer support professionals have unique profiles. So you'll want to try to find candidates that exhibit a specific set of skills. (We'll take a look at those exact skills in the next section.)
4. Choose the appropriate tools.
If you're going to deliver effective customer support, it's important for you to find the right suite of tools. There are lots of options on the market. We'll take a look at some of the best ones at the end of this post.
But in terms of the key tools, you'll probably need to find the following:
Help desk software

Video and VOIP software

Bug reporting

A forum tool

Feedback software
You'll also need to practically consider these tools. For instance, find out how many profiles you'll need, and how those tools are going to factor into your budget.
5. Identify the right KPIs.
Obviously, it's very important for you to track the performance of your team over time. So you'll need to use your tools to identify and track the key performance indicators (KPIs) that shape your strategy and assess the success of your customer support team.
In just a moment, we'll take a look at the KPIs you should monitor. But first, let's look at the skills you should seek in your team members.
What Skills Do You Currently Need to Succeed in Customer Support?
It's not easy to put together a great customer support team filled with the right profiles. To make it easier to identify the top talent you'll need, let's dive into some of the essential customer support skills.
1. Improvisation
First things first. Your team members need to understand the value of improvisation. Over the course of an average day, they'll be presented with various issues from a diverse range of customers. So they'll need to be able to think on their feet.
To make the right judgment call, your customer support representatives should be adept at quickly collecting and processing information. This ability will help them deliver the best support possible.
If a rep has a natural ability to improvise, it will help protect your business. It might also help decrease the severity of a situation or use the right strategy to turn a frustrated customer into one that's amazed by your customer support.
2. Patience
We all know what it feels like to struggle with a product or service. Since your reps will be on the frontlines, they'll often come into contact with customers who are somewhat frustrated and far from feeling their best. It can be easy to quickly get frustrated, which can affect a customer support rep's judgment. 
In those instances, your reps need to demonstrate patience and understanding. They also need to be able to listen to your customers and take the time to collect all the information they'll need to help them.
Patience will also keep your reps happy and satisfied. If they can't handle your customers, they might feel burnt out.
3. Awareness
Your customer support representatives also have to demonstrate unparalleled awareness. They must be able to understand your customer, their needs, your product, and the context of the query.
This kind of awareness is a difficult skill to master, but it's invaluable. If your reps can hone their awareness, they'll be able to deliver effective support that your customers will really appreciate.
4. Tech literacy
If your customer support representatives are going to succeed, they must have a certain level of tech literacy. So you need to know that your reps can fully utilize a suite of tools. 
If you offer a tech-based product or service, you'll also need to know that your reps are able to learn about your product inside and out. For instance, they need to be able to benefit from training and even attend product meetings as necessary.
5. Resilience
Offering customer support is tiring. Undoubtedly, your customer support representatives will feel a sense of satisfaction after they help solve an issue. But the next query won't be far behind. It can sometimes feel relentless.
So you should try to find reps who have the resilience to keep moving forward and tackling new customer queries throughout the course of the day. To deliver impressive support as consistently as possible, your team members need the ability to revitalize themselves with each new customer.
How to Measure Success: Customer Support KPIs
As with any other area of your business, it's very important that you use the right KPIs. Then you can make sure you're on track. Here are some of the most important customer support KPIs you should use to measure success.
1. Resolved Issues
You should carefully monitor the volume of customer support issues you receive, and compare this number to the number of resolved issues. This simple metric will help you see whether your customer support team is fulfilling its basic function, and how its performance will change over time.
This simple KPI is a good indicator of your progress, and it can give you valuable insight when you see it alongside other data. For instance, you might find that the launch of a new feature has resulted in a significant increase, in terms of customer support tickets.
Historical data can also help you plan your customer support activities. For example, some businesses might find that seasonality affects their customer support requests.
2. Net Promoter Score
One great customer support metric is the Net Promoter Score (NPS). This simple management tool gives you quick insight into how loyal your customers are to your business.
Generally, the score ranges from -100 to 100. The lower score represents a customer who wouldn't recommend your business. The maximum score represents a brand advocate who can trust you to champion your business.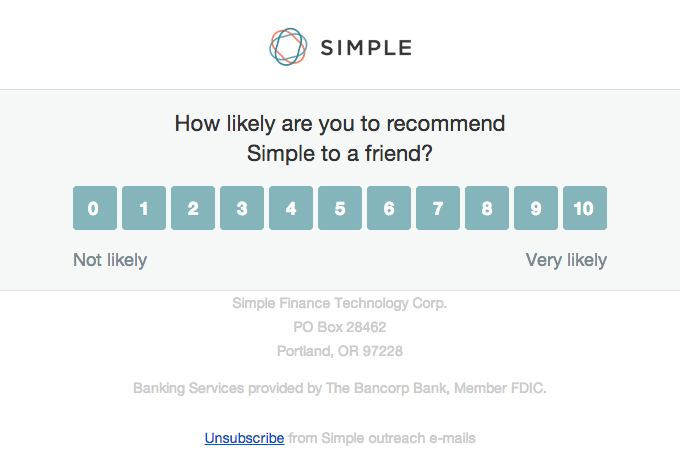 NPS Example by Simple (Source: ReallyGoodEmails)
You can calculate your NPS by subtracting the percentage of detractors you have from the percentage of promoters. To see how your customer support activities impact your NPS, you should carefully monitor it over time 
3. First Response Time
Since your customers are busier than ever before, they demand fast response times. So you should carefully monitor how long it takes your team to deliver that first response to your customers.
Naturally, you'll want to make sure your first response time is as fast as possible. To make sure you're always improving, you should carefully track this metric over time. Again, this metric can reveal important insights when you examine it alongside other data.
To guide your decisions in the right direction, you should track how much your customer support decisions impact your first response time.
4. Average Resolution Time
Offering a fast first response is one thing, but you also have to try to make sure your customers get the fastest, most accurate resolution possible. Therefore, you need to monitor your average resolution time.
Of course, you'll want to keep your average resolution time as low as possible. And you'll have to make some important decisions about how you're going to track this metric. For instance, you should work alongside your team to determine when you should consider a request resolved.
5. Employee Engagement
While this KPI is more inward-looking, it's very important for you to diligently track. Your customer support team will work very hard, and it's important for you to focus on their satisfaction. If they're happy, you'll often find that your performance improves.
Pay close attention to the factors that affect your employee engagement. For instance, you might find a correlation between the number of issues you receive and employee engagement. Use this KPI to help your team perform to the best of their ability.
Best Customer Support Tools
Customer support isn't easy. You need the right tools to succeed. To put you on the right track, here's a look at the best customer support tools.
Messagely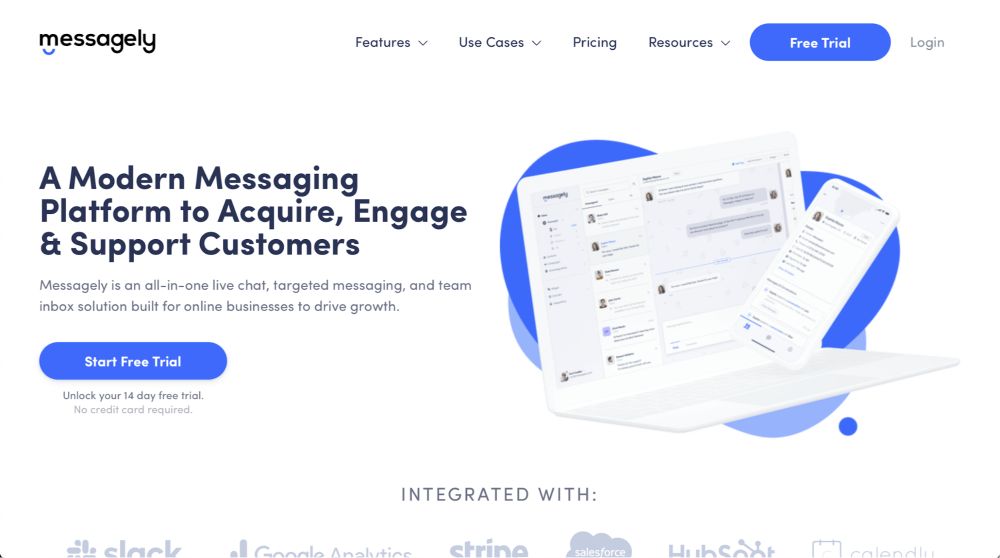 Messagely is a modern messaging platform built that helps businesses acquire, engage, and support customers from one platform. This feature-rich app offers the ultimate customer support kit, including a live chat tool, help desk, shared team inbox, and knowledge base.
Key Customer Support Features
Integrated live chat support

Full background and context into customers

A shared inbox that keeps all messages in one place
Intercom
Intercom is a customizable messaging suite that gives businesses a helping hand with lead generation, customer engagement, and customer support. This tool focuses on these areas, in order to expedite lead nurturing and help customers learn about their new service.
Key Customer Support Features
Chatbots and live chat support

Onboarding tools

Self-service support features
LiveChat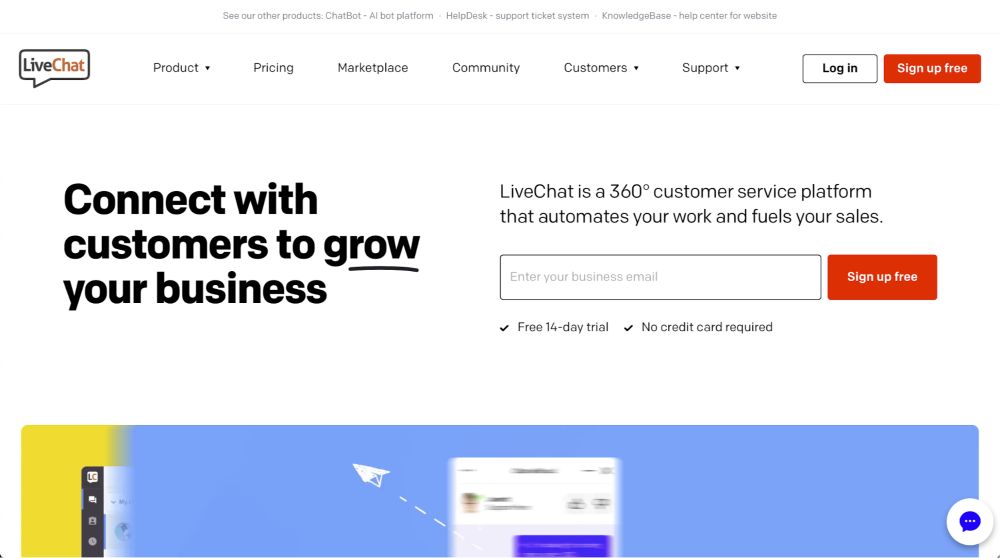 LiveChat offers a 360° customer service platform that helps businesses automate work and fuel sales. As the name suggests, LiveChat helps businesses offer fast, accurate support to appease customers.
Key Customer Support Features
Feedback collection

Integration with apps

Shared customer data
Zendesk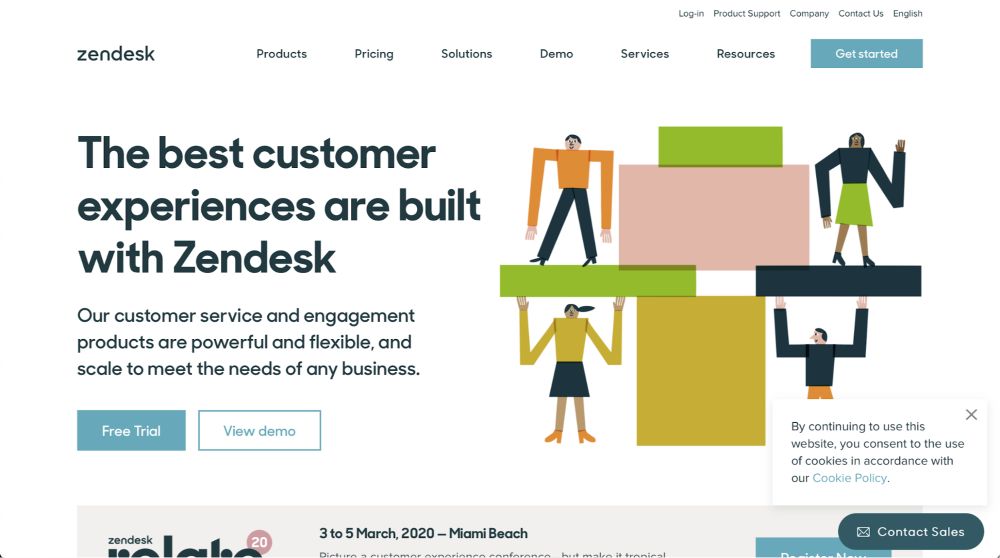 Zendesk offers a range of customer service and engagement products that allow businesses to connect with customers on any channel. This tool places an emphasis on simplicity, so businesses can deliver effective customer support.
Key Customer Support Features
Live chat and messaging

Call center software

Knowledge base functionality
Olark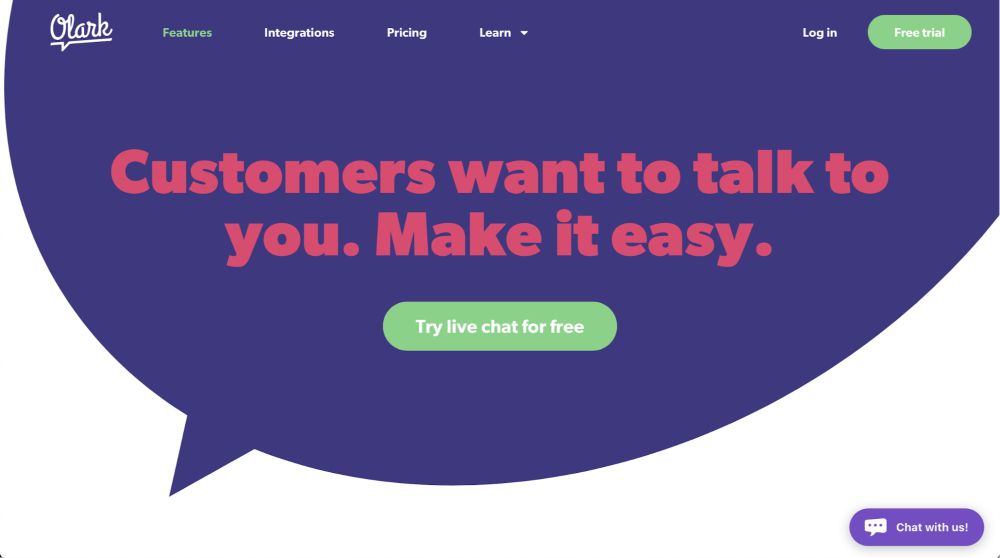 Olark is another piece of live chat software that helps businesses learn from every online interaction. This tool offers live chat software and customer data tools, in order to help businesses connect with customers.
Key Customer Support Features
Chat transcripts

Structured notes

Live chat insights
Conclusion
The future of customer support is bright. We hope this piece has been useful and helps you unlock the benefits of amazing customer support. If you want to find out more about the ways our tool can help you, be sure to unlock your 14-day free trial with Messagely today.