In-app messages are amazing tools you can use to propel sales, onboard a new user, and interact with your users daily. It can diminish the volume of live attention requests your customer service team receives, and make it easier for the sales team to convert new users.
In-app messaging is vital for your customer engagement strategy. If you know how to use it, you'll reach the right user at the right time to address their queries.
But, what is in-app messaging? How can you use it to reach your goals?
Let's dive in.
What Is In-App Messaging?
In-app messages are any mobile or web messaging displayed as a notification. You find in-app messages in pop-ups, offers, and other mobile messaging with and without a CTA.
Although this messaging only reaches people who are engaged users or, at least, active users, it can improve customer relations and increase engagement and loyalty. You can achieve this through data and automations.
The data can show you where users are dropping off or where they need nurturing. In-app messaging allows you to program a way to reach the user with the right message. With it, you can engage users for information, rewards, and monetization.
3 Great In-App Messaging Examples for Inspiration
Here are three great in-app messages examples, why they're great, and how you can learn from them:
1. Duolingo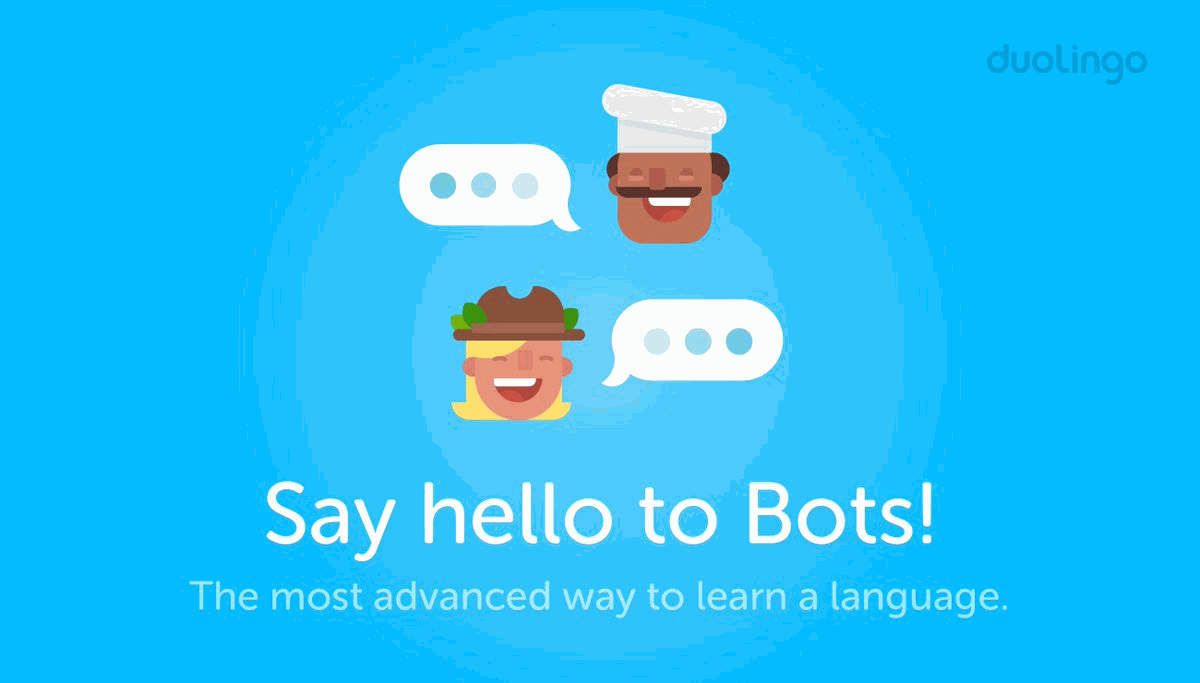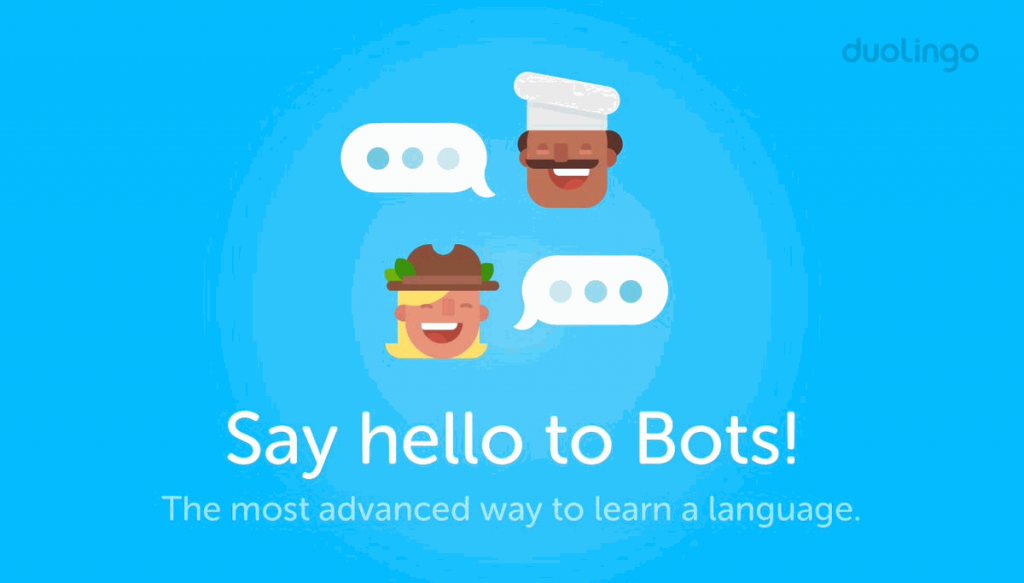 Source: Duolingo
One of the hardest things when learning a language by yourself is finding people to practice with. In 2016, Duolingo temporarily launched chatbots with one purpose: to help users practice a new language. Duolingo knew that it may be hard for people to practice a language when they're unable to find another person who speaks that language.
Chatbots were made as an advanced form of in-app messages to allow users to practice a language anywhere, anytime, free of judgment. Although Duolingo later removed the chatbots, users are still asking for Duolingo to bring them back.
Steal this idea:
Duolingo was able to develop chatbots due to, in part, its massive in-app customer experience data.
Similarly, you'll have a faster and better success rate if you focus on starting small and building a better, smarter in-app messages program by using data-driven decisions.
2. Universal Studios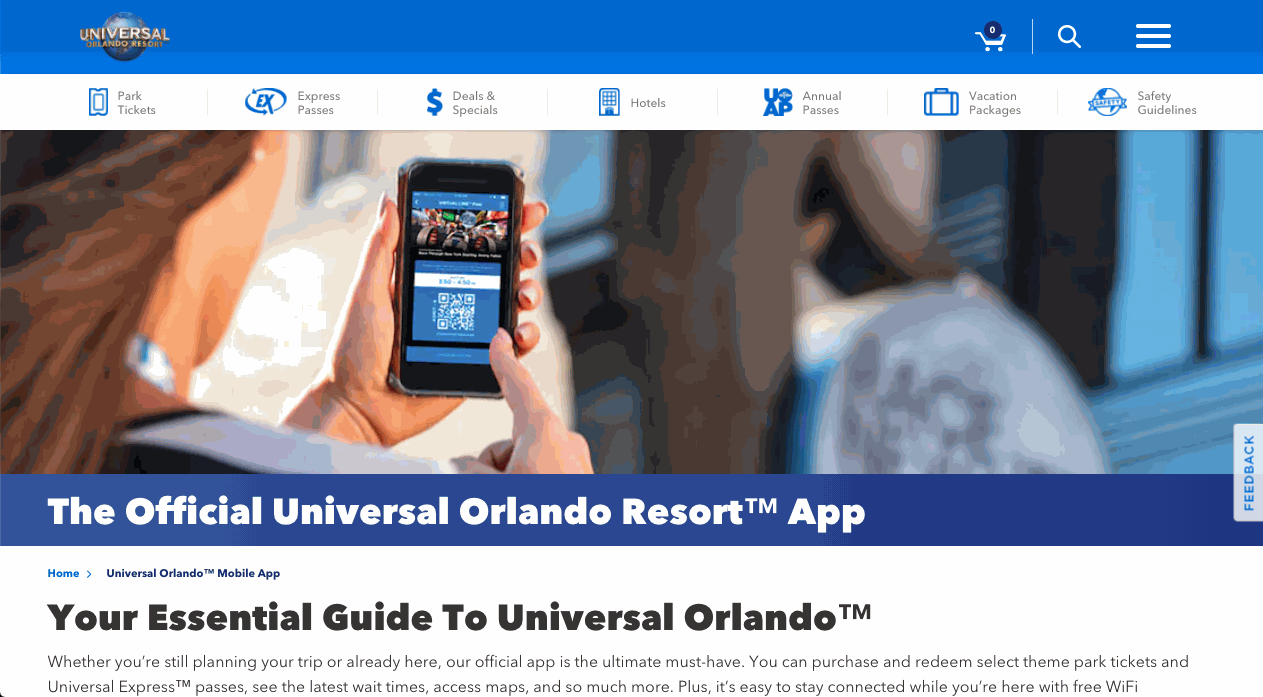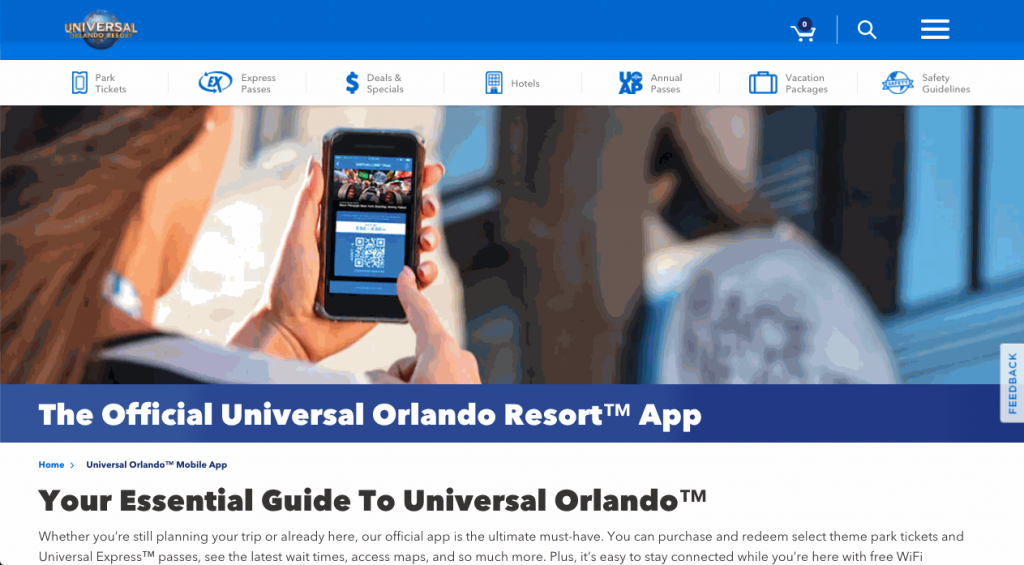 Source: Universal Studios' Facebook Page
Universal Studios uses in-app messages to enhance the customer experience as much as possible. Users are engaged with in-app messages that welcome them to the app, perform a quick customer onboarding for new users, and even upsell services.
Users can interact with some messages as they need to, allowing immediate user response. And although their messaging is well made, they always let users know how to contact a live agent.
Steal this idea
All the in-app messages in the world can't replace live customer agents. Let your users know that your live agents are always just a message or phone call away.
3. Caesars Las Vegas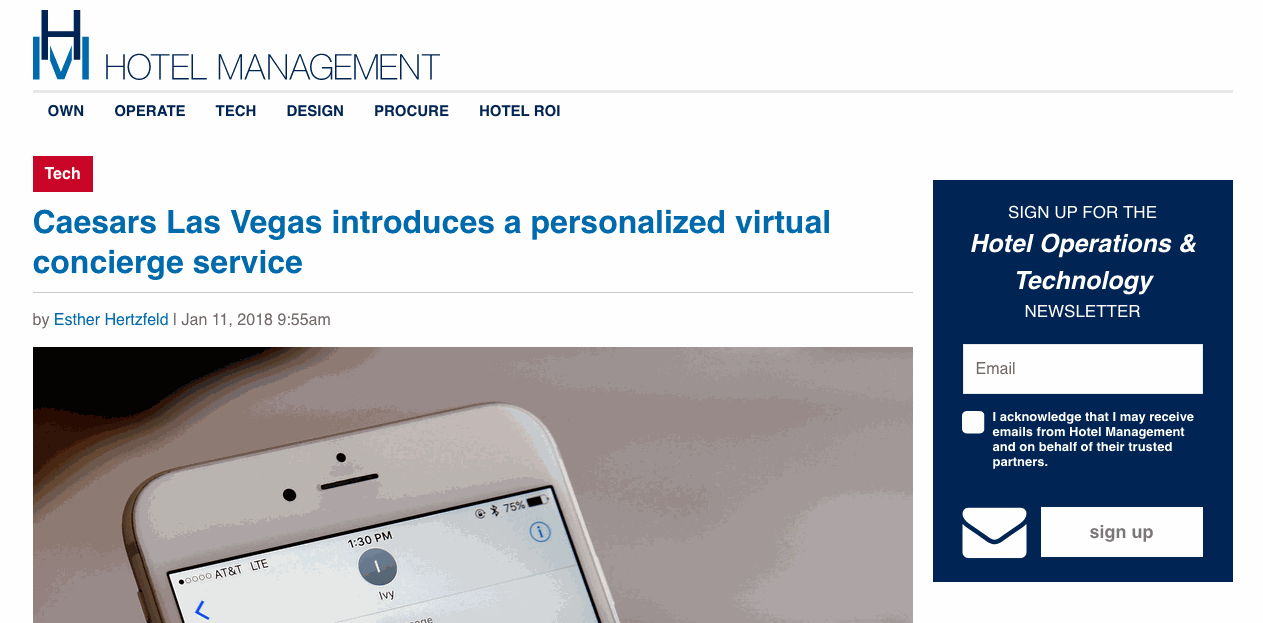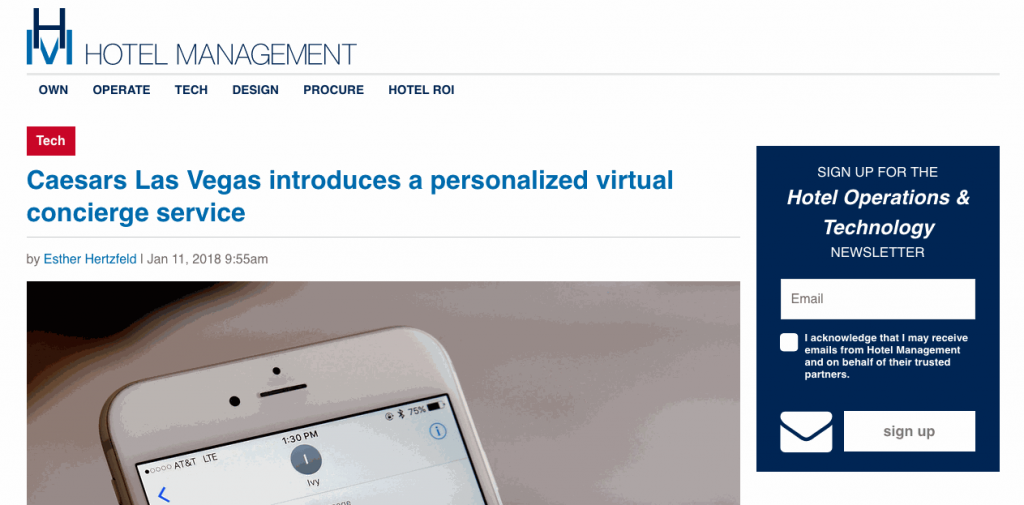 The Caesars Entertainment Las Vegas resort started using advanced in-app messaging in 2016. This messaging was focused on increasing customer interaction around the clock.
With Ivy, guests can order room service, ask for extra towels, and get answers to most questions any concierge could help with. This increased customer satisfaction and ensured that guests would have what they needed when they needed it.
Steal this idea:
In-app messaging can help your customers day or night. To build a highly functional in-app strategy, look at your user's data on common requests and try to fulfill them with your automated messaging.
By doing this, you'll easily provide excellent customer support. You can even generate sales when your live agents are not on the clock.
When to Use In-App Messaging: 6 Key Areas
Here are six areas where you should be using in-app messaging:
User Onboarding
User onboarding is the process of product adoption by a new buyer. Making sure the user adapts to the tool as seamlessly and quickly as possible is vital to ensuring long-term customer adoption.
In-app messaging can be key to ensure the customer fully adopts the customer. With it, you can aid users where they usually drop off, offering to contact live support to connect them to a live agent to fix their problem and keep them as a customer.
Feedback
In-app messaging is great for enriching your customer feedback data. You can use it for simple things like a popup message that asks you to rate the app.
However, in-app messaging can also help you collect deeper, highly valuable feedback. For example, you can program a chatbot to engage with a user who seems to be taking far longer to finish a task to get insight into potential streamlining opportunities.
Product Adoption
Even after you've nailed your onboarding experience, you still need to ensure full product adoption to retain users.
In-app messages are a great way of keeping in touch with users, letting them know about new features or processes that the user may like. You can also target message users who haven't taken full advantage of your app and offer assistance.
Updates
The most common use for in-app messaging is to tell users about new updates. But since they can get technical or repetitive, are you making sure your users are reading them?
Make sure that your messages offer broad appeal information about the updates, telling them how they'll be directly affected by them. Leave a link to a page with the full technical information about the update so technical-minded people still get the information they need.
And, if you want to increase your chances of engaging your users, program your messages to be sent at the most convenient time for your user, instead of sending it all at once.
Upselling
In-app messages are also a great way to re-engage customers and try to sell them additional solutions.
You can, for example, program messages to remind users of the benefits of upgrading, especially when those messages reach the user at the right time.
Whereas upselling, when overdone, can be frustrating to the customer, a good upselling messaging campaign reaches the user just as they need to upgrade.
According to Amra Beganovich, founder influencer agency Amra & Elma, in-app messages are also a great way to re-engage customers and try to sell them additional solutions.
Status Notifications/Warnings
Finally, you can use messages in apps to let users know about essential updates or ask them to take action in the app.
These messages should be as concise as possible, letting the user know what they need to know at a glance.
In-App Messaging Best Practices You Should Follow
Here are the best practices to keep in mind with your in-app messages:
1. Get the best tools from the start
Unless you're planning to code your chatbots and messaging from scratch, you'll likely use messaging tools to get the job done.
However, since smart messaging only grows with time, you need to make sure you're getting the best solution from the start, instead of planning on upgrading later. This can save you a lot of time and money in the long run, so it's vital you make sure you choose the right platform for you.
Platforms like Messagely, for example, offer to get you started at an affordable price, and seamlessly grow with your needs.
With Messagely, you only pay for what you need.
2. Embrace personalization
You have complete power over who in-app messages are sent to and how and when they are sent. Use it.
Segment your users and build messaging strategies around each group. Use customer data to perfectly tailor messages for each user, like addressing them by name and greeting them according to their timezone.
The more targeted your messages are, the more users will read them.
3. Test, test, test
Sometimes, the only way to know you're using data-driven decisions is by experimenting. That's why you should be testing in-app messages through A/B testing, testing messages for bugs, testing audiences, and everything else.
The more data you collect through testing, the better you can make your in-app messages.
4. Always give a clear call to action
If your messaging requires a reply from the user, let them know what to do. Ending with a CTA will immediately tell your users what the next steps should be, why they should take them, and what they can expect to do.
5. Make your messages easy to close
Whatever the reason you are messaging your users, provide clear instructions for ignoring the messages if they wish to.
Although counterintuitive, making your messages easy to ignore in the user interface can result in better customer engagement. If your messages are easy to close or remove, your users will likely remain in the app, instead of closing it entirely.
And by making your messages easy to remove and ignore, you'll get to send more messages to more users, instead of having users who are muting your messages and notifications entirely.
Here's How to Create Your First In-App Message
Ready to start creating in-app messages?
Using a platform like Messagely can make the process extremely easy. All you need to do is sign in to the platform (click here if you don't have a free account yet), and follow these steps:
Step 1: Set up your automations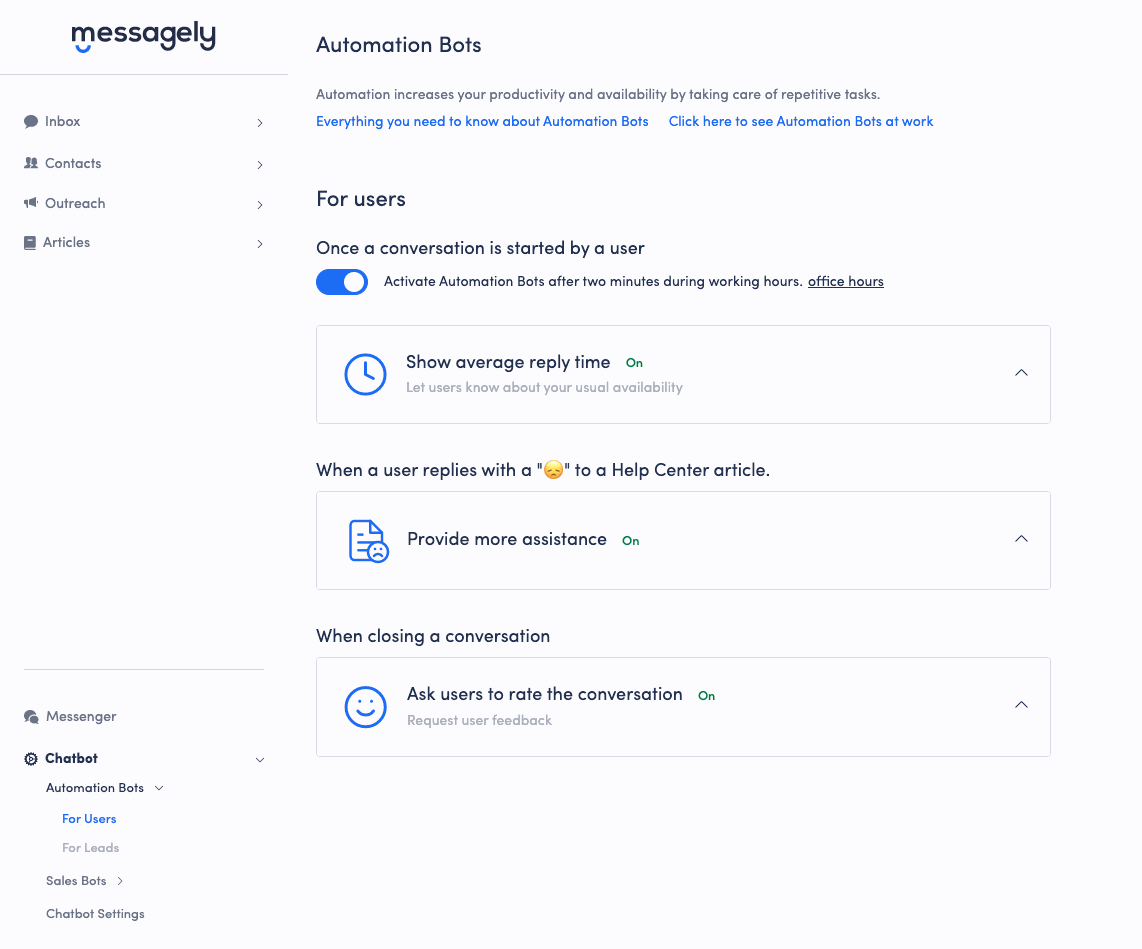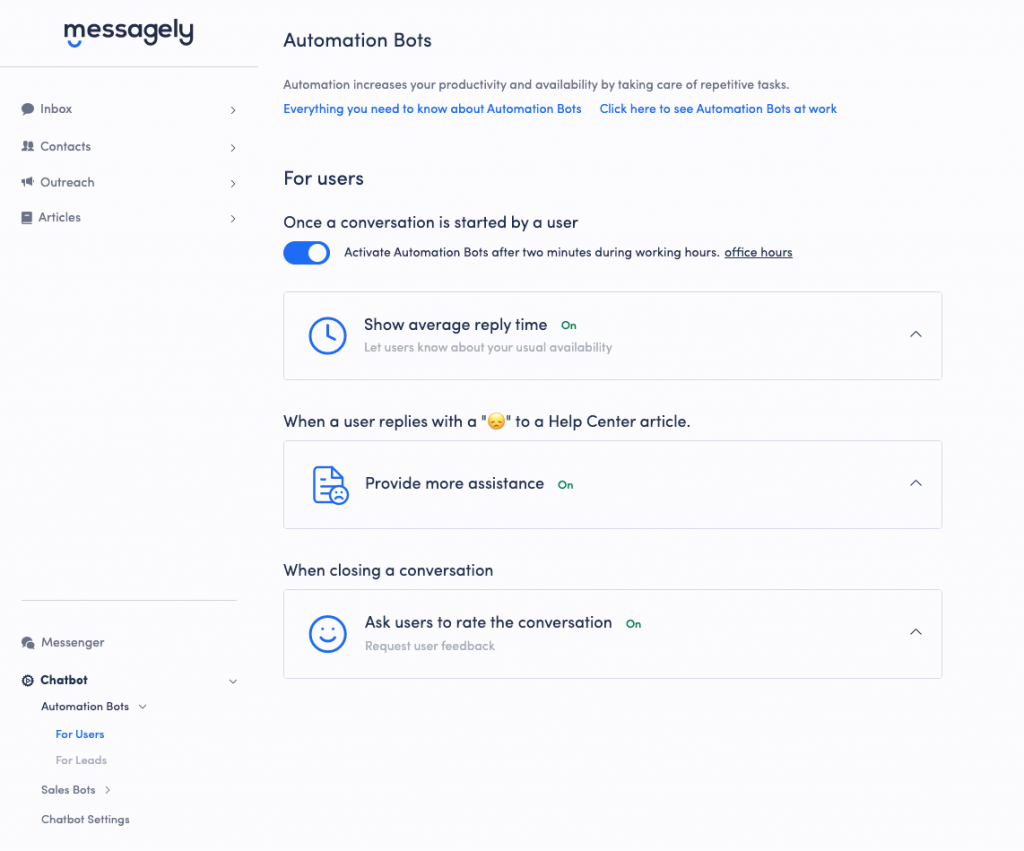 Before creating your first in-app message, you need to set up the basic automations for your chat window. Messagely allows you to ask users to rate a conversation when it's over and send messages automatically to users that responded negatively to a Knowledge Base article.
Step 2: Program your messages
Now that you've set up the basics, you can program your messages.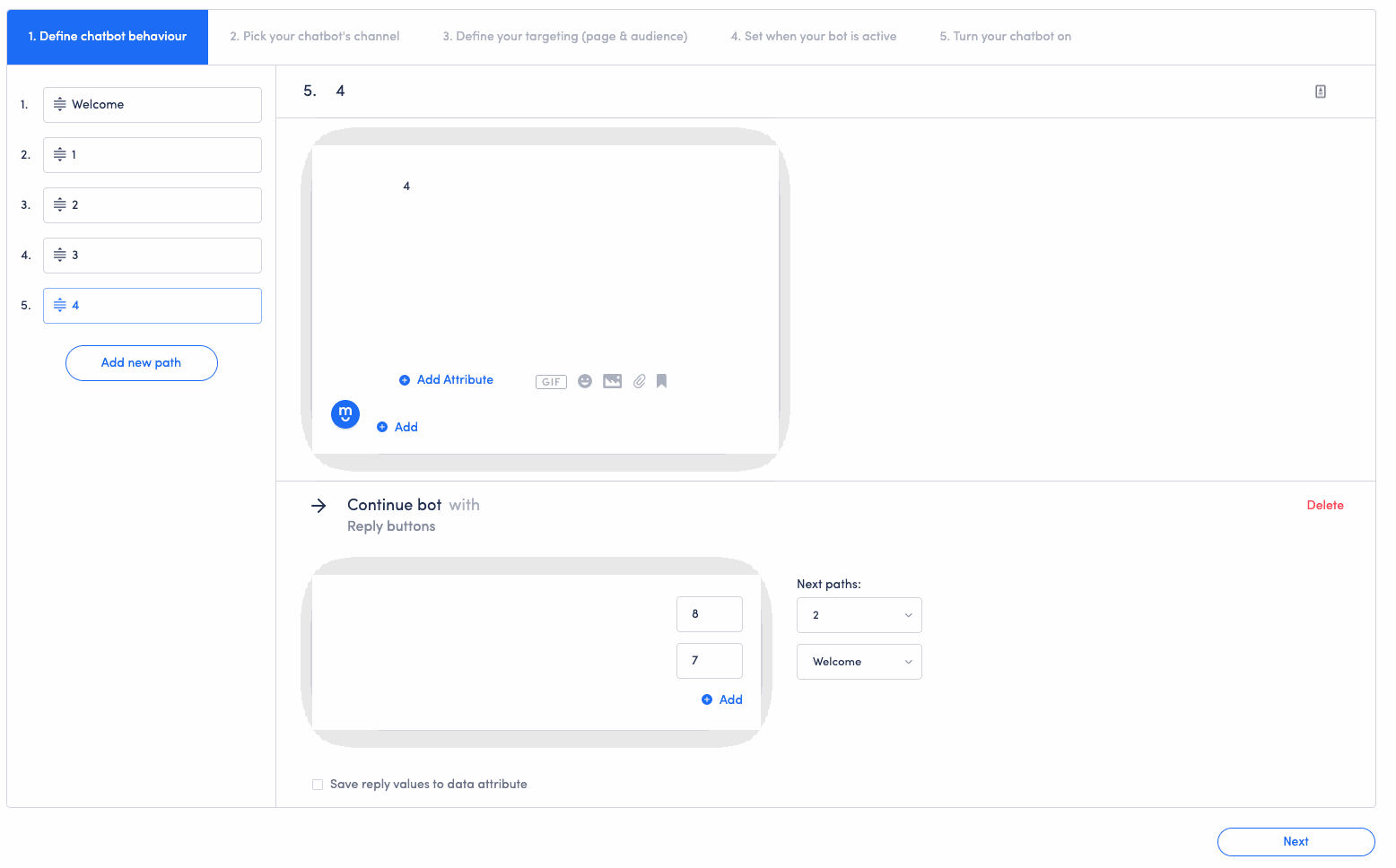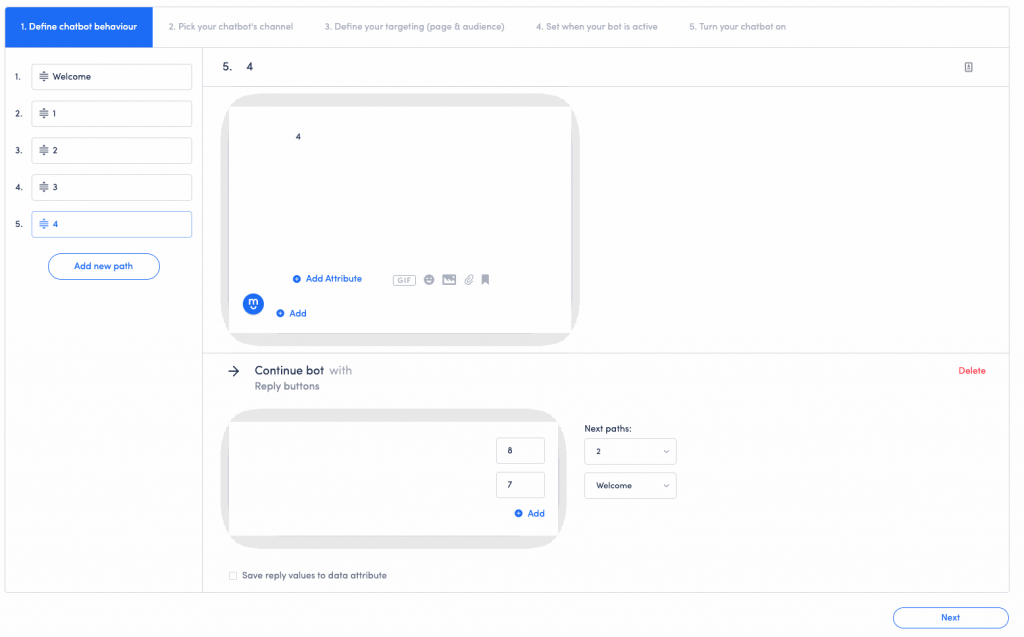 Start with the first message the user will receive. Then you can add automated ways for the user to interact with the message through reply buttons. With these buttons, you can always get the user to interact with you directly in the message, instead of asking them to go elsewhere.
For example, you can start with a welcome message, then ask if the user needs help with your products. If the user selects "need help," you can then show them a few options for further interaction.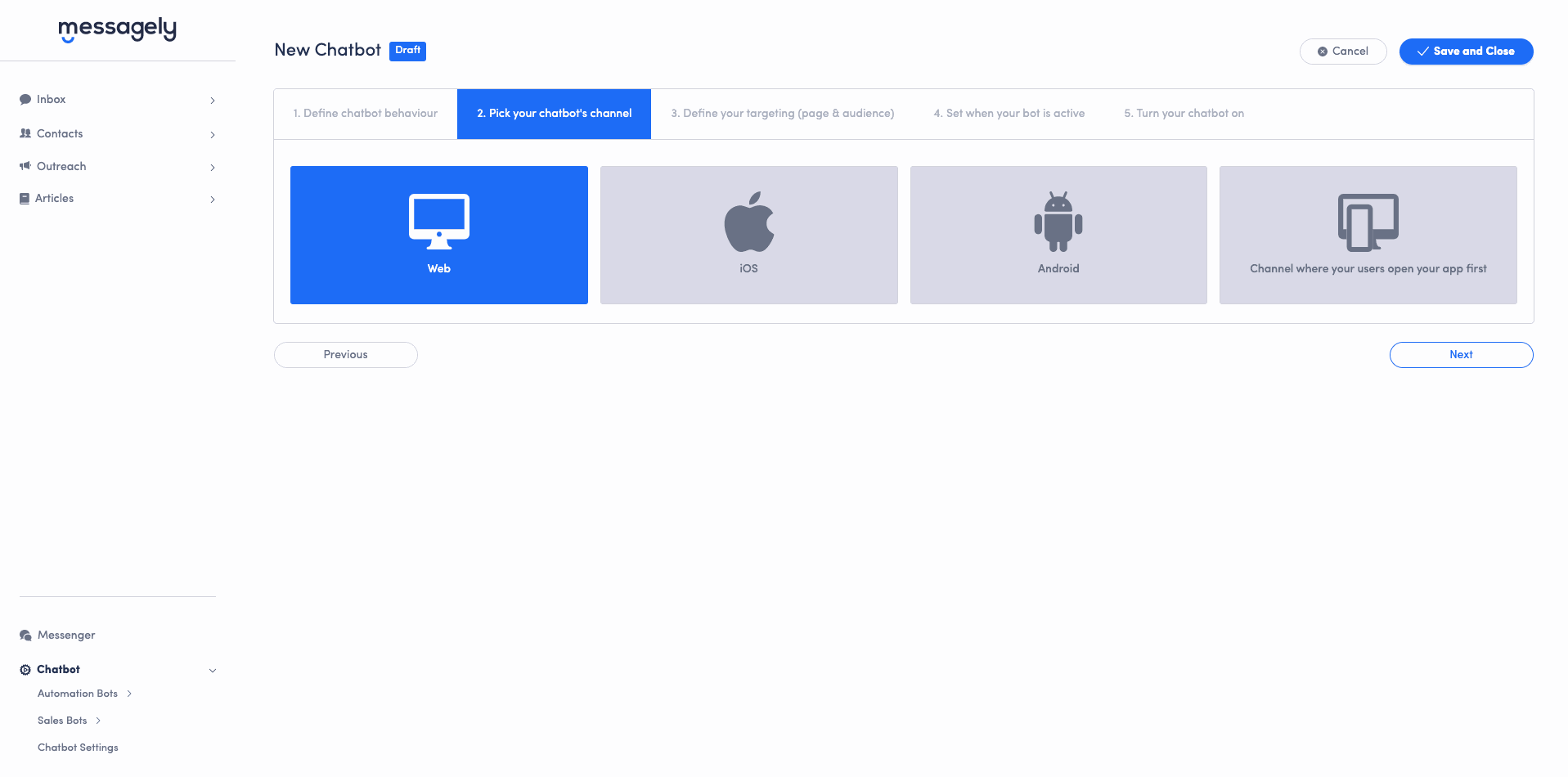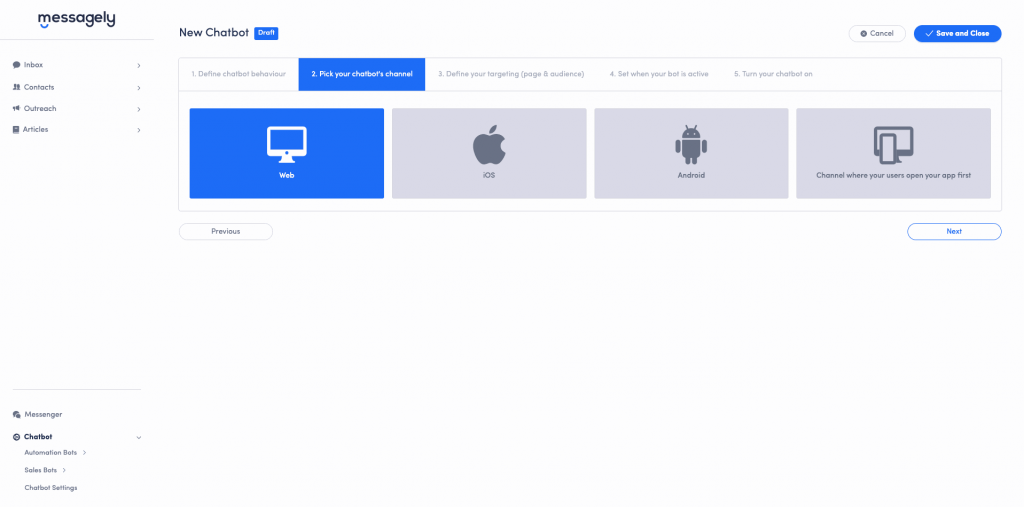 When you're done with your in-app message programming, you can select where you want your users to see your message.
Messagely allows you to send the same message through multiple channels so you don't have to repeat the process each time.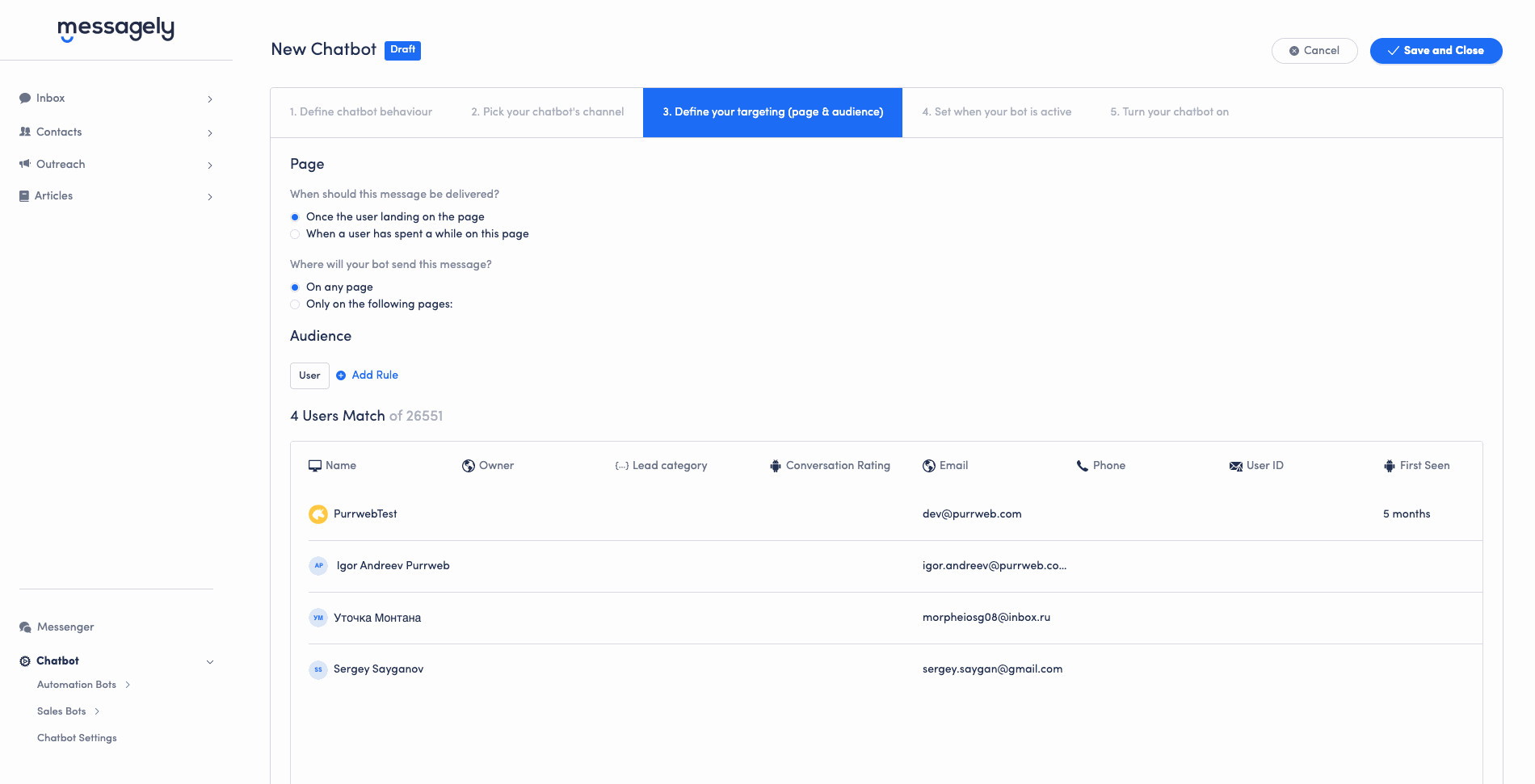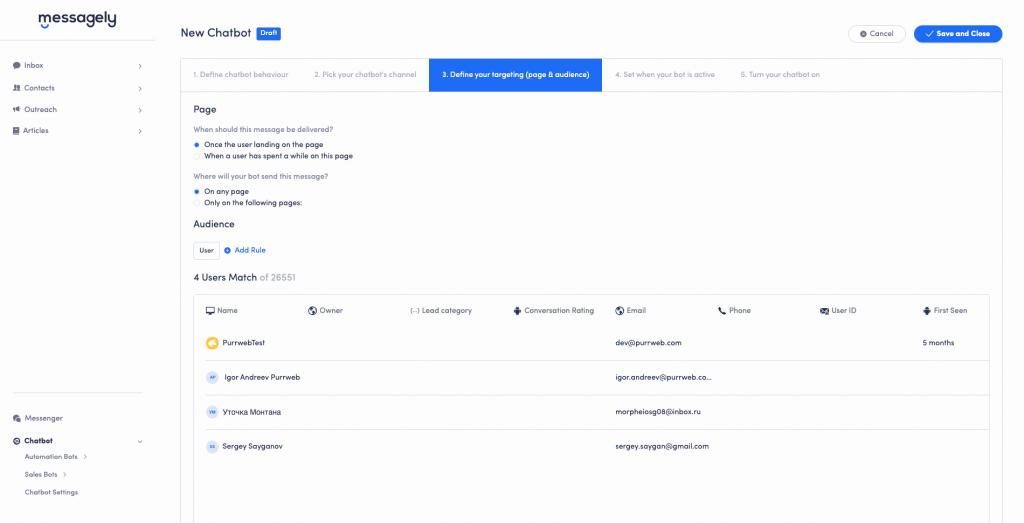 Next, you'll have to define targeting to select when you'll send your message and who you'll send it to.
You can do this effectively by segmenting your users through user behavior. This allows you to reach the right user at the right time with the right message.
Select what the user must do to receive your message based on your user data.
Step 3: Activate your message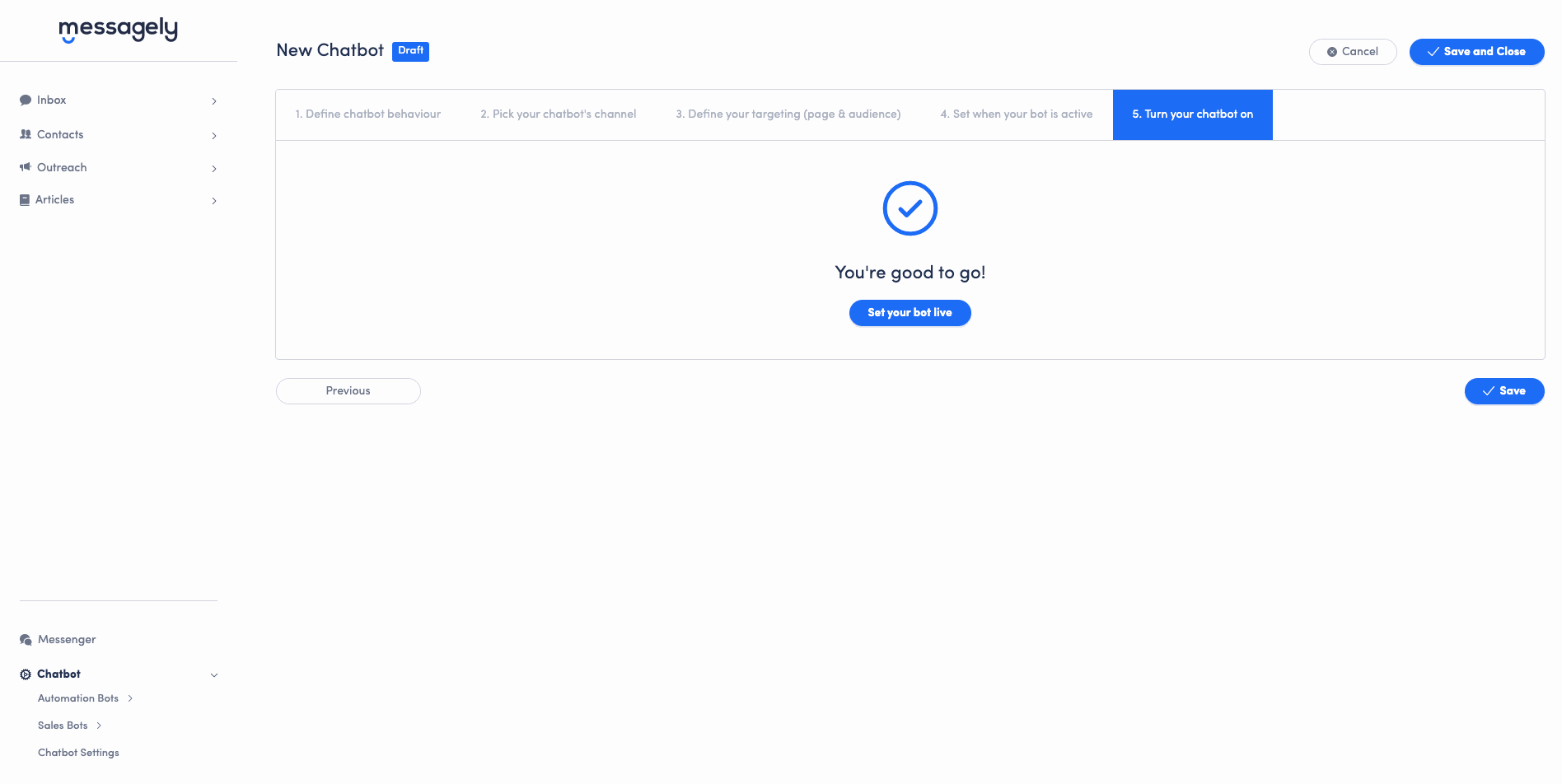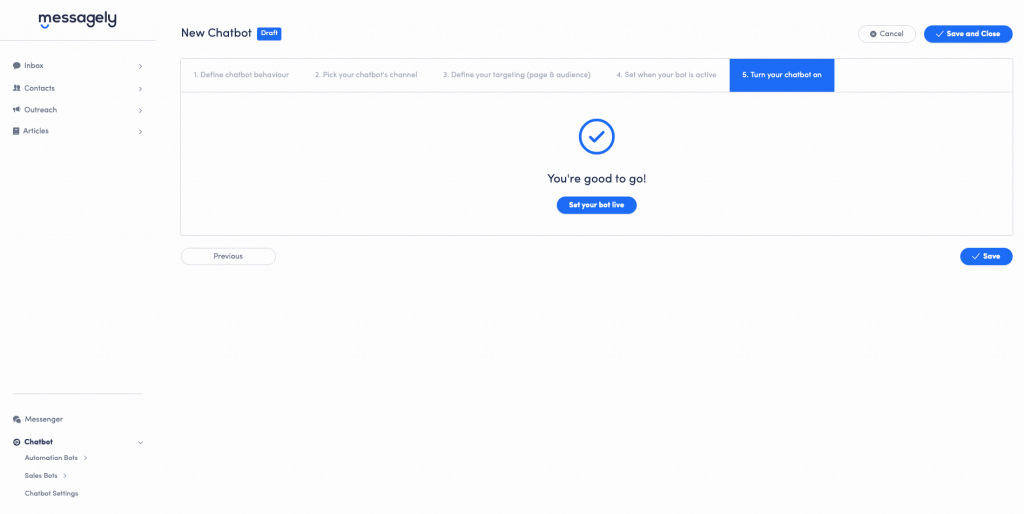 Instead of releasing the message immediately, prepare for its release through testing. The more complex you've made your message, the more testing you'll want to do before deploying it.
Once it's been tested, you can activate it and start reaching users immediately.
FAQs on In-App Messaging
Here are the answers to commonly asked questions about in-app messages:
What is an in-app message?
An in-app message is a message sent to a user who's already using the web or mobile app. Your users can get the message through a chatbox or simple in-app notifications.
What is the difference between push notifications and in-app messages?
A push notification is a message that the user sees without opening the app. Users can see push notifications on their lock screens or while using a different app. An in-app message is always received by the user when they're using your platform and allows for more personalized messages.
How do you test in-app messaging?
You can ask teammates to receive and interact with the in-app message to ensure everything is working properly. You can also conduct A/B testing to collect user feedback and know exactly what the user prefers.
Conclusion
In-app messages are perfect for engaging with your users as often as they need. You can use in-app messages to talk about new features, encourage users to continue interacting with your app, and collect user data by letting users respond to them.
If you want to deliver messages, there's no better option than Messagely. Get started for free, today.