If you want to design the perfect customer onboarding process, you need the right tools.
In this article, we'll show you the best customer onboarding software to help you gain loyal customers.
We'll compare the following:
Easy of use
Pricing
Features
Pros and Cons
By the end of the article, you'll know exactly which tools to use to design your customer onboarding system.
Let's get started.
Customer Onboarding Software: 10+ Tools Compared
These are the best tools for customer onboarding:
All-in-one Onboarding Software
All-in-one solutions help you create an onboarding strategy, and help you with customer service, knowledge bases, and much more, so you can take care of all your needs with just one software.
Here's the best all-in-one onboarding software:
Messagely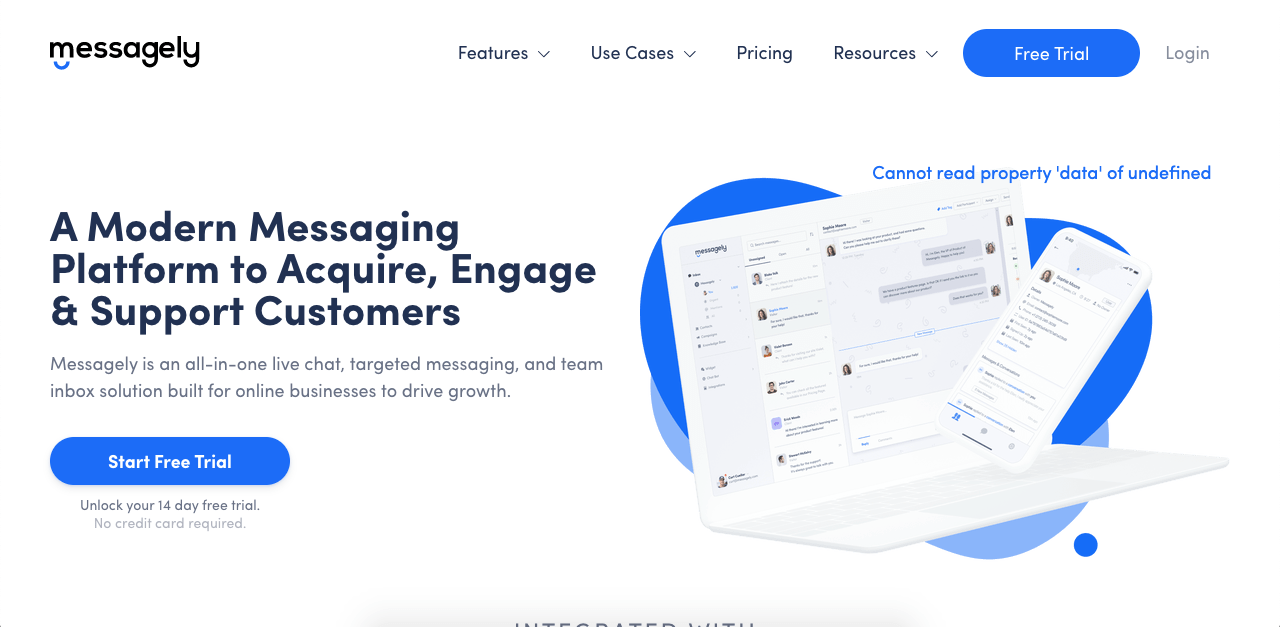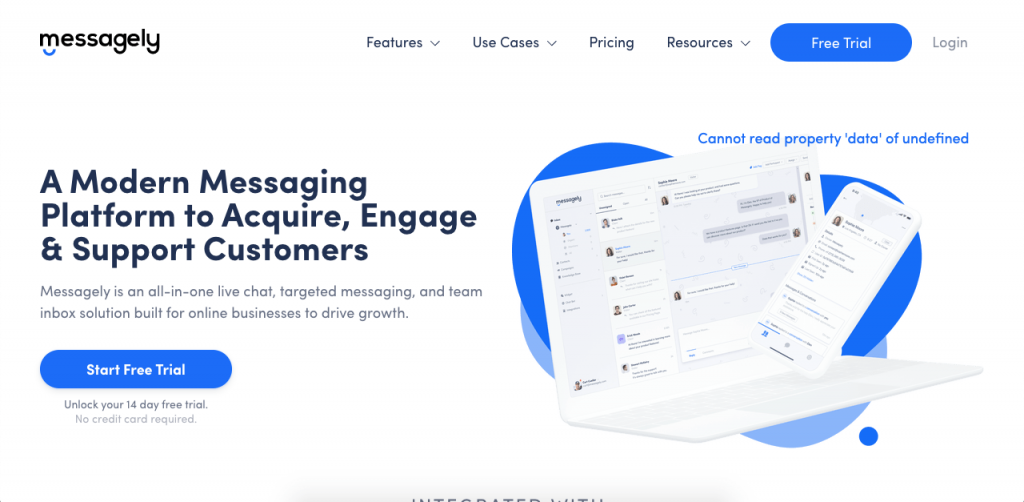 Messagely is a powerful tool for all customer communication, including onboarding. With it, you can streamline your onboarding process through automated messages, easy segmentation, and powerful integrations.
Messagely makes customer care easy with its friendly onboarding process for new customers, consolidating all customer service channels, and tracking your team's efforts. With it, you can develop knowledge bases and keep track of your clients to improve your customer support and relations even after customer onboarding.
Great integrations
Messagely includes powerful integrations such as:
Salesforce
Slack
Google Analytics
Stripe
Zapier
HubSpot
Shopify
Pipedrive
…and many more
Plus, onboarding with Messagely saves you customer details to use in your everyday customer service.
Comprehensive platform
Messagely brings far more than just customer onboarding. This platform uses tools such as live chats, chatbots, knowledge bases, an integrated inbox, and everything else you need to offer the best customer service possible.
With Messagely's comprehensive customer onboarding solution, you can easily provide integral customer support while making sure you're not overspending.
Pricing
Pricing starts at $29.00 per month for the Basic tier and includes 1000 contacts and one seat. You can purchase an additional 1000 contacts for only $10 more per month. Additional seats cost $15 each. This plan includes:
Live Chat
Targeted Messages
Shared Inbox
Knowledge base
Live View
iOS & Android Apps
750+ Integrations
Messagely's most popular plan, the Plus tier, begins at $49.00 per month and includes everything that comes with the Basic tier plus advanced knowledge base customizations and other automated options.
For $79.00 per month, you can choose the Pro plan, which includes everything that comes with the Basic and Plus tiers plus chatbots, Account-Based Marketing, and additional advanced integrations.
Start a free trial with Messagely today.
Pros
Friendly and intuitive platform
Easy customer onboarding set up
Integral approach to customer service
Powerful integrations with your favorite tools
Great options for customer interaction
Cons
No mobile app (currently in development)
Communication (In-App & Email) Software
Communication software lets you contact your customers while keeping everything in context with the customer's details and contact history so you know who they are and why they're calling. This is crucial for achieving perfect customer communication.
Here are the best customer communication tools currently on the market:
Messagely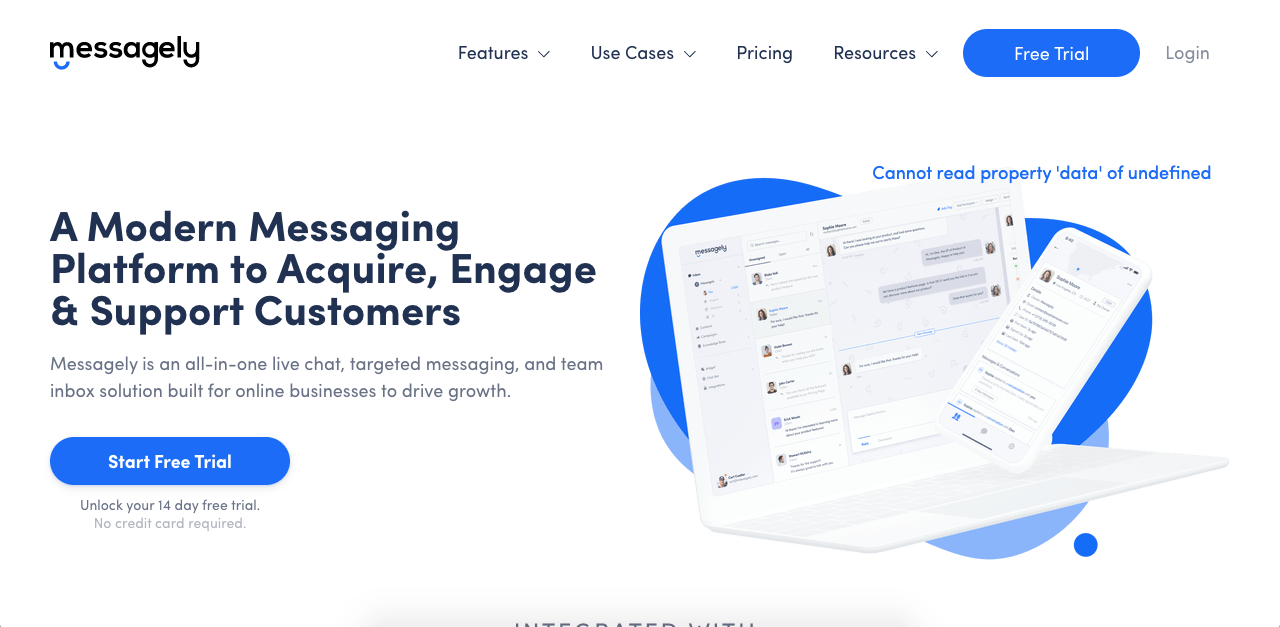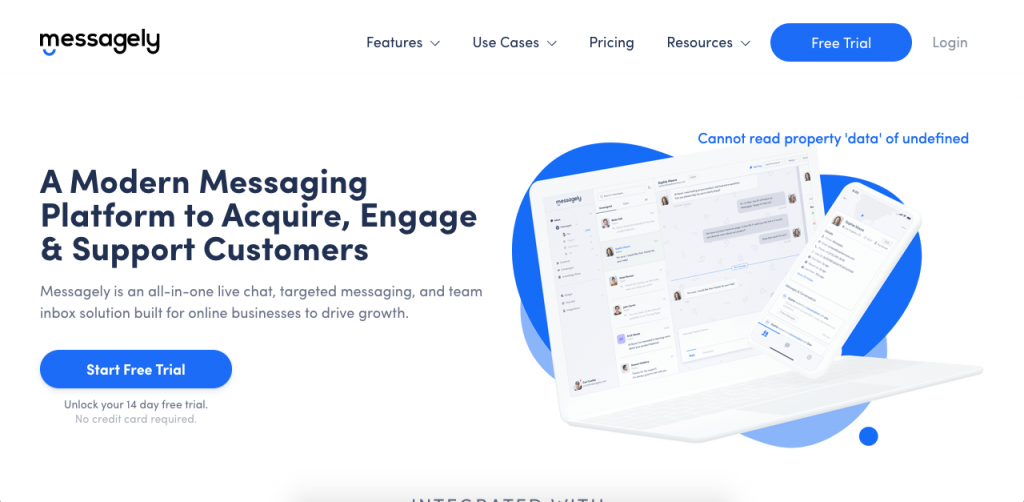 With customer care at its core, Messagely is a powerful customer communication tool. With Messagely, you can easily develop communication strategies using customer segmentation, automated messaging, and unification of your communication channels.
With Messagely's communication bots, you can offer customer service 24/7 without breaking the bank and get your customers started in just a few minutes.
Integrate Messagely with the tools you're already using so you can always know who is who, measure your customer success, and consolidate your customer communication into one simple, easy-to-use platform.
Start a free trial with Messagely today.
Pros:
Powerful chatbots that are easy to set up
Simple and effective live chat
Shared inbox to consolidate communication channels
Targeted messages for hyper-relevant communication
Live view for real-time customer monitoring
Integral customer service approach
Very affordable
Cons:
No mobile app (currently in development)
Intercom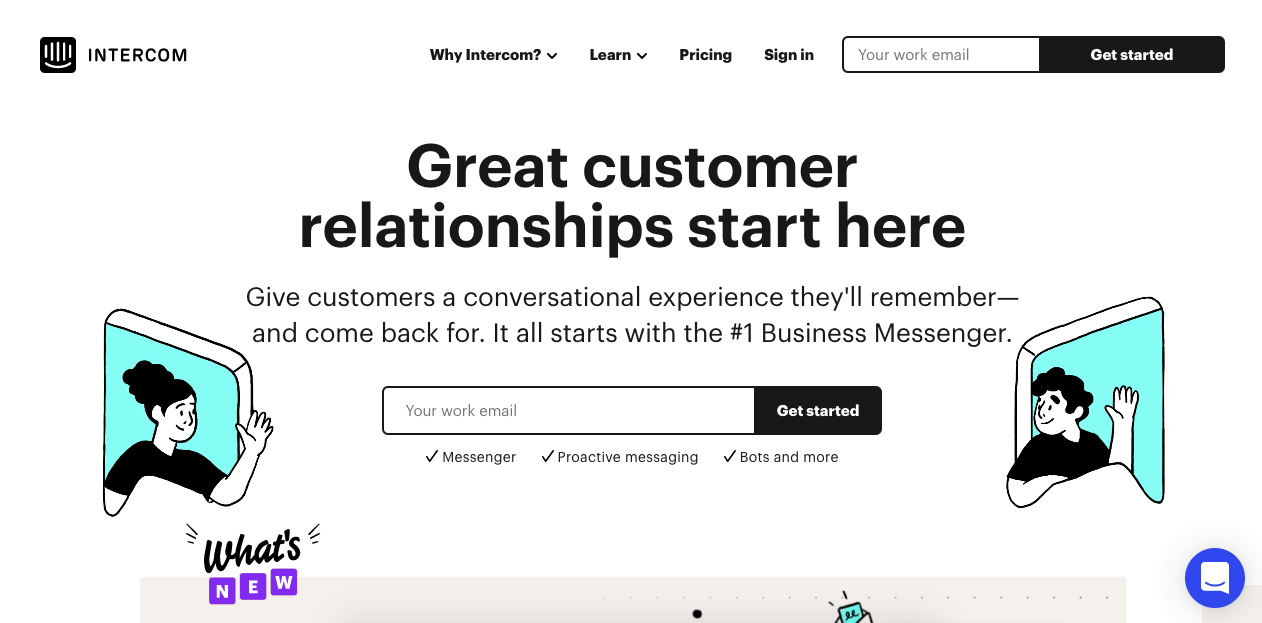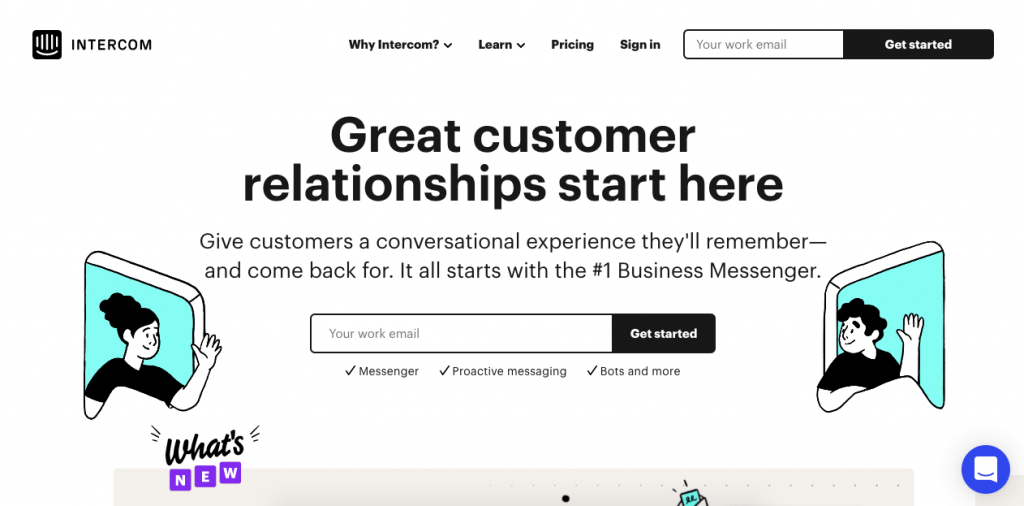 With Intercom, you can connect with clients and improve your customer communication easily.
As a platform built on customer relations, Intercom offers multiple tools to help you improve your customer service, such as predicted responses, automated targeted content, and behavior-driven messages.
Pros:
Long customer service record
Great message automation that allows for personal messages
Ticketing software included
Good integrations
Cons:
More expensive than other options
Mobile app may be slow to load long conversations
Solely for customer communications—not for customer service
Bonus: Compare Messagely vs Intercom.
Zendesk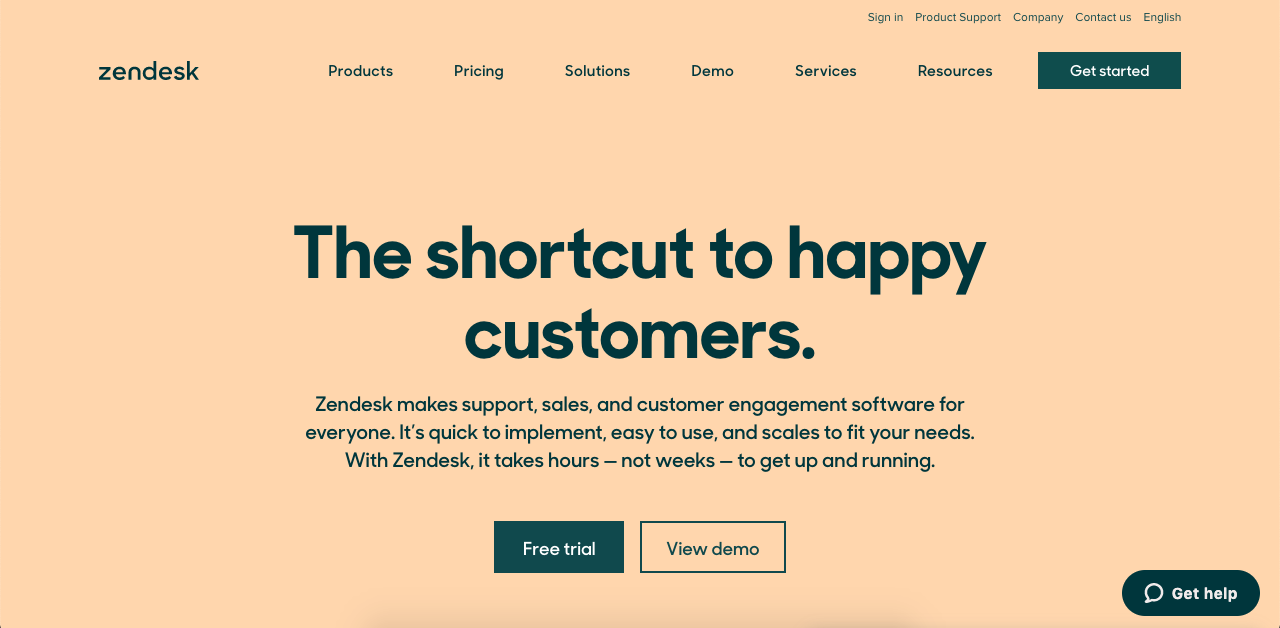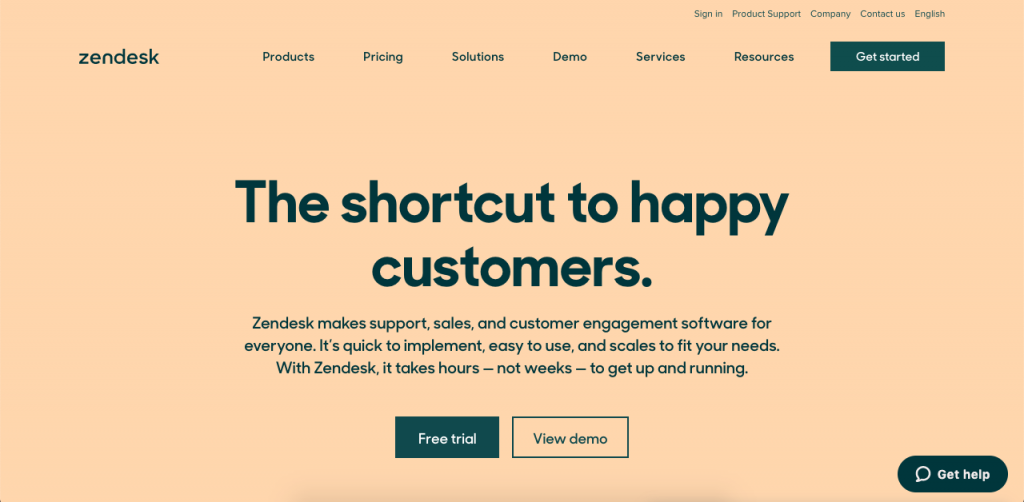 Another popular customer communications platform is Zendesk. Its powerful customer service and communication features make Zendesk a very attractive option.
Some of these features are live chats, cloud call centers, and a feature-full ticketing system, which makes it easy to keep track of your customer issues.
Zendesk also has very flexible pricing that can adapt to multiple budgets.
Pros:
Attractive pricing options
Unified workspace for contextual customer communication
Very robust ticketing software
Powerful analytics
Cons:
Not great for smaller companies
Features can quickly add up in price
Not as user-friendly as some alternatives
Bonus: Compare Messagely vs Zendesk.
Knowledge Base Software
Knowledge base software allows you to build and maintain knowledge bases so your customer can find answers to their common issues and questions.
Here are the best knowledge base builders:
Messagely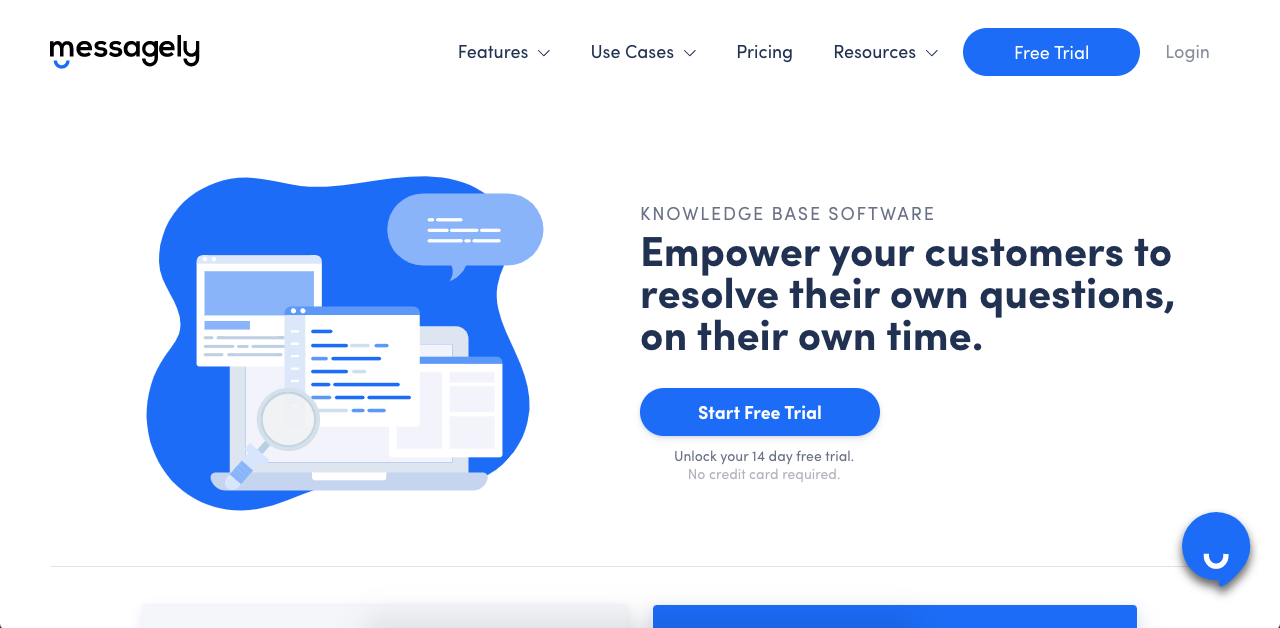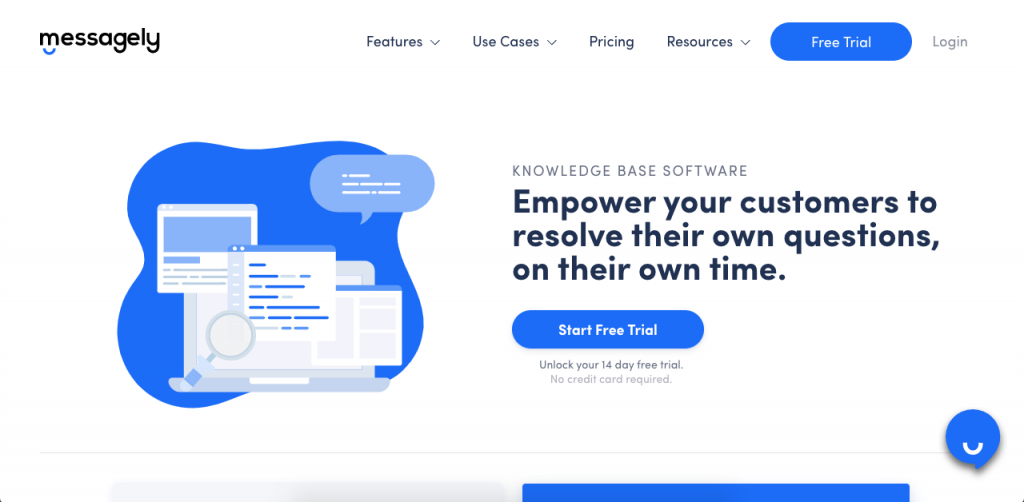 Messagely has a simple-yet-powerful knowledge base tool to quickly build and populate your knowledge bases.
With Messagely, you can easily offer your customers and teams a responsive and intuitive self-service tool to learn more about the solutions you offer. You can also allow the readers to rate whether an article was helpful or not to identify areas of improvement or gaps in your documentation.
Messagely also offers powerful integrations along with the rest of Messagely's customer service tools. This powerful and easy-to-use knowledge base software will help you improve your customer support and relations.
Pros:
Responsive knowledge base tool
Good for private and public knowledge bases
Very easy to use and populate
Integral customer service approach
Very affordable
Cons:
No mobile app (currently in development)
Tettra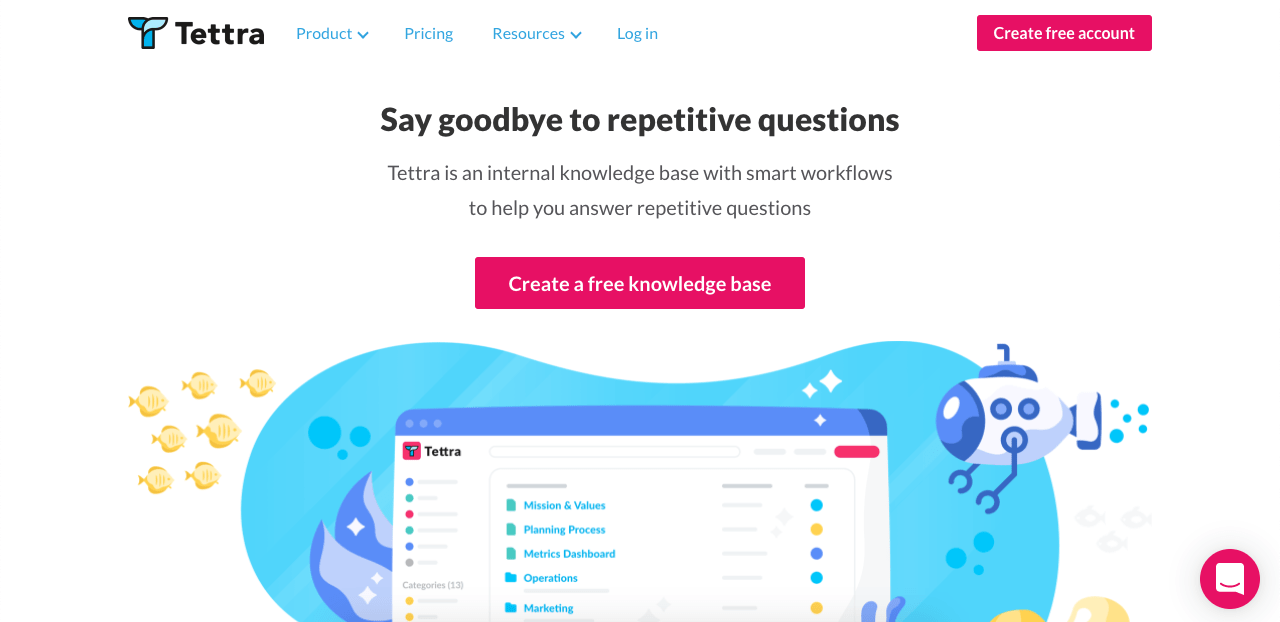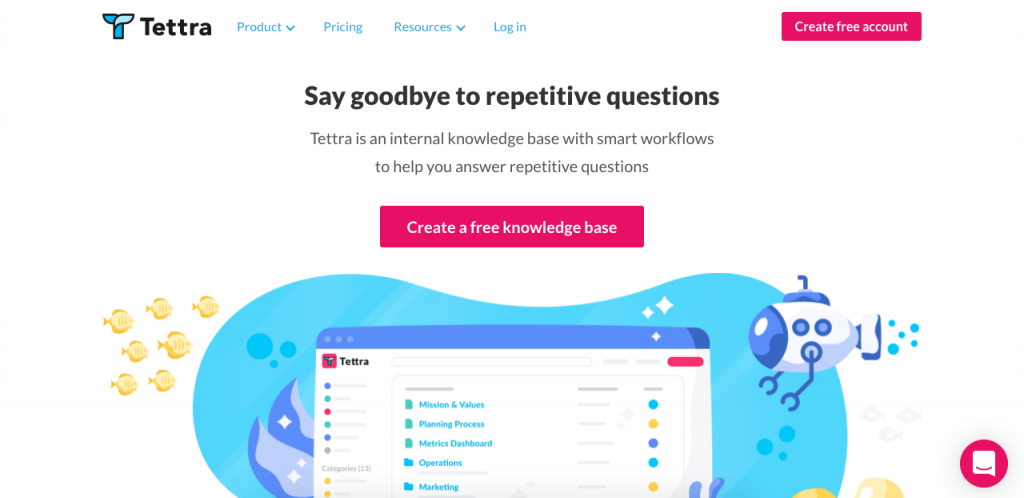 Tettra is a powerful knowledge base builder and general content management tool that allows for seamless team collaboration.
With an intuitive editor and internal and external knowledge base capacities, Tettra is a streamlined platform perfect for companies with a team approach toward knowledge base content creation.
Pros
Great Slack integrations
Multiple integrations available through Zapier
Great for team collaboration
Highly-responsive smart suggestion tool
Easy-to-use integrated editor
Cons
Lacks any native integrations
No analytics
Helpjuice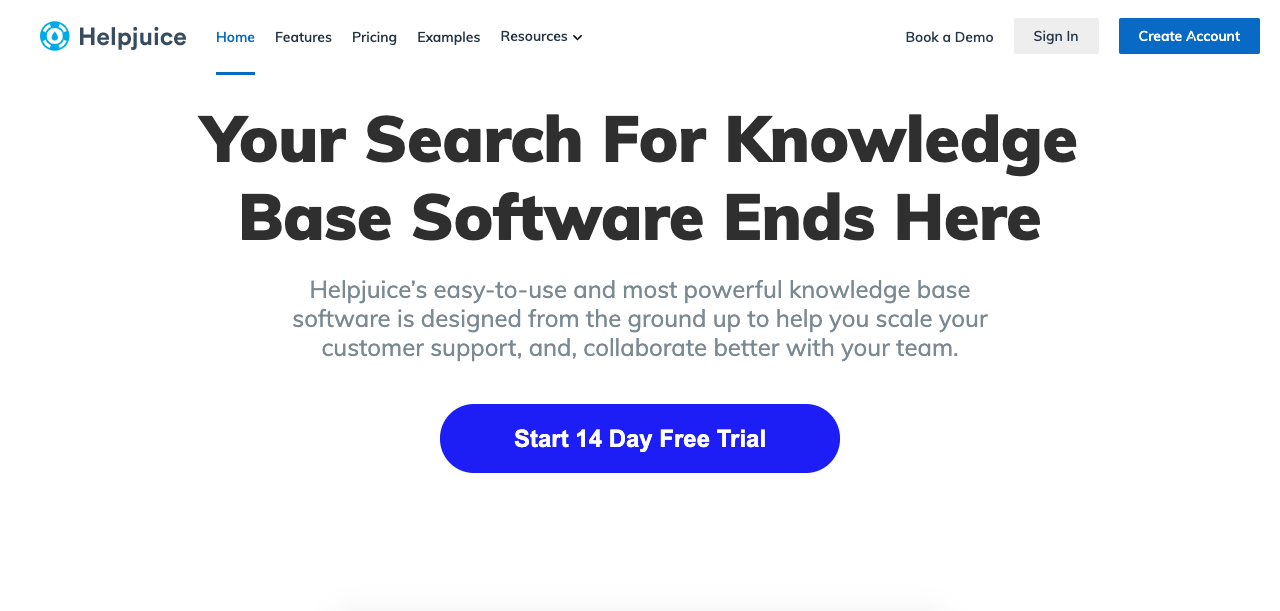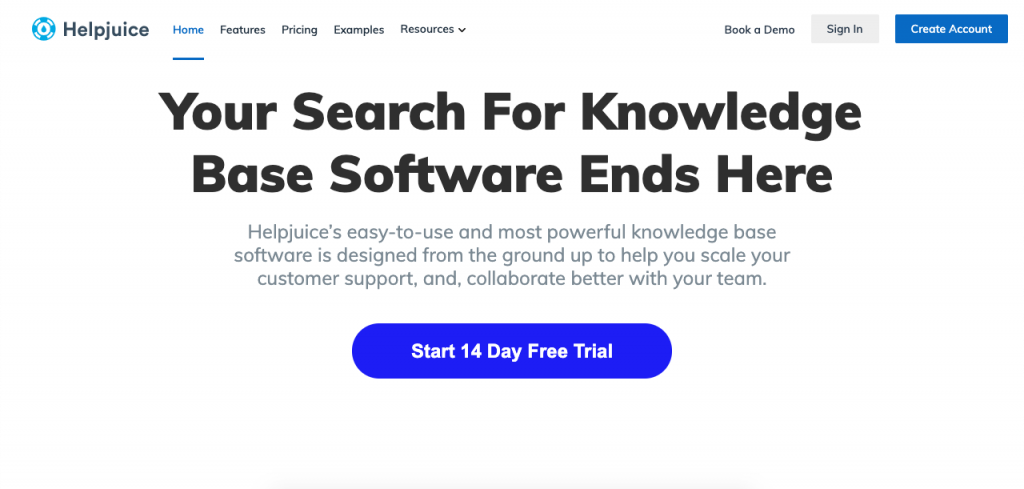 HelpJuice is another knowledge base tool perfect for internal knowledge bases. This platform allows you to create knowledge bases with multiple accesses, so different users may view and access different articles.
With its feature-rich editor, you and your team can quickly write and add content to your multi-layered knowledge base with ease. You can also use its analytics to view your author's activity, user behavior, and even to locate potential knowledge gaps with the search data and search terms.
Pros
Very user friendly
Great for multi-layered internal knowledge bases
Powerful analytics
Good for team working
Cons
Expensive
No native integrations
Live Chat Tools
Live chats allow you and your customers to talk via text in real-time, so you can quickly answer your customers' questions without them ever needing to leave the page.
Here are the best live chat tools for your business:
Messagely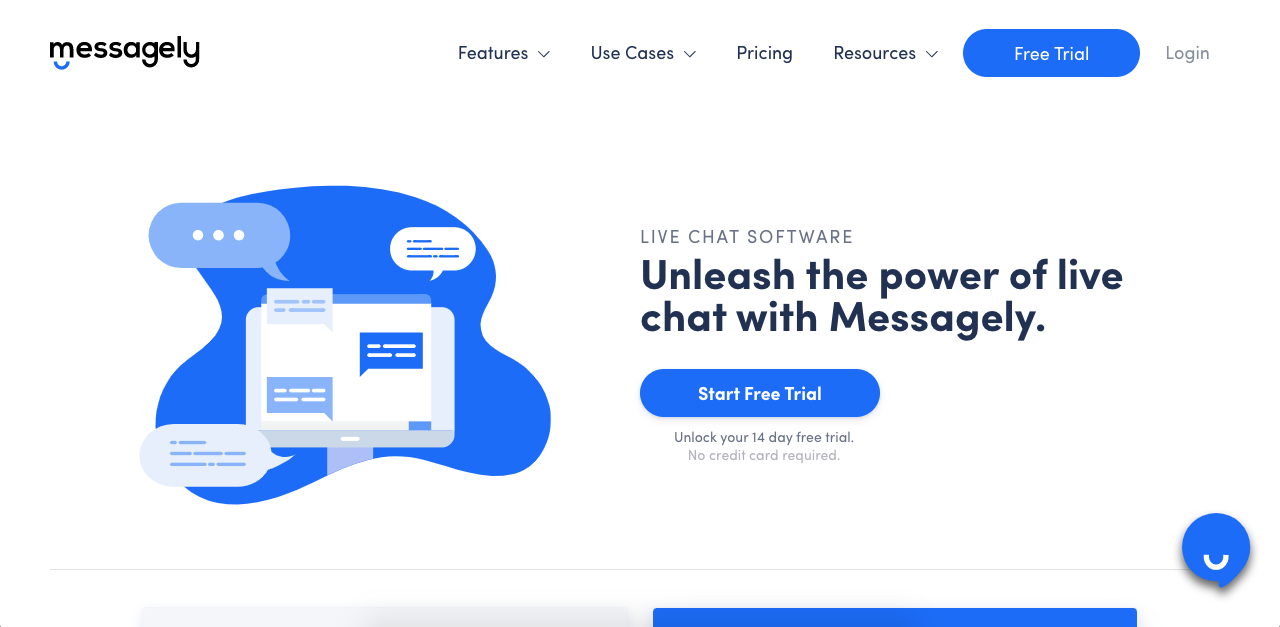 With powerful live chat tools, Messagely lets you interact with your customers as soon as they need you.
Messagely's live chat service is incredibly easy to set up and install on your website and includes a simple hover icon to remind customers your team is there if they need you. This way you can establish a quick connection during their onboarding process.
Start a free trial with Messagely today.
Pros:
Very easy to use and set up
Great integrations
Highly-responsive
Integrates with the rest of the customer service platform
Cons:
No mobile app (currently in development)
Help Scout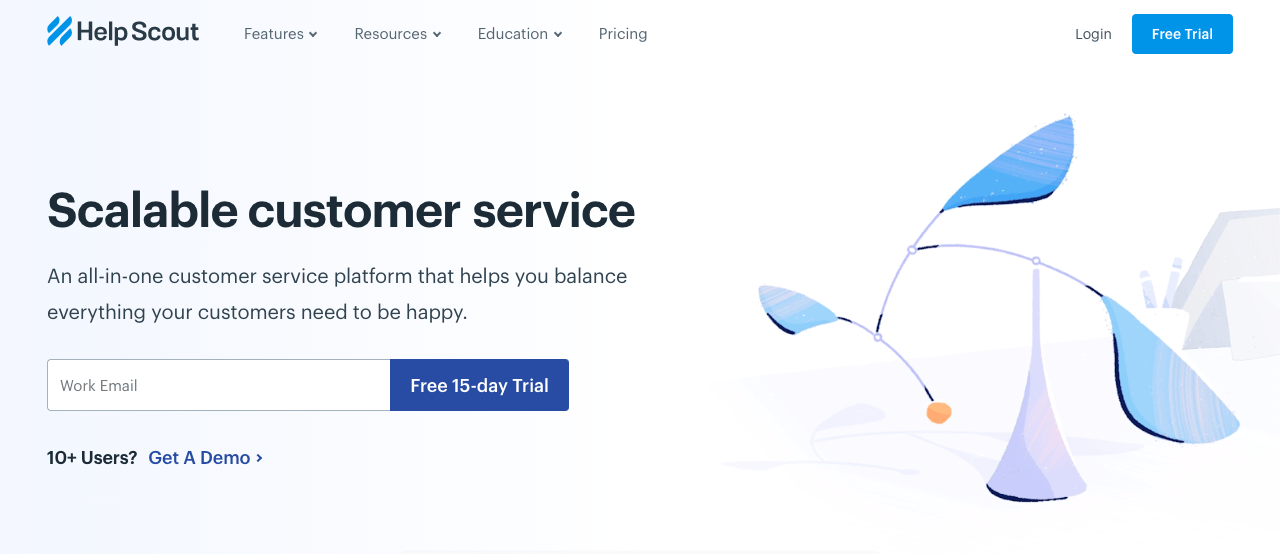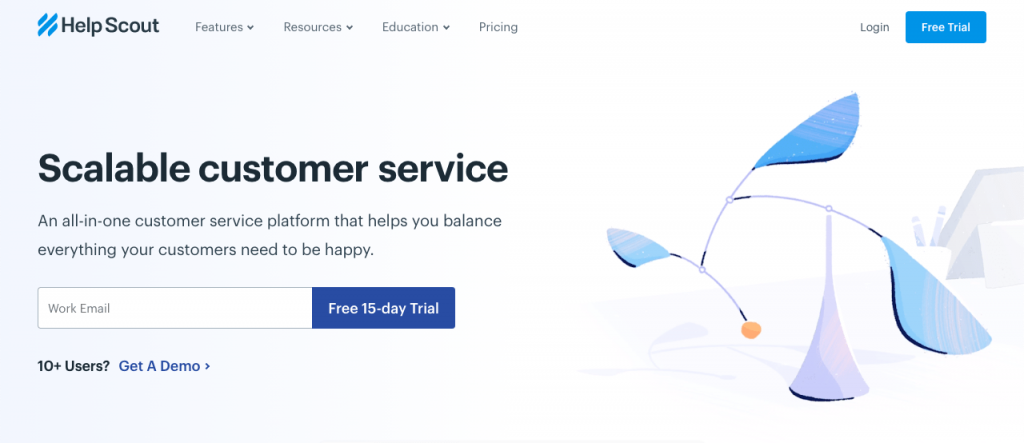 Help Scout is a customer service suite with a great live chat tool that allows you to easily interact with your customers.
Help Scout also gives your customers the option to interact with you while reading your knowledge page or browsing your website and tells you their context so you can improve your service.
Pros:
Good integral app
Tons of customer service features
Great customer support
Very user-friendly interface
Cons:
No spam filter
Not many live chat features
Lacking reporting
LiveChat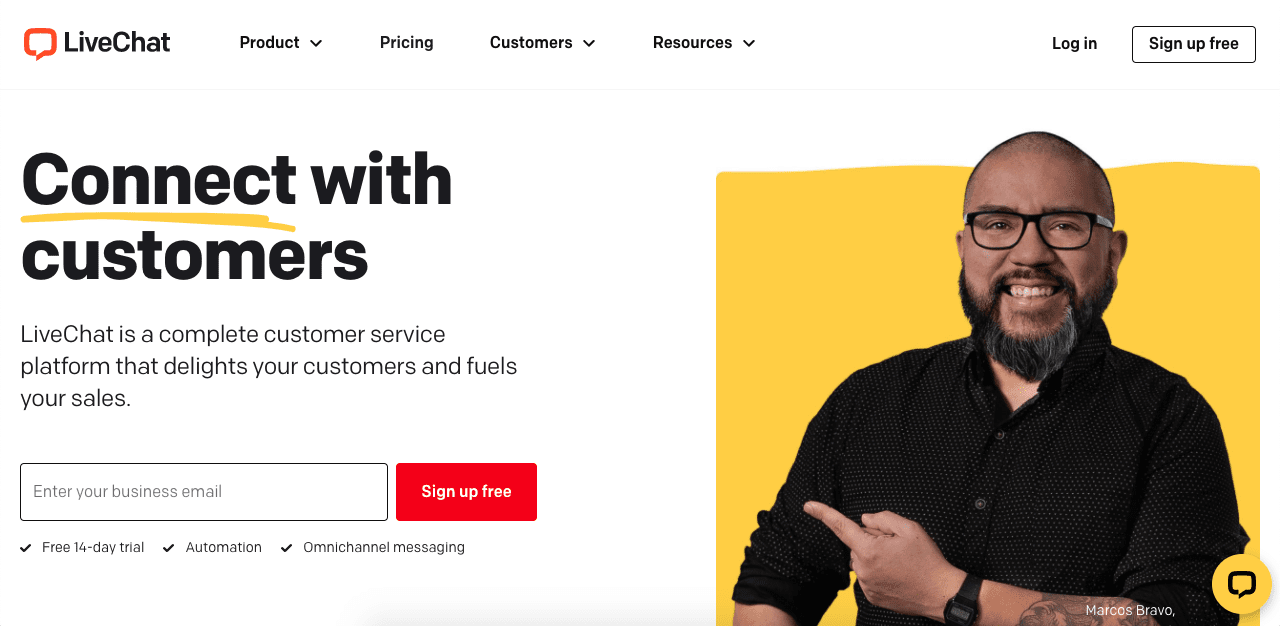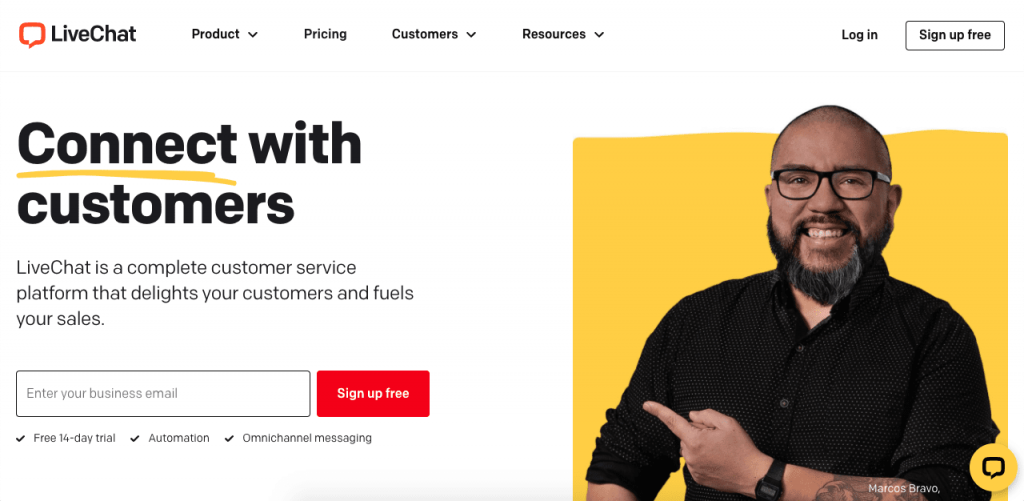 LiveChat is an extremely popular all-in-one customer service tool with an enviable client list that includes companies such as Ikea, Adobe, Mercedes, and PayPal.
With a simple live chat packed with useful features, this platform makes it easy for your customer reps to answer client queries. The platform also features a powerful AI that directs your customers to the right agents, creates tickets, generates leads, and can even segment your audience.
LiveChat also works with platforms like Shopify, WordPress, Salesforce, and Hubspot.
Pros:
Very efficient platform
All-in-one customer service tool
Real-time data
Powerful AI as a customer service aid
Good for big and small companies
Cons:
Clients report issues with the platform freezing
Fairly expensive option
Mobile app not very functional
Product Tour and Walk-Through Software
Product tour tools allow you to showcase your brand and what it has to offer to your customers, leading them directly to their "aha!" moment.
Here are the best product tour and walk-through tools for you:
HelpHero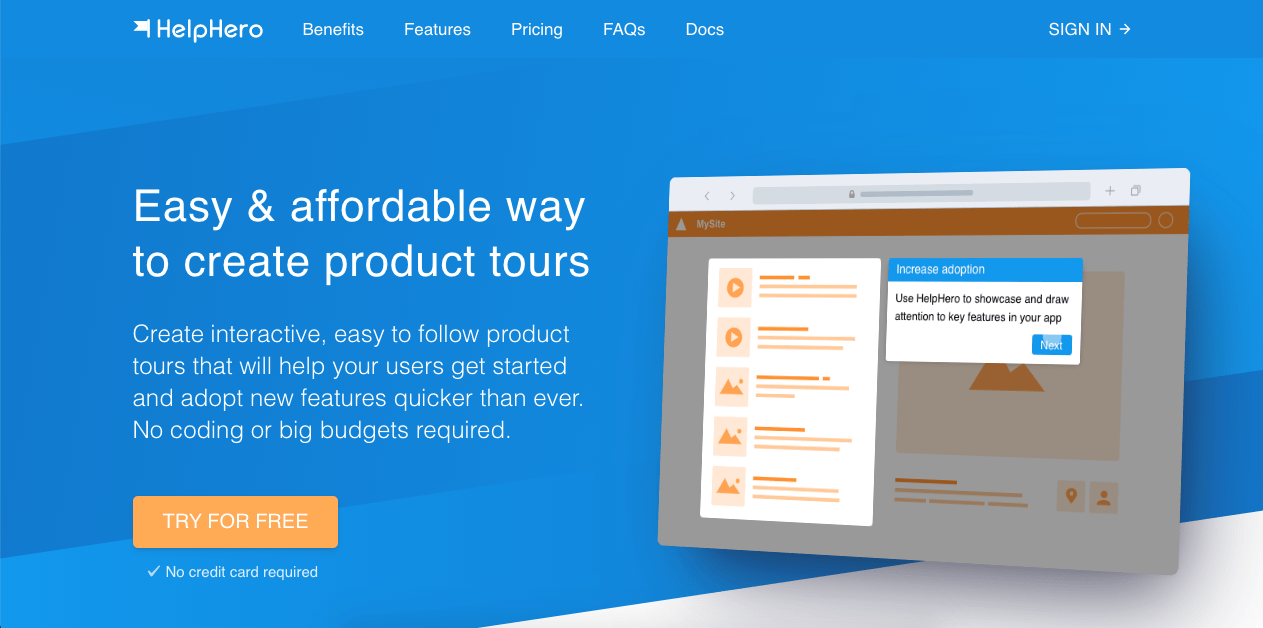 HelpHero is a powerful and affordable product tour tool. Based on a linear onboarding approach, the platform streamlines your process while letting you use multiple UX elements to showcase your products.
Although somewhat basic, HelpHero is a great product tour tool if you want an uncomplicated and affordable solution that anyone can use.
Pros:
Very affordable, even for small companies
Multiple UX elements to play with
Good testing capabilities
Very easy to use
Cons:
Limited integrations
Limited product tours capabilities
Pricing quickly increases with your visitors
Appcues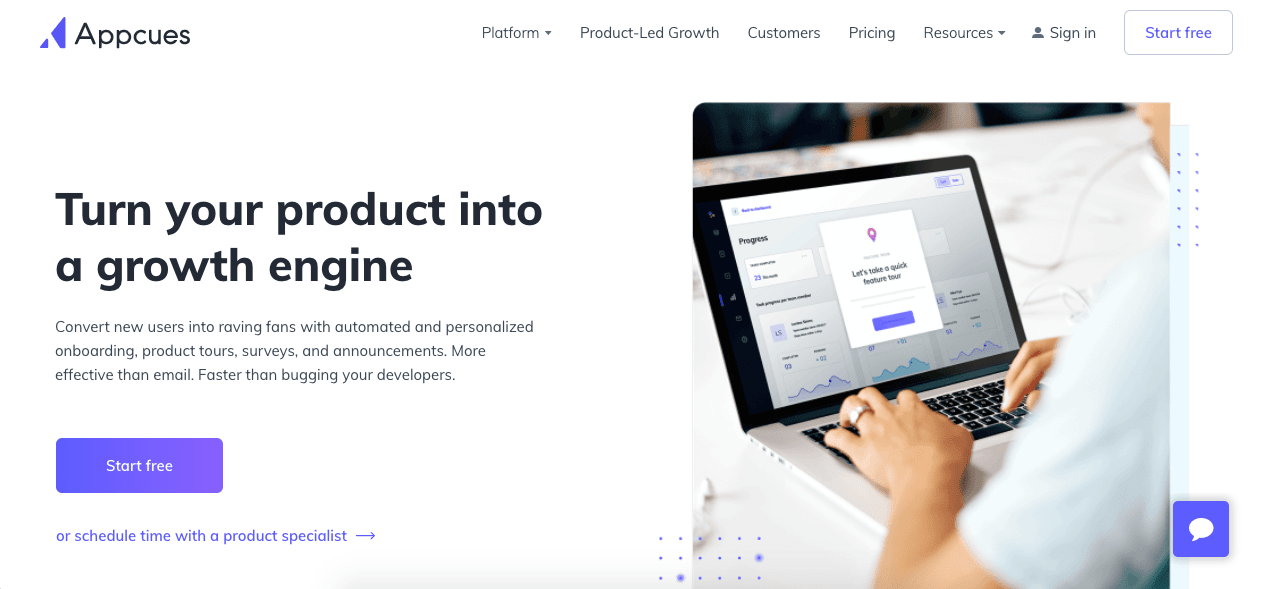 A veteran in product tours and onboardings, Appcues offers many product tour features for your customer onboarding process.
With a wide range of UX elements, Appcues makes its linear onboarding process engaging for your customers, although learning to use some of its features can be complicated.
Pros:
Proven platform
Multiple features
Visually stunning results
Cons:
Only supports linear onboarding
May have a higher learning curve
Limited native styling options
Limited integrations
More expensive than the average tool
NPS Software
NPS or Net Promoter Score software is a critical tool in your customer service belt when it comes to measuring customer engagement and experience.
Here are the best NPS tools for you:
Survicate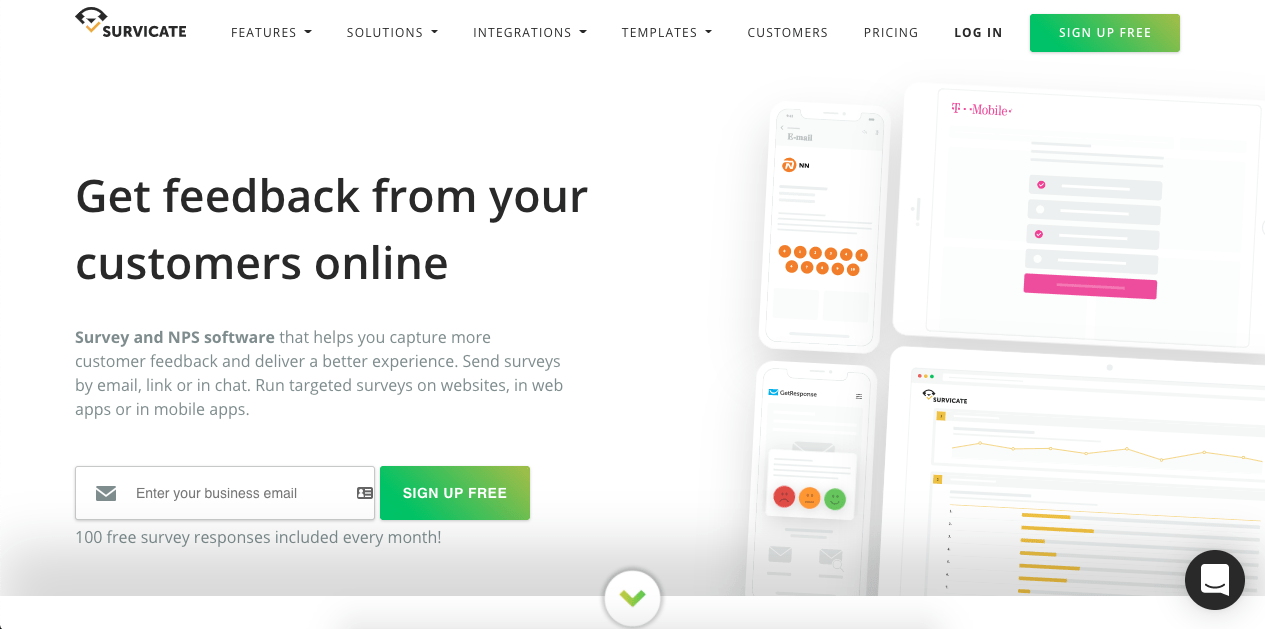 Survicate is a great customer feedback tool with multichannel NPS software. With it, you can create and send NPS surveys within minutes, reaching your customers through emails, apps, links, and even your website itself.
This platform allows you to calculate your Net Promoter Score in real-time, and filter through each response based on your customer data to fully contextualize your score.
Pros:
Powerful reporting and analytics
Intuitive and easy to understand
Highly customizable
Free option available
Cons:
Lacking integrations
Big cost difference between the free option and the paid options
Wootric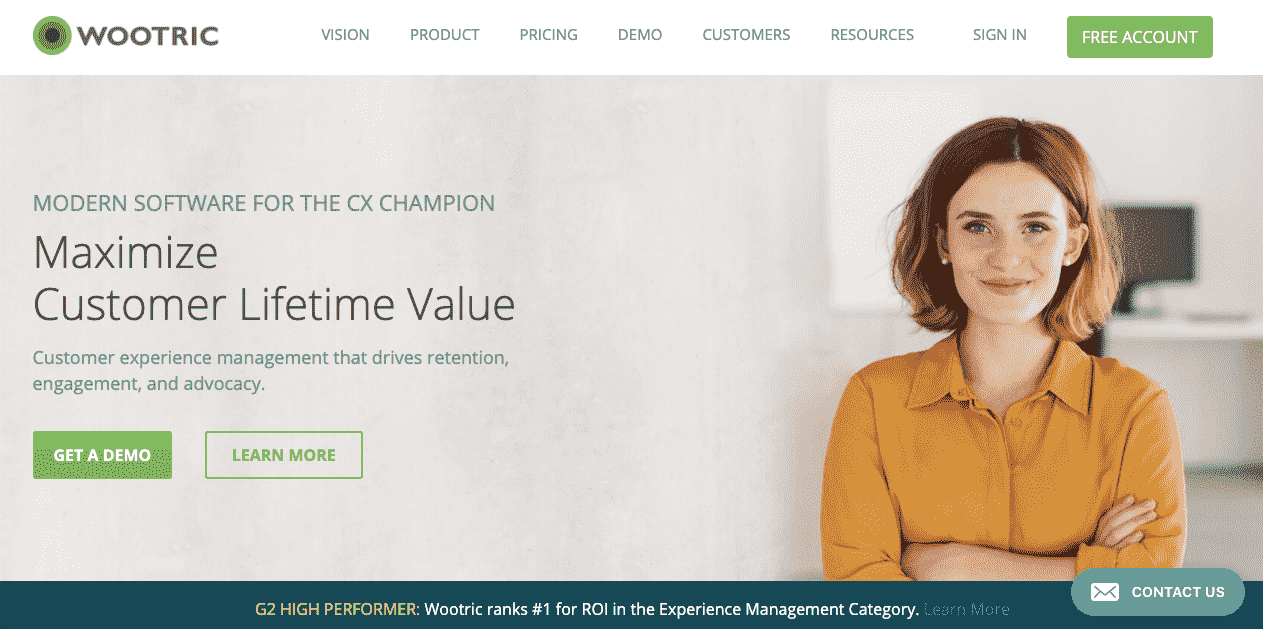 Wootric is a simple, powerful, and very easy to use NPS tool. With it, you can automate your surveys so they're sent at the right time, without any manual work, and can even perform basic NPS analysis and collect feedback.
This platform also makes it easy for customers to respond to email surveys with intuitive and inviting designs and allows you to reach your customers through email, mobile, and even SMS.
Pros:
Powerful automation
Contextualized reporting
Easy to monitor customer health
Good integrations
Cons:
Limited number of pages makes it hard to track multiple customers
Very limited mobile app
May have issues with real-time reporting
Onboarding Product Usage Analytics Software
If you want to keep track of how your new customers are interacting with your brand, you'll need the best analytics to filter through your data.
Here are the best onboarding product usage analytics tools for your company:
Mixpanel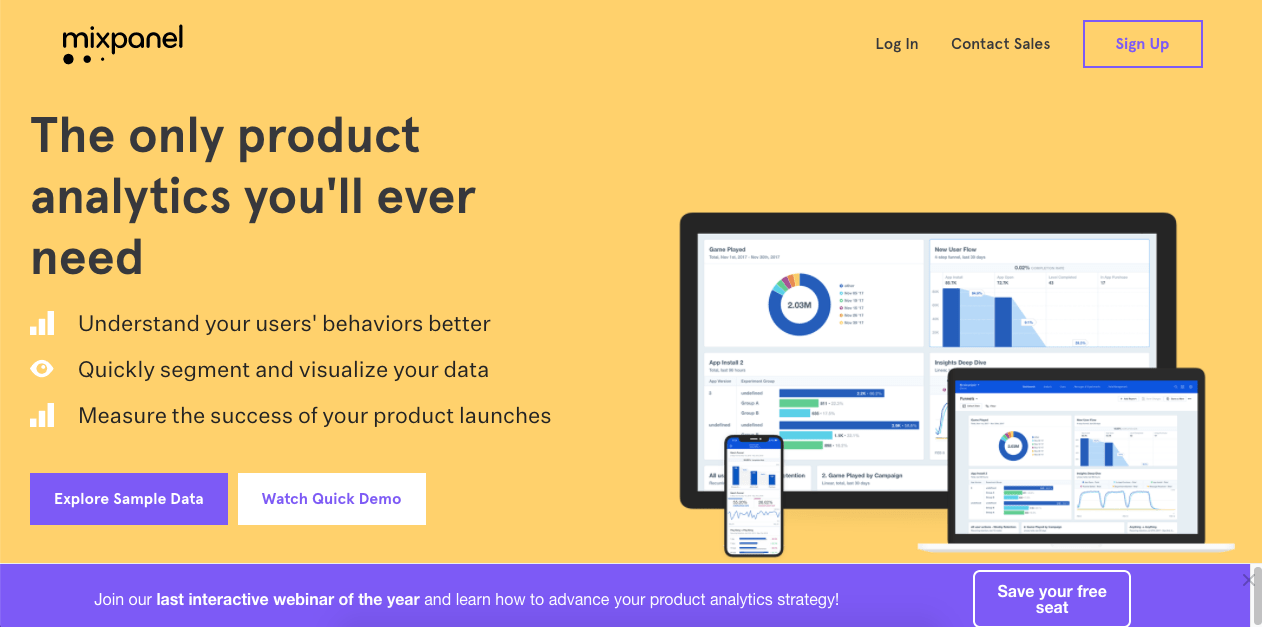 Mixpanel is a great tool that allows you to track product and behavioral user experience data for both mobile and web apps.
With this platform, you can collect user data, identify behavioral trends, and use it to set data-based goals. Its analytics and dashboards are very easy to handle and understand, making them a perfect internal communication tool.
Pros:
Very easy to use
Intuitive graphics
Powerful data capabilities
Comparisons between your goals and your data
Cons:
Lacking support system
Data may be overwhelming for some users
Expensive paid plans
Amplitude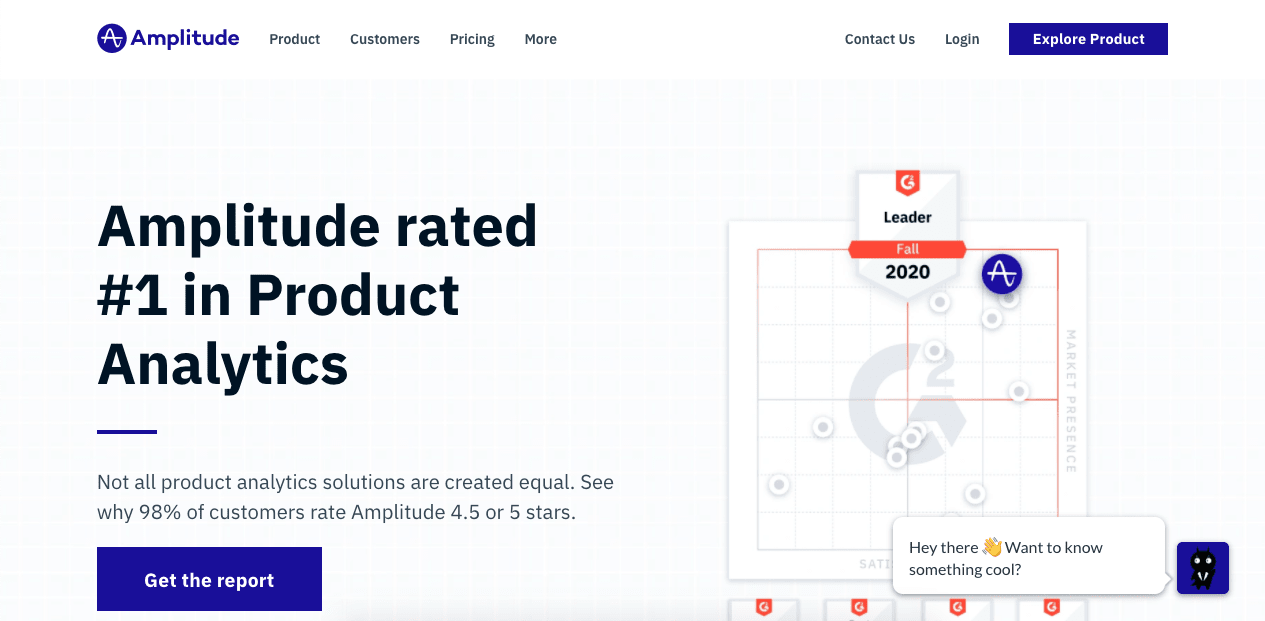 With the mantra: "We help teams build better products", Amplitude really delivers on its user onboarding analytics and data.
With it, you can easily track your KPIs in real-time, keeping tabs on product usage and statistics to immediately allow you to take action if anything goes wrong. It also comes with a generous forever-free package that gives you access to core analytics, has unlimited user seats, and allows you to track up to 10 million actions per month.
Pros:
Generous forever-free plan
Makes it easy to identify trends
Very easy to share
Multiple testing results and comparisons
Responsive real-time data
Cons:
UI can be confusing for new users
Not very intuitive design
Lacking some advanced features
Bonus: BIGContacts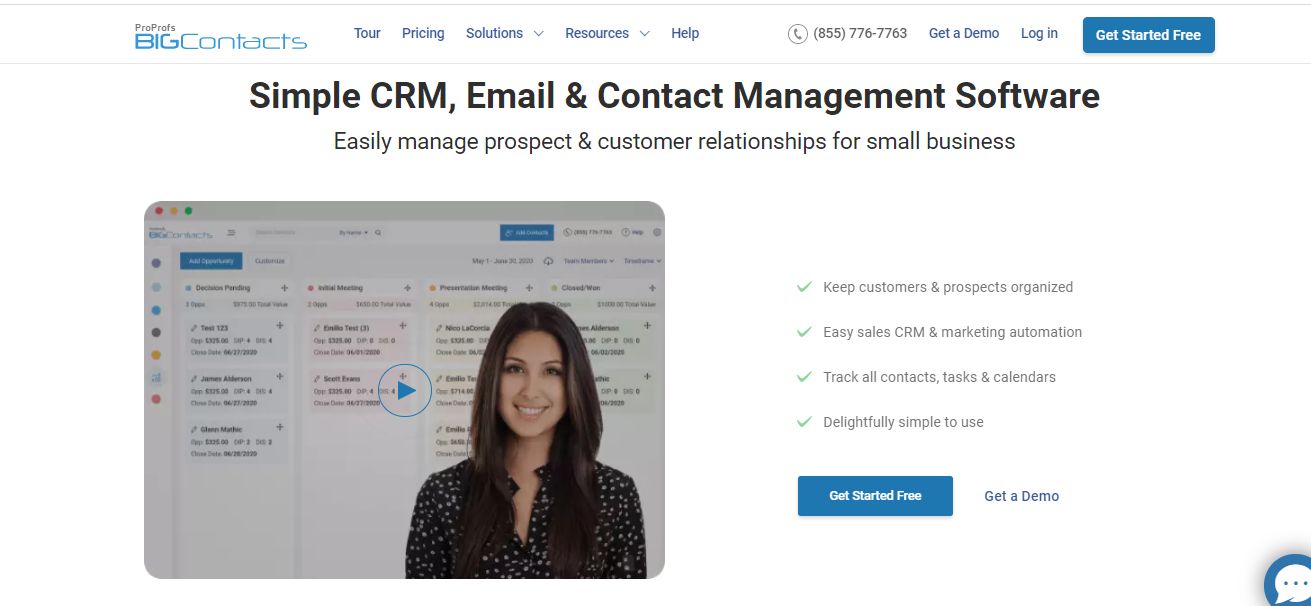 With extensive functionality and a simple interface, BIGContacts is one of the best tools you can use for customer onboarding. This customer relationship management tool can double up as a powerful resource for customer onboarding by helping you visualize and manage every step of the journey. You can easily access all customer information from one centralized location with this tool.
BIGContacts is uncomplicated, can be customized to great lengths, and offers multiple integrations. You can use it to personalize customer onboarding and track your business's performance with built-in analytics.
PROS:
Affordable pricing options
Exceptional customer service
Easy to set up and use
Improved internal communication
CONS:
Mobile app could have a better UI
Lag issues with software updates at times
Everything about Customer Onboarding Software
Here are the answers to the most common questions about customer onboarding software.
What is customer onboarding software?
Customer onboarding software refers to all digital tools that manage and facilitate the onboarding of new clients. They can range from general customer service tools to product tours to analytics and surveys.
Is there free customer onboarding software?
Yes. Some tools listed here have forever-free plans, although these plans are usually quite limited in features.
What's the best customer onboarding software?
The best customer onboarding software will likely depend on your needs, but it's usually better to use all-in-one tools. This diminishes your training costs and streamlines your processes.
Does CRM software assist with customer onboarding?
Yes. When used correctly, Customer Relationship Management tools can manage the onboarding process and track your customers to contextualize their issues and find potential growth.
Conclusion
Good customer onboarding software will allow you to convert clients more easily, and for far longer. That's why using the right customer onboarding tools is vital for any business.
If you want to provide excellent customer service the easy way, try Messagely for free and upgrade your service today.