If your business (being it eCommerce, brick and mortar or any other type) is going to attract and retain high-value customers, you have to offer amazing customer support. In other words, you have to build strong relationships, give your customers what they need, and show them you care. So your support team must use the best customer support tools available.
What Are Customer Support Tools?
Customer support tools give you the power to offer timely, accurate, and personalized customer support. This functionality makes it easier to more effectively serve your prospects and customers in a way that will boost customer acquisition, satisfaction, and retention.
These tools offer a range of functionality. For instance, some tools facilitate customer management, while other tools make it easier for you to offer telephone support. Still, other tools can help you offer great social media support or cultivate vibrant communities.
According to a Walker study, customer experience will be more important than both the price and product by 2020. If you use the right customer support tools, you'll put yourself ahead of the competition.
Best Customer Support Tools
Here's a look at the best customer support tools out there. For your convenience, we've divided them according to category.
Customer Management (incl. shared inbox)
55% of customers are willing to spend more money with a company that offers them a satisfying experience. Customer management tools make it easy to offer a pleasant and frictionless experience for your customers.
Messagely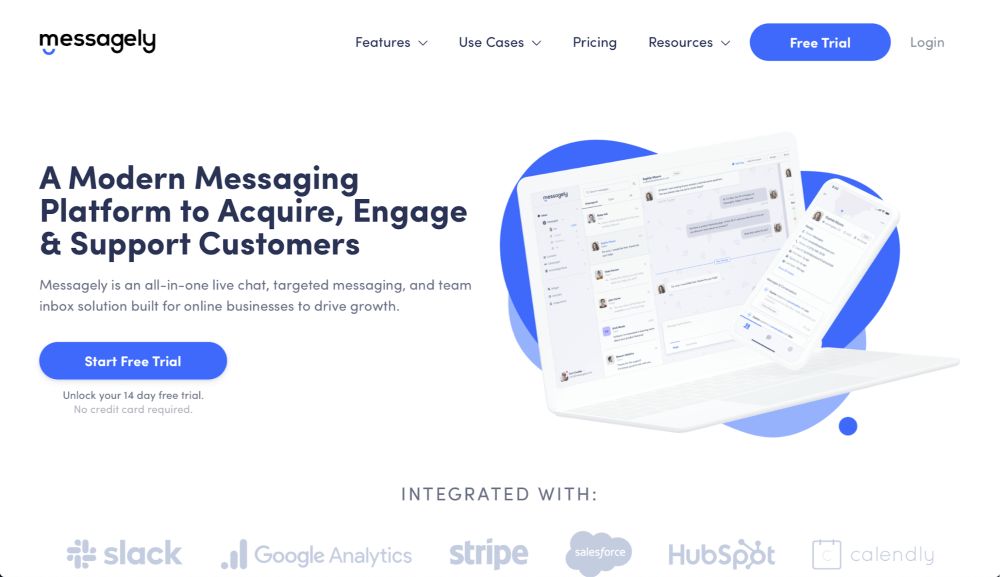 Messagely is an all-in-one solution for live chat, target messaging, and team inboxes that helps online businesses drive growth. This feature-rich application makes it easy for you to manage your customers and deliver a consistent, satisfying experience to them.
Messagely's sophisticated customer-messaging software pulls all of the customer's information together, in order to offer your customer support team all of the context they need. Then you'll be able to solve issues in record time.
The shared team inbox also flawlessly unites your customer support team and removes the potential for hiccups or confusion.
Intercom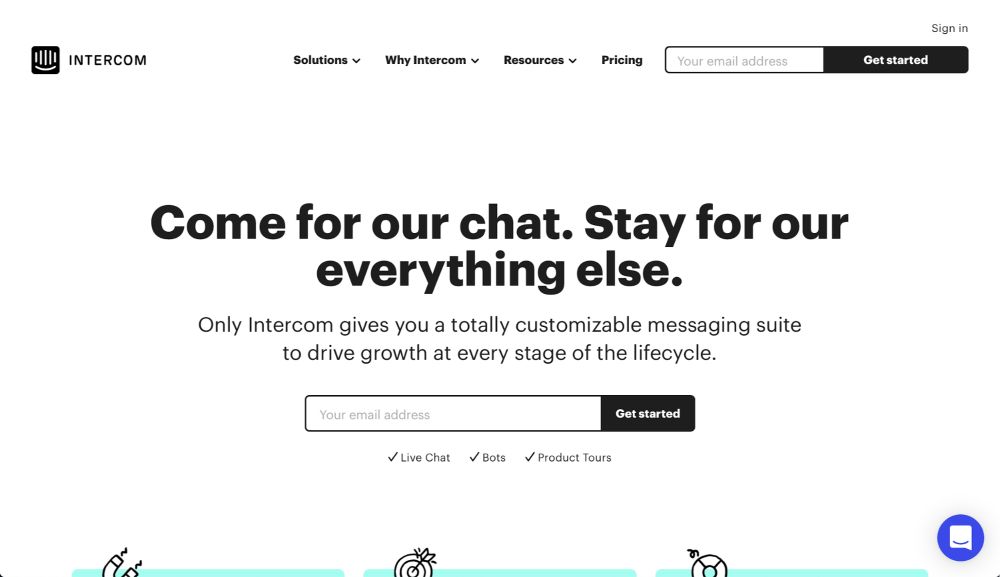 Intercom is a customizable messaging suite that aims at helping businesses drive growth during every stage of the life cycle.
This tool gives businesses a helping hand in three key areas: lead generation, customer engagement, and customer support. It focuses on these three areas in order to make businesses more efficient and move deals through the sales funnel.
To achieve this goal, Intercom offers features such as chat bots, live chat functionality, and specialized product-tour functionality. These features make it easier to manage customers throughout the sales process.
Drift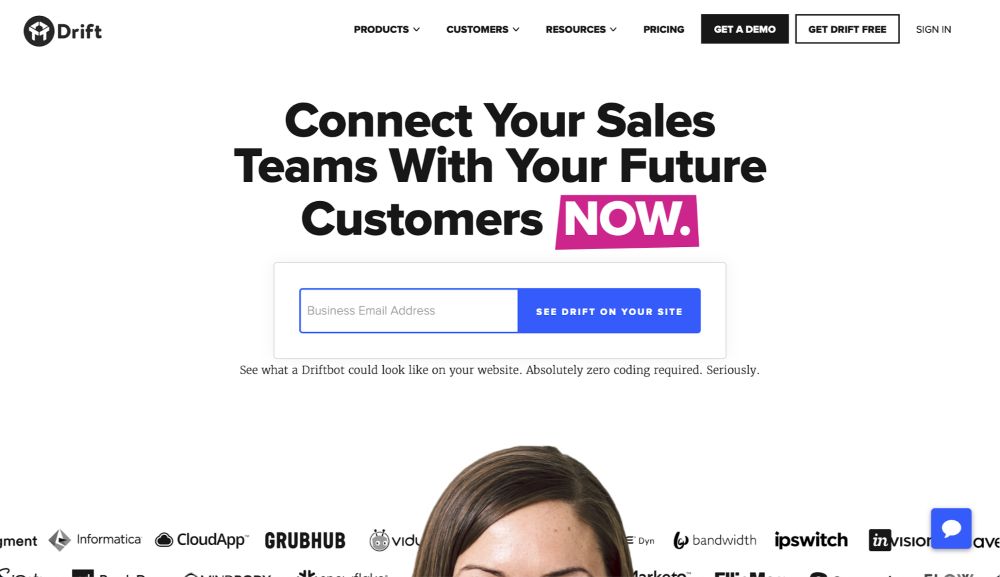 Drift is a conversational marketing platform that helps businesses use chatbots to automate their sales funnels, generate more leads, and convert more traffic.
This tool focuses on offering a robust chat functionality that helps connect sales teams with buyers. The sales portion of this tool offers the ability to perform account-based marketing, which gives marketers a full picture of the client they're pitching to and helps them schedule meetings for the sales team.
HIVER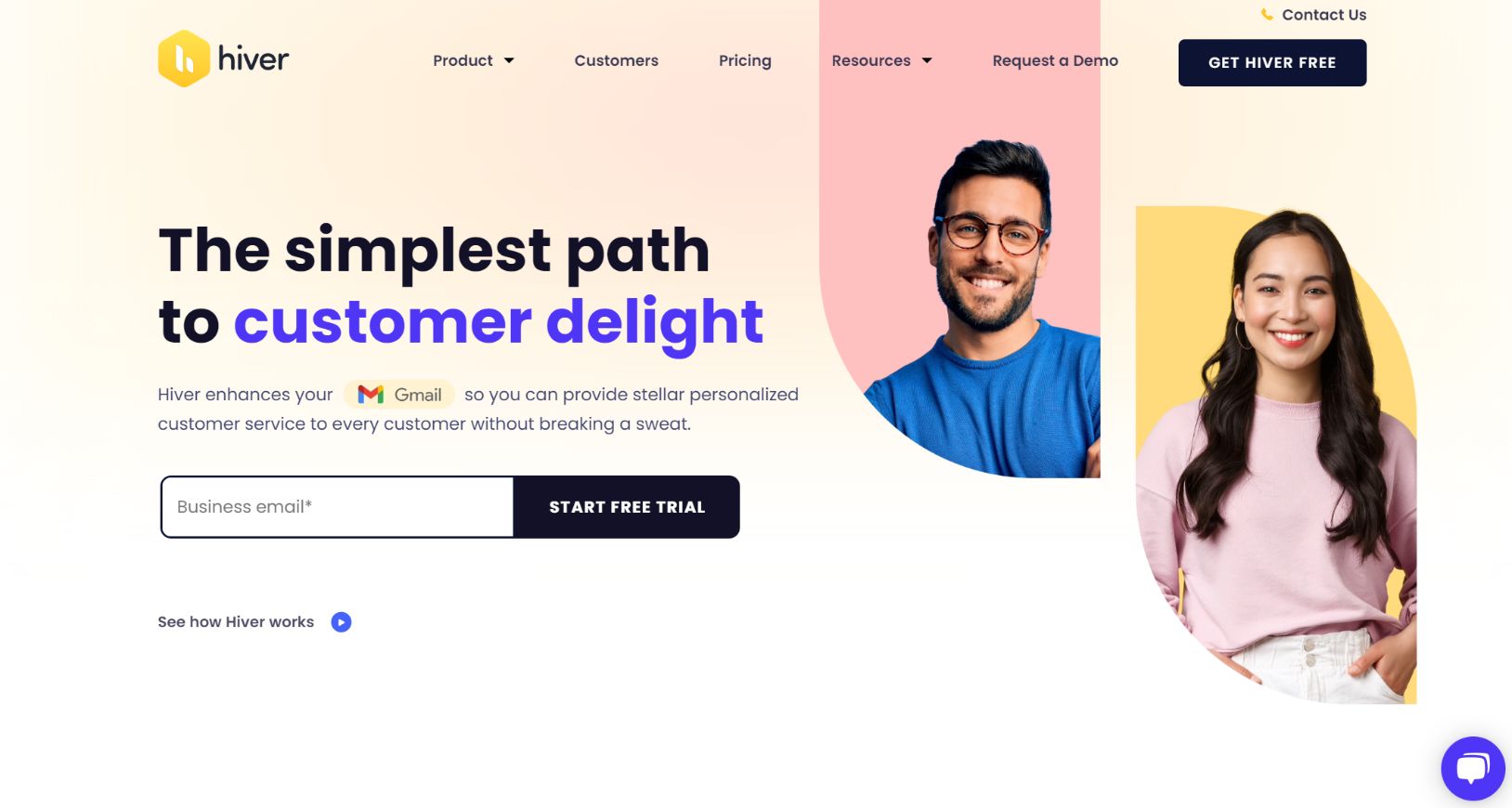 If you primarily get customer queries via email and live chat, Hiver would be a great fit for your customer support team. Hiver is the world's first customer service software built for Google Workspace. Support teams can get started with Hiver within minutes because of how intuitive it is, thereby drastically lowering training effort and costs.
Support managers can assign incoming queries to specific agents in a single click and get full visibility into what's happening across the team, in real-time. Support agents can collaborate internally – to have discussions on queries – with the help of Email Notes, which eliminates the need to use Ccs and forwards. Hiver also equips support teams with insights into various metrics such as first response time and average resolution time.
Moreover, Hiver offers integrations with various popular tools such as Asana, Jira, Slack, and Zapier.
Callback
A staggering 67% of frustrated customers end their calls when they can't reach a customer service representative. This outcome can have a negative impact on your relationship. An automatic callback system can help you respect your customers, so you can offer them more pleasant experiences. Using a cloud call center can help you streamline your callback operations, below are a few of the best solutions.
Cloudtalk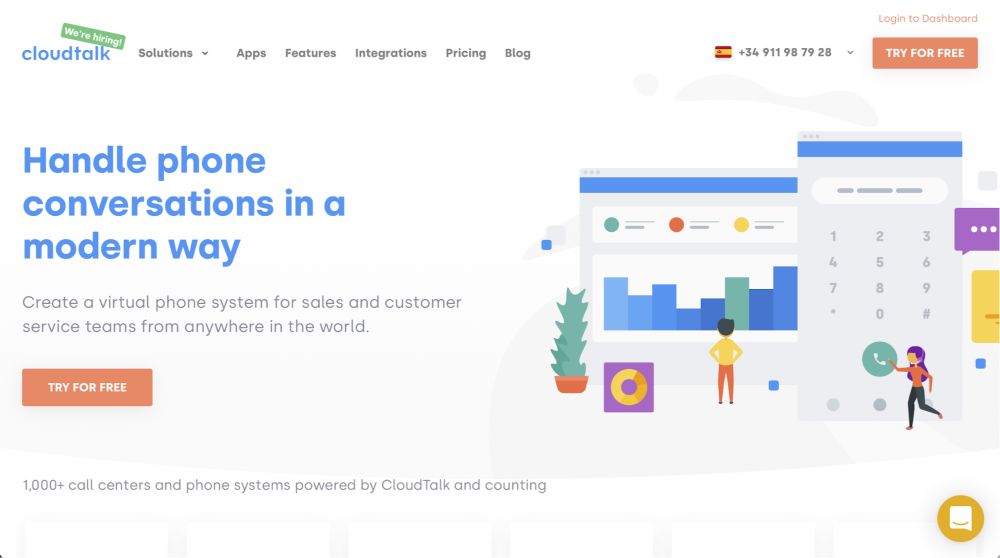 CloudTalk is a virtual phone system that helps customer support teams handle phone conversations in a modern way, despite their locations.
This smart call center software gives customer support teams the ability to run a virtual call center from anywhere in the world. In other words, businesses have an international presence, which can help them create stronger customer relationships.
CloudTalk offers integrations with all of the key CRM systems out there, and calls can automatically be recorded and tracked. This feature elevates the level of phone support you can offer your customers.
If you're looking for a powerful CloudTalk alternative, you should check out ULTATEL.
LiveCall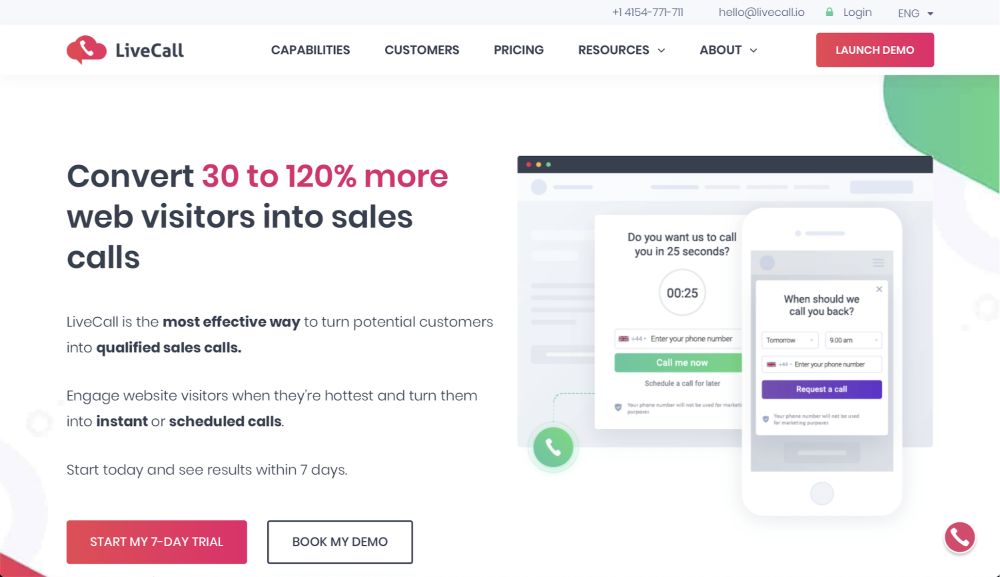 LiveCall is a web widget that gives businesses a fast, easy way to schedule more qualified sales calls and drive conversion rates.
The widget sits on business sites and offers visitors a free callback from a sales consultant. This direct prompt appears at the exact moment when a customer is interested—before they have the opportunity to leave.
These widgets are simple to make, and they can be adjusted according to the page, campaign, or customer segment that a business is trying to target.
Lucep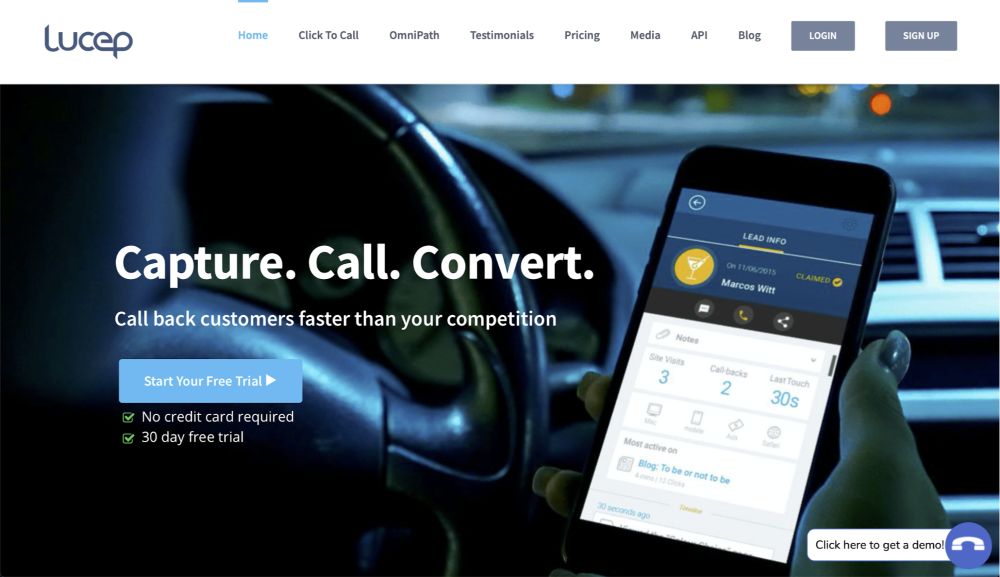 Lucep is a click-to-call app that gives businesses the power to call customers back faster than the competition.
The service has two parts: 
The click-to-call app that helps customer support agents accept calls. 

A website pop-up callback invite that give website visitors the ability to schedule an immediate call.
Lucep also integrates with the most popular CRM systems out there, and statistics show that immediate call-back requests help elevate conversion rates. This tool also gives customer support teams in-depth functionalities for reporting that will help them track performances and important details.
Social Media
Social media is the new frontier of customer support. In fact, 54% of customers now prefer customer service via social media than conventional methods. Customers use social media to ask questions and resolve their issues. If you're going to get ahead of the competition, you have got to consider the way your customer support operates on social media. 
Hootsuite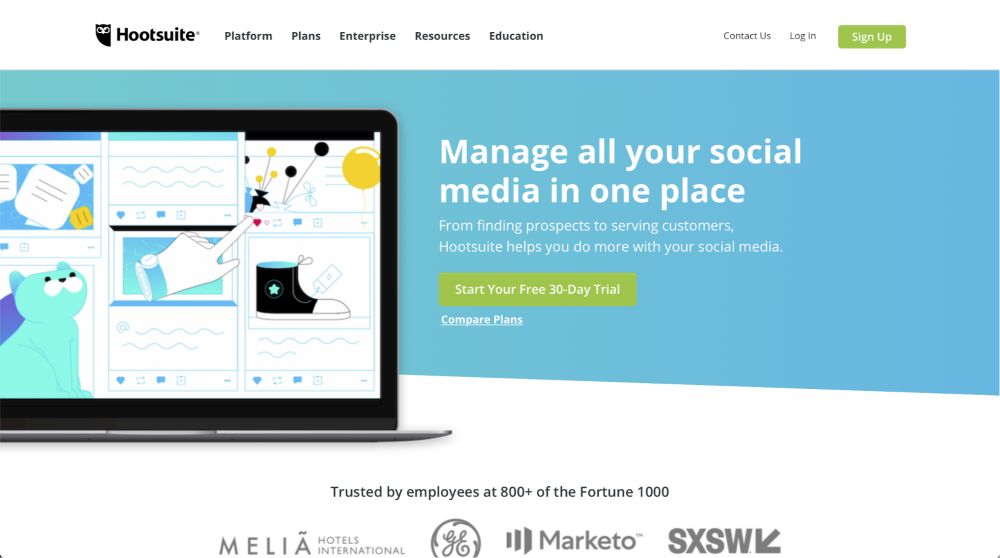 Hootsuite is a platform for social media marketing and management that offers businesses ways to manage all of their social media in one place.
This functionality makes it easier for customer support agents to find all of the relevant inquiries. This tool can also integrate with a host of CRM and help desk solutions, which makes it easy for businesses to offer fast responses from a human representative.
Since chatbot functionality is on offer as well, the platform intends to give businesses the ability to more simply find, schedule, manage, and report about social media.
Sprout Social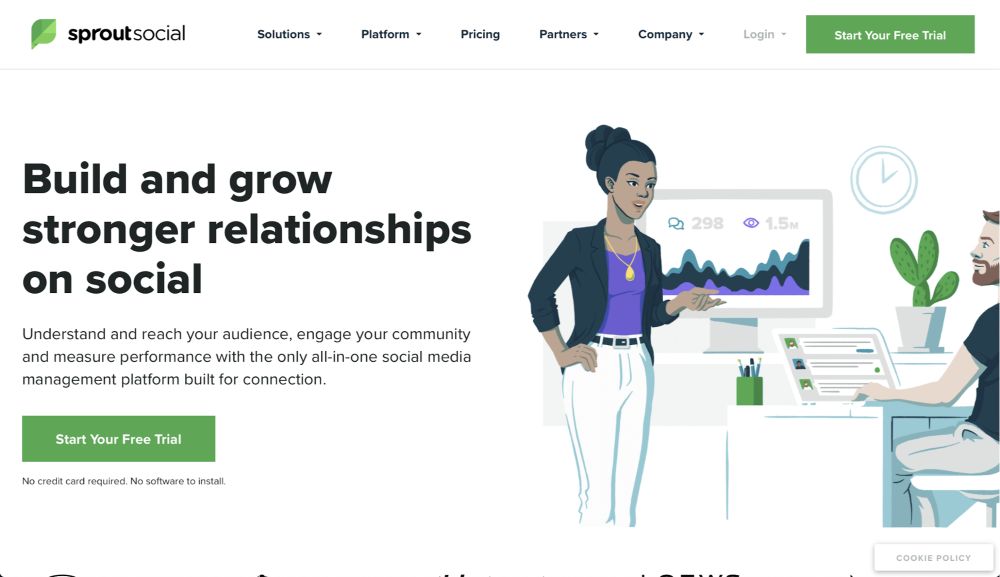 Sprout Social helps businesses build and grow strong community relationships via social media.
This widely used tool provides one platform for all points of connection with customers. Specifically, Sprout Social helps customer support teams listen in on the conversation, in order to better understand their audience and their priorities.
A unified inbox also makes it easier for businesses to engage with their community and improve responsiveness. Rich social data and dashboards give customer support managers the ability to measure their performances and make strategic decisions.
Mention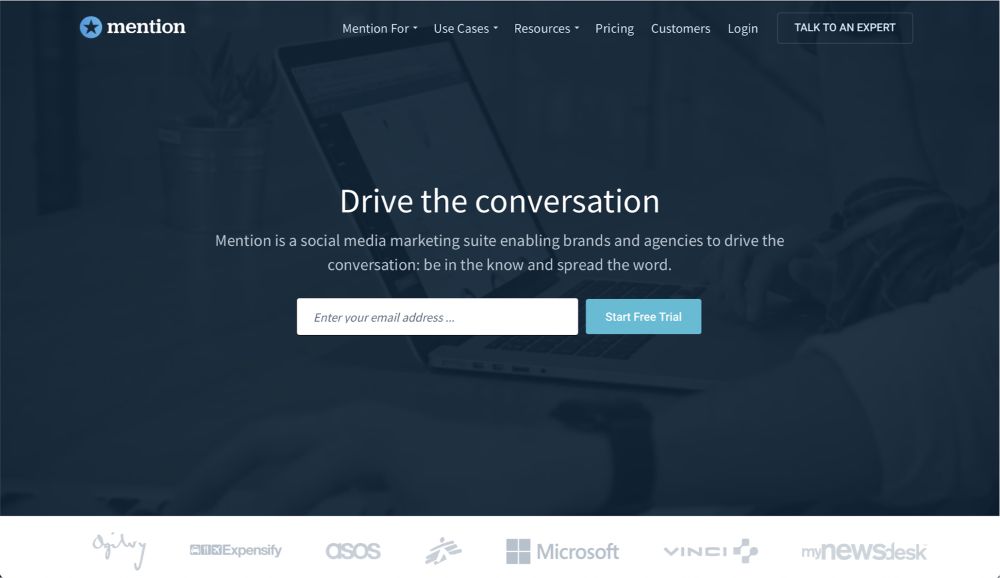 Mention is a suite for social media marketing that helps agencies and brands drive conversations on social media.
This platform offers real-time updates from both the web and social media. Brands can use that monitoring functionality to get live updates about their brands and understand what's happening with their audiences.
This tool makes it easier for brands to schedule social media content and build brand awareness. This ability to respond quickly to mentions and conversations helps businesses avoid every type of crisis and gives up-to-the-minute support to their customers.
Live Chat & Chatbots
Chatbots have transformed the customer service industry. Estimates suggest that 85% of all customer interactions will involve no human agents by 2020. If you use chatbots effectively, you can reduce your costs while you offer your customers a seamless experience.
Messagely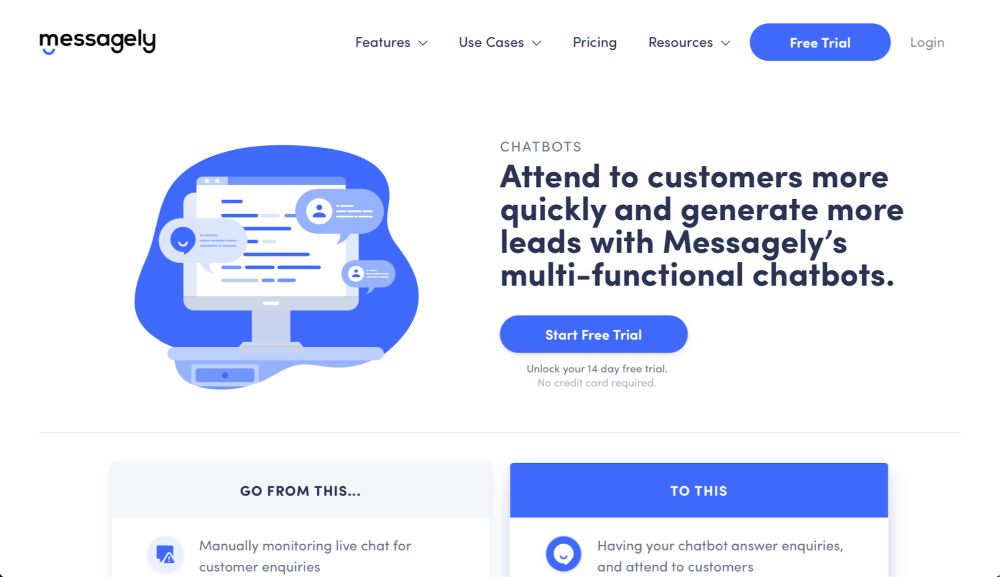 Messagely's multi-functional chabots empower businesses to help customers more quickly and generate more leads. This feature can have a significant impact on the bottom line of a business.
These chatbots automate a range of time-consuming manual tasks that every customer support team struggles with. In other words, customer support teams can focus on more important tasks while their customers enjoy a convenient, seamless service.
These chabots can answer inquiries and attend to customers around the clock. So there's no need for downtime now. These powerful chatbots can also generate leads and trigger qualifying questions that will help facilitate lead qualification.
LiveChat
LiveChat gives businesses the ability to help hundreds of customers while they're cutting their support expenses.
This tool understands that chatbots are often faster and more efficient than email and phone contact. Working from this premise, the tool offers a suite of tools that allows businesses to make sure their customers aren't left waiting.
LiveChat integrates with a range of tools that make the customer experience even more seamless and protects your workflows. These applications are also simple to use, which means that customer support managers can start creating effective chatbots without studying for hours.
Olark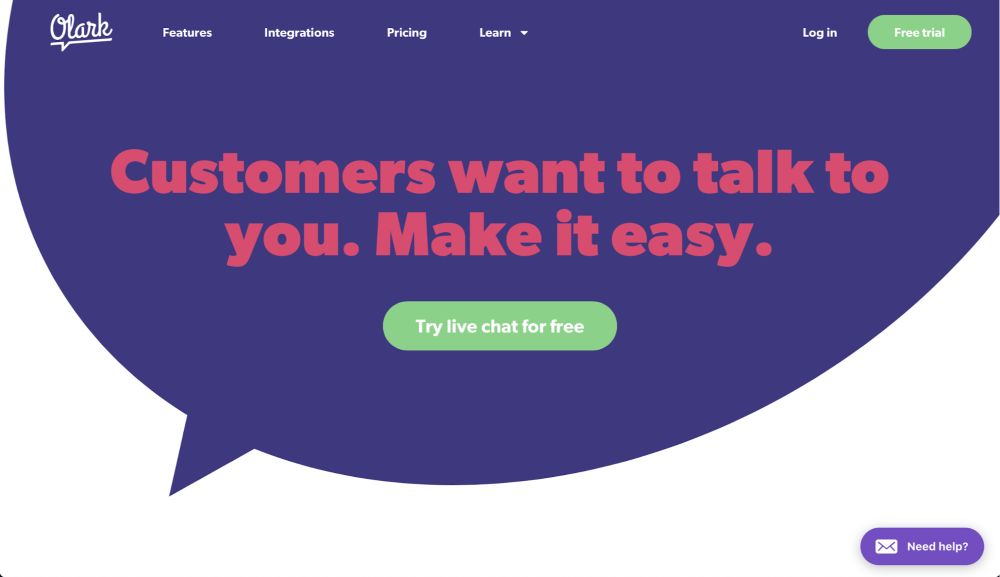 Olark makes it easy for customers to speak with support representatives, in order to get the information and updates they need.
Olark achieves this goal by offering robust live chat software and customer data tools that help customer support managers learn from every online interaction. So customers can ask questions in real-time, while support teams can provider answers and gather valuable feedback.
This tool also offers the option to store structured notes and chat transcripts. So customer support teams can leverage their experiences and elevate their performances.
Communities & Forums
Do you offer a product or service that your customers are particularly passionate about? You might want to harness that passion and use it to create an active, thriving community that offers your loyal customers ways to pursue support and guidance.
Slack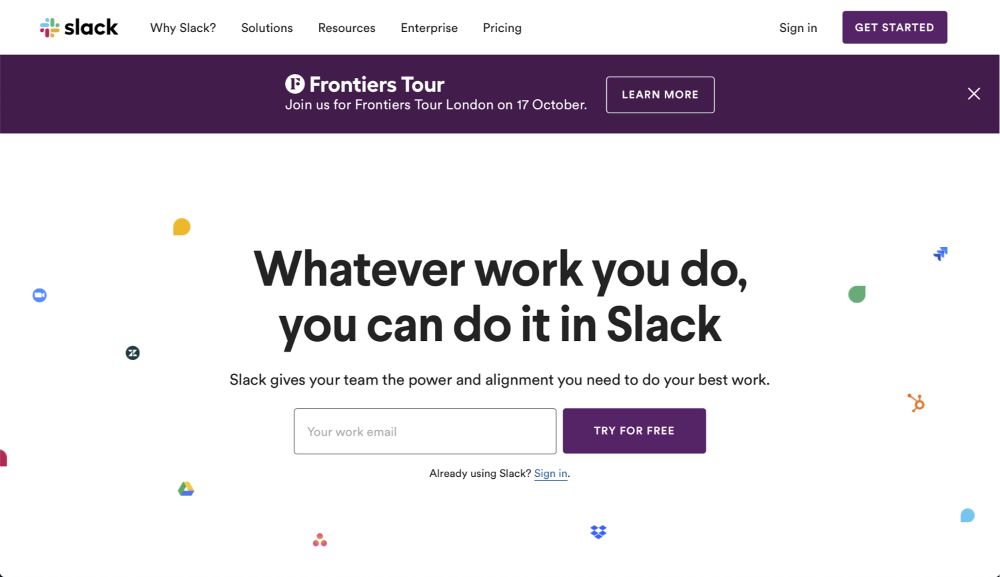 Slack is one of the world's most popular software tools for team collaboration. It's a feature-rich piece of software that offers real-time messaging, file-sharing, and powerful search capabilities.
You could consider using this platform as a community management tool, too. Lots of businesses create public Slack communities, where their customers are able to convene and find the customer support they need.
Slack is particularly powerful, given that it offers "channel" functionality. In other words, conversations can be divided in a logical way, which makes it easy for your customers to find the information they're looking for.
Facebook Groups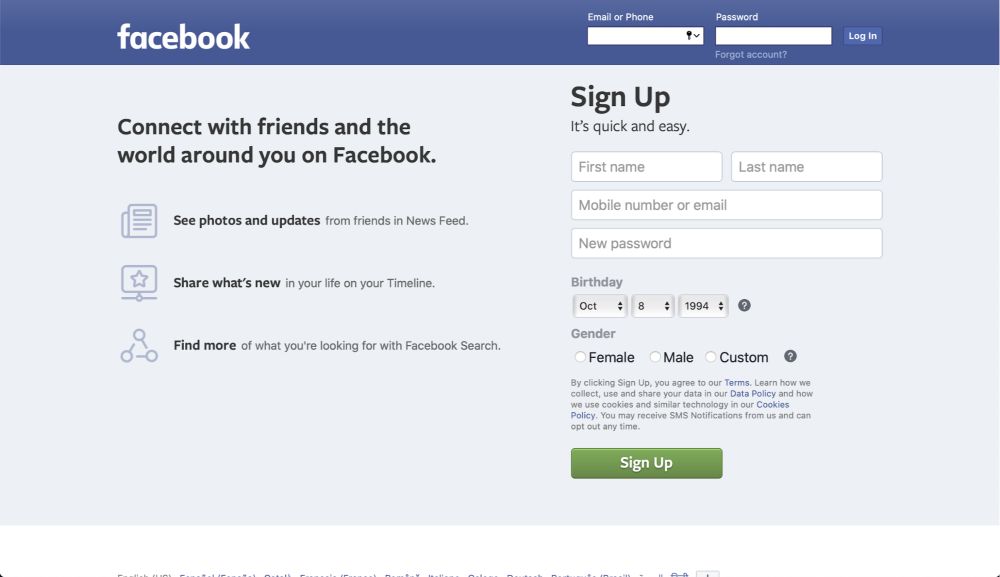 Facebook boasts a gigantic user base of over one billion users. You can be sure that a lot of your customers are going to have an account on the platform. So in order to bring them together, you might want to leverage its page and group options.
When it comes to creating a strong community, Facebook is a powerful option. Since you'll have a lot of admin tools available to you, you'll have the power to determine who joins your group, how visible the group is, and which content they can post.
Perhaps you encourage your members to engage with the group, and you monitor it closely. If so, you may find that you stumble across some interesting conversations and queries that can help you elevate your level of customer support.
Discourse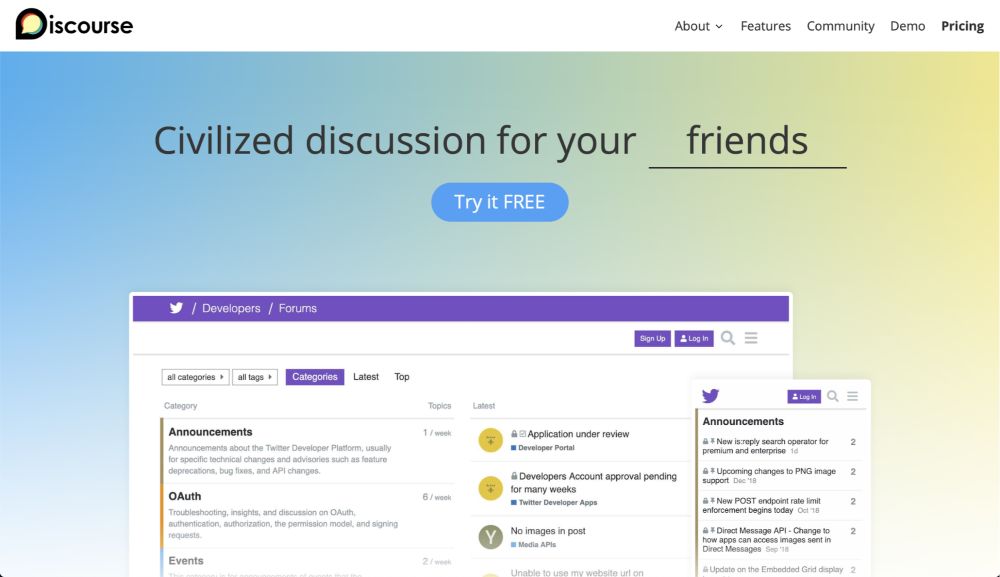 Discourse gives businesses and brands the power to host civilized discussions for their communities. This functionality can create fruitful, interesting feedback.
This tool acts as a self-service hub of common questions, interesting ideas, and useful discussions. Customer support teams can use this resource to escape the chaos that comes from email and chat silos.
Discourse is highly flexible, and customer support teams can adjust the tool to have their platform fit with their branding and preferences. In other words, you can create a consistent space that will make customers feel right at home.
Knowledge Base
If a customer has a question, there's a good chance that it's been asked before. So you should create a customer-facing knowledge base that includes the answers to common questions about your service or product. This tactic can help you save your customer support team time, and it can make life more convenient for your customers.
Messagely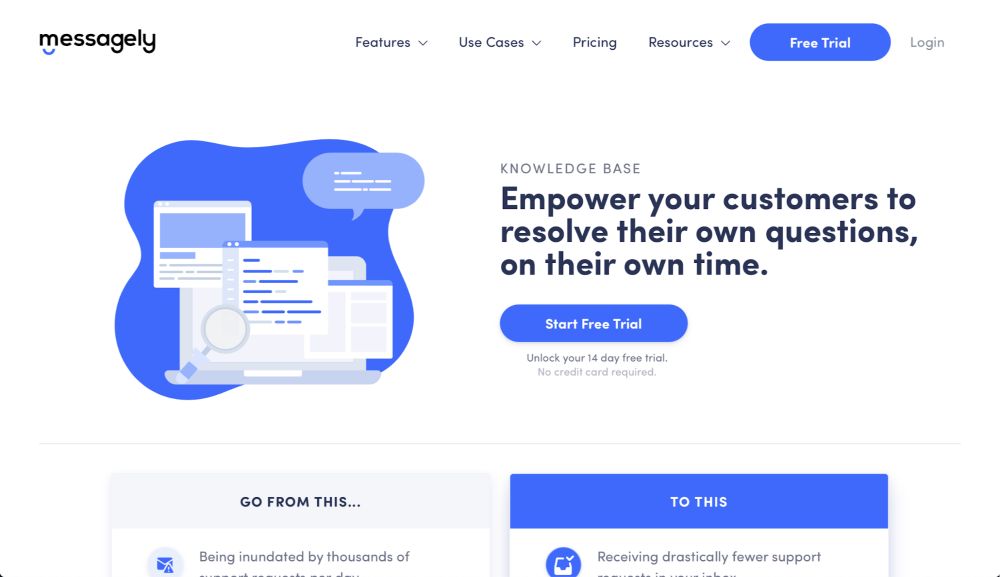 Messagely offers robust knowledge base functionality, which empowers your customers to resolve their own questions on their own time.
With this functionality, your customer support agents won't have to answer the same questions again and again. Then you can reduce the amount of time your customers have to wait for a response.
Messagely makes it easy to build a feature-rich knowledge base that includes all of your useful documentation. Customers will appreciate this resource, as well as the ability to find answers to their questions whenever they like.
Helpjuice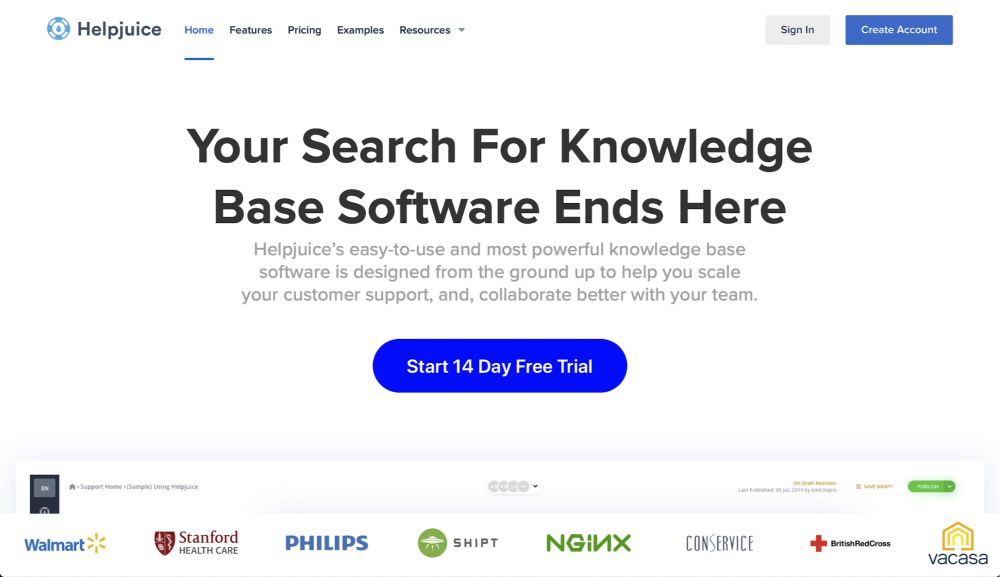 Helpjuice is an easy-to-use knowledge base that was designed to help customer support teams delight their customers and collaborate more effectively with them.
This tool makes it possible for you to build a self-serve knowledge base that will offer Google-like search functionality. This tool is also heavily customizable, which gives customer support managers the ability to tweak their knowledge base and get it looking just right.
Helpjuice also places a strong emphasis on simplicity. It aims at eliminating the learning curve for your team. Then they can start creating useful customer support content right away.
Zendesk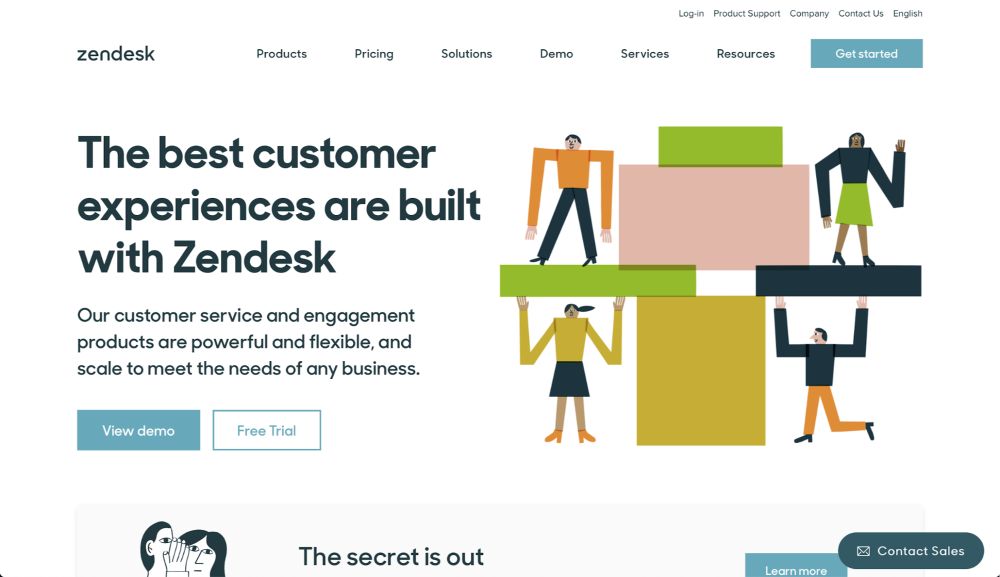 Zendesk offers a site for customer service and engagement products that can scale to meet the needs of your business.
As part of its offering, Zendesk offers customer support managers the ability to create a smart knowledge base. This base can be accessed by customers, in order to find the information and guidance they need.
This tool is simple to use, and a WYSIWYG editor makes it easy to create content for knowledge bases. To ensure that your content is written and approved by the right people at the right time, you can also control permissions within your team.
Conclusion
Are you ready to take your customer support to the next level with the right tools? Unlock your 14-day free trial with Messagely today. Then you can start acquiring, engaging, and supporting your customers like never before.