Did you know that more than two-thirds of marketers believe companies mainly compete via customer service? To attract and retain loyal customers, businesses must deliver outstanding customer support. Is your customer support team as productive as it could be? In this post, we're going to dig into the science-backed communication concepts that underpin excellent customer service.
Why Is Proper Communication So Important in Customer Support?
We all know what it feels like to be a customer with a question or complaint. We're often frustrated or confused, and the last thing we want is an unhelpful interaction with an unprofessional customer support team.
Therefore, 55% of customers become customers purely based on the company's reputation for great customer service. To put yourself far ahead of your competition, you must offer fantastic customer support.
Proper communication is at the heart of customer support. To identify issues, your customer service professionals need to hone their listening skills, identify issues and offer clear, effective guidance that will resolve these problems.
If You're In Customer Support, You Should Know About These Nine Communication Concepts 
Ready to dive into the theory that will help you become a true customer support expert? Here are the key concepts that will help you level-up your customer support.
1. Constructivist Theory

Constructivist theory has its foundations in the work of Jean Piaget, a Swiss psychologist who focused on child development and education. Piaget was fascinated by the way humans rely on their previous experiences to construct new knowledge and meaning.
If educators follow constructivist theory, they rely on this dynamic to help students discover new principles for themselves. They achieve this goal by engaging in active dialog with students, in order to translate information into a form that makes sense for them.
This idea is perhaps best demonstrated in Plato's Meno. In this work, Socrates delivered a lesson in geometry to a house slave by simply asking questions and encouraging him to build upon his existing knowledge.
How to apply this concept to customer support
If you offer a complex product or service, it's important that you structure your onboarding and customer support materials with this theory in mind. In other words, you need to engage in an active dialog to understand what your customers already know, and how you can help them elaborate on that existing knowledge.
If your customer has a problem, there's a good chance they already have the tools to fix the issue themselves. You should engage with them to understand what they know, and which information you need to give them.
2. Simulation Theory of Empathy

The simulation theory of empathy is a cutting-edge hypothesis that has emerged from the nascent field of social neuroscience. This theory digs deeper into the foundations of empathy. Essentially, it revolves around the fact that the human brain contains "mirror neurons" that activate when we observe and experience actions and emotions.
These mirror neurons give us the ability to truly feel what another person feels. Research into this theory is ongoing, but it's very promising. And it makes sense. We're social creatures, and empathy is at the core of human interaction.
How to apply this concept to customer support
Empathy is a very powerful process. You should try to make sure that your customer support team understands this theory, so they can leverage their own natural tendency to empathize by helping customers. Empathetic customer service can help your customers feel like they're really being cared for.
If your customer support professionals offer empathetic service, they will also be better able to put themselves in the shoes of your customers. This endeavor will make their support more authentic and effective. Try to make sure that empathy is at the heart of your customer support.
3. Uncertainty Reduction Theory

Uncertainty reduction theory is a communication concept that was developed by Charles Berger and Richard Calabrese in 1975. This theory states that before two people interact with one another, they will try to reduce uncertainty as much as possible. We have this tendency because we want to be able to predict the other person's behavior and actions.
The theory states that there are three methods people use to try and reduce uncertainty: passive, active, and interactive. Through these methods, we build a picture of the other person, including their motivations and the actions they might perform.
How to apply this concept to customer support
Customer support is all about reducing uncertainty and trying to effectively understand the motivations and behaviors of a customer. If your customer support representatives are given the right tools and training, they will be able to effectively offer amazing customer support that almost makes them seem psychic!
You should empower your customer support team to strengthen the three key methods and reduce uncertainty. Great CRM can help them actively understand a customer's background, and quality training gives them the power to deduce motivations through interactions with your customers.
4. Affect Theory

Affect theory was originally created by American psychologist Silvan Tomkins in 1962. He referred to emotions and subjective feelings as "affects". This theory states that affects can nonverbally be conveyed between people. In fact, complex affects can resonate and be reflected without exchanging a single word.
This theory is often utilized in couples therapy. It helps couples identify the affects they transmit, the ways they respond, and the ways their responses impact their relationships. There are positive and negative affects, and people can indeed learn how to structure their nonverbal communication to improve their interpersonal relationships.
How to apply this concept to customer support
You should help your customer support team to understand that not all communication is verbal. There are lots of small nonverbal actions that can transmit positive and negative affects. Here are just some of the smaller actions you could focus on:
Quickly picking up the phone 

Paying attention to the formatting of emails

Appropriately using punctuation 

Observing small courtesies

Facilitating customer requests
All of those small nonverbal communication techniques can help transmit positive affects to your customer and smooth out your interactions. 
5. Social Penetration Theory

Social penetration theory is a very important theory that was originally formulated by Irwin Altman and Dalmas Taylor in 1973. These two psychologists created this theory after they noticed that relationships between people often develop in a systematic, predictable way. Individuals share more revealing personal information as a relationship progresses.
As a larger volume of more personal information is exchanged, the relationship moves through superficial layers to intimate ones. That exchange of information is referred to as "self-disclosure," and it's a dynamic that provides a foundation of all human relationships. Many people intuitively understand this dynamic, and they use it to either grow or halt their relationships.
How to apply this concept to customer support
If you want to create a lasting relationship with your customers, it's important for your team to understand the social penetration theory. The best customer service representatives can read an interaction, in order to understand when it's appropriate to self-disclose information that deepens a customer relationship.
A deeper relationship can help you create a sense of cordiality and even friendship. This development can help you retain your customers and add a sense of cooperation to all your interactions with them. And on a basic level, it generally helps make life more pleasant for both your team and your customers!
6. Seven C's of Communication

The Seven C's of Communication is a handy checklist that helps people improve the quality and accuracy of their communication. It gives people the ability to properly convey their ideas and reduce the potential for confusion. Here's a look at the seven C's:
Correct

: Communication must be free from grammatical and spelling mistakes.
Complete

: All of the necessary, relevant information should be included.
Concrete

: The message should leave no room for confusion.
Concise

: Communication should be precise and to the point.
Consideration

: The messenger should understand the mindset of the recipient.
Courteous

: Messages should be respectful and polite.
Clear

: Communication should always be clear and easy to understand. 
How to apply this concept to customer support
If you want to improve the quality and accuracy of your customer support, you should teach your customer support representatives the seven C's of communication. A quick workshop can help your customer support team keep this simple rule of thumb in their minds whenever they communicate with customers.
You may also decide to distribute small printouts to your team members that they can keep on their desks. Then they can consistently refer to this information. This tactic could improve the clarity of your support and help your customers avoid confusion.
7. Johari Window Model

The Johari Window Model is a tool that can be used to improve self-awareness and personal development among people in a group. This model was developed by Joseph Luft and Harry Ingham in 1955, and it's used to enhance the way people look at others. This model operates on an assumption that people can build trust by sharing information about one another and learning from that feedback.
The model works by representing people as a window with four panes. Each window represents personal information, feelings, and motivations. The location of the pane determines whether that information is known or unknown to oneself and others: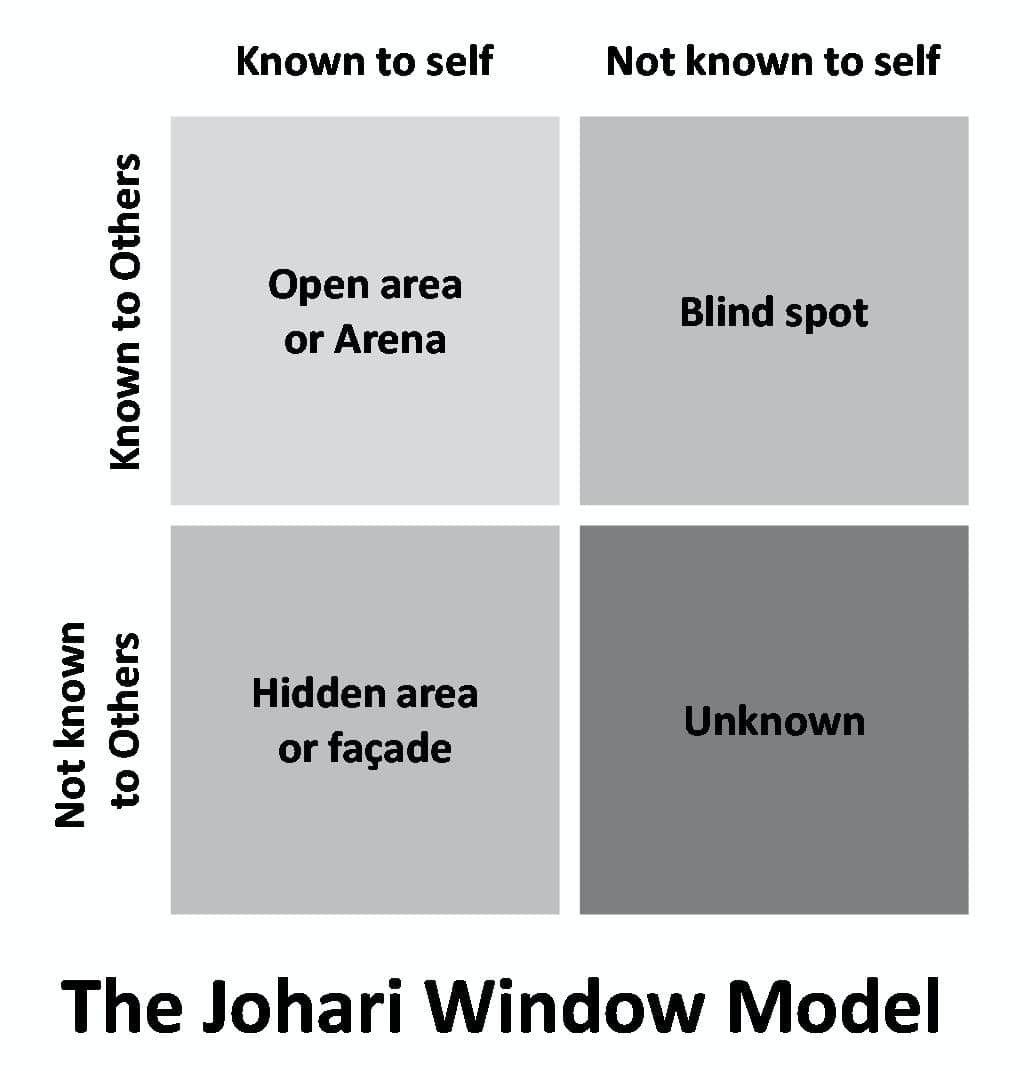 Image source: https://www.communicationtheory.org/the-johari-window-model/
Through discourse, people can discover more about themselves and other people.
How to apply this concept to customer support
A big part of effective customer support is knowing when to ask for feedback from customers. Customer feedback is incredibly valuable, and it can help businesses learn more about the ways their own products or services are perceived by audiences.
Equipped with this theory, your customer support representatives will be able to categorize information and ask the right questions at the right time. This concept can help these reps unlock additional insight and feedback that can make their support even more effective.
8. Inoculation Theory

Inoculation theory was developed by William J. McGuire in 1961. It was an attempt to explain how people can preserve their attitudes and beliefs in the face of attempts to change them. People's attitudes and beliefs are often besieged by sources like peer pressure, temptations, ads, personal relationships, and more.
As the name suggests, McGuire believed that the most effective method is for a person to expose themselves to weak counterarguments that will bolster their understanding of their own attitude or belief—in the same way that vaccines expose people to safe amounts of diseases.
How to apply this concept to customer support
It's very useful for customer support representatives to understand inoculation theory. In fact, you might decide to structure parts of their training and onboarding around this theory. This concept can help your reps be more resilient when they face challenges, and it can help them develop their own allegiance toward your product or service.
For instance, let's imagine that you know your customer support team will face tough questions and challenges from customers. You might decide to expose your customer support team to the most common objections and challenges they'll face. This tactic can help them develop stronger responses and prepare themselves for future challenges.
9. Coordinated Management of Meaning Theory

The coordinated management of meaning theory posits that communication is a vital part of all human life. When we interact with others, we define our experiences and attribute meaning to them. But that conversation is constant, and our social realities are in states of constant flux based on our conversations.
However, the CMM theory states that we can control the chaos and manage meaning in a productive way, in order to clarify our communications and track the evolution of our social realities. This concept can help us properly interpret the messages of others, which results in an improved sense of harmony among social interactions.
How to apply this concept to customer support
If you focus on CMM, you'll understand that conversations are constantly evolving, and that your current conversation is influenced by the previous one. If you understand that you're creating a new reality when you interact with another person, you can focus on making sure that you communicate with clarity.
If your customer support representatives understand this concept, they can focus on interacting with your customers in a clear way that moves the conversation forward. This understanding can help them more effectively serve your customers.
Conclusion
We hope that these communication concepts empower you to explore customer support on a deeper level. If you want to start using these concepts as effectively as possible, unlock your 14-day free trial with Messagely today.