According to figures from Dimension Data, 84% of organizations that work to improve their customer service offering report an increase in revenue. Looking to invest in customer service, in order to put together a stronger team and boost your business? Here's the exact way to hire a customer service representative in 2020.
What Is a Customer Service Representative?
These representatives interact with your customers to process orders, resolve complaints, and offer important information about your product or service.
These professionals are often on the frontlines, and they'll be the first to interact with a frustrated customer. So customer service representatives must have positive dispositions, receive the appropriate training, and use the right tools.
Talented customer service representatives can play important roles in helping businesses reduce churn and boost profits.
In the past, customer service was often seen as a distinct area of a business, with its own goals and priorities. But more recently, customer service representatives are viewed as part of the marketing department.
The fact that Americans will pay 17% more to do business with firms that have great customer service reputations means that many businesses now treat customer service as a marketing strategy in itself.
What Are the Crucial Duties of Customer Service Representatives?
Now that we understand what we mean by customer service representatives, let's explore the most crucial duties they perform.
Use a range of channels to communicate with customers.
First and foremost, customer service representatives spend the majority of their time using a range of channels to communicate with customers. They handle customer complaints and queries via telephone, email, live chat, social media, and more. According to Community Phone, a landline phone service provider, over 70% of customers in the United States prefer to speak with a customer support representative over the phone when a problem arises. Meanwhile, avoiding a consumer complaint on social media can increase churn rate by 15%.Therefore, it is important to provide customer service reps with adequate training across all types of communication channels.
Adjust account and subscription permissions.
Customer service representatives often handle customer requests for renewals and account changes. So they'll need to use their technical knowledge and attention to detail to properly execute those changes.
Limit cancellations.
Customer service representatives are often on the frontlines. They're the first to hear about customer complaints and cancellation/refund requests. These representatives must use their empathy and tact to limit cancellations and secure favorable outcomes for customers.
Handle miscellaneous queries.
Customer service representatives will often have to receive and interpret customer requests and point them in the right direction. Since customer service departments often receive a number of diverse requests, representatives must be able to use their intuition to appropriately escalate them.
Most Important Customer Service Representative Skills in 2020
To effectively carry out those duties, your customer service representative will need a set of distinct skills. Here's a look at the key customer service skills and abilities you'll want to watch for in your candidates:
Clear and precise written and verbal communication
According to Microsoft, 72% of consumers say they expect the representative to "know who they are, what they have purchased, and have insights into their previous engagements" when they contact a customer service department.
Therefore, customer service representatives must possess clear, precise written and verbal communication skills. They should be able to elegantly communicate with a customer and make the experience as seamless and smooth as possible.
Since clear communication skills also guarantee the accuracy, customers can get the most appropriate guidance right away.
Excellent problem-solving skills
When it comes to customer service, every request can be seen as a miniature puzzle that needs to be solved. The best customer service representatives are able to quickly understand the rules of the puzzle and navigate their way to the best solution.
Therefore, you should do your best to find customer service representatives that display excellent problem-solving skills. These representatives will be able to find quick, elegant solutions, and they'll often draw a sense of satisfaction from doing so!
Tech literacy and experience
Today, cutting-edge customer service is propelled forward by technology. In other words, your representatives will need to master a range of customer service tools, in order to work effectively.
So you'll need to find customer service representatives with strong tech literacy and experience. Equipped with these skills, they'll be able to make the most of your customer service technology stack.
Read our list of 15+ customer service tools every team needs.
Efficient execution
Your customers demand a quick resolution to their issues. So you have to find customer service representatives who can work quickly and elegantly, and you should try to find energetic team members who thrive on working at a fast pace.
A collaborative mindset
To get the best results for their customers, representatives must remain hyper-focused. But they also have to maintain a collaborative mindset. They should understand how their work impacts their colleagues and the roles they play in achieving goals and targets.
Passion for great results
Since customer service is a tough field, your representatives will need the right motivation to keep going. So you should try to find empathetic representatives who have a passion for achieving great outcomes for customers.
Hungry for more information skills? Be sure to read our piece on the most important customer service skills that big tech companies are looking for. You'll also find a lot of free resources you can use to build those skills.
Where to Find Amazing Customer Service Representatives
Does it sound like you need an outstanding customer service representative? Here's a look at the key places you can find the best candidates…
Make the most of job-listing websites.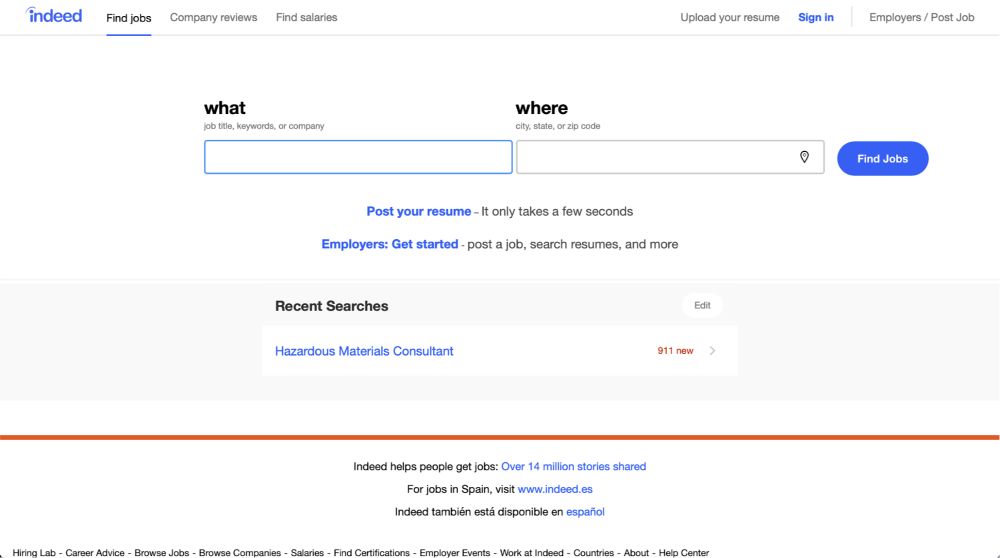 Here's are some of the key options for your first port-of-call: 
Indeed

Glassdoor

Google for Jobs

Jora

Angellist

LinkedIn

Learn4Good

Hubstaff Talent

Jobvertise

Local directories
Incentivize your employees to advocate for your business.
You could also activate your existing talent pool to advertise new roles. Lots of businesses offer referral bonuses to employees that recommend successful candidates.
Use your company website to bring talent to you.
It's always a good idea to include a careers section on your website. If you attract candidates via your website, they're more likely to be engaged and interested. For inspiration, take a look at Uber's great careers section: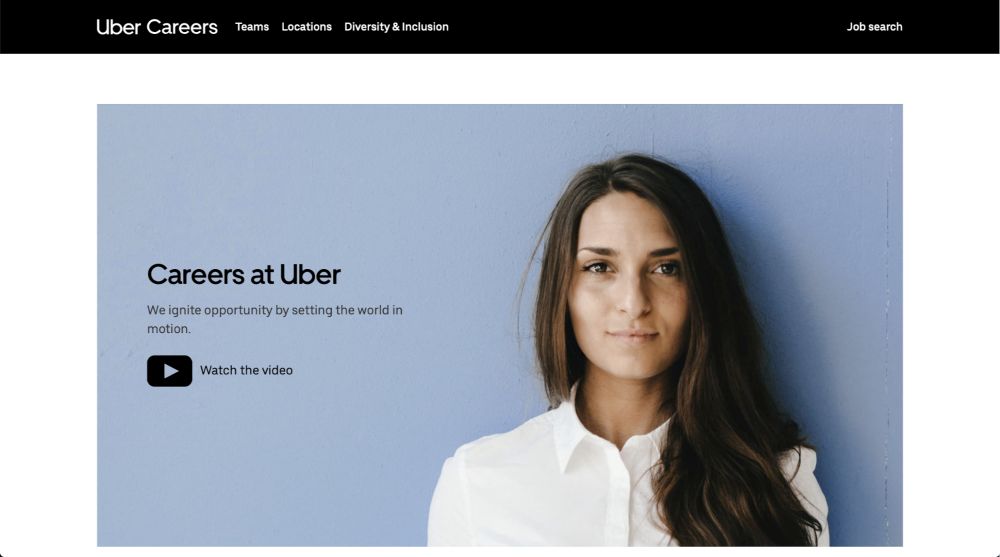 Contact local universities.
Local universities are often very happy to share job opportunities with their students and alumni. So you could consider circulating your job adverts within those circles.
Browse your alumni talent pool.
Our attitudes toward labour are shifting. In today's world, millennial workers will change jobs far more frequently than their predecessors. So if you have a new role, you might want to look in your own alumni talent pool for a candidate you've already worked with.
10 Customer Service Representative Interview Questions You Should Ask to Find the Best Candidates
Once you've found an appropriate candidate, you'll want to interview him or her to see what he or she is really made of.
Here's a look at 10 interview questions you can use:
Could you define customer service for us? 

What do you think great customer service looks like?

Which skills do you think are essential for a customer service representative?

What do you think about our product/service?

What are you motivated by? Examples are people, results, and targets.

Can you tell us about a time you handled a particularly tough customer complaint?

Have you ever managed to convince a frustrated customer to stay with your company?

What would you do if a customer was wrong when he or she made a  complaint?

What are the three main reasons you want to work in customer service?

How would you describe your own customer service philosophy?
That last question can help you assess whether your candidate is a good cultural fit, so it's particularly important. For a closer look at customer service philosophies, be sure to read our piece on how to build your own customer service philosophy.
A Template for Job Descriptions for Customer Service Representative You Can Copy and Adjust
When you try to put together a job description, it can often be tough to know where to get started.
Luckily, we're here to help. Here's a template for job descriptions you can copy and adjust to fit your needs:
COMPANY NAME is looking for an efficient Customer Service Representative with flawless communication skills and legendary problem-solving abilities.
This Customer Service Representative will work in the marketing department alongside positive, friendly, driven colleagues. We're looking for an empathetic team player who understands the value of teamwork.
Duties and Responsibilities
Our chosen candidate will do the following:
Work efficiently to handle a number of customer queries.
Clearly communicate with customers across a number of channels.
Work hard to achieve desirable outcomes for customers.
Provide accurate and timely information.
Reduce churn and capitalize on upselling opportunities.
Maintain a positive and friendly disposition.
Act as a brand ambassador.
Requirements
We're looking for a candidate that meets the following requirements:
2 years of customer service experience
A deep understanding of customer service
Flawless written and verbal communication skills
A results-driven attitude
A positive can-do attitude
Excellent time management skills
Conclusion
A great customer service representative can really be worth his or her weight in gold. We hope this piece helps you find the perfect candidate! But since customer service representatives are ineffective without the right tools, be sure to start your free 14-day trial with Messagely today.