Customer service isn't just about answering questions and diplomatically handling complaints. It's also about delighting your customers to generate goodwill and build lasting relationships at every turn. To help you protect and enhance your revenues, let's explore what makes a great customer service philosophy, and how you can create yours.
What Exactly Is a Customer Service Philosophy?
In the United States, 33% of shoppers say they'll think about switching companies after just one poor customer service experience. Businesses create customer service philosophies, in order to retain existing customers and acquire new ones.
A customer service philosophy can be defined as a company-wide mindset that guides the ways your business approaches interactions with your customers.
A clear, prominent customer service philosophy can help you align your entire team and ensure that your customers enjoy a consistent level of service. A specific philosophy can also guide the particulars of your customer service offering. So it covers things like customer service hours, platforms, and more.
How Does a Customer Service Philosophy Impact Your Whole Business?
A customer service philosophy doesn't just affect your customer support team. A truly effective philosophy will have a far-reaching impact that helps unite the various departments within your business.
Here's a closer look at ways a customer service philosophy will affect the different areas of your business:
Product
The world's most beloved products are built with the customer in mind. If your business has a guiding customer service philosophy, your product team might decide to integrate guidance features into your product or service.
For instance, consider Twitter. This wildly popular platform places a strong emphasis on usability and places guidance at its core. Small messages and explanations support customers and allow them to effectively use it.
Marketing
Your potential customers will assess the suitability of your product or service, based on a range of criteria. For example, they'll take price and quality into consideration, as well as the level of customer service you offer.
A strong customer service philosophy is also a powerful marketing tool. Moreover, that same philosophy will guide and shape the messaging or marketing teams.
Finance
Customers are often very cautious and anxious about their finances. So they'll demand flexible payment terms. And if they experience any issues, they'll expect fast resolutions and refunds.
Your customer service philosophy might outline your approach to financing and billing. For instance, Pepephone is a Spanish network operator that offers immediate refunds to its customers after a complaint—before it starts investigating the issue in more depth.
Great Customer Service Philosophy Examples to Inspire You
If you're hoping to build a strong customer service philosophy, you can always look to some of the world's best companies for guidance. Let's take a look at some of the best examples of these philosophies…
Ritz-Carlton Customer Service Philosophy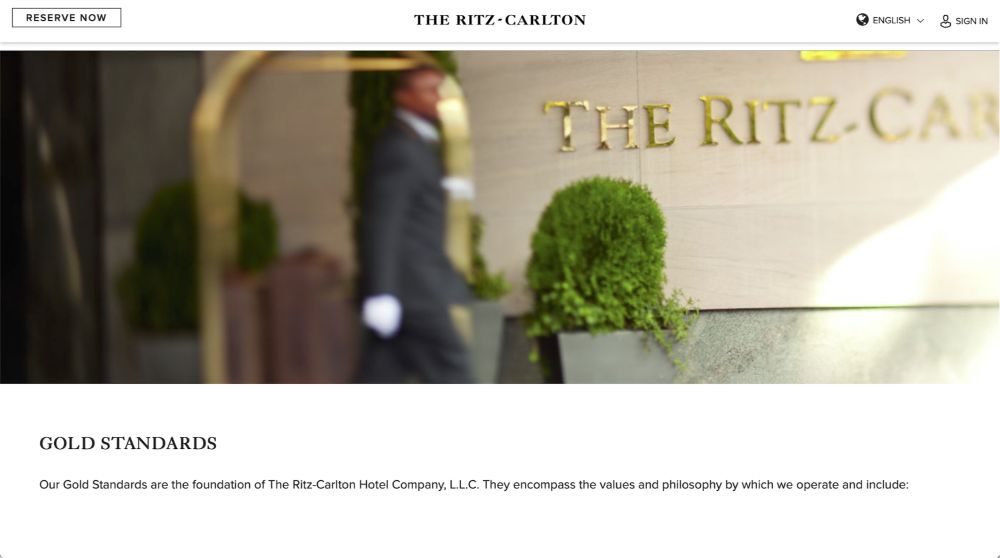 In the hospitality industry, customer service is everything. Hotels, restaurants, and other businesses compete to offer genuinely touching experiences that delight customers at every turn.
The Ritz-Carlton has one of the best customer service reputations in that entire industry. The secret to its success? The Ritz-Carlton Gold Standards.
These standards act as the foundation for the entire company, and they encompass the customer-first values and philosophies of the company. Ritz-Carlton offers three simple steps of service:
A warm and sincere greeting.

Anticipation and fulfillment of each guest's needs. (Use the guest's name.) 

Fond farewell. (Give a warm goodbye, and use the guest's name again.)
Key tip: Focus on mastering the small, simple steps that will lay the foundation for a great customer-first philosophy. For more information, read our piece on how to establish a customer-first strategy.
Disney Philosophy of Customer Service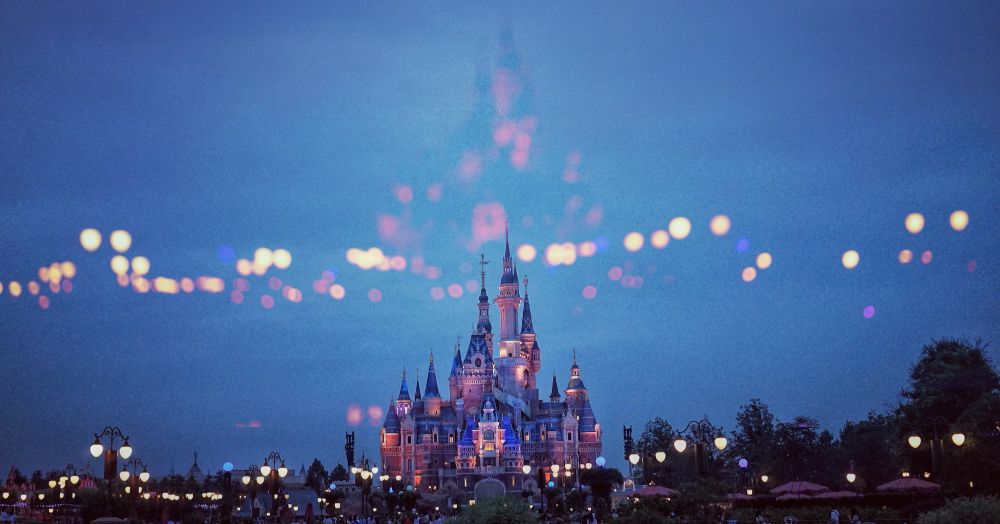 Disney is one of the world's largest, most beloved companies. Countless people around the world have an emotional connection to the company and its characters. And Disney's customer service philosophy enhances those feelings.
The company aims at delivering in five key areas involving its interactions with customers: well-being, entertainment, reliability, security, and comfort. Disney focuses on those five areas, in order to cover all bases and give customers an unforgettable experience.
Key tip: Carefully consider your customers and their expectations when you develop your customer service philosophy. For example, identify the key things you need to deliver that will keep them satisfied.
Zappos Customer Service Philosophy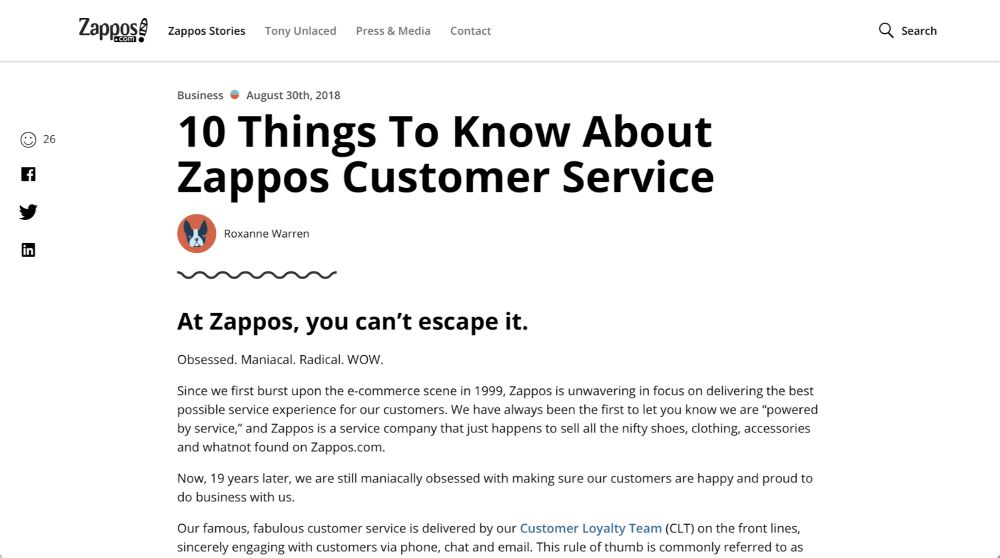 Zappos is one of the world's biggest e-commerce success stories. The shoe retailer launched its service way back in 1999. Since then, it has solidified a strong reputation as an e-commerce heavyweight.
A big reason for the growth of the company is the fantastic work of its dedicated Customer Loyalty Team. In this blog post, you'll find 10 things to know about Zappos customer service: 
Easy-to-find contact info

Unlimited call times

Friendly support representatives

No phone tree

No scripts

24/7 call center

Empowerment to help

365-day return policy

Free shipping and returns

No upselling
Key tip: If you operate an e-commerce or SaaS platform, you need to think of all the ways you can make your remote customer service as comfortable and personable as possible. 
Nordstrom Customer Service Philosophy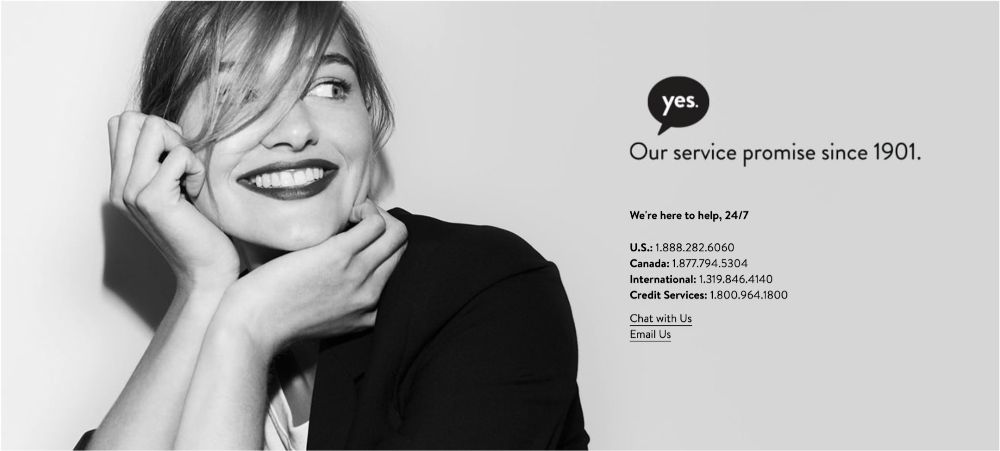 Nordstrom is a prominent department store that operates in both the USA and Canada. This company sports a simple, clear customer service commitment that inspires confidence in its customers:
"We have a long-standing commitment to provide our customers with the best possible service every time you shop, and to continually maintain a strong and lasting relationship with you."
The company places a strong emphasis on its desire to please, as well as the pedigree of its company.
Key tip: Emphasize the longstanding nature of your commitment to great customer service. This tactic can impress your customers and help them feel like they're in good hands.
Amazon Customer Service Philosophy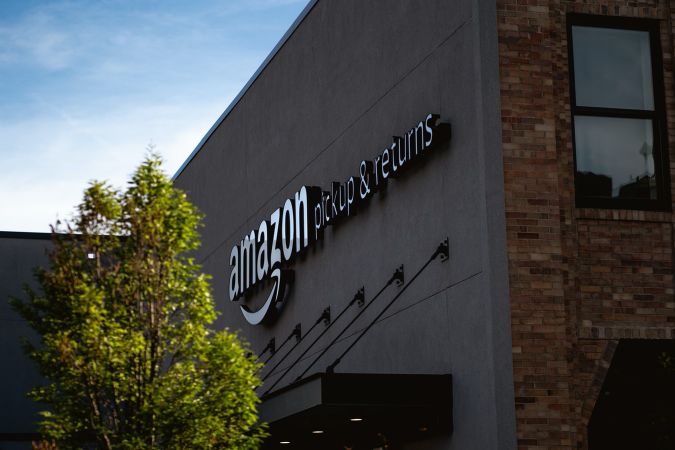 Amazon is one of the world's largest companies, but it hasn't lost track of what really counts: customer satisfaction. The company consistently has high rankings in customer satisfaction surveys, which is because customer service is at the core of the company.
Just read Amazon's vision statement:
"To be Earth's most customer-centric company, where customers can find and discover anything they might want to buy online, and endeavors to offer its customers the lowest possible prices."
As you can see, the customer is at the heart of everything Amazon does. This endeavor helps the entire team nourish an unfaltering focus on customer service.
Key tip: Make customer service a key part of your mission and vision statements, in order to drive accountability and customer satisfaction.
Key takeaway: We now live in a Customer Experience (CX) economy, and it is important for both retention and brand affinity. CX, essentially, powers your growth.
How to Build Your Customer Service Philosophy Step by Step (and How to Answers All Your Questions along the Way) 
Now we have a better idea of what a customer service philosophy is for, and how some of the world's biggest businesses use them. So let's dive into a step-by-step guide on how to create your own philosophy.
1. Consider your buyer personas (and existing customers).
The first step you'll want to take to develop a strong customer service philosophy is to consider your buyer personas (especially your existing customers, if you have them). With this step, you'll be able to better understand what they expect from your business, which will help you more effectively serve them.
A closer look at those personas will help you understand the important factors involved…
Customer service expectations
An exploration of your buyer personas will help you uncover their customer service expectations. For instance, some customers might expect 24/7 support, while others might be happier with service that's restricted to business hours.
Customer service preferences
You should also be sure to look at demographic information that could guide your customer service philosophy. For instance, if you work in a B2C capacity, your customers might expect more informal customer service.
Communication channels
A look at your buyer personas and existing customers can also show you where you need to communicate. Do your customers expect -multichannel customer support? Does this expectation need to become a key part of your philosophy?
2. Identify customer service opportunities.
Now that you have a better understanding of what your customers expect from your customer service, you should think about new opportunities to liven up your offering.
Try to identify any opportunities you can take to push things to the next level. Here's a look at some ways you can liven up your customer service offering (inspired by Zappos):
24/7 phone support

Zero upselling attempts

Premium shipping

Highly trained customer service professionals

Omnichannel support
3. Make a bold statement.
Now that your customer service is looking stronger than ever before, it's time to formalize that offering by developing an effective customer service philosophy statement.
This statement should be a concise, clear statement that encapsulates everything that makes your approach special, as well as the ways it benefits your customers. This statement should be bold and descriptive, inspire your customers, and put you ahead of the competition.
As we touched on earlier, this statement should act as a guiding light for the departments in your business. A strong customer service philosophy statement can motivate every member of your team to do his or her part to delight your customers.
Stick around. Next, we're going to look at ways to share a customer service philosophy statement. Then we'll provide you with a free template to get you started.
4. Share your philosophy.
Now that you have an excellent customer service philosophy statement in hand, you'll want to share it with your customers. For instance, this statement might provide the foundation for ads, and you should use it to gain a competitive advantage.
Here's a look at some of the key ways you can share your customer service philosophy with your customers…
In your interactions
The best place to share your customer service philosophy is in your interactions with customers. If you walk the talk, your customers will be very impressed. Far too many businesses fail to deliver on their customer service promises.
In your marketing
A strong, proven customer service philosophy provides a wealth of marketing and advertising opportunities. Your customer service can even become a significantly competitive advantage that can help you attract new customers.
On your website
Customer service can make or break a business. Therefore, many businesses decide to share their customer service philosophy on their website. In addition, a dedicated section on your website can simultaneously attract new customers and bring SEO benefits.
By word of mouth
You should also take the opportunity to share your customer service philosophy by word of mouth. People are often very interested in customer service. And on average, Americans tell 11 people about a good customer service experience.
5. Develop your philosophy over time.
Even after you've polished and shared your customer service philosophy, your story isn't over. You'll need to constantly review your customer service offering, in order to determine whether your philosophy needs to be adjusted.
Here are some of the situations that might prompt you to slightly change your philosophy:
Changing customers
Over time, you might find that your customers change. Small adjustments to your product and marketing might attract new customers with new expectations. And you might find that your customer service philosophy has to evolve as well.
More customers
As your business grows, you might find that your customer service philosophy will change, too. For instance, you might have previously guaranteed fast response times that could change as your customer base grows.
New markets
If your business expands into new markets, it might impact your customer service philosophy. For instance, different markets will have different customs and expectations, which you might have to adjust to.
Internal changes
There are a number of internal changes that can have an impact on your customer service philosophy. For instance, a new member of the executive team could bring a new angle, or a takeover could change your approach.
A Free Template for Your Customer Service Philosophy Statement 
A lot of thought goes into creating an effective customer service philosophy. But all of that thought and research can be condensed into a concise, inspiring customer service philosophy statement.
This statement is easily understood by your employees and your customers. It's a simple rallying cry that sets your customer service expectations.
For inspiration, let's take a look at "The Credo" from The Ritz-Carlton:
"The Ritz-Carlton is a place where the genuine care and comfort of our guests is our highest mission.
We pledge to provide the finest personal service and facilities for our guests, who will always enjoy a warm, relaxed, yet refined ambience.
The Ritz-Carlton experience enlivens the senses, instills well-being, and fulfills even the unexpressed wishes and needs of our guests."
This exemplary customer service philosophy statement can be broken down into three sections:
The critical function that the business hopes to accomplish for its customers

The way it's going to achieve that function

An inspiring big-picture statement that drives home the purpose of the business.
This structure is great to follow. To add structure to your own statement, download our free customer service philosophy statement template.
Conclusion
We hope this piece has helped you see the value of a great customer service philosophy. We also hope it gives you a good idea of how to get started. In addition to a customer service philosophy, you'll need the right customer service tools. So you should be sure to unlock your 14-day free trial with Messagely today.