In this article, you'll take a look at the best help desk software.
We'll put them against each other, comparing things like:
Features
User interface
Pricing
Capabilities
Pros and cons
By the end of the article, you'll know exactly which help desk software is the right one for you and your company.
Let's get started.
What Is Help Desk Software?
Help desk software is any kind of computer program that can be used by the customer care department to issue and manage customer requests and other issues. Help desk software helps ensure your user feedback never goes unheard since it translates it into action and supervises it to its completion.
Usually, help desk software works with or around a ticketing system. Either a user or a customer service rep will create a ticket and submit it to the help desk software. Your customer service team is notified that a ticket has been created, and it is assigned to an employee from the relevant department.
Once the ticket has been assigned, your customer service team can monitor its completion and can even contact the user who created the ticket to let them know that the request or issue has been resolved.
Best Help Desk Software Compared: 25+ Tools
Here are the best help desk software options including details about what they're used for and their pros and cons:
Messagely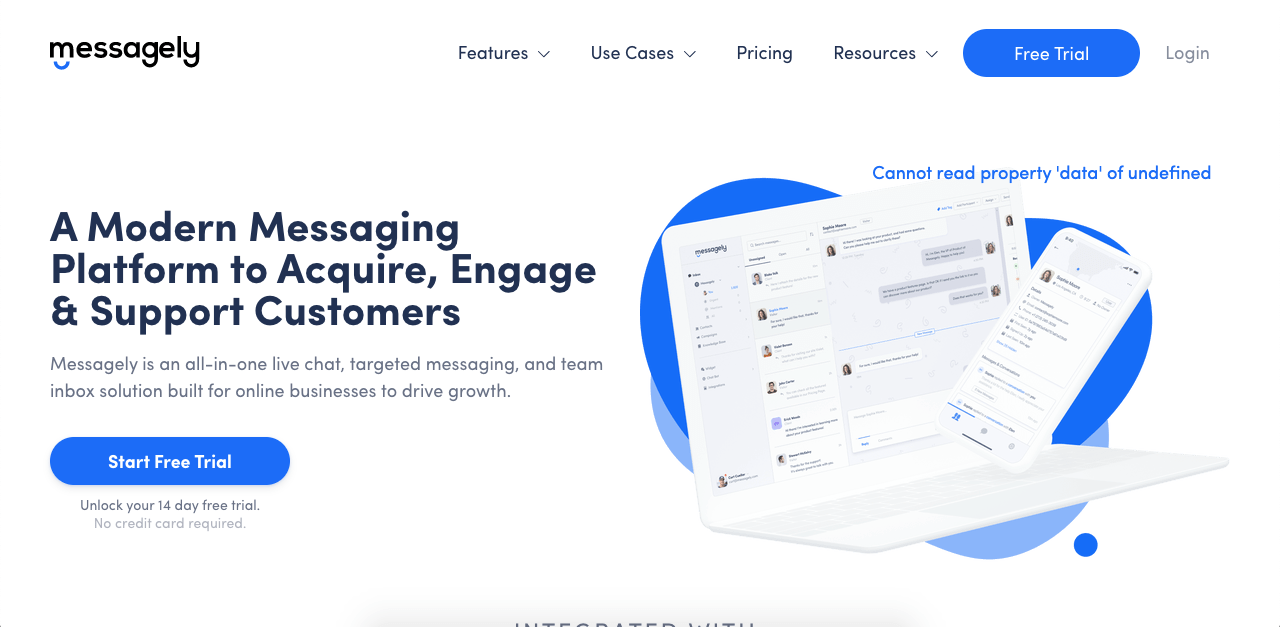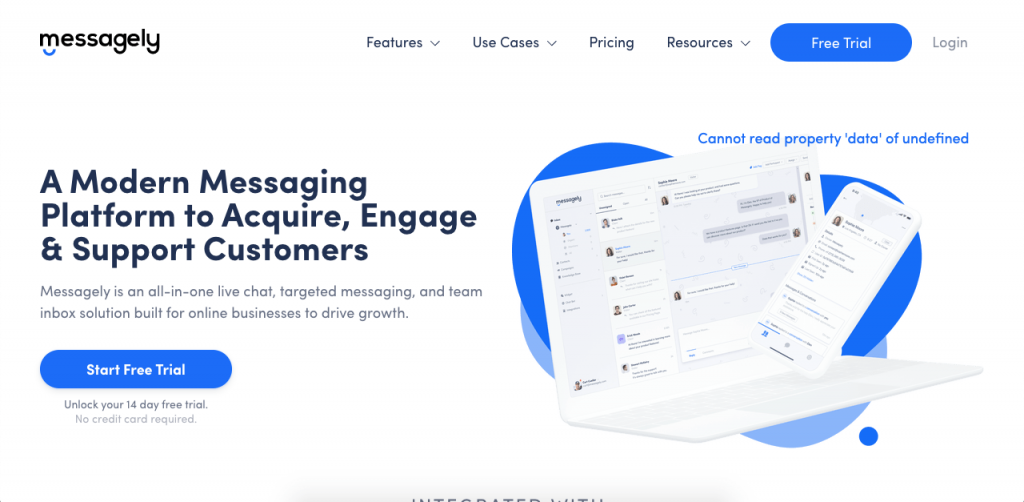 Messagely is a powerful all-in-one customer support solution, for all your customer communications, including your help desk.
With Messagely, you receive an easy-to-use live chat to kickstart your ticketing system. It integrates with tools such as Salesforce, Slack, Pipedrive, Shopify, Google Analytics, Zapier, and many more to streamline your customer happiness processes.
Messagely isn't only used for creating tickets. In the platform, you can also find solutions for products such as knowledge bases and integrated inboxes so you can offer the best customer service.
Whether you need a full help desk software, a live chat, powerful chatbots, or anything else to communicate with your customers, Messagely has your back.
Pros
Very easy to use and install
Works with the tools you're already using
Integral approach to customer service
Cons
Best for users aiming to solve all of their customer service needs, not those simply looking for a ticketing system
Start your free trial today.
Zendesk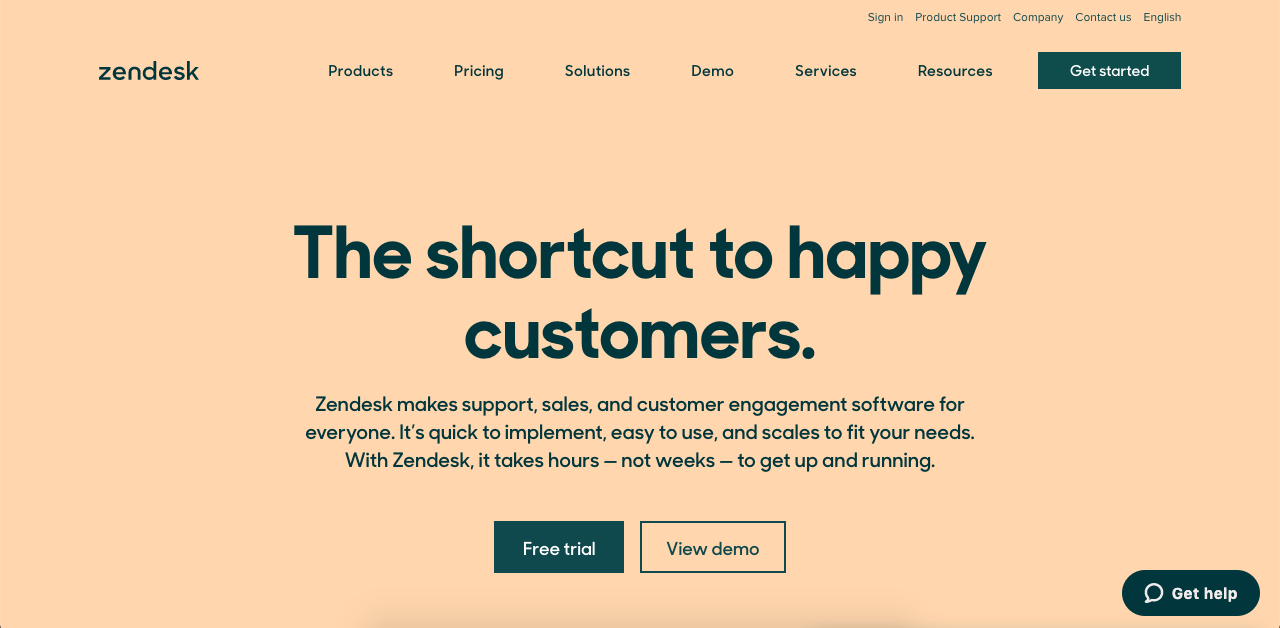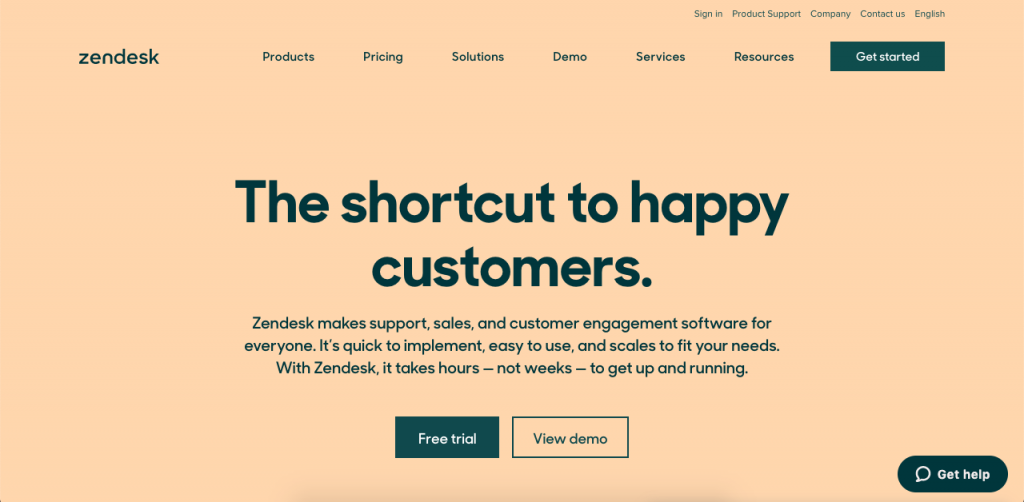 Zendesk is another customer service suite. Its platform is based around its ticketing system, which is incredibly functional and feature-rich. If you're looking for a ticketing-system-based customer service suite, Zendesk is definitely a great option to consider.
Zendesk also offers users a few other options, like multi-channel support, knowledge bases, analytics, and powerful integrations.
Pros:
Great ticketing-based platform
Powerful reporting at expensive tiers
Multiple integration options
Cons:
Unbranding only comes with the most expensive tier
Good features are locked behind higher price tags
No advanced customer service features like chatbots
More expensive than other options
ServiceDesk Plus (ManageEngine)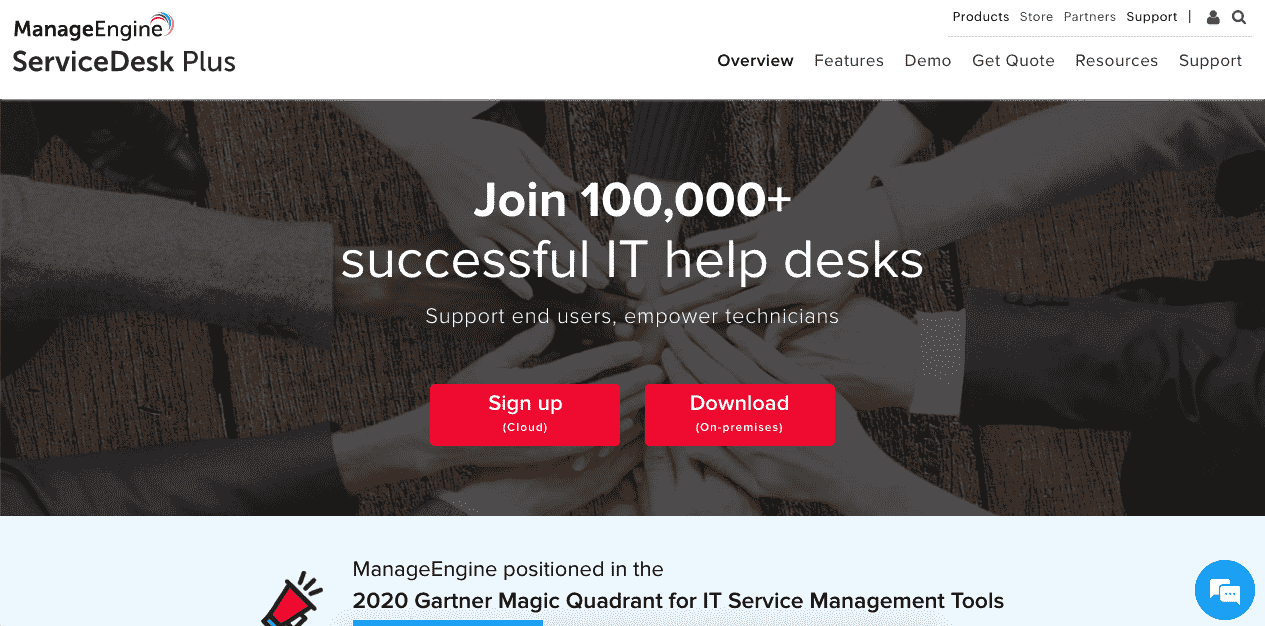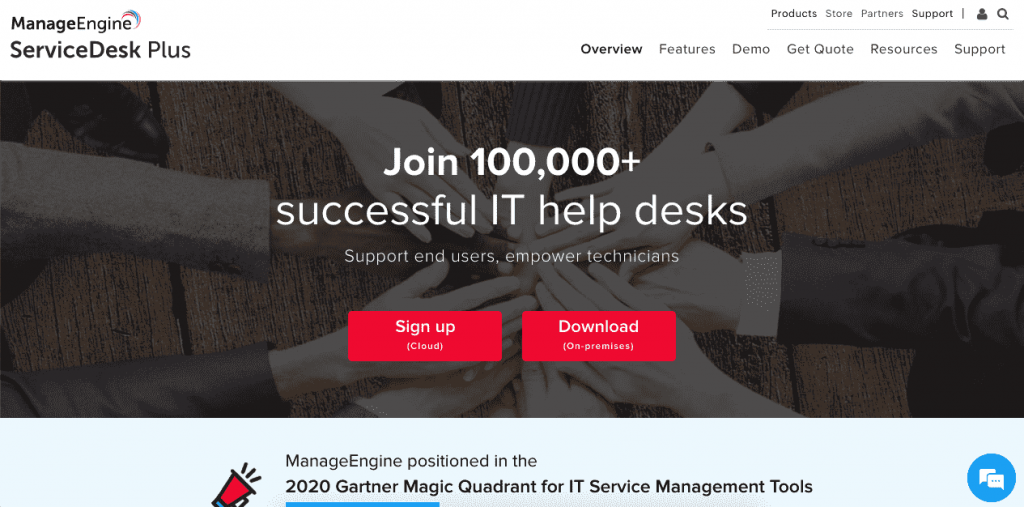 ServiceDesk Plus is a great tool for dealing with IT issues, and it packs a lot of useful features.
With ServiceDesk Plus, you get ITSM Workflows, automations, advanced reporting, great customization capabilities, and integrations with IT management apps, to name a few.
Their pricing is very simple and affordable, making it perfect for smaller businesses and startups looking for an easy and cheap solution.
Pros:
Very affordable
Good integrations
Great features for IT departments
Fairly easy to customize and manage
Cons:
Reporting is a bit hard to get used to
Navigation isn't very smooth
Bugs are frequently found
Freshdesk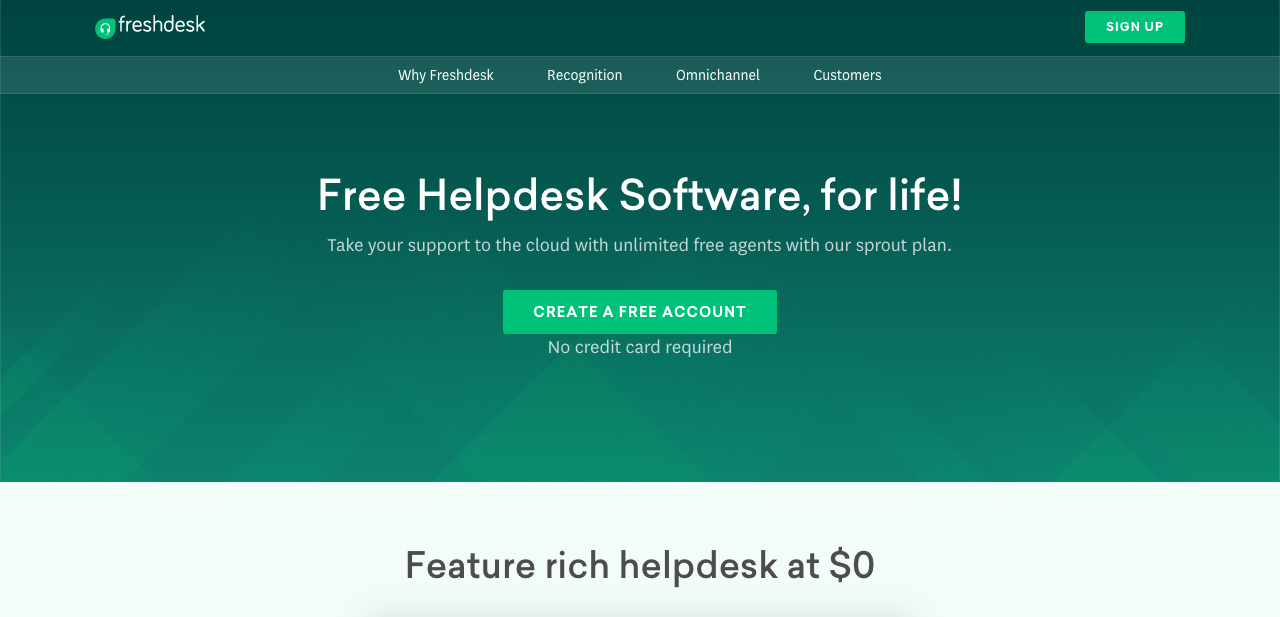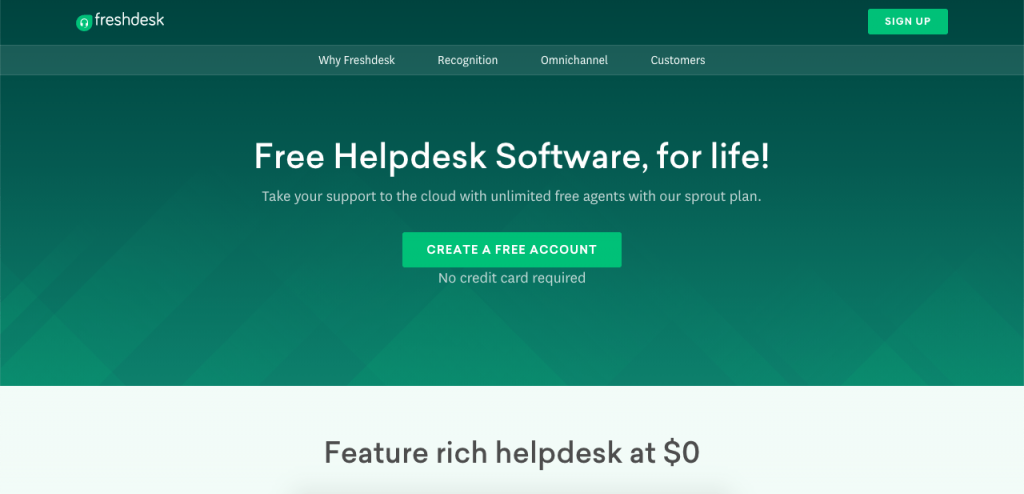 Developed by Freshworks, Freshdesk is a customer service suite for multiple channels. With it, you get access to AI-powered features like bots and automation as well as great reporting and analytics and good self-service features.
Freshdesk offers omnichannel support that seamlessly integrates with the rest of the Freshworks solutions. It's easy to use, customize, and automate.
Pros:
Heavily packed in features
Very easy to use
Powerful reporting and analytics
Free plan available
Cons:
Advanced features are quite expensive
Limited automation capabilities
Intercom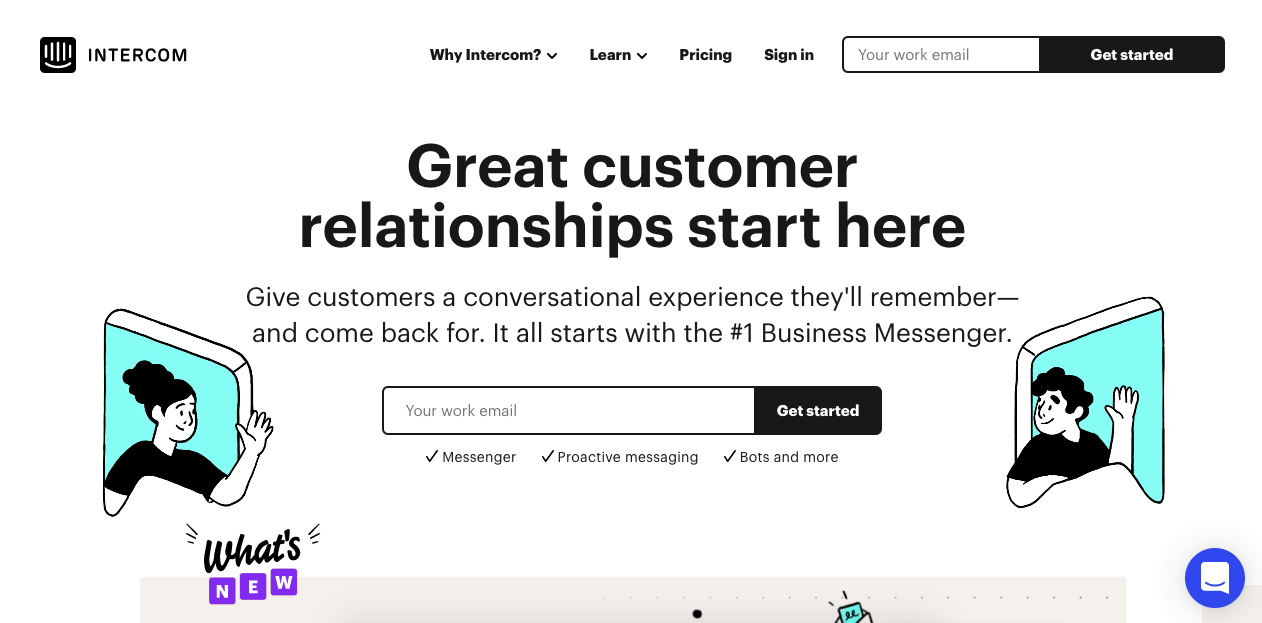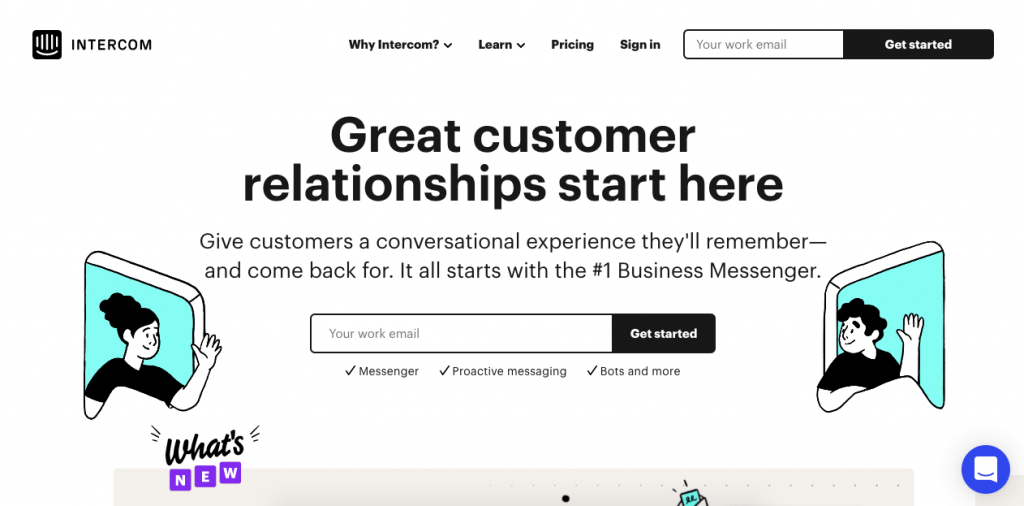 The self-defined Conversational Relationship Platform, Intercom is a popular customer service solution with very attractive features.
Intercom has great ticketing workflows and assignment rules that allow you to automatically route conversations in order of importance. Its chatbots are easy to program and develop, easily automating your customer service.
Pros:
Great support system
Advanced features available
Great ticketing software
Easy to automate
Cons:
Best features only come with very expensive plans
Its basic plans are also expensive for the value
Confusing pricing structure
More expensive than other options
HubSpot Service Hub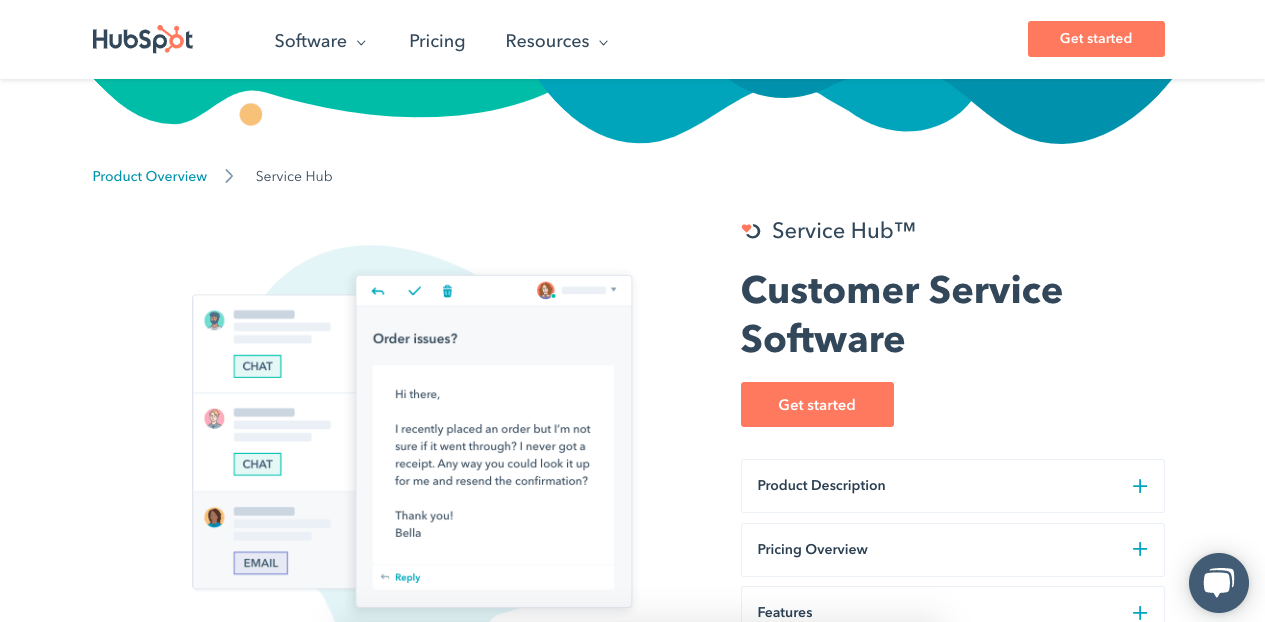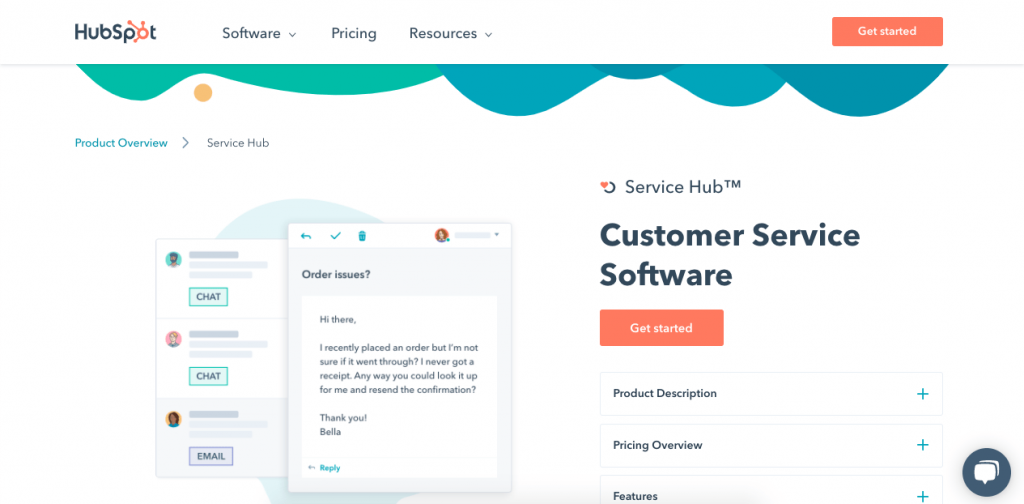 One of the most popular platforms on the list, Hubspot has a very competitive help desk that's as easy to use as it is powerful.
With it, you can easily convert customer chats into tickets, prioritize them, track them, organize them, and manage them. You'll also receive powerful automation and built-in reporting. Plus, you receive access to all of the Hubspot platform options to use.
Pros:
Powerful and responsive UI
Chatbots
Great ticketing capabilities
Cons:
Fairly expensive
Advanced tools are locked behind pricy plans
Salesforce Service Cloud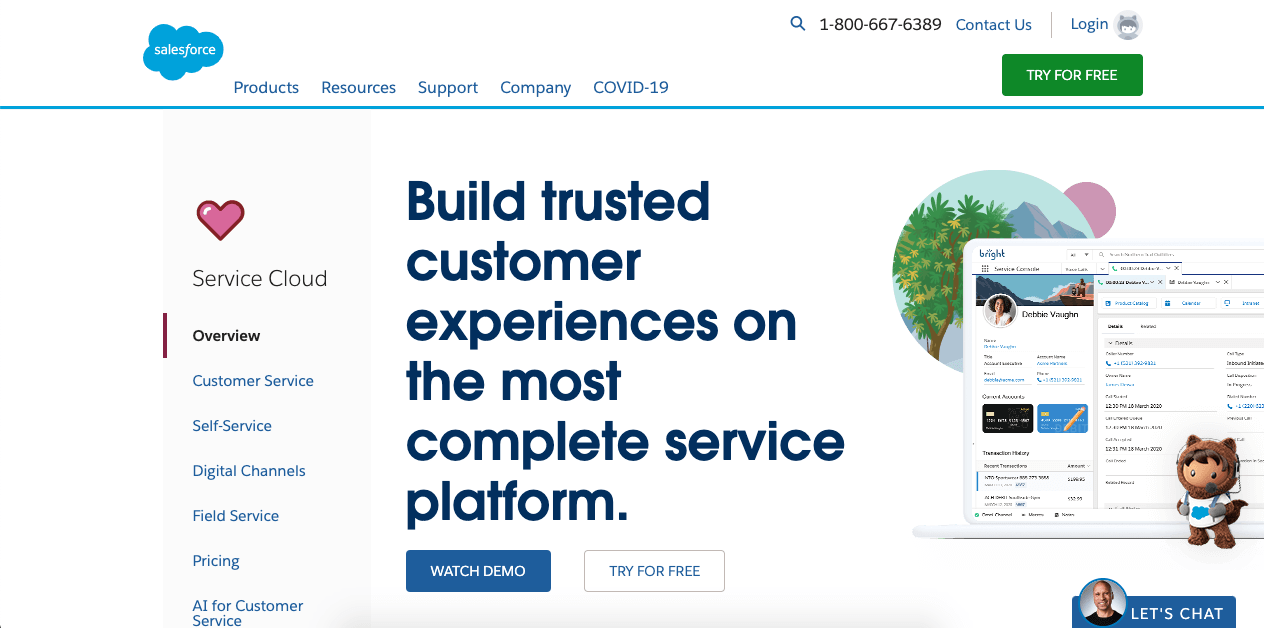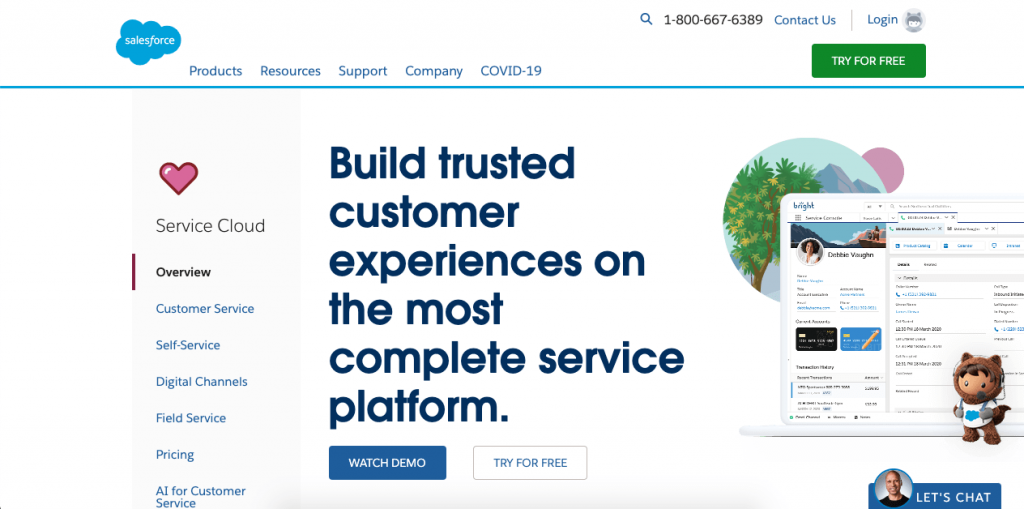 Salesforce Service Cloud is a full customer service suite that's extremely responsive, advanced, and easy to use.
ServiceCloud unifies all your customer data to give you a full profile of who you're reaching and why they're contacting you. You'll also receive quality AI-powered automation features, self-service options, and everything else you need to provide great customer support.
Pros:
Complete customer service solution
Powerful chatbots and automation
Knowledge base
Pre-made templates and apps
Cons:
Steep learning curve
Time-consuming set up process
Good customer support is locked behind expensive pricing tiers
Front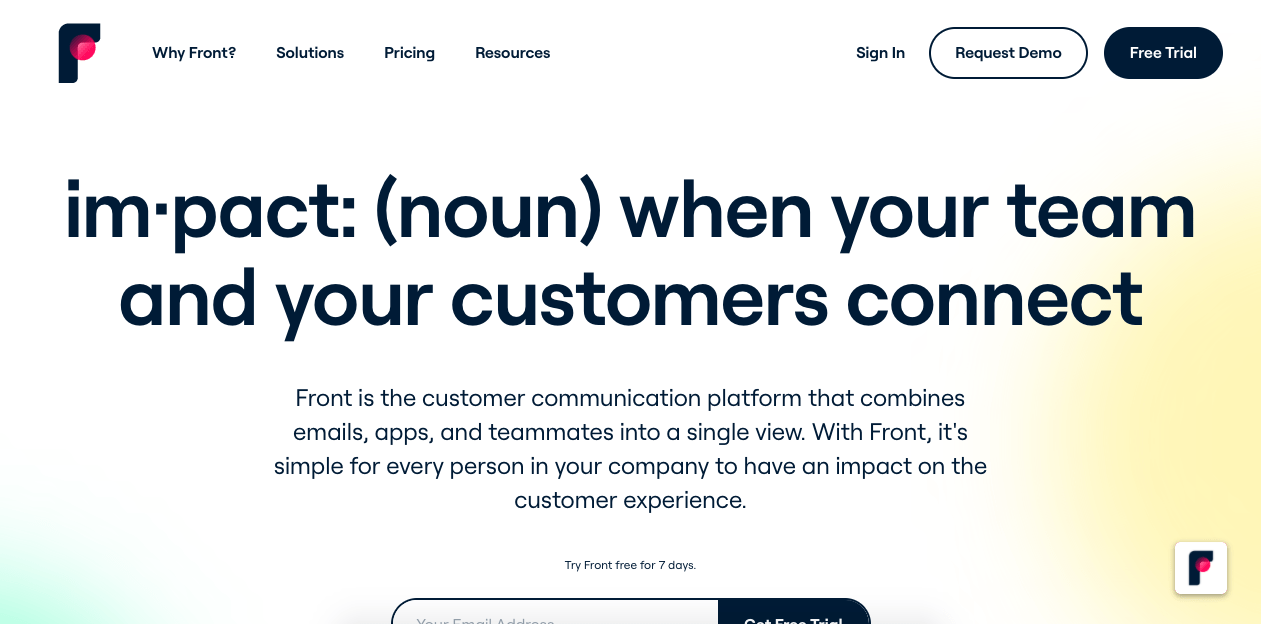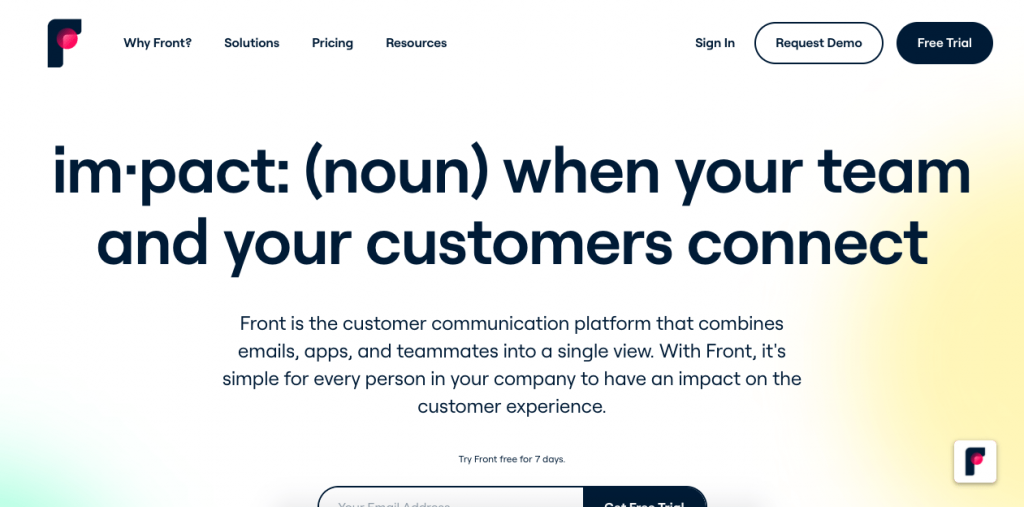 Front is a great platform for remote workers looking to work together with a collaborative email platform.
With Front, you can automate your work through custom workflows, and easily collaborate with other teammates with comments, assignments, team inboxes, and more.
Pros:
Great for remote teams
Multichannel approach
Custom automation features
Great analytics and reporting
Cons:
Not enough resources for self-help
Expensive for larger teams
LiveChat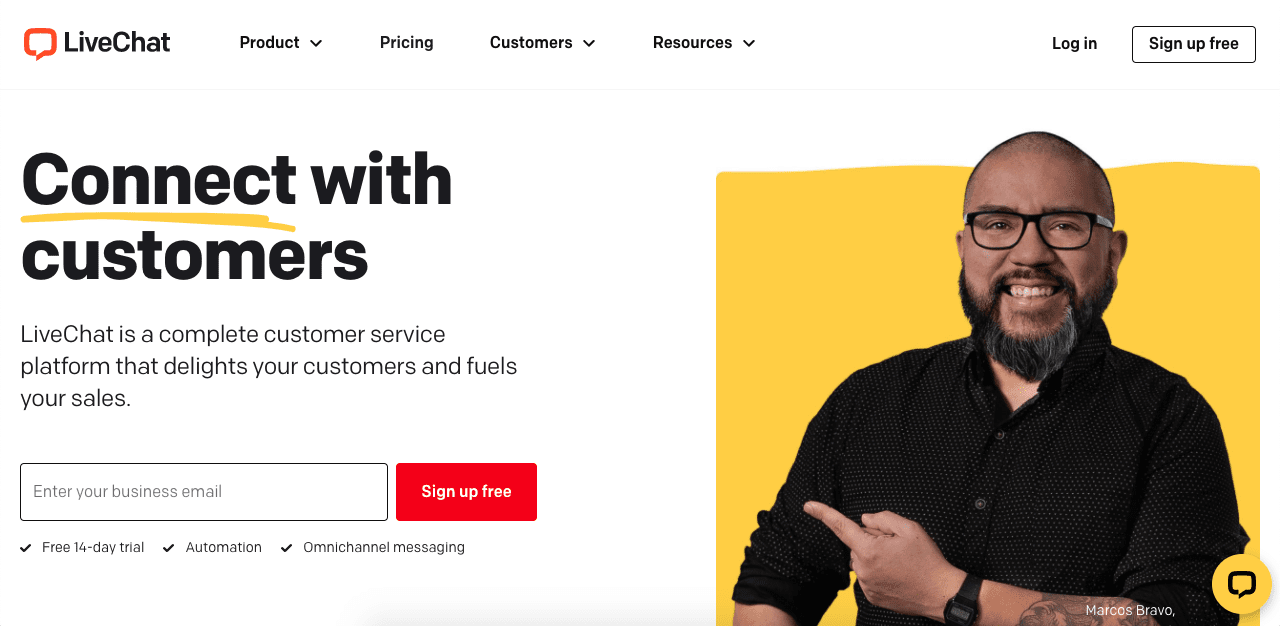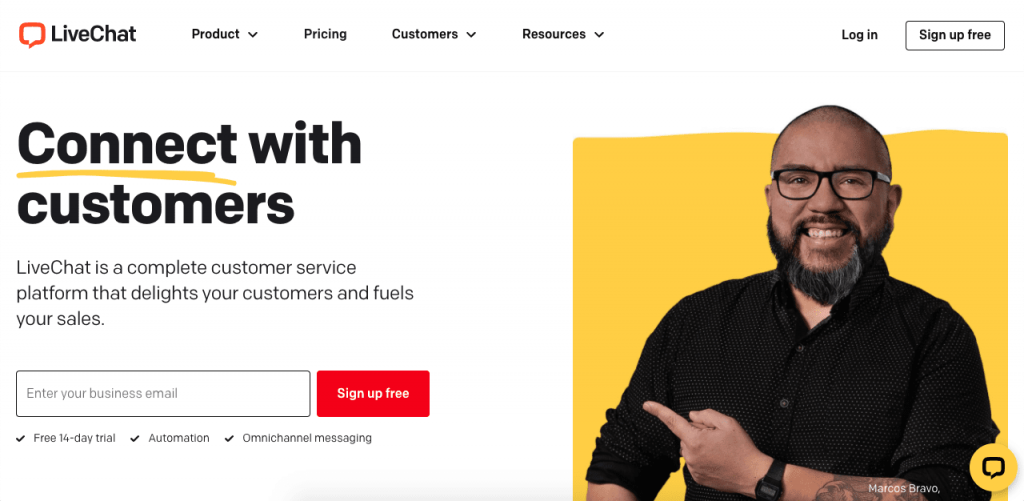 LiveChat is a complete customer service platform focused on helping with both customer support and sales. It comes with live chats, great integrations, and the capability to manage multiple communications channels, including email, chat, SMS, apps, and websites.
With LiveChat, you can easily manage messages, share announcements, and invite your visitors to chat with your team through personalized greetings. You also get a very functional ticketing system and powerful analytics and reporting.
Pros:
Intuitive UI
Lots of features
Great for both sales and support
Mobile support
Cons:
LiveAgent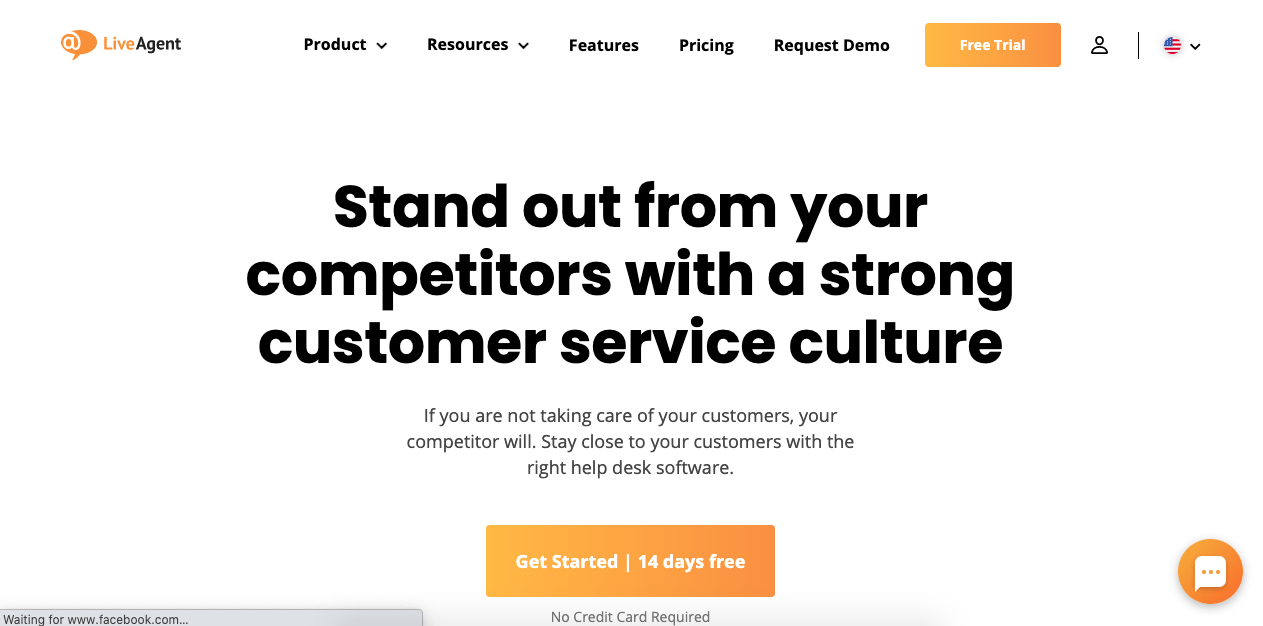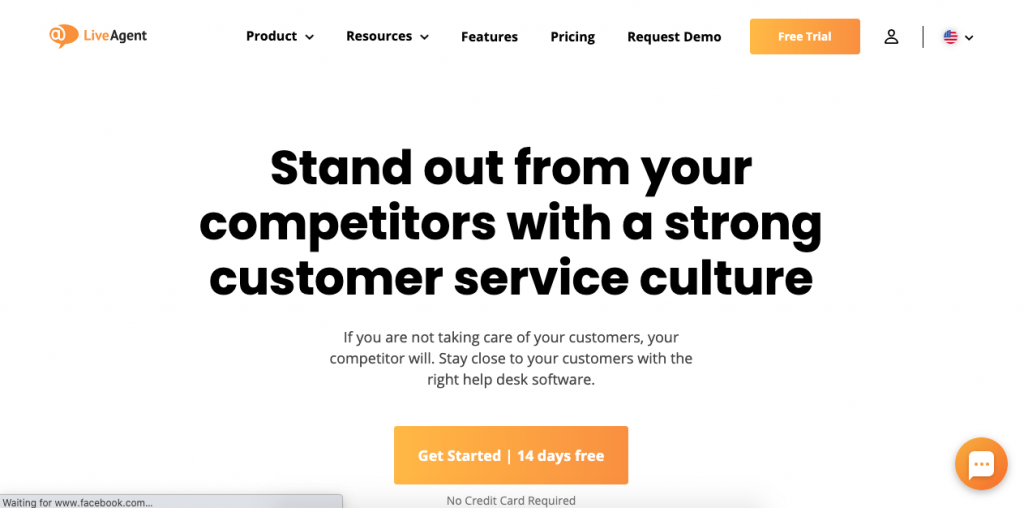 LiveAgent is a customer relations management app with omnichannel communication and a powerful automated ticket management system. With it, you can contact users through email, live chat, SMS, social media, voice calls, and ticket generation. Its ticketing system can easily be automated with custom workflows.
The platform is also great to use for your customer service reps, with gamification incentives to improve performance and productivity. You can use it for free with its limited forever-free tier, and its pricing is fairly affordable.
Pros:
Great for motivating workers
Advanced analytics
Fast live chat widget
Multi-channel communication
Cons:
Coding required to use advanced features
May require too much time adjusting and setting up for smaller companies
Hiver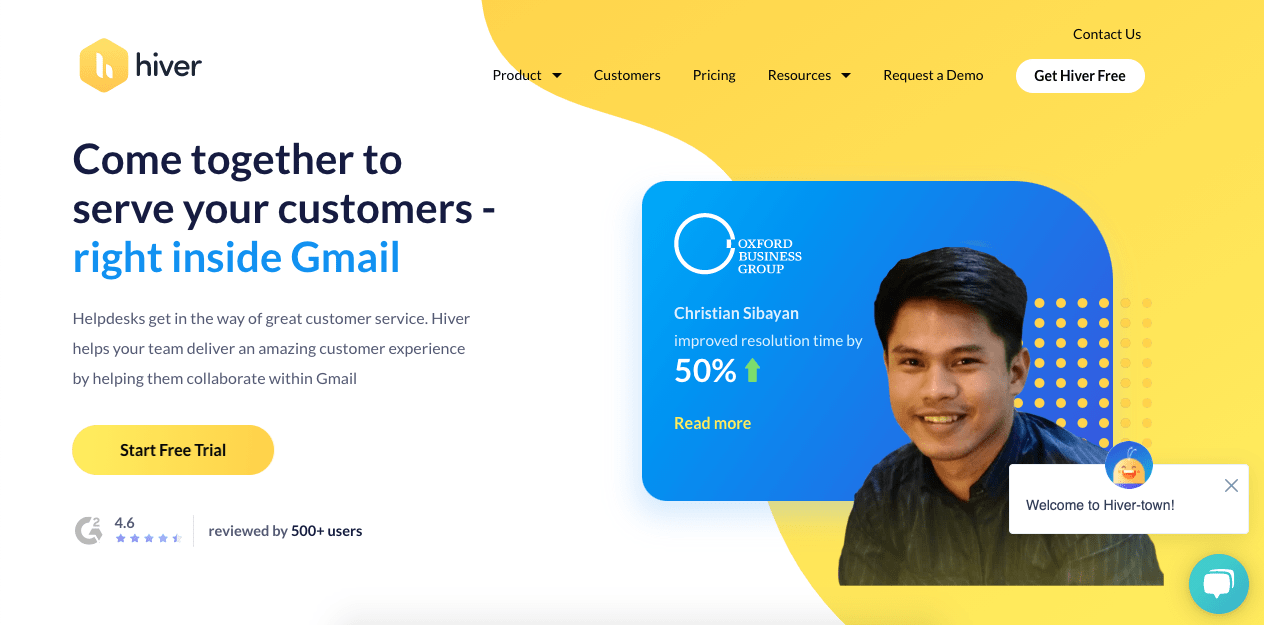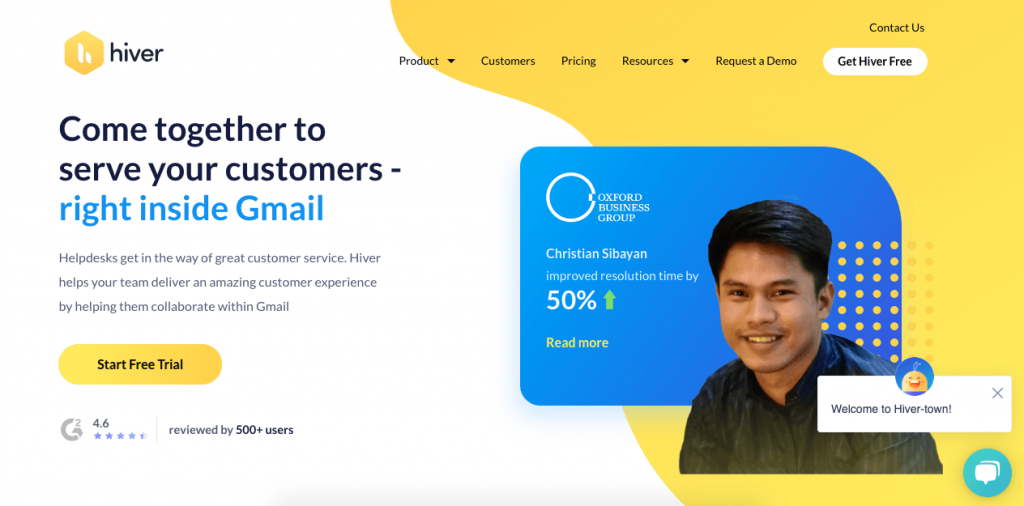 Hiver is a Gmail-focused customer service platform that's great for team collaboration. With it, your team will have access to multiple shared inboxes, allowing them to collectively handle customer emails.
Although somewhat limited due to its focus, the platform still offers all of the must-have features of a helpdesk, such as email tags, auto-assignment, email templates, and analytics.
Pros:
Includes many features
Great for team Gmail management
Affordable
Cons:
Only works with Gmail
Users would likely need another helpdesk software for other channels
HappyFox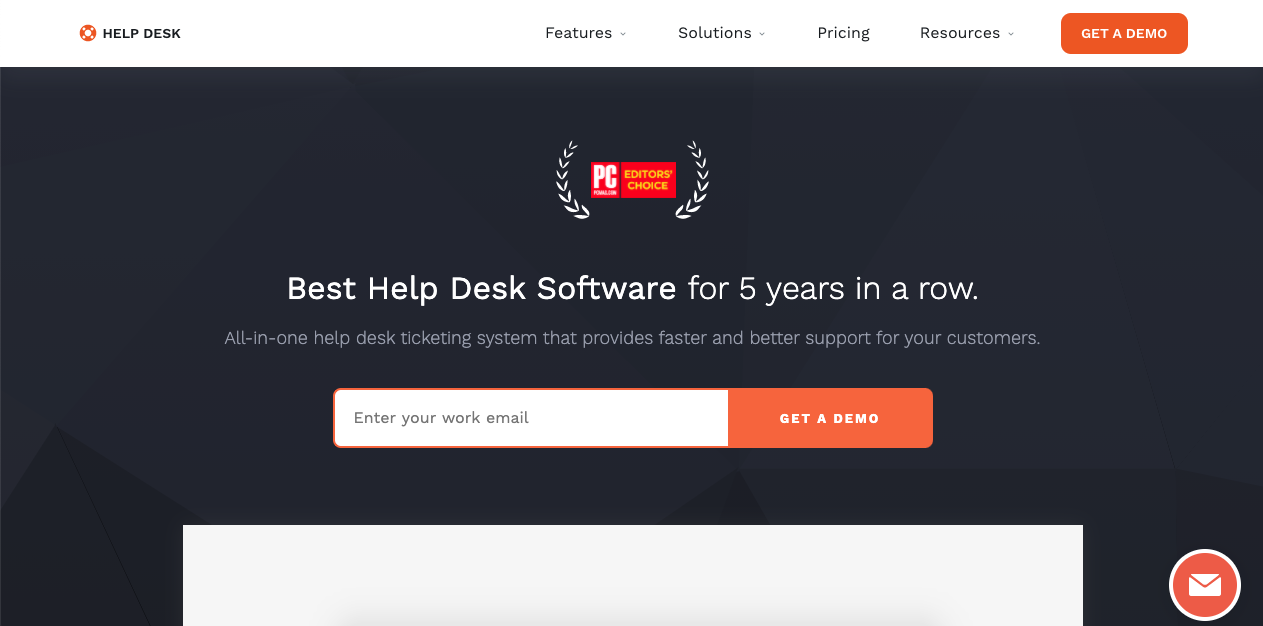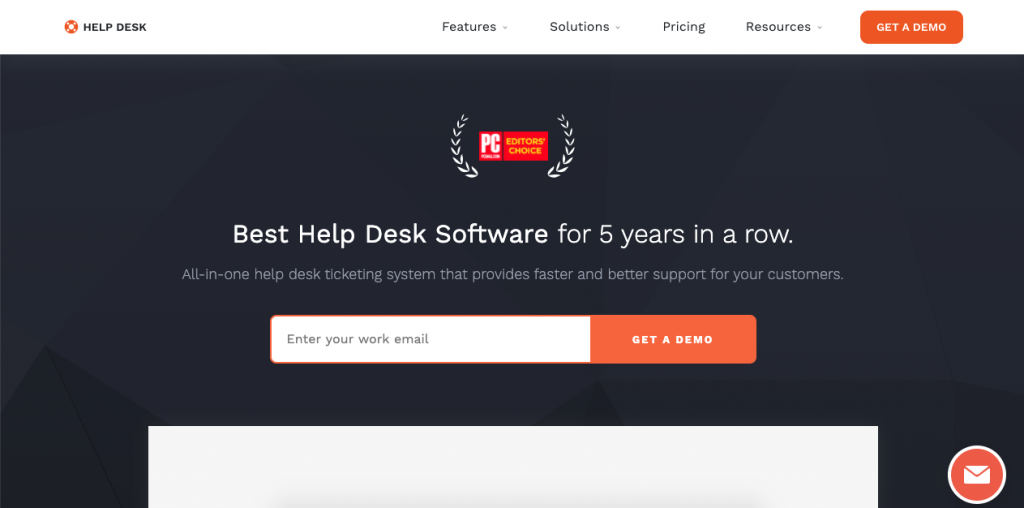 HappyFox is a very popular, award-winning help desk software with an excellent ticket management system.
With HappyFox, you can easily manage your tickets through canned actions, automated SLA management, and round-robin assignment. You also receive real-time detailed reporting and self-service options to keep your users engaged.
Pros:
Powerful ticketing system
Very user-friendly
Real-time reporting
Supports self-service
Cons:
Lacking integrations
Very limited lower pricing tiers
Freshservice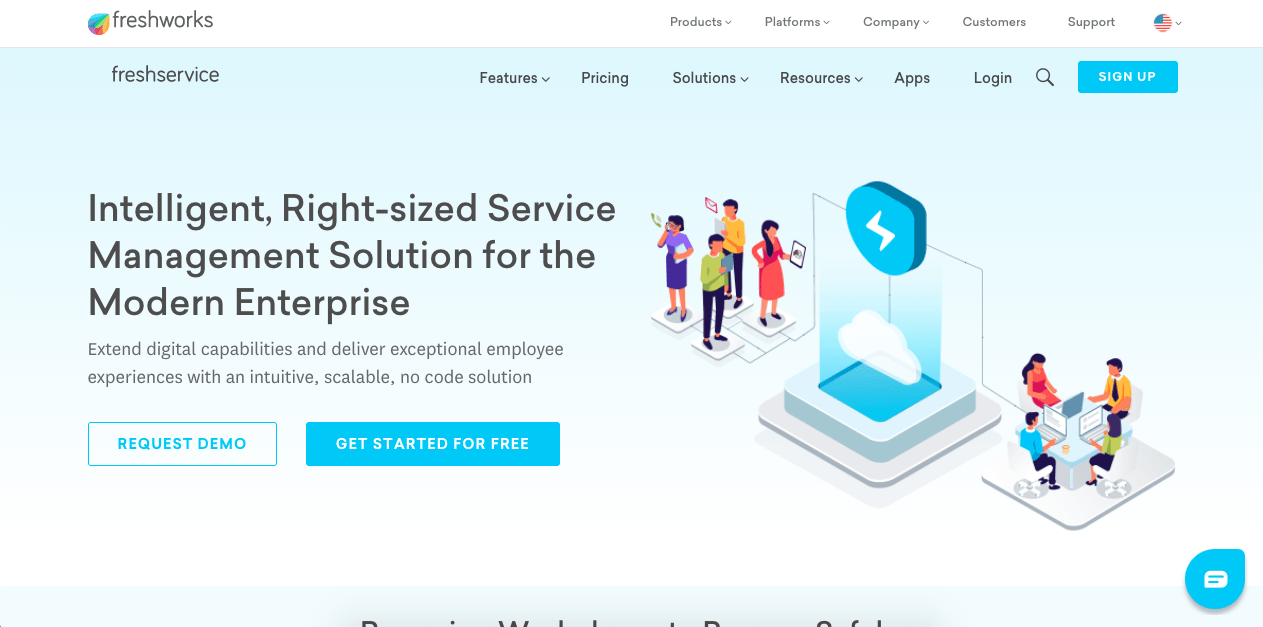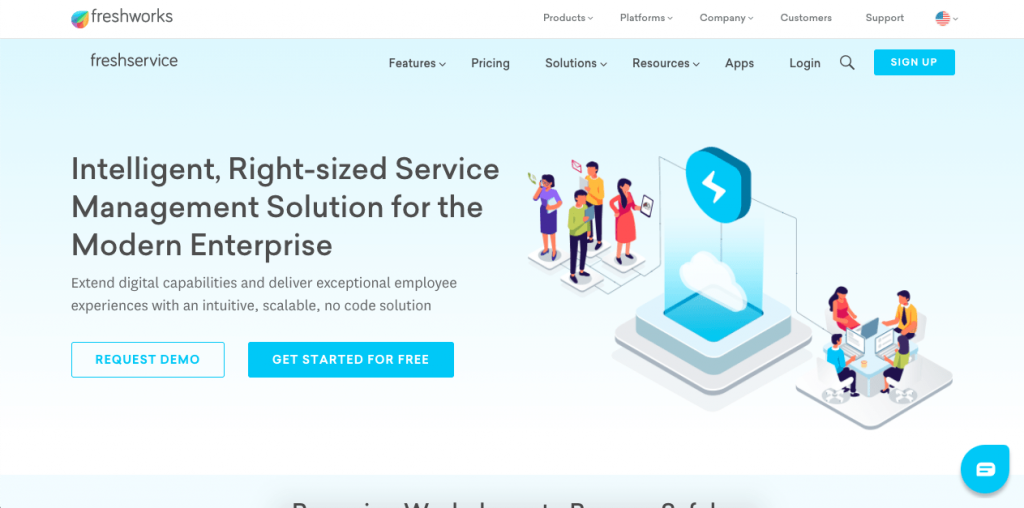 Developed by Freshworks, Freshservice is a great help desk, especially for IT. With Freshworks you'll get a powerful asset manager to discover new resources and conduct impact analysis.
Its UI is very intuitive, making it perfect for users looking to spend as little time in training as possible. Plus, it integrates flawlessly with the rest of the Freshworks tools, so it's a great option if you're looking to use any of them in the future.
Pros:
Very user-friendly UI
Great automations
Includes many self-service features
Seamless integration with other Freshworks tools
Cons:
Limited agent dashboard features
Workflow automations are hard to order and manage
JIRA Service Desk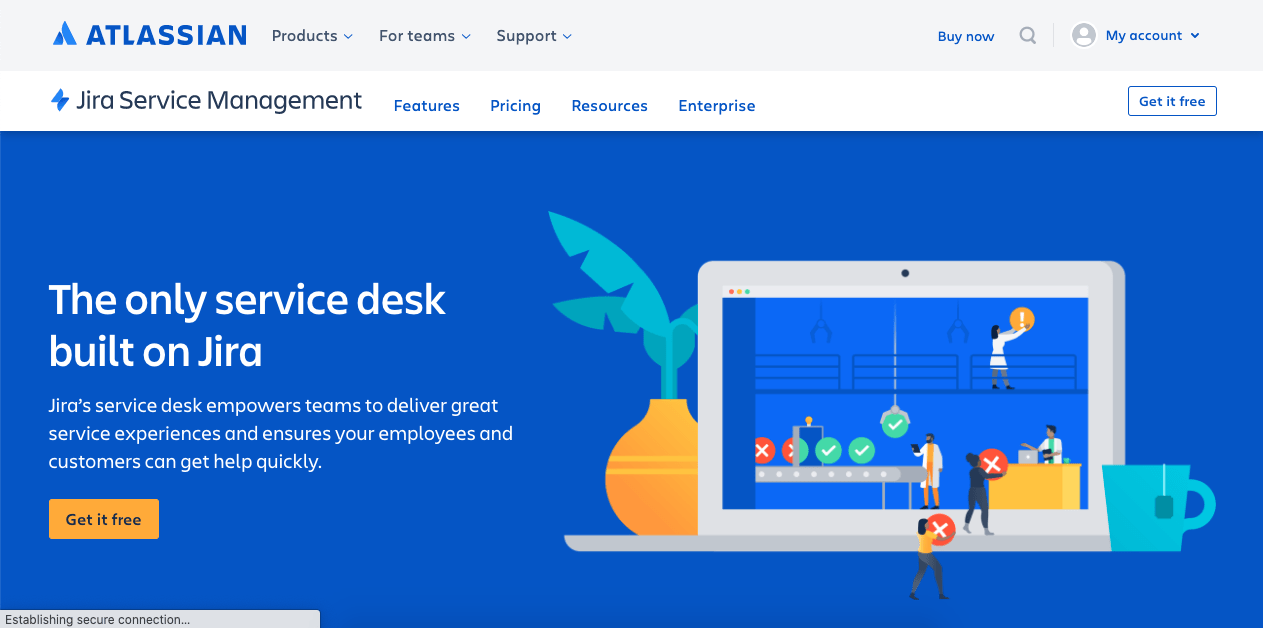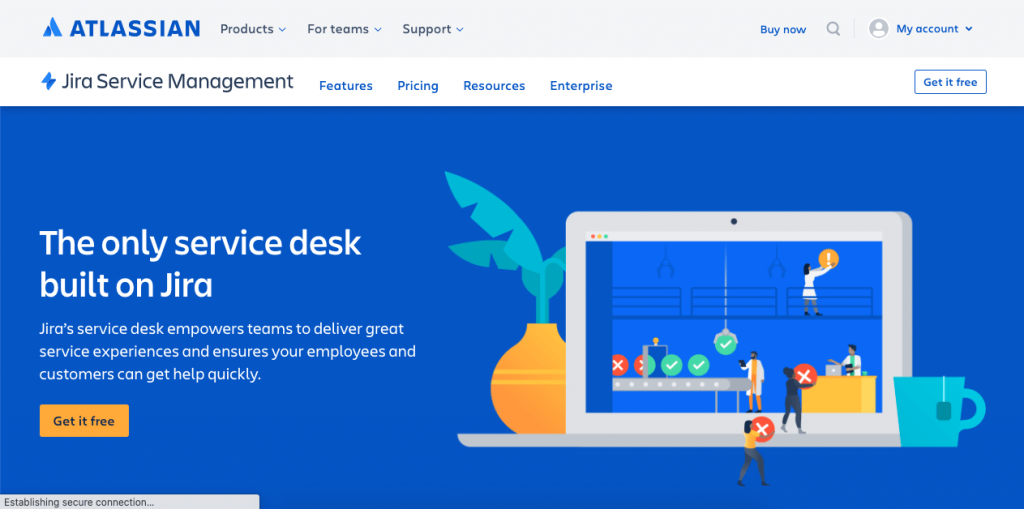 Jira Service Desk is a great collaborative platform with tons of functionality for your business. The platform makes it easy to manage incidents, issues, changes, requests, and assets with just one solution.
The platform offers custom automation, self-service features, asset tracking, problem management reporting, and SLA policies, to name a few.
Pros:
Generous free version
Numerous integrations
Excellent dashboard customization
Self-service features
Cons:
Steep learning curve
Doesn't support social media integration
ProProfs Help Desk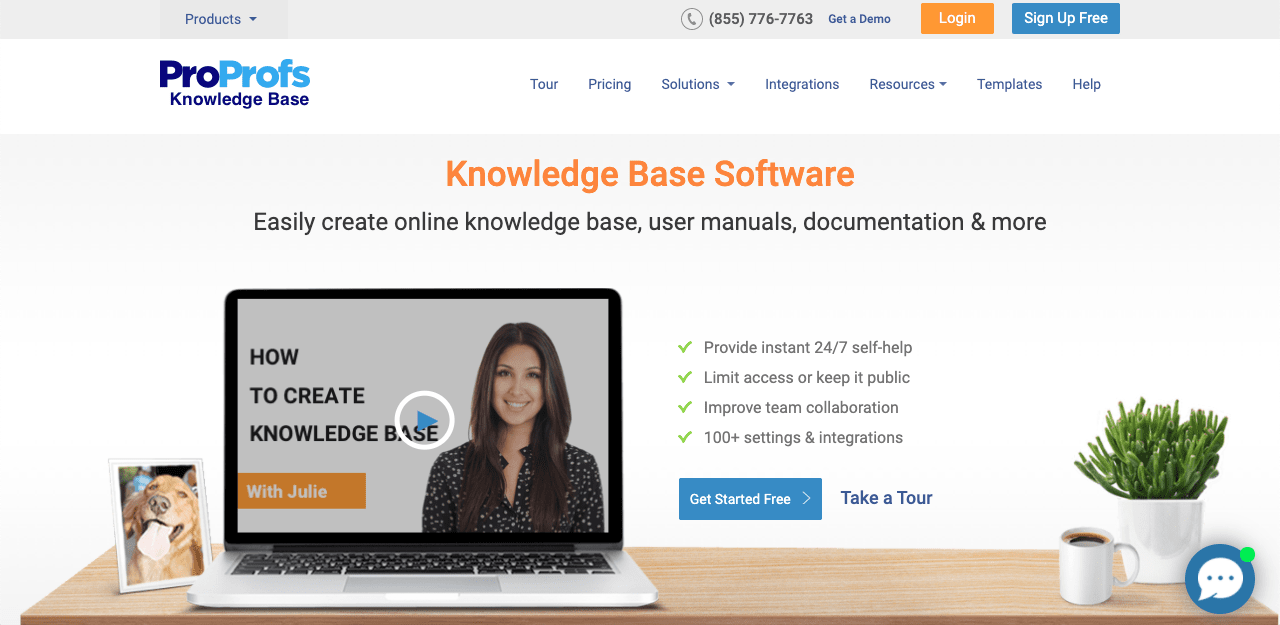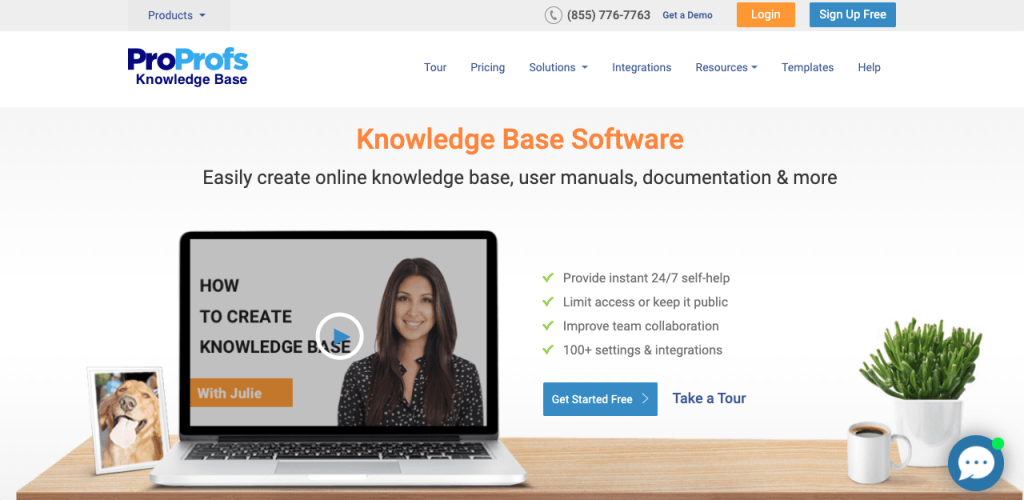 ProProfs Help Desk is a popular customer support software focused on improving the collaboration and efficiency of your customer support team.
The platform offers a shared inbox, internal knowledge base, customer self-help features, and powerful ticket management and prioritization. With ProProfs, you can also create branded customer and agent training courses online.
Pros:
Forever-free version available
Advanced ticketing features
Self-service features
Fairly affordable
Excellent UI
Cons:
Doesn'tintegrate with social media
Bitrix24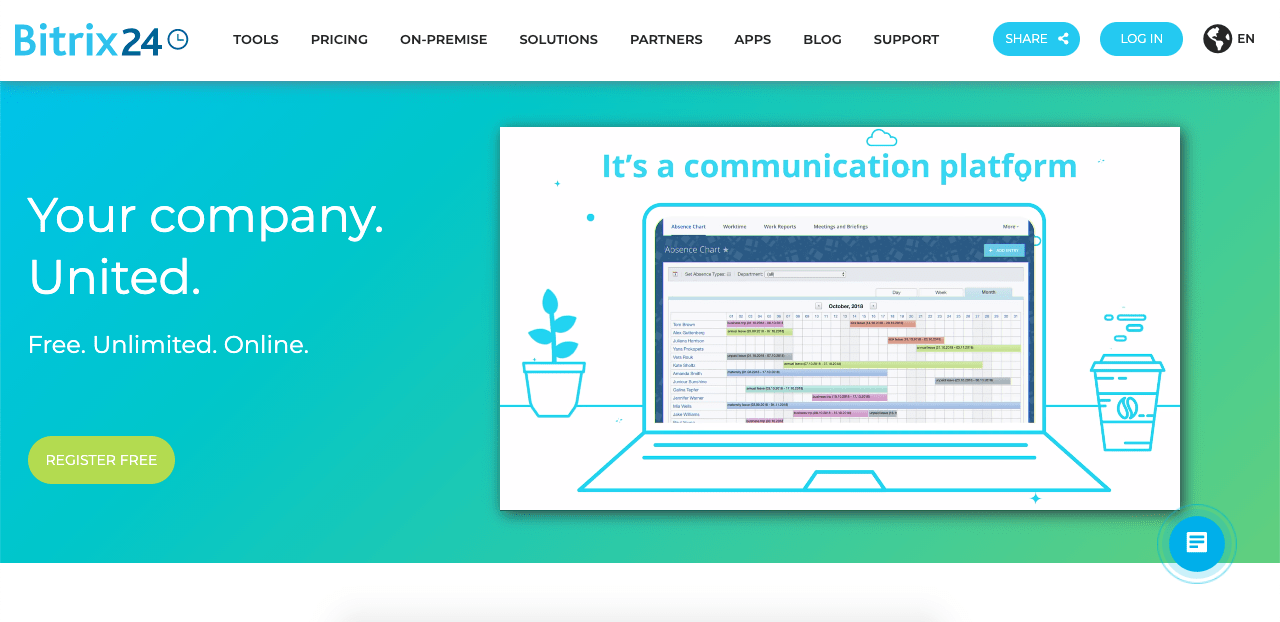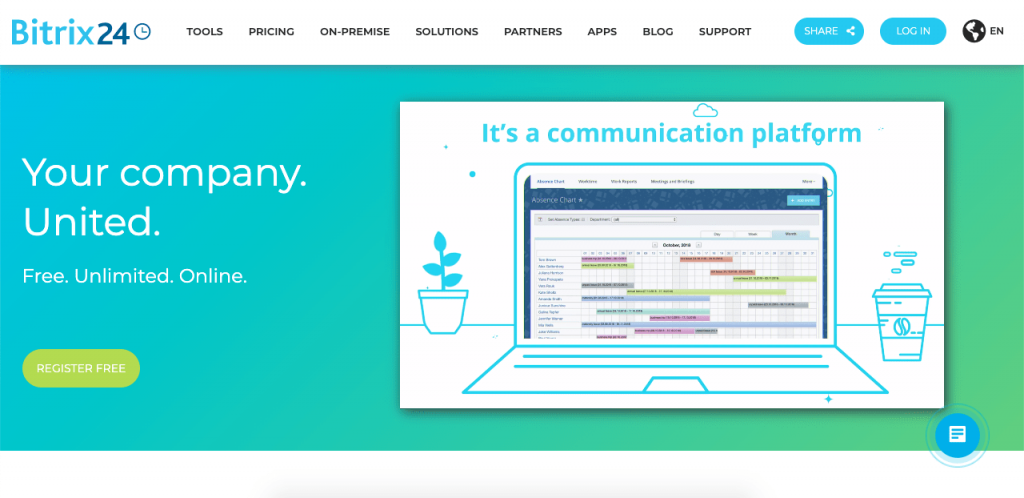 Bitrix24 is a great help desk software that caters to contact centers. Equipped with its own CRM, the platform offers a generous free tier and allows you to manage your communication in channels like live chat, social media, SMS, email, and phone calls.
With Bitrix24, you also get a ton of features even at the lower tiers, making it perfect for small businesses and startups.
Pros:
Generous forever-free version
CRM capabilities
Fairly affordable
Perfect for contact centers
Cons:
Cumbersome to set up
Cluttered UI
Teamwork Desk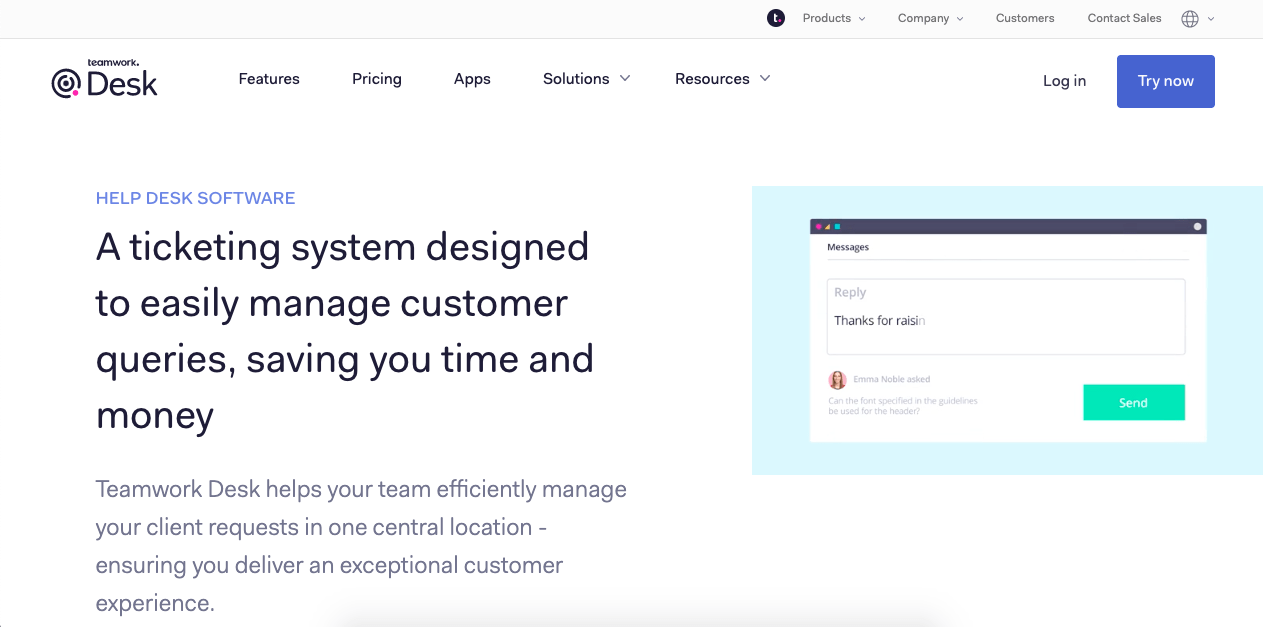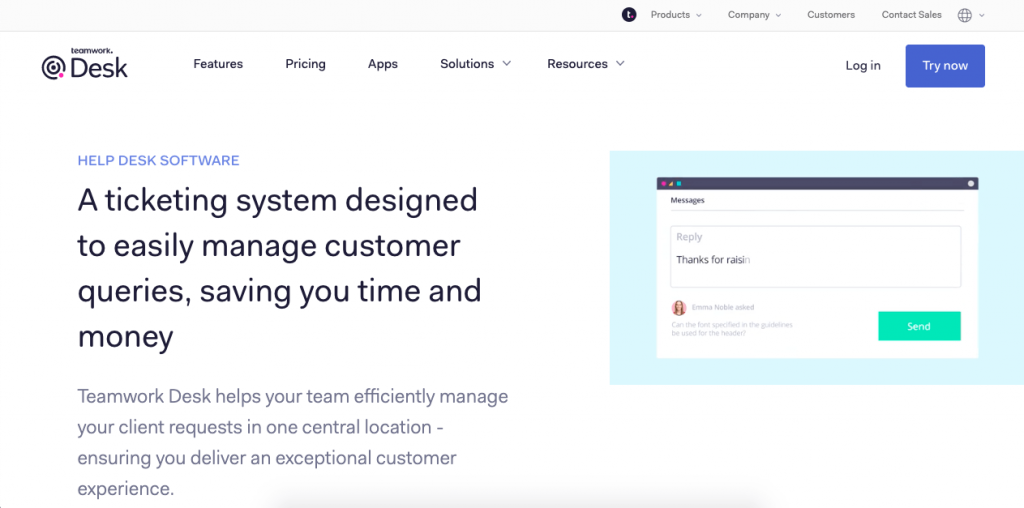 Teamwork Desk is a help desk software that focuses on your customers and their needs. That's why the platform offers you a lot of features to provide excellent customer service, such as shared inboxes, help docs, productivity indicators, and collision detection, to name a few.
Its One View dashboard allows you to see every customer interaction with the right context, so you can give them the best customer service with one look. The platform is very transparent, making it easy to see who's doing what, and how long it's taking.
Pros:
Great integrations
Powerful reporting
Intuitive UI
Cons:
Hard to manage multiple tasks at once
Expensive to unbrand
Spiceworks IT Help Desk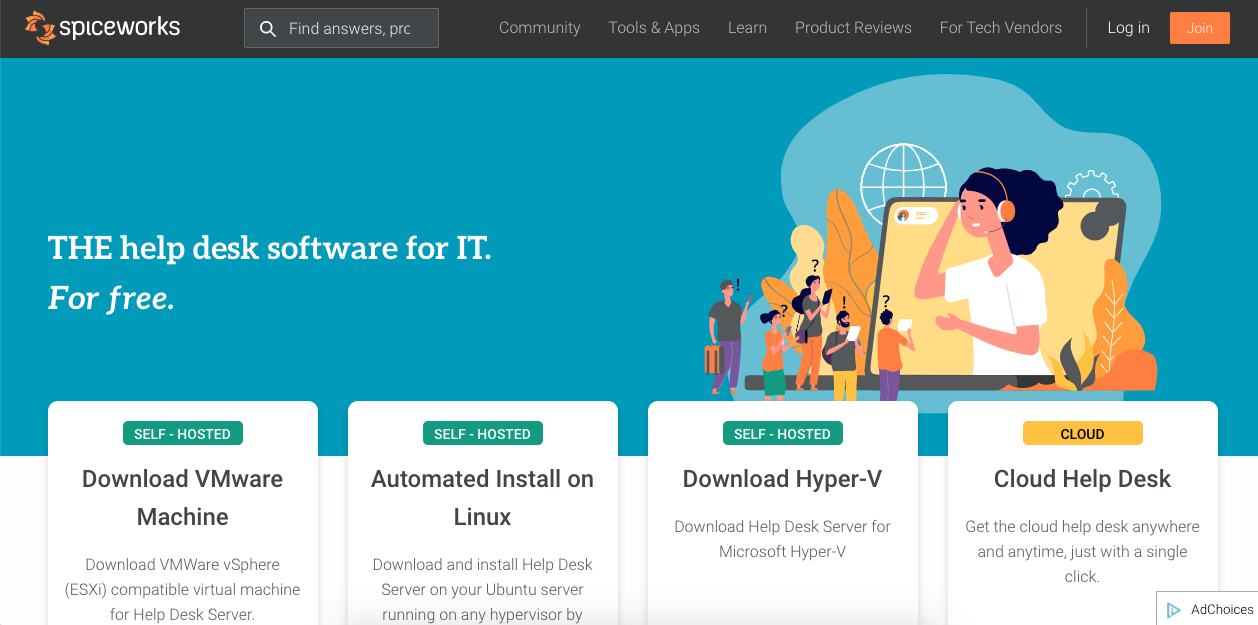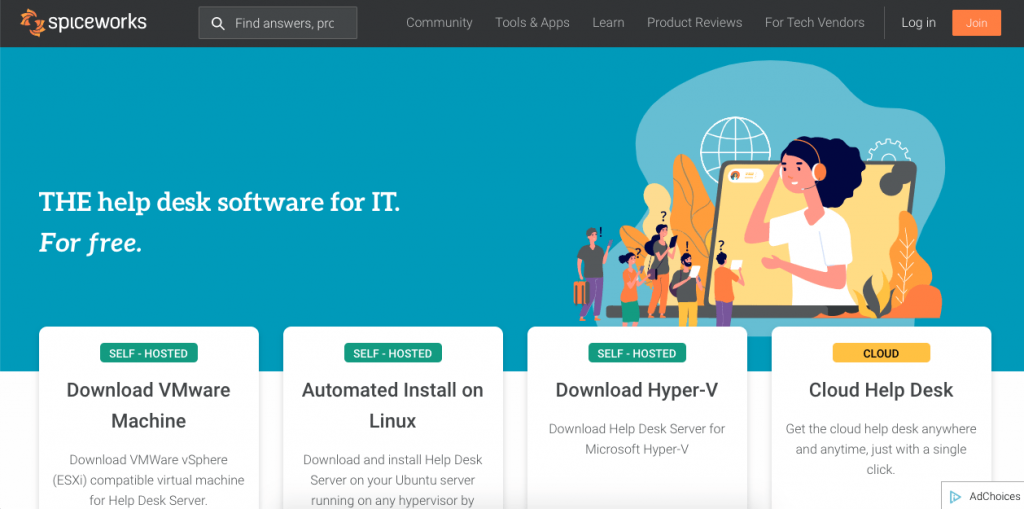 Spiceworks is another customer support solution that's perfect for IT professionals, to help others with work-related issues.
The platform provides a channel for IT experts, vendors, and specialists to help each other and collaborate. Its ticketing system can be downloaded and hosted for free, making it perfect for any small company looking to have an in-house help desk for very little.
Pros:
Powerful capabilities for free
Perfect for IT assistance
Self-service features
Great ticketing capabilities
Cons:
Cumbersome add-ons
Cluttered interface
Not great for non-IT needs
Deskero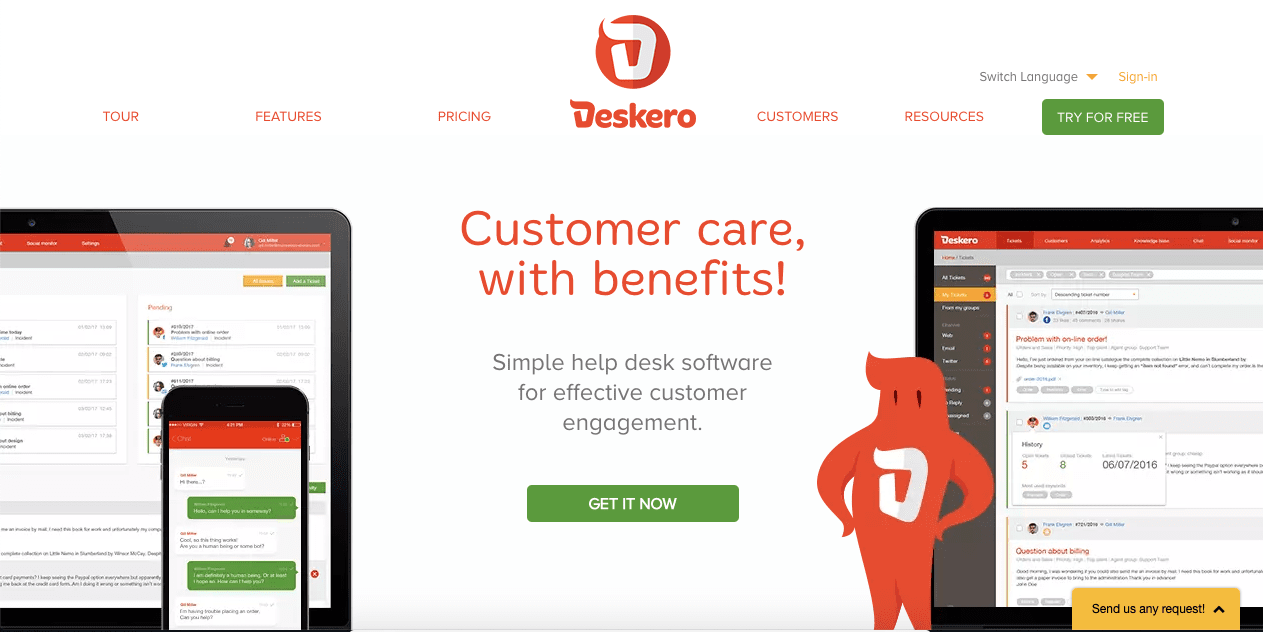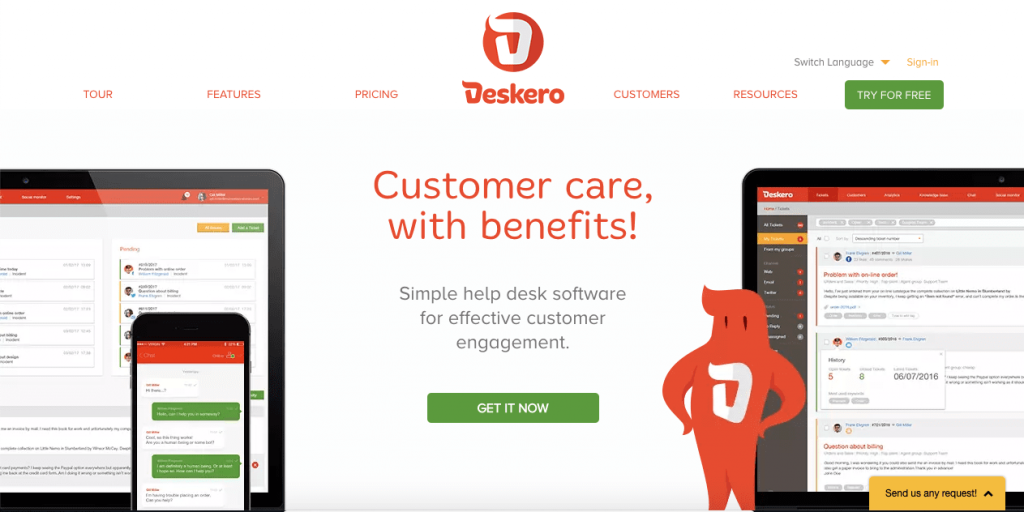 Developed by Nabra, Deskero is a cloud-based help desk management software that's a good option for all kinds of businesses, regardless of their size.
With this software, you will receive powerful ticketing management with detailed ticket configuration rules and custom workflows. You also get chat tickets, social media support, and powerful mobile apps to check on your customer service status from anywhere.
Pros:
Very easy to set up
Friendly UI
Very flexible and customizable
Cons:
Lacking API
Limited capabilities for advanced features
Groove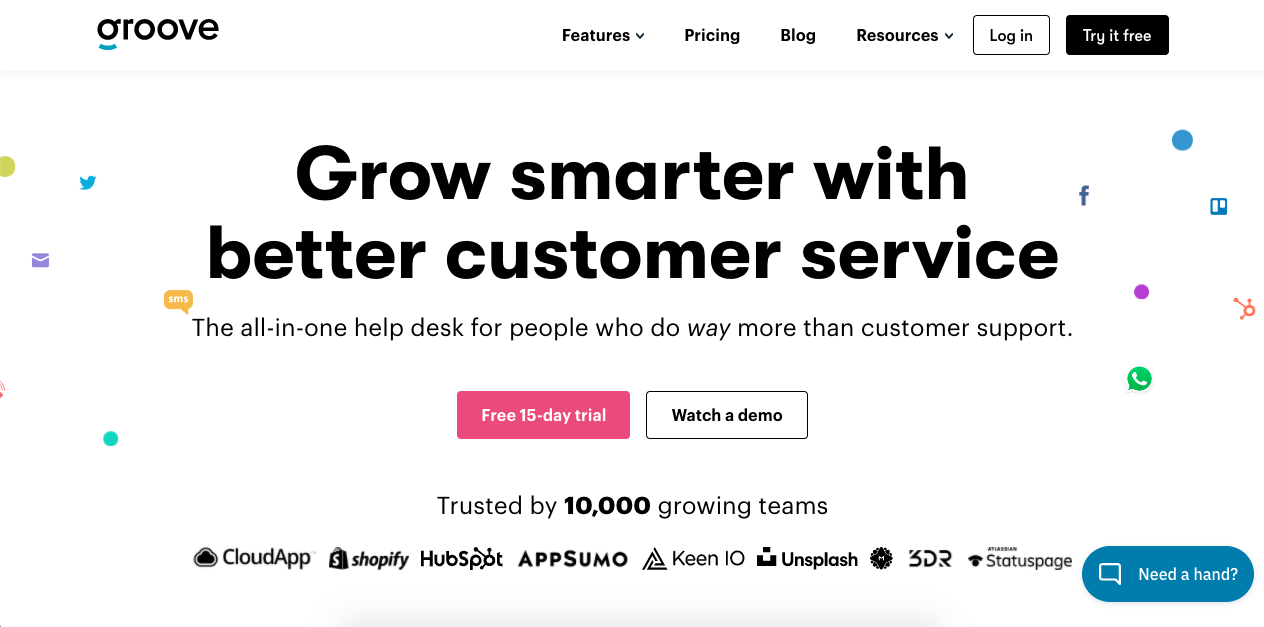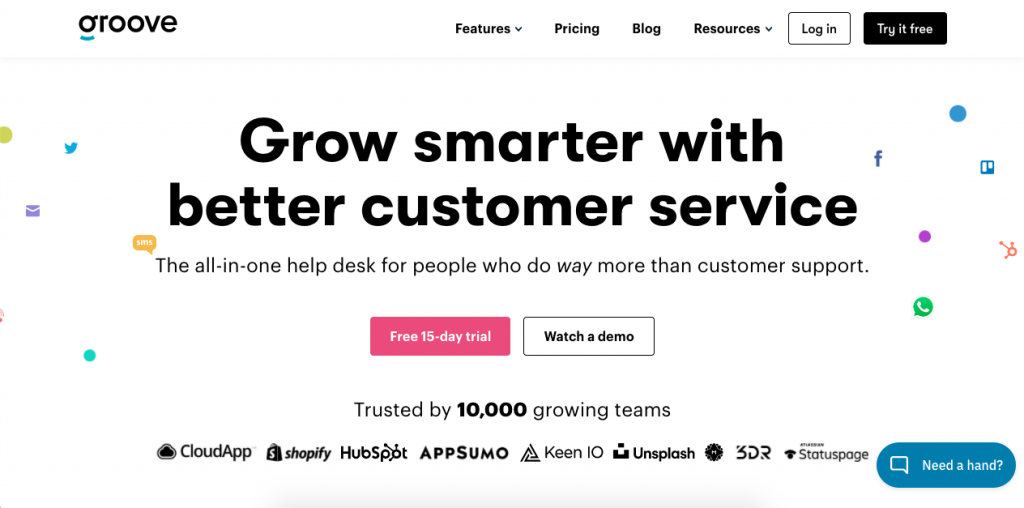 Groove is an excellent customer support software that's perfect for smaller businesses and startups.
With it, you'll get all the features you would expect from a help desk software, such as a shared inbox, self-service features, multiple integrations, live chat, team collaboration, powerful integrations, and more. Groove is also great for sales, with a lot of features to help you convert leads and support customers.
Pros:
Self-service features
Very easy to use and set up
Great user support
Perfect for smaller companies
Cons:
Lacking advanced features
No multi-channel support
Limited ticket management feature
Help Scout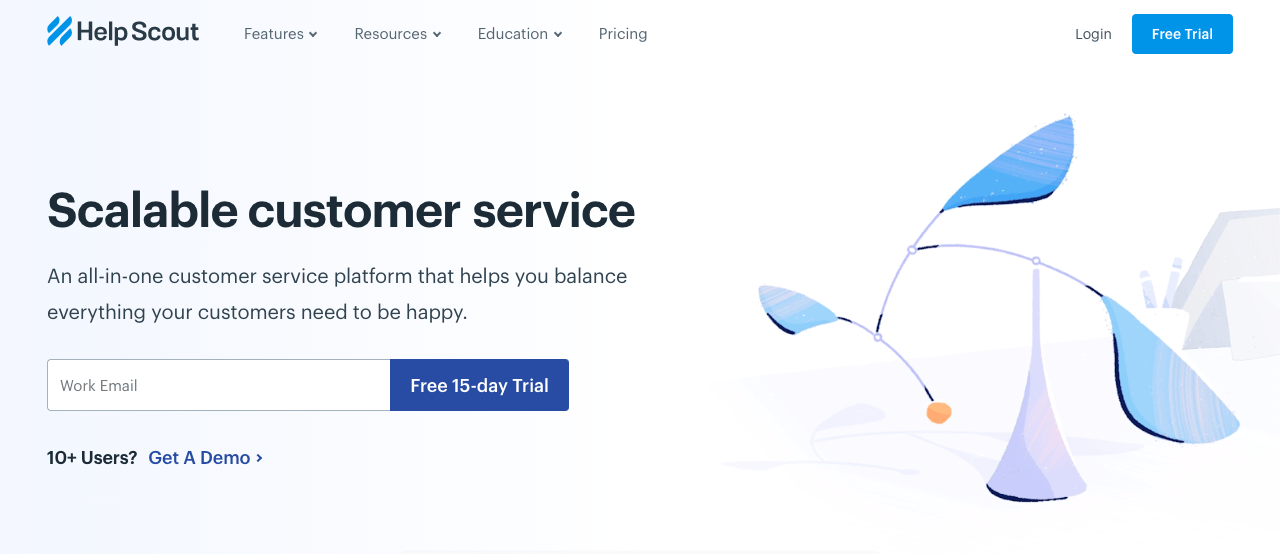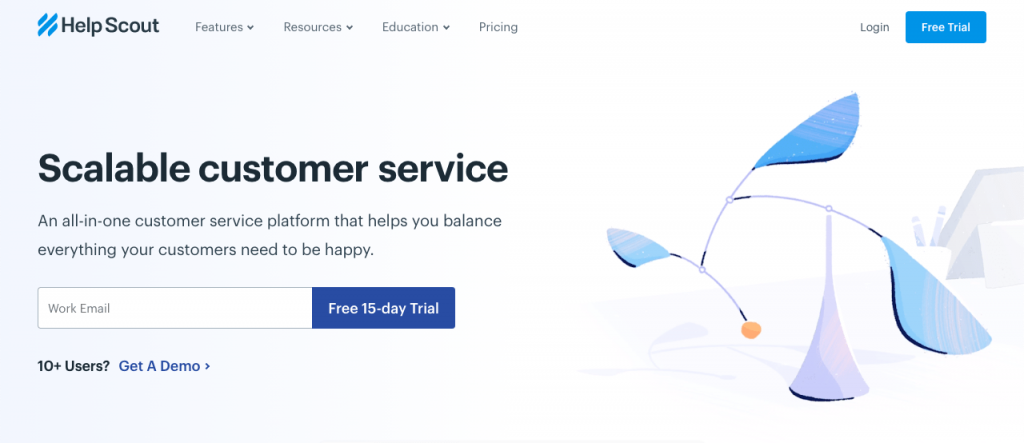 Help Scout is a feature-packed customer service suite with live chat, help desk, knowledge bases, and powerful integrations.
Its advanced knowledge bases and excellent customer features allow you to fully focus on your users, helping them and educating them with just a few clicks. You'll also receive great reports for managing your team and access to its 24/6 customer support to solve any issues.
Pros:
Great customer support
Fairly affordable
Easy to use and install
Shared-mailboxes
Cons:
No customizable interface
Lacking reporting
No automation rules or macros
HelpCrunch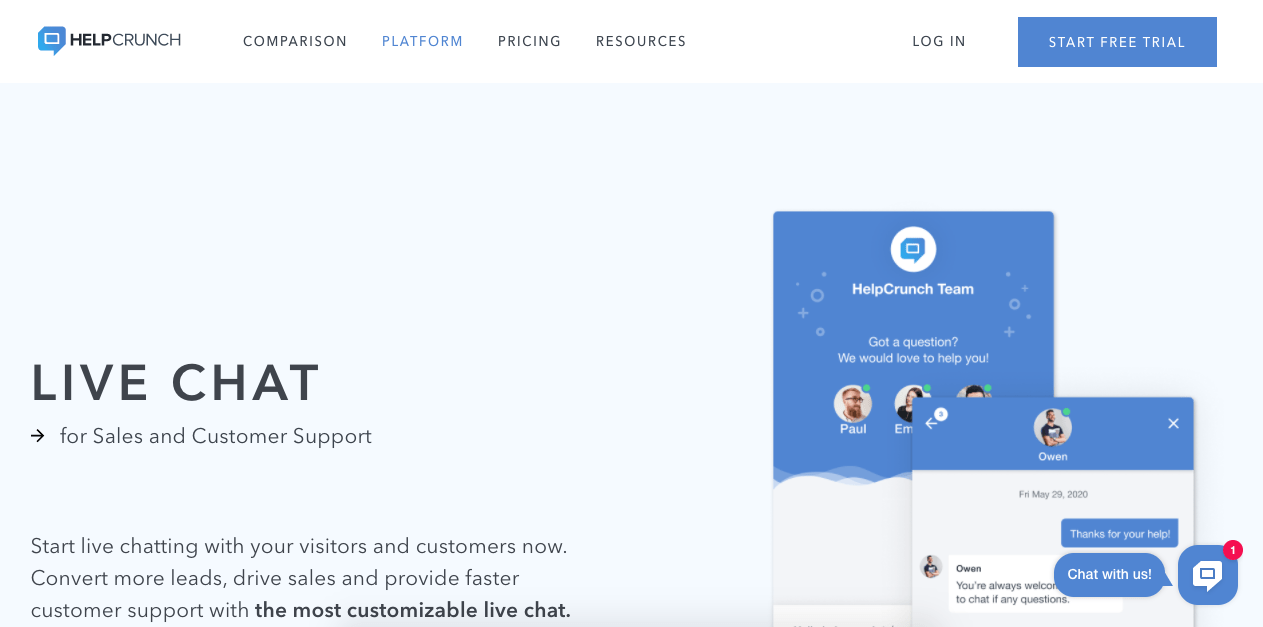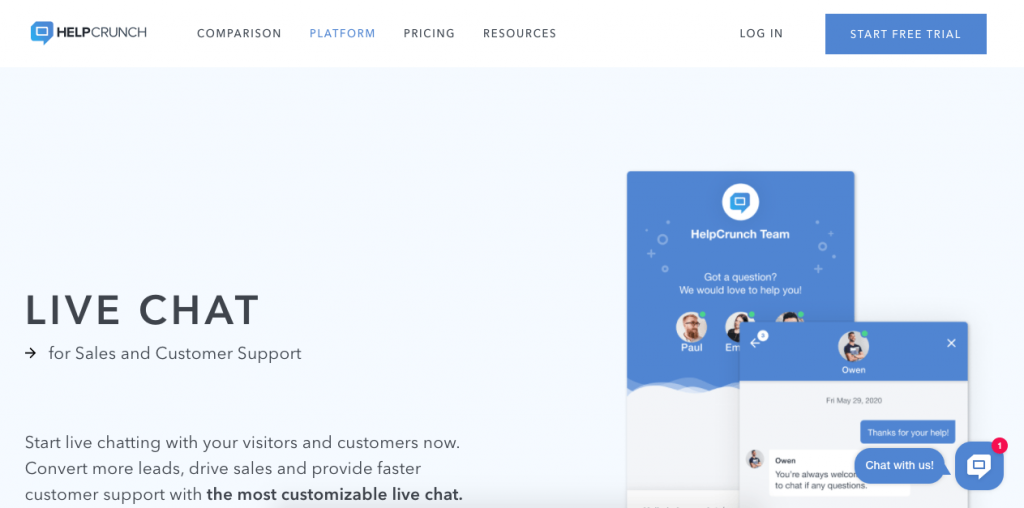 HelpCrunch is a full customer service tool that includes all of the features you'd expect: ticketing, knowledge base, email marketing, and many more.
The platform is very easy to install and use and allows your reps to handle up to five chat sessions at a time. Help Crunch also has great-looking dashboards and powerful performance trackers to keep track of your team's efforts.
Pros:
Multilingual service
Self-service features
Team management features
Fairly affordable
Easy to use
Cons:
Few advanced automated features
No social media integration
Reportedly buggy platform
Dixa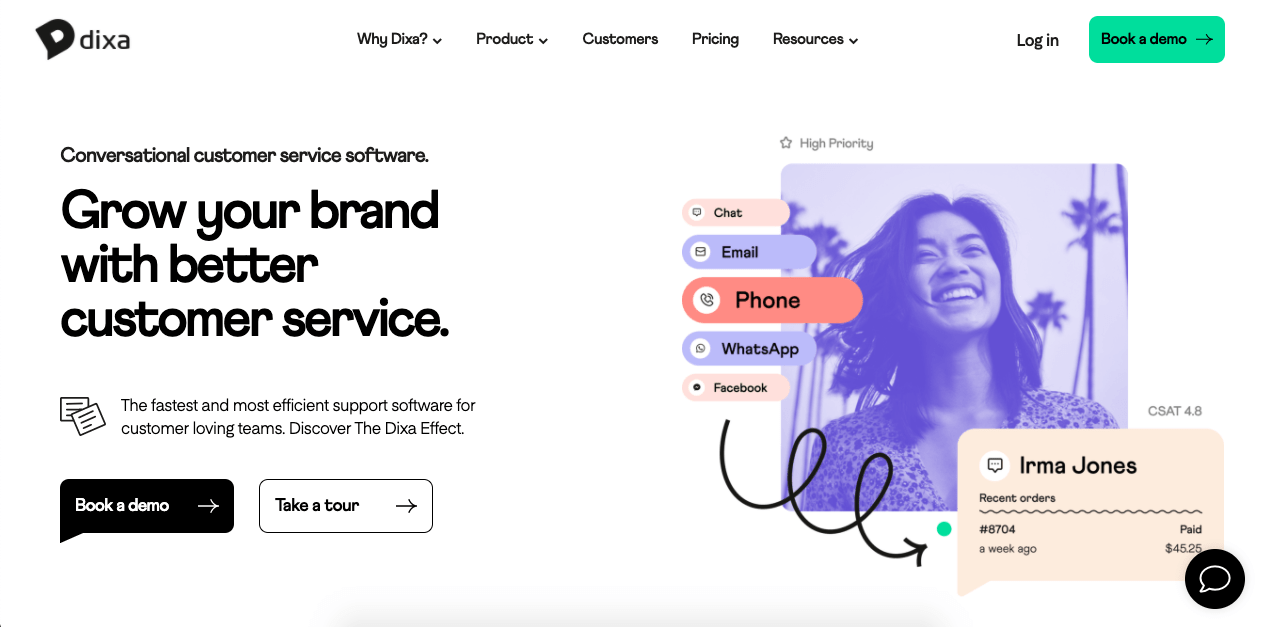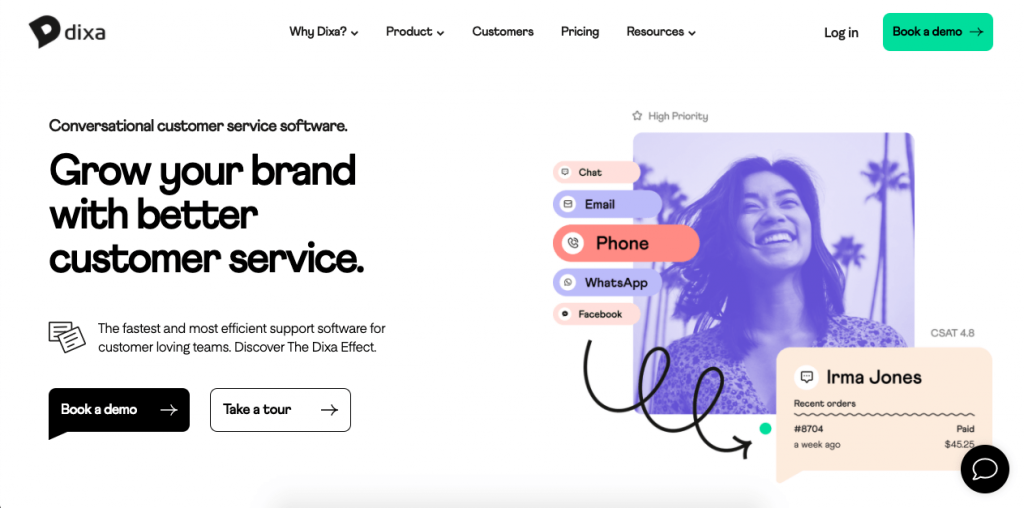 Dixa is a help desk software that allows your service reps to simplify their work process and collaborate.
With Dixa, you'll get great automations, performance reporting, and multi-channel support. You'll also receive real-time performance and a very responsive UI that can easily decrease your agents' navigation time and help them provide high-quality customer service as fast as possible.
Pros:
Great customer service team
Highly-responsive, intuitive UI
Multi-channel support
Good option for call centers
Cons:
Advanced monitoring and analytics are locked behind premium service fees
Lacking third-party integrations
Kustomer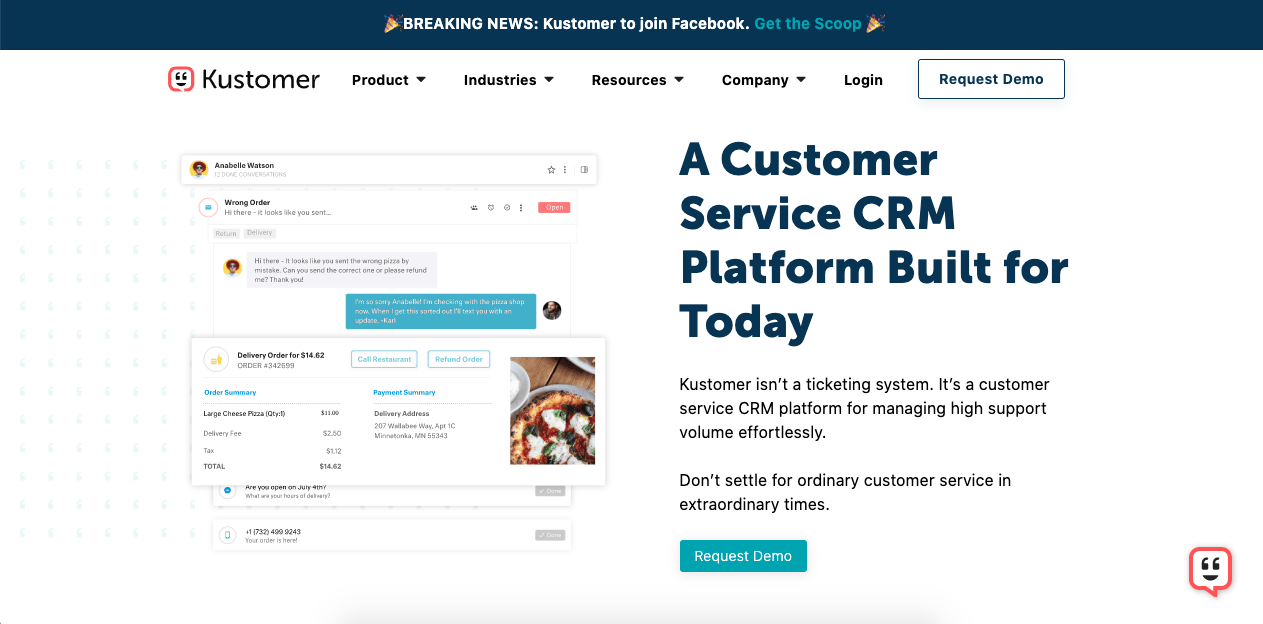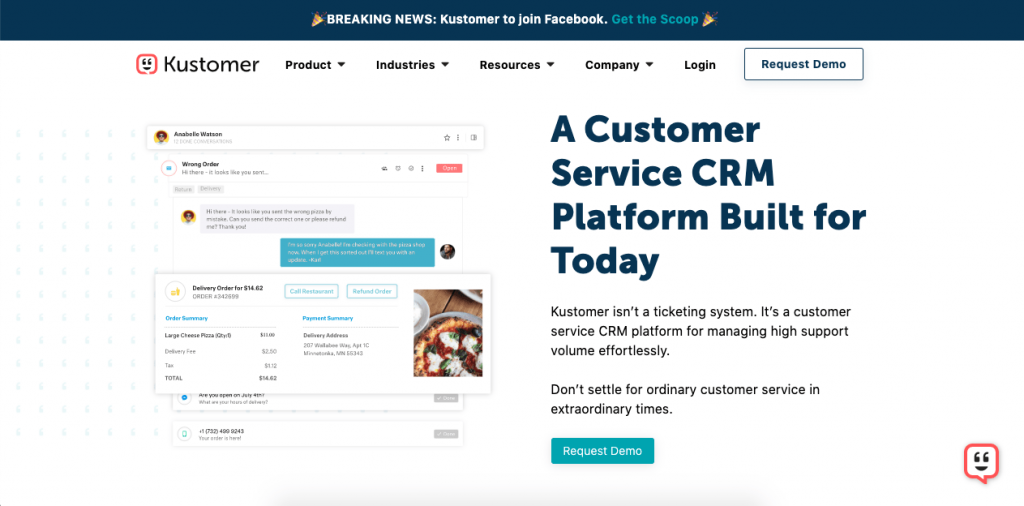 Kustomer is a unique customer service CRM platform that's made to handle a high volume of support.
The platform helps you take care of your users throughout their customer service journey by using powerful automations, intelligent routing, and omnichannel support. You'll also receive powerful reporting, self-service options, AI-driven automations, and fully-fledged CRM.
Pros:
Feature-packed solution
Great automation capabilities
Self-service features
Powerful integrations
Cons:
A bit cumbersome to set up and learn
Not very intuitive reporting
LiveZilla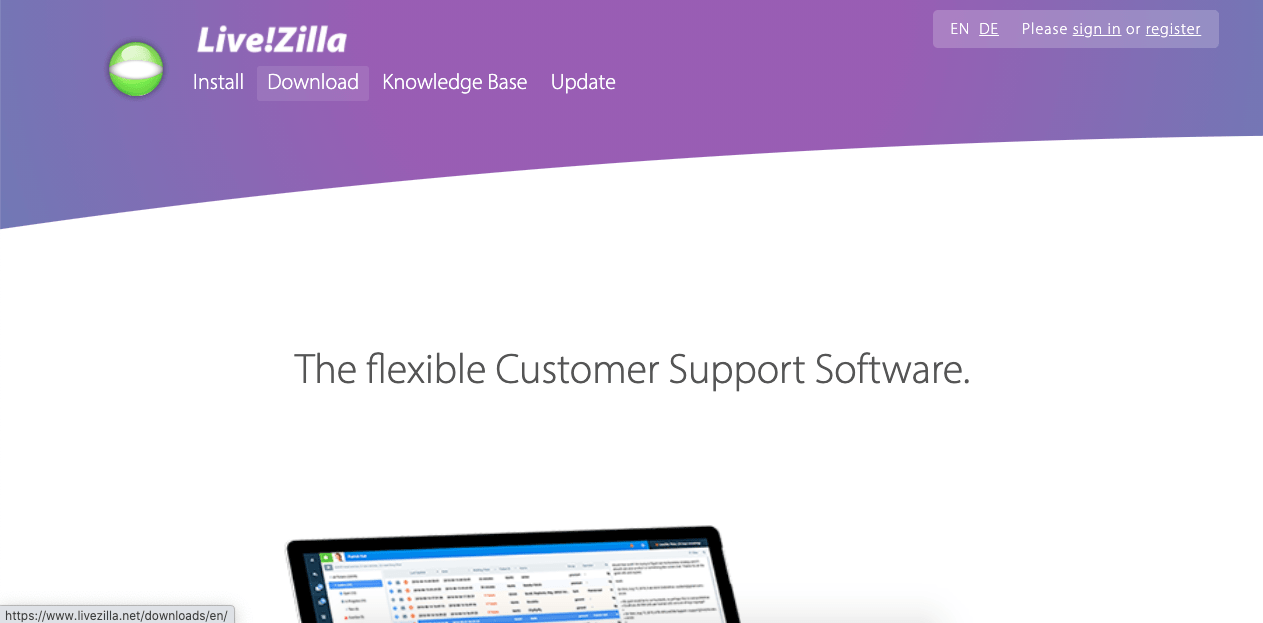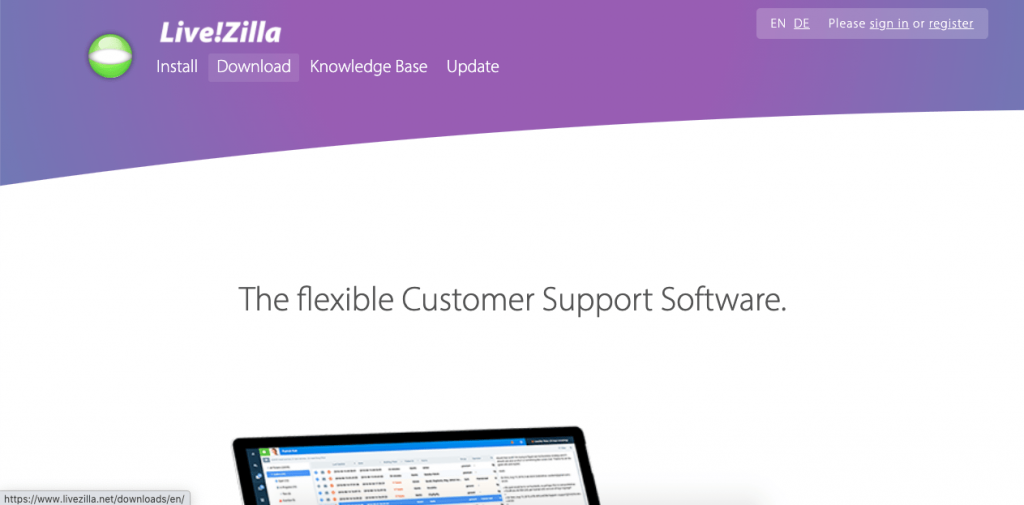 LiveZilla is an affordable and widely used help desk software that's perfect for companies of all sizes. With this platform, you can easily connect with both users and leads through multiple channels.
Equipped with a great live chat and knowledge base capabilities, LiveZilla is great at taking care of your customers from multiple angles. You'll also receive an automated chatbox, transcript reports, and useful notifications.
Pros:
Very affordable
Great ticketing system
Easy to customize
Cons:
TeamSupport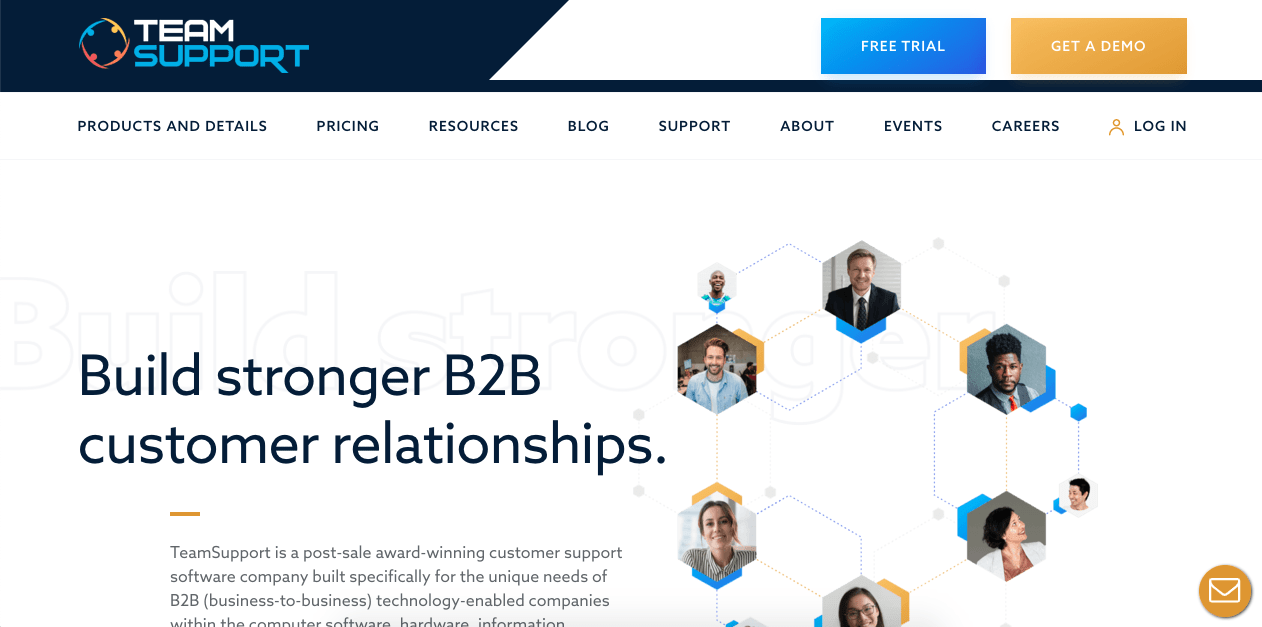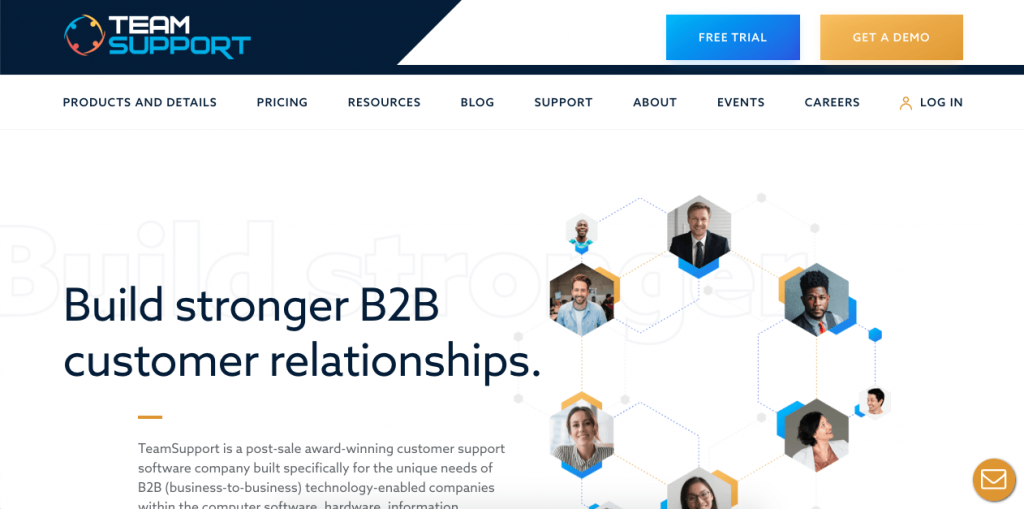 TeamSupport is an all-in-one help desk solution that's perfect for B2B companies looking for an option that's scalable and easy to use.
With TeamSupport, you'll get a consolidated customer view, customer health and satisfaction trackers, self-service options, and even a built-in social network for your team to collaborate.
Pros:
Great analytics
Multi-channel support
Self-service features
Powerful ticket management
Cons
Expensive platform
Lacking general reporting
Hard to customize reports
What Should You Consider Before Purchasing Help Desk Software?
Here's everything you should consider when choosing your help desk solution:
Features
One of the main things you should consider when choosing your help desk software is what you can do with it. Not all help desks are created equal, so you should have a list of must-have features and a list of nice-to-have options.
Look for features like:
Shared inbox: This allows your team to collaborate and keep track of your user's requests.
Ticketing system: This will make it easy to create, track, complete, and retrieve tickets from all over your help desk solution.
Live chat: This is useful for giving users answers to their questions as they're navigating your website. It should ideally integrate with the ticketing system.
Self-service features: Knowledge bases and other options are good for users who first want to try to solve their problem themselves, and they can drastically reduce your customer request volume.
Multi-channel support: Your help desk should help you handle your social media, website, app, and every other channel you may have.
Reports and analytics: These are necessary for keeping track of your customer support progress, identifying trends, and finding new ways to streamline your support.
Cost
Once you have a list of features, you should know how much you're willing to pay for them. Usually, the more you can pay, the more advanced features you can get, and the more agents you can add to your help desk software.
When setting up a budget, remember that a good help desk software can increase your bottom line in the long term. Plus, excellent customer service is always a great investment.
If your company is new or small but steadily growing, look for affordable solutions that are easy to scale up. Pay close attention to the pricing, and always take a good look at the fine print about how often you'll pay, how long the payment term is, and which features you'll receive.
Integrations
Your help desk software should ideally integrate with the tools you're already using. Look for solutions that can integrate with your website, CRM, social media, and any other platform right out of the box.
If you can, you should also consider API integrations when your ideal platform doesn't offer the integrations you're looking for.
Usability
Lastly, the most affordable, feature-filled help desk software can be of little use if its UI isn't very intuitive or if setting it up is hard and confusing.
To avoid this, read customer reviews before making a decision. Who uses it? Why? Can you find companies like yours that are currently using it? What do they have to say about it?
Always take advantage of free trials and get your teams to try them and let you know what they think about the platform.
Remember, it's not just about having your current team use it. It should also be easy enough to teach to future employees.
Take your time and always make sure your help desk software is as intuitive as possible.
Everything You Need to Know About Help Desk Tools
Here are the answers to your most frequently asked questions:
What is an online help desk?
An online help desk refers to any software that's meant to organize customer communication to help a company answer customer questions and inquiries as quickly and effectively as possible.
What is a help desk ticket?
A help desk ticket, or a support ticket, is a digital representation of a customer problem. It's created when a user has an issue, and is filled with the details of both the issue and the user for the company to look at and resolve.
Once any issues are resolved, the customer will be notified and the ticket will be closed and archived for future references.
Why should you use help desk software?
You should use help desk software if you want to keep your user interactions organized so multiple customer service reps can take care of multiple users.
Help desk systems help you manage customer interactions, contextualizing them and fulfilling them. They also help to ensure all your customers are heard and all feedback is integrated into your company.
What is help desk software used for?
Help desk software is used by a customer service rep or team to manage customer interaction and improve customer happiness.
How do you use help desk software?
It will depend on the kind of help desk software you own. However, most help desk tools are based around customer interaction and a ticketing system to keep track of your customer requests.
What is the best help desk software?
The best help desk software is the one that has all the features your company needs, fits within your budget, and integrates with the tools you're already using.
What is the cheapest help desk software?
There are many affordable options for help desk software, with some including limited free versions for you to use.
Are there free help desk tools?
Yes. Many help desk tools offer a "forever-free" tier that, although limited in features, can be used without any charge.
Conclusion
Help desk software is vital to keep customers happy and keep your customer service reps busy and productive. With the right help desk, you'll not only get a better bottom line, but you'll spend less time on repetitive issues and more time with your customers.
Start using Messagely's free trial today, and see how it can help you acquire new customers and keep the ones you already have as happy as they can be.