In this article, we'll outline the best knowledge base software solutions so you will know which one will be the best fit for you.
We'll also discuss:
The importance of knowledge bases
How to pick the right knowledge base software
The most important features in knowledge base software
What these knowledge base solutions do best and worst
By the end of the article, you'll know exactly how to choose the right knowledge base solution and recognize which knowledge base solutions are the best options for you and your business.
Let's get started.
What is Knowledge Base Software?
Knowledge base software refers to programs and online solutions that can create, file, and populate your knowledge base.
Although you can create your own knowledge base, knowledge base software makes it far easier and can streamline the creative process while providing users with a better navigating experience.
Benefits of Using Knowledge Base Software
These days, the average mid to large company, from Walmart and Amazon to SaaS startups, have their own knowledge bases to help users and employees.
However, not every company has thousands of dollars to spend on developing a knowledge base infrastructure from the ground up, and even companies like Microsoft choose to use a knowledge base software rather than developing one themselves.
Why?
Because they make things easier and more effective.
Knowledge base software lays the groundwork for an intuitive, responsive, and effective knowledge base, leaving you with only the job of creating the content.
With these solutions, you don't have to worry about making continual improvements, positioning your keywords, or maintaining your clients' interactions with your knowledge base. This is all done for you, and more.
What Should You Consider Before Buying Knowledge Base Tools?
Here are the main things to consider before purchasing a knowledge base tool:
Pricing
Before you begin searching for a knowledge base tool, you need to set up a budget. Since most knowledge base solutions charge per month and per user, define how many users will need to have access to the tool.
If you don't have a budget, there are free account options available, but be ready to sacrifice functionality and have your knowledge base linked to its host company.
Scalability
Although most knowledge base tools can easily scale up to as many users you need, many can quickly raise their prices with their users.
Set a goal involving the number of users you expect to have in the near future. Keep in mind that it's not just writers who'll need to have access to the knowledge base. Customer service reps should also be able to create tickets to fill knowledge base gaps.
Integrations
Your knowledge base should easily integrate with the tools you already use. This will allow you to import all of your information, inform the creative process of your knowledge base, and streamline your process.
Ideally, your knowledge base will have native integrations with your business software. If it doesn't, many offer APIs so you can develop a connection to it, but you'll likely need technical knowledge to do it.
Features and Usability
The perfect knowledge base software should be as easy to use as possible so newcomers can have an easy onboarding experience.
Depending on your needs, you'll need different features. Some solutions, like Messagely, are fully-developed customer service platforms. This allows you to tackle your customer service in an integral way, from talking to your customers to developing the articles you need.
Keep in mind, the job isn't over just because you've developed your knowledge base. Look for features that allow you to audit your knowledge base, find knowledge gaps, and allow user interaction to let you know how useful the information is.
Best Knowledge Base Software: 15+ Knowledge Base Tools Compared
Here are the best knowledge base tools compared and reviewed:
1. Messagely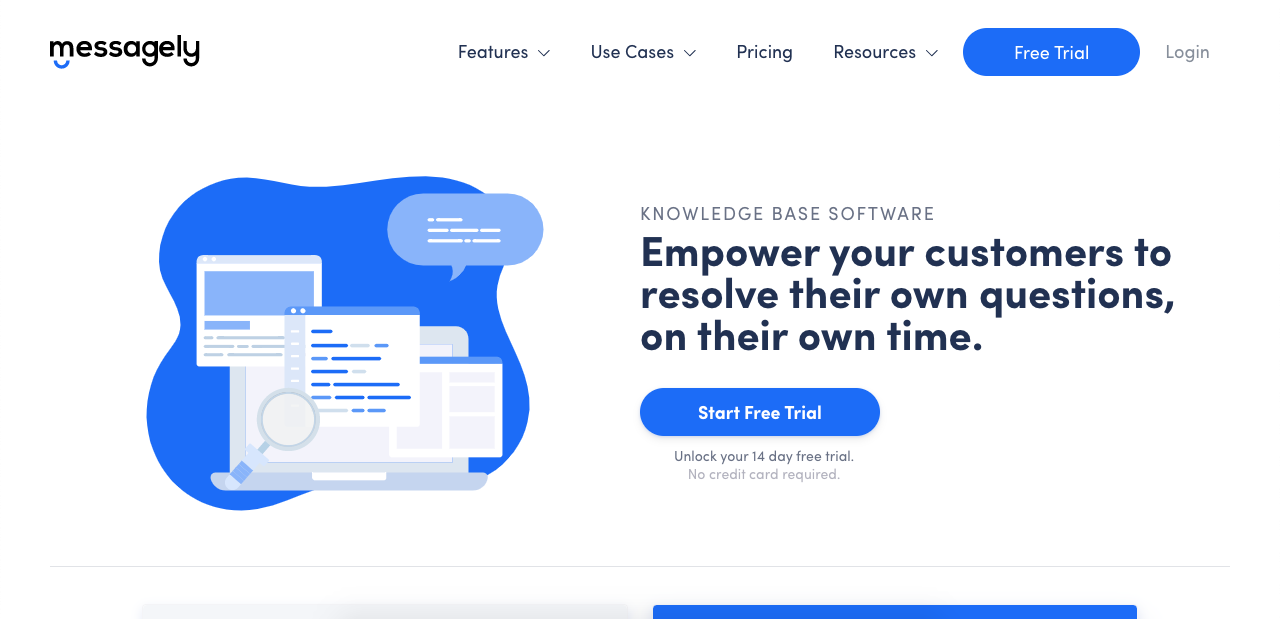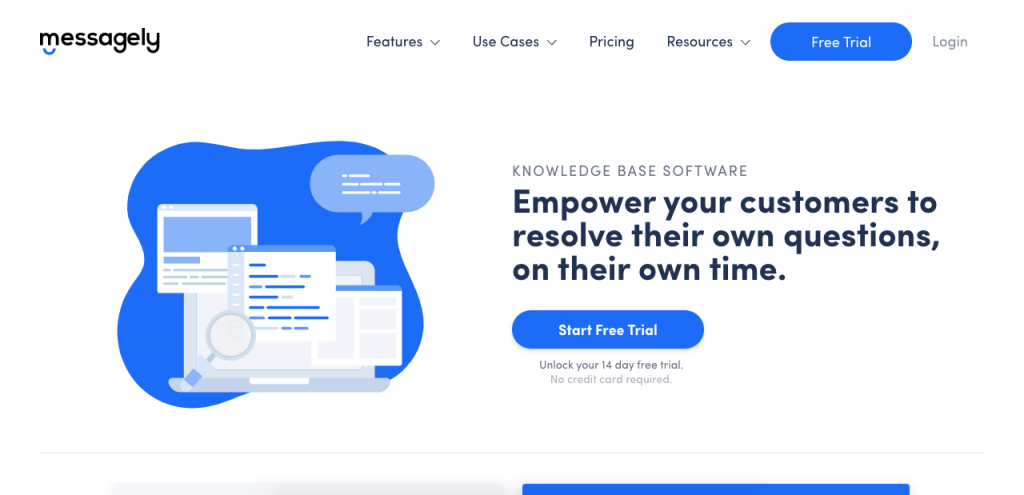 Messagely has a powerful and easy to use knowledge base software to let you improve your customer support and relations.
With Messagely, you can build a documentation-rich knowledge base that's easy for all users to access. That way, your customers can solve their own questions 24/7.
Great integrations
Messagely has powerful integrations with tools like:
Salesforce
Slack
Google Analytics
Stripe
Zapier
HubSpot
Shopify
Pipedrive
…and many more
Plus, Messagely's knowledge base software seamlessly integrates with the rest of the Messagely platform.
Customer interaction
The best way to truly know the effectiveness of your knowledge base is by asking your users.
With Messagely, users can directly interact with your knowledge base by letting your customers rate your articles. You can also gather vital information on failed searches, meaning you know what your users are searching for but aren't finding.
This allows you to improve your knowledge base continuously, ensuring your users are finding the information they're looking for when they're looking for it.
Comprehensive platform
Messagely isn't just for making effective knowledge bases. Knowledge base building is a part of every pricing plan and integrates with the rest of Messagely's capabilities. This includes live chats, chatbots, integrated inbox, and everything else you need to allow you to offer the best customer service you can.
By getting a comprehensive customer solution, you can easily provide integral customer support while making sure you're not overspending.
Pricing
Pricing starts at $29.00 per month for the Basic tier and includes 1000 contacts and one seat. You can purchase an additional thousand contacts for only $10 per month, and more seats for $15 each. This plan includes:
Live Chat
Targeted Messages
Shared Inbox
Knowledge base
Live View
iOS & Android Apps
750+ Integrations
Our most popular plan starts at $49.00 per month for the Plus tier and includes everything that comes with the Basic tier, plus advanced knowledge base customizations and other advanced and automated options.
And for $79.00 per month, you'll get the Pro plan, which includes everything that comes with the Basic and Plus tiers plus chatbots, Account-Based Marketing, and more advanced integrations.
Start your free trial today.
Pros
Very easy to navigate
Basic plan includes Knowledge Base software
Integral approach to customer service
Powerful integrations with your favorite tools
Great options for customer interaction
Cons
Works better for users aiming to solve all their customer service needs, not just knowledge bases
2. Helpjuice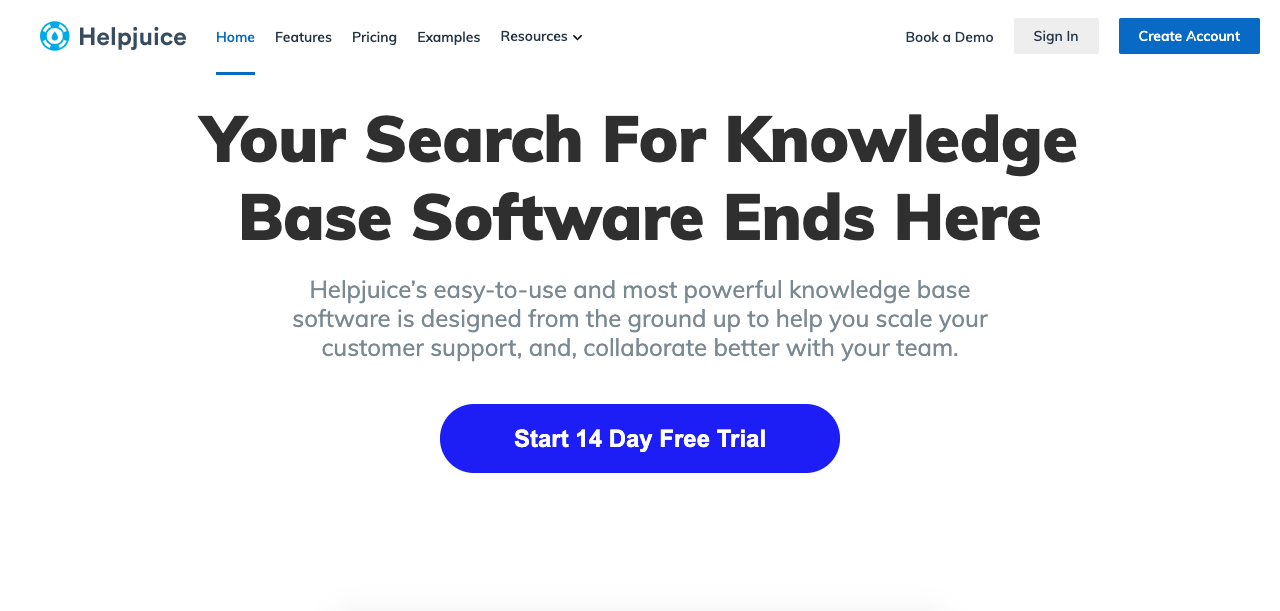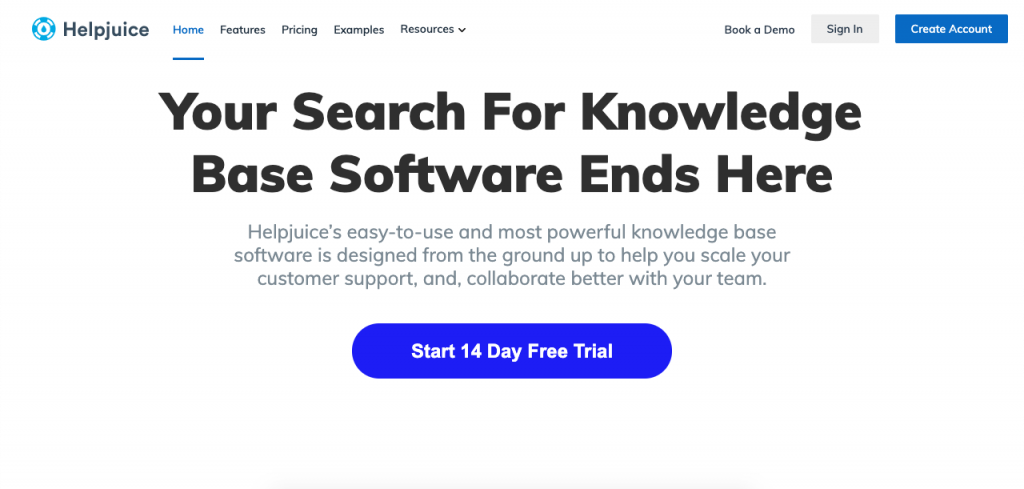 HelpJuice has a very feature-rich text editor, which makes it very easy to write comprehensive knowledge bases. It's very intuitive, modern, and easy to use by yourself or with a team.
With HelpJuice, you can create knowledge bases with multiple accesses. You can create public articles, internal articles, articles only accessed through URLs, and articles only visible to specific users.
By giving you multiple options for your articles' privacy, you can easily create both external knowledge bases for your clients and internal, multi-layered knowledge bases for your staff.
HelpJuice also has great knowledge base analytics showing you important data such as search terms used, the activity of your authors, and much more.
Pricing
HelpJuice is one of the better knowledge base software available, which is reflected in its pricing. The tiers start at $120 per month for 4 users, and its Premium tier with unlimited users costs $660 per month.
Pros
High functionality
Very easy to use
Great for multi-layered internal knowledge bases
Great reports
Cons
Expensive
Doesn't have integrations
3. Tettra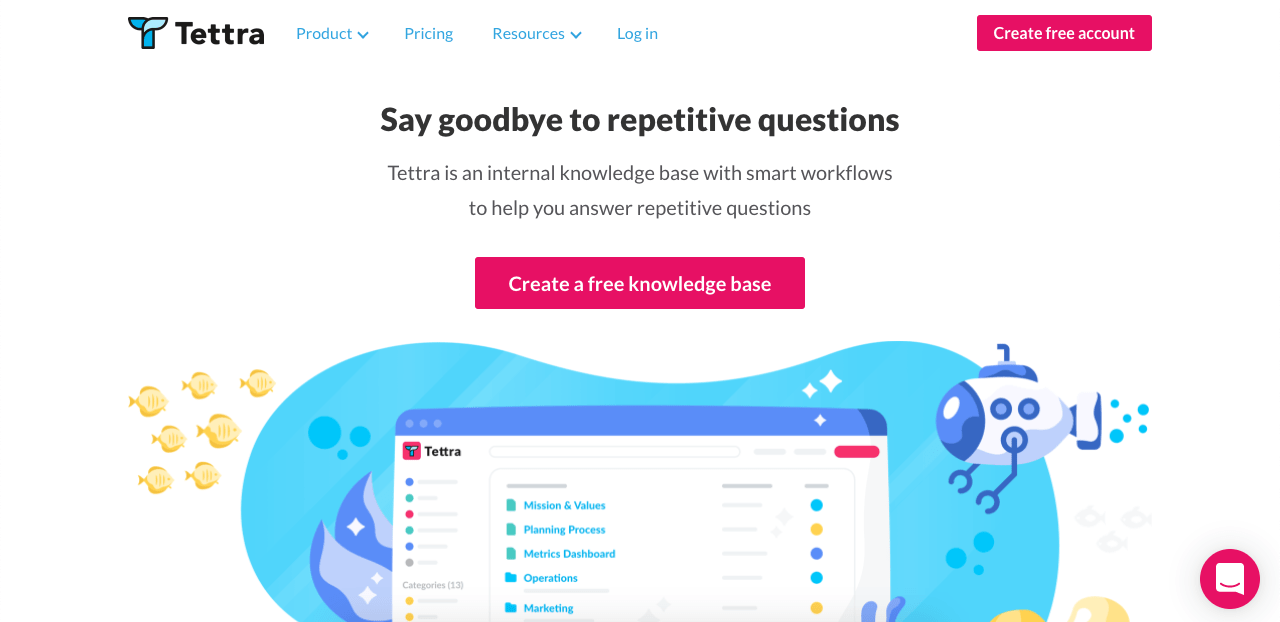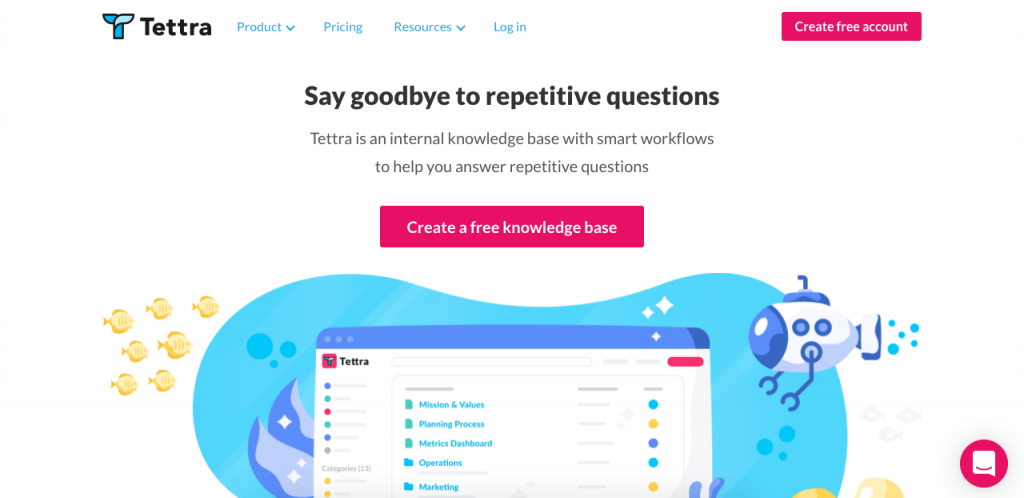 Tettra is a powerful knowledge and content manager designed for Slack teams to make collaboration as easy and effective as possible.
With Tettra, anyone can easily collaborate and work on your knowledge base without stepping on anyone's work. Tettra also features smart suggestions that can help you guide your beginner users, telling them which content to add and alerting them of content that is no longer relevant.
Tettra also makes it easy to train your newcomers through internal knowledge bases with customized permissions so only your writers can edit articles. Its editor is very intuitive, streamlined, and easy to use.
Pricing
Tettra's plans range from $39 to $99 per month, and there's a free plan available.
Pros
Great Slack integrations
Multiple integrations available through Zapier
Great for teams
Surprisingly useful smart suggestion tool
Daily updates for constant monitoring
Great editor
Cons
No native integrations
No analytics tool
4. Zendesk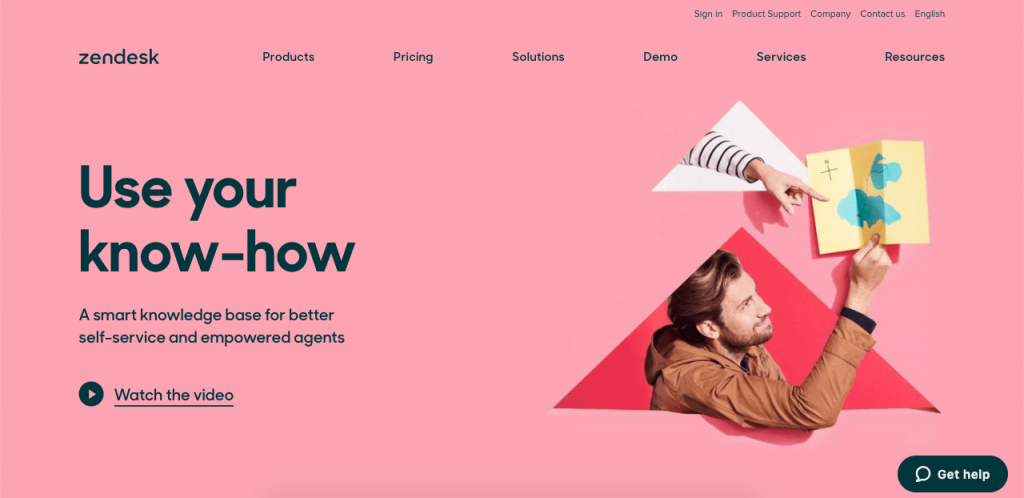 Zendesk is one of the most popular and better-positioned customer service solutions available. Just like the rest of its large suite of tools, knowledge management is powerful and easy to use, so it's no surprise to see its services priced accordingly.
When it comes to knowledge base articles, Zendesk allows for a ton of customization through beautifully-designed themes and a very easy-to-use editor. You can even import your documents directly from Google Docs to get you started with what you already have.
Zendesk also offers great unique features, like allowing you to check your content history and restore an old version of an article or customize your author's publishing permissions.
The platform also has multiple pricing plans that are flexible enough for anyone, from small teams looking for a simple knowledge base tool to large companies looking for a full customer management solution.
Pricing
Although there's a free Zendesk version, the version you'll need for knowledge base creation is the Support Suite, which starts at $89 per agent per month. You can also reach Zendesk to custom build your personalized solution.
Pros
Allows for multilingual content
Great integration with Zendesk's other customer service products
Google Doc import
Great customer service tool included
Allows for advanced tools and options
Cons
Knowledge base options are expensive
Not great for internal knowledge databases
Slightly higher learning curve than the rest
No custom options for SEO
5. SABIO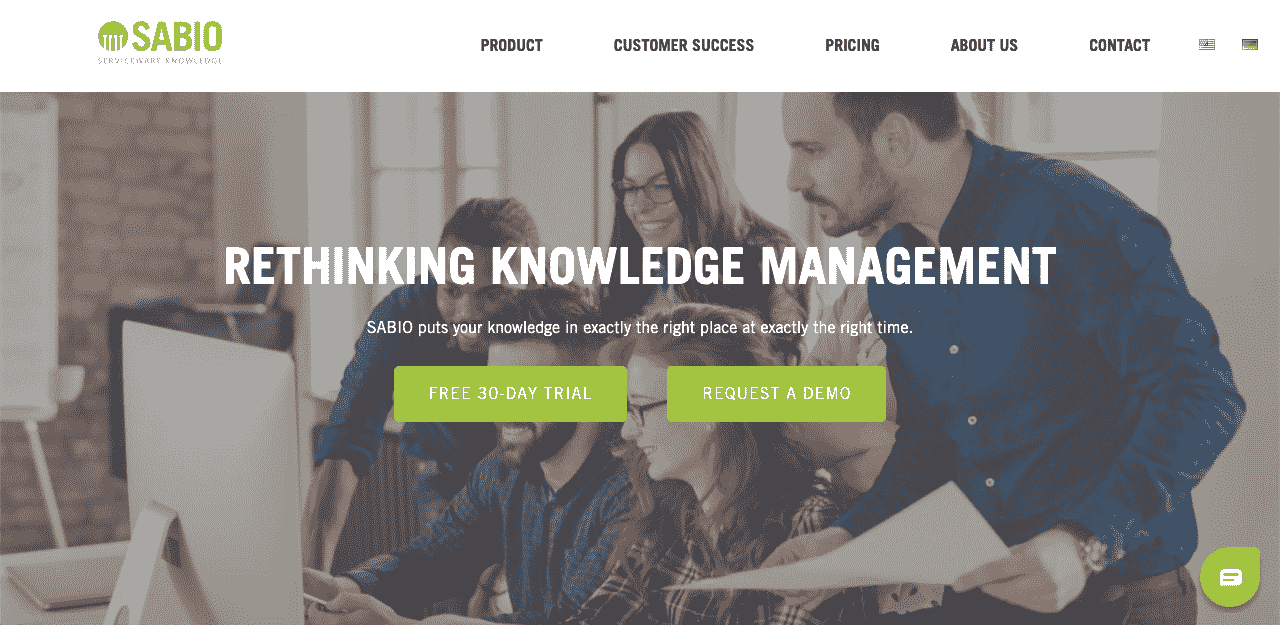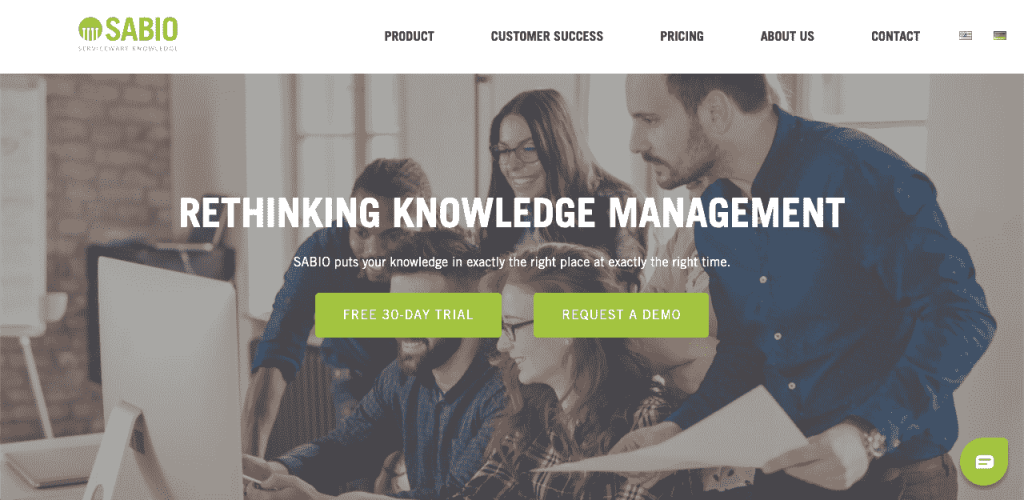 SABIO is a SaaS-based tool that makes it easy to develop and update your knowledge base.
SABIO has a great user interface that's intuitive and easy to use. It offers powerful integrations with ticketing apps and CRMs, so you can always implement your customer's needs in your knowledge base.
With SABIO, you also get access to its powerful search technology, which makes navigation far easier. SABIO also allows you to set up users' roles and permissions according to your needs.
The SABIO editor makes it easy to create articles through templates and streamlined collaboration. Once your knowledge base is online, SABIO offers you powerful reports and statistics to simplify your upkeep process.
Pricing
SABIO starts at only $8.00 per user per month for its Team Edition, with more advanced tiers going for $12.00 and $17.00, making it quite affordable.
Pros
Affordable solution
Great reporting and analytics
Powerful editor
Allows for customized permissions
Simple and intuitive platform
Cons
Not very well known or proven
Limited integrations
6. HubSpot Service Hub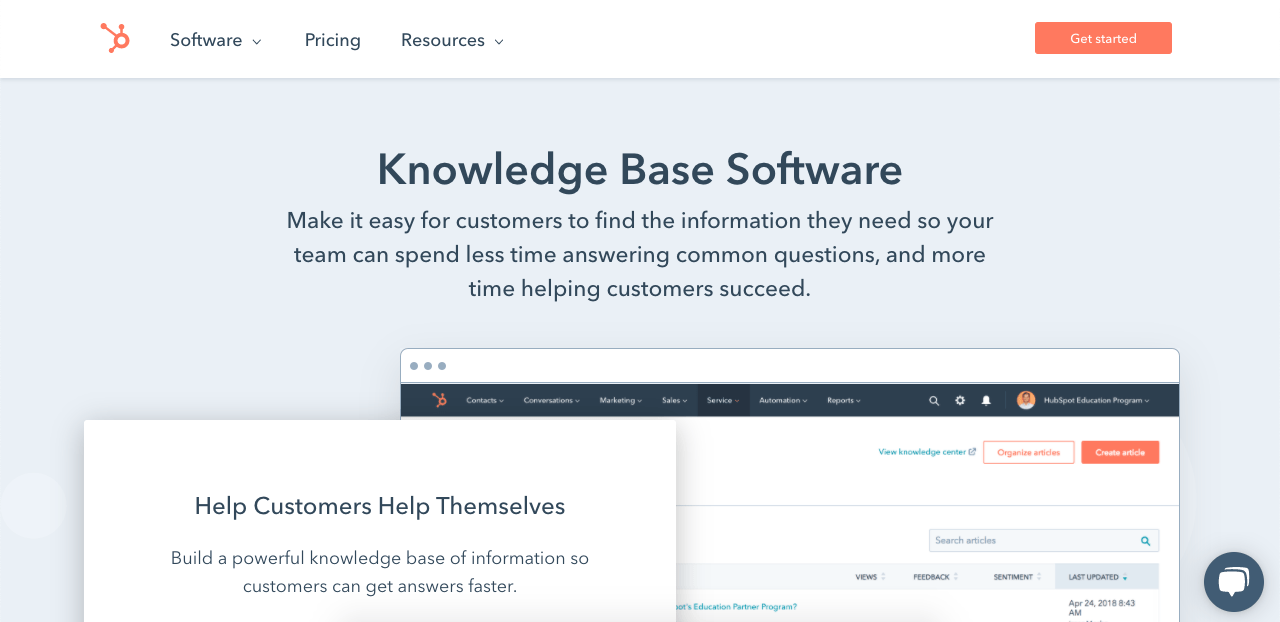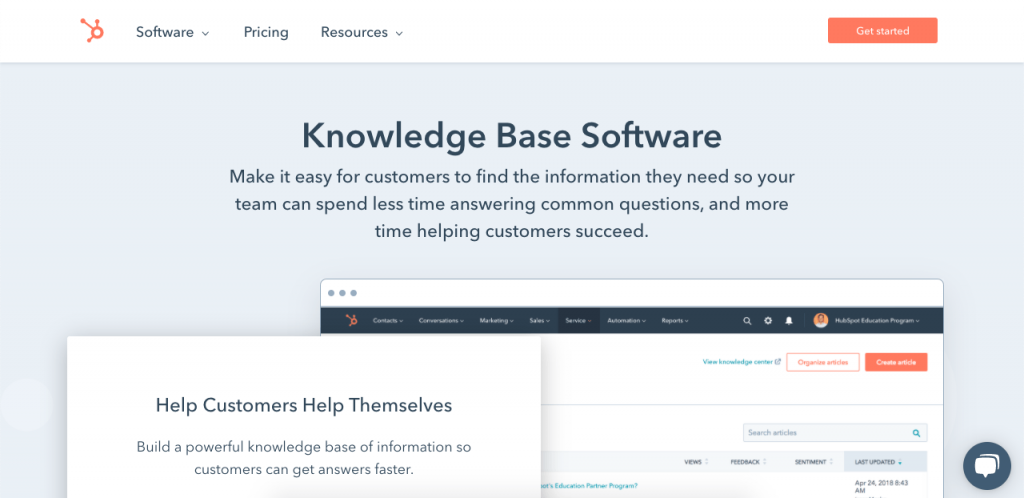 One of the largest names in customer service is HubSpot, so it's not surprising that its service hub includes a powerful knowledge base software.
With HubSpot's Service Hub, you can join all customer service data into a single stream of information, which allows you to build powerful and data-driven knowledge bases. You also get powerful reporting and seamless integration with multiple apps and the rest of the HubSpot platform.
Pricing
Although the HubSpot platform starts at $40 per month, its Knowledge Base tools are only included in the Professional tier, which costs $320 per month and includes up to 5 users.
Pros
Very easy to use
Proven and popular platform
Powerful integrations
Multi-language support
Great analytics
Good for internal and external knowledge bases
Cons
Knowledge base tools are only included in expensive plans
Not great for people looking for only a knowledge base tool
7. Help Scout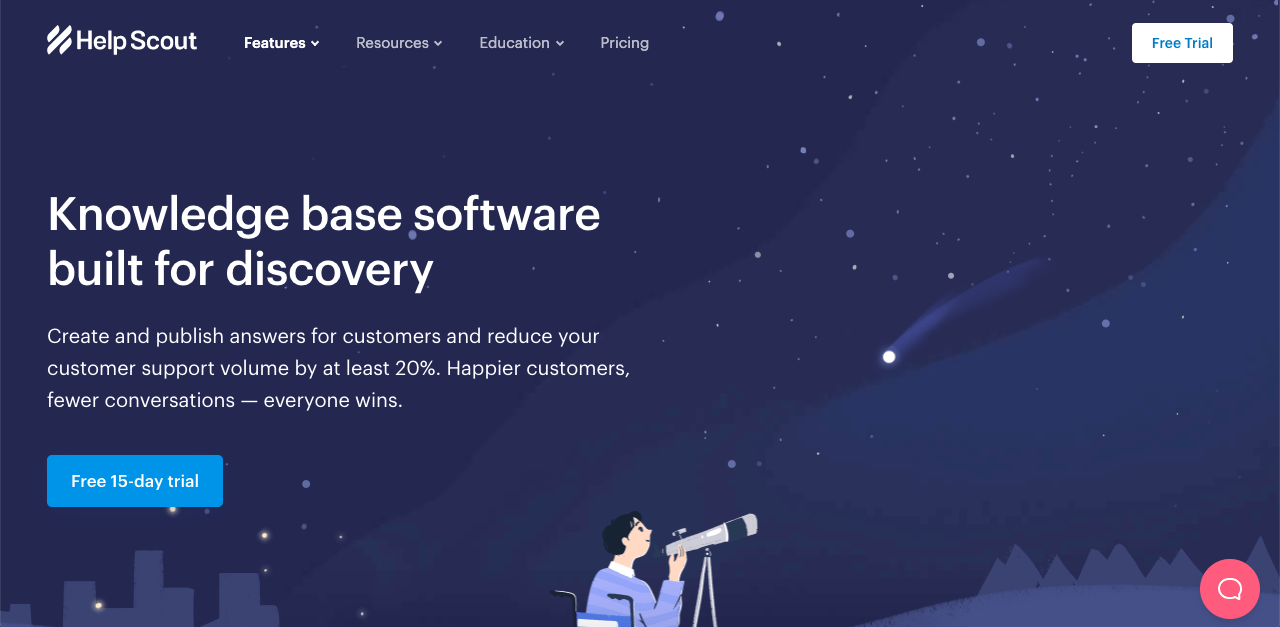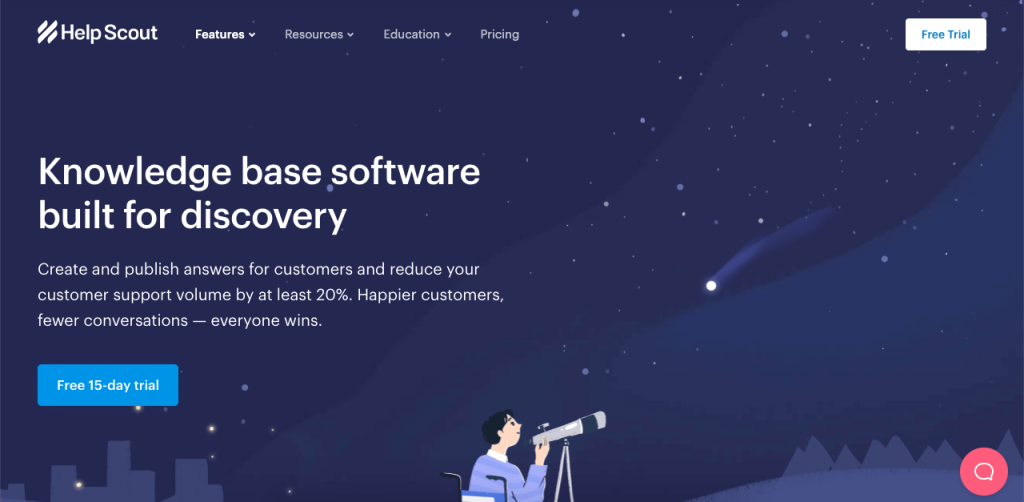 Help Scout is a simple knowledge base solution with a powerful free version, which is great for freelancers and small businesses that can't really afford to pay a lot of money for their knowledge bases.
With multiple powerful integrations, Help Scout works with your favorite tools, and it's so easy to use your team will likely need very little training, if any. The platform also allows for customer satisfaction ratings and has its own Help Desk and analytics.
Users also praise Help Scout for its amazing customer service, regardless of their customers' tiers.
Pricing
As mentioned earlier, Help Scout includes a free tier. Its paid options go from $15 to $99 per month, depending on features and capabilities.
Pros
Powerful free option
Intuitive and easy-to-use user interface
Great customer service
Multiple integrations
Auto-populated customer profiles
Cons
Not great analytics
Free and paid-for features are unclear
8. ClickHelp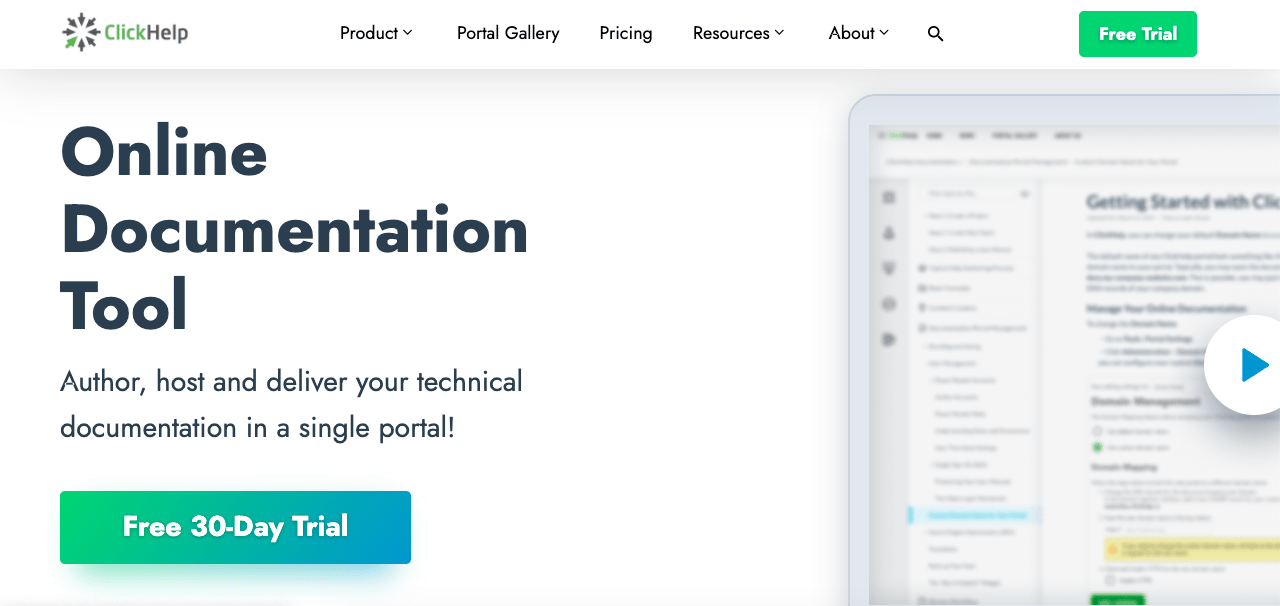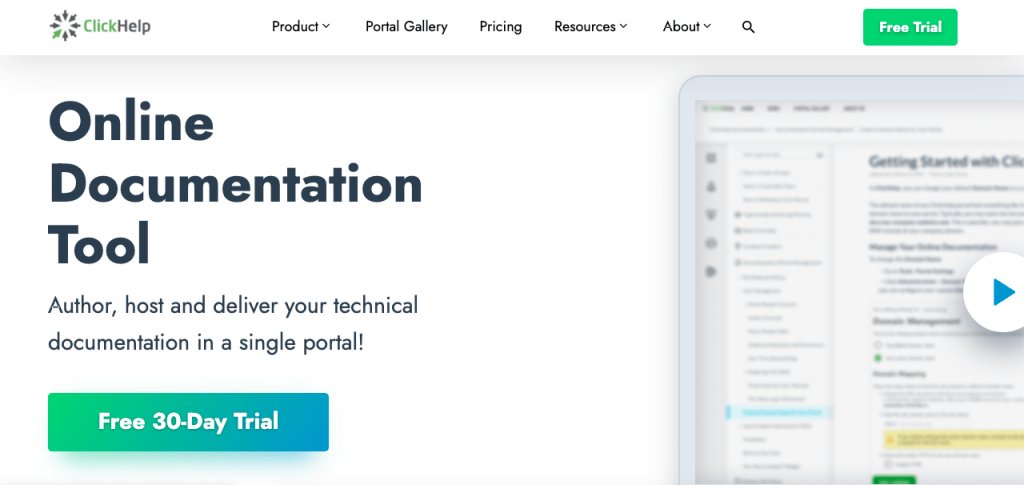 ClickHelp is an online documentation tool with a great knowledge base platform. The platform is perfect for getting multiple writers and editors to collaborate without being in each other's way, even when working on the same article.
Unlike many other options, ClickHelp hosts your data in its own data centers, located in the United States, Australia, and Germany.
With ClickHelp, you also get the benefits of normal documentation tools, making it easy to make and share public and private documents within your company.
Pricing
ClickHelp's Basic tier starts at $43 per month, which includes one author, and goes up to $63 for 3 authors and $210 for unlimited reviewers. There is also a more expensive option for large businesses and custom plans that start at $58 per month.
Pros
Great for all digital documentation needs
Very friendly and intuitive UI
Seamless teamwork collaboration
Great customer service
Easy to import and export files
Cons
Limited integrations
Integrations are only available in expensive tiers
Fairly expensive if you just want a knowledge base software
9. LiveAgent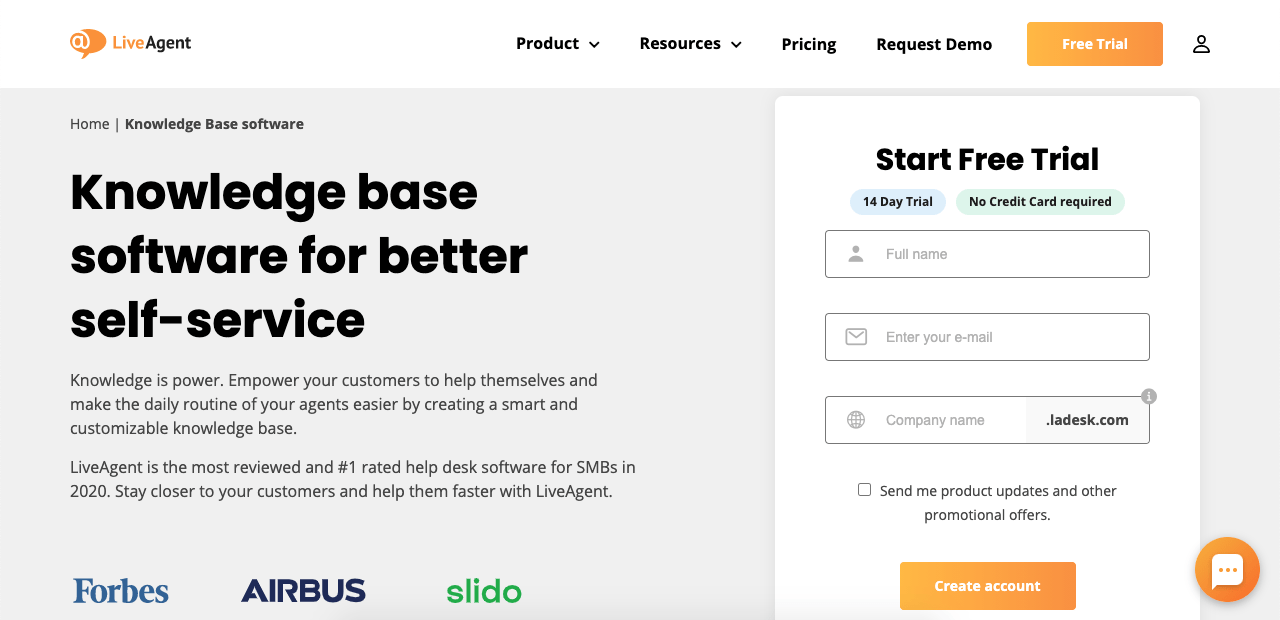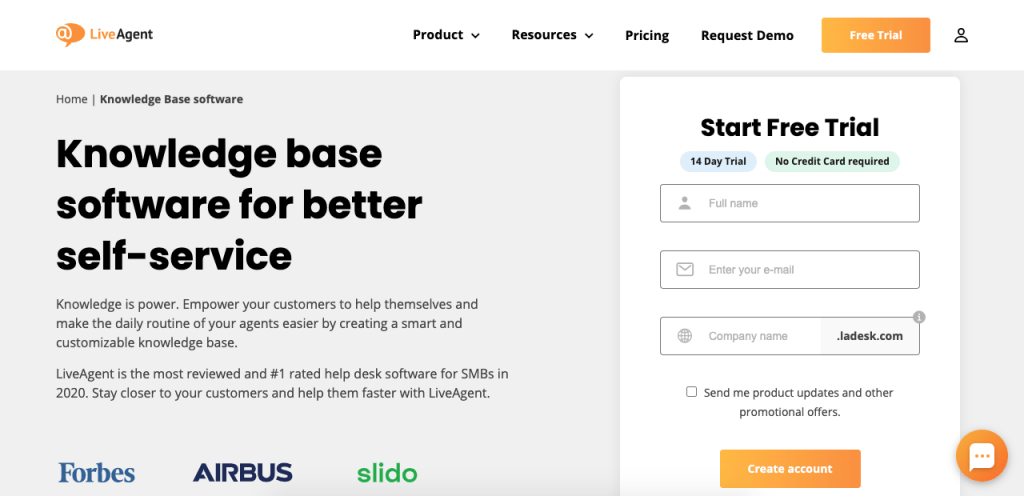 One of the most powerful customer support suites currently available is undoubtedly LiveAgent. With an integrated approach to customer service, LiveAgent's features make it easy to excel at customer service through all channels, including knowledge bases.
LiveAgent's knowledge base software allows you to create fully customizable external and internal knowledge bases through its fast and intuitive editor. You can even choose where your knowledge base will be hosted, either on LiveAgent servers or a different one.
LiveAgent also gives you multiple ways to improve your knowledge base, like feedback buttons, interactive forums, and active widgets. And, unlike multiple other options, LiveAgent's search bar is surprisingly functional.
Pricing
LiveAgent has four different pricing tiers, starting with a free account that includes its knowledge base software. Paid plans allow you to integrate your social media, give you unlimited ticket search history, and offer more advanced features and multiple users.
Pros
Great free version
Very friendly UI
Highly advanced features
Good for internal and external knowledge bases
Highly functional search bar
Competitive pricing
Highly customizable
Attractive knowledge base enhancements
Cons
Its advanced platform may require a bit of a learning curve
Can become expensive very quickly through add-ons
10. Freshdesk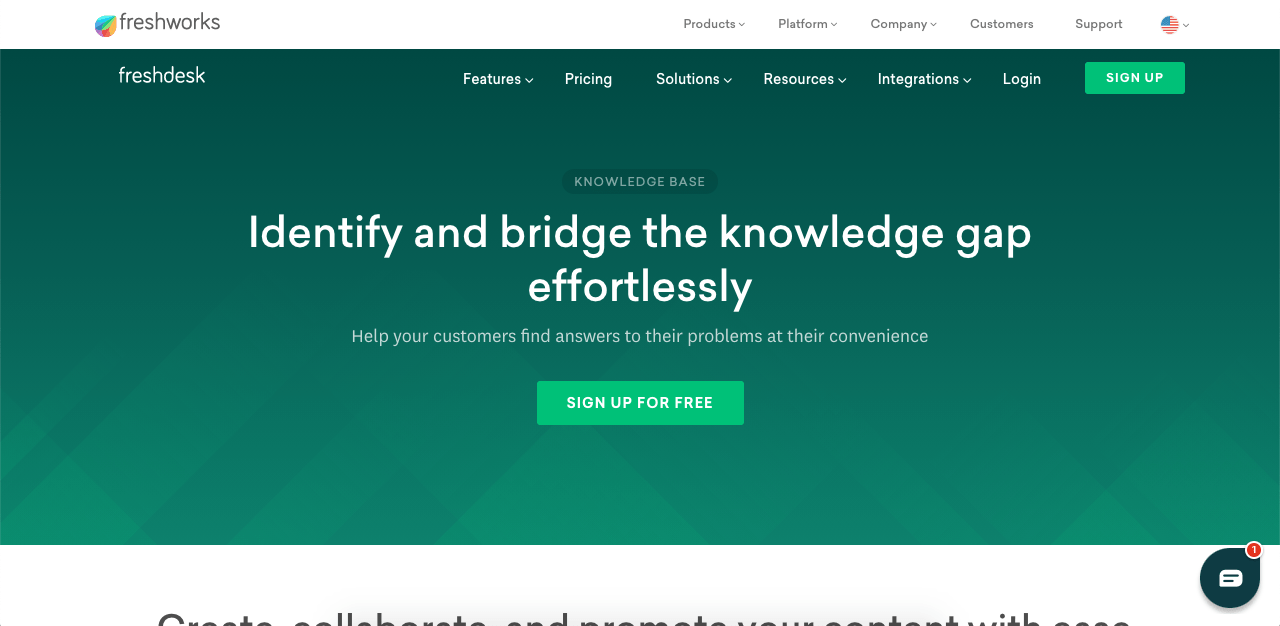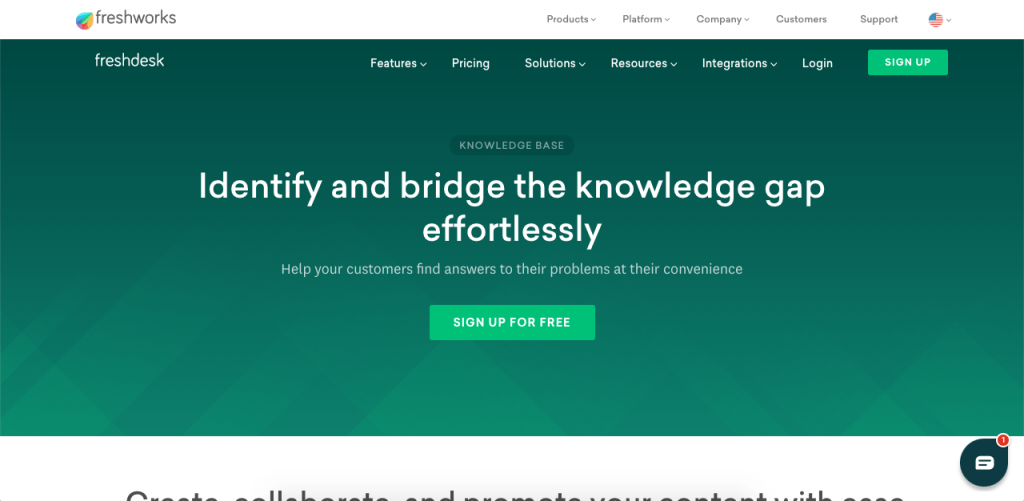 A part of Freshworks, Freshdesk is a customer service solution with a great knowledge base software.
Freshdesk offers a very simple and easy-to-use editor with great options for styling and formatting your articles. You can easily order your articles into folders and categories so your customers can have a simple navigation experience.
Since Freshdesk is a whole ticketing system, its knowledge base integrates perfectly with it, making it highly competitive if you're looking for both. Instead of weighing you down with advanced, complex features, Freshdesk uses a simplified platform that allows you to check only your article's views and your customer ratings.
Pricing
The basic Freshdesk tier starts at $19 per month per agent, with a free, limited version also available. Its multilingual content option is available at only $35 more per agent per month.
Pros
Simple WYSIWYG editor
Limited free version
Great SEO settings
Simple and streamlined platform
Ticketing system
Cons
Very limited capabilities
Limited analytics
Advanced features only available at higher tiers.
11. Helpcrunch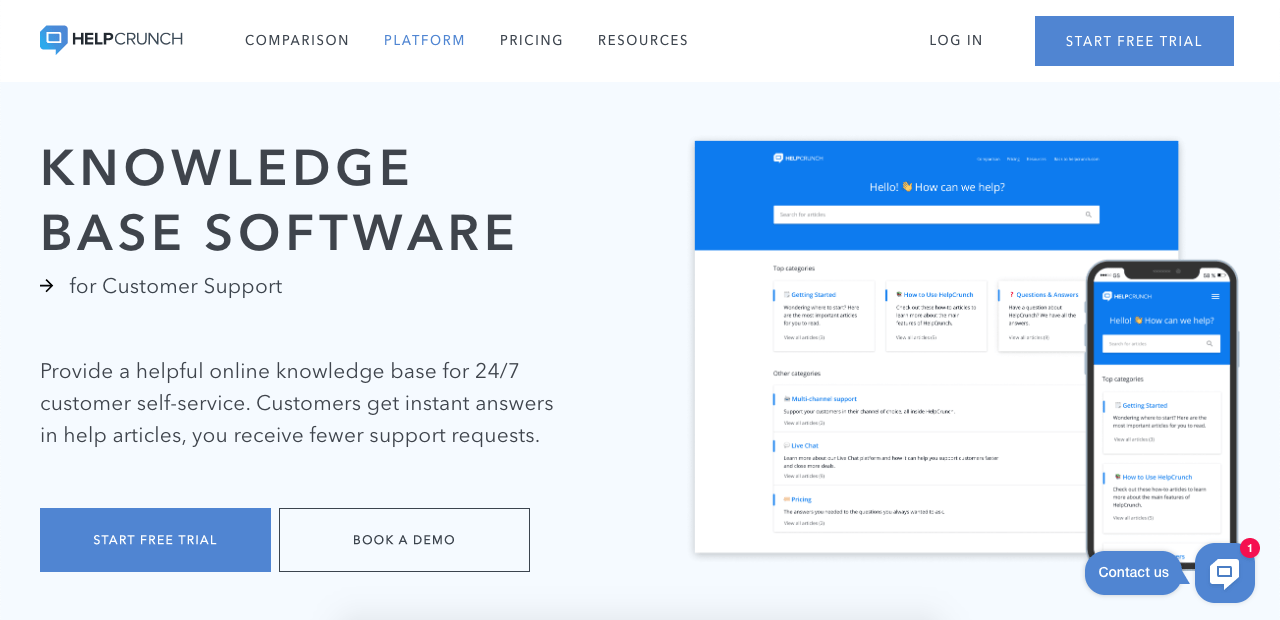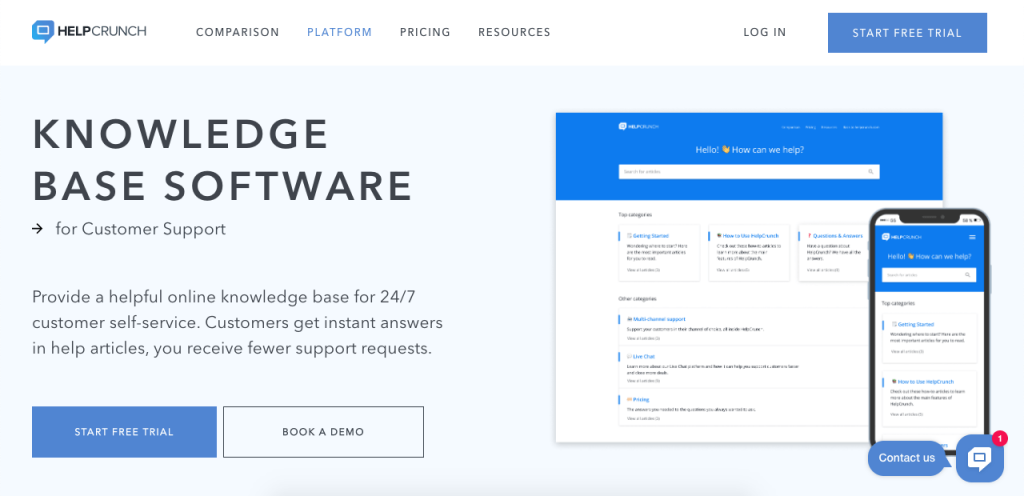 HelpCrunch is a full customer service tool with all the features you'd expect: ticketing, live chat, email marketing, and many more features including knowledge base software.
HelpCrunch's knowledge base platform is incredibly simple and modern, making the WYSIWYG editor very easy to use. In the editor, you can also optimize SEO details like metatags and descriptions and even specify a target keyword to optimize your page.
With HelpCrunch, you can easily categorize your knowledge base to properly order your articles and optimize navigation. Plus, you get all of the benefits of a fully-fledged customer service tool, not just a knowledge base solution.
Pricing
Pricing starts with its 'Standard' tier at $15 per month per user, which includes its knowledge base software. There's one more expensive plan with advanced options and a custom enterprise plan.
Pros
Very affordable option
Full customer service software
Highly-customizable SEO settings
Very friendly design
Reporting of failed searches
Great customization features
Cons
Lack of multilingual support
Not a great option if you just want a knowledge base software
Not great for internal knowledge bases
12. BoostHQ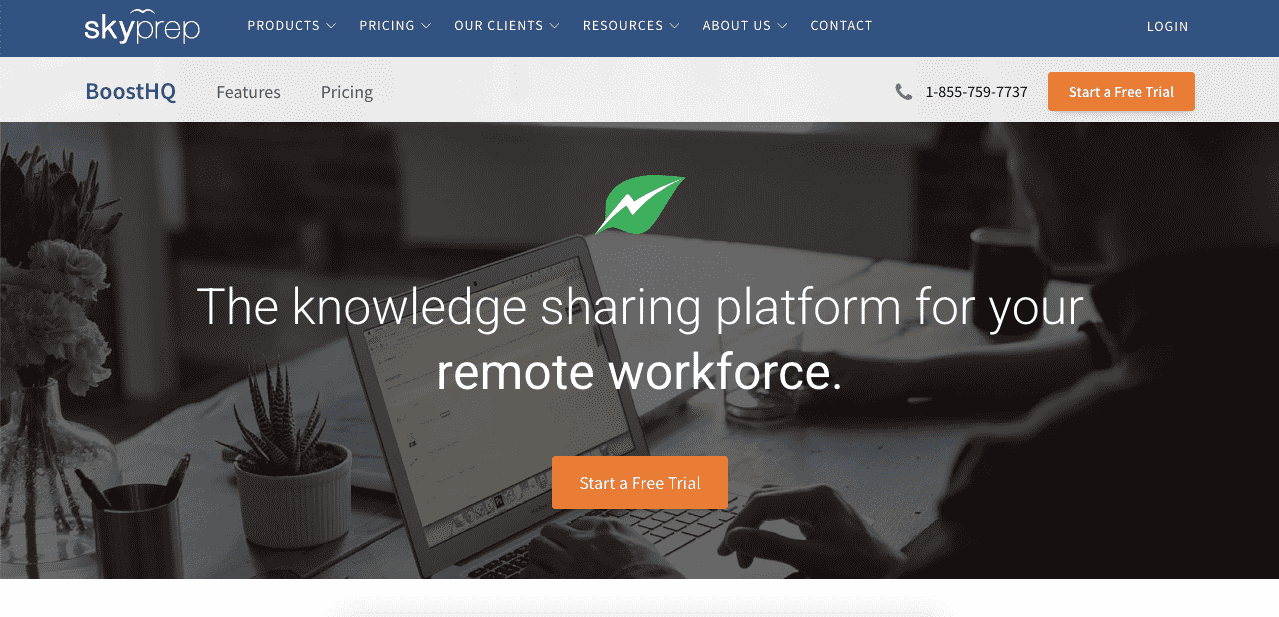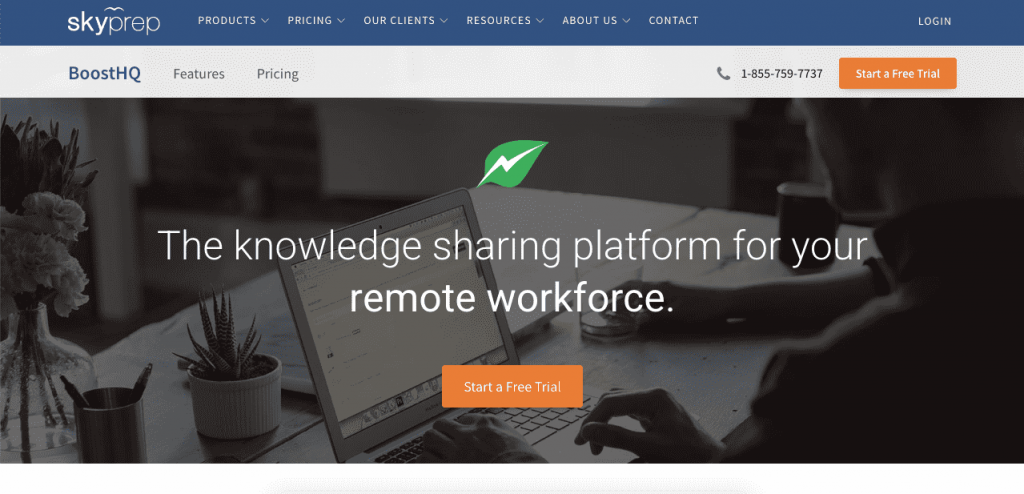 BoostHQ is a great option to create, improve, and centralize internal knowledge bases. You can easily organize your content into groups, tags, and categories. Its smart search feature further optimizes the navigation experience.
With its "employee discussions", your writers and employees can collaborate online to improve the knowledge base and create new content based on customer interactions and experiences.
BoostHQ also has great analytics to see what your employees are looking for and how they're interacting with your knowledge base.
Pricing
Its plans start with the Starter trial at $239 for up to 100 users. There are more advanced features and more user capacity options at higher tiers.
Pros
Great for internal knowledge bases
Chrome extension for employee collaboration
Employee discussions online
Very advanced internal knowledge features
Great for authors and employees collaboration
Cons
Very expensive for small companies
Not for external knowledge base
13. Bitrix24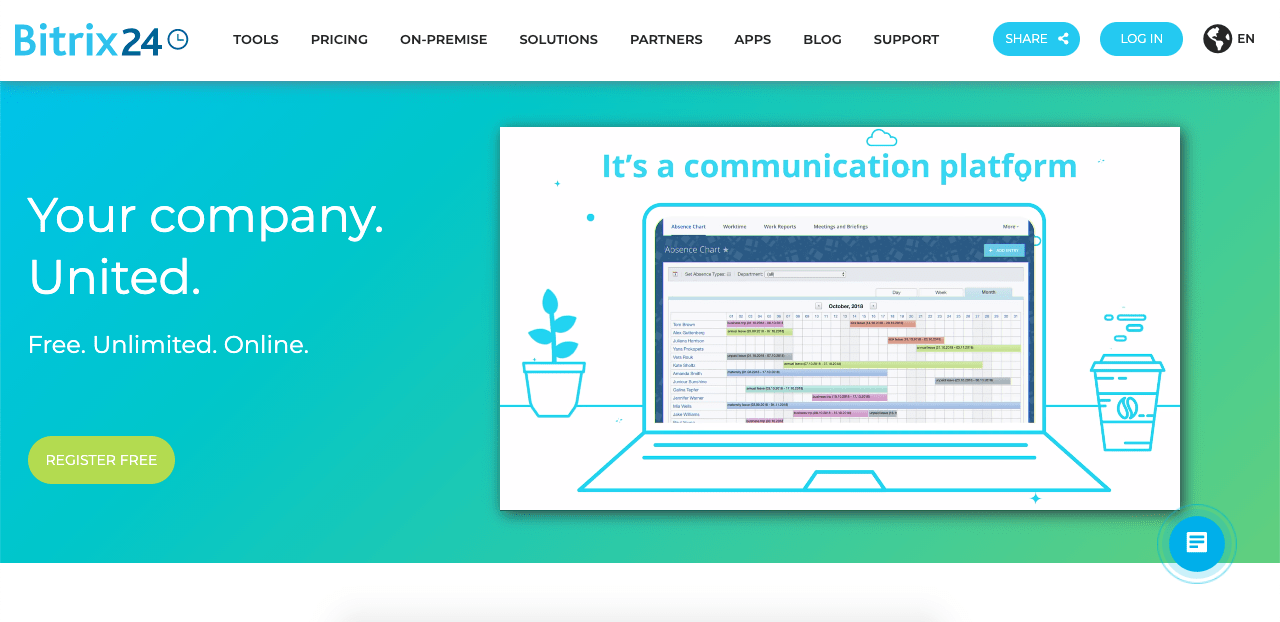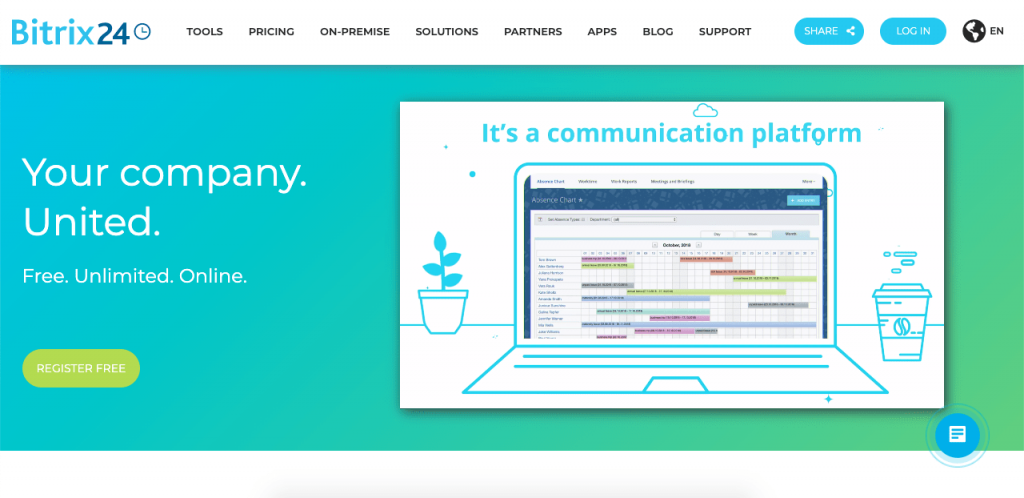 Next on our list is Bitrix24. Bitrix24 is a platform for internal communication and management that includes a great knowledge base software. In it, you'll find over 35 different tools like CRM, chat and video communication, company drive, project management, HR tools, and much more. Many of these tools integrate with its knowledge base software for seamless collaboration and development processes.
Although this is a cloud-based software, you can also choose to take it offline to your own servers, so you don't have to depend on your internet connection. This is also a great feature if you want to have full control of your data.
Pricing
Since 2020, Bitrix24 removed all user limits on free plans due to COVID-19, and its free tier also includes one knowledge base, making it a very attractive free option. Its free tier also includes 5GB of online storage. There are three paid tiers for advanced options and extended capabilities.
Pros
Generous free plan
Great option to unify many efforts
Over 35 tools for management and internal communication
Offline capabilities
Cons
Very limited knowledge base capabilities
Not great for external knowledge bases
14. Document360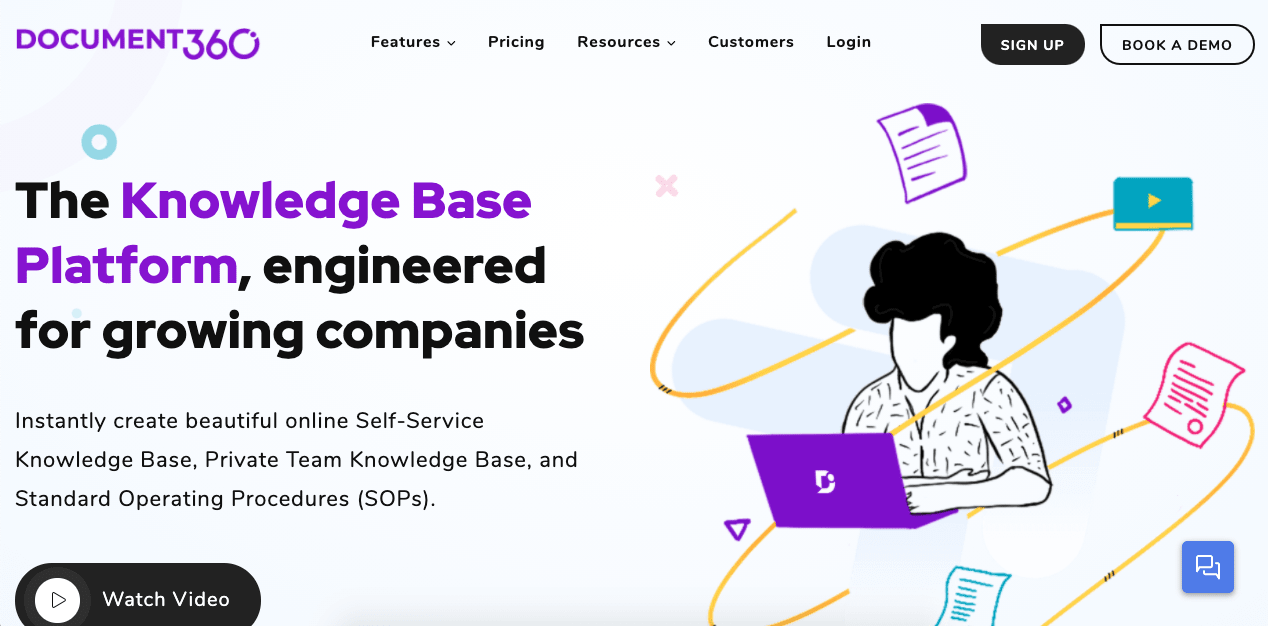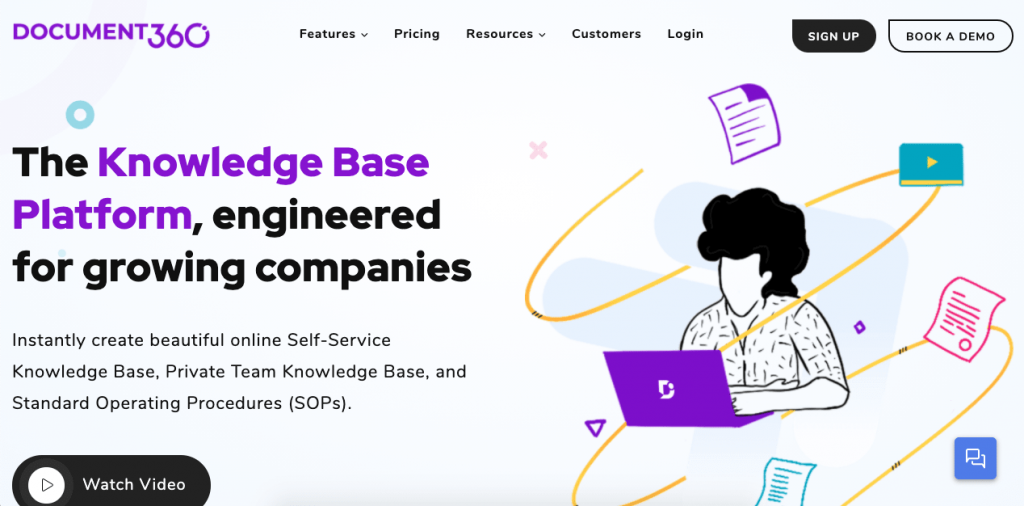 Document360 is a powerful and popular tool solely focused on knowledge base creation. It's such a great and comprehensive tool that among its customers you can find leading brands like Microsoft and Harvard University.
This robust cloud-based software has a very clean and friendly interface to develop internal and external knowledge bases. The editor is also very intuitive and even easier to use than most word processing software.
With Document360, you can fully brand and customize your knowledge base to become a completely homogeneous part of your website, while still getting all the benefits of an advanced platform. You can even add custom CSS and HTML to your articles, to fully customize them at your need.
Document360 also includes a few native integrations to applications like Intercom, Disqus, and Google Analytics.
Pricing
Document360 offers multiple pricing plans starting at $40 per month, which includes two users and 5GB of storage.
Pros
Great platform, fully focused on knowledge bases
Advanced customization features
Great analytics
Very easy to use
Powerful, real-time user data
Intelligent search bar
Great for internal and external knowledge bases
Cons
Features limited to knowledge bases
Few integrations
15. ProProfs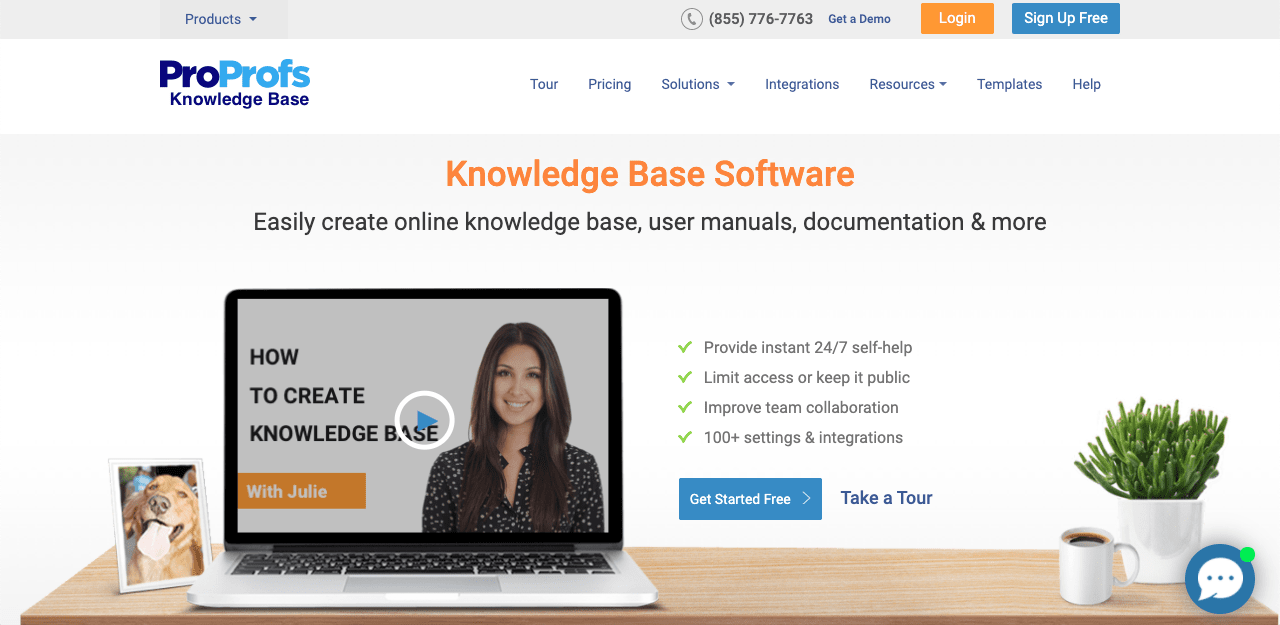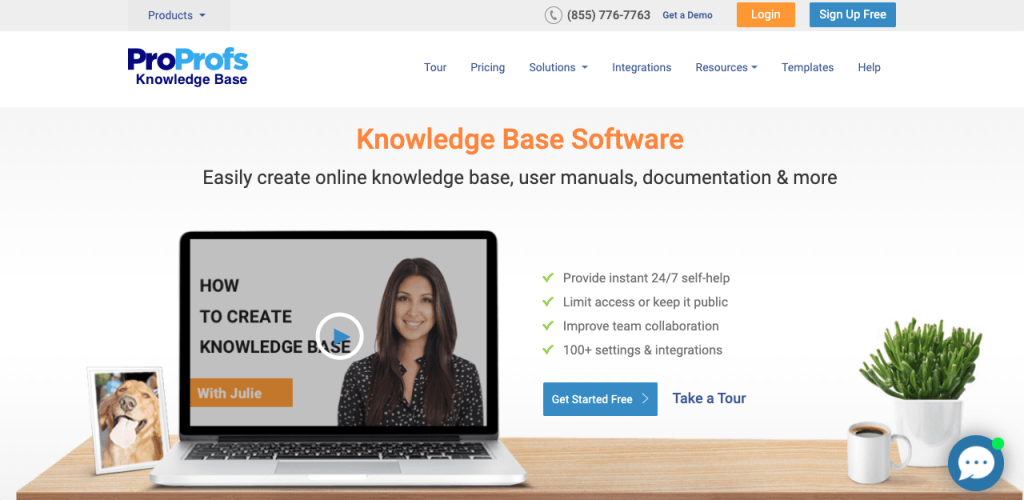 ProProfs is a large American company that focuses on online training and support, so it's no surprise that its knowledge base software is so intuitive and effective.
Providing service for companies like Dell and Sony, ProProfs allows its clients to create all kinds of self customer service tools, including wikis, user guides, customer and employee documentation, and FAQs pages, along with knowledge bases. That way you can diversify your 24/7 customer service channels.
The ProProfs knowledge base allows for multiple approaches to a knowledge base, like context-sensitive tools and help, based on tasks. Designing and customizing the pages is very easy, and you can create both internal and external knowledge bases.
Pricing
ProProfs has a very basic free plan with limited functionality. Its paid versions start at $6 per month with 20 pages included, with more expensive options available to expand your knowledge base.
Pros
Free basic plan
Great analytics
Easy to use
Allows for seamless collaboration
Great native integrations
Filled with useful features
Cons
Its advanced customization features may require advanced knowledge
16. ServiceNow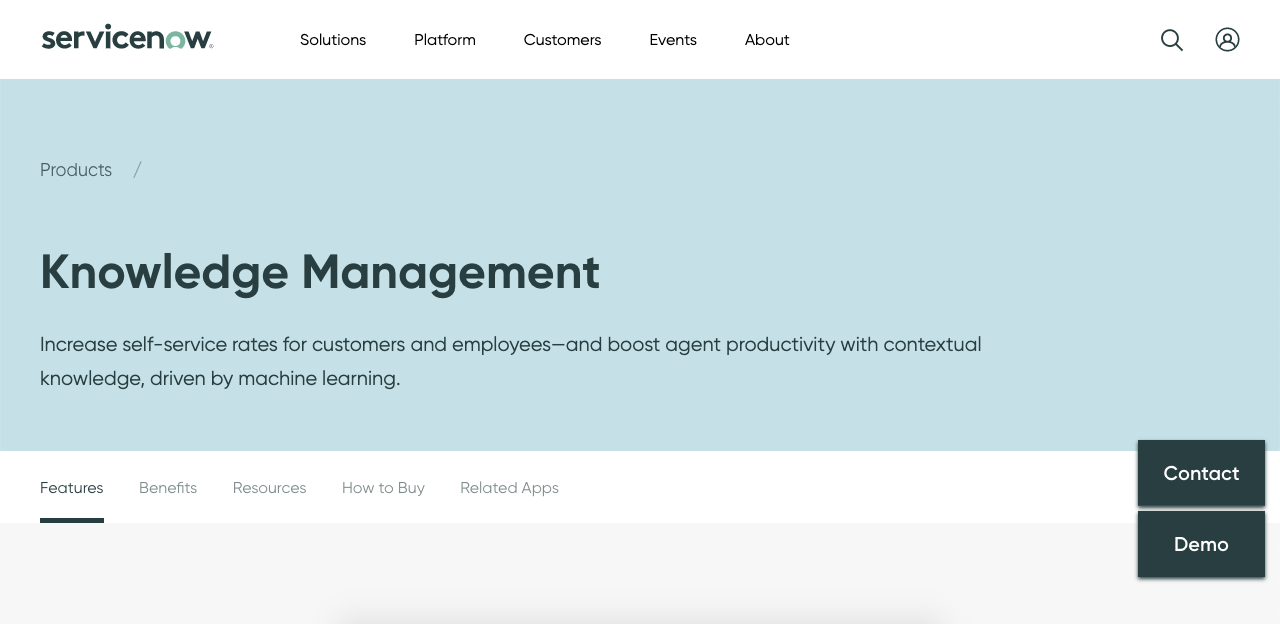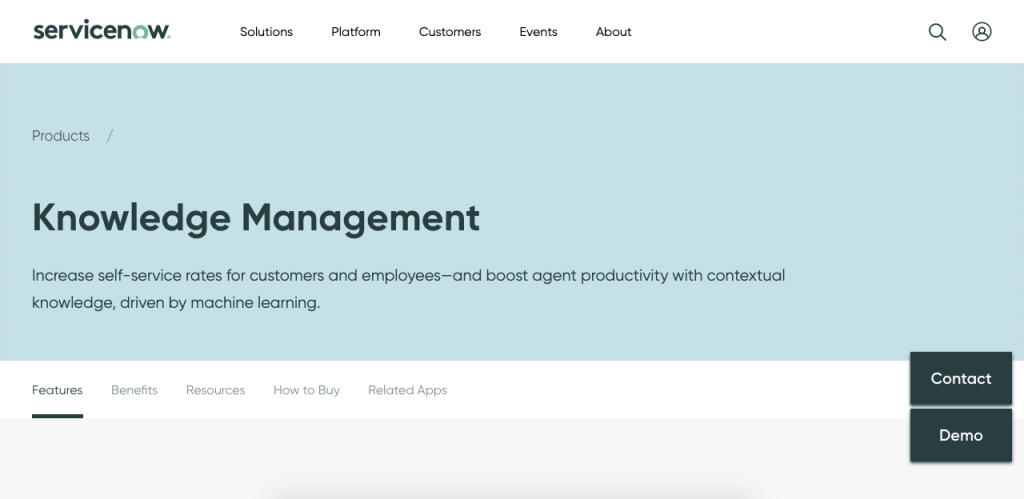 ServiceNow Knowledge Management is a very efficient and easy to use tool for knowledge base development. With it, you can integrate your knowledge base articles into your processes, by allowing you to consolidate multiple sources of information into your process.
Its knowledge base home pages help the user navigate toward the solution they're looking for, using the fastest method possible. That way, you can increase your customer satisfaction rates and reduce your customer service costs at the same time.
The platform also promotes knowledge sharing and helps your customer service team to find and fill information gaps in your knowledge base. Your service agents can also look up and create knowledge content as they're providing customer service, making the whole process very organic and intuitive.
Pricing
ServiceNow doesn't show its pricing online, although some sources list prices as starting at $100 per month.
Pros
SEO customization features
Great user navigation experience
Advanced features like chatbots and automated workflows
Allows users to subscribe to your knowledge base
Machine learning options
Cons
It may have too many features for smaller businesses
Likely more expensive than the average
17. Confluence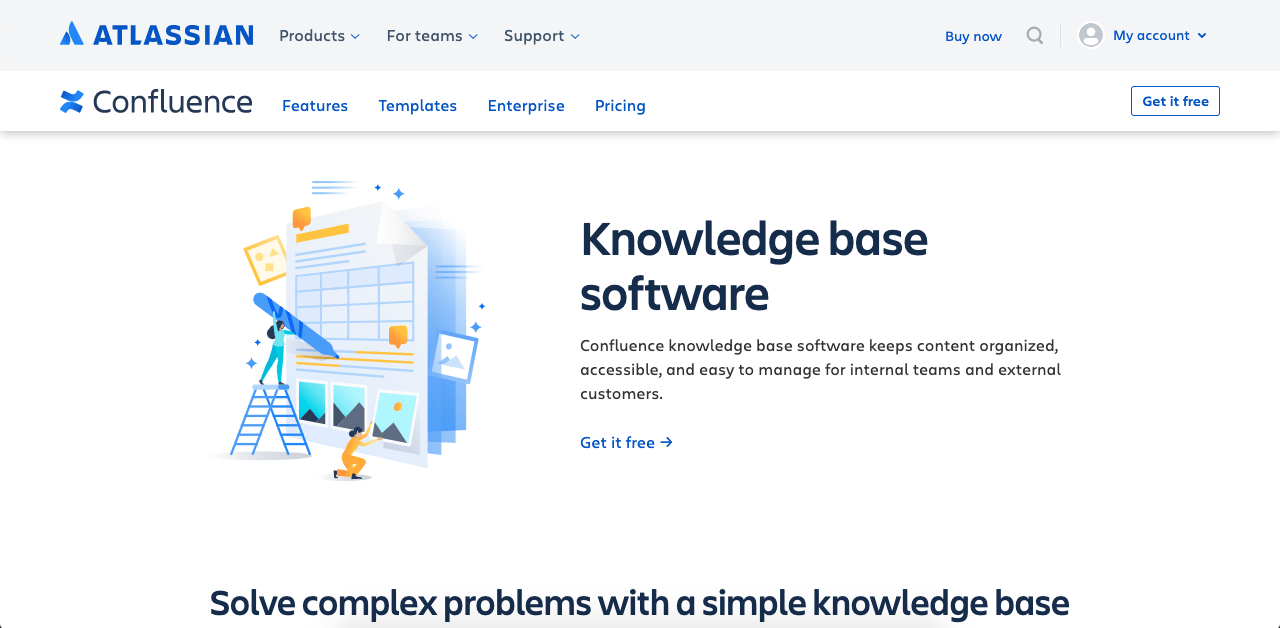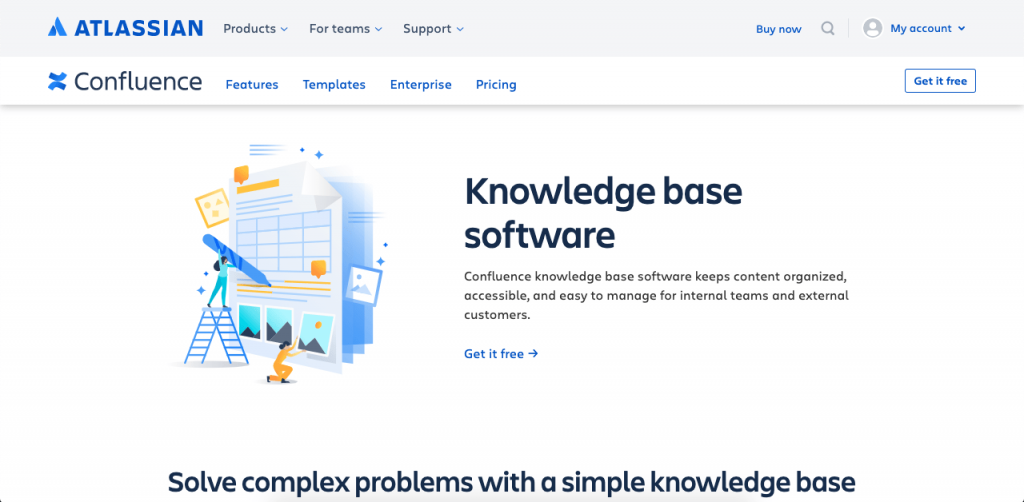 Atlassian Confluence is the company behind popular business tools like Jira and Trello, so its knowledge base solution is just as intuitive and as user-friendly as you'd expect.
In its knowledge base, you can easily create and collaborate with your teammates at once. The process for creating and starting a knowledge base from the ground up is very simple, minimizing the time you spend building the framework for it.
Its team collaboration is very transparent and organized, making it especially perfect for remote workers since you can easily supervise and collaborate within the right context for faster results.
Pricing
Confluence's prices depend on how many users you'll need to add to your knowledge base and the features you'll need. It varies from $5 to $10 per user per month, and it has a fairly functional free version for up to 10 users.
Pros
Great for document management
Allows for organized and transparent collaboration
Free forever plan
Multiple functional templates
Seamlessly connects to Jira
Cons
Doesn't allow for full customization
Not great for external knowledge bases
The more teammates you have, the more expensive it gets
Knowledge Base Software FAQ
Here are the answers to the most common knowledge base software questions:
What is a knowledge base?
A knowledge base is a website used to file and store important information so employees and clients can look for it and solve their issues and questions.
What is the purpose of a knowledge base?
A knowledge base is meant to let users find solutions to their problems by themselves, and it's used as the first step in a user's search for answers and solutions.
How do you create your own knowledge base without software?
You'll first need to create the content of your knowledge base elsewhere before developing the pages of your knowledge base around it, preferably with the help of a web designer.
What is the best knowledge base software?
The best knowledge base software is the one that adapts to the needs of your brand and company, is easy for your employees and users to use, and fits within your budget.
What is the best free knowledge base software?
There are many free knowledge base software solutions. Tools like Messagely offer a free trial version, while tools like Confluence offer a limited free-forever version.
How do you build a knowledge base?
First, you decide on the main elements your knowledge base must have. You use those elements to divide the knowledge base into categories and those categories into topics. Then, you write your articles for those topics and publish them. Finally, you analyze your knowledge base to keep it updated and improve it with your data.
How do you create an effective knowledge management system?
Through data-based decisions. Your knowledge base should be a response to your customer's needs and solve their problems.
An effective knowledge management system is one that takes customer data and translates it into actionable improvements.
Conclusion
Knowledge base software solutions are vital for the well-being of your customer self-service. Although you can make your own knowledge base without software, specialized solutions make the whole process easier and can give you valuable insights on where to improve.
Want to improve your customer relations? Start your free trial of Messagely today and see how far you can take your customer service.