This article is all about knowledge bases, what they are, and what you can learn from the best ones.
We'll talk about:
The definition of knowledge bases
Examples of knowledge bases
How many industry leaders approach them
The answers to the most common questions
By the end of the article, you will know what the best knowledge base examples are, what makes them great, and how to get started.
Let's dive in.
What Is a Knowledge Base?
A knowledge base is an online library of information on a topic, service, or product.
There are two main types of knowledge bases: internal and external.
An internal knowledge base is for the use of employees only. It will typically be used to answer common employee queries and to provide information on how to help customers with common issues. It may also include HR information and employee handbooks.
The external or public knowledge base is usually meant for customers. Customers may use this tool to learn more about a company, the products or services it offers, and to get a general sense of the company's brand and image.
When used externally, a knowledge base is a place customers can go to learn everything they need to know about a company's products or services, organization, and industry. They're a key factor in customer satisfaction because they allow clients to discover for themselves the answers to common questions or issues with a product or service.
In short, knowledge bases are a contained database for either employees or the general public to help solve common queries and learn about the company.
20+ Amazing Knowledge Base Examples You Can Use as Inspiration
Here are a number of amazing knowledge bases in action, along with the details about what they can teach you:
1. Asana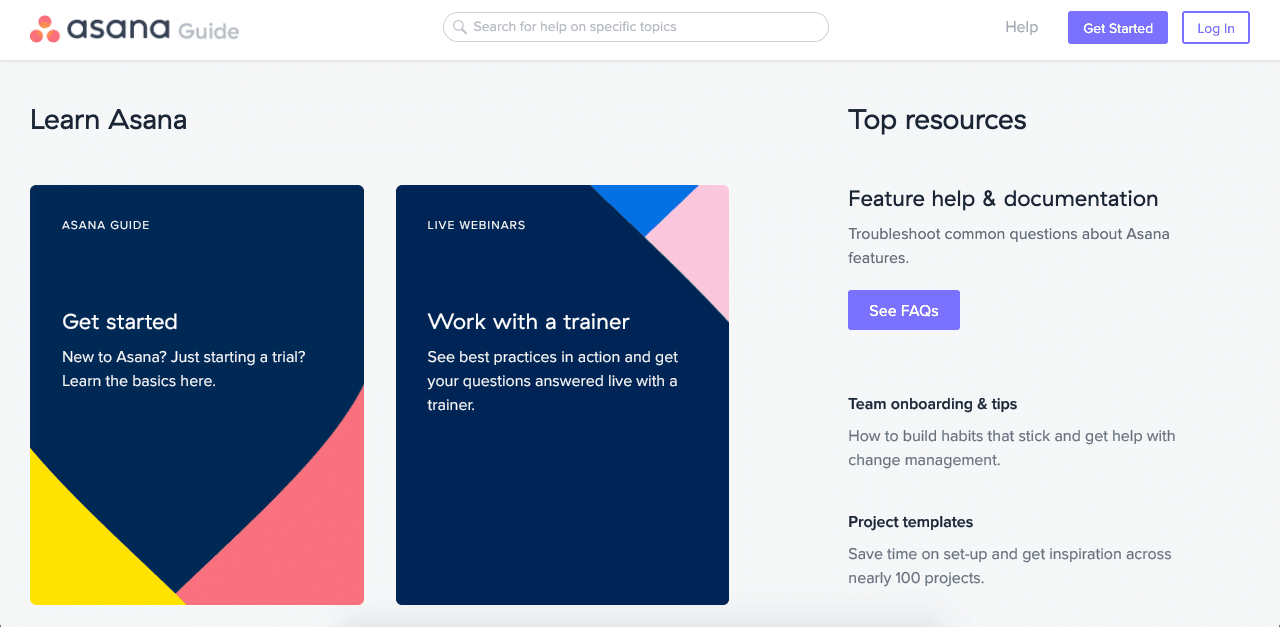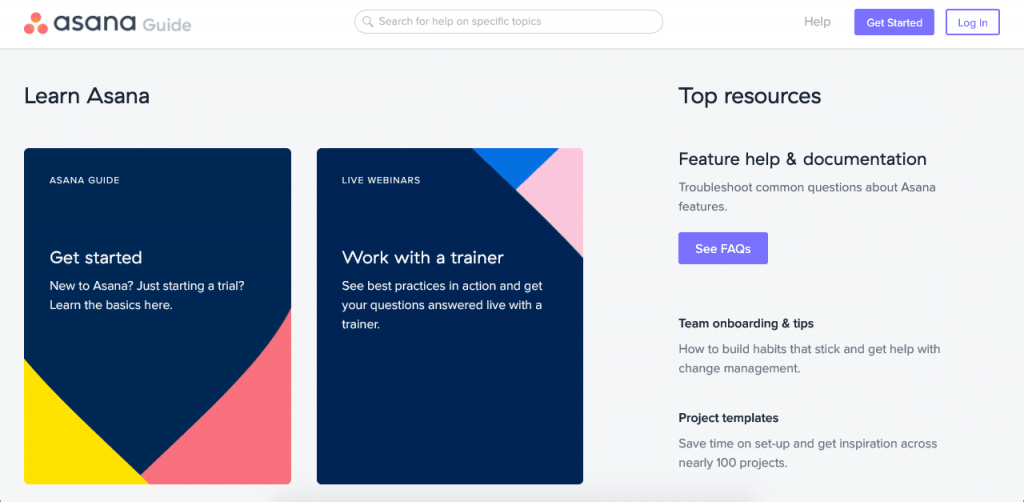 The popular tool Asana is mainly focused on businesses and project managers. Since it's fairly complex, its knowledge base is a great way of learning the ins and outs of the platform.
Asana guides its customers through a very comprehensive knowledge base. It's so effective that a new user only requires a couple of hours of use in order to become an expert on Asana. The navigation is very intuitive, with articles that flow naturally from one to the next.
Learn from it:
Asana knows that its knowledge base needs to be filled with information, which is why it uses a very straightforward and intuitive design to simplify the experience.
If you're going to add a lot of information to your knowledge base, make sure to keep it clean and organized.
2. Dyson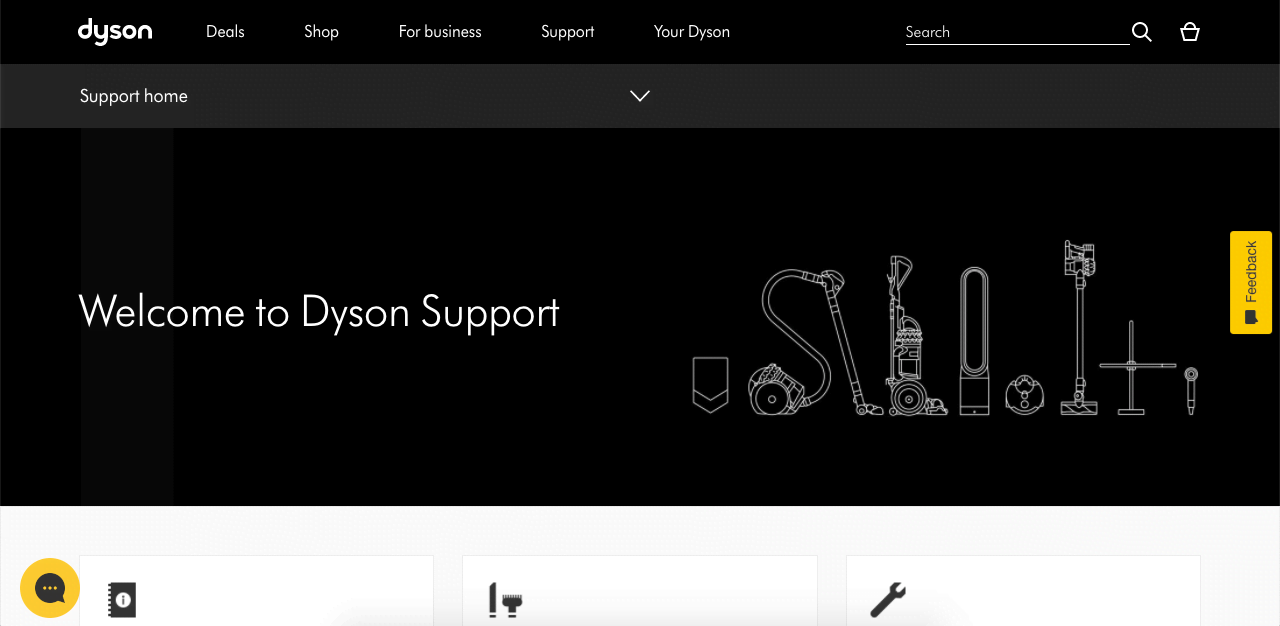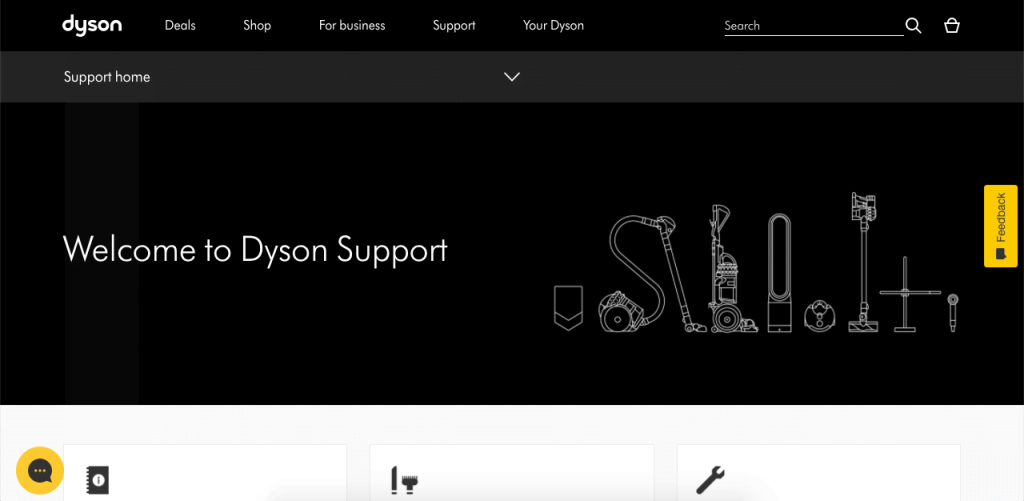 Dyson is a manufacturer of many appliances. Dyson customizes their user experience by country so that each user will easily be able to find the right products.
Dyson then uses product images to help users find the product they need information about. Users can also enter their products' serial numbers to quickly locate their user manuals and product information.
Learn from it:
If you have many different user personas that will only need to access a very specific part of your knowledge base, make it easy for them.
Allow them to quickly locate the exact information they need by simplifying the process. By making it easy to find the general topic they need, they'll be more inclined to spend additional time in your knowledge base afterward.
3. LinkedIn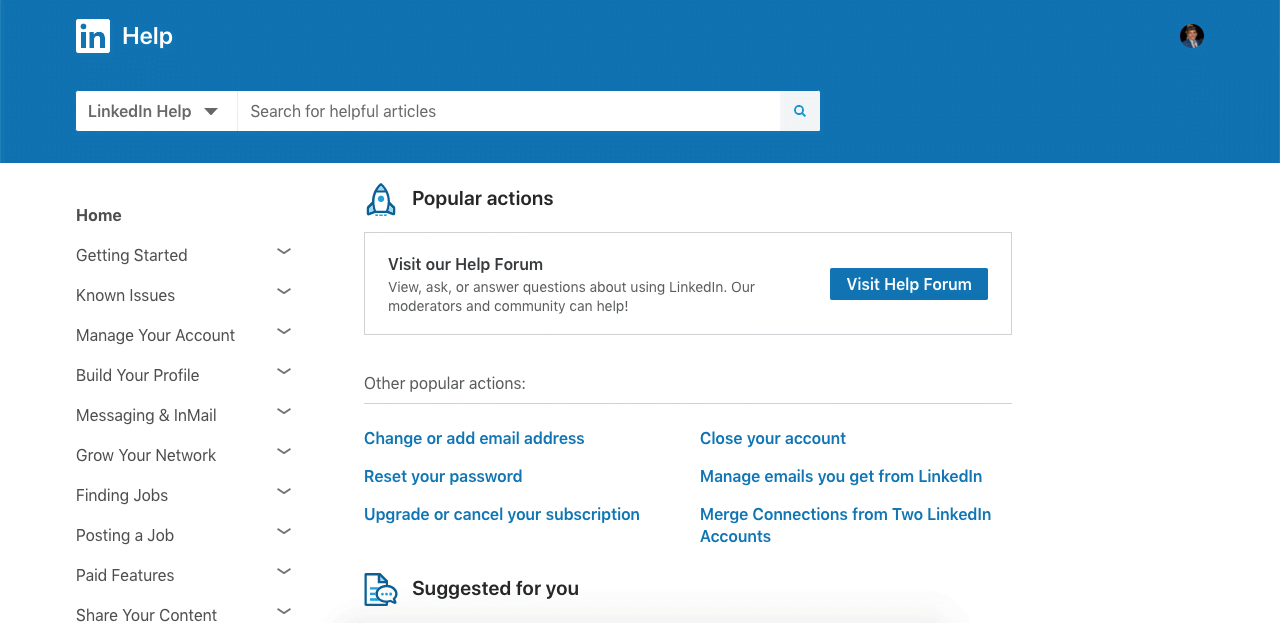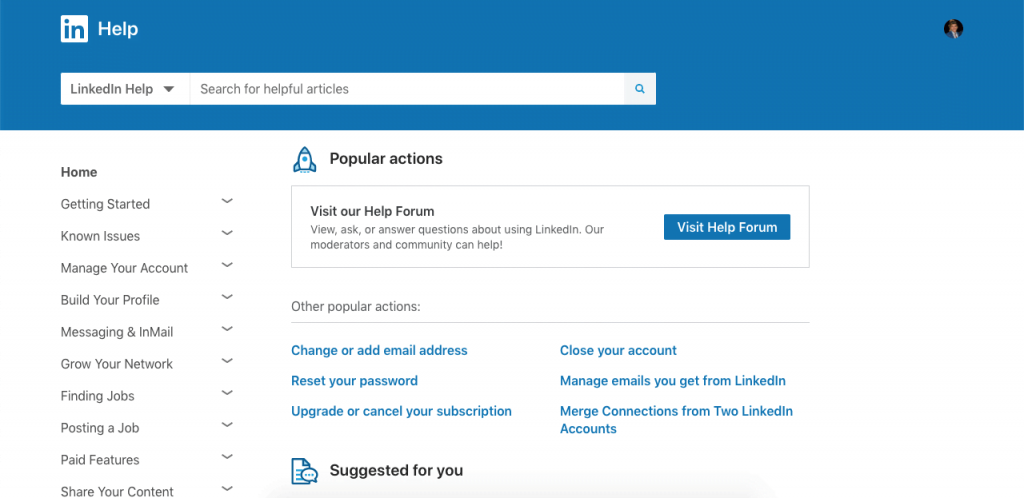 The LinkedIn Help Center is filled with information so it was necessary for LinkedIn to break down the information so users can find answers to their questions quickly.
To do this, LinkedIn greets the user with "Popular Actions", which are the most visited pages in the knowledge base. If their query isn't found within these popular topics, the user can keep browsing on the left menu until they find the information they're looking for.
Learn from it:
Do you have a few specific pages in your knowledge base that receive the most amount of visits? Place these front and center, so future users can easily find them.
4. MailChimp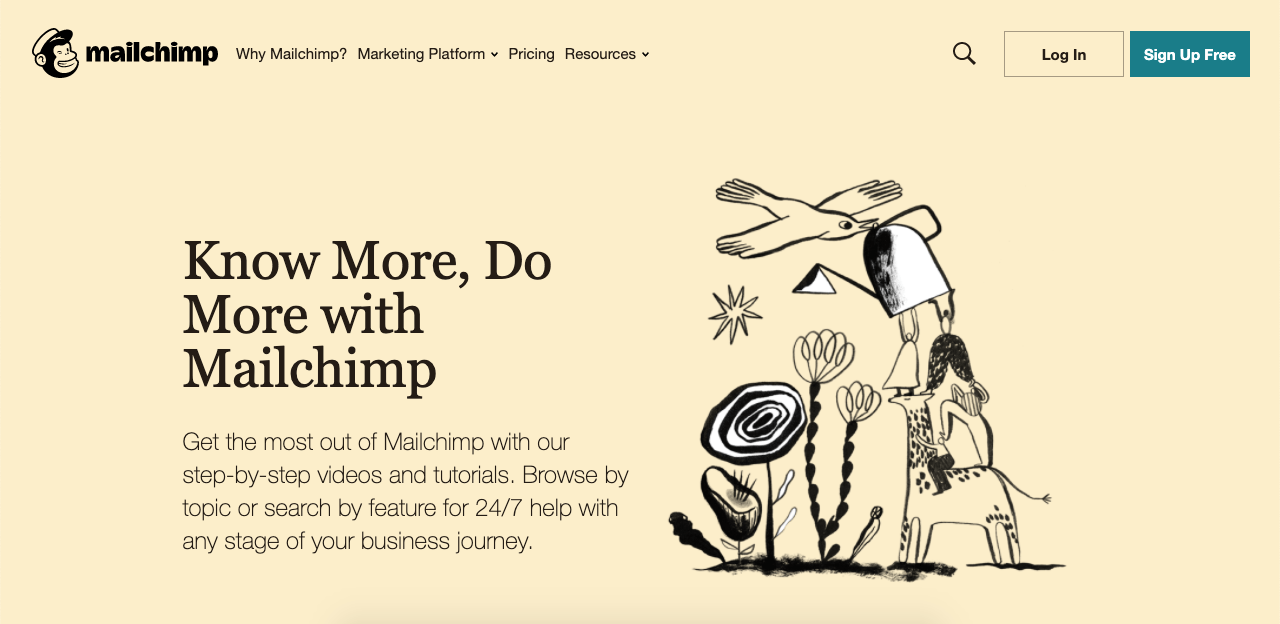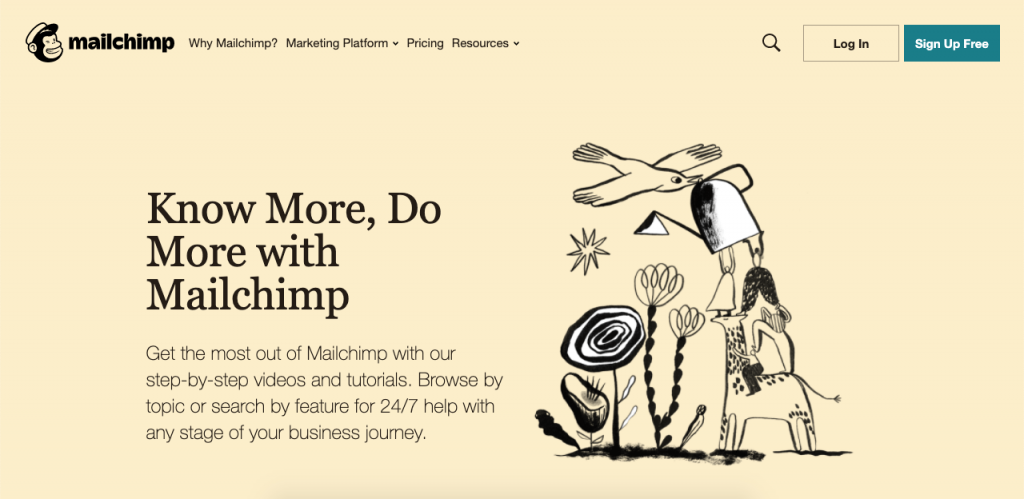 MailChimp is an email marketing platform with many features and integrations. To help the user get the most out of the platform, MailChimp has a very comprehensive knowledge base.
Users can navigate the knowledge base easily by searching among their topics with a highly-functional search bar. The language used in each article is very simple and easy to understand and articles are kept short.
Learn from it:
A simple user experience is about the platform as a whole, not just navigation. Invest in talented writers that can make complex topics easy to understand. Make sure all articles are actionable and are as short and concise as possible.
5. Spotify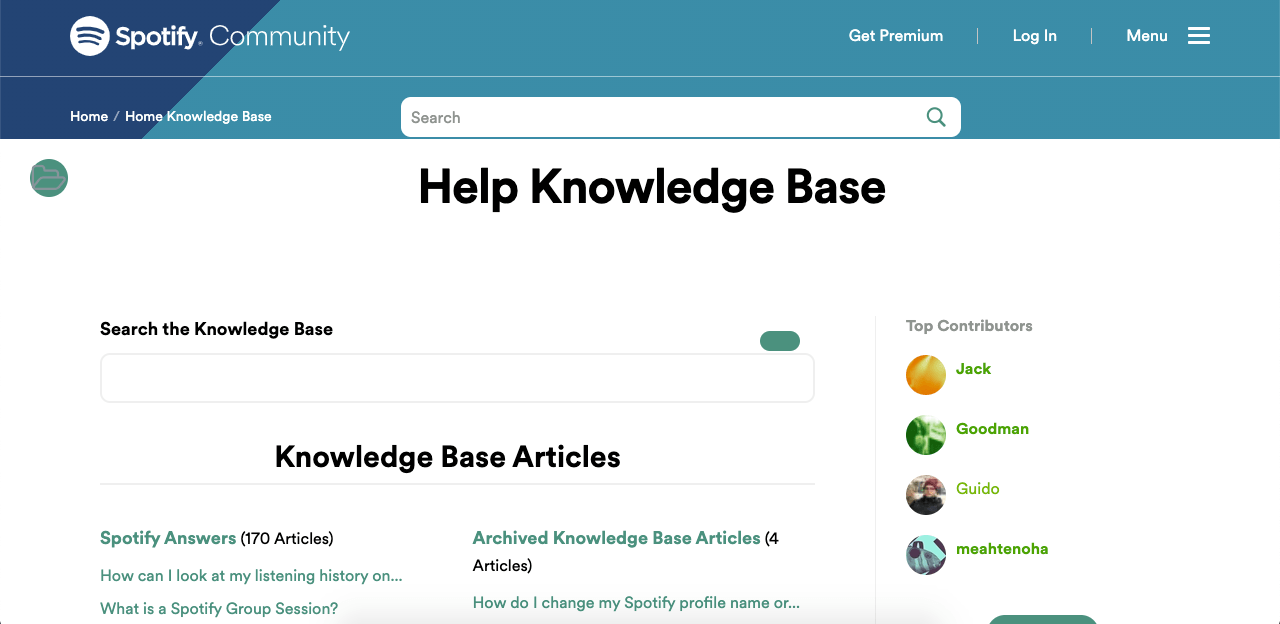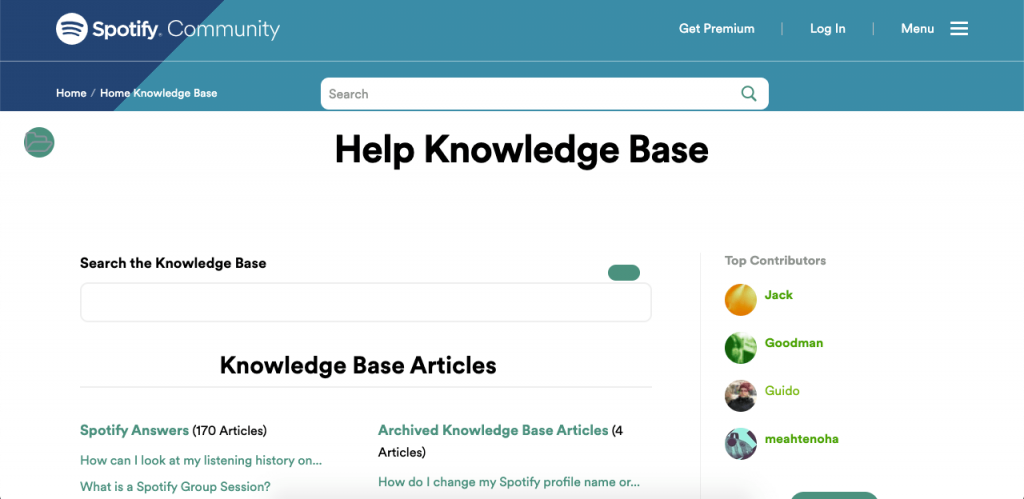 One of the most popular online music platforms, Spotify, takes its user-friendly interface to its knowledge base.
Articles are easy to browse and quick to read. When you're reading an article, Spotify uses dropdown content to fully flesh out an idea, while making the article appear to be as short and neat as possible.
With dropdown content, Spotify avoids intimidating the reader with lengthy text and creates a more fun and organic reading experience.
Learn from it:
If you have to share a lot of information in your articles, find ways to condense them so they're easier to digest.
Make sure all paragraphs are short, and never use two sentences when one will suffice. Show images and animated content to further define your content.
6. Notion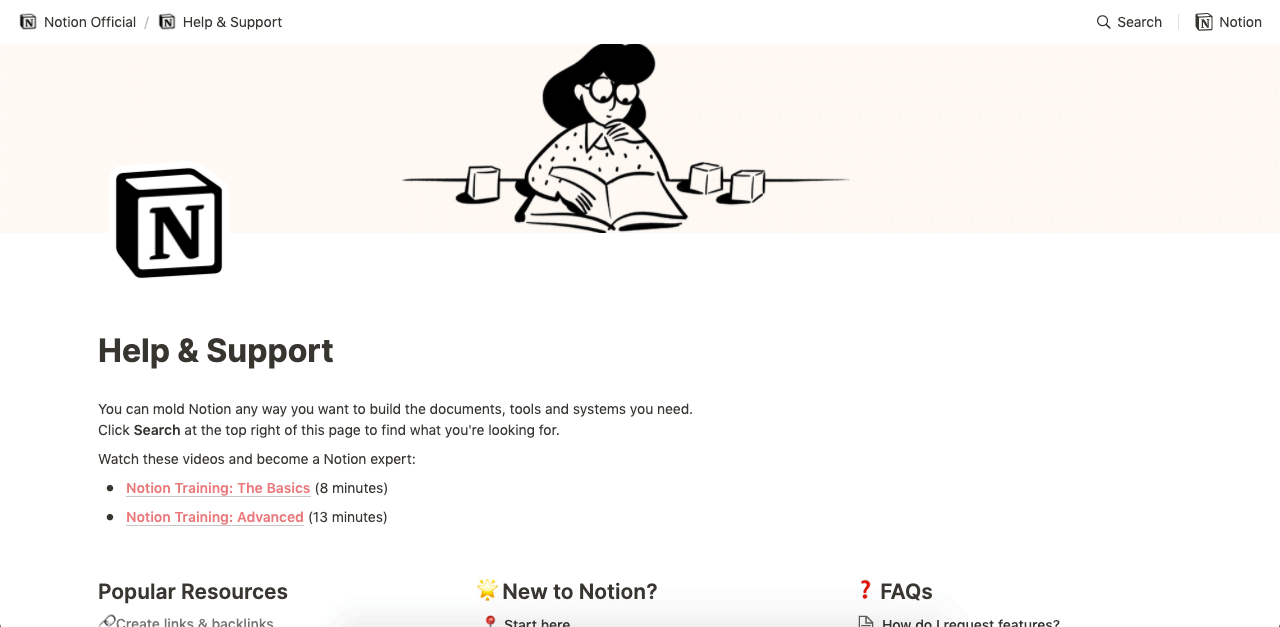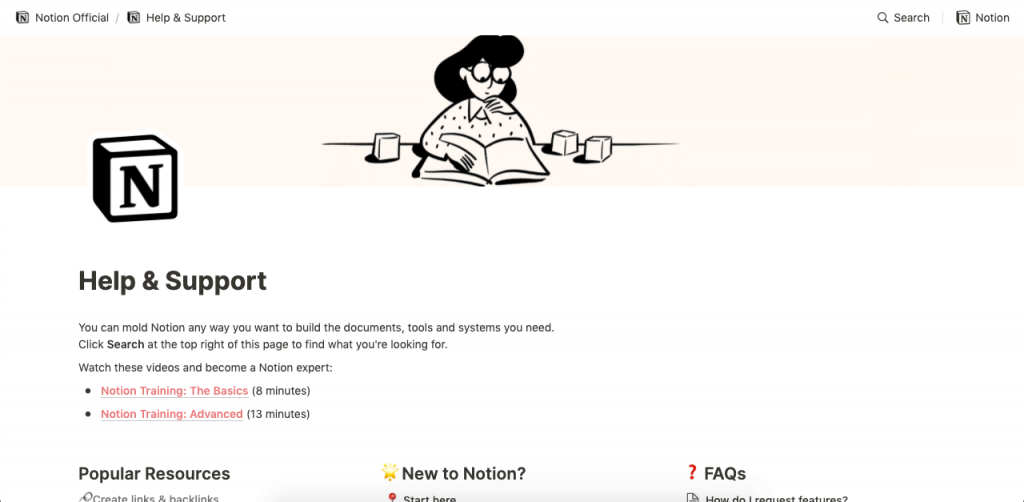 Used by clients like Pixar, Nike, and McDonald's, Notion is an online workspace for companies with a substantial knowledge base.
Since learning how to use the platform is vital to its success, the knowledge base puts the platform's online training front and center. The first thing you see when opening the knowledge base are two training videos—one explaining the basis and the other explaining advanced features.
By showing you those two items before everything else, Notion ensures that users learn the ins and outs of the platform in the right context, rather than searching for individual features.
Learn from it:
Like Notion, start by ensuring that your users know how to use your product. Use training videos and other teaching methods to help break down the process so that your users can begin using it as quickly and easily as possible.
7. Airtable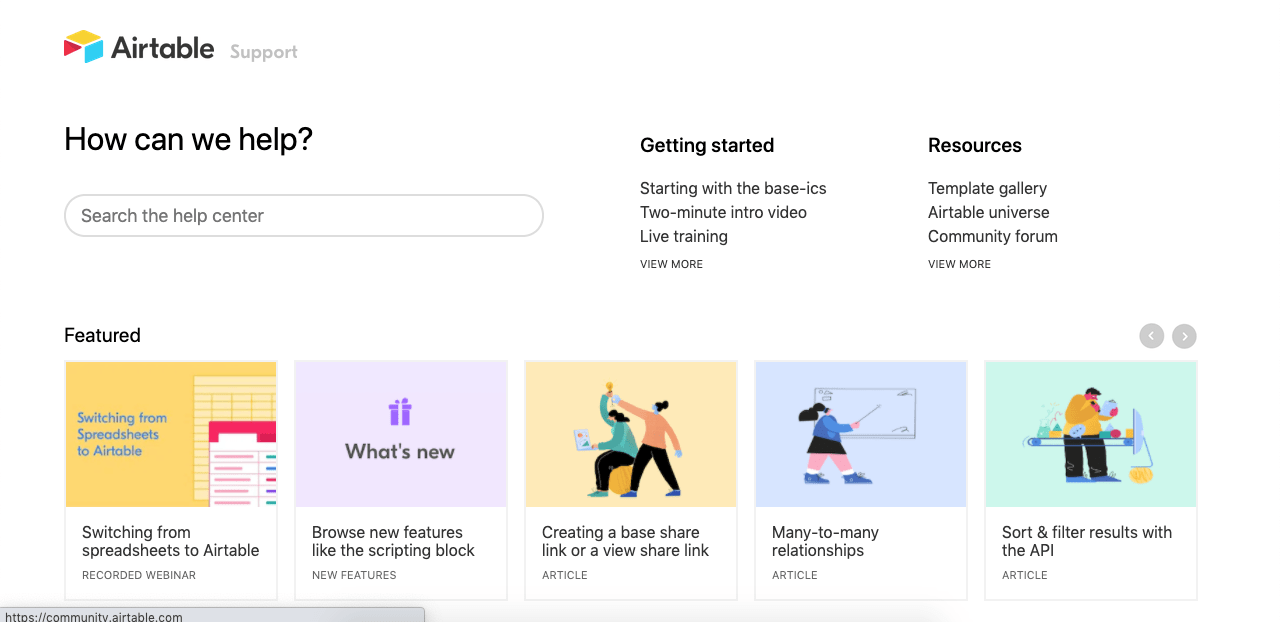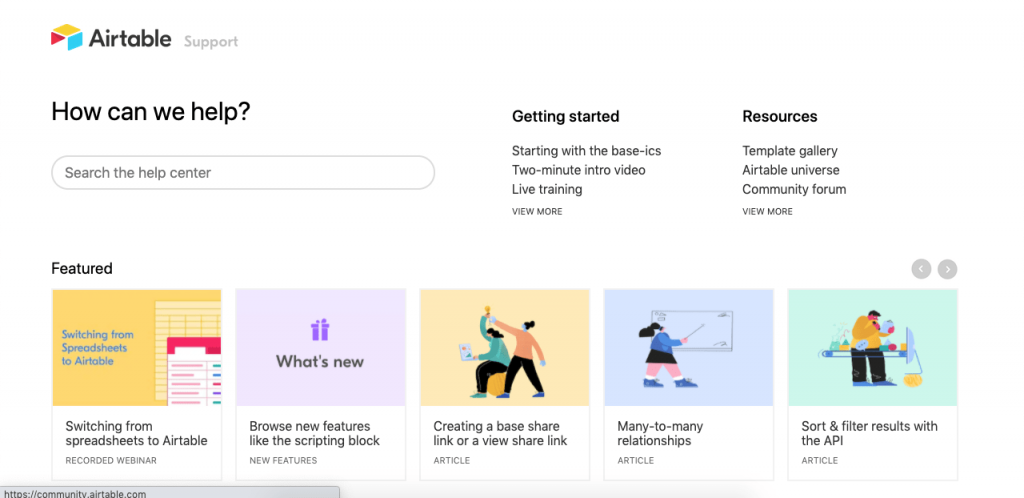 Airtable is a cloud collaboration service that aims to simplify the use of databases. Airtable knows that a lot of its strength comes from its users, so it has a very active community in its knowledge center.
Knowing that programming tends to create active communities, Airtable provides its users with a quality platform to be used for communicating with each other and collaborating on solving issues.
Through the community, new users can ask personalized questions to experienced users, share their work, and receive feedback. This makes for a self-sustaining knowledge base with answers provided for the community by the community.
Learn from it:
The most capable person to help you solve an issue is the person who has already experienced the same issue. If you foster a community experience, you'll ensure that your users can find answers to all of their questions, even highly-personalized questions, by asking more experienced users.
The more active and engaged your user community is, the better the support they'll be willing to provide.
8. Fitbit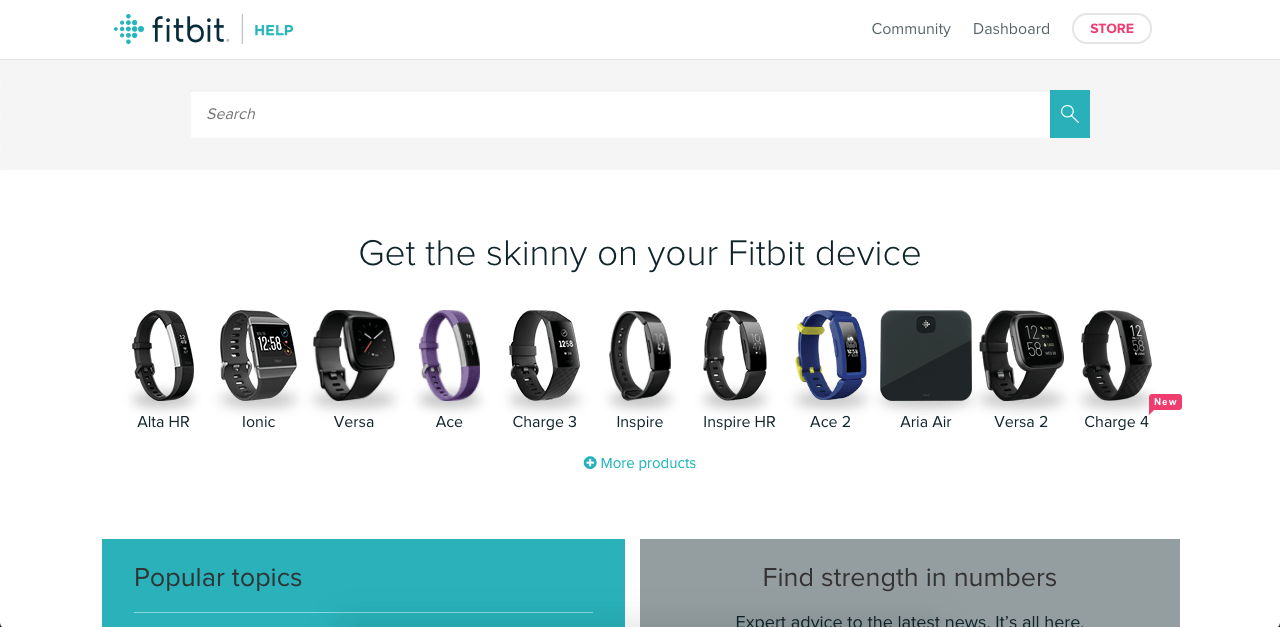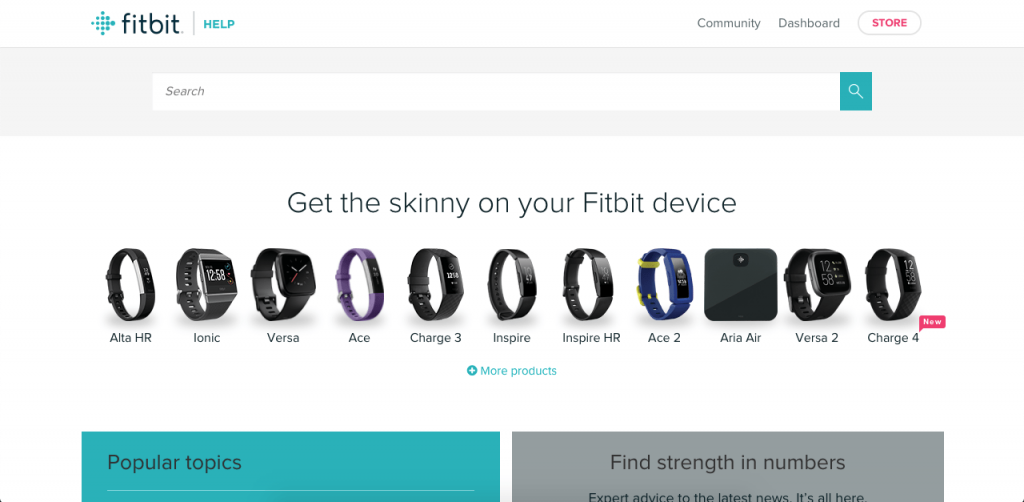 Fitbit creates smart fitness bands and fitness-related products. Its knowledge base provides users with the ability to learn in two different ways: by selecting their device, or by browsing through popular topics.
The articles in the knowledge base also encourage people to get involved by connecting in the Fitbit forums.
Whatever your preferred way of learning is, it will be accommodated within Fitbit's knowledge base.
Learn from it:
Make sure your users can engage with your knowledge base in multiple ways. Encourage user interaction to create a community where users can find like-minded people to engage with and get the most out of your products, while also ensuring they can find quick answers to their questions.
9. Buffer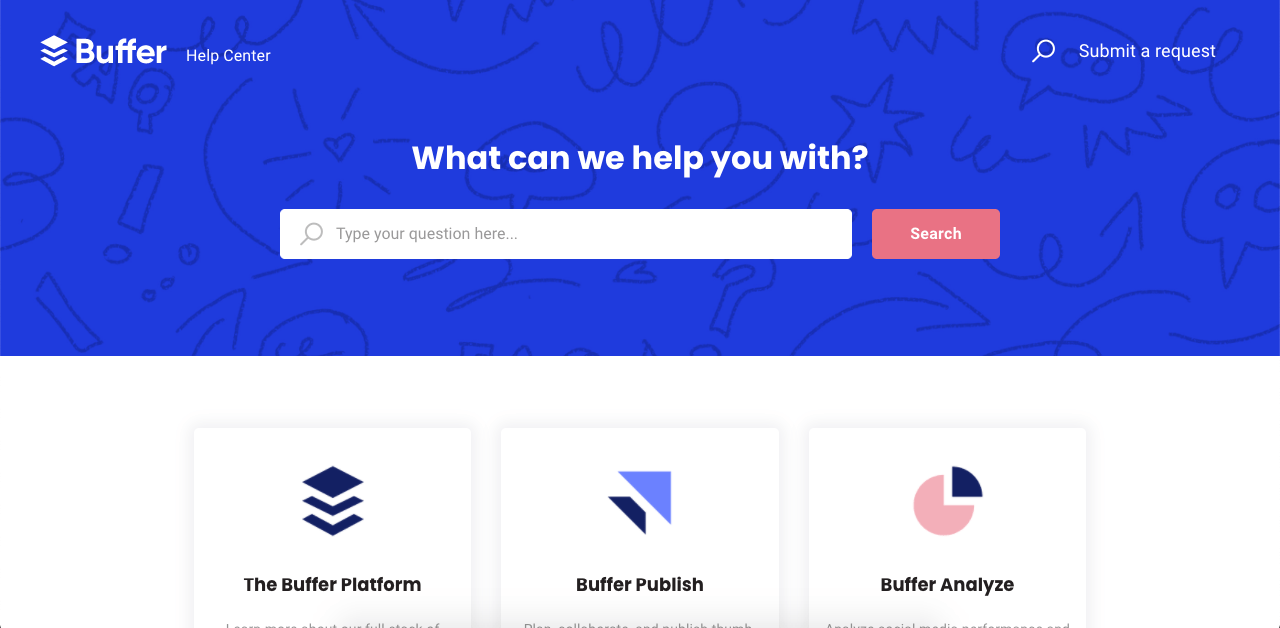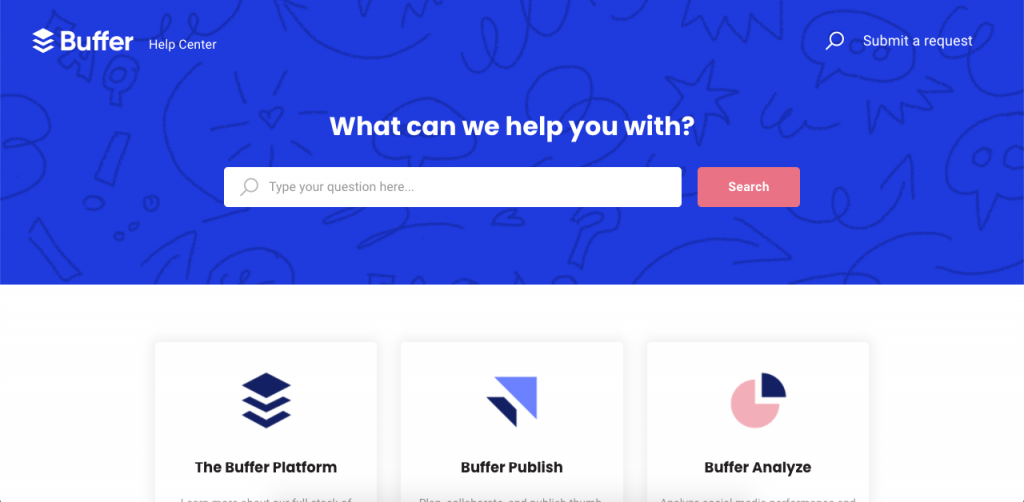 Although Buffer's knowledge base doesn't seem like much when you first open it, they've managed to do a lot with a little.
The first thing that catches your eye is the search bar. Buffer gets the most out of it by writing articles with simple and searchable topics.
Buffer uses GIFs within their articles to visually show users how to solve their issues step by step. This allows users to quickly locate features and menus by showing them where to find them, rather than describing their location.
Learn from it:
An image is worth a thousand words. Guide users through your topics by showing them the process, rather than telling them.
10. Basecamp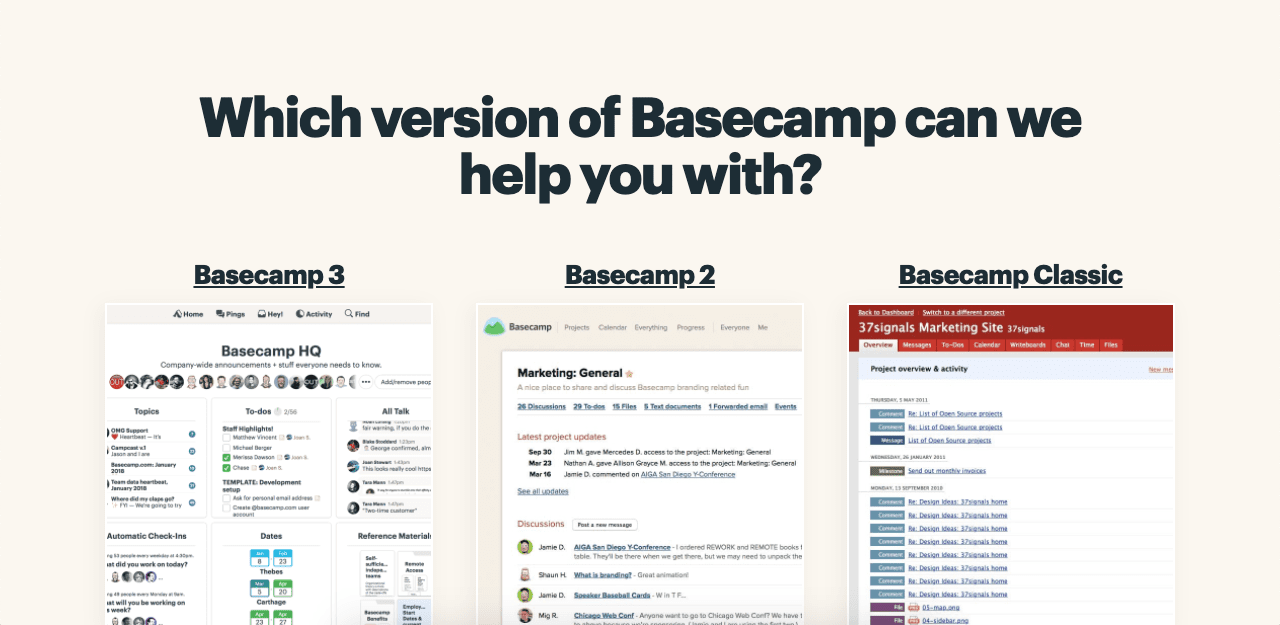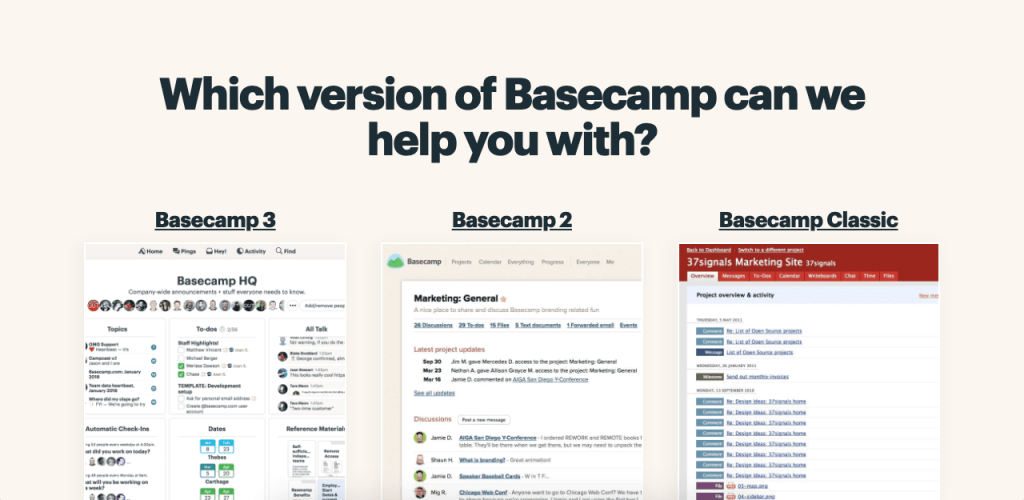 To use the Basecamp knowledge base, you first need to select which version of Basecamp you need to learn more about.
Each version has drastically different knowledge bases, which cater to individual users, their interaction with the platform, and the way they learn.
Learn from it:
Even if you don't have three different versions of your product, segmenting your audience is vital. Put yourself in your users' shoes and segment the information in your knowledge base according to your user personas.
11. Shipt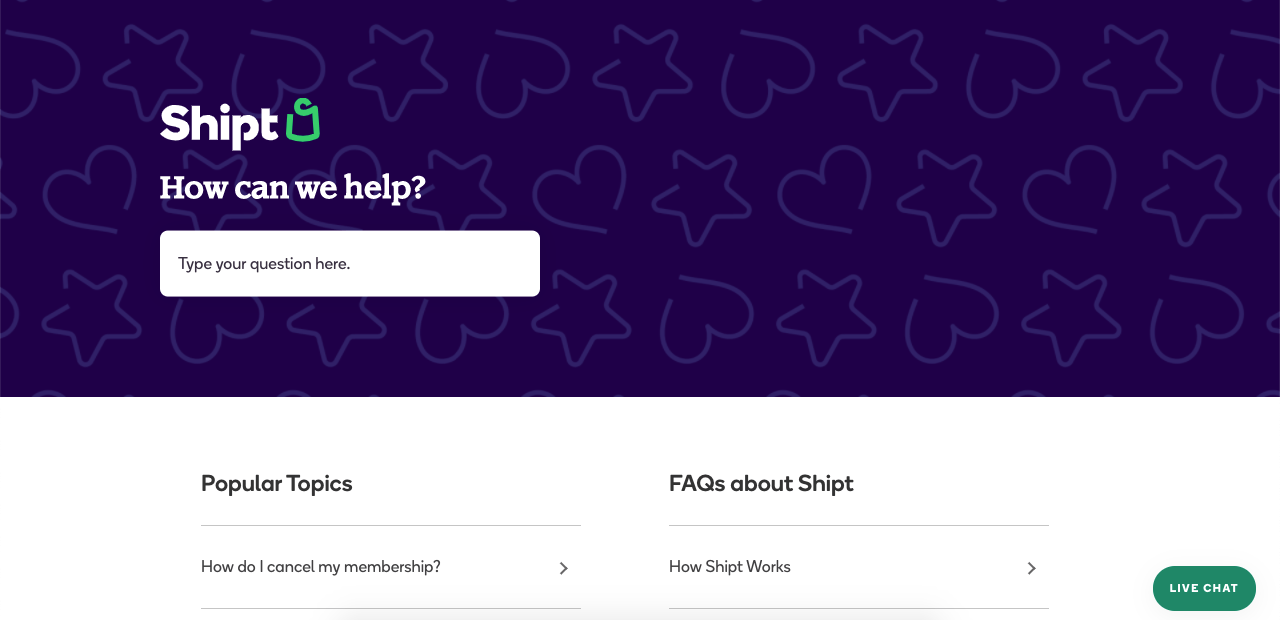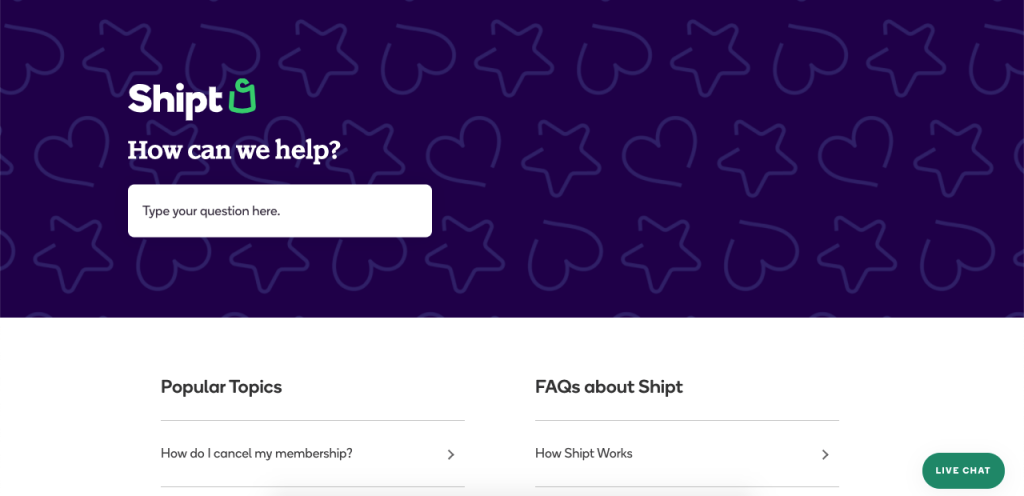 Shipt is a delivery app for groceries and alcoholic beverages. It has a streamlined yet comprehensive knowledge base, which helps users become familiar with the platform and answers most of their queries.
In the knowledge base, users can learn the purpose of Shipt, discover how it works, learn how to resolve common issues, and find out how to share feedback with the company.
It's a simple, small, and effective knowledge base that surely saves Shipt a lot of time in dealing with customer service issues automatically online, rather than by answering phone calls and emails.
Learn from it:
Don't dismiss the use of a knowledge base just because your product or service is simple or easy to understand. Use knowledge bases to flesh out your business, describe what you do, and show your clients what they can expect from your business.
As your business grows, your knowledge base will grow with it.
Finally, don't forget to provide users with options for reporting feedback to your team.
12. Google Analytics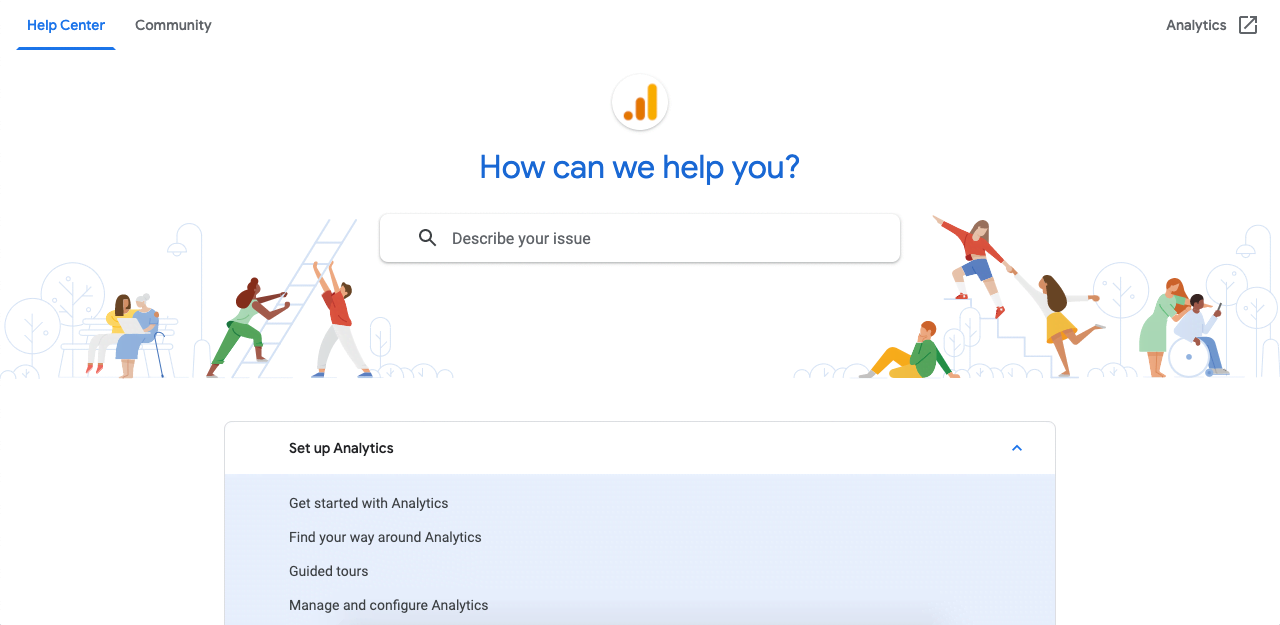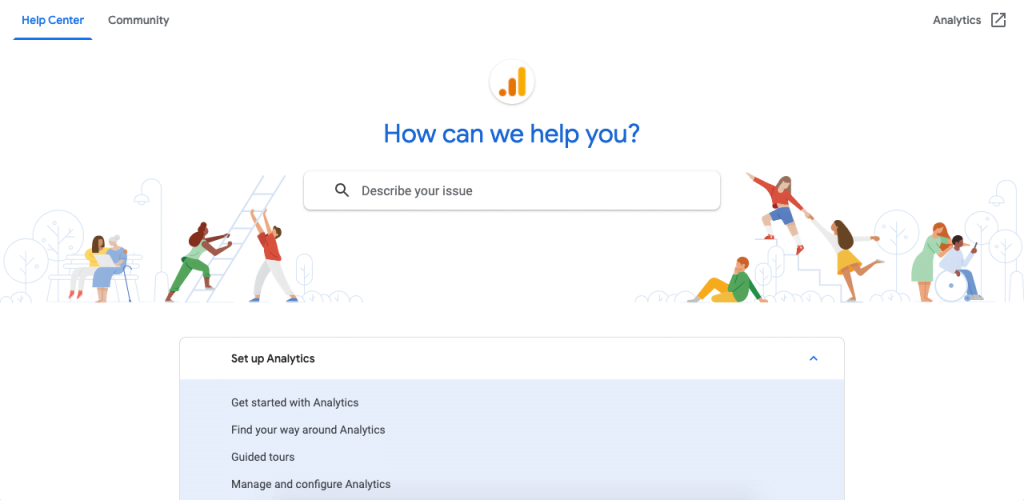 Google achieved its fame for its intuitive search bar, and its knowledge base does not disappoint.
Just as with the search engine, Google's Help Center search bar is the first thing you see upon viewing the website. It welcomes the user with a comforting invitation to "describe your issue". This allows you to search for information about your individual problem, making it very easy to find answers.
Learn from it:
You may not have Google's search engine backing up your knowledge base, but you can still make your topics more searchable. Use keywords and titles while thinking about the user's issue more than the main topic.
For example, instead of using a title such as "Descriptions and Details of a Monthly Statement", use a title like "How to Read my Monthly Statement" to make it easier to search for.
13. HubSpot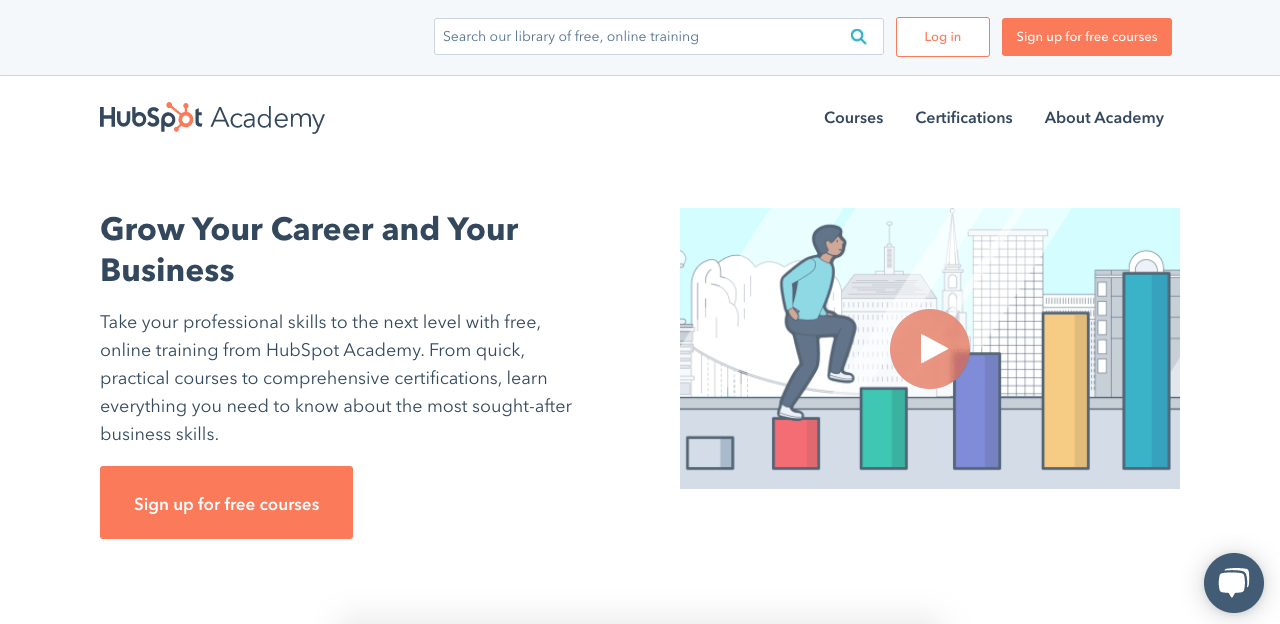 HubSpot is famous for its customer relationship management (CRM), but the brand goes beyond that. Hubspot wrote the book on modern inbound marketing and has managed to be the source of knowledge about everything marketing related to millions of people.
If anyone wants to learn about marketing, Hubspot offers them their free and incredibly comprehensive knowledge base—HubSpot Academy.
HubSpot Academy embraces everything that HubSpot stands for by exemplifying their inbound marketing experience. Through video tutorials and simply-worded articles, HubSpot has become a leader in teaching online marketing. And, since they're the leader, HubSpot also uses their knowledge base to market their CRM as a natural solution to many queries.
Learn from this:
Your knowledge base can go beyond your product or service. Use a combination of videos, GIFs, and written articles to talk about your industry. Use your insight to help people solve their problems.
If you position yourself as an authority in your area of expertise, you'll attract and retain more clients.
14. Wix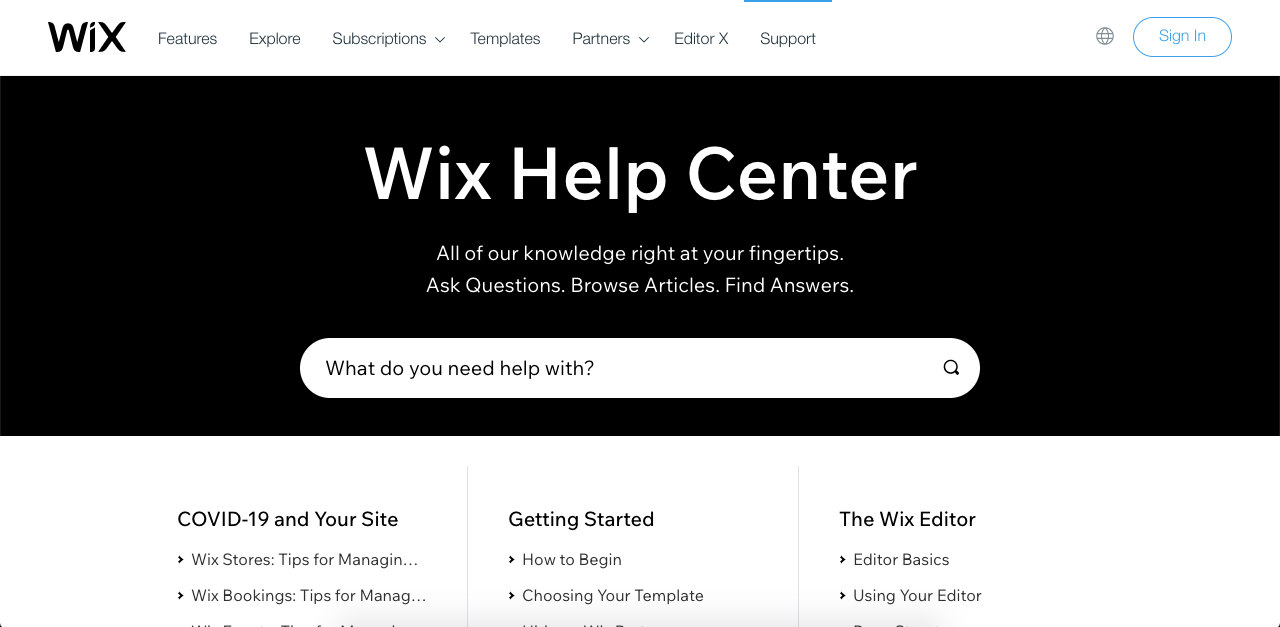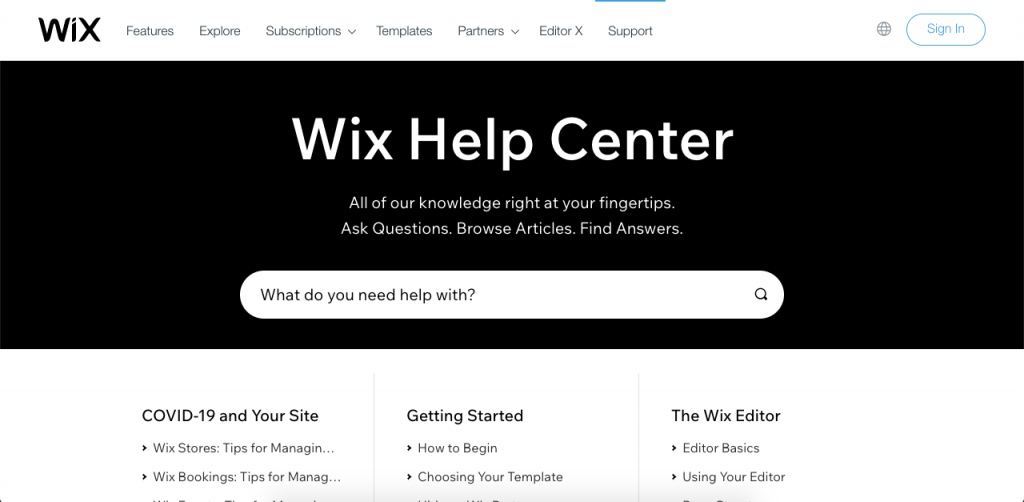 Wix is a cloud-based development platform that gained popularity because of its simplicity, and its knowledge base doesn't fall behind.
Users may browse the knowledge base in three different ways: by using the search feature, searching by category, or by viewing trending topics.
Wix also shares real user experiences in "Wix Stories". This helps to humanize the company, foster a community of users, and provide people with ideas by learning from others.
Learn from it:
The Wix knowledge base can act as a template for your own knowledge base. It's very simple, well-designed, and uses a multitude of methods to get users reading.
15. Salesforce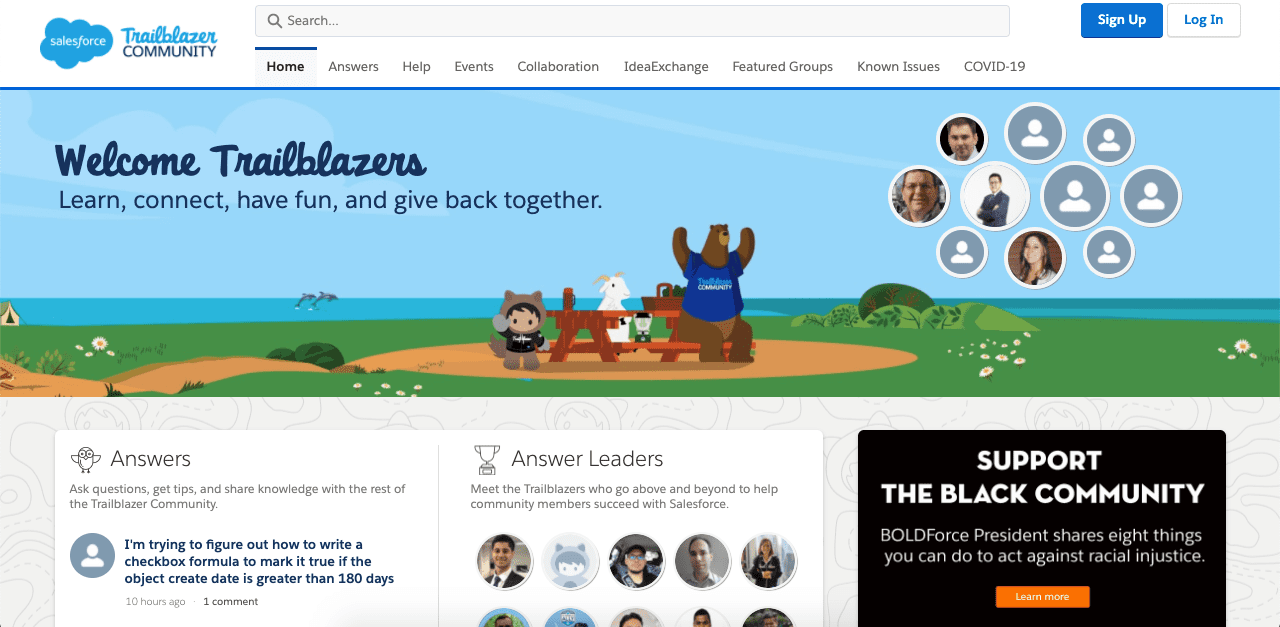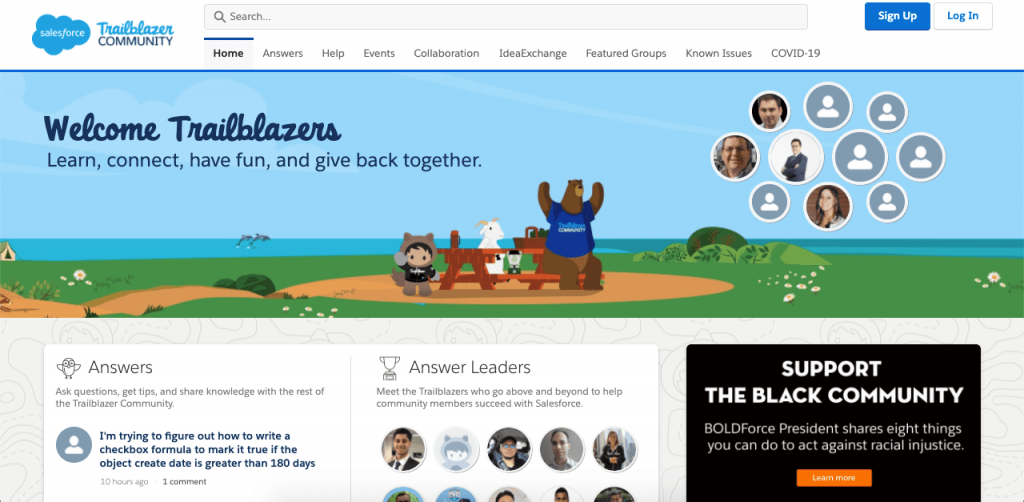 Salesforce is a leading CRM platform that does many things extremely well with its knowledge base. One of those things is by staying relevant.
Besides containing a very comprehensive product guide and marketing article catalog, you can find information about new monthly features, COVID-19, and even learn about how Salesforce is supporting the BLM movement. All of this is featured on the home page.
This encourages users to continue returning to the knowledge base to stay updated.
Learn from it:
Rather than displaying only your general, evergreen content, update your knowledge base with topics that are relevant to your audience. Learn about the issues your community is facing and use your knowledge base to show them how you're taking action.
16. Lyft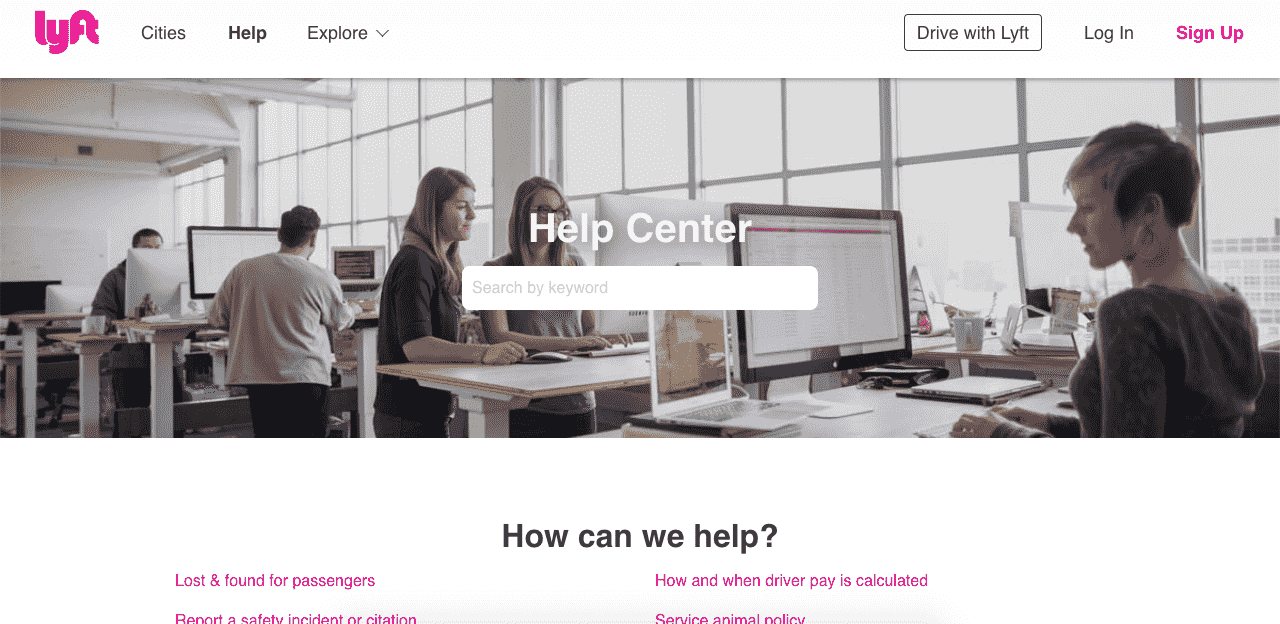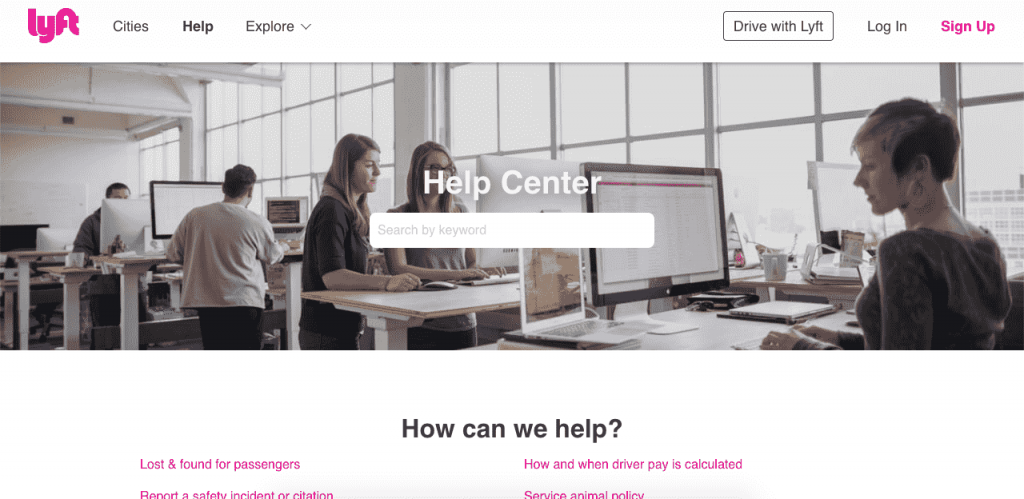 Lyft's famous knowledge base is one of the most effective when it comes to user interaction. With millions of users around the world, Lyft has managed to create a knowledge base that quickly and effectively answers users' questions by basing it on an efficient structure.
Lyft accomplishes this by separating readers into drivers and riders. It then shows the most relevant answers to people's most common questions. The structure is so effective that users are encouraged to go through the knowledge base and only contact Lyft when they have very specific issues that aren't resolved through the process.
Learn from it:
Start your knowledge base by using a proven structure. Once you have this in place, you can build on it and continue expanding it as necessary, knowing that your readers will find the answers they're looking for.
17. Rail Europe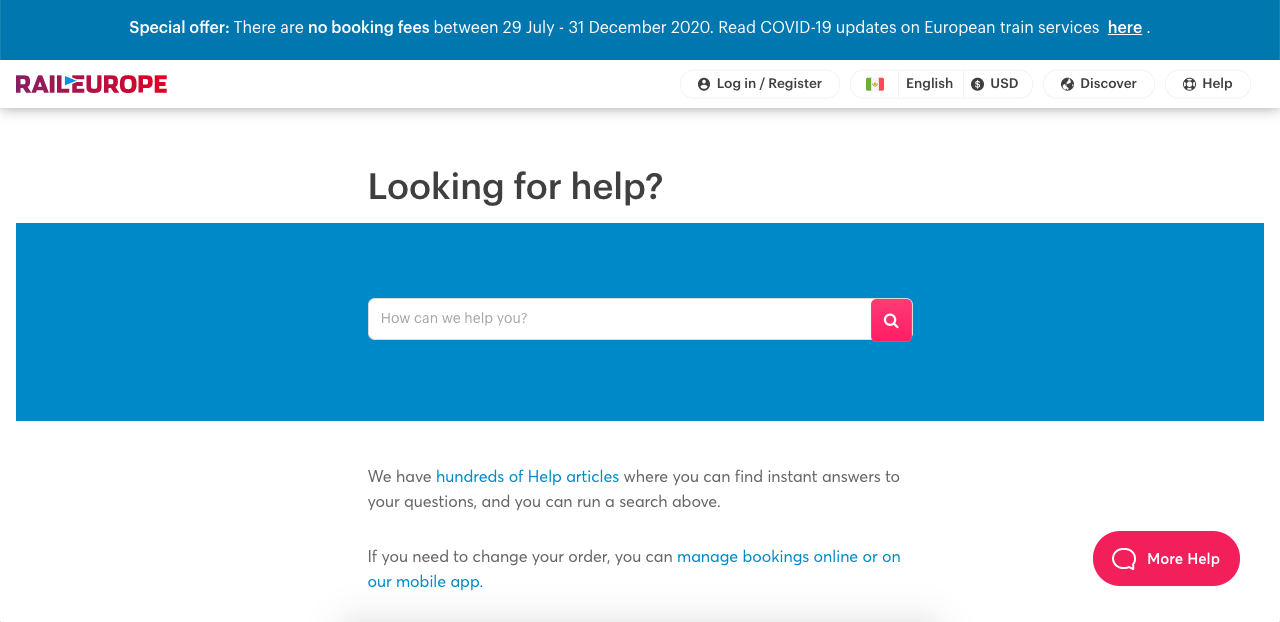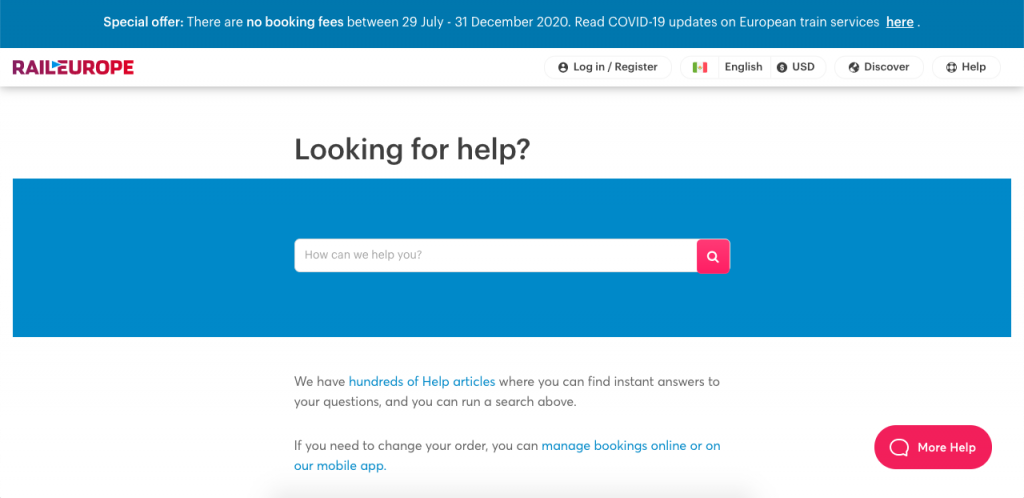 Rail Europe is a mobile app that helps people manage their train reservations. Since the main issue of train users stems from the logistics of the process, Rail Europe's knowledge base is built around this.
Under the "Planning" heading, users can search among articles about "Tickets", "Promotions", and "Planning Your Trip". Users can also find similar articles in the "Booking" and "Travelling" sections. This provides train riders with the ability to look up anything about their trip, from beginning to end.
Learn from it:
If you provide just one service or sell one product, build your knowledge base around your customer's journey. Learn how users engage with your brand and use your knowledge base to guide them step by step.
18. Canva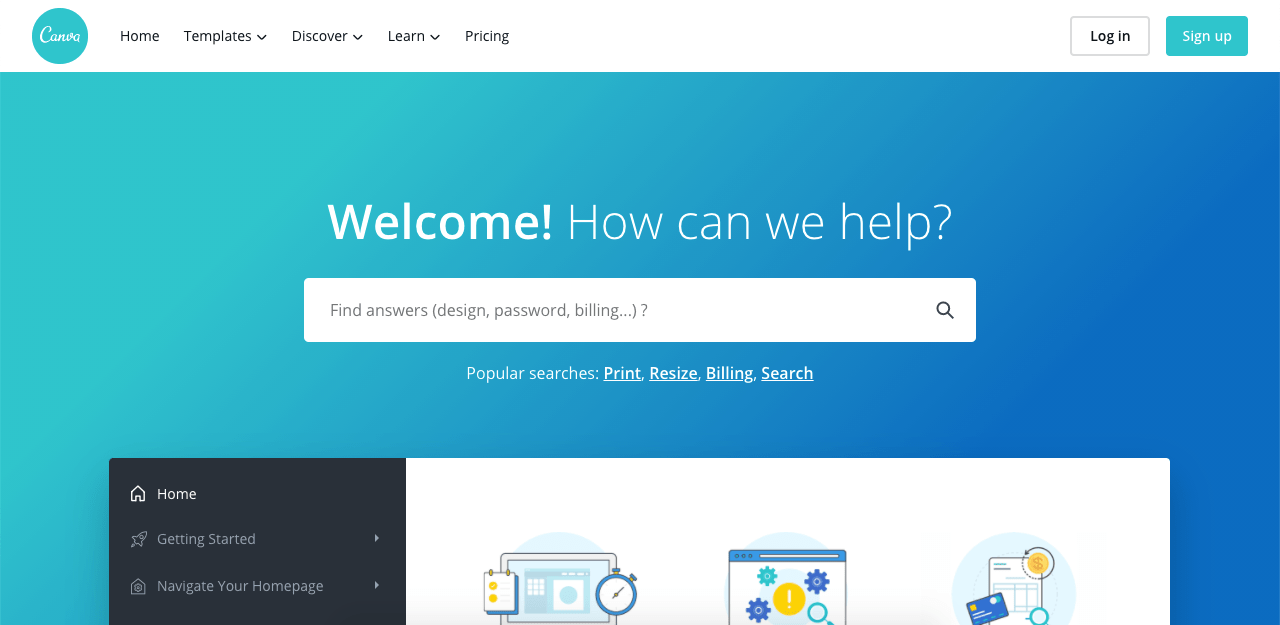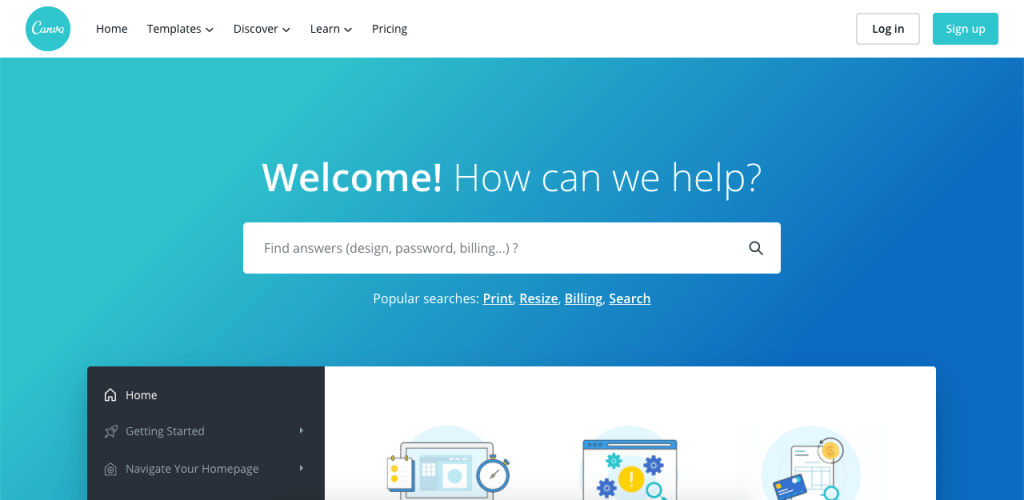 Since Canva is a design tool, its knowledge base excels in its design. Canva's knowledge base page is beautifully designed, with a blue gradient and attractive graphics.
Navigation is kept simple by allowing users the ability to explore categories and navigate throughout them using the black menu bar, without ever having to leave the home page.
The knowledge base also breaks down large topics into simple tasks, so it can easily guide the user through them without any need to feel overwhelmed.
Learn from it:
Canva uses a blue gradient for a reason: it inspires calm feelings. Try using this model and provide your users with a calming color scheme for your knowledge base. Break down large topics into individual posts and use smart design choices to engage them with your topics.
19. Dropbox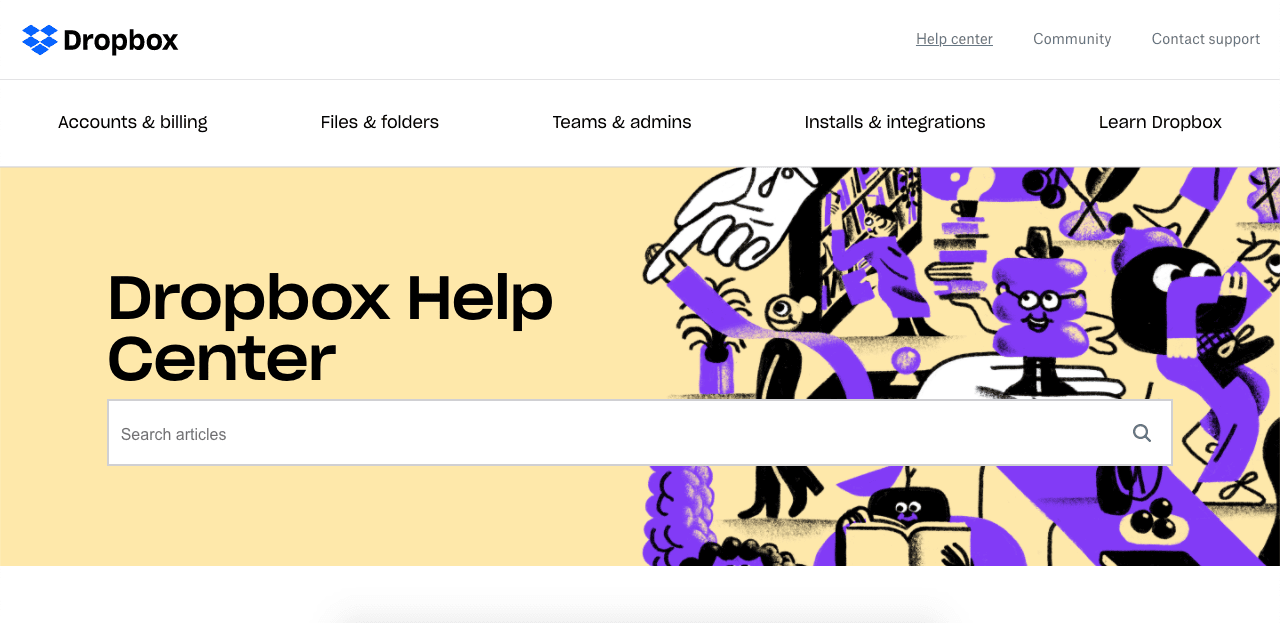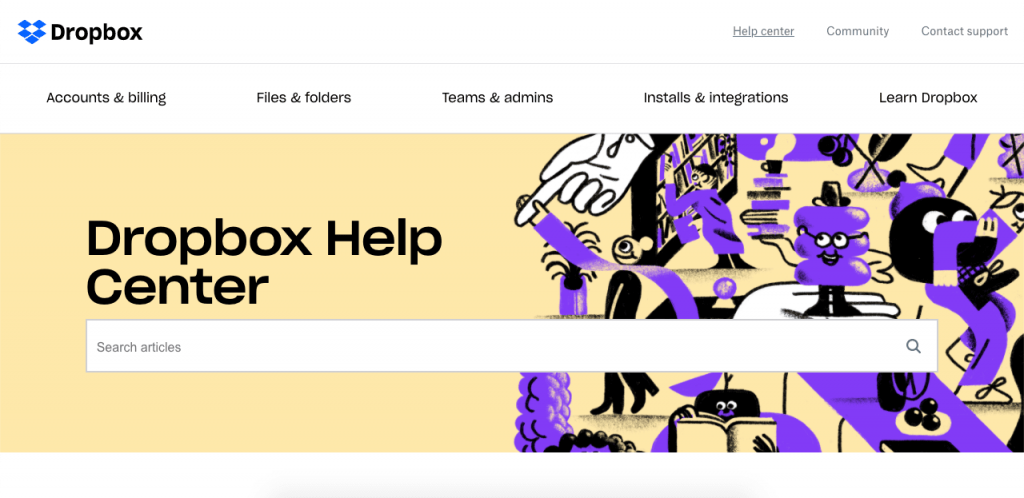 Dropbox needs no introduction. We are all aware of it and most people are likely to have an account, even if it has been forgotten. However, Dropbox is more than just a pioneer in cloud storage.
Dropbox is so simple and effective that users rarely run into issues while using it. That's why its knowledge base, unlike most others, isn't focused on troubleshooting. It focuses instead on answering common user questions and promoting Dropbox, showing how easy it is to use through fun illustrations and quick articles.
Learn from it:
You may not need a large knowledge base with an overwhelming amount of information. Sometimes, less is truly more.
If you decide to go this route, be sure to focus on customer experience and design. Be very careful with your tone and use your knowledge base as an extension of your brand to portray your company values and features.
This approach will provide you with a solid start to your knowledge base.
20. Yoast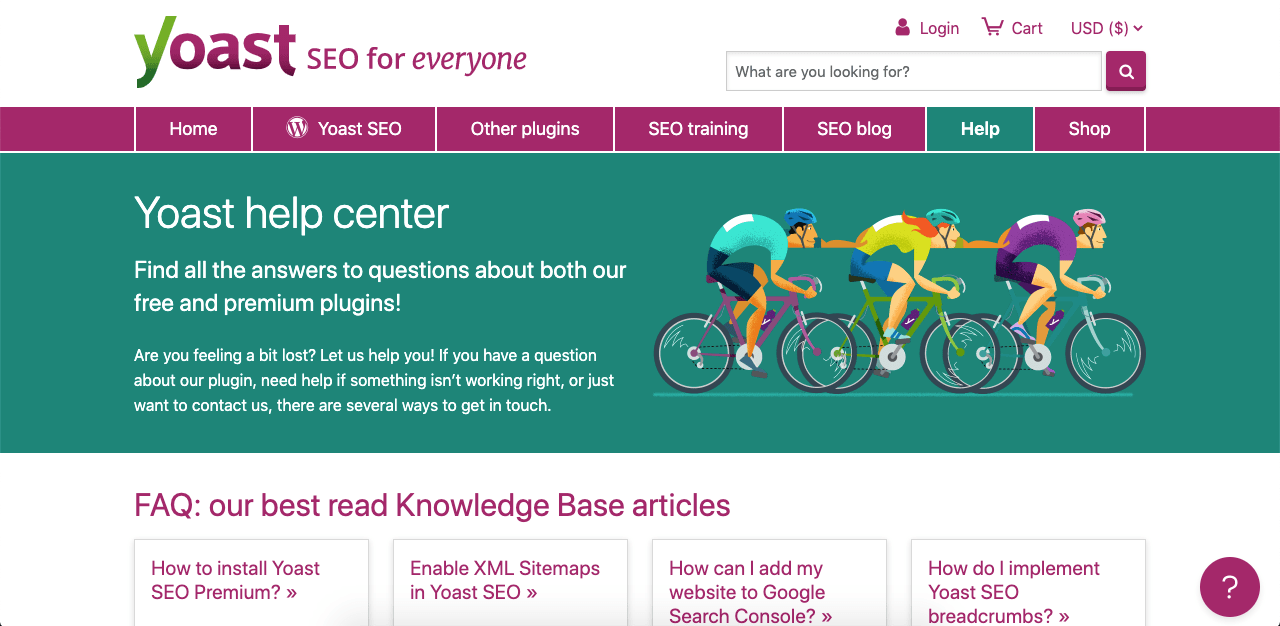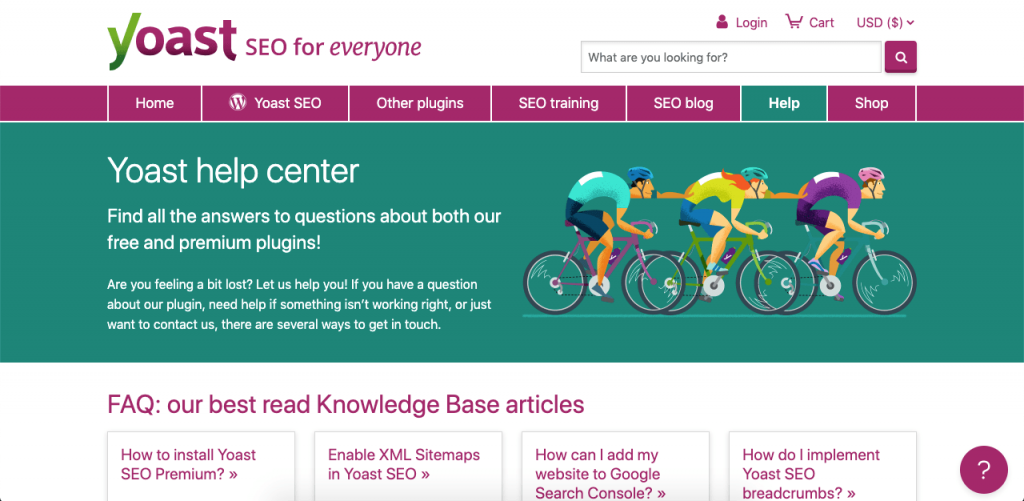 Yoast helps millions of users optimize their websites for search engines. Having so many users means there will be a lot of variety and complexity when it comes to inquiries; a simple search bar will not be enough.
To solve this problem, Yoast has separated its data into intuitive categories so that finding the answers you need is a very quick and easy process, even within such a huge and complex knowledge base.
Learn from it:
When you have a complex product or service, it is crucial to make it fast and easy for the user to solve any inquiries they may have about it.
Make sure every step along the way is intuitive and that your users are never more than a couple of clicks away from the article they're looking for.
21. Zoom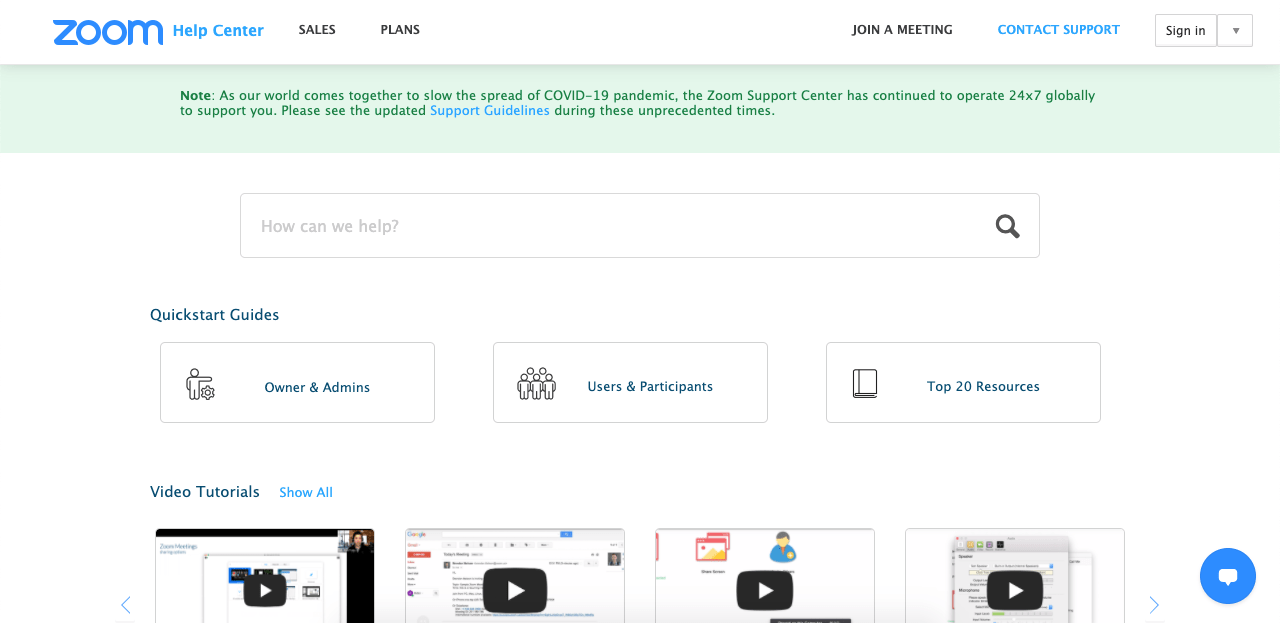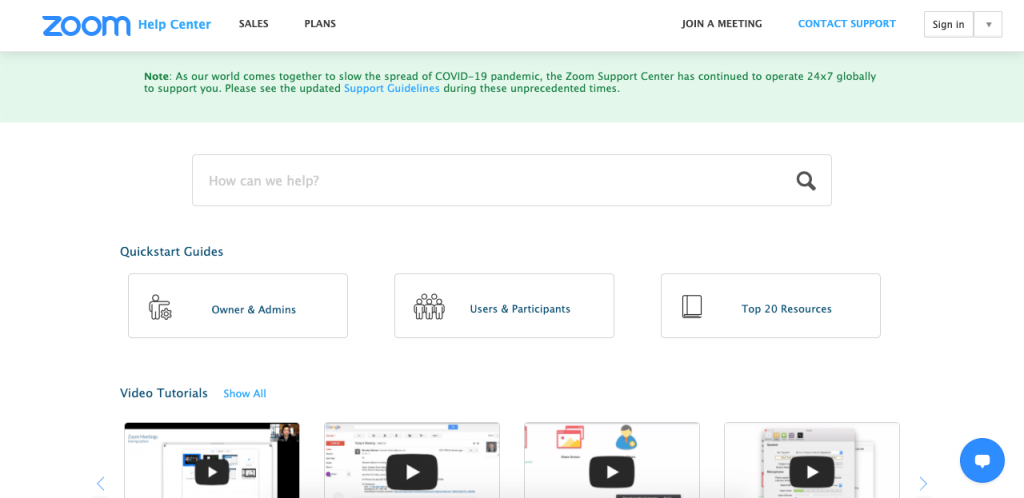 Many of us, who may not have even known that Zoom existed prior to the beginning of 2020, are now regular users. Since the early days of the pandemic, Zoom has seen tremendous growth in user numbers. Because of this, their knowledge base needed to evolve.
As of 2018, the Zoom knowledge base contained only a search bar, a few topics, and less than ten video tutorials. Today, the topics have been moved to the bottom of the page, many more articles have been written, and you can find so much more than their original ten video tutorials as there are now nine topic categories, each containing multiple video tutorials.
Learn from it:
An effective knowledge base is one that grows with you. Start with a solid structure that allows for flexibility.
Don't forget to grow your knowledge base along with your company Be ready with a content creation plan that is continually updated by customer feedback.
Frequently Asked Questions
1. What should be included in a knowledge base?
A knowledge base should include all of the information readers require about a certain topic and the tools to browse it.
Most knowledge bases include written content, a search bar, Frequently Asked Questions, and a number of categories related to the products or services provided by the company.
2. What is the use of a knowledge base?
Knowledge bases help users efficiently find answers to their questions and learn more about a topic. Companies use knowledge bases to flesh out their products and services and solve common customer queries.
3. How do you manage knowledge bases?
Knowledge bases need to be properly organized, categorized, updated, and audited regularly.
4. How do you create an effective knowledge base?
Effective knowledge bases are comprehensive, straightforward, intuitive, up-to-date, and easy to navigate.
The right approach will depend on the topic and the user persona and will adapt to benefit both.
5. What is the best knowledge base software?
The best knowledge base software is one that's easy to use, flexible, and minimizes the time you spend crafting your knowledge base. The combination of these factors is hard to find in a knowledge base software, which is why we built our own.
Messagely's knowledge base software allows you to create a knowledge base from scratch and without any previous experience. The knowledge base also adapts to the rest of the Messagely platform, so you can automatically answer customer queries with articles that are directly related to their questions.
Conclusion
Knowledge bases are one of the key tools used for customer satisfaction. They allow you to reach customers who are searching online about issues with your business. they help to educate your customer on multiple issues at a pace they're comfortable with, and they can even foster a loyal user community.
Now that you've learned from the best, get started by creating your very own knowledge base today.