If you want to excel at customer service, you need to master proactive customer service.
Proactive customer service is key to making your users and clients feel cared for. With proactive customer service, you can prevent and deal with crises, and it plays a vital role in forming loyal customers and brand advocates.
But what's the secret behind truly mastering proactive customer service? How can your company switch from reactive to proactive customer service?
Let's find out.
What is Proactive Customer Service?
Proactive customer service is the process by which a company tries to prevent issues from happening instead of reacting to them as they happen.
Through proactive customer support, the company makes an effort to anticipate potential issues the user may have. The company takes steps to try to prevent those issues from happening in the first place through improved customer service.
This is the opposite of reactive customer support, which is what happens when a company simply waits for an issue to happen or for a user to request customer support.
For example, an internet provider may know that it might not be able to provide the agreed internet speed to the customers of certain regions due to scheduled maintenance.
With reactive customer service, the company may simply take the risk of inconveniencing some of its customers, instruct the customer service reps about the issue, and proceed to give a partial refund to customers who complain.
With proactive customer service, the company may reach out to the customers that could potentially be affected, let them know that there may be an issue and how long it may take, and send them a partial discount or an offer as preemptive compensation.
Whereas both customer service techniques address the issue, proactive customer service requires more resources but tends to be more effective when creating brand loyalty.
7 Tips to Master Proactive Customer Service
Here are the top 10 tips to help you master proactive customer service:
1. Use your live chat
Your live chat is one of the most important aspects of your customer service efforts. It can help customers contact you as soon as they have an issue, but it can also be used to provide excellent proactive customer support.
Live chats give you customer behavioral information that can help you decide when to contact your customers. Using this behavioral information can help your team anticipate customer interactions and contact users before they reach out to your team.
How to get started
Use behavioral information to develop triggers as soon as your customer needs help. For example, you can develop triggers for when a user has gone through three or more knowledge base articles in a row or when a user has spent a lengthy amount of time in your knowledge base.
Once you've developed the triggers, train your customer service reps to make sure they know how to solve the most common customer queries as efficiently as possible.
2. Develop customer service strategies with survey data
If you want to master proactive customer service, you need customer input. Instead of assuming you know what your customers need or want and acting based on that assumption, customer input will give you the best chance at truly knowing your customers' main pain points and help you act on them.
The easiest way to achieve this is by asking customers directly through surveys. These surveys will let you know more about your customers and can give you much insight into where to improve your customer service proactively.
How to get started
There are two main issues when it comes to using customer surveys: companies often don't know how to create engaging customer surveys or they don't know how to use the data they collect.
To prevent these issues, create customer surveys based upon the issues you have. Use the right questions to probe your customers' pain points and learn how they'd like you to solve them.
Lastly, give your customers an incentive to fill out your surveys, either by keeping them very short (e.g., requesting that customers click on the number of stars to evaluate their experience) or by giving them an incentive to fill out a longer survey.
If you create surveys specifically based upon an issue, you'll know exactly how to apply the data you receive.
3. Keep track of customer conversations
If you want to proactively solve issues, you'll need to listen to your customers. There are times when a customer talks about your company on social media to complain or air their grievances. The best way to react is by giving them the support they need.
By keeping tabs on what conversations are about when your company is mentioned, you can get ahead of any issues. You can not only solve the issue for the customer but solve the issue in front of their contacts, so they know your company takes customer care very seriously. So, make sure to use client management software to track all of your client activities and communication, allowing you to tailor your services and communication to meet their needs effectively.
Also, keeping track of customer conversations lets you know how your customers are engaging with your brand, letting you develop better customer service and better strategies with your insight.
How to get started
The best way to start listening to your mentions is by automating this process. Use software like BuzzBundle or Social Mention to keep track of your customers' comments. You can pair it with Google mention alerts to make sure you're keeping track of all of them.
Train your customer service reps to engage with people experiencing issues with your brand. Equip them with a sufficient budget and tools to help your customers and even compensate them with special discounts or billing-altering authority.
4. Help your customer service team develop the skills they need
Your customer support team is the most important piece in any customer support strategy and approach, and proactive customer support is no different.
You need to select the right customer support team—people with problem-solving skills and people skills—and they need ongoing training to keep their skills updated and to allow them to flourish.
If your customer service team is lacking, your proactive customer service will also be lacking.
How to get started
Start by making sure you're hiring the right people. Take control of your hiring process through AI Recruitment Software such as iSmartRecruit, specifying the kind of skills you're looking for. Make sure you have an ideal customer service rep profile, and ensure that the profile is used accordingly.
Once you have the right customer service reps in place, you need to make sure their skills are up to your standards. To do this, ensure they have enough training. Develop a training calendar that prioritizes the skills your company needs the most, and make sure you're spending enough time training and re-training your live reps.
5. Create and update your knowledge base
The first thing most people do when trying to find an answer is to look it up online. If they can't find an answer online, they'll likely grow frustrated. By this time, it's too late to provide proactive customer service.
Having a knowledge base prevents this from happening. With a knowledge base, you can inform your users about how to solve their issues themselves, so they won't have to contact customer support.
You can also use your knowledge base to provide extra proactive customer service by automating your live chat to ask if a user needs help based on their activity.
Knowledge bases are a vital tool for mastering proactive customer service without breaking the bank.
How to get started
If you want to create a knowledge base, you need to ensure it's easy to keep updated, it tracks the right KPIs, and it connects with your messaging system to make it easy to connect with users.
Instead of trying to develop this all by yourself, you can use a simple tool like Messagely.
Messagely handles all your user messaging needs including knowledge bases. With Messagely, you can easily develop a knowledge base your clients will love to interact with. Your knowledge bases will not only tell your users how to fix their issues, but they'll also tell you how to become better at proactive customer service by saving the right behavioral data to help you improve.
And since your knowledge base and your messaging system is connected, you can easily automate chatbots to offer your users help when they can't seem to find it.
Get started with Messagely today.
6. Get ahead of any issues
Mistakes happen. It doesn't matter how much you try to avoid them, mistakes will occur sooner or later. Instead of focusing only on trying to avoid them, you need to know what to do when they happen.
Knowing how to handle mistakes can not only mitigate their effect, it can improve your relationship with your customers altogether. By employing a series of smart steps, you can not only respond to mistakes as soon as they happen but use them to strengthen your relationship with your customers.
How to get started
If you want to be proactive, you can't wait until a mistake happens to figure out what to do. Instead, make sure you have enough guides in place so you'll know what to do in case of a crisis.
When something goes wrong, you need to act quickly to correct it. Start by fully learning about the issue. If, for example, there was a quality issue, make sure you understand who's affected, how they're affected, for how long, and any other information you need to fully understand the issue.
Then get ahead of the issue by notifying your customers. If you know exactly who was affected, you can approach these customers privately. If you don't know exactly who was affected, or if the issue is already widely known, you'll have to do it publicly.
Make sure your apologies are sincere and accompanied by actions to fix the problem. If you cannot fix the problem, you can try to compensate your users for the inconvenience by offering a discount or a refund. Whatever you decide to do, make sure it's comparable in magnitude to your mistake.
Finally, inform your customer of what you're doing to prevent the same mistakes from happening again. This will show customers you take these mistakes seriously, giving you a better chance of winning back their trust.
7. Upgrade your upselling skills
Proactive customer service isn't just about getting ahead of issues and answering customer queries in advance. It can also mean solving your customers' issues through upselling.
When done correctly, upselling is beneficial for both your customers and your company. By upselling, you're giving your customers an extra benefit that makes their lives easier, without requiring them to spend more than what they can afford.
How to get started
Start by making sure your customer service reps have enough training to upsell. You shouldn't leave selling just to your sales reps, so ensure your customer service reps know how and when to upsell to your clients.
Review your customer data. Find the customers that could be getting more out of their product or service through upselling. If you're selling a service, find users that are currently using all of the capabilities of your service, since they may benefit from expanding their packages. If you sell a product, learn which customers use your product the most to figure out which other products can help them.
If you find people who are more likely to improve their lives through an upsell, this can be a great way of strengthening your customer relations.
4 Examples of Companies That Have Successfully Implemented Proactive Support
Here are a few examples of companies successfully providing proactive customer support and the lessons you can learn from them:
1. JetBlue
JetBlue is admired for its proactive customer service through social media. The company scours social media to respond to people's inquiries, offers insight on their flights, or in one case, provided a user with a Starbucks coffee.
When Paul Brown discovered he wouldn't be able to purchase a Starbucks coffee before boarding a JetBlue flight because he was flying out of a small terminal, he tweeted about it to JetBlue.
This tweet could have been lost in the sea of tweets about JetBlue, but the company decided to take action. Within 15 minutes, JetBlue replied to Paul, letting them know they had unlimited coffee on board, and they even delivered a Starbucks venti mocha to his seat on the plane.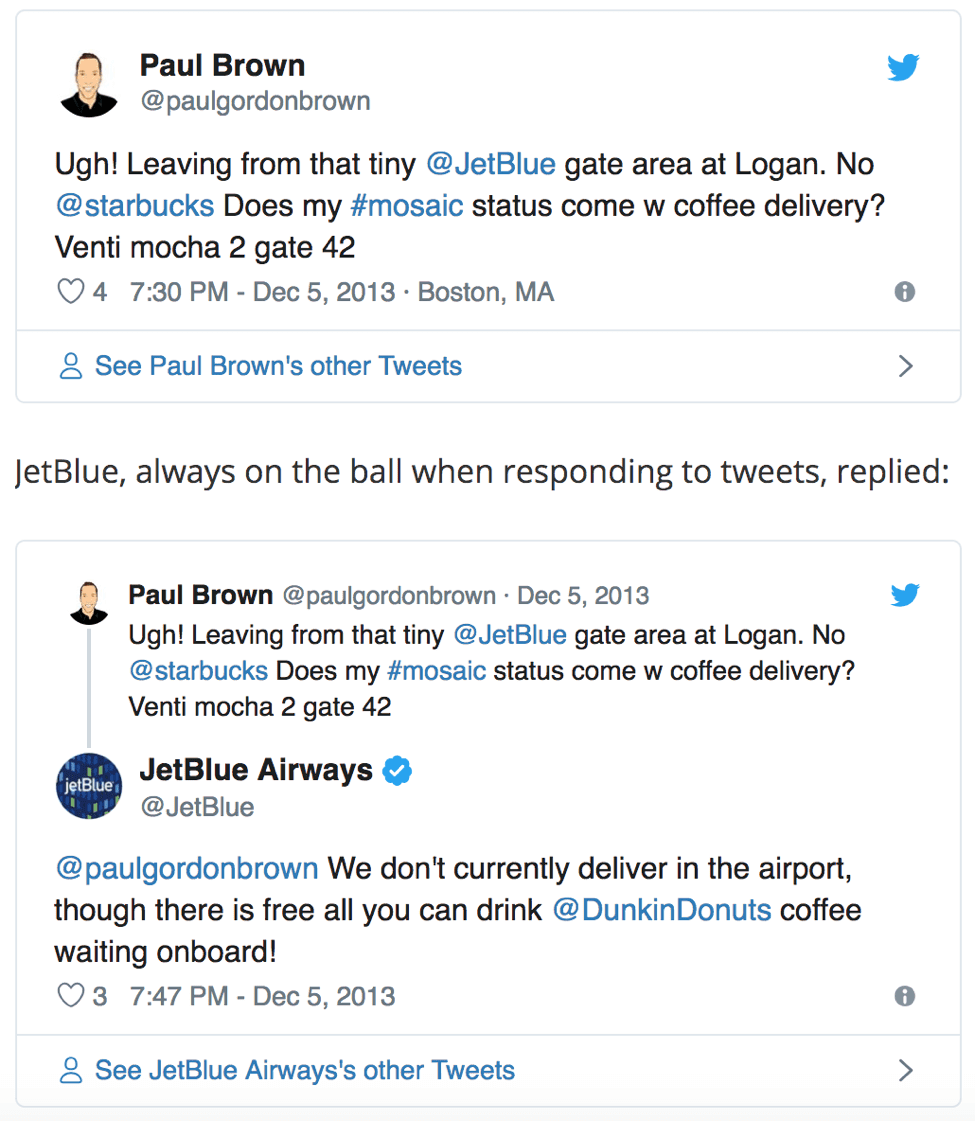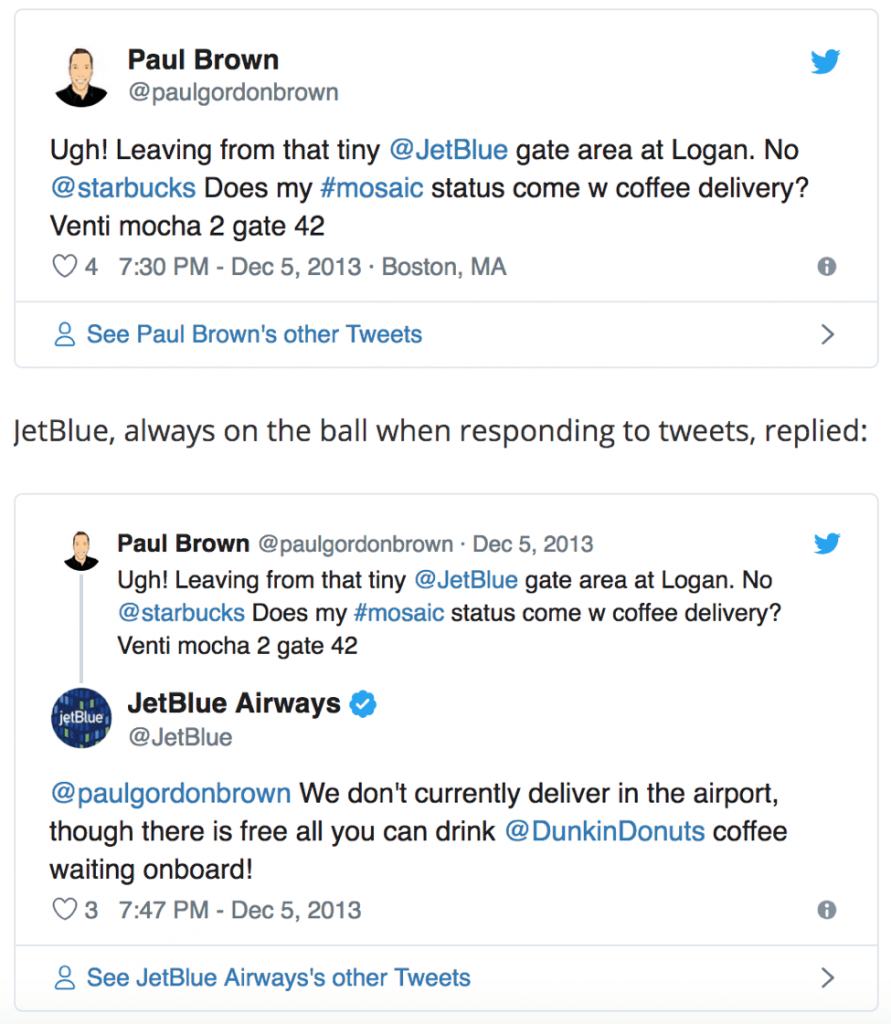 Through a simple action, and at the cost of a cup of coffee, JetBlue gave one customer an experience he will not forget and one he will share with people for years to come.
Learn from it:
Scour social media for mentions of your company: Listen to what your customers are saying about your company by ensuring you have enough systems in place to listen to as many of your mentions as possible.
Train your customer service reps to go above and beyond: Instead of giving your customer service reps strict rules about how to aid customers, give them guidelines and encourage them to think out of the box.
Prioritize excellent experiences above all else: Memorable experiences are unique experiences. If you focus on trying to make each customer interaction unique, they'll be likely to remember it.
2. Slack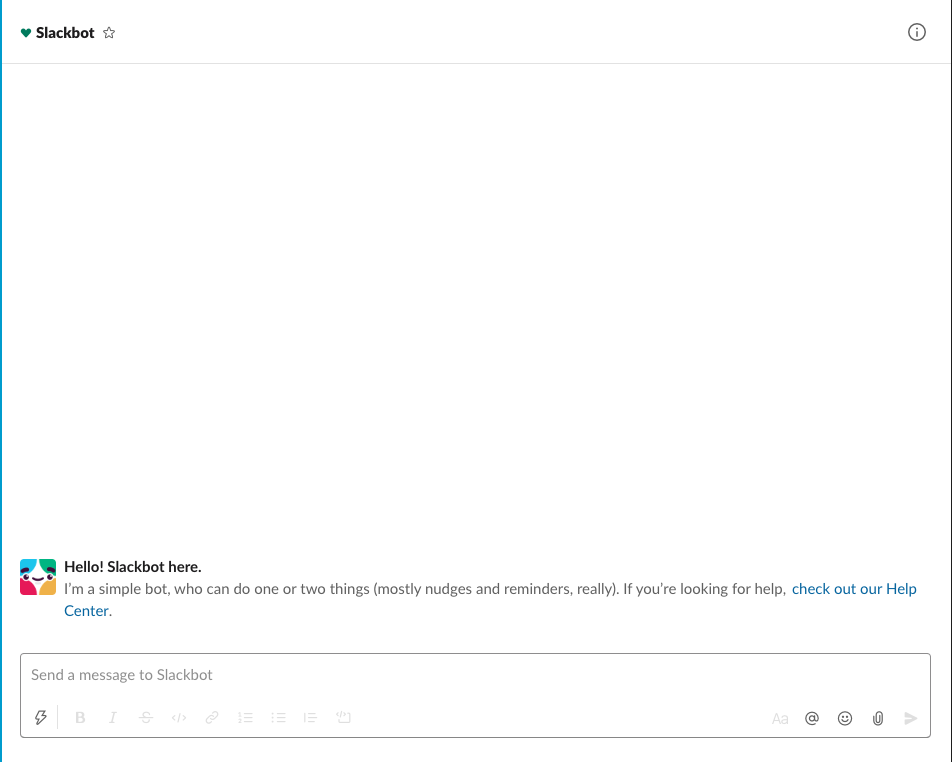 Slack is a popular communication platform for internal company communication. That's why they need to make sure that all users know how to use the platform quickly and intuitively.
Although a lot of it is resolved through its intuitive UI, Slack uses an extra tool to help users get to know the platform. Slackbot is a simple chatbot that users can chat with through its own Slack channel. It uses behavioral analytics to make sure it knows how the user is interacting with the platform. Because of this, it can know what the user is doing, what they've tried to do, and what they have yet to try.
Through this simple but powerful chatbot, Slack ensures the onboarding experience is as streamlined and smooth as possible, providing proactive customer support without wasting live reps' time.
Learn from it:
Master the onboarding experience: The best way to provide proactive customer support is by educating your customers enough so they don't need customer support to begin with. Do everything in your power to make sure your clients' onboarding experience is smooth and effective.
Take advantage of chatbots: Although Slackbot is highly effective, it's also a very basic chatbot. You don't always need the most revolutionary chatbot in the world to provide excellent customer service. Instead, develop simple and effective chatbots through easy platforms, like Messagely.
3. Virgin Media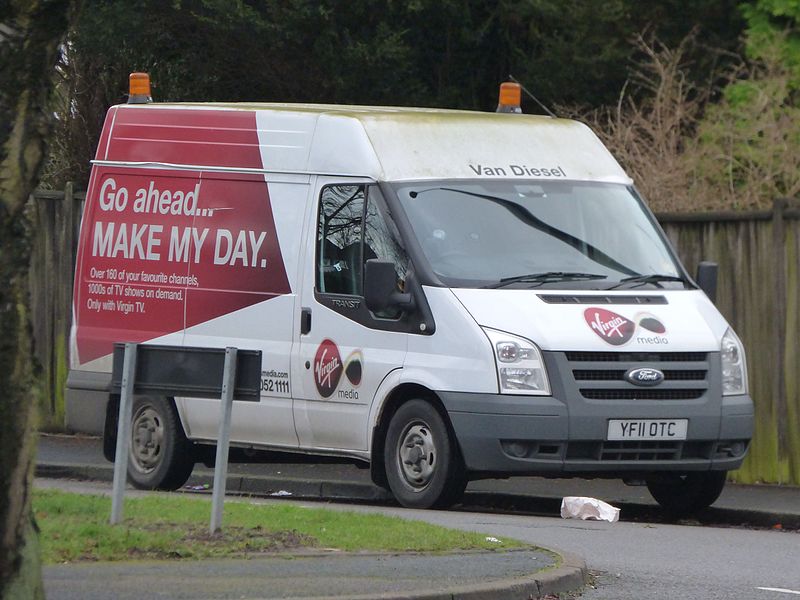 Virgin Media is a large company that employs over two and a half thousand engineers in the UK to provide free installation to its broadband customers. When employing such a large number of people, cancellations can quickly pile up, costing the company a lot of money and time. This is especially true when approximately 10% of their customers end up canceling appointments, mainly because they forgot they had one to begin with.
The solution? Proactive customer service. Through proactive customer service, Virgin Media keeps their customers engaged through multiple channels to ensure the customer remembers their appointment.
Through simple automated calls and reminders, Virgin Media was able to dramatically and permanently reduce the level of dropped appointments they have to deal with.
Learn from it:
Automate as much as possible: Proactive customer service involves spending more time with your customers than if you were simply reacting to them. Luckily, that doesn't mean your live reps have to spend more time with your customers. Through simple automated messages using chatbots, app notifications, and automated calls, you can also keep customers informed and on the loop without breaking the bank.
Use data-driven decisions to drive results: Virgin Media didn't just develop their plan because they felt it was a good idea. Instead, they analyzed the problem mathematically, got to the root of the problem, and deployed the solution that best fit the problem. Like Virgin Media, if you want to succeed, have a clear understanding of the issue, and deploy the right customer service tools to fix it.
4. KFC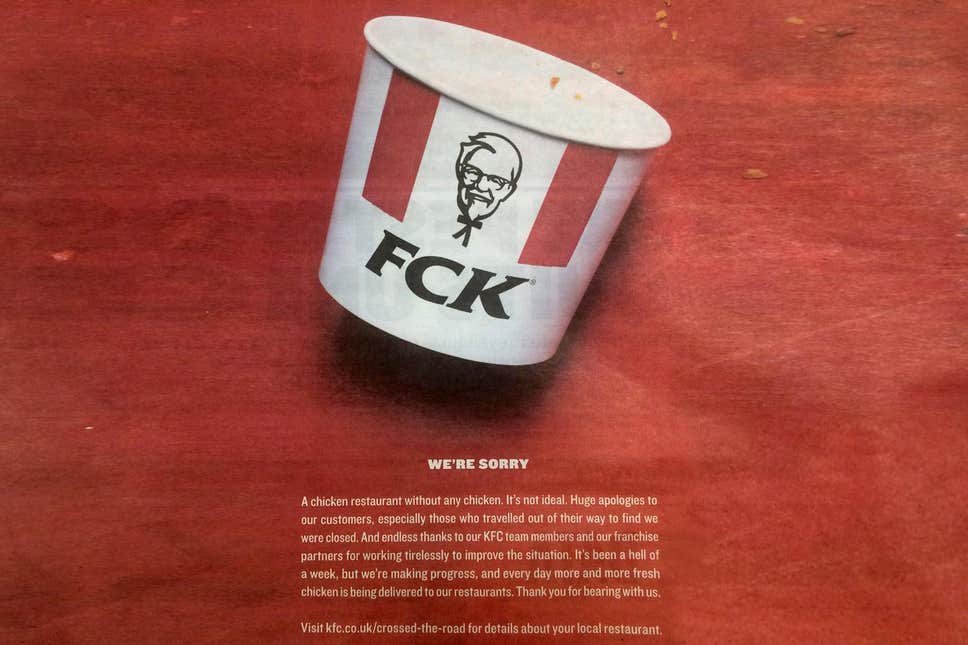 During 2018, a number of unlucky events culminated in KFC running out of chicken. This made the company the butt of a joke. After all, the company is built around cooking and selling chicken. Running out of the only thing they're supposed to sell was definitely a big hit for the company.
The solution? Getting ahead of the problem through proactive customer support.
Through a series of clever and humorous posts, KFC was not only able to inform all of its clients effectively, but it also used a marketing strategy that went viral, with people sharing posts and talking about the brand. Instead of remembering KFC as an incompetent company that didn't have any product, KFC used proactive customer support to get ahead of the problem, take control of the narrative, and find a way to use the crisis as an advantage.
Learn from it:
Get ahead of the problem: There are only so many things you can do to react to a problem in the moment. And if you're caught reacting to it, it may be too late to form a plan to get ahead of it. Instead, get ahead of the problem from the start so you can fully control the narrative.
Use the crisis to your advantage: It may feel impossible, but with every crisis comes an opportunity to prove the value of your company. When there's a crisis, you have a level of attention that can often be expensive and hard to achieve by other means. Instead of simply apologizing, figure out how to use that extra attention to your advantage to prove just how important customer support is to you.
Frequently Asked Questions about Proactive Customer Service
Here are the answers to frequently asked questions about proactive customer service:
What are the benefits of using a proactive customer service approach?
Proactive customer service allows you to provide a way of improved customer service and increases customer loyalty by getting ahead of a potential issue and addressing it, instead of waiting for your users to notice it.
Should a business always aim to shift from reactive to proactive customer support?
Not always. In some cases, like in small crises, it's often better to react to the problem, rather than shining more light on it. And while proactive customer support can be extremely effective, no company can go without reactive customer support to help users with the problems they're already experiencing.
How would you approach customer service in a proactive rather than reactive way?
Proactive customer service revolves around getting ahead of an issue instead of reacting to it. Instead of waiting for a customer to notice something's wrong with their product or service and offering to compensate them for it, proactive customer service lets them know what's wrong, explains how to fix it, and offers compensation in advance.
By using proactive customer service, your company can prevent issues from happening altogether.
Conclusion
Proactive customer service is vital for excellent customer service, customer loyalty, brand advocates, and good customer relations. The best way to provide proactive customer service is by using a tool that can help you communicate with your customers in the right way at the right time.
Find out everything Messagely has to offer, and start using it for free today.