Customer support tools are vital for any company looking to upgrade its customer support. In this article, we'll compare Drift vs Intercom to find out which is the right customer support tool for you.
We'll compare them based on the following:
Ease of use
Pricing
Features
Value
Customer Reviews
Security
By the end of the article, you'll know all of the main differences between Drift and Intercom, and you'll know which is the right customer service tool for you.
Let's get started.
Intercom and Drift
Let's start by taking a look at Intercom and Drift:
What Is Intercom?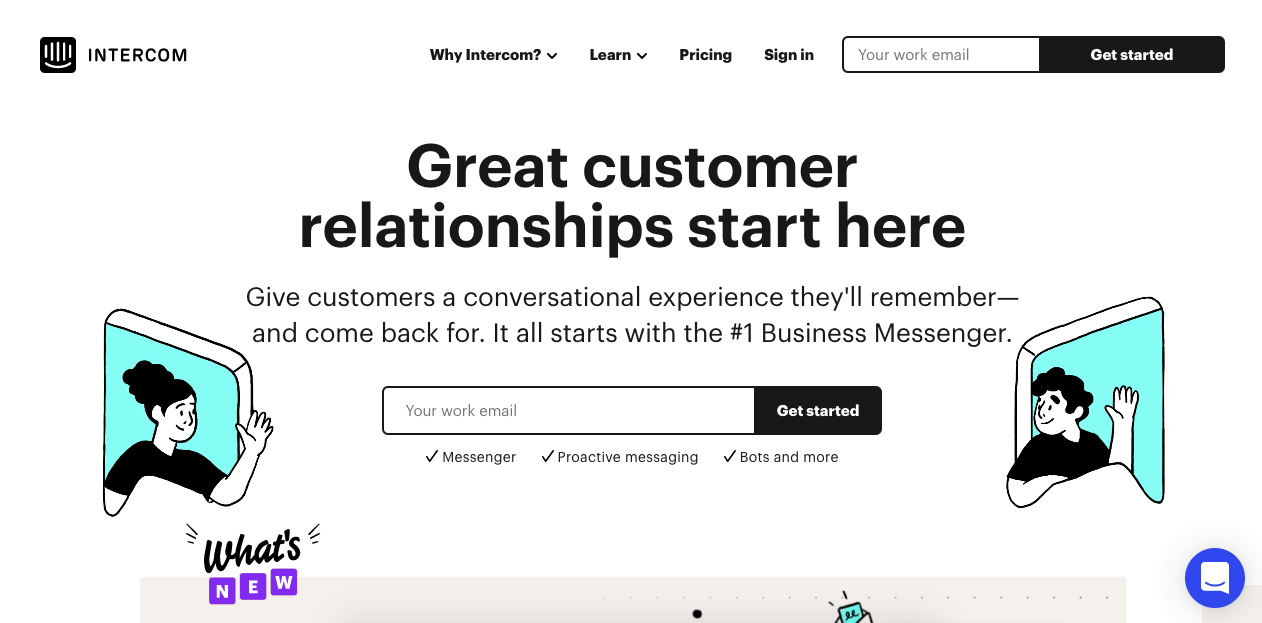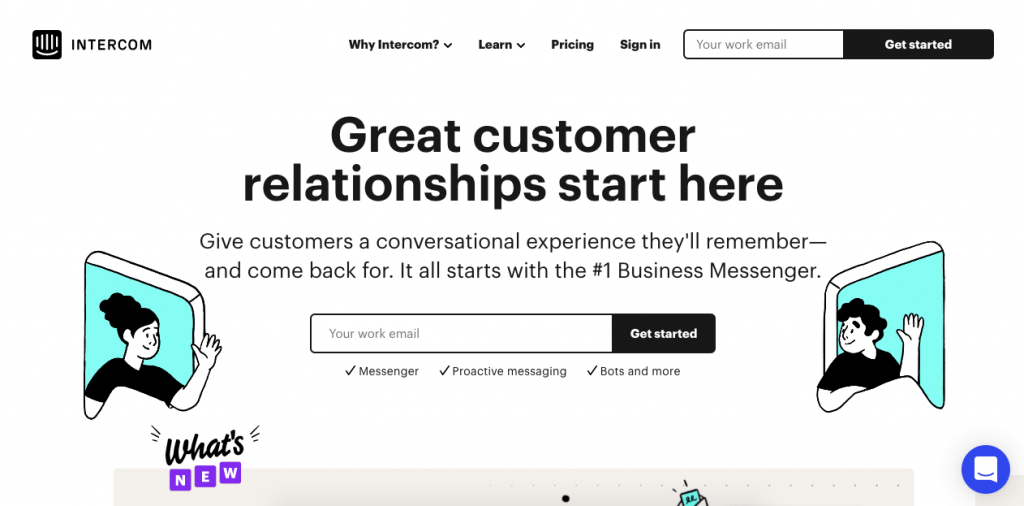 Intercom is a self-defined Conversational Relationship Platform. The platform has a clear user-based approach that allows users to see who's using their product or interacting with their website. That way, users can learn how to better communicate with them.
With a very flexible approach, you can easily engage with customers, answer queries, give product tours, and generate self-service materials for your customers and users.
Since Intercom is fully focused on customer relations, it provides users with many options beyond its online customer capabilities, like behavior-driven messages, automated targeted content, and predictive responses, to name a few.
Intercom has over 30,000 clients around the world, with offices in San Francisco, Dublin, Sydney, London, and Chicago.
Intercom works with any website or web-based product and aims to be your one-way stop for all of your customer communication needs.
Pros:
Intuitive design
Multiple integrations
Fairly easy to create chatbots
Cons
Reportedly deficient customer support
Inflexible pricing model with expensive add-ons
Not available for apps, social media, or other channels besides your website
What Is Drift?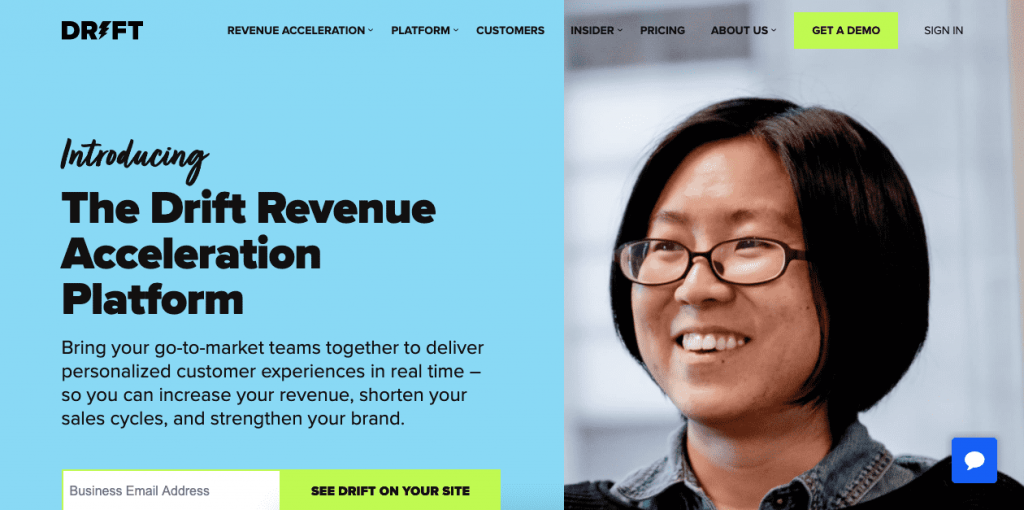 A newer option, Drift was founded in 2015 as a conversational marketing tool. It has added conversational sales tools as well as tools exclusively made to accelerate revenue.
With Drift, users can take care of all of their messaging needs in mobile and web apps. Users can also use AI chatbot technology to help streamline the customer experience and boost sales through prioritized messages, user engagement information, and a few deep integrations.
Used by companies like Marketi, Grubhub, GitHub, and Acentri, Drift's messaging platform is useful for companies looking for a sales-first platform. It also works well for more than just real-time chat, offering companies options such as email, video, and voice communications, all in a single platform.
Pros:
Good dashboards and reporting capabilities
Multiple productivity and lead generation tools
Great native integrations
Simple and easy-to-use UI
Cons:
Can get very expensive, very fast
Reportedly buggy platform
Low-quality chatbot builder
Intercom vs Drift: What's better?
Here's how Intercom compares to Drift in all major areas:
1. Ease of Setup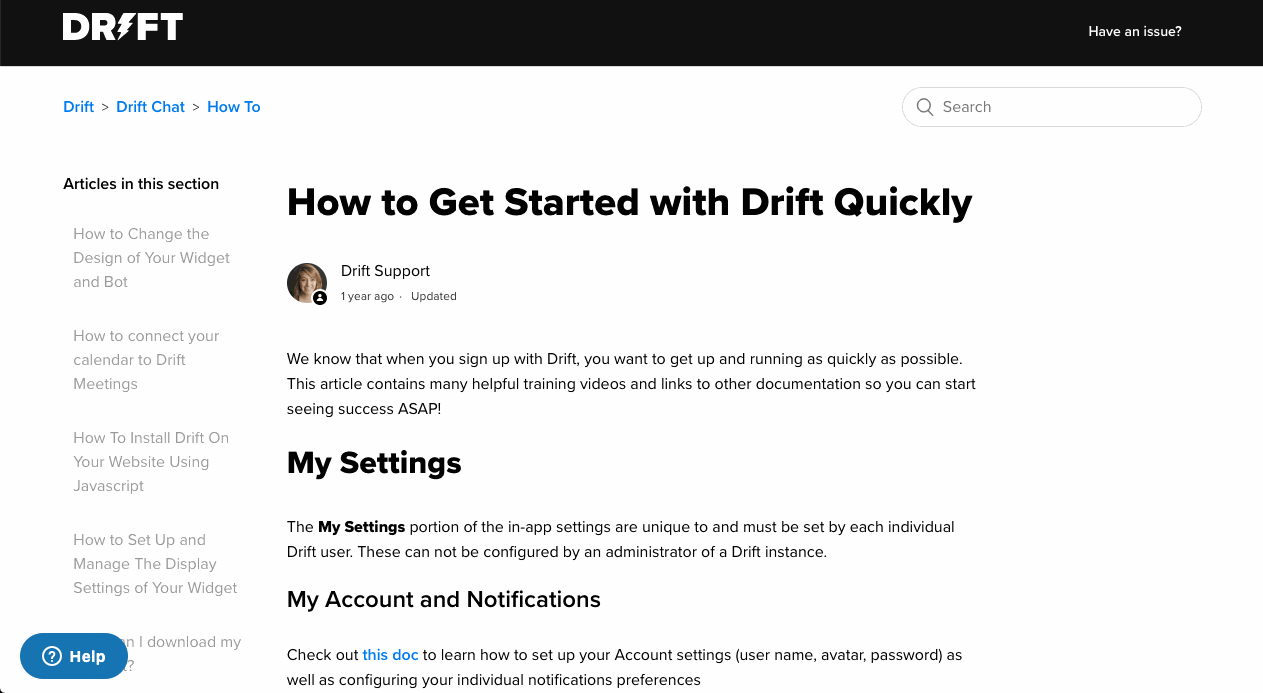 Like with any other platform, getting started with Drift is somewhat time-consuming due to all the small, bothersome details you have to get right.
To get started, you need to set up your preferences and personal information first. Then, you need to install Drift's widget on your website and personalize it. You'll also need to set up bots' abilities (or Skills) if you're paying for a higher tier.
Although one could argue that those setup steps are common, Drift's UI isn't as fast and responsive as Intercom's. And multiple users have reported small bugs that may make the process slightly harder.
Intercom's setup process is somewhat similar. After signing up and creating your account, you can start filling in your information, such as your company name and branding and your agents' profiles and information.
Depending on your needs, you can set up Intercom on your website or mobile app and add your automations. However, setting up Intercom help centers is also very easy and intuitive, with no previous knowledge required.
Intercom also has high-quality guides that show you the whole process step by step.
Winner: Intercom
2. Ease of Use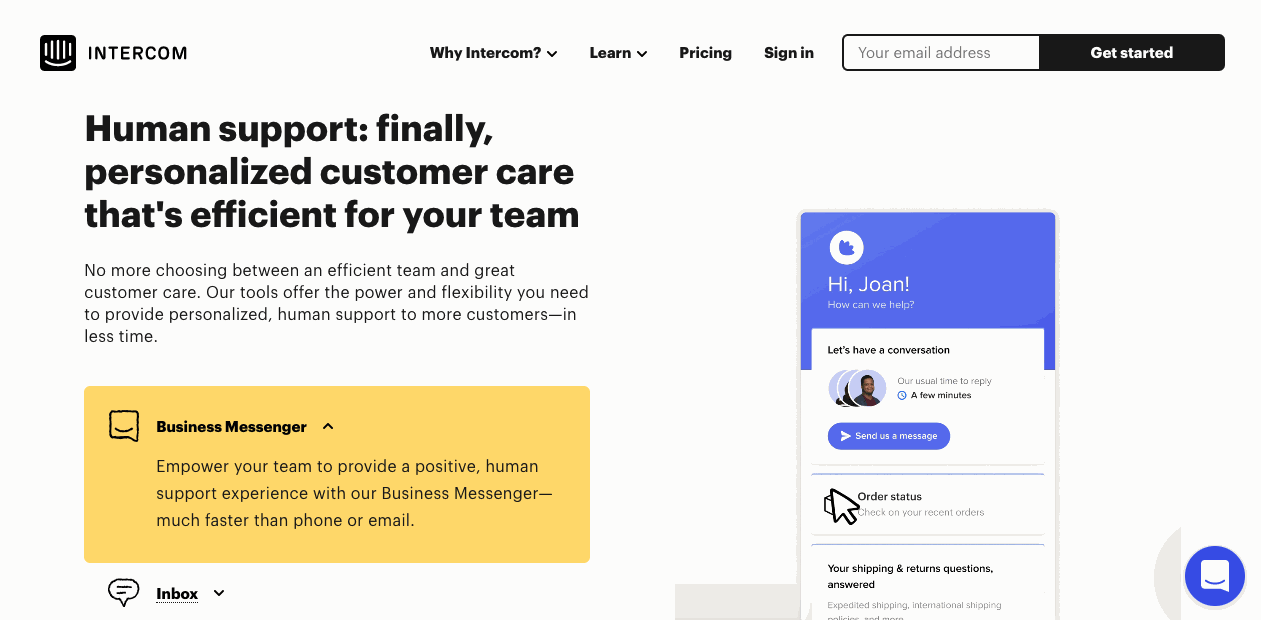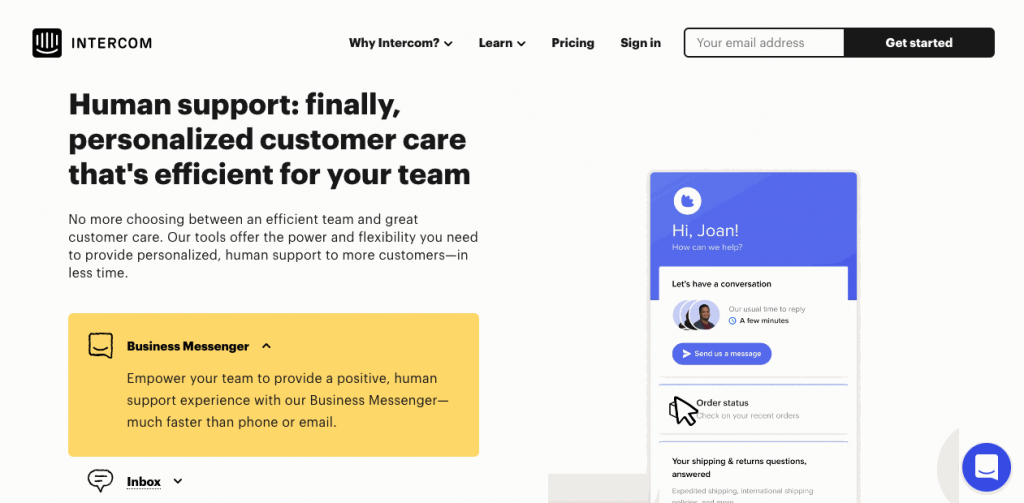 Drift is fairly easy to use, but its interface doesn't always provide a smooth experience. Since the tool is still fairly new, it's still missing some features that would provide a more seamless experience. Users report having to work around some issues.
Customization is also bothersome. It's so limited that users have to adapt to it, instead of the tool adapting to them. Users also report bugs with the conversations, chat widget, and other aspects that, although small, can make for a bumpy ride.
Intercom, however, provides the opposite experience. With a very streamlined design, Intercom's interface is far better than many alternatives, including Drift. The design is comparatively intuitive in all aspects of the platform, including its articles, product guides, and even its illustrations.
Intercom users often report being surprisingly pleased with the platform's ease of use and their ability to quickly create useful tasks and set up automations. Even reviewers who hadn't used the platform highlight how beautifully designed it is and how simple it is to interact with both users and clients alike.
Since the Intercom UI is so streamlined and easy to use, the time you and your teammates will need to spend training new users on how to interact with the platform is greatly reduced.
Winner: Intercom
3. Integrations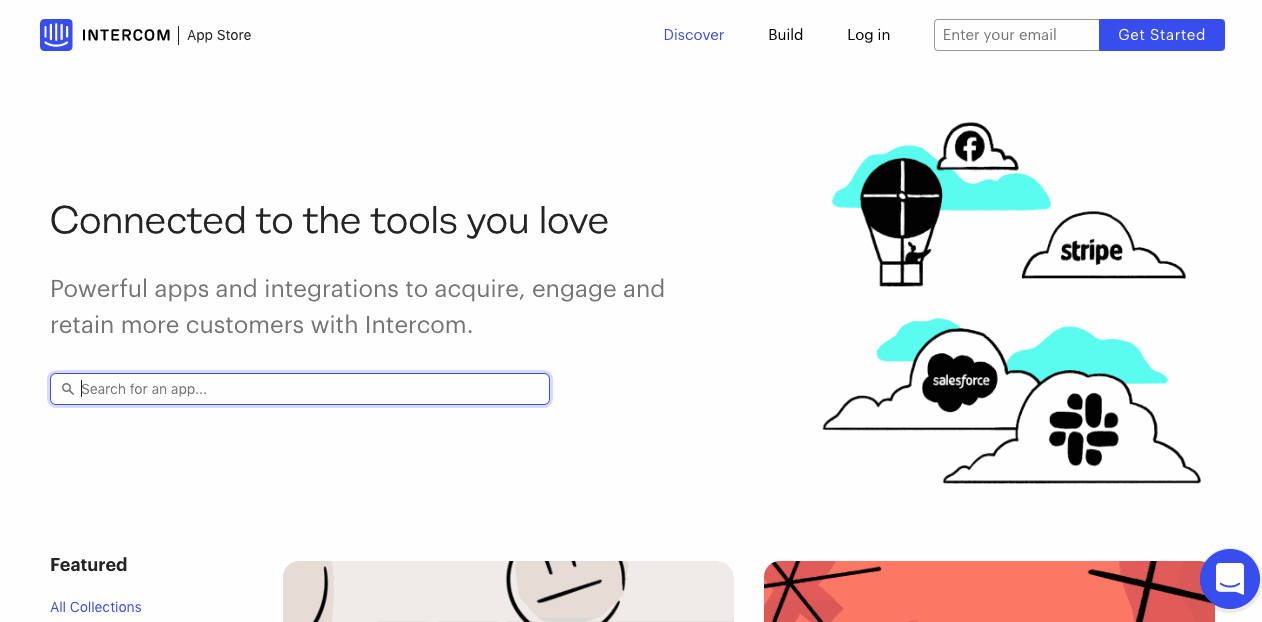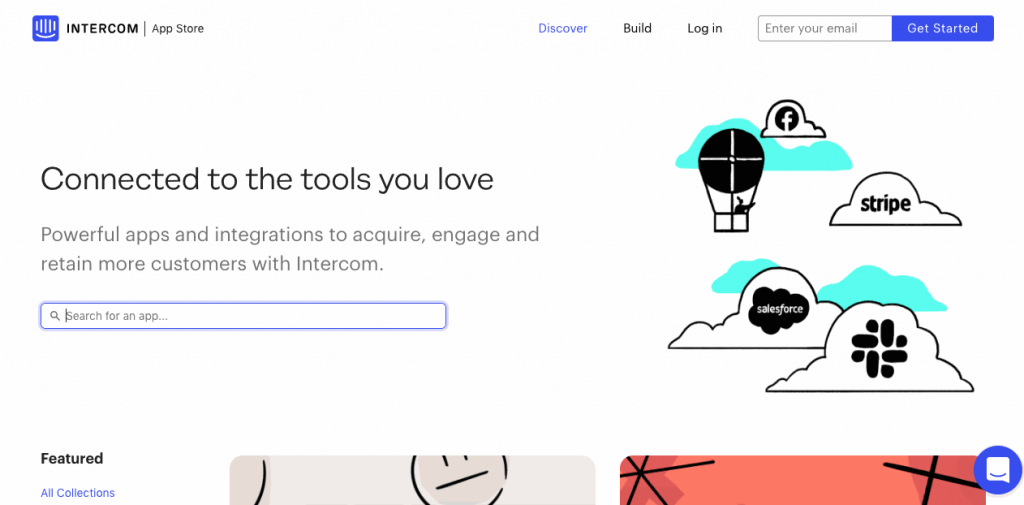 Both Intercom and Drift have multiple integrations available for users. Drift integrates with platforms like Salesforce, Marketo, Google Calendar, Slack, Zendesk, Hubspot, Google Analytics, and Zoom, for a total of 38 integrations.
Users report some bugs with some integrations, but in general, all integrations seem to be working fine, with more integrations being progressively added to the platform.
However, the Intercom integration game is at a different level. Intercom showcases its integrations in an "app store" that's extremely comprehensive, intuitive, and easy to navigate. It not only shows you all the apps you can use, but it also divides these into topics and categories.
This helps you navigate among their vast number of integrations, which clearly surpass Drift's integrations by a large margin. You can also use the app store to discover new marketing tools to meet your needs.
Winner: Intercom
4. Customer Support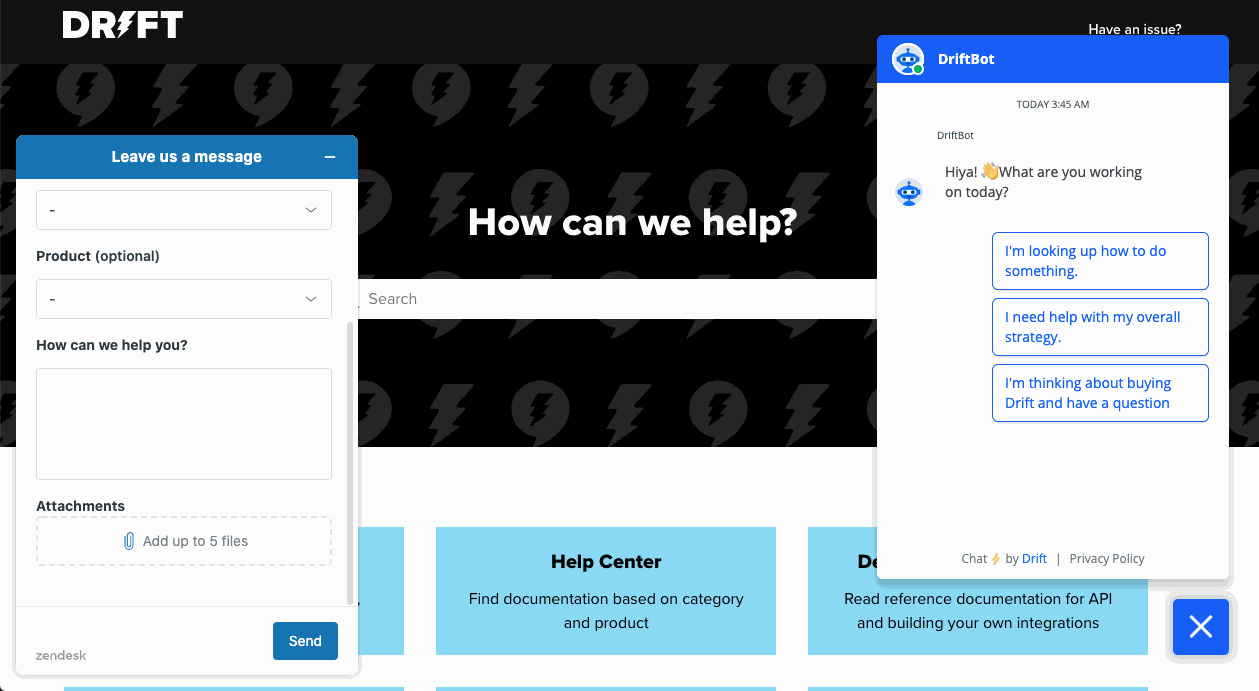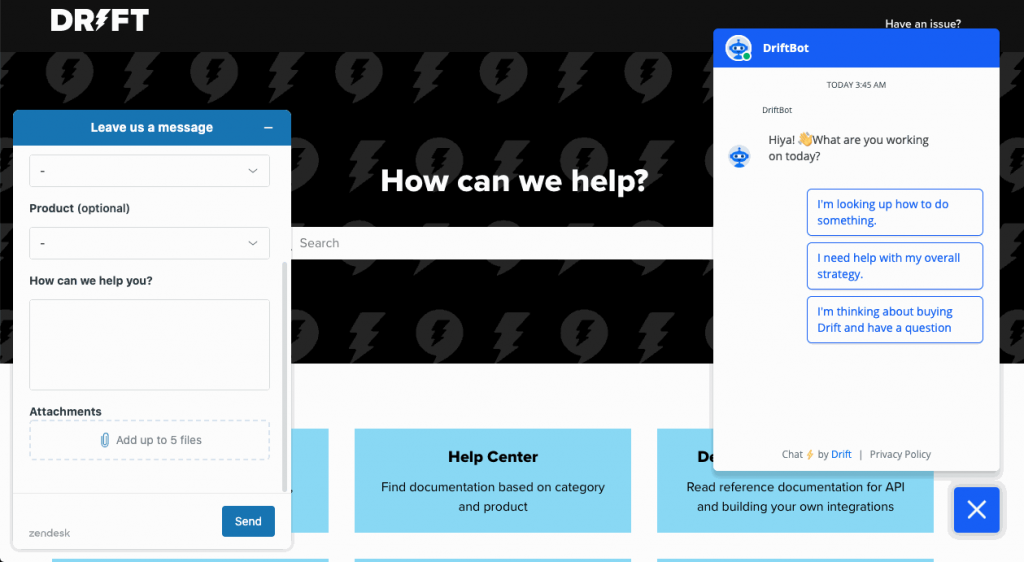 Both Drift and Intercom have knowledge bases with self-service features to help answer customer queries.
However, Intercom's knowledge base is surprisingly lacking. The knowledge base is divided into about 20 topics with dozens of articles each, so navigating it can be complicated.
Drift offers a much better knowledge base. Although less visually appealing, navigating it is fairly intuitive through streamlined sections and previews of many of the articles under each section.
Aside from the ever-present chat widget, finding options for live support can be quite difficult. This can be a big frustration for some users.
On the other hand, Drift's customer support is reported to be excellent, with clients having nothing but good things to say about it.
With certain tiers, you're assigned a customer support team that's reportedly even willing to join your team for weekly meetings. Users also report customer support reps are very helpful, friendly, and knowledgeable.
You can contact Drift's customer support team by email, live chat, and even by tweeting at their profile.
By being a smaller company, and by charging comparatively more than Intercom, Drift manages to provide conclusively better customer service than Intercom.
Winner: Drift
5. Pricing & Scalability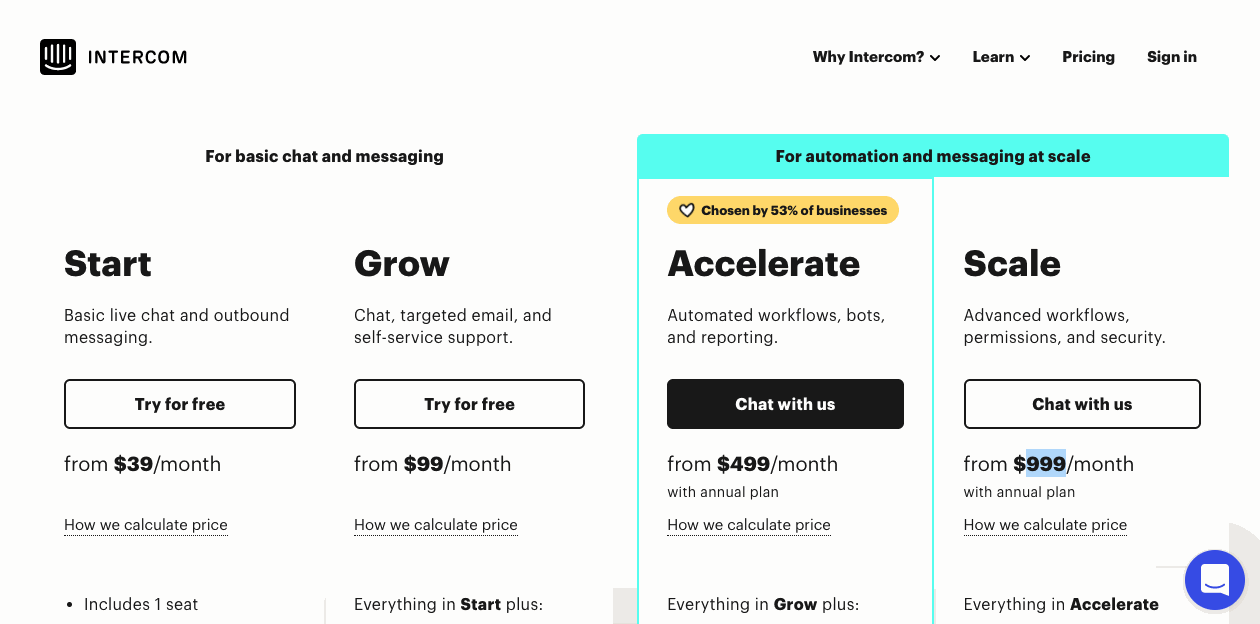 Drift has its pricing divided into three tiers: Premium, Advanced, and Enterprise. The Premium package includes custom chatbots, lead routing, custom success manager, revenue acceleration strategy, and onboarding.
The Advanced tier also includes features like Workspaces, Segmented audiences, and role-based access controls. Finally, the Enterprise tier includes multilingual, multi-labeled support, as well as conversation analysis, and custom roles and permissions.
There's also a fairly generous free plan with basic reporting, live chat software, unlimited contacts, and help docs.
Although Drift doesn't list its prices, reports state that the pricing varies as much as from $0 to $1,500 per month. This pricing places Drift above the industry average, especially for businesses that want to scale up. However, you'll need to speak to a live rep to accurately find out the cost.
Figuring out Intercom's pricing is comparatively simpler.
Since Intercom doesn't offer a CRM, its pricing is divided into basic in-app messaging and messaging with automations.
For chat and messaging, Intercom charges a flat fee of $39 per month for its basic plan that allows for one user and $99 per month for its team plan that allows for up to 5 users. If you want automated options, Intercom starts at either $499 or $999 per month for up to ten users, depending on the level of automation you're looking for.
All plans can be improved with custom add-ons. These add-ons keep the price low by only requiring you to pay for the features you'll be using, such as:
Product Tours: Interactive and video product tours that are easy to create and targeted to your most valuable customers. Price: From $199.00 per month.
Advanced lead generation: Advanced account-based marketing tools and sales integrations to grow your pipeline. Price: From $499.00 per month.
Advanced customer engagement: Advanced targeting features, such as notifications, A/B testing, multi-channel campaigns, and Clearbit and Marketo integrations. Price: From $499.00 per month.
Advanced support automation: Access to Resolution Bot to provide automated answers and detailed reporting. Price: From $249.00 per month.
Winner: If you're looking for the best messaging option or an option that allows for a lot of pricing customization, Intercom is the best choice. If you're looking for a sales-first platform, or if you only require a free chat service, Drift is the best choice.
6. Unique Features
Drift doesn't look like most customer support platforms because it isn't one, at least, not really. Fully focused on sales teams, Drift helps businesses close sales first. That's why, the Drift app has unique features for pipelines, sales, and potential customers.
Another one of Drift's unique features is Drift Video. This feature allows customers to record and share sales and online webinar documentation videos. With Drift Video, you can set up customer onboarding or record explanations of your product's features in-app.
Drift also offers a unique feature, called "Account-based marketing." With this feature, you can identify specific businesses and target them with account-based marketing campaigns. Account-based marketing helps you quickly set up conversations with potential clients as soon as they visit your website.
You can also set up various automations with Drift for chatbots and email bots, and even use AI-powered bots to help you convert your previous conversations into workflows and playbooks.
Although they're not on the front line, Drift also offers its users all the standard features like email automation, knowledge base, and basic live chat functionality. They all seem to have at least a little bit of a sales spin to them.
Intercom offers users all of the basic features too, but these features aren't specifically developed for sales and are not generally focused on sales.
Intercom's chat widget, for example, looks vastly different.
Intercom's Business Messenger is designed to combine multiple apps in one place to give you a few choices about how you want to interact with a user. With it, your teammates can read your company news, look up something in the knowledgebase, and decide to start a conversation, all in one window.
Unlike Drift, Intercom also offers product tours for customer onboarding. Although Drift Video may be used for similar purposes, Intercom makes it far easier to onboard new customers with its unique features.
Intercom also allows you to keep track of your users and how they interact with your website in real-time. That way, you can chat with your website visitors and fix their issues, knowing what they've tried in the past and allowing you to quickly provide useful information.
Winner: Intercom for general messaging, Drift for sales.
7. User Reviews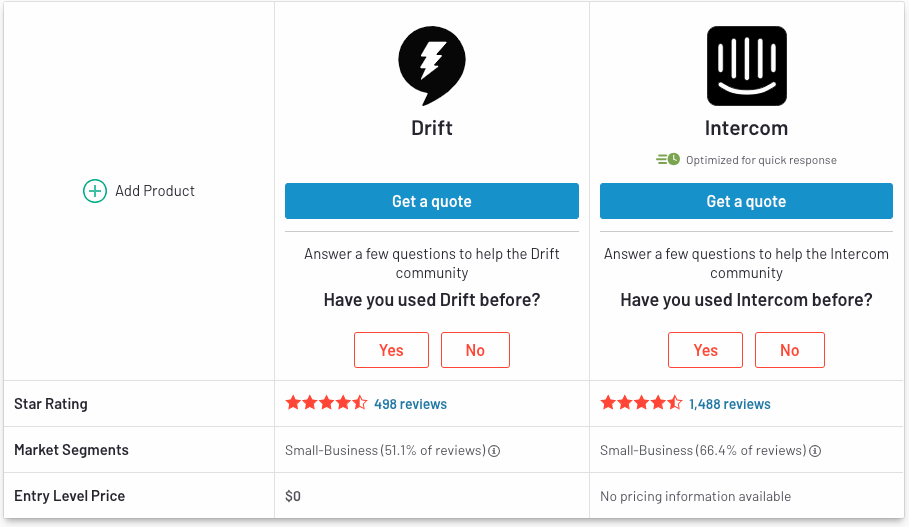 Drift and Intercom are rated quite similarly. G2 users give 4.4 out of 5 stars to Drift, with 439 user reviews. Intercom gets 4.3 stars based on 885 user reviews.
Intercom users usually praise Intercom's flexible functionality that allows it to be used for multiple purposes. They also like all the integration options and the UI.
Users mostly complain about its pricing. Intercom's pricing is fairly complex, although they've been trying to simplify it lately.
On the other hand, Drift's users seem to love the playbooks and easy automations. They also like Drift's account-based marketing and calendar integration. However, they complain about Drift's sometimes-buggy platform, especially when it's being used through the app. There are also complaints about Drift's high prices.
Winner: Tie
8. Security
Intercom is as secure as any other similar platform. It complies with multiple security formats from Europe and the United States, uses third-party tools to find and fix bugs and security issues, and has Single Sign-On and 2FA to help users keep their private information private.
Drift, like Intercom, also complies with the GDPR. It is also SOC II Type 2 compliant, registers with the Cloud Security Alliance, and adheres to the Privacy Shield Certified principles.
Overall, both platforms have fairly adequate security that will likely be enough for most users.
Winner: Tie
Intercom or Drift – What's the better choice for your business?
Both Drift and Intercom are good all-in-one messaging platforms with interesting advanced features. However, it's quite clear that they're not made equal.
Drift covers its bases with simple live chat software and help desk features, but it is clearly focused on sales. With the Drift platform, users can quickly set up meetings, showcase products, and create conversational landing pages. Drift also offers an account-based marketing feature to further help users close sales.
On the other hand, Intercom is a messaging platform that can do anything fairly well. It also offers product tour features to help you onboard new clients.
So, how should you choose?
Drift for sales
Drift has developed all of its tools with sales in mind. With it, users can generate and engage with new leads, ask qualifying questions, and book meetings. It also offers great sales-based automations and covers all basic features expected from a messaging platform.
Drift basically gives you a dedicated customer success manager for revenue acceleration, along with in-app messaging, live chat software, and all of the standard basic features.
Intercom for flexible companies
Whereas Drift is great for sales, Intercom is good with practically everything. Smaller companies looking for a simple and flexible customer service platform will find it mostly sufficient for all their needs.
Intercom also features a user-based ticketing system, allowing all kinds of customer requests, managing outbound messages, and easily processing their tickets through a great UI. Plus, unlike Drift, Intercom allows you to keep track of website visitors, letting you provide better customer service, and reacting immediately to potential customers through live chat.
However, both Intercom and Drift are expensive, especially when compared to other similar messaging tools. If you want to use the advanced features that are so attractive, you may need to spend thousands of dollars every month.
So, what can you do if you want a simple, affordable, and powerful tool?
Messagely as an Alternative to Intercom and Drift
If you're looking for a streamlined, all-in-one messaging platform, there is no better option than Messagely.
Great live chat software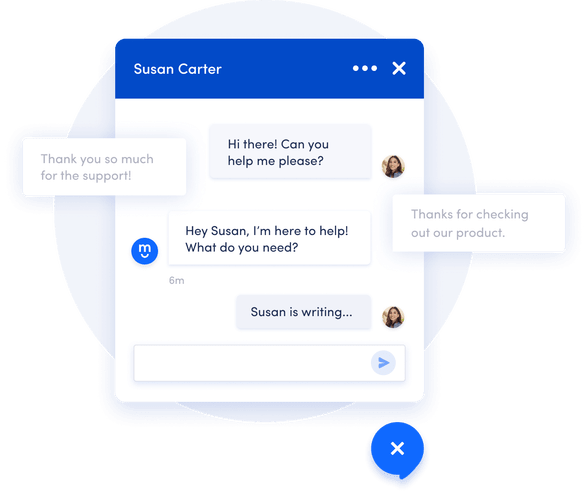 Unlike Drift's busy live chat feature, Messagely's live chat platform is smooth, effective, and easy to set up. With Messagely, you can increase your customer satisfaction and solve customers' issues while they're still visiting your site.
You can also follow up with customers after they have left the chat and qualify them based on your answers.
Powerful chatbots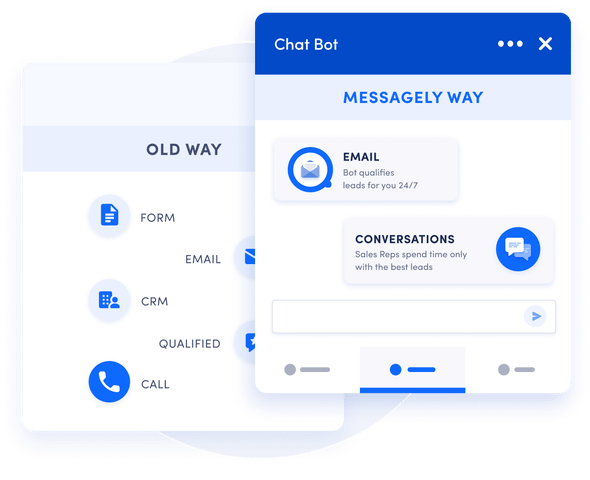 Messagely's chatbots are powerful tools for qualifying and converting leads while your team is otherwise occupied or away. With custom bots, you can generate more leads to hand over to your sales team and solve common customer queries without the need for a live rep behind a keyboard.
And while many other chatbots take forever to set up, you can set up your first chatbot in under five minutes.
Plus, you don't have to spend thousands of dollars. Chatbots are included in the Pro plan, which costs as little as $79 per month.
Team-orientated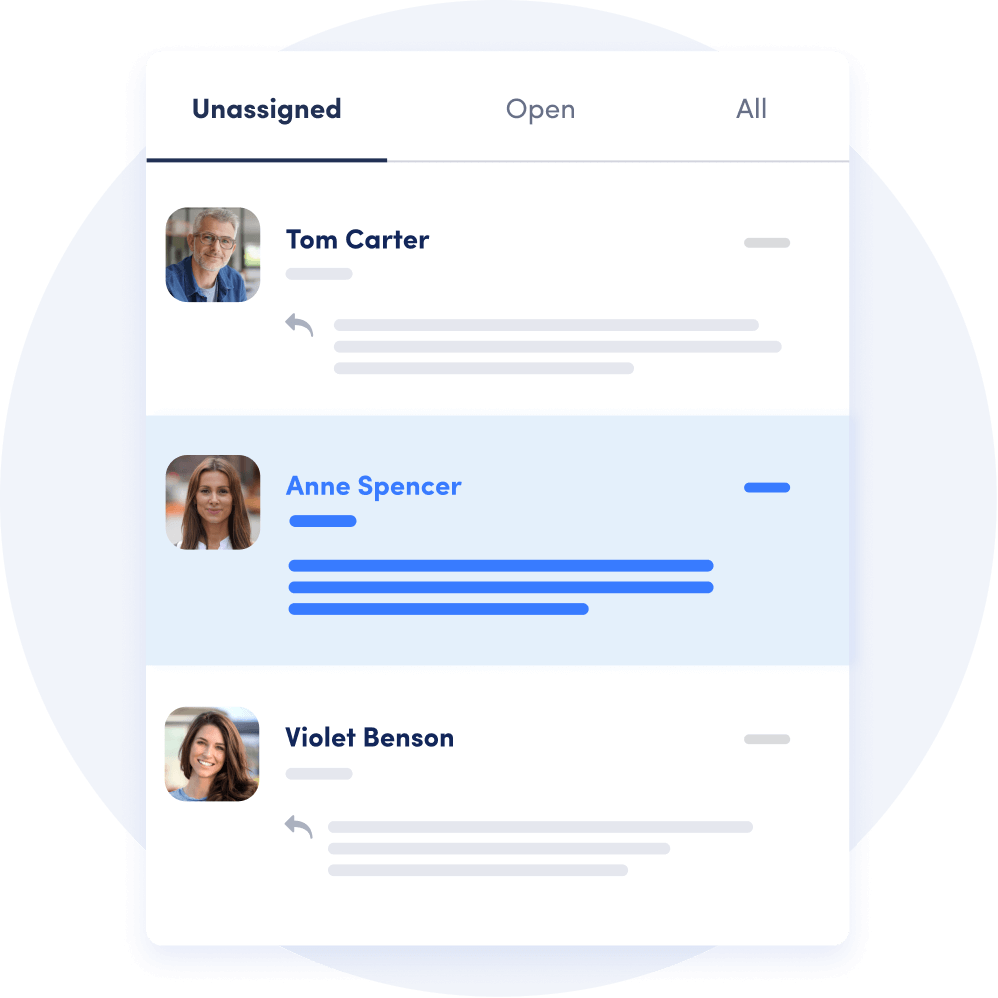 Messagely pulls together all of the information about the customer contacting you and gives your representatives information on each interaction they've had with them — all within a streamlined platform. If you're using Messagely, your clients will never have to repeat themselves or get frustrated because their new representative doesn't have their background information.
Messagely also provides you with a shared inbox so anyone from your team can follow up with your users, regardless of who the first point of contact was.
An affordable, all-in-one customer communication platform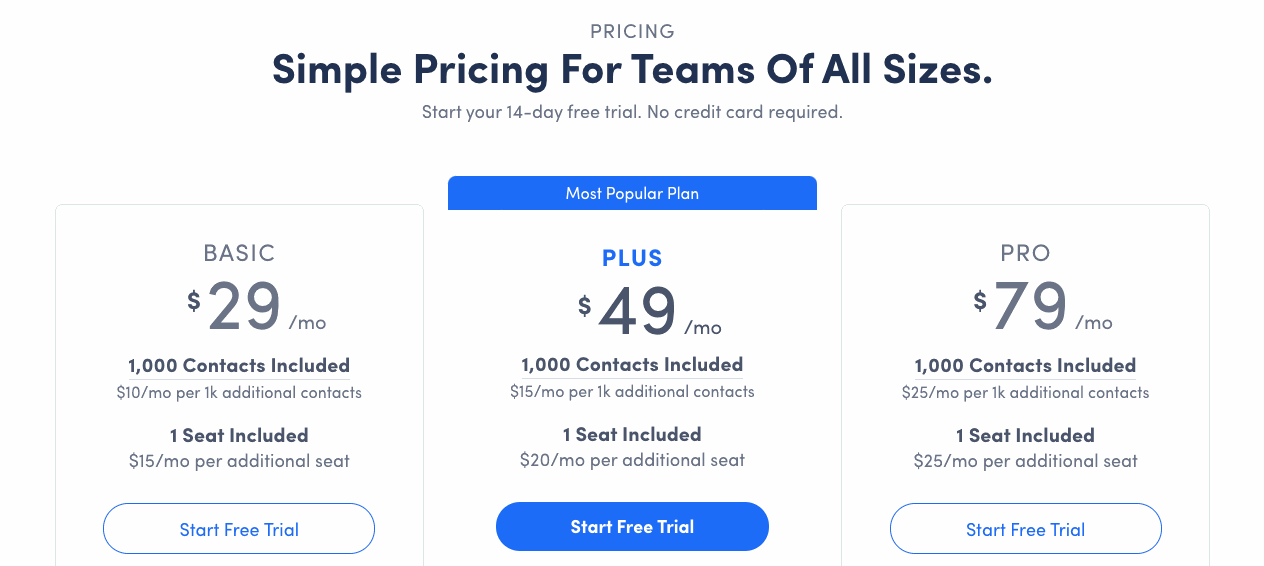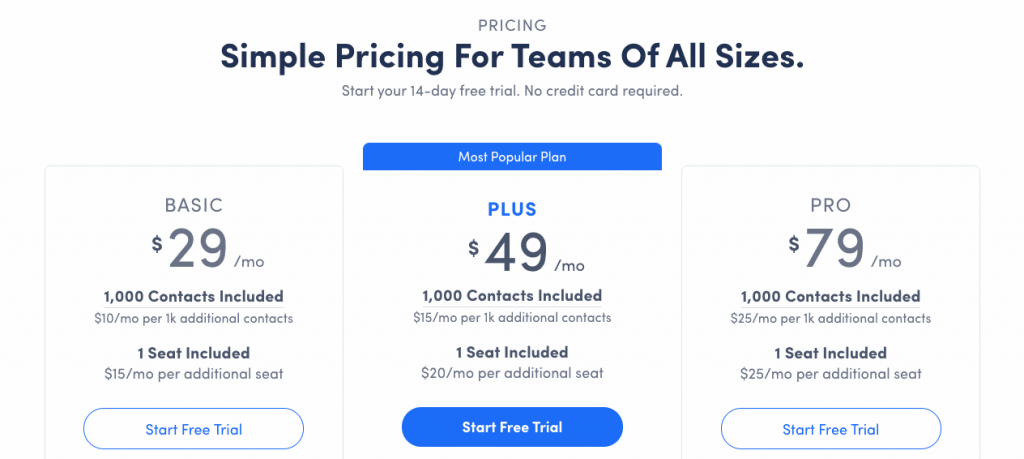 Messagely's pricing starts at just $29 per month, which includes live chat for real-time support, targeted messages, a shared inbox, mobile apps, and over 750 powerful integrations. Its pricing is simple and easy to understand, making it far more affordable and streamlined than either Drift or Intercom.
Start your free trial today.
Conclusion
As expected, the right choice between Intercom and Drift will depend on your budget, your company, and your needs.
While both Intercom and Drift are great and robust platforms, none of them can provide you with the same value Messagely gives you at such an affordable price.
Before you make your choice, check out Messagely's features and compare them to discover which platform is best for you.