Regardless of the type of business, every product and service needs to provide a great customer experience. That's why the need for great customer experience specialists has been on the rise. The better the customer experience, the better your reputation, sales, and revenue will be.
But what does a customer experience specialist do? And how can you hire the best ones?
What Is a Customer Experience Specialist?
A customer experience specialist (or CX specialist) is the person in charge of developing and tracking the customer experience. Some of their tasks include:
Interacting with customers.
Keeping track of customer journeys.
Helping developers, marketers, and salespeople internally finetune the customer experience.
Helping the company reach its sales goals.
CX specialists need great communication skills. They need to listen to customers, in order to help them solve their problems. And they need to work with employees from different areas, in order to find the balance between what the customer wants and what the company can provide.
Customer Experience Specialist Salary: What They Expect You to Pay
According to Glassdoor, the average salary for  Customer Experience Specialists in the United States is around $37,500 (or $3,125 per month).
Although a bachelor's degree isn't always required, companies typically ask for great communication, empathy, and problem-solving skills.
Since a CX specialist needs a deep knowledge of customer experience, most companies require a minimum of 3 years of experience in customer-centric roles.
How to Hire a CX Specialist (incl. Everything You Need to Know)
The need for CX specialists is on the rise. With such an important role to fill, how can you make sure you're hiring the right candidate.?
What Are Must-have and Nice-to-have Customer Experience Specialist Skills?
When hiring a CX specialist, you should be looking for these skills:
Empathy and communication
Your CX specialist will be in constant communication with both clients and coworkers on a daily basis. They need to quickly understand what someone wants them to know, even if those people aren't being articulate.
A CX specialist needs to be able to put themselves in the customer's shoes. Then they can figure out how something affects the customer and effectively predict their reaction.
Project management skills
Customer experience specialists don't just need to identify customer issues. They need to figure out how to solve them. This problem-solving involves active collaboration with most departments—from billing and IT to design and marketing.
To achieve a solution in the fastest and most effective way, CX specialists may also need to collaborate with members of different departments across the company and bring them together as needed. They need to "speak their languages" and figure out what each one can do to make sure they're involving the right stakeholders in each project.
Data management skills
The only way to learn about the customer's journey is through data. From Google Analytics to internal data, a customer experience specialist needs to know how to read, interpret, and explain relevant data.
Unfortunately, this learning process can prevent a CX specialist from thinking there are customer experience issues because they're paying attention to what isolated customer reviews say, instead of what the data shows.
Problem-solving skills
Simply put, a CX specialist's biggest task is solving customer's issues. So this specialist needs to figure out how to improve customer experience via quick, out-of-the-box solutions. They should proactively look for potential issues, be able to come up with cost-effective solutions in multiple development stages and figure out improvement opportunities (even when there aren't pressing issues).
Other important skills
Although the skills already listed are the most important ones, the following list includes great complementary skills to have:
Sales intelligence platform skills
Self-motivating skills
MS Office Suite and other relevant computer skills
Documentation skills
Development, marketing, or design skills
How to Write a Job Description for a Customer Experience Specialist Position
Here's the way to write a CX Specialist job description that will attract the best talent:
Customer Experience Specialist Template
Job Title
You can simply state "Customer Experience Specialist" or add your text as a subtitle.
Candidate Overview
In a paragraph or two, provide a general description of what a CX specialist does.  What does success looks like for them? You should also note who they'll be collaborating with and how they'll fit into the company.
Example:
"We are looking for a Customer Experience Specialist to apply customer feedback and data, in order to assure positive customer experience. In order to work with multiple departments and assure positive customer experience, the CX Specialist needs to be a great communicator with a deep understanding of our customer's needs."
Responsibilities and Duties:
List their responsibilities in order of importance. When listing duties, you should use gender-neutral language and present tense.
Example:
"In our company, a CX specialist's responsibilities include:
Working with our IT, design, and customer happiness departments to improve customer experience.
Finding and resolving customer issues.
Analyzing and understanding the customer journey.
Predicting customer behavior, based on data.
Using communication tools and Google Analytics."
Qualifications
Provide the specific experience and characteristics you're looking for in simple terms. These specifics could include their education level, experience level, certifications, personal skills, and software experience.
Example:
"Here's what we're looking for in a CX specialist:
3+ years of experience in customer-centric roles
Bachelor's degree
Strong empathy and problem-solving skills
Great communication skills
Proactive and reliable disposition"
Salary and Benefits
Here, you should list what you're willing to offer in return for the CX specialist's services. You can list the estimated salary, employee benefits, and other opportunities you'll offer the specialist.
Example:
"What we offer:
$38,000 annual salary
Company laptop
Flexible schedule
Great multicultural environment
Sports and social events
Tenured-based pension
Great growth opportunities"
Looking for inspiration? Here's are ways some popular companies structure their job descriptions:
Casper
Casper has made a name for itself by thoroughly understanding their customer journey and catering to customers through effective marketing and great reviews. So they need customer experience specialists who are great at understanding their customers, finding new ones, and keeping the ones they have happy.
Here's how they hire them: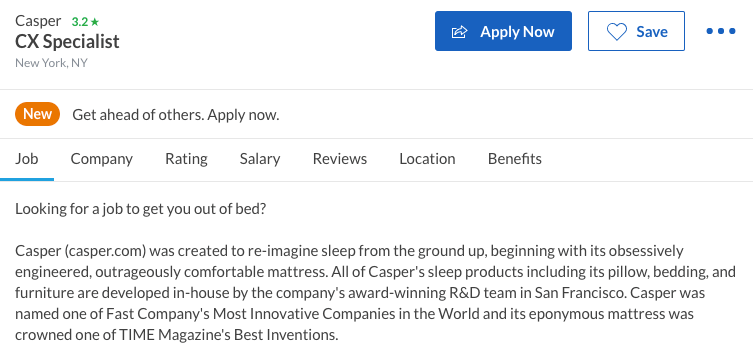 What you can learn from them:
Although Casper hires through different companies, it provides a good idea of the type of people they're looking for through carefully written text. They start their job description with a playful sentence, followed by a paragraph that details who they are. This description communicates that they aim at having a relaxed, goal-focused atmosphere, even though they're a large company. Ultimately, the eCommerce company  is looking for specialists who can help them improver their customer experience.
Following Casper's example, use your text to both let people know what you expect from an applicant and inform them of your type of business.
Salesforce
Salesforce is a large, cloud-based software company that provides customer relationship management (CRM) services, marketing automation, analytics, customer service solutions, and application development.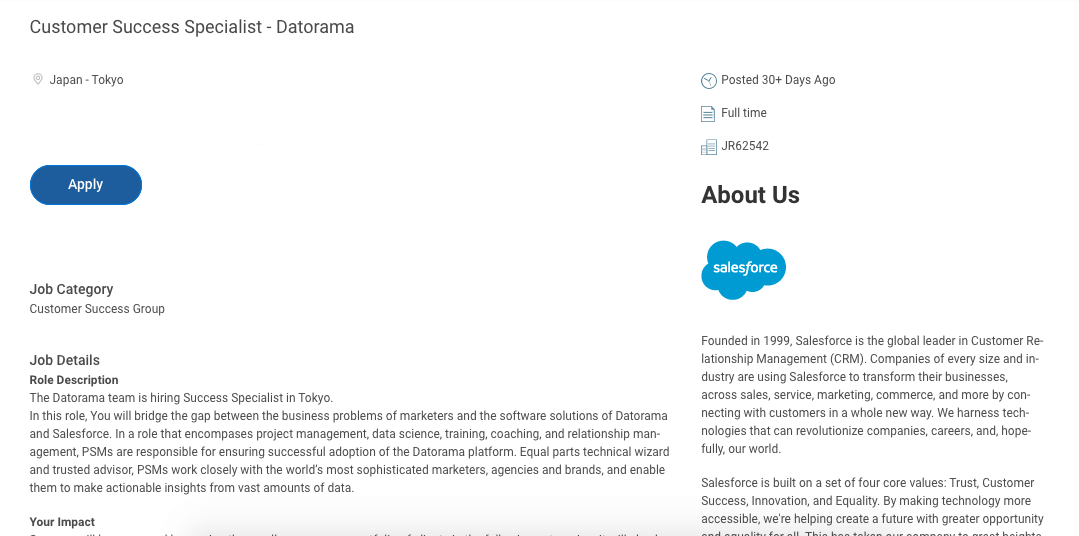 What you can learn from them:
Salesforce provides a very detailed job description—with requirements and preferred skillsets occupying most of the text. Like them, you should make sure you're providing a good idea of what working for your company looks like, as well as what an applicant needs to be able to succeed in the position.
Volvo
This Swedish vehicle company might know the importance of customer experience better than anyone else. Since they famously develop reliable luxury cars that focus on customer safety, they need to maintain that image via a carefully designed customer experience.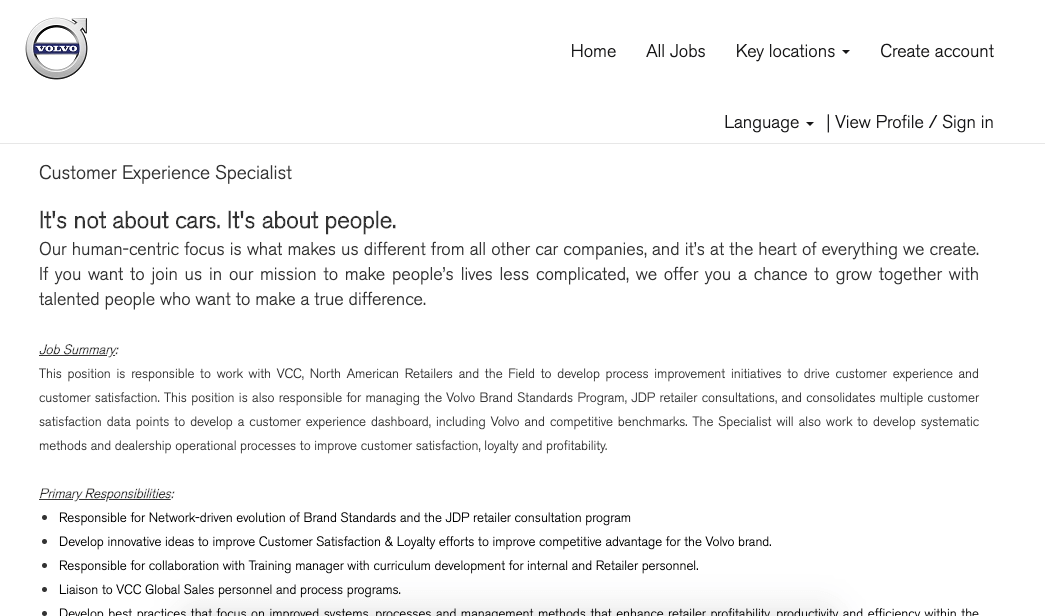 What you can learn from them
Even though their job description is short, it's filled with technical terms. So it immediately communicates their need for savvy CX specialists with the highest level of experience in specific areas. Like them, make sure your job description shows the level of experience you're looking for via the language and terminology you choose to include.
Where to Advertise Your Customer Experience Specialist Jobs
Once you've crafted your CX specialist job description, it's time to let people know. But how can you reach the right people? Here are a few options…Job boards
Job boards are websites dedicated to helping employers and applicants find each other. Here are the ones you'll want to use when looking for a CX specialist:
LinkedIn: As the social network for doing business, LinkedIn is a great platform for finding talent and staying connected with it (even if they're not the right fit for your company right now). Make sure your company has a good profile and your key employees are connected to it.
Indeed Job Search: This website is great for doing research on a job position and keeping up with similar companies. And you can sponsor your listing for better reach.
Glassdoor Jobs: Glassdoor is best known for anonymous company reviews. To attract the best talent, make sure your company is well-reviewed. Job postings start at $99.
Google for Jobs: This recent addition to Google makes it possible to look up jobs through the platform. However, it's not possible to post jobs directly on Google. So make sure your website is optimized. Then Google can pick up your job posting.
SimplyHired: This platform posts listings for you in over 100 job boards, in order to get the best coverage possible. It also has a great smartphone app and a smart search engine. This platform is a great way to reach the largest amount of talent possible.
Jooble: Jooble is an international job search website used daily by millions of people in 69 countries. It collects job postings from thousands of different sites to make it easier for users to find a suitable job.
Talent Pools
If you're an HR manager or recruiter, Online Talent Pools are databases that will help you keep records about your job candidates. They can source the best candidates by keeping track of their CVs and track records, in order to ensure you're getting the candidates that best suit your needs.
You can use talent pools to reduce your costs and find talent that isn't necessarily looking for a job right now, but would be a great fit for your company.
Recruitment agencies
If you want to outsource the recruiting process, recruiting agencies can be great options for you. Agency recruiters research open roles, identify candidates, and narrow down talent.
Although these agencies can be expensive, they're great options for companies that need to hire the best talent but don't have the manpower to look for it.
How to Check (and Compare) a Customer Experience Specialist Resume
When looking at a resume, you need to make sure the applicant isn't just a great CX specialist, but also a great fit for your company.
Here's what you should look for:
Relevant experience: How much experience does the applicant have with customers? How would that experience translate into a proper understanding of your customers?
Concise content: One of the most important skills a CX specialist must have is communication. How well does the CV communicate who they are and what they've done? How articulate and brief are they? What's their communication style?
Longevity: A good employee stays at a company for a long time. How long has the applicant stayed with their employers? Why did they leave?
Skillset: What can they do best? How have their skills helped them reach their achievements? How well would their skills complement the skillsets of your staff?
Red flags: A key sentence to look for is usually at the end of a resume: "References available upon request." Generally, this sentence is used when the candidate has been laid off at some point. Although it isn't necessarily a bad thing, it's definitely something to keep in mind when hiring.
Honesty: Most people overlook honesty when reading a resume. However, when hiring a CX specialist, you want a people person who's honest and easy to talk to. Is the CV filled with fluff, or does it get to the point? Does it explain why business relationships ended, even when they don't paint particularly favorable pictures?
7 Questions to Ask in Customer Experience Specialist Interviews
Once you've posted your job listing and narrowed down the candidates you're interested in, it's time to interview them. Here are some of the best questions to ask potential customer experience specialists, as well as the information to look for in their answers:
1. What does customer service mean to you?
This question is one of the most important ones you can ask in any customer service interview. It lets you know the mindset and philosophy a potential employee would bring to the table.
The right answer should tell you why the applicant wants to work as a CX specialist, and it should align with your company's vision of good customer experience.
2. How would you turn unhappy customers into brand advocates?
A key part of any CX specialist job involves identifying issues with the customer experience and solving them. This question poses the worst-case scenario (an unhappy customer) and requests the best outcome (a brand advocate). The answer will tell you more about the applicant's empathy and problem-solving skills.
To flesh out the issue according to your company's needs, you can add to the question.
3. How would you work with different departments across a company, in order to achieve a good customer experience?
A great customer experience is a team effort. This question lets you know which departments the applicant would focus on, in order to achieve a good customer experience. It also gives you a good idea of what their communication skills are.
4. What do you know about our product/company?
Interviewers ask this basic question to find out how much research the applicant did before the interview. The answer can give you an idea of how interested they are in the job and how prepared they tend to be.
5. Would you describe yourself as a people person?
A great CX specialist must have a talent for nurturing strong relationships inside and outside the company. The answer to this question will let you know how good they are with people, how they communicate, and what kind of energy they'd bring to your company.
6. What customer service tools do you have experience with?
Every company has its own customer service tools, and most people can be trained to use any tool. However, it's an added bonus if the candidate knows how to use the tools you use or the desire to learn to use them.
7. How would you solve [a common internal issue]?
Although you're not looking for an actual solution from a candidate, their answer can tell you about their mindset and problem-solving style. So this question can help you figure out how well they'll fit in with your team and company culture.
What Are Good Training Resources for Customer Experience Specialists?
Whether you're looking to become a better CX specialist or train your specialists, these three courses are musts for anyone who wants to learn about customer experience…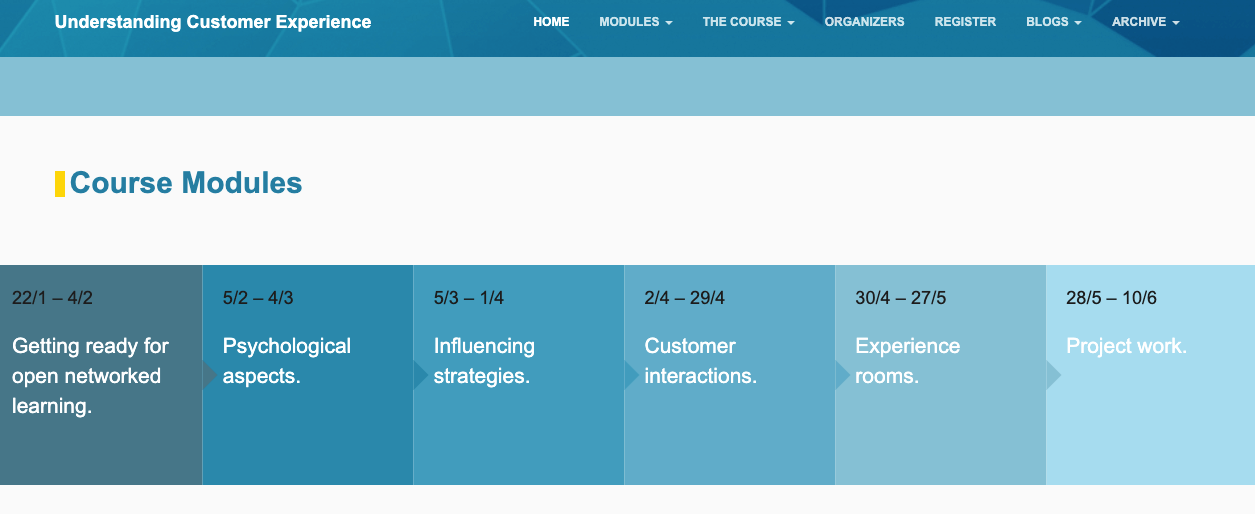 Karlstad University recently released a great course on customer experience. And it provides all the materials for free! This course is divided into five modules that delve into different aspects of the customer experience. (The sixth module is activity-based, but it isn't available yet.)
This course contains videos and activities that make it incredibly detailed and informative.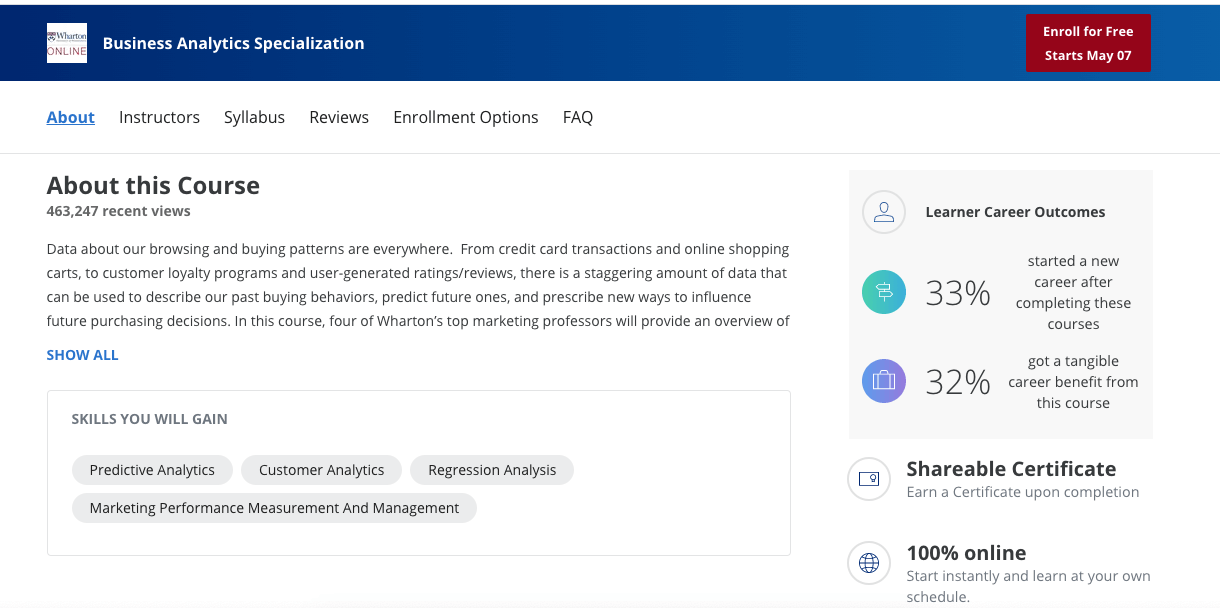 Looking to better understand what data tells you about your customers? This course is for you.
Four marketing professors from Wharton explain how you can understand multiple customer analytics. They also show you how companies like Amazon, Google, and Starbucks use data to inform their decisions.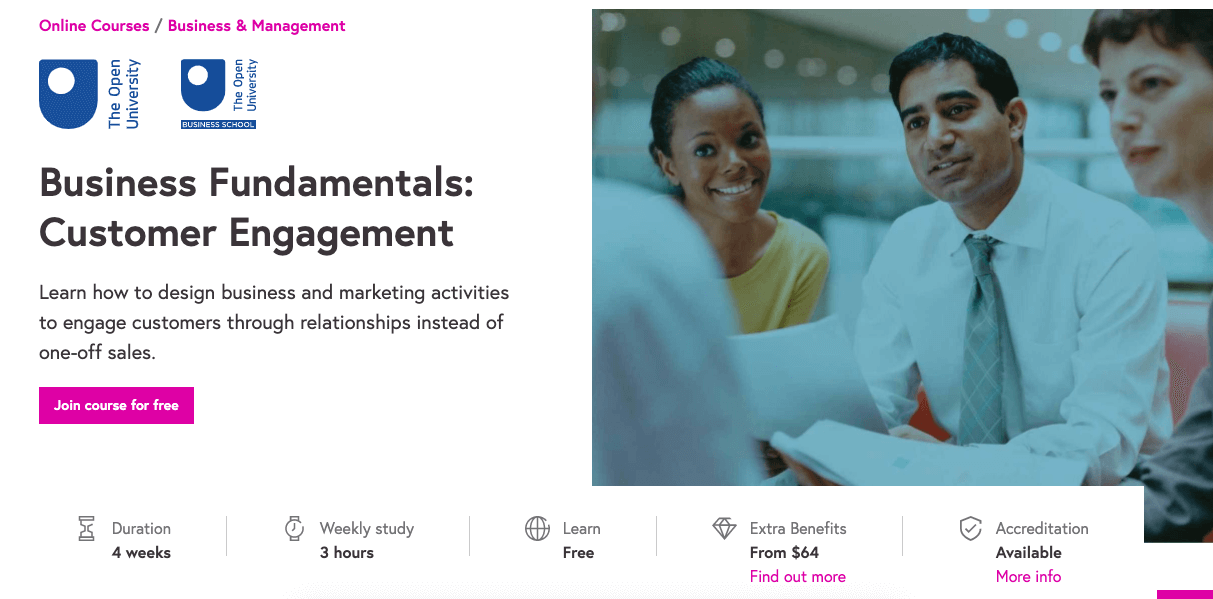 This course provides great insights into what you need to build a great customer relationship.
It provides in-depth, relevant insights into tracking your customer engagement, identifying gaps in your customer relationships, and applying digital marketing that will improve the quality of your engagement—all in one course!
Conclusion
To develop great customer experience, you need great customer experience specialists. Now you know what makes an excellent CX specialist, where to find them, and how to define the one you need for your company.
Where will you start?