As human beings, we often make split-second judgements about people before seeing them speak or act. This judgement is also true for brands, so the slightest detail could alter a customer's perception. Let's take a look at ways successful brands manage customer perception and lessons we can learn from them.
What Is Customer Perception?
Your business is a living entity with its own personality. In other words, your existing and potential customers will inevitably have opinions and beliefs about it.
For instance, some customers will see your business as casual and approachable, while others might perceive it as formal and difficult to connect with. 
Essentially customer perception involves the opinions, beliefs, and feelings customers have about your brand.
Businesses around the world invest significant amounts of time and resources in understanding and guiding the way customers see their businesses. Think about brands like Apple and the feelings the brand invokes in you. What created those thoughts?
Factors that influence customer perception
A number of factors will influence a customer's perception of a brand. Here's a closer look at them… 
First-hand experience
As human beings, we demonstrate a natural tendency to trusting our own experiences, above all else. If a customer has a positive interaction with your business, his or her perception is more likely to be positive.
Secondary indicators
Businesses around the world spend lots of money on advertising, public relations, social media, and other factors that influence the way a customer views a brand.
Word of mouth
Customers will often share their perceptions of brands with each other. Some customers become brand advocates and enthusiasts, while others share their negative experiences with a particular brand.
Why Is Customer Perception So Important?
The way customers look at your business could either make or break it. Here's a look at the key reasons why customer perception is so important.
Attract new customers.
In today's marketplace, customers are more likely than ever before to research a business before pursuing any type of relationship with them. If your potential customers view your brand favourably, you'll be able to drive down your customer acquisition cost and put yourself ahead of the competition.
Retain existing customers.
It costs far more to acquire a new customer than it does to retain one. In other words, it's very important to make sure your existing customers have a positive perception of your brand. This practice will make them more likely to stick with you, rather than choosing your competitor.
Boost internal morale.
The best businesses are able to leverage their positive customer perception, in order to energize and motivate employees. The majority of employees feel that the company they work for is a reflection of themselves, so they'll be more productive and committed if the company has a positive customer perception.
Hire the best talent.
When trying to attract the best talent, the reputation of your business is a big factor. According to the Harvard Business Review, a bad reputation can cost a company at least 10% more per hire. If your business is favorably perceived by the general public, you'll naturally find it easier to attract the best talent.
How to Evaluate Your Current Customer Perception
So we now know that it's important to measure and improve customer perception. But exactly how can you evaluate it?
It's trickier than you might think.
To begin, customer perception isn't always quantifiable. It's very difficult to measure the opinions of diverse individuals and attribute scores to their feelings and beliefs. Surveys are a good place to start, but they don't always paint the full picture.
Here's another challenge: You'll naturally want to be positively perceived by your target audience, but the tradeoff is that you won't be a good fit for others.
For instance, consider the Scottish craft beer BrewDog. This multinational brewery and pub chain has flourished, thanks to its no-nonsense and "punk" personality. But that branding might leave a bad taste in the mouths of some craft-beer fans.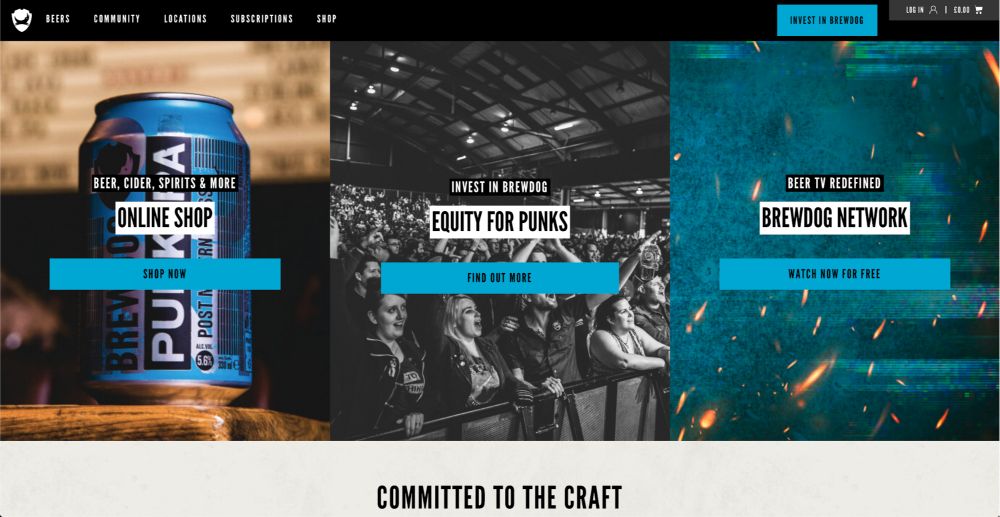 In other words, brands can often have a blend of perceptions, depending on the target audience.
Due to these challenges, you'll need to call on a suite of techniques if you're going to properly evaluate your current customer perception.
Here's a closer look at five ways you can monitor the perception of your brand…
1. Run customer surveys.
One of the best ways to get a grip on your customer perception involves directly asking your existing or potential customers' questions.
Countless businesses perform customer-satisfaction and perception surveys that surface very insightful and interesting results. A large number of platforms out there can help you conduct effective customer surveys that will provide you with quantifiable data.
This piece by AJ Kumar from Entrepreneur gives you great insight into five steps for creating effective customer surveys. It's an insightful piece that can help you put together winning surveys.
2. Stay updated with Google Alerts.
This technique isn't the most sophisticated, but it can help you keep track of how and when your brand is mentioned across the web. And this tactic can help you quickly respond to new mentions, in order to mitigate reputational risks and directly respond to customer questions.
To get started, you'll simply need to head to Google Alerts.
If you're signed into your Gmail account, you can create the appropriate alerts by using the search box. You can also work on some handy options to refine your results, which is a particularly useful way to pinpoint your search.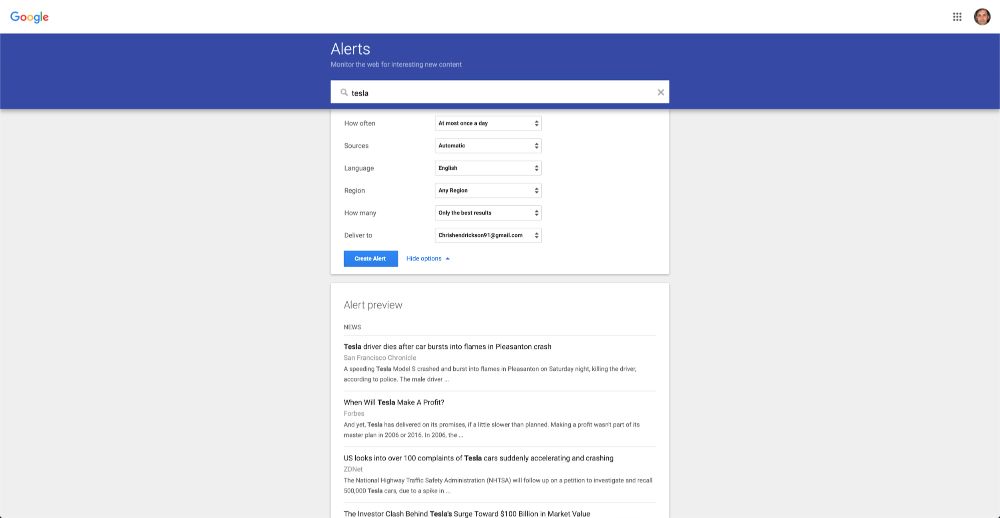 You should create a Google Alert for your business and any associated keywords. This tactic can help you keep an eye on the way your brand is mentioned across the web.
3. Audit your customer reviews.
One of the great things about the internet is that customers are very willing to share their opinions and experiences with brands and products.
Across the web, you'll be sure to find countless discussions and reviews. You should be sure to locate and review these pieces, in order to get a better insight into the way your brand is perceived by customers around the world.
Here are some of the key platforms you'll want to visit when you audit your customer reviews: Amazon

Facebook

Yelp

G2 Crowd

AppExchange

Capterra
All of those reviews will also be timed and dated for your convenience, so you can track the way your customer perception has shifted over time.
4. Monitor social media.
According to The Next Web, there are an estimated 3.48 billion social-media users around the world. These users take to platforms to share their thoughts and feelings, and they'll often share their experiences with particular brands.
A number of social media monitoring tools out there can help you track your mentions across Reddit, forums, social media, and more. Hootsuite and Brandwatch are two prominent examples, but you can use many more to help you.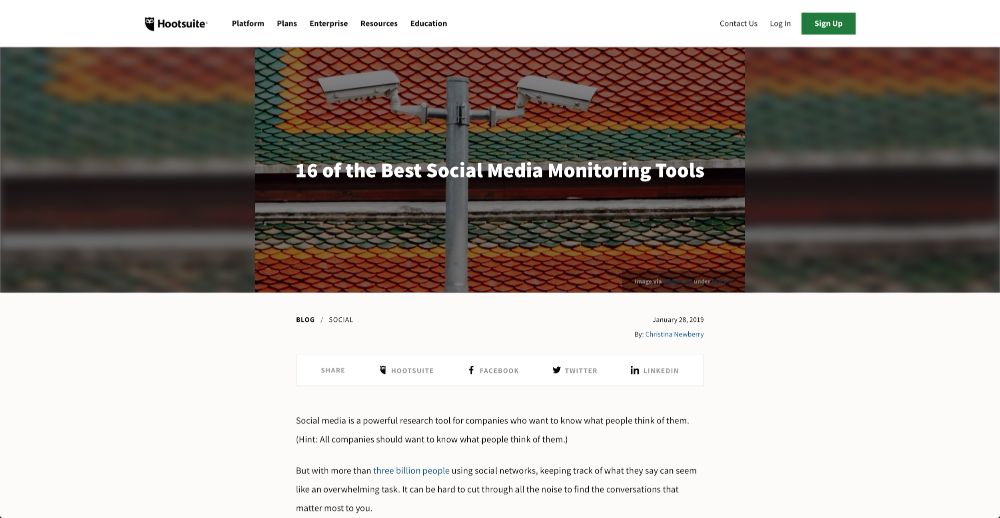 To dig deeper into 16 of the best social media monitoring tools, read this piece from Hootsuite.
5. Assess interactions with customers.
One of the most potent ways to gauge your customer perceptions is to collect qualitative feedback from your direct contact with customers.
Your customer success, support, and service teams should be sure to monitor any interesting shifts in perception and escalate any particularly important pieces of information. This practice can help you keep a finger on the pulse of your customer perception and maximize the efficacy of your customer-facing teams.
You can use a number of CRM tools to take notes on particular customers, or you might decide to go with a relatively low-tech option. For example, it's easy to create a collaborative Google Sheet, where your team members can share their observations.
How to Improve Customer Perception
Now that we have a good understanding of ways to gauge the way your customers perceive your brand, it's time to focus on ways to actually improve the way customers see your business.
You can use a number of techniques. In fact, every small decision you make has the potential to inform that perception in some way.
Nevertheless, here are five of the best techniques you can use to improve customer perception…
1. Keep things positive.
A wealth of research exists about the impact that positive and negative words can have on the way we perceive a person or brand.
In fact, one study found that negative brand names alone can have a detrimental influence on the way customers evaluate certain products.
In other words, you should be sure to try and leverage the power of positive speech, in order to help your customers perceive your brand in a more positive light. Try to ensure that you use positive words and imagery ameliorate the way customers see your brand.
2. Train your customer-facing team members.
Remember the three key factors that can affect customer perception? The firsthand interactions that customers have with your business are by far the most potent.
Therefore, it's critical for you to train your customer-facing team members to champion your brand image and values. You should hire the right people (such as customer service representatives) and train them appropriately. Then you can deliver a cohesive image to your customers.
Be sure to conduct customer satisfaction surveys. This practice will help you monitor the way these customers respond to your support and gauge whether it improves their perceptions of your business.
3. Collect and implement customer feedback.
A logical yet powerful way to improve customer perception involves implementing relevant and high-quality feedback that you receive from your customers.
Within reason, you should consider adjusting certain parts of your brand, in light of constructive criticism. For instance, if you discover that your customer perception is harmed by slow response times, you'll want to take that on board and improve in that area.
When you evaluate your customer perception, you should be sure to keep detailed notes and really pay attention to any specific patterns you see emerge.
4. Keep your communication authentic.
Customer expectations around communication are higher than they've ever been, and your customers now expect a fast, informative response. In fact, 12% of Americans rate their #1 frustration with customer service as being "lack of speed."
In order to improve and preserve your customer perception, it's important for you to quickly and authentically engage with your customers. You'll need to quickly reply without cutting any corners, as far as personality and content. This practice will help you secure a positive customer perception.
5. Focus on offering a cohesive customer journey.
If you're going to build a strong reputation among your customers, it's important for you to present your business in a cohesive manner. You can't afford for your business to have multiple personalities; this practice will confuse your customers and affect the perception they have of your brand.
The best businesses are able to establish a strong identity and champion it across all advertising, marketing, and public relations initiatives. These businesses will also share that identity in every interaction they have with customers.
5 Popular Companies That Really Know How to Achieve Positive Customer Perception (and How You Can Apply Their Tactics to Your Brand)
Ready to see customer perception magic in action? Here's a look at five popular companies and the ways they work hard to achieve positive customer perception.
1. Apple: A Masterfully Cohesive Brand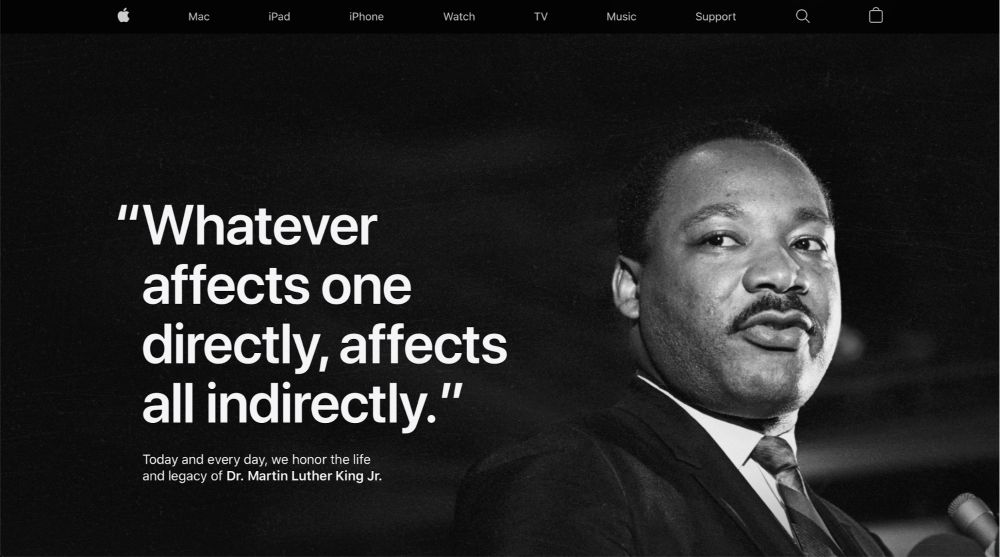 Apple is the world's #2 most valuable business, and it's certainly among the most prominent and well-perceived brands in the world. It's not at all down to luck. Over the years, Apple has worked incredibly hard to develop a cohesive brand.
Here's just a quick glimpse of the things Apple has done extremely well over the years:
Apple's entire ecosystem feels cohesive, and it's easy to spot its signature look and feel.

Apple has carved out a reputation as a premium brand that's still accessible to the average consumer.

Visually, Apple's advertising and marketing has a signature style.

Apple's team members reflect the ethos and image of Apple.
Key takeaway: Never underestimate the power of engaging your customer-facing team members to live and breathe the personality of your brand.
2. Amazon: Obsession with Customer Experience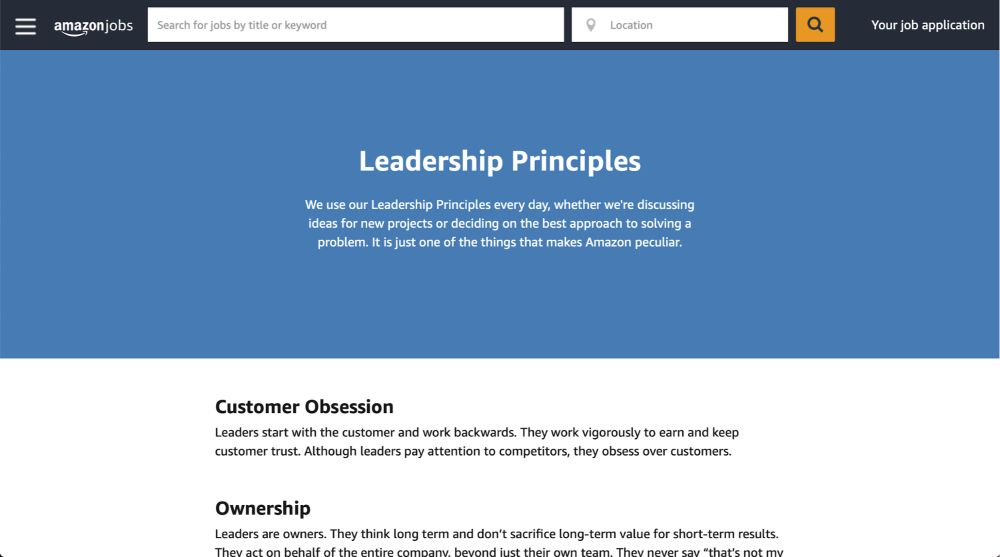 Amazon is the world's most valuable business, and it's grown off the back of its "customer obsession."
This obsession defines every decision that Amazon makes. Whenever this company makes a decision, it thinks about its customers first. So it's cultivated a strong customer perception as a reliable and customer-centric business.
Amazon's success demonstrates the power of corporate values and the way they can use them to shape the personality of a business.
Key takeaway: Carefully consider the values of your company, and use them as a rallying cry to guide your strategic decisions.
3. Starbucks: An Evocative Brand That's More Than Just Coffee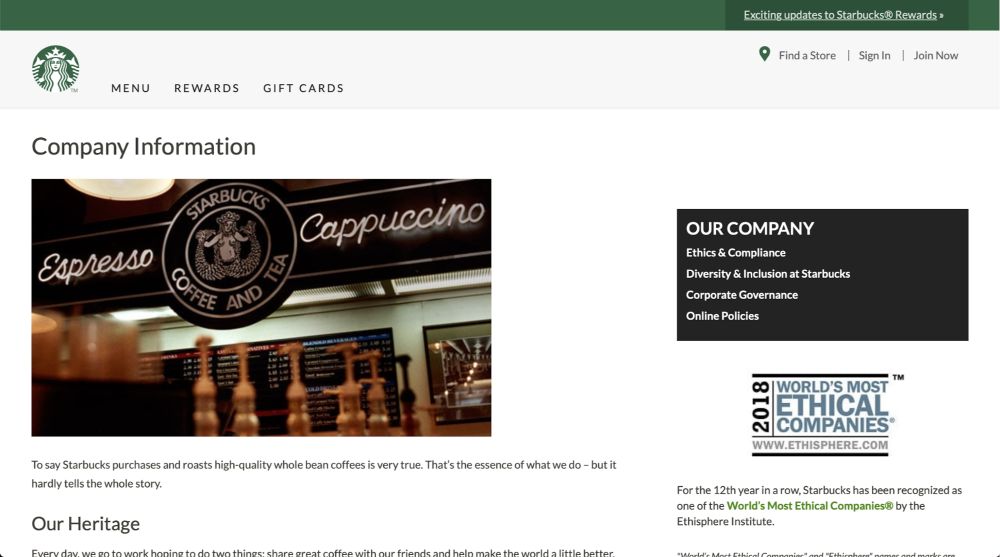 Starbucks is an immensely popular coffeehouse chain. The way the company has grown since its launch back in 1971 is quite remarkable. Today, Starbucks is synonymous with big ideas and a certain type of lifestyle.
This company has worked hard to cultivate its reputation via thoughtful reflections on its heritage and values. These reflections guide the decisions of the company, which means that customers often perceive the company as a principled one. For instance, take a look at the way Starbucks focuses on ethical and sustainable business.
Key takeaway: More customers than ever before pay close attention to the sustainability indicators of businesses. Find a cause for your business, and demonstrate that you're about more than just your profits.
4. Walt Disney: Delivering Emotional Experiences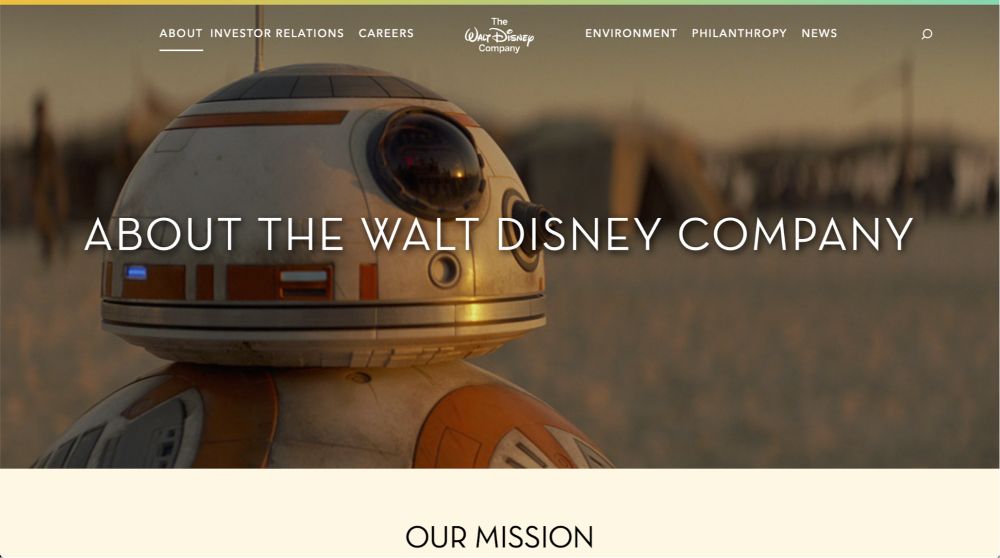 Walt Disney has grown to become the world's largest mass media and entertainment conglomerate. But the cultural perceptions of Disney are still rooted in the way the company began many decades ago.
One big reason why this customer perception has endured is Disney's adherence to its brand promise. The company aims at creating emotional experiences that will resonate with its customers.
Key takeaways: By looking at the success of Disney, we can see how important it is to create a sense of emotion between your business and your customers. These feelings can create a sense of familiarity and protect your customer perception.
5. Netflix: A Champion of Cool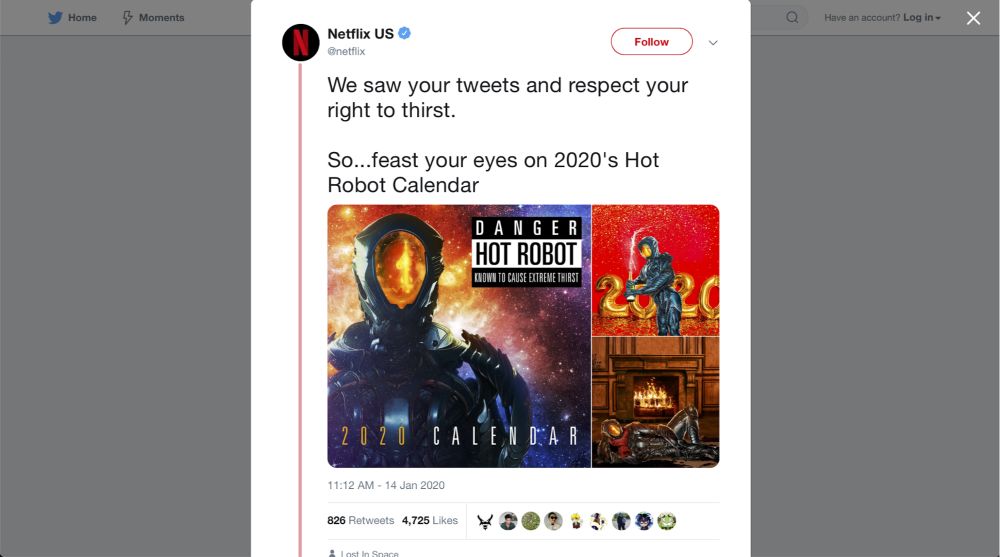 As human beings, we are naturally social creatures. We love people with character, and social interaction is at the heart of everything we do. Therefore, many brands anthropomorphize themselves by developing personalities.
For instance, take a look at Netflix. This brand injects its character into every piece of communication it shares with its customers. This tactic helps customers develop strong feelings about it.
Key takeaway: Don't be afraid to inject character into your communications, whatever the channel. In fact, you should consider developing a distinct personality and tone of voice for your brand.
Conclusion
We hope you've found this dive into customer perception to be useful. Through the examples in this article, you should be able to learn a lesson from some of the most successful brands out there. If you're ready to delight your customers with all-in-one live chat, targeted messaging, and more, be sure to start your free Messagely trial today.