In this article, we'll compare Zendesk vs Intercom to find out which is the right customer support tool for you.
We'll compare them based on:
Ease of use
Pricing
Features
Value
Customer Reviews
Security
By the end of the article, you'll not only know all of the main differences between Zendesk and Intercom, but you'll know which is the right tool for you.
Let's get started.
Introducing Zendesk and Intercom
To start, here's an overall look at both Zendesk and Intercom.
Zendesk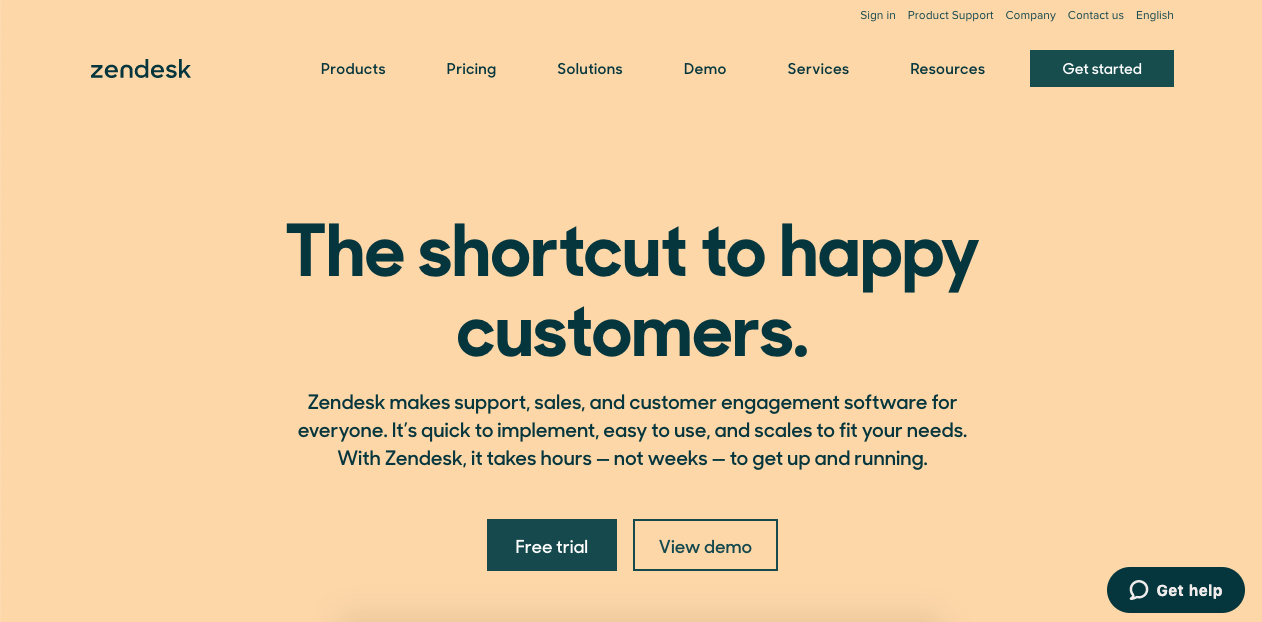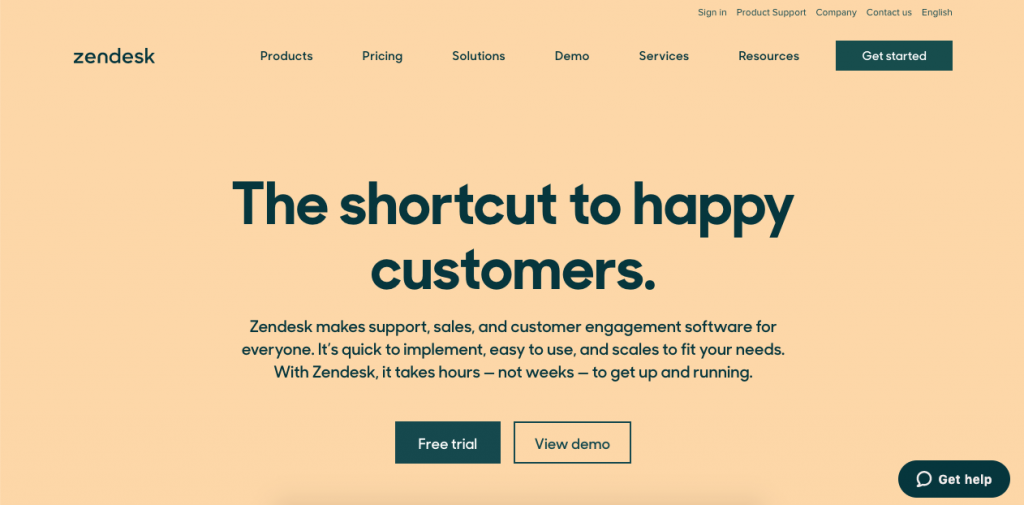 Zendesk started as a ticketing tool for customer support and has evolved into a service-first customer relationship management (CRM) company that improves customer relationships primarily through communication.
Zendesk now offers you seven unique products for businesses. These products range from customer communication tools to a fully-fledged CRM. Zendesk boasts incredibly robust sales capabilities and security features.
Zendesk has over 150,000 customer accounts from 160 countries and territories. Their client base includes Fortune 100 and Fortune 500 companies. They have offices all around the world including countries such as Mexico City, Tokyo, New York, Paris, Singapore, São Paulo, London, and Dublin.
Although it can be pricey, Zendesk's platform is a very robust one, with powerful reporting and insight tools, a large number of integrations, and excellent scalability features.
Intercom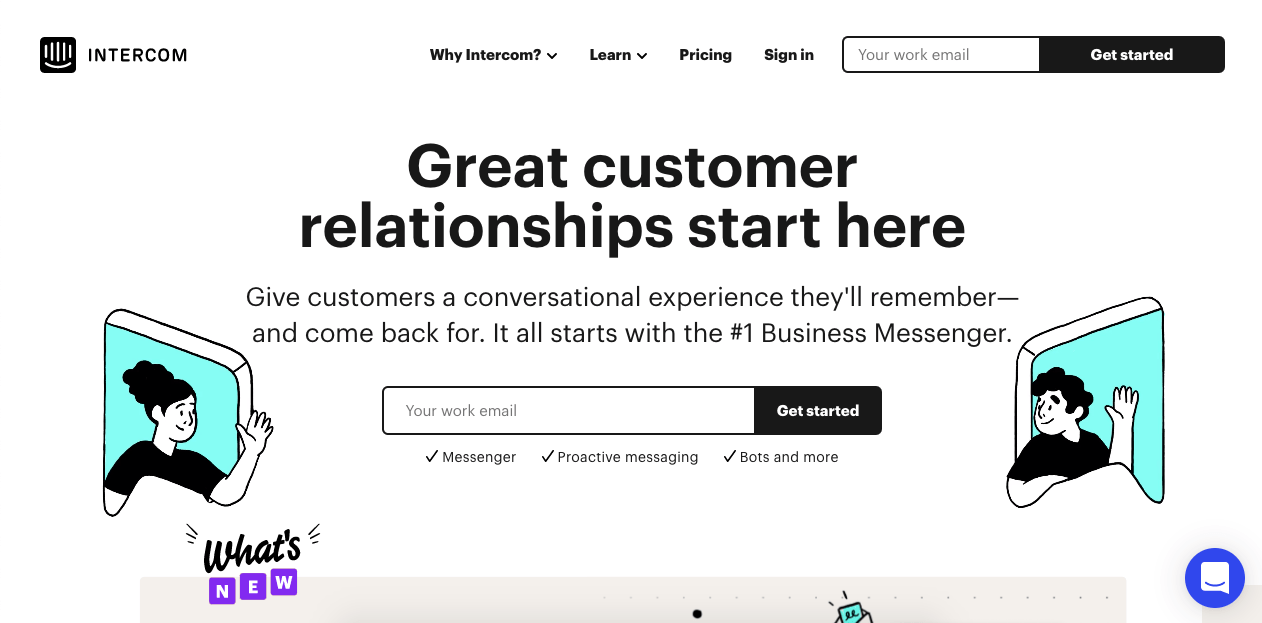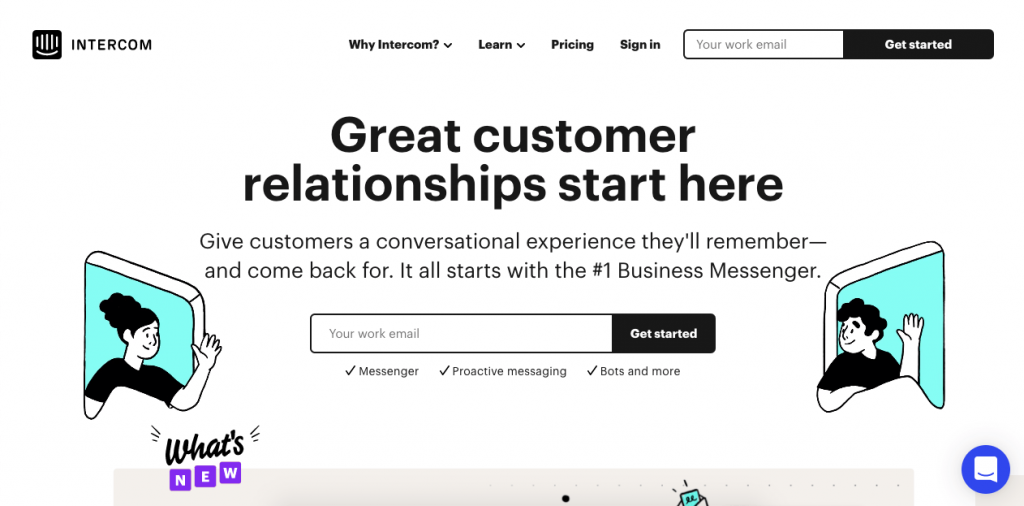 Intercom defines itself as a Conversational Relationship Platform. With Intercom, you can see who's using your product or interacting with your website and learn how to better communicate with them.
Since it's fully focused on customer relations, Intercom provides you with many options beyond its online customer capabilities, such as behavior-driven messages, automated targeted content, and predictive responses, to name a few.
Intercom has over 30,000 clients around the world, with offices in San Francisco, Dublin, Sydney, London, and Chicago.
Intercom works with any website or web-based product and aims to be your one-way stop for all of your customer communication needs.
Zendesk vs. Intercom: Head to Head Comparison
Here are the main points you should consider when comparing Zendesk to Intercom:
1. Ease of Setup
Zendesk is not easy to set up, and it takes time to do it right. The setup can be so complex that there are tutorials by third parties to teach new users how to do it right.
Since Zendesk has many features, it takes a while to learn how to use the options you'll be needing.
You'll start by signing up in Zendesk and choosing your product. Then, you can begin filling in details such as your account's name and icon and your agents' profiles and security features.
Next, you'll add your channels (such as Facebook and Twitter) and set up your integrations with platforms like eBay and Amazon. Then you incorporate your knowledge base and your support lines. You can also add widgets to your home page and mobile apps.
After this, you'll have to set up your workflows, personalizing your tickets and storing them by topic. You can then add automations and triggers, such as automatically closing a ticket or sending a message to a user.
Finally, you'll have to choose your reporting preferences including details about what you'll be tracking and how often you want to be reported of changes.
Intercom is comparatively easy to set up. After signing up and creating your account, you can start filling in your information, such as your company name and branding and your agents' profiles and information.
Depending on your needs, you can set up Intercom on your website or mobile app and add your automations. Setting up Intercom help centers is also very easy and intuitive, with no previous knowledge required.
Intercom also has very good guides, which show you the whole process step by step.
Winner: Intercom
2. Ease of Use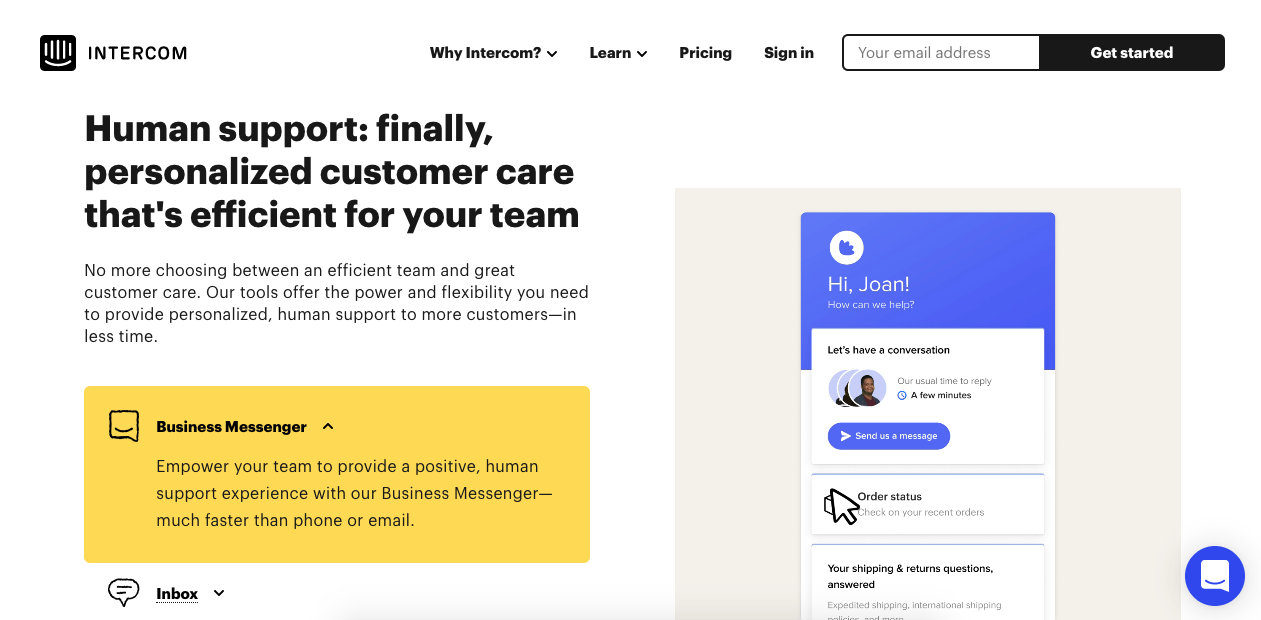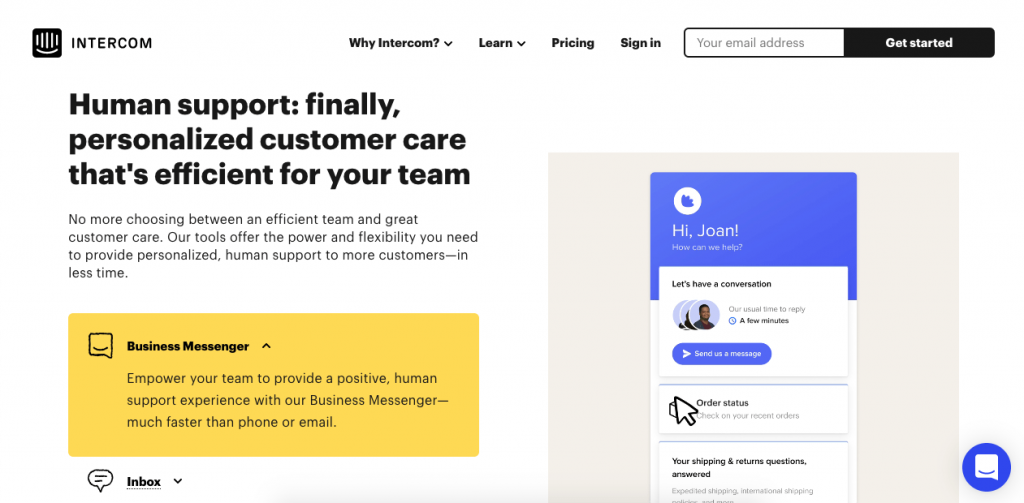 Although Zendesk isn't hard to use, it's not a perfectly smooth experience either. Users report feeling as though the interface is outdated and cluttered and complain about how long it takes to set up new features and customize existing ones.
Users also point out that it can take a couple of hours to get used to the flow of tickets, which doesn't happen in CRM, and they aren't pleased with the product's downtime.
With all accounted for, it seems that Zendesk still has a number of user interface issues.
Intercom, however, provides the opposite experience. With a very streamlined design, Intercom's interface is far better than many alternatives, including Zendesk. It has a very intuitive design that goes far beyond its platform and into its articles, product guides, and even its illustrations.
Intercom users often mention how impressed they are with its ease of use and their ability to quickly create useful tasks and set up automations. Even reviewers who hadn't used the platform highlight how beautifully designed it is and how simple it is to interact with for both users and clients alike.
Since Intercom is so intuitive, the time you'll need to spend training new users on how to interact with the platform is greatly reduced.
Winner: Intercom
3. Integrations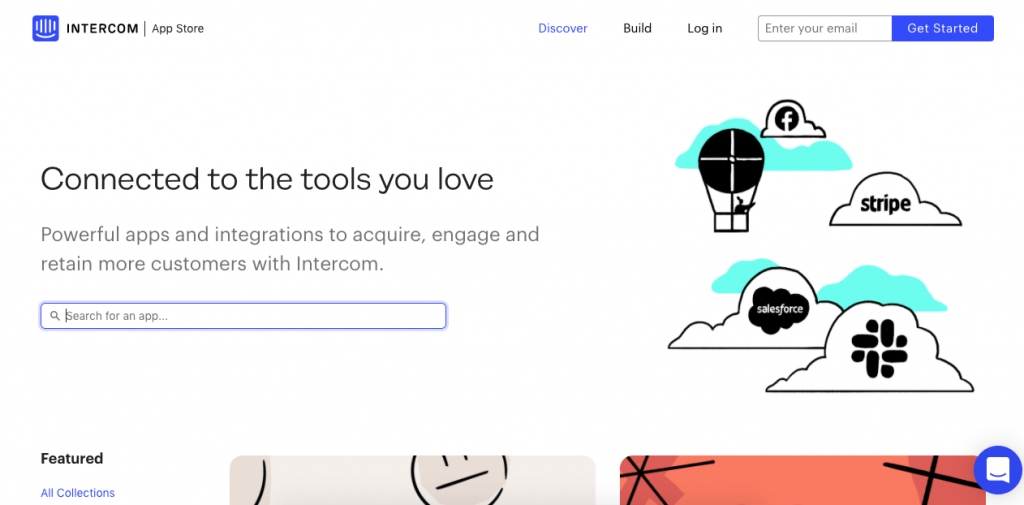 Both Zendesk and Intercom have their own "app stores" where users can find all of the integrations for each platform.
There are many powerful integrations included, such as Salesforce, HubSpot, Mailchimp, Slack, and Zapier.
However, the Intercom app store is far more intuitive and is much easier to navigate. It not only shows you all of the apps you can use, but it also divides these into topics and categories.
With this kind of organization, you will not only find your favorite apps but also discover new ones to meet your needs.
Winner: Intercom
4. Customer Support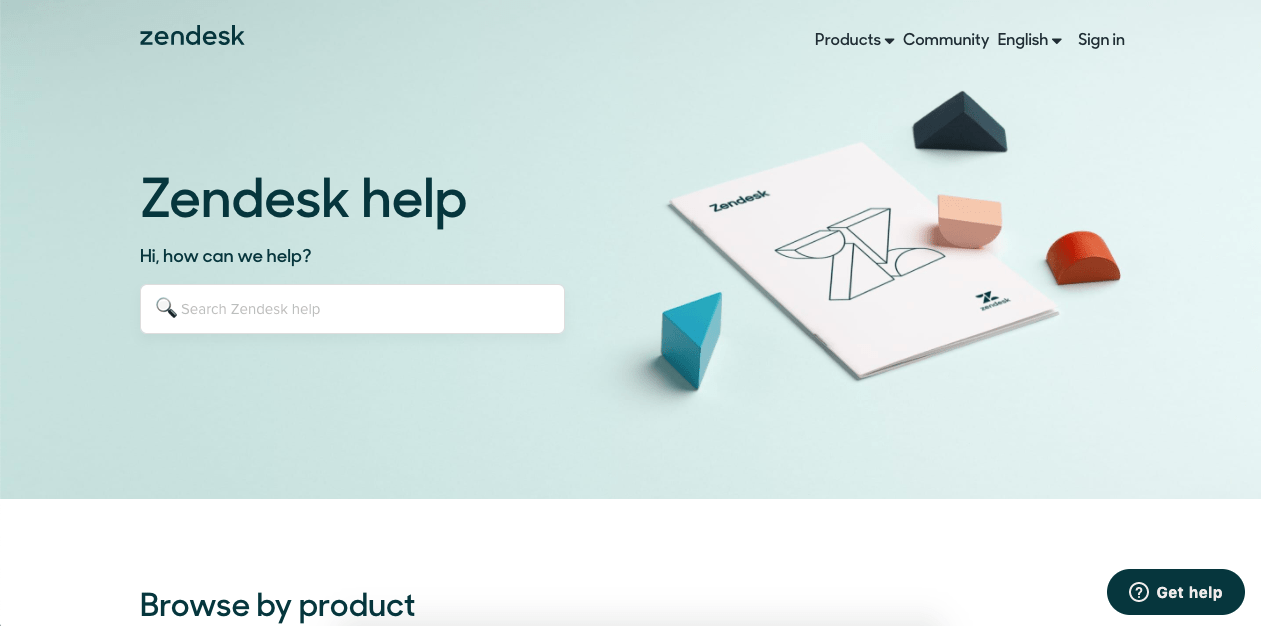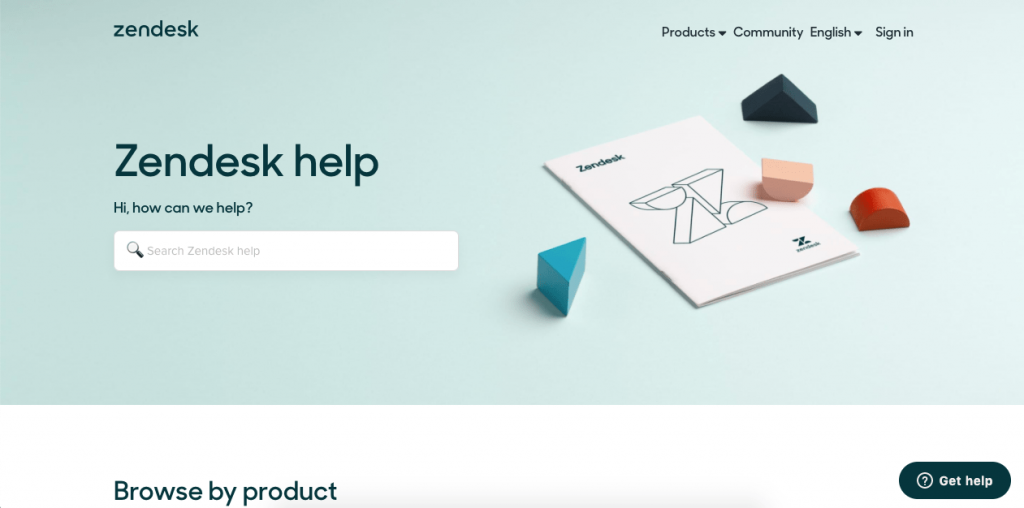 Both Zendesk and Intercom have knowledge bases to help customers get the most out of their platforms.
However, Intercom's knowledge base isn't detailed or intuitive. It's divided into about 20 topics with dozens of articles each, so navigating through it can be complicated.
On the other hand, Zendesk's customer support includes a knowledge base that's very intuitive and easy to navigate. It divides all articles into a few main topics so you can quickly find the one you're looking for. It also includes a list of common questions you can browse through at the bottom of the knowledge base home page so you can find answers to common issues.
You can also contact Zendesk support 24/7, whereas Intercom support only has live agents during business hours.
Winner: Zendesk
5. Pricing & Scalability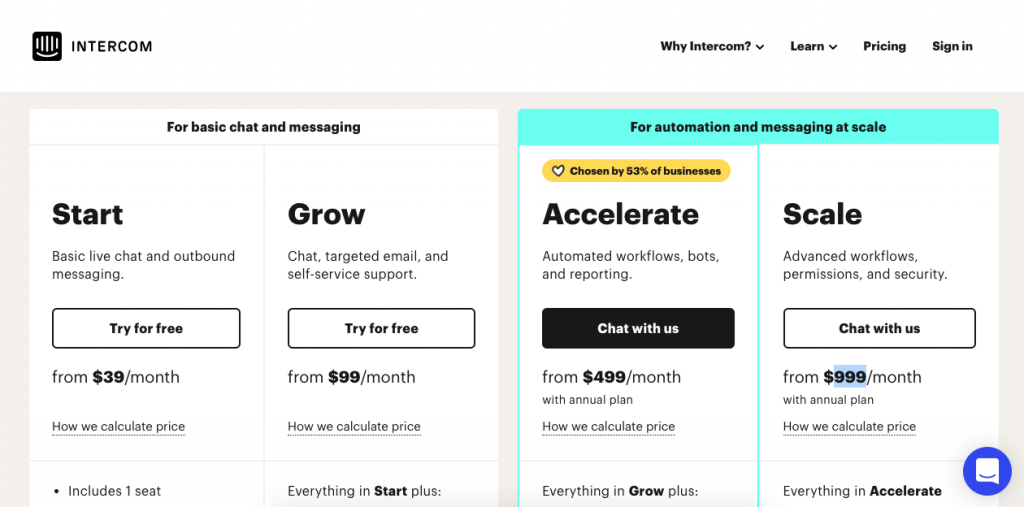 Zendesk pricing is divided between a customer support product called "Zendesk for support", and a fully-fledged CRM called "Zendesk for sales".
The customer support platform starts at just $5 per agent per month, which is a very basic customer support tool. If you want dashboard reporting and integrations, you'll need to pay $19 per agent per month. Multilingual content and other advanced features come with a $49 price per agent per month.
Its $99 bracket includes advanced options, such as customer satisfaction prediction and multi-brand support, and in the $199 bracket, you also get advanced security and other very advanced features.
Its sales CRM software starts at $19 per month per user, but you'll have to pay $49 to get Zapier integrations and $99 for Hubspot integrations. Finally, you can pay $199 per month per user for unlimited sales pipelines and advanced reporting along with other features.
If you want both customer support and CRM, you can choose between paying $79 or $125 per month per user, depending on how many advanced features you require.
On the other hand, Intercom's pricing is comparatively simpler.
Since Intercom doesn't offer a CRM, its pricing is divided into basic messaging and messaging with automations.
For basic chat and messaging, Intercom charges a flat fee of $39 per month for its basic plan with one user and $99 per month for its team plan with up to 5 users. If you want automated options, Intercom starts at either $499 or $999 per month for up to ten users, depending on the level of automation you're looking for.
All plans can be improved with custom add-ons. These add-ons keep the price low by only requiring you to pay for features you'll be using, such as:
Product Tours: Interactive and video product tours that are easy to create and targeted to your most valuable customers. Price: From $199.00 per month.
Advanced lead generation: Advanced account-based marketing and sales integrations to grow your pipeline. Price: From $499.00 per month.
Advanced customer engagement: Advanced targeting features, such as notifications, A/B testing, multi-channel campaigns, and Clearbit and Marketo integrations. Price: From $499.00 per month.
Advanced support automation: Access to Resolution Bot, to provide automated answers and detailed reporting. Price: From $249.00 per month.
Winner: If you're looking for the best messaging option or an option that allows for a lot of pricing customization, choose Intercom. If you're looking for both sales and messaging with plenty of integrated features, Zendesk is the best option.
6. Unique Features
Zendesk chat allows you to talk with your visitors in real time through a small chat bar at the bottom of your site. When visitors click on it, they'll be directed to one of your customer service teammates.
The Zendesk ticketing system is also very robust. With a multi-channel ticketing system, Zendesk Support helps you and your team to know exactly who you're talking to and keep track of tickets throughout all channels without losing context. The setup is designed to seamlessly connect your customer support team with customers across all platforms.
Chat agents also get a comprehensive look at their entire customer's journey, so they will have a better idea of what your customers need, without needing to ask many questions.
With Zendesk, you can anticipate customer questions, allowing for shorter reply periods. With its CRM, you have the ability to place your clients in your sales funnels and follow through with them until conversion.
Intercom isn't as great with sales, but it allows for better communication. With Intercom, you can keep track of your customers and what they do on your website in real time. Like Zendesk, Intercom allows you to chat with online visitors and assist with their issues.
Intercom also allows you to keep track of your customers with targeted emails and automated messages in-app.
Winner: Intercom for messaging, Zendesk for sales.
7. Customer Reviews
Both Zendesk and Intercom have very similar ratings, although Zendesk is definitely used by far more people than Intercom. This is clearly displayed by its number of reviews.
Intercom reviewers typically complain about the lack of scalability and its tendency to get more expensive the more you use it.
Zendesk reviewers complain about a lack of features at certain price levels, unintuitive navigation, and slow setup periods.
Winner: Tie
8. Security
Intercom is a fairly secure platform. It complies with multiple security formats from Europe and the United States, uses third-party tools to find and fix bugs and security issues, and has Single Sign-On and 2FA to help users keep their private information private.
Overall, Intercom's security is adequate.
Zendesk, on the other hand, has revamped its security since its security breach in 2016. It is now trusted by multiple Fortune 100 and Fortune 500 companies. You can be assured that its security is very robust.
Zendesk's list of compliances and security memberships is very long, and they have won a number of security seals and awards. Zendesk also has multiple security filters that range from where it stores its files to the people it hires.
While Intercom's security is adequate, Zendesk's security is backed by a larger budget from a larger company that is experienced in dealing with security issues and has proven itself to be a highly-secure option.
Winner: Zendesk
Zendesk vs Intercom – Which Tool Should YOU Choose?
Although Intercom wins in more aspects than Zendesk, Zendesk should not be immediately discarded.
Zendesk is a great option for large companies or companies that are looking for a very strong sales and customer service platform. It offers more support features and includes more advanced analytics and reports.
You don't have to pay per contact on your database, and you there are many free features you can use.
However, you'll likely end up paying more for Zendesk, and in-app messenger and other advanced customer communication tools will not be included.
Intercom is better for smaller companies that are looking for a simple and capable customer service platform. It is not weighed down by a ton of complex features. Instead, using it and setting it up is very easy, and very advanced chatbots and predictive tools are included to boost your customer service.
In short, Zendesk is perfect for large companies looking to streamline their customer support process; Intercom is great for smaller companies looking for advanced customer service features.
Messagely as an Alternative
However, if you're looking for a streamlined, all-in-one messaging platform, there is no better option than Messagely.
Great live chat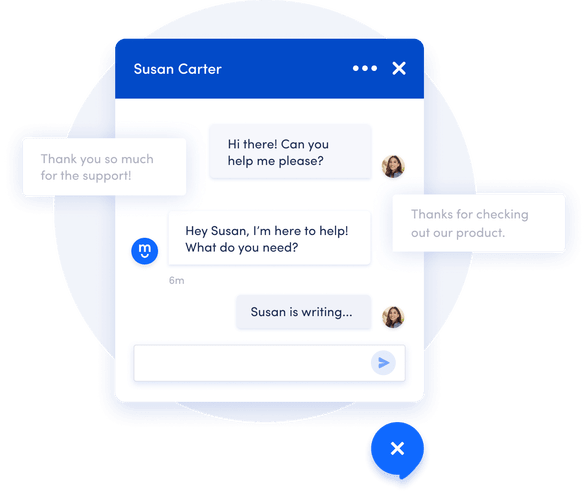 Messagely's live chat platform is smooth, effective, and easy to set up. With Messagely, you can increase your customer satisfaction and solve customers' issues while they're still visiting your site.
You can also follow up with customers after they have left the chat and qualify them based on your answers.
Powerful chatbots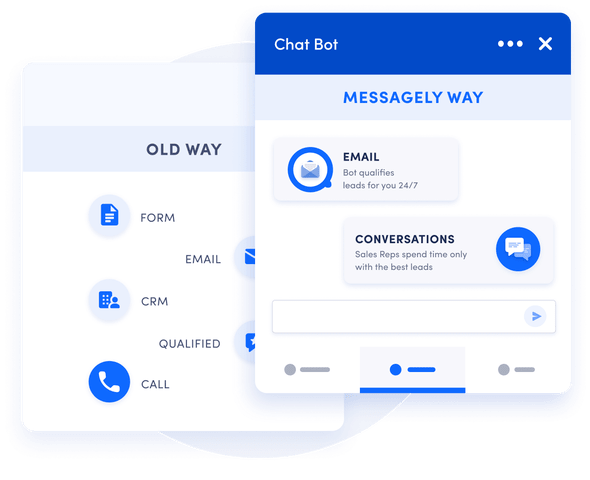 Messagely's chatbots are powerful tools for qualifying and converting leads while your team is otherwise occupied or away. With chatbots, you can generate leads to hand over to your sales team and solve common customer queries without the need of a customer service representative behind a keyboard.
With chatbots, you can help your clients reach their aha! moment without depending on humans to show them the way.
And while many other chatbots take forever to set up, you can set up your first chatbot in under five minutes.
Team-oriented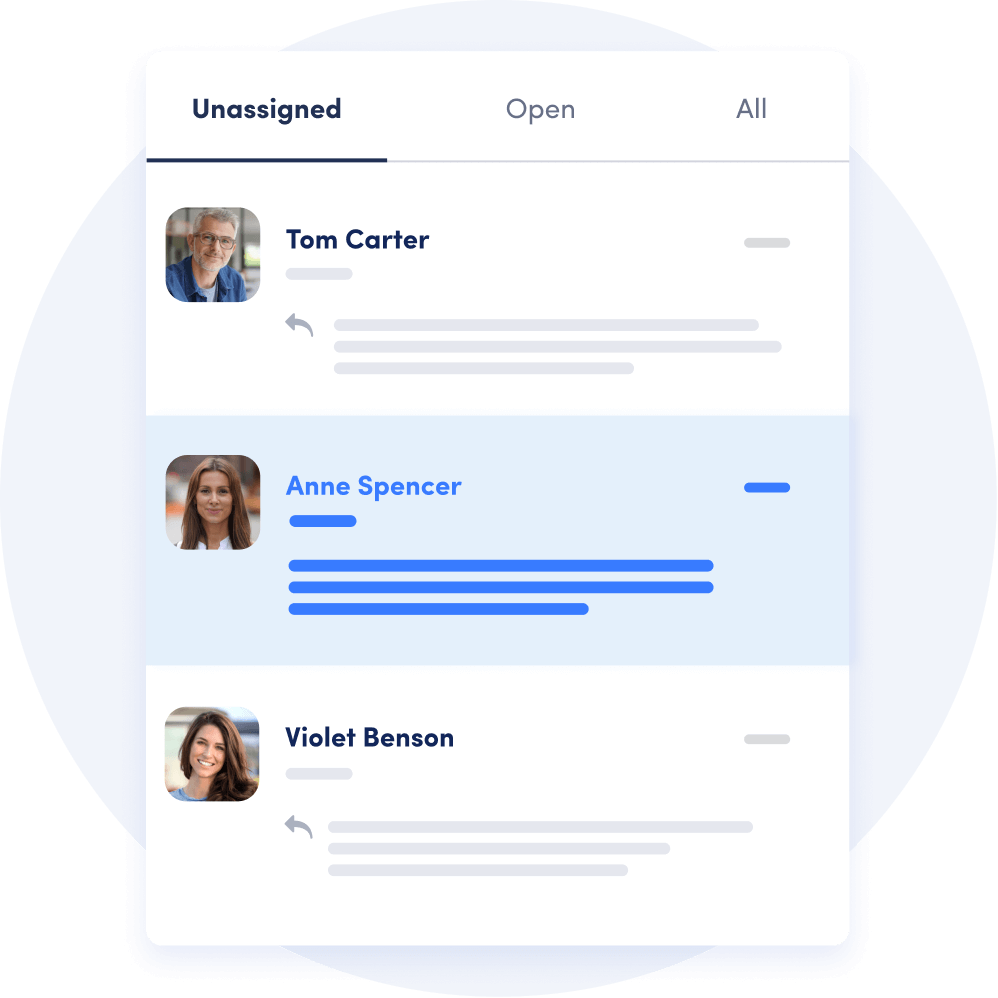 Messagely pulls together all of the information about the customer contacting you and gives your representatives information on each interaction they've had with them, all within a streamlined platform. This way, your clients will never have to repeat themselves or get frustrated because their new representative doesn't know their background.
Messagely also provides you with a shared inbox so anyone from your team can follow up with your users, regardless of who the user was in contact with first.
Competitive prices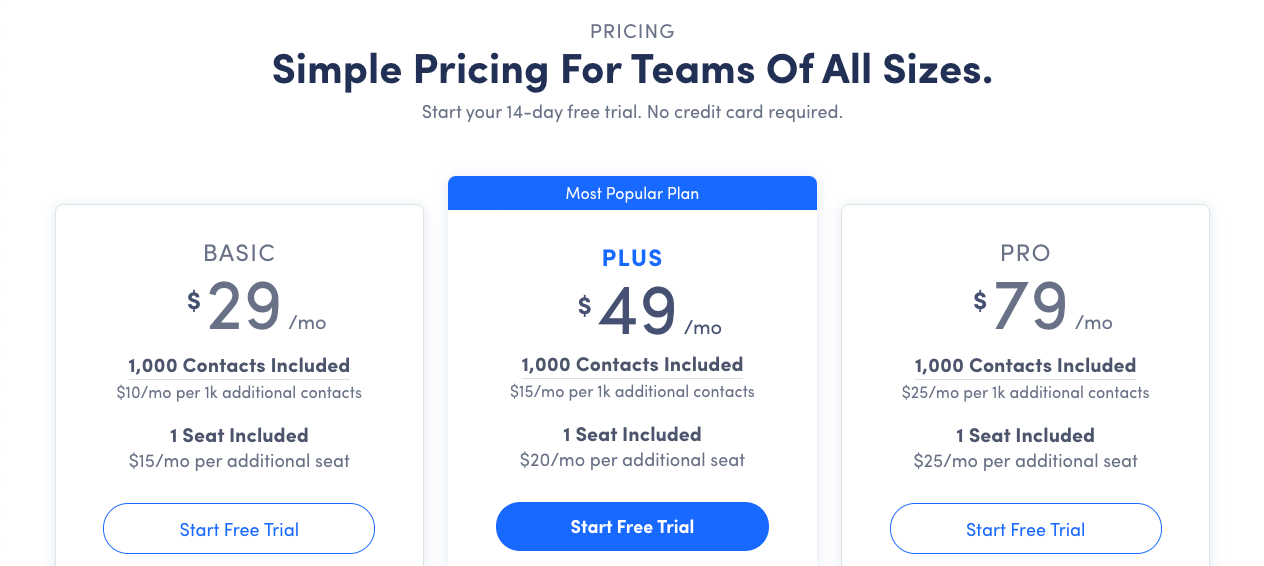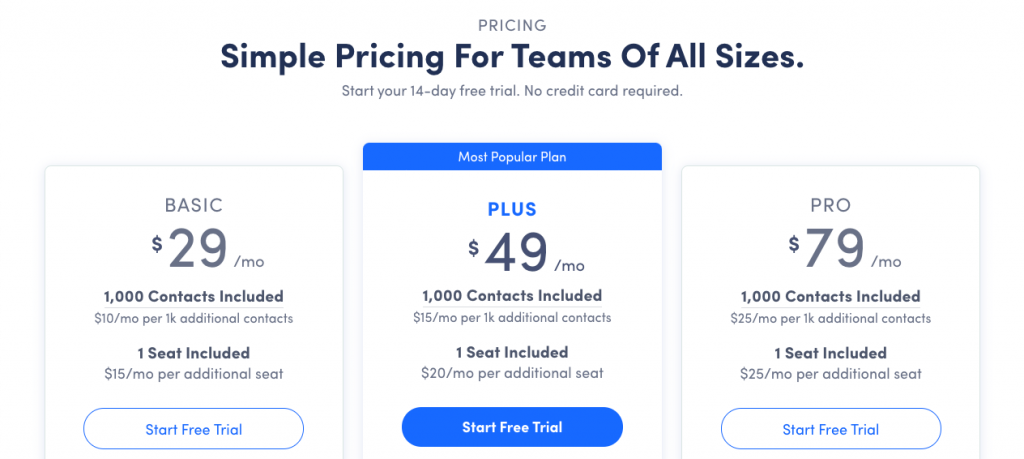 Messagely's pricing starts at just $29 per month, which includes live chat, targeted messages, shared inbox, mobile apps, and over 750 powerful integrations.
Start your free trial today.
Conclusion
As expected, the right choice between Zendesk and Intercom will depend on your budget, your company, and your needs.
While both Zendesk and Intercom are great and robust platforms, none of them are able to provide you with the same value Messagely gives you at such an affordable price.
Before you make your choice, check out Messagely's features and compare them to discover which platform is best for you.