Crisis management is essential for any business (large and small). It can provide guidance, even in the most chaotic times. And it can find ways for your company to come out victorious on the other end.
However, 51% of companies admit to not having a crisis management plan in place. Is your company one of them?
If it is, here's the way to write a crisis management plan, as well as the way companies have used them to resolve crises.
What Is a Crisis Management Plan?
A crisis management plan is a process established by a business to respond to an emergency or an urgent, unexpected problem. It dictates who's in charge, how to define a response, and how to inform the relevant parties of the event.
A crisis management plan provides guidelines for unexpected events. It can be used to prevent losses, define clear chains of command, and create quick and effective responses. So it is vital to have one in order to prevent an unexpected issue from becoming a chaotic situation.
To be effective, a crisis management plan must be written before any event has taken place. The drafters of the plan must try to predict the most likely crisis that their business may encounter. These crises can range from an employee strike to a media scandal or a natural catastrophe.
They should then establish how the situation must be handled to maintain a good reputation, compensate affected parties, and even regain any loss of momentum.
A crisis management plan prepares a business for the unexpected, so it can emerge victorious from a crisis.
One Effective Crisis Communication Strategy (And One That's Not)
Here's how crisis management plans look in action. First, there's a good example, followed by a bad one…
1. Coca-Cola's 2015 Crisis Management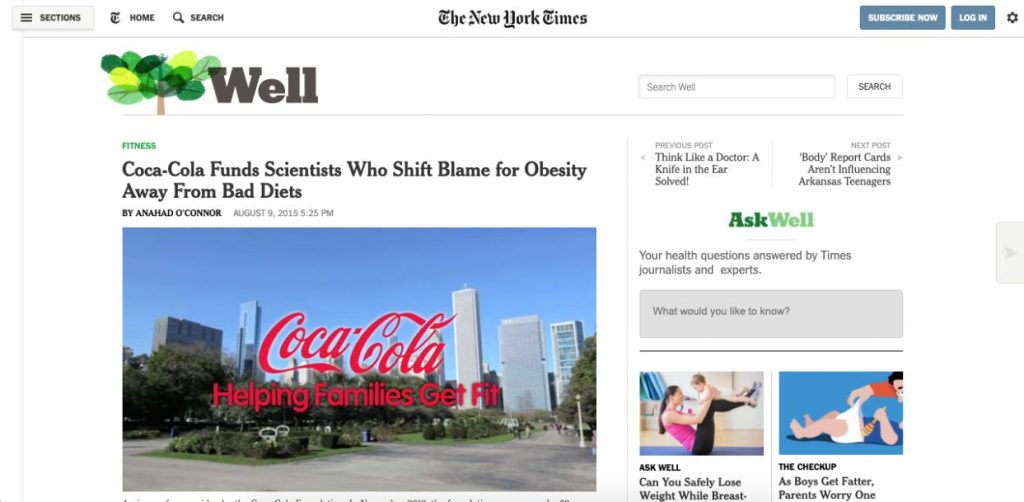 In 2015, Coca-Cola faced a huge backlash after an article by The New York Times blamed the company of funding scientists to shift blame for obesity away from sugary drinks.
The article mainly pointed out the way Coca-Cola was funding the new nonprofit Global Energy Balance Network's obesity research. This research was trying to disprove any links between bad diets and obesity. It was attempting to shift the blame to the lack of exercise instead.
This scandal was huge, since it was seemingly Coca-Cola's response to the continuously overwhelming amount of research showing the link between sugary drinks and the epidemic of Type 2 diabetes.
Coca-Cola's response was clear and well-planned.
Muhtar Kent, Coca-Cola's CEO, wrote an op-ed for The Wall Street Journal called "Coca-Cola: We'll Do Better."
In a very clear and well-written article, Kent acknowledged the issues and accusations of trying to manipulate the public, while avoiding apologizing for it. Instead, Kent admitted that Coca-Cola's current strategy wasn't working and expressed disappointment for how "some actions we have taken to fund scientific research and health and well-being programs have served only to create more confusion and mistrust."
He then explained what the company was going to do to fix it and avoid these mistakes in the future. He promised the company would act with more transparency and published a list of health partnerships and research they had funded over the last five years.
He also wrote how the company would focus on expanding healthy options for its customers, such as lower-calorie drinks and zero-calorie drinks (which acted as a sales plug as well).
The result? A huge improvement in public perception and an almost immediate shift of the media's narrative.
Learn from it:
This op-ed was more than likely written by more people than just Coca-Cola's CEO. It undoubtedly involved a huge crisis management effort. Here's why it paid off and how you can apply its lessons during a crisis:
Own up to the crisis: Kent fully recognized the issue and clearly stated where the company went wrong without apologizing.
Find the right channels: Coca-Cola could've just released a statement from the company to say the same thing, but it didn't. By using the CEO, Coca-Cola went from a faceless company to a group of people, and people make mistakes. Use the right channels and the right people to deliver your message.
Overdeliver: Kent didn't just say it wouldn't happen again. He created an oversight committee of independent experts to guide the company's research investment. If you overdeliver rather than apologizing, you'll end up improving public perception and take control of the narrative.
2. The Volkswagen 2015 scandal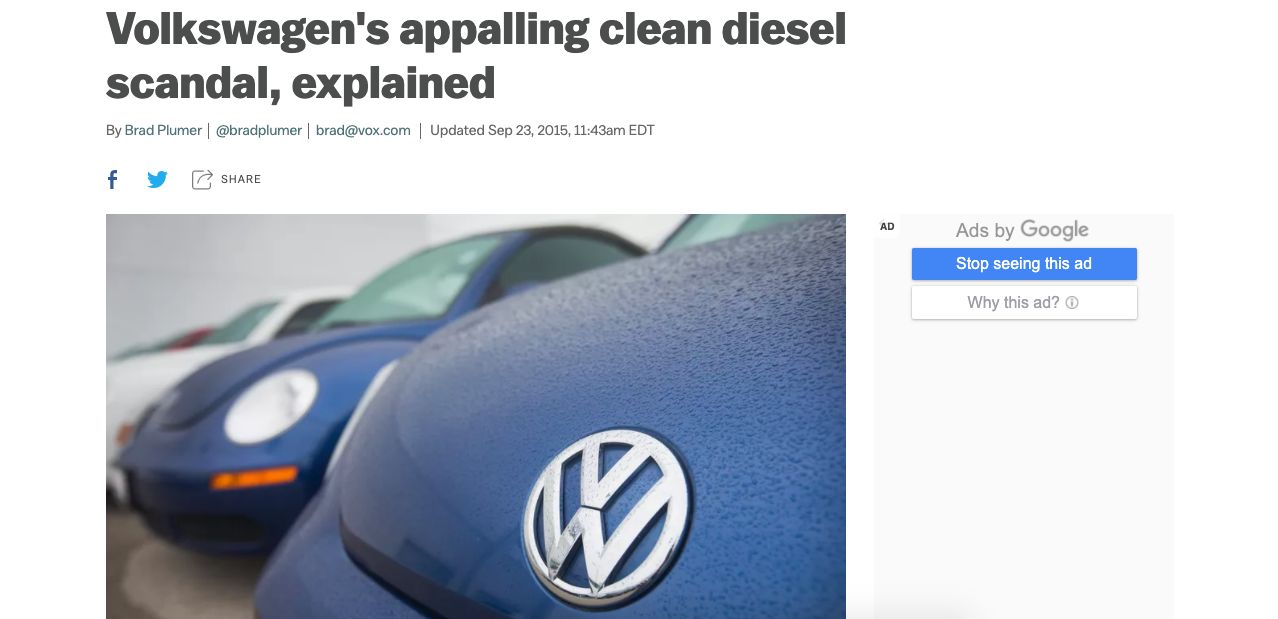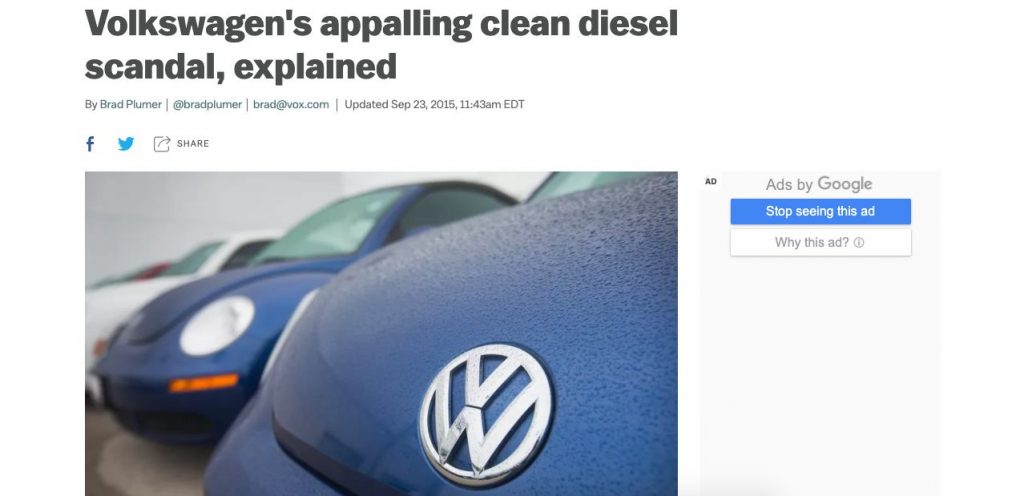 In September 2015, the Environmental Protection Agency accused Volkwagen of manipulating its car engines to give false emission readings while being tested. This accusation created a massive scandal, which affected both the company's relationship to the government and its consumers. Volkswagen had become a large conspirator, which massively polluted and violated its customers' trust.
Volkswagen did not handle the crisis well at first. The company gave inconsistent (and even contradictory) statements to the press. Executives went back and forth explaining their knowledge of the matter. And while the company did recall the affected cars, it failed to compensate some customers for it.
Once all of these mistakes were made, Volkswagen seemingly put together its first crisis management plan. In September 2015, Volkswagen released a statement that got positive views from the press. But some categorized it as "too little, too late."
Learn from it:
This crisis turned into a debacle because the crisis management plan was formed during the crisis, not beforehand. What's worse? This crisis was caused by an issue already known by Volkswagen. So not having a proper response available becomes even more baffling.
When creating your crisis management plan, the first step is to identify where your potential issues are and what they could create. Start from your known issues, and create potential sources of conflict, such as rude customers or quality issues. Then draft plans on how to manage them if they were to happen.
If you're upfront and honest as soon as the crisis starts, your company's public perception will probably be less affected by the crisis.
Crisis Management Plan Examples
Looking for inspiration to create your own crisis management plan? Here are a few examples of real plans (and how they're used)…
1. Youngstown State University Crisis Response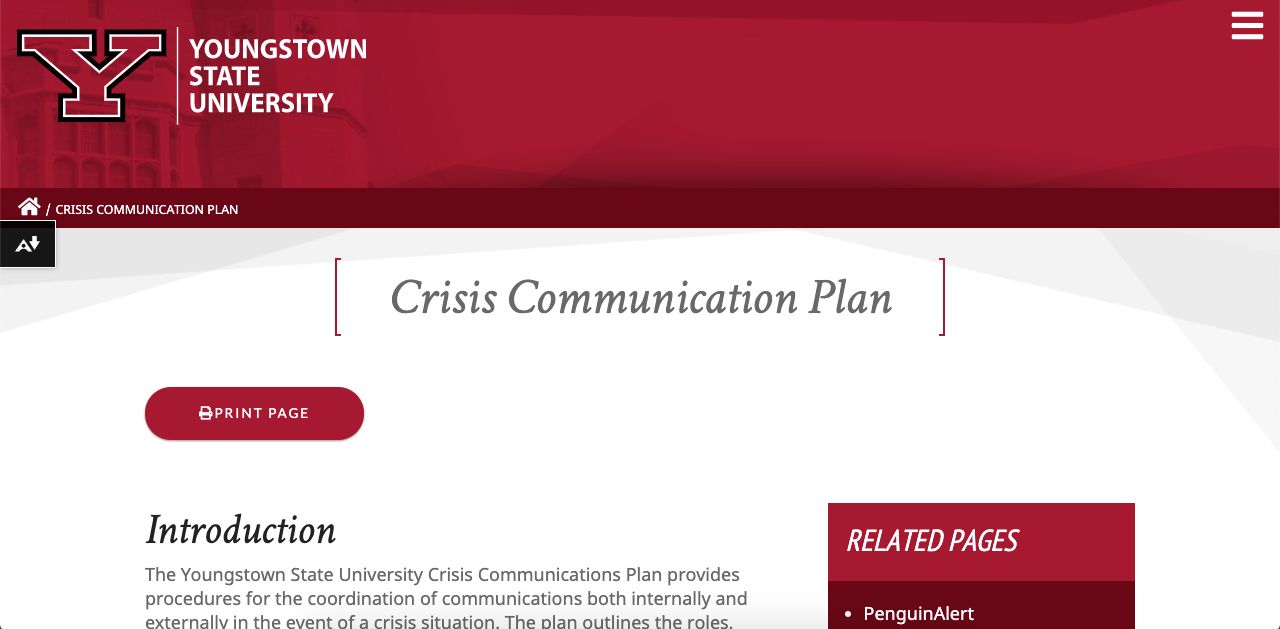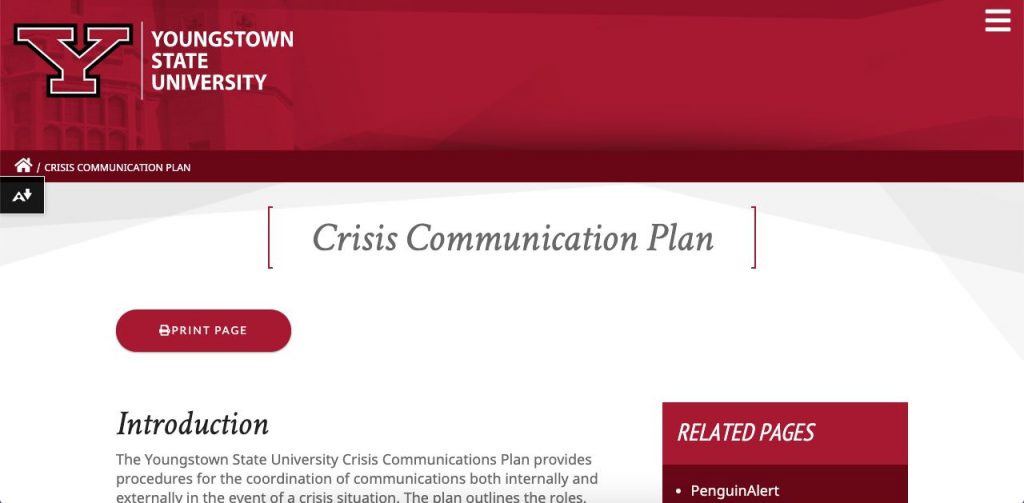 The Youngstown State University Crisis Communications Plan is a great guide for a university to react to any crisis. It starts by defining what a crisis is. It then outlines the Crisis Communication Team members and responsibilities.
The plan also outlines how the team members should behave, such as requiring them to keep their cell phones working and with them at all times. It also defines how they should initially meet and who will notify their team members.
It also has a great response and media relations guideline, which gives the Crisis Communication Team a good idea of what's expected of them at all times.
Learn from it:
This crisis communication plan is very general, so it has to be very versatile. By focusing on establishing roles, guidelines, and responsibilities, this university gives enough information to the team for them to know how to act and react to any crisis situation.
If you're looking to write a crisis communication plan without a clear crisis in mind, focus on assigning very clear roles, and flesh out the principles your team should guide their decisions around.
2. Starbucks Coffee Company Crisis Communication Plan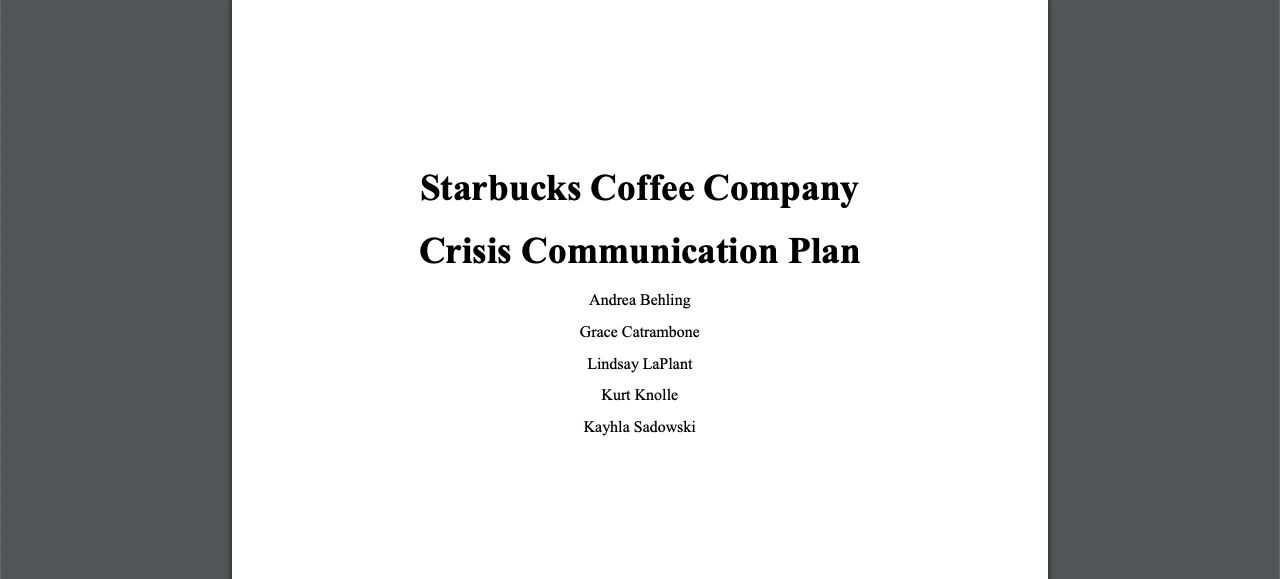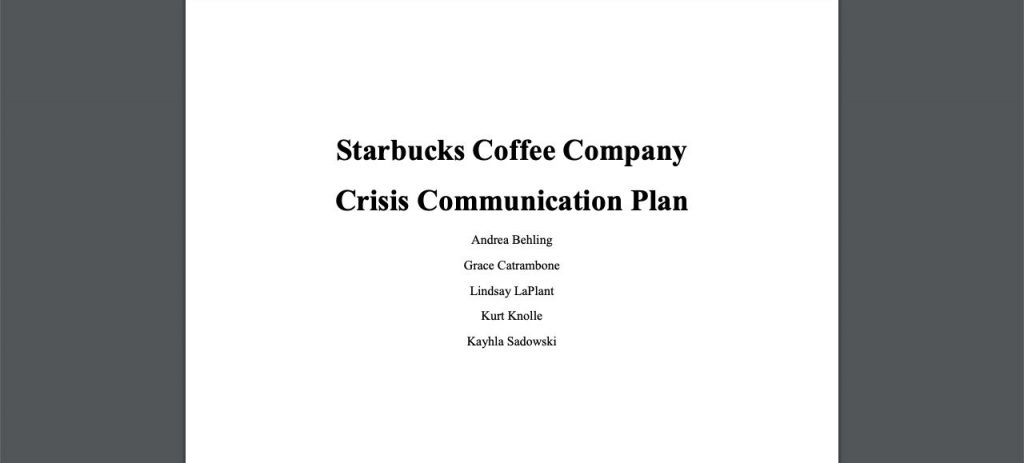 Starbucks is a global company with a large public—not only in its clients, but also in its workers. So it has to define how communication will be managed (internally and externally).
The Starbucks Coffee Company Crisis Communication Plan focuses on the divide between different audiences, and it plans around their communication first. It then defines how to act in the 5 most likely crisis scenarios: food contamination, whistleblowers, hazardous work environments, support for controversial issues, and legal cases.
The response focuses mostly around the relevant audiences and takes them as the starting point. It focuses on how each crisis can affect public perception and customer service.
Learn from it:
Large companies need more comprehensive management plans. Define who your affected parties would be. And have a clear guideline on how to treat them (both internally and externally) in the event of a crisis, in order to avoid miscommunications.
3. Tesla Motors Crisis Management Plan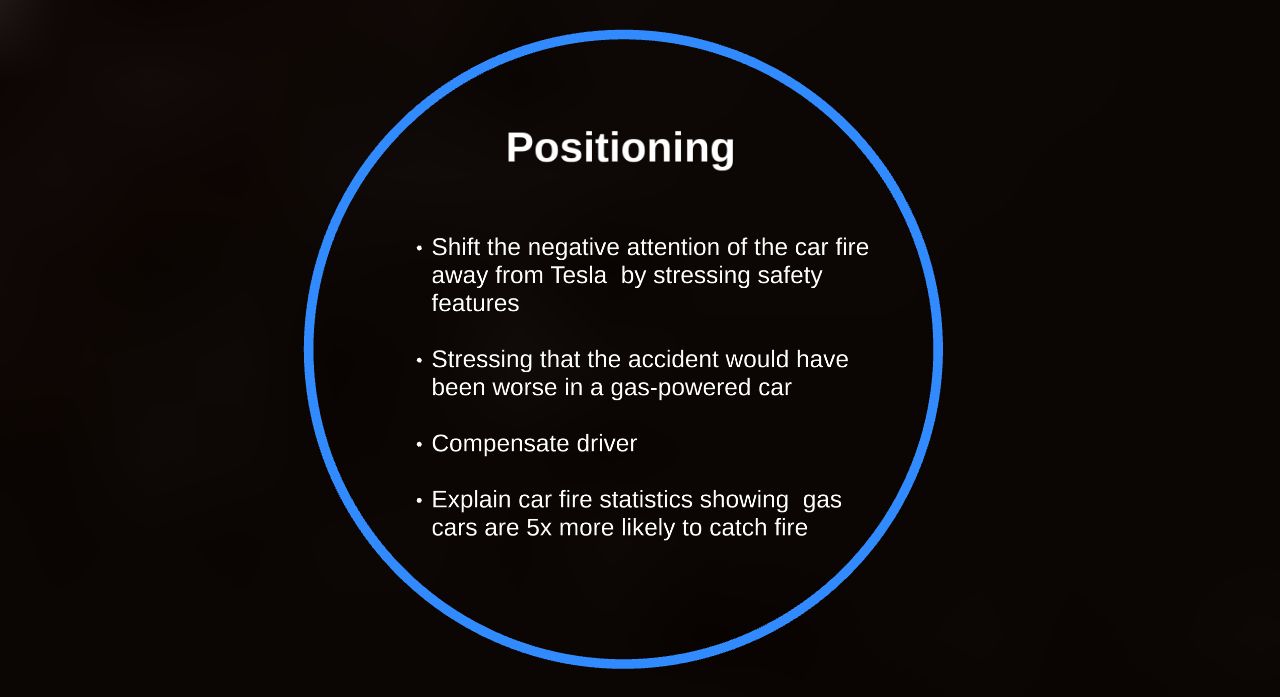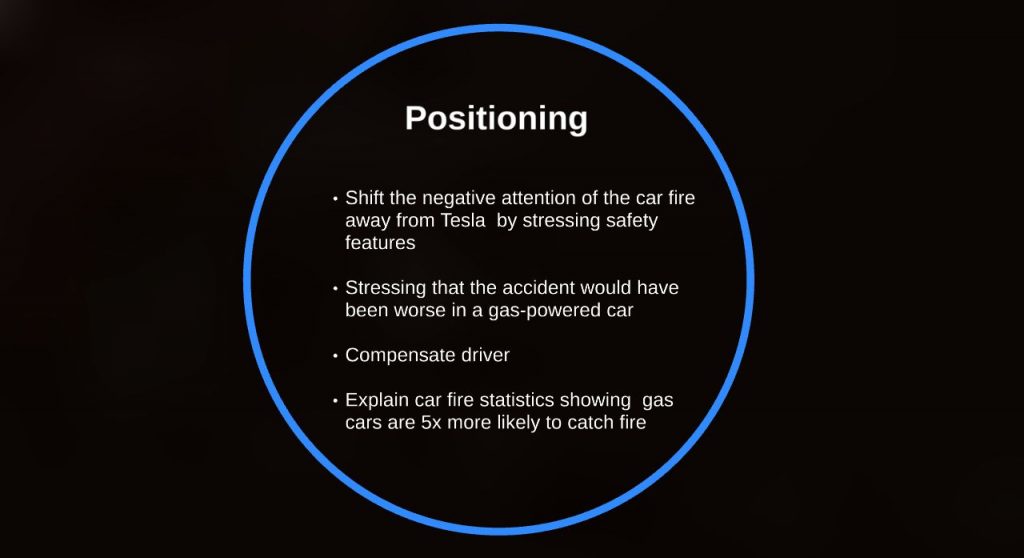 As a pioneer in motor vehicles, Tesla Motors has had its share of crises over the years. From self-driving cars killing its passengers to collisions provoking car fires, Tesla needed an effective crisis management plan to use at a moment's notice.
Through this analysis, you can see why Tesla has prepared statements and a clear crisis team ready on the go. It's practically a crisis toolkit, which includes everything Tesla would need to manage a crisis.
Learn from it:
If your company clearly has the potential for hitting a specific crisis, plan ahead. Detail ways to evaluate it, and prepare potential statements in advance, in order to properly navigate it.
3 Useful Crisis Management Plan Templates
Here are three crisis management templates to get you started:
1. General Crisis Communication Plan Template – Smartsheet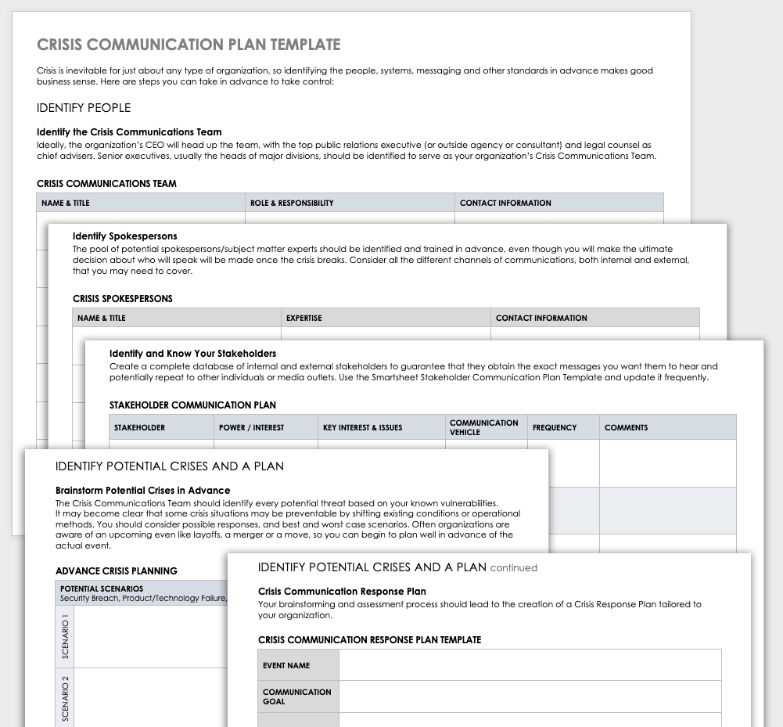 Smartsheet gives you a great template to define your crisis approach. With it, you can define your crisis team, create a plan of action, and even document how your team responds to different crises.
It's a very versatile template that can be as broad or defined as you need it to be.
2. Risk Assessment Template – Venngage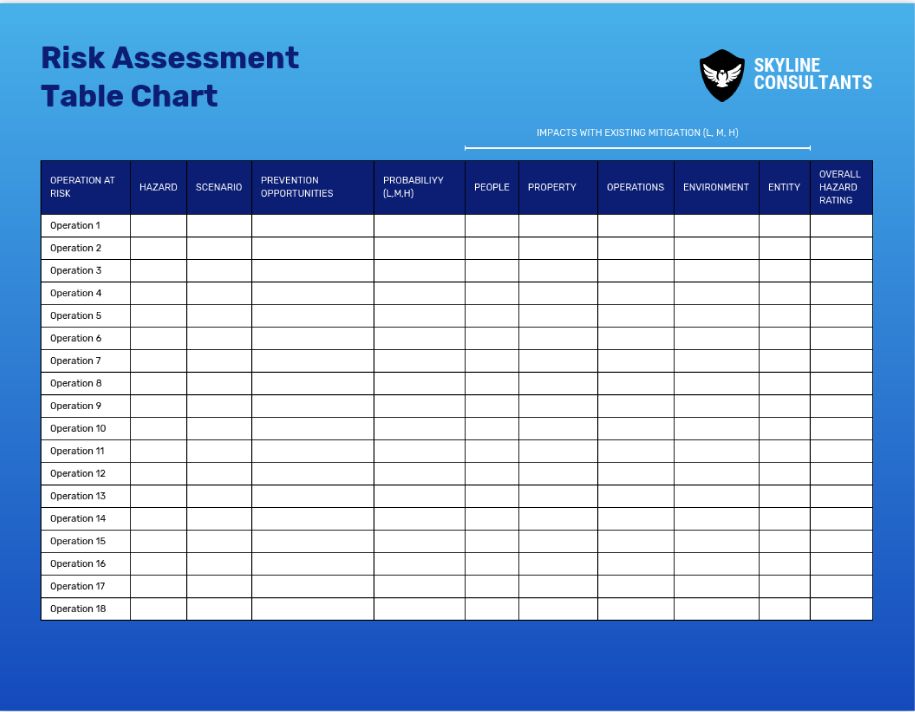 The first thing your crisis team needs to do during a crisis is assess it. This risk assessment template by Venngage is a must-have in any crisis management plan.
It'll help you define what's considered a crisis, who the different affected parties are, and how to manage the crisis and keep it from getting worse.
3. Emergency Response Plan – Venngage


Once you've assessed your risks, your emergency response plan takes care of managing the crisis accordingly.
If you're looking for a beautiful, fully customizable plan, you'll find this emergency response plan by Venngage to be very useful.
With it, you can prioritize procedures reacting to multiple crises—from fires to natural disasters. It can also be filled with the right contact information of the relevant authorities and private services.
Here's the Way to Write a Crisis Communications Plan
Ready to create your own crisis communication plan? Here's how to do it, step by step:
1. Set up risk-based goals
The first step in any crisis management plan is to evaluate the risks. Your response should be proportional to the risks, and some small crises don't need a response at all.
Before you start writing your plan, check potential reasons for crises with your team and get a clear idea of what a crisis in your company looks like. Define the parameters for classifying an event as a crisis and condense it into a clear objective for your crisis management plan.
If you start with an objective, your crisis communication plan will be clear and cohesive.
2. Determine the impact and the stakeholders of each crisis
Once you have a clear crisis in mind, you'll need to determine who will be impacted by it, both internally and externally.
To define it, go through the way the crisis would play out. For example, a tarnished reputation will decrease customer engagement, which will decrease sales. This crisis would have an immediate external impact, followed by an internal one.
Define who your affected audience would be. Then team employees that both have the right skillset and would ideally be less impacted by the crisis.
3. Write your plan
After you've determined how your company will define a crisis and who the crisis will affect, you'll be able to start writing your crisis management plan.
To properly get an idea of the company's capabilities and flesh out the scenario, talk to the people in the department that may cause the crisis and the people who can fix it. If you need to, get information from third parties, such as your contractors and business partners.
As you develop the plan, it's a great idea to get the relevant legal information from your company's lawyer. This individual can help you navigate potential lawsuits and write good statements that avoid incriminating vocabulary.
Consider the way your company would react publicly, which channels it'll use to communicate, and even how to change customer service to improve public perception.
4. Train your crisis response team
Your plan needs to be as well-prepared as the people executing it. In the middle of a crisis, your team needs to fall back on its training, in order to avoid becoming victims of stress or panic. And they need to play their roles effectively.
So train your crisis management team on how to respond to a crisis, based on your plan. Ask them what information they need, and make sure they understand their role on the team.
Ensure they get as much training as they need, and rehearse the plan that accompanies it, in order to find out how each member needs to react.
Use this new insight to continuously improve and update your crisis plan. Revisit it and make the necessary upkeep, in order to make sure your crisis management plan is up to date with the potential crises, the right people, and the relevant legal background.
Conclusion
Crisis management plans prepare your team for the unexpected. When properly written, these plans can save you a lot of time and money. And they can even turn a crisis into an opportunity to reestablish your brand.