Customer churn is an incredibly vital metric for a growing business. It can show you how well you retain customers and improve customer satisfaction. 
No company can keep 100% of its clients. However, to keep as many as possible, you need to predict when customers will leave and find out why they're leaving.
Customer churn exists for this reason.
What Is Customer Churn?
Also known as customer attrition, customer churn is the percentage of customers that have stopped using your products or services within a certain time frame. 
This churn can be measured by:
The total number of lost clients

The percentage of lost clients

The total loss of recurring business revenue

The percentage of recurring revenue lost 
Customer churn can happen for many reasons, but measuring customer churn is the first step in reducing it.
Remember: Acquiring new customers is more expensive than retaining the ones you have. You'd have to attract leads, segmentate them, educate them about your products, and guide them all the way through the sales funnel. If you retain customers, you save a lot of resources on marketing and sales. 
So keeping track of and lowering your customer churn rate is extremely important for any company.
How Do You Determine the Customer Churn Rate?
Your customer churn rate is the number of lost customers during a time period, divided by the number of customers you started the period with. You then multiply that decimal by 100% to get a percentage.
For example, say you started the month of October with 375 clients, and you lost 30. 30 divided by 375 equals 0.08. Multiply that number by 100, and you'll find out your customer churn rate is 8%.
You can also calculate churn based on your revenue, instead of your clients. Revenue-based churn is usually calculated by a monthly recurring revenue (MRR), which is the revenue you can count on getting every single month. 
MRR is usually calculated by multiplying the number of your customers by the average of the amount of money they spend per month. For example, if you have 45 customers with a monthly subscription of $10, your MRR is $450. In this case, revenue churn is calculated based on your loss of predicted revenue.
So which one is better?
Customer Churn vs Revenue Churn
Customer churn empowers you to know how well you retain customers, while revenue churn lets you know how well you retain customer revenue. While it may seem like these churns are the same, they can tell you very different stories.
For example, you may keep all of your clients, and your company may have a customer churn rate of 0%. But these clients may be downgrading their expenses, which provokes a larger revenue churn.
There's no definitive right or wrong option for every company. Customer churn isn't necessarily great at predicting revenue churn, and vice versa. Depending on your needs, you may need to prioritize one or the other. 
The Impact of Churn and Why You Should Care about It
Your customer churn rate is important for many reasons. Here are a few of them.
Churn tells you where to improve.
Churn can point out what's not working in your business. It can tell you why you're losing money and why your clients are no longer engaged with your brand. According to American Express, over 50% of Americans would not complete a planned transaction, and over 33% will consider switching companies based on bad service alone.
Churn can show you where your service is lacking, and it can keep your remaining customers from abandoning your company.
Acquiring customers is expensive.
You may have already heard this point. But how expensive are they? Well, depending on the study, new customers cost from 5 to 25 times more than retaining customers.
Keeping your customers is the best way to make sure your company grows at the lowest expense possible.
Happy customers spend more.
A satisfied customer is willing to spend more on your products/services. 
Why?
They know they can count on your company to provide a great product/service.
Companies that provide great experiences can charge 16% more for a premium service, and one in three clients are willing to pay more for a better service.
If you offer great service, your churn will decrease, and you can increase your profits!
Customer Churn Calculation: How to Get It Right 
Remember, to calculate customer churn, all you need is to do is follow these steps:
Determine your time frame.
Find out how many customers you lost during that time.
Divide them by the number of customers you acquired.
Multiply that number by 100%.
However, it isn't always that straightforward. In 2004, Netflix's shareholders sued the company, arguing that Netflix deceived them by producing "an artificially low churn rate". The result? The case was thrown out by the judge, who claimed there wasn't a single definition of churn rate.
So you need to establish a clear definition of how to determine the data. Are you going to count your monthly customers at the beginning or end of the month? Where will you be getting your data? How often will you calculate your churn rate?
Whatever your process is, make sure it's consistent. Then you can ensure reliable results.
9 Powerful Ways to Reduce Customer Churn
Here are some of the best ways to reduce customer churn.
1. Find out why your churn is happening.
It's easier to solve a problem when you know what's causing it. The best way to find out involves contacting the customers that are leaving and finding out what went wrong.
Take a look at how SurveyMonkey handles it.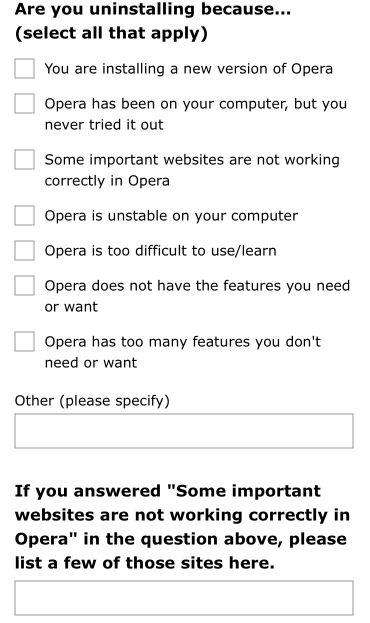 The right customer exit questionnaire can help you learn a lot about why churn is happening and how to prevent it.
How to do it:
A dissatisfied customer is probably not going to be in the best mindset to answer lots of questions. So you should always keep it short—a few questions per page and a few pages per questionnaire.
If you can, call your customers, in order to give them personalized attention, find out more about them, and let them know how much you value their business. You may end up retrieving a lost customer!
2. Improve your communication with your customers.
At its most basic level, good customer service is good communication. If you can communicate with your customers before they need you to, you can keep them engaged and happy. Adobe definitely understands this concept: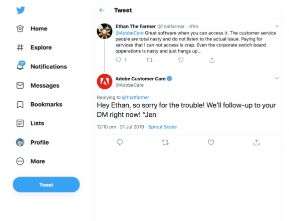 Clients usually give signs that they're unsatisfied with a company before discarding their products. By listening to their customers, Adobe can engage them before they abandon them and take further steps to retain them.
How to do it: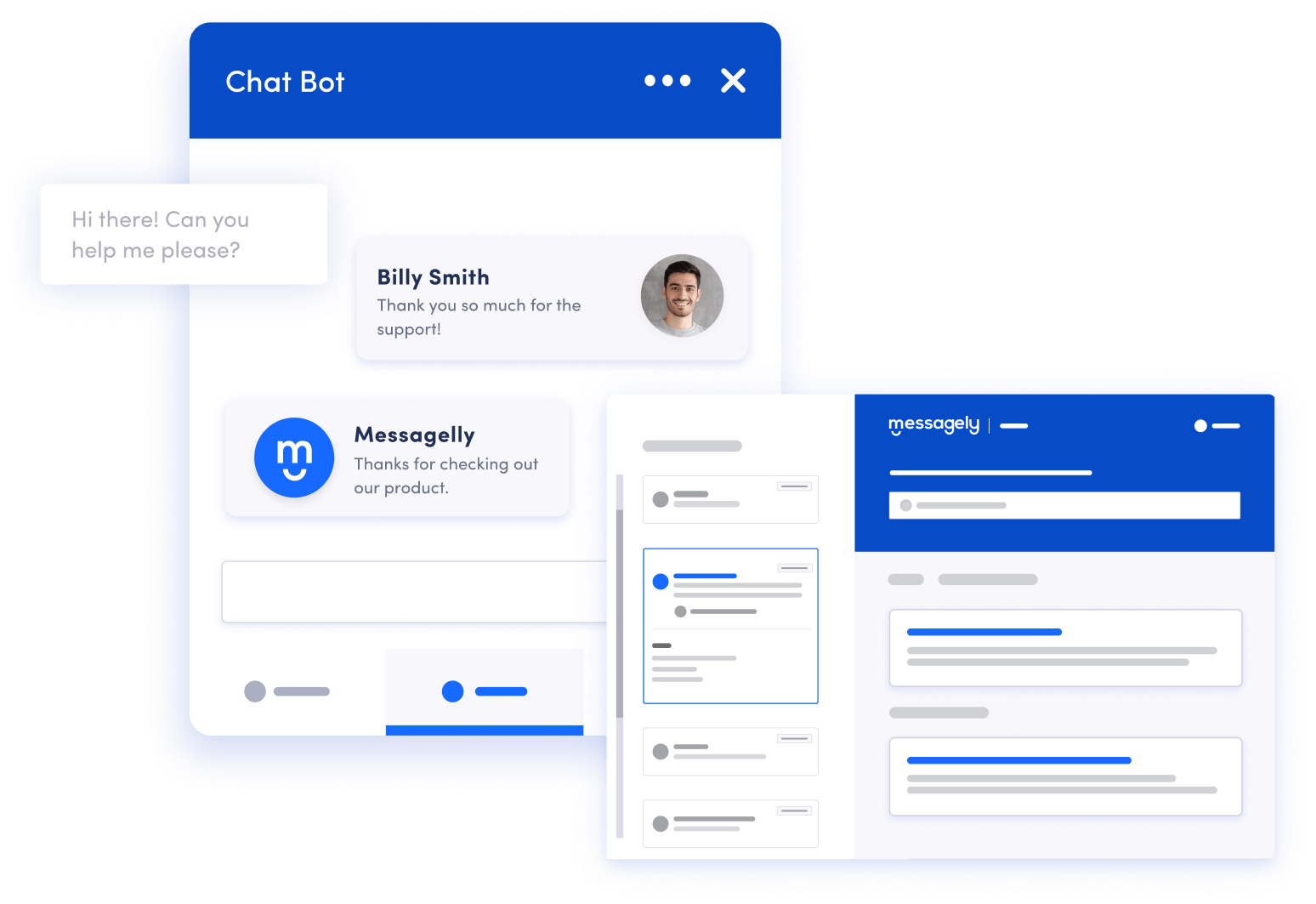 Messagely streamlines your communication with attractive and interactive messaging. With Messagely, you can easily automate the customer exit surveys you send and personalize messages to reach out to your customers. 
If you want to personally contact your customers, you can use a shared inbox for your team, in order to quickly contact and reply to them. To find ways to improve this process, you can also keep track of your customer support efforts.
Start your free Messagely trial here.
3. Find your weaknesses.
Every business has weaknesses. If you're aware of yours, you'll be ready to tackle them when your customers point them out to you. Your product may have shortcomings, or your service may be affected by external issues. If you can't solve them, make sure you know how you'll handle these weaknesses when they become issues.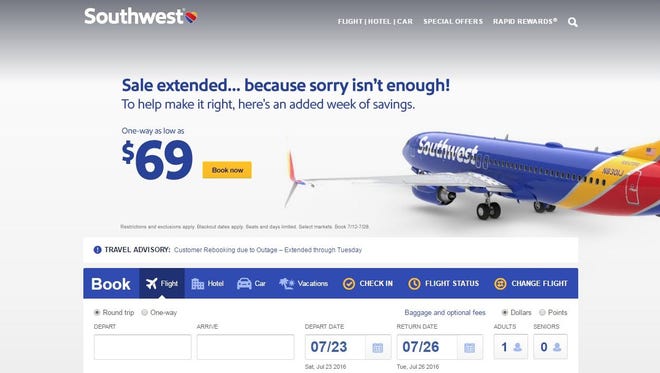 When Southwest Airlines was struck by a tech failure in 2016, it was forced to cancel over 250 flights. In response, the airline addressed the situation on social media by apologizing for long wait times on calls and offering alternative solutions online. To keep customers engaged, it also extended a fare sale.
By addressing the problem, Southwest Airlines was able to take control of the situation and minimize lost customers. 
How to do it:
If you can't solve your flaws, make sure you have a plan for retaining customers who are complaining about them. Develop plans around potential issues caused by these flaws, and instruct your customer service managers to train your team accordingly.
4. Segment your customers.
Since every customer isn't the same, why treat them like they are?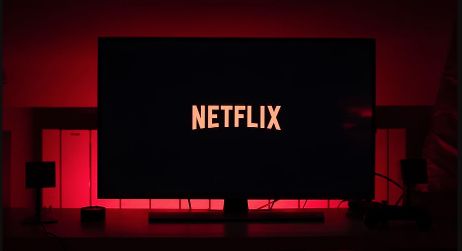 Consider this example: Through a powerful algorithm, Netflix can identify shows people may enjoy based on the preferences they've shown. So they can offer a completely unique experience to every single one of their customers.
How to do it:
You don't need to develop algorithms just yet. Start by segmenting your customers through behavior, demographics, and geographic areas. With good segmentation, you can keep putting your customers first by catering to their needs.
5. Educate your customers.
Nobody likes user manuals. So if you want your customers to learn more about what you're selling, you need to find better ways to educate them. After all, what's the point of having a tool if you don't know what you can do with it?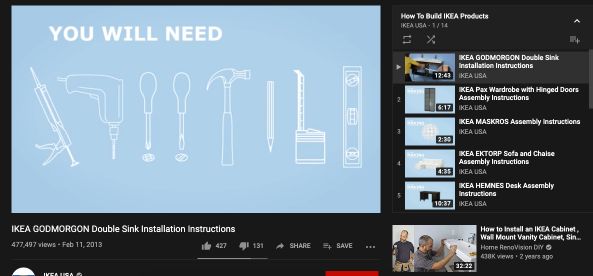 Here's a great example: 
With a company based on furniture assembled by the customer, Ikea's success revolves around how well the customer can interact with their product. To educate its customers, Ikea launched several YouTube channels. Their goals were to better illustrate how to put together their furniture and keep their customers engaged with their new products and campaigns.
How to do it:
Develop quality materials that help your clients get the most out of your product. Depending on what you sell, you can develop webinars. tutorials, articles, and demos. Whatever you end up developing, make it engaging and keep it simple. 
6. Offer incentives to your customers.
One great way of retaining customers involves giving them a reason to stick around. To reward customer loyalty, give them incentives in the form of coupons, loyalty programs, and promotions. 
CVS rewards its customers with a free loyalty program called "ExtraCare."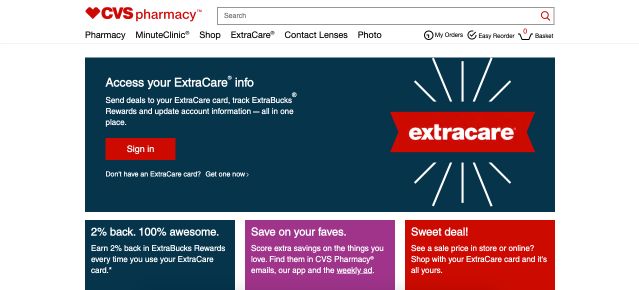 With the ExtraCare card, CVS tracks its customers' purchases and rewards them with "ExtraBucks" that act like money they can use on their next purchases. It also gives their users preferential prices on some products. Since their customers are being rewarded by their purchases, they're more likely to keep purchasing at CVS, instead of going to the competition.
How to do it:
Give your customers incentives that are based on their customer journey. If they're close to the end of their contract, offer them a good deal on renewing them. If your customer hasn't interacted with your company in a while, attract them with a nice coupon code.
You don't have to give a large incentive; you just have to make it relevant.
7. Offer irresistible service.
If you want people to keep using your product, you need to make sure it's more convenient to keep paying for it than to look for an alternative.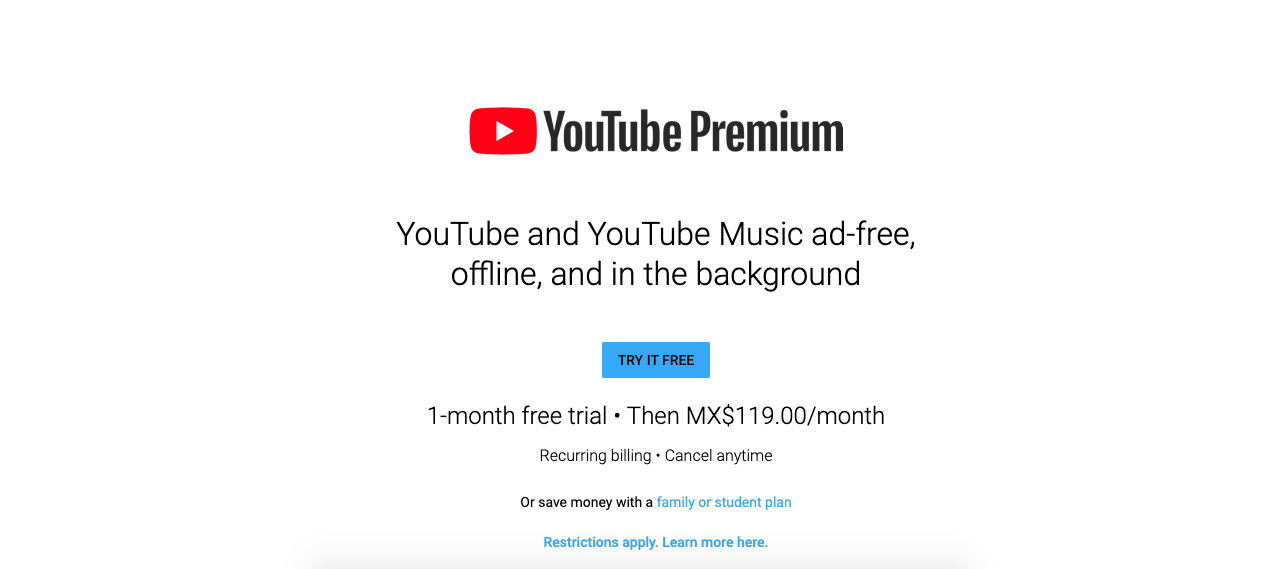 YouTube achieves this goal by constantly asking users to sign up for YouTube Premium. It pitches its premium service and gives you the first month for free. They know you won't want to go back to watching several ads per video after experiencing the free trial.
At that point, they simply keep charging you month-to-month, giving you premium content, and making you as comfortable with your experience as possible.
How to do it:
When upselling, be insistent. But when you've made the sale, make it as simple as possible to keep paying for it. Make sure your customer service reps are skilled and well-trained. Then you can keep your customers happy and retain the ones who aren't sure they want to keep using your product/service.
8. Remain competitive.
With constant innovation and evolving customer needs, you need to make sure your customer base stays relevant.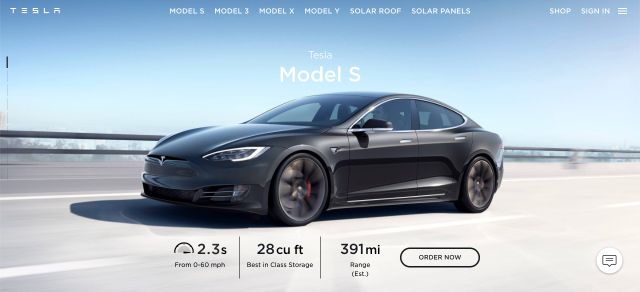 When the market for eco-friendly cars was synonymous with slower, urban-friendly vehicles (such as the Prius), Tesla positioned itself as a unique, sports-oriented option. The result? Tesla is now bigger than Ford, GM, and Fiat combined. This growth is partially due to its stellar customer satisfaction rate. 
How to do it:
Regardless of your industry, the only way to remain competitive involves looking at the competition, keeping up with trends, and investing in innovation. Find out what other people are doing, and develop ways to do it better. 
9. Create and foster a product-centric community.
People like to feel like they're part of something larger than themselves. Companies that foster communities around their products can easily develop long-lasting relationships with their customers.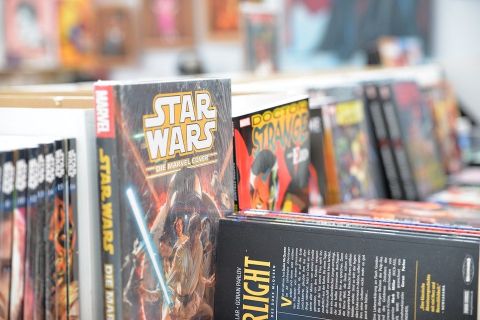 Fostering communities is the basis of the comic book industry. Comic-Con is a great example of how powerful a community can be if you make a significant investment . By keeping fans engaged and fostering a community around comic books, Comic-Con generated 17 million dollars in 2015. And it remains a great source of exposure to future releases, which increases sales among fans.
How to do it:
You don't need large conventions with millions of fans around the world. Start by connecting and engaging with customers in social media. Then use it as a community platform where users can share their positive experiences with your company.
How to Build a Customer Churn Prediction Model
Now that you know how to use customer churn to your advantage, it's time to create your own churn prediction model. Here's a step-by-step guide for how to do it.
1. Gather your data.
Determine when and how you'll measure churn by establishing the data sources from the get-go. For example, if you counted the number of customers you had on December 20, you should also count the number of customers in January, February, and March on the 20th of each month.
Use this tactic with all your data, and review it to ensure accuracy and predictability.
2. Build your formula.
Churn prediction is based on logistic regression. This regression is used to model the probability of customer churn, based on different binary variables. 
To properly build a logistic regression model, you'll probably need a data scientist. If you have good programming skills, you can also use different tutorials (such as this one) to build it in Python. 
3. Develop and implement a retention strategy.
With the logistic regression formula, you'll have a way to predict customer churning. And you can use it to find ways to prevent it by comparing the data with your customer needs and coming up with retention strategies.
Once you've implemented your strategy, keep feeding the data into the churn model. Then you can update it and compare your prediction with your results.
4. Learn and improve.
Now that you have a churn model and the results of your initial strategies, keep the ones that work and improve on them. To decrease customer churn, keep developing, testing, and tracking new strategies. After each cycle, your results will keep improving.
Conclusion
A low customer churn is vital to any growing business. To prevent customers from leaving, make sure you keep them satisfied by knowing what they have to say.
And to keep customers engaged and informed, there's no better tool than Messagely. Get your free trial today, and connect with your customers like you never have before.