In this article, we'll go through everything you need to know about chatbots. We'll explain what a chatbot is, how it works, and why you need one.
We'll also go through information like:
How to set up your first chatbot
The best chatbot platforms to use
When and how to use a chatbot
… and much more.
By the end of the article, you'll know exactly what a chatbot is and how to get started using one.
Let's dive right in.
What Is a Chatbot (and How Does It Work)?
A chatbot is an AI virtual tool made to simulate a conversation with a user through apps, websites, and even on the phone.
With a chatbot, you can set up an automated way to answer your customers' most common questions, qualify prospects, set up appointments, and sell products for free, 24/7.
Since they're so versatile and useful, nearly all companies with a sufficient level of online traffic use chatbots on some level.
A chatbot basically does two unique tasks. It understands the user's request and returns the right response.
This is done through programming. You let the chatbot know in advance which questions it may face and how to respond to those questions.
Although this sounds simple in theory, it can quickly become very complex.
Although some basic chatbots simply use a menu system to answer users, more advanced chatbots use behavioral triggers, user analysis, and even advanced language learning to know who the user is, understand why they're asking a question, and learn how to better respond to it.
The better your chatbot is, the closer it'll emulate your best customer service rep or salesperson.
What Is a Chatbot Platform: Here's What You Need to Know About Chatbot Software
A chatbot platform is a customer support software used to create and host your chatbots for multiple chat apps like web chats and social media chats.
You'll be creating your chatbots within chatbot platforms. This allows you to create chatbots for different messengers in one place with the help of a customer support team.
The best chatbot platforms allow you to create chatbots with virtually no knowledge of programming languages or AI. Instead, they give you access to their AI to power your chatbot. This allows you to get a more powerful chatbot than you could create on your own, at a fraction of the price.
With a chatbot platform, you can also keep up with the health and efficiency of your chatbot, getting you analytics and stats to keep your chatbot running at optimal rates.
The features you can give to your chatbot will depend on the platform's capabilities.
Messagely's multi-functional chatbot software, for example, helps you generate more leads, faster.
With Messagely, instead of monitoring live chats when you're online and making your leads and customers wait when you aren't, you can immediately reach out to them, qualify them, and give them around-the-clock customer service.
Messagely's chatbot platform allows you to create multiple chatbots to do tasks like:
Answer customers and provide them with the customer service they require
Answer common user questions
Generate leads automatically
Qualify your leads and redirect hot leads directly to your sales team
Learn more about Messagely's chatbots here.
Chatbot Use Cases: What Are Chatbots Used For?
Here are a few examples of where you can use your chatbots:
Chatbots for Meetings
The more clients and prospects you get, the harder it is to keep track of all of them. And if your prospects depend on you to set up meetings and appointments, they'll quickly look for a different option if you aren't available.
Even if you don't have many meetings, you can only schedule as many as the number of prospects you can reach, so if you happen to not reach the right leads at the right time, you'll get fewer meetings.
That's where chatbots come in.
With Messagely's chatbots, you can completely automate your meeting scheduling, fast-tracking the highest-qualified leads so you can spend more time converting, and less time with leads that won't go anywhere.
Messagely's meeting chatbot is like an automated Virtual Assistant that works for you 24/7, arranging your schedule according to your availability, qualifying leads, and getting back to your prospects for you.
All you have to do is show up to your meetings already knowing who you're meeting and what they need.
Chatbots for Sales
Manually qualifying leads and talking to potential customers can take a lot of time. And if you don't get to all of them, you'll end up missing customers who are willing to convert.
Plus, you'll stop generating leads as soon as you step away from your computer, which can make you struggle to get the leads you need to build a proper outline.
Messagely's sales chatbot helps you generate leads around the clock, qualifying them, and redirecting the right ones to your sales team.
Instead of hiring sales reps to work countless hours, you can hire only the best salespeople to nurture only the best leads.
Messagely's chatbot also has automatic triggers that interact with your leads just when they need it, increasing your chances of converting by reaching out at the right time.
With your chatbot, you can save time and money by focusing on promising leads instead of having to manually qualify them one by one.
Chatbots for Support
If you want engagement, you need to give excellent customer service. However, the more traffic you get, the harder it is to keep up with queries, which translates into more waiting time for your users to receive a response.
Plus, it can become quite tedious for your customer reps to have to answer the same questions constantly, manually typing the answers every time.
And once your customer service reps have clocked out for the day, your users will end up with no choice but to wait until the next day to receive answers.
Messagely's customer service chatbot helps you diminish the support requests you get, answering users throughout the night and assigning the right user to the right rep on time.
If users ask the same kinds of questions, Messagely's chatbot can answer them for you, leading your users to an answer without needing to interact with any of your agents. You can connect it to your knowledge base to point your users in the right direction, letting the user learn how to solve their problems.
And when a user needs to talk to one of your service reps, the chatbot redirects the conversation to the right user.
Because of this, you'll need fewer customer service reps, knowing all your users are being taken care of day and night.
5 Chatbot Examples You Should Know
Here are a few examples of how companies are using chatbots right now:
1. NatGeo Genius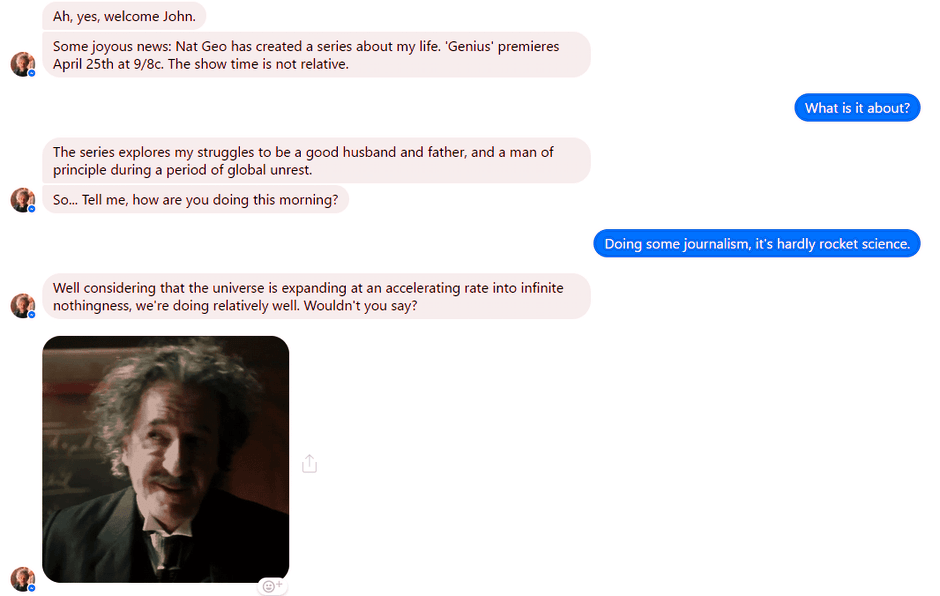 Source: TheDrum
To promote its new Genius series, National Geographic launched a Facebook Messenger chatbot that gave the users the chance to chat with Albert Einstein himself.
Through a fun and powerful AI, Nat Geo claimed they had been able to program a bot to answer questions just like Albert Einstein himself would've, giving users facts, jokes, and, most importantly, reminding them of the premiere of the series.
This created a fun and memorable piece of marketing that people were drawn to, and couldn't wait to interact with.
Learn from this:
Tone is very important when developing a chatbot. Sure, you may not want to create a chatbot that'll sound just like Albert Einstein, but you should create a chatbot with a fun personality.
People like to have fun with chatbots, writing "I love you" or other funny messages to it. Code your chatbot to reply to those messages so the chatbot knows how to joke with the user, and make the experience more memorable for your leads.
2. eBay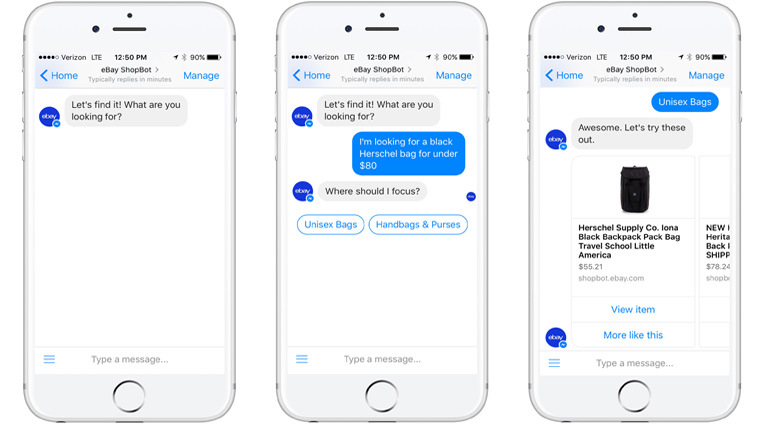 Source: ebayinc.com
In 2016, eBay launched what became one of the most used and most advanced e-commerce chatbots for users to interact with.
With it, users can buy anything in the world by just asking, knowing they're getting the cheapest price. With the scale of eBay, its capabilities were impressive, to say the least.
However, it didn't start by being the most powerful chatbot ever. It started as a simple Facebook Messenger bot that reminded bidders 15 minutes before their auction was about to end so they could bid.
The rest happened because of clever organic growth.
Learn from it:
You don't have to create the most complex chatbot right out of the gate. Start small, and let the user data dictate where to keep building. Then you'll be able to grow according to what your users want, not according to what you think they want.
3. RapidMiner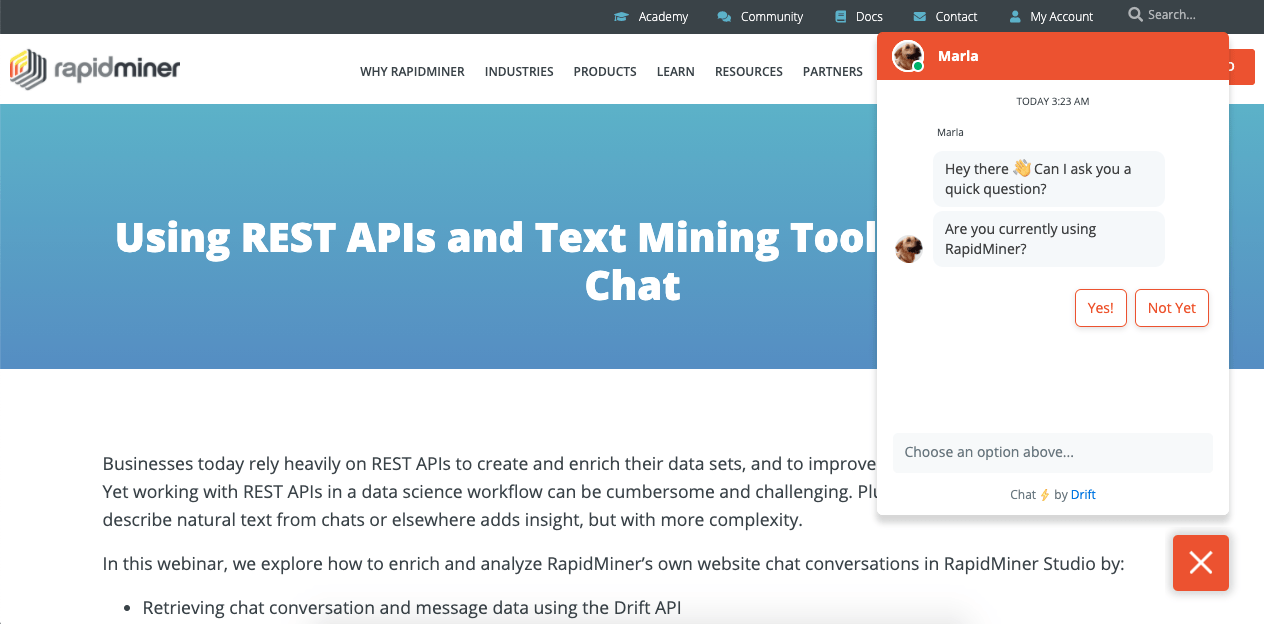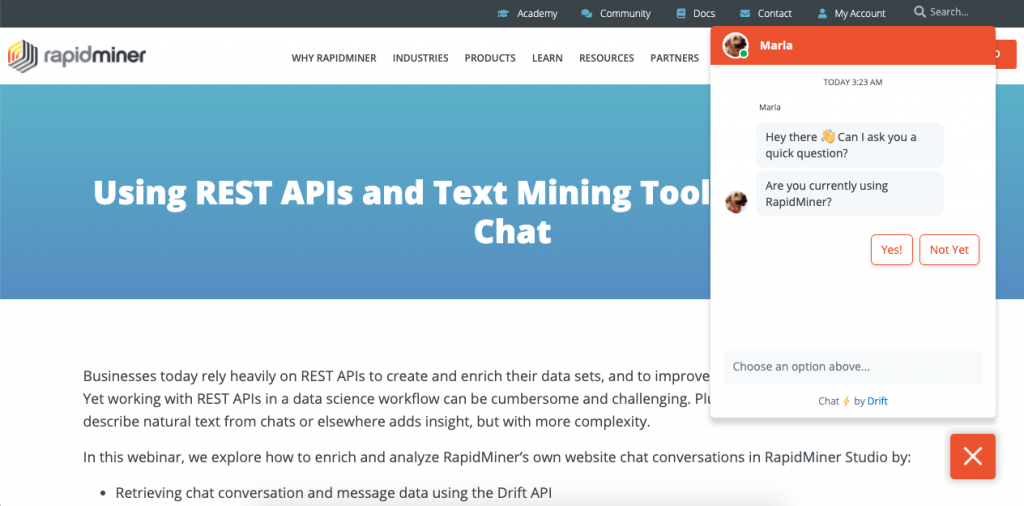 RapidMiner is a great example of how a chatbot can take over all your customer service needs by collaborating with the sales department.
Upon visiting the website, you'll be greeted by MarlaBot, as you can see above. As soon as the bot receives a reply, RapidMiner's salespeople are brought into the loop to monitor the conversation, joining it as soon as it's time.
While MarlaBot qualifies the lead, salespeople can keep track of multiple conversations, working with the bot to work with the most promising leads, while the leads have meaningful conversations with the bot.
Learn from it:
There are some things chatbots simply can't do. Instead of letting the chatbot do too much work, use it as a natural extension of your customer service and sales department, allowing your reps to join in on the conversation as soon as the user needs them.
4. Kia
Developed for Facebook, the Kia chatbot Kian shows great development when it comes to anticipating customer intent.
This powerful chatbot can not only answer every question about any Kia car as well as a salesperson can, but it also collects user data, locates stores nearby, and even provides roadside assistance.
The result?
The chatbot receives three times more interactions than Kia's actual website.
Learn from it:
Make your chatbot as functional and easy to talk to as you can. Think about the main reasons why your user contacts your reps and target those queries with your chatbots. They can even start the customer onboarding for you.
The more responsive and human-like they are, the more your users will like them.
5. Casper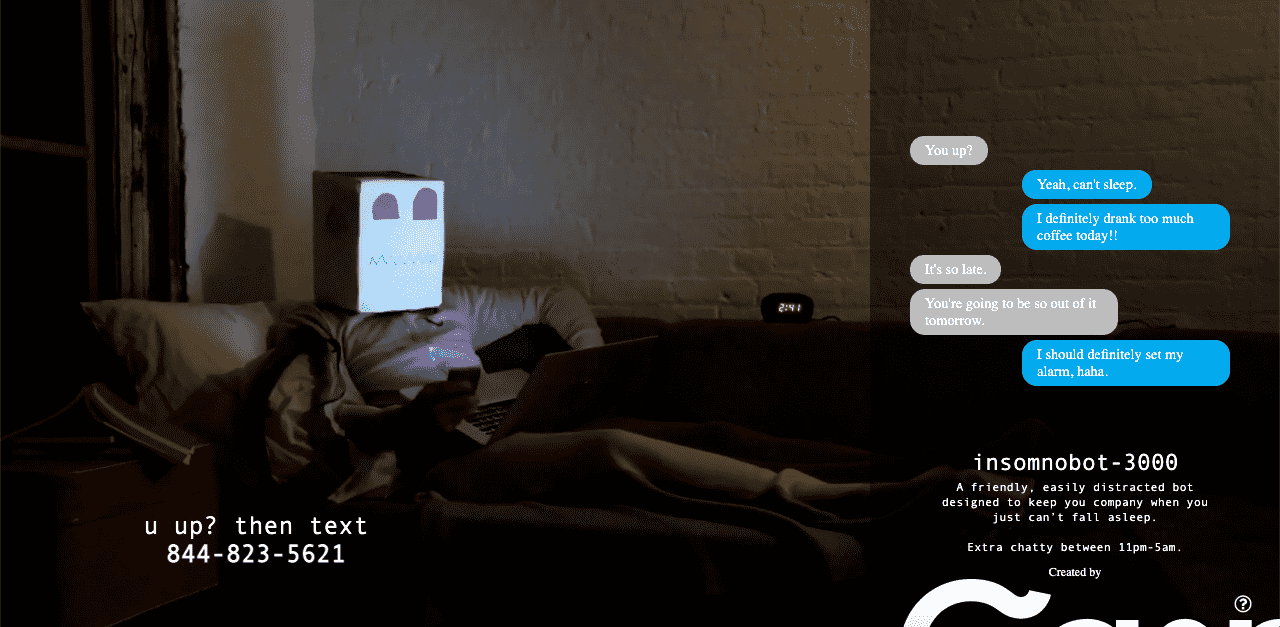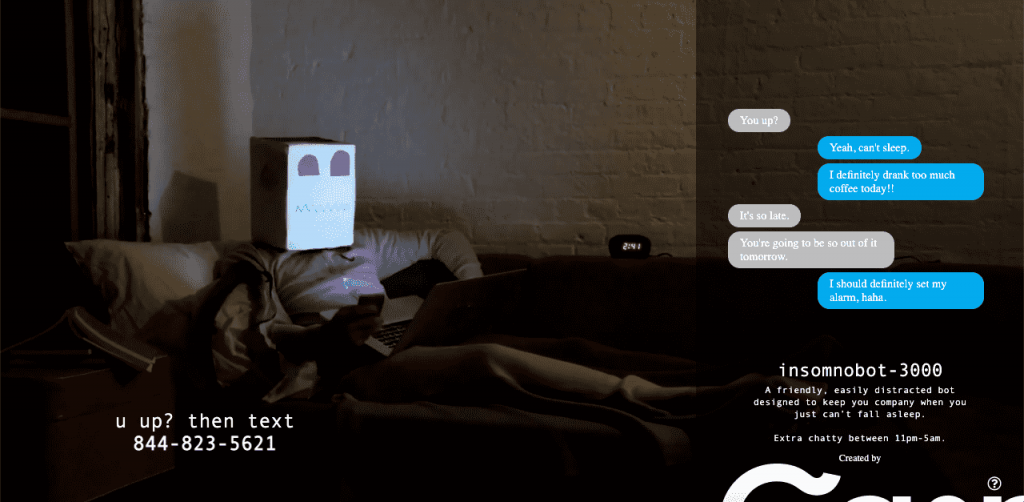 Casper, the mattress company, created a chatbot targeting insomniacs. All they needed to do was text "Insomnobot3000" from their phones, and they could have real conversations with an AI when they couldn't sleep.
This was a great gamification system to collect customer data for marketing campaigns, which led to $100 million in sales in the first year after launching the chatbot.
Learn from it:
Solving your customer's pain points isn't just about having them purchase something. With fun chatbots, you can also recollect customer data that your users will be far more willing to provide than with long customer surveys.
Chatbot FAQ: Everything You Need to Know About Chatbots
Here are answers to the most common questions about chatbots:
What is chatbot technology?
Chatbots are computer programs that can simulate a human conversation through voice or written texts. They're usually powered by AI and are used increasingly by companies to supplement their customer service and sales needs.
How do you make a chatbot?
It depends on the chatbot you want to create. You can build a chatbot from the ground up through advanced programming or use a platform like Messagely to build one inexpensively and quickly.
Do chatbots always have an AI?
Not exactly. In a technical sense, AI should be able to learn and adapt. However, most chatbots still need human interaction to be improved upon and can only answer a determined number of questions with a preprogrammed number of answers.
How do you train a chatbot?
Start by defining the purpose of your chatbot. Then define the questions the chatbot can answer. If you'll rely on customer interaction, make sure you add a lot of variations for asking a specific question. Then program the answer for each question, always leaving an option for the user to indicate whether or not their question was answered.
Finally, monitor the chatbot's performance closely, and make sure to keep adapting and improving your chatbot based on its interactions.
Conclusion
Chatbots are easily one of the cheapest ways you can improve and complement your customer service. Unlike reps, chatbots will never get sick, tired, or fired.
Start building your first chatbot with Messagely in a matter of minutes today!