That's why we've compiled a list of the best 25 communication tools for you and your team, so you can always stay in touch with each other and with your customers. These tools will help you handle team communication, manage your projects, and even automate customer communication.
By the end of the article, you'll know exactly which tools you should be using.
Let's get started.
Marketing and Customer Communication Tools (External)
Here are the best marketing and customer communication tools for all your external communication needs:
Messagely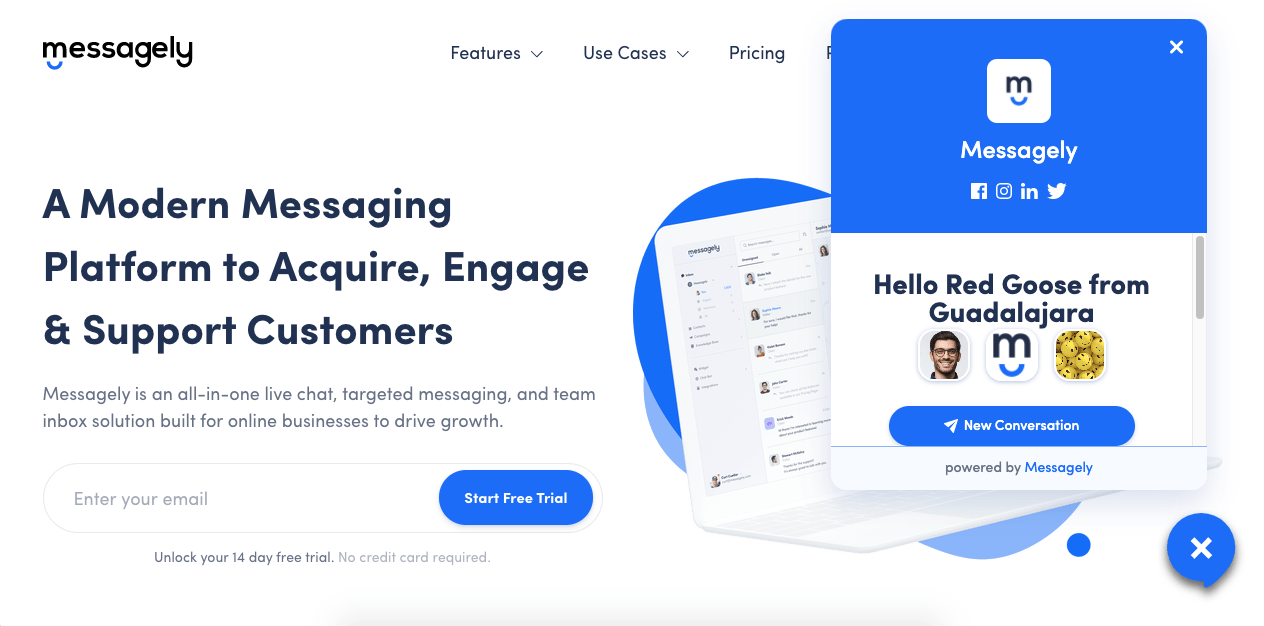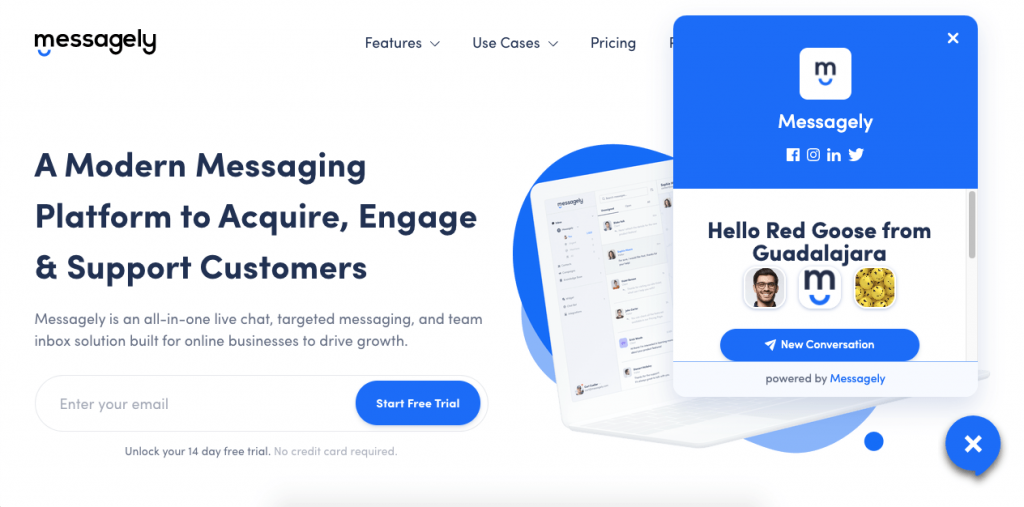 Messagely is a powerful all-in-one customer support platform that can handle all your messaging needs. That includes knowledge bases, live chats, targeted messages, and chatbots. You'll receive a complete package that will not only fit within your budget but also seamlessly connect with the rest of your communication tools.
Messagely's chatbots allow you to easily handle common customer queries, generate leads, and they even qualify leads for you around the clock.
You'll also receive an easy-to-use live chat to kickstart your ticketing system and a shared inbox for easy customer interactions. You can integrate it with tools such as Salesforce, Slack, Pipedrive, Shopify, Google Analytics, Zapier, and many more to streamline your customer satisfaction processes.
And since Messagely is an all-in-one solution, you can save money with an integral, multichannel platform to handle your customer interactions.
Start a free trial with Messagely today.
Userlike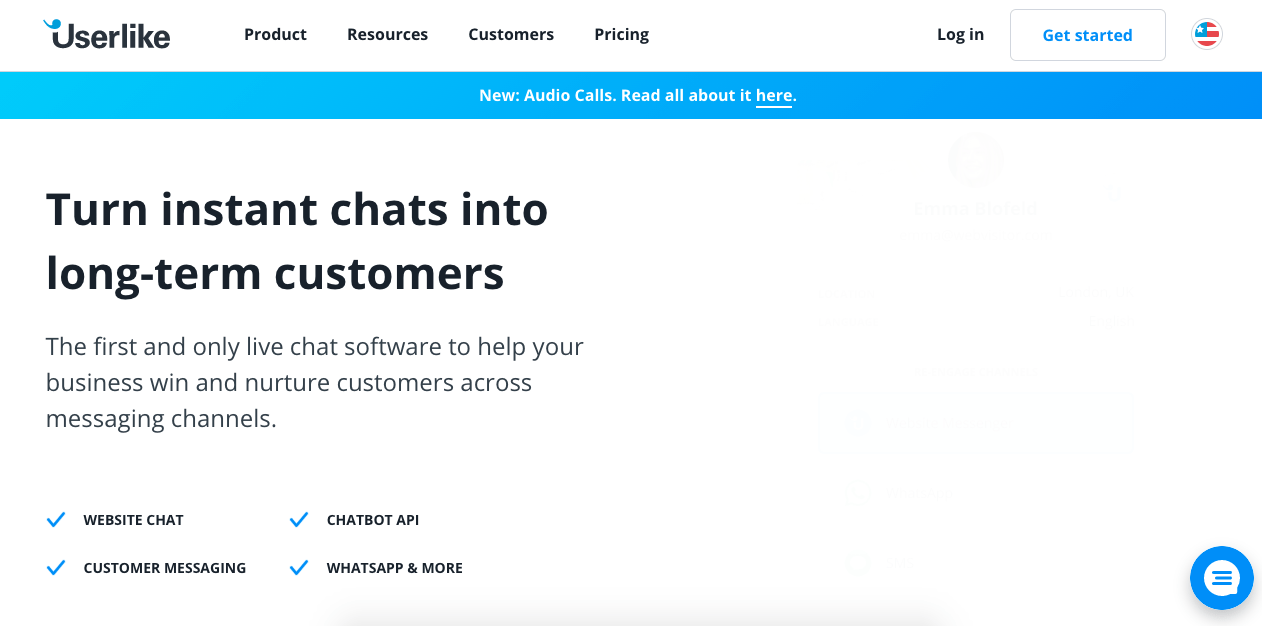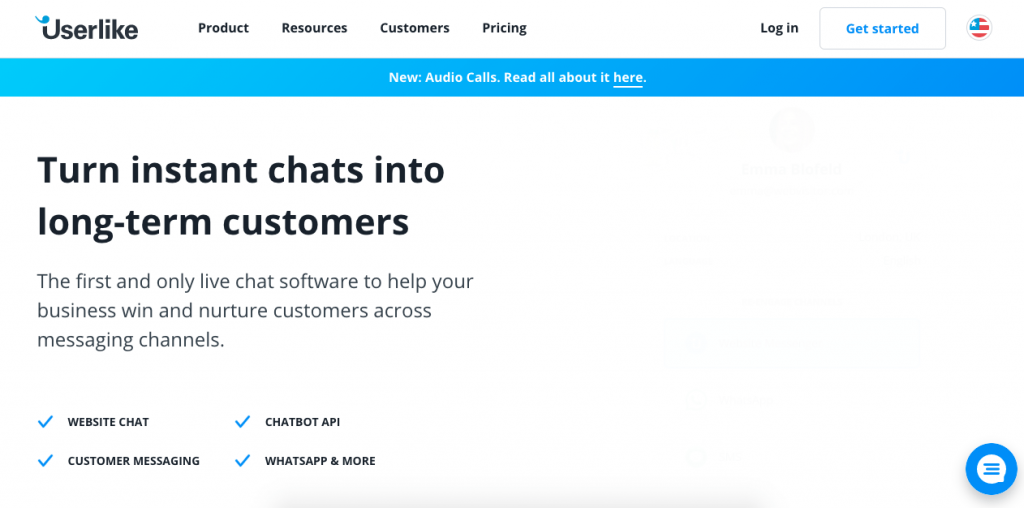 Userlike is a live chat platform with multiple personalization options for customer support.
External users can pick which department they want to talk to and the skills they're looking for in a rep. Companies can segment the users contacting them, making sure they're receiving the attention they need from experts in their field. However, since Userlike hasn't automated this feature, users will still need to manually forward conversations, making the whole process much slower.
Users can also integrate Userlike with various CRMs and customer service tools.
Userlike's pricing starts with a free limited option for one widget and one seat. Its Team tier starts at €90 per month billed annually and includes four seats and one extra channel, with additional tiers being increasingly more expensive.
Lobster by EBI.AI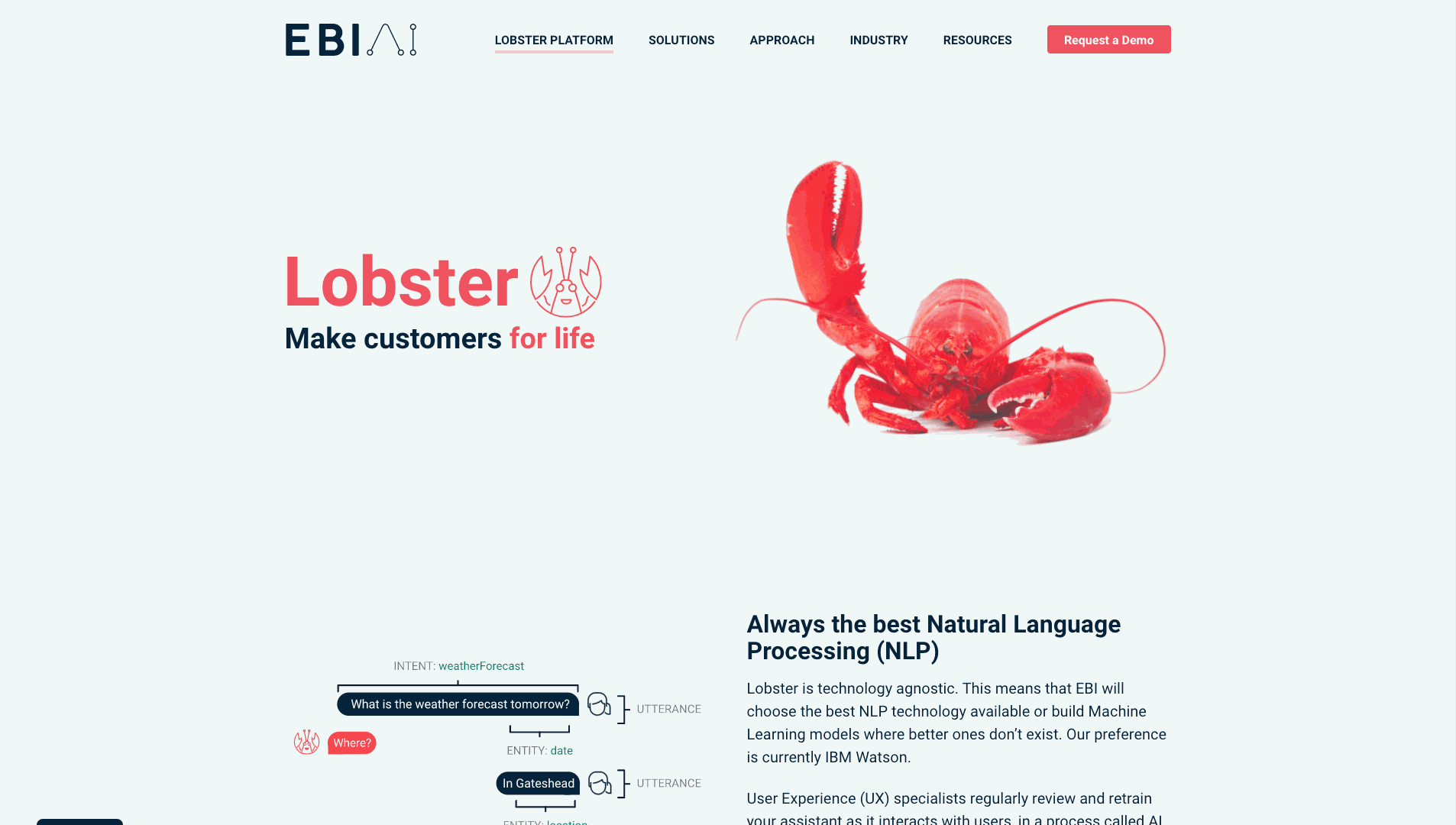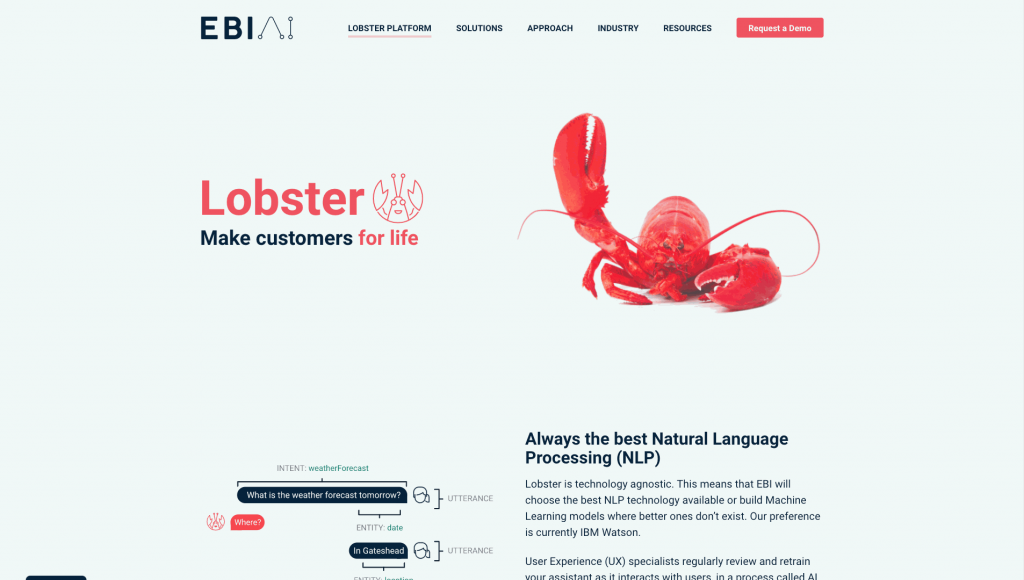 EBI.AI's Lobster platform is a business-commerce platform focused on helping companies create very advanced chatbots.
The platform has a strong focus on conversational chatbots. Although they are not as easy to build, the process gives the user a more involved experience, Whereas platforms like Messagely help you create chatbots in just a few minutes with no previous experience required, Lobster's advanced chatbots usually require at least four to six weeks of building before deployment.
That's why their chatbots are better for larger companies looking for advanced solutions, companies that have sales and customer service teams large enough to allow for weeks spent developing intricate chatbots.
LiveChat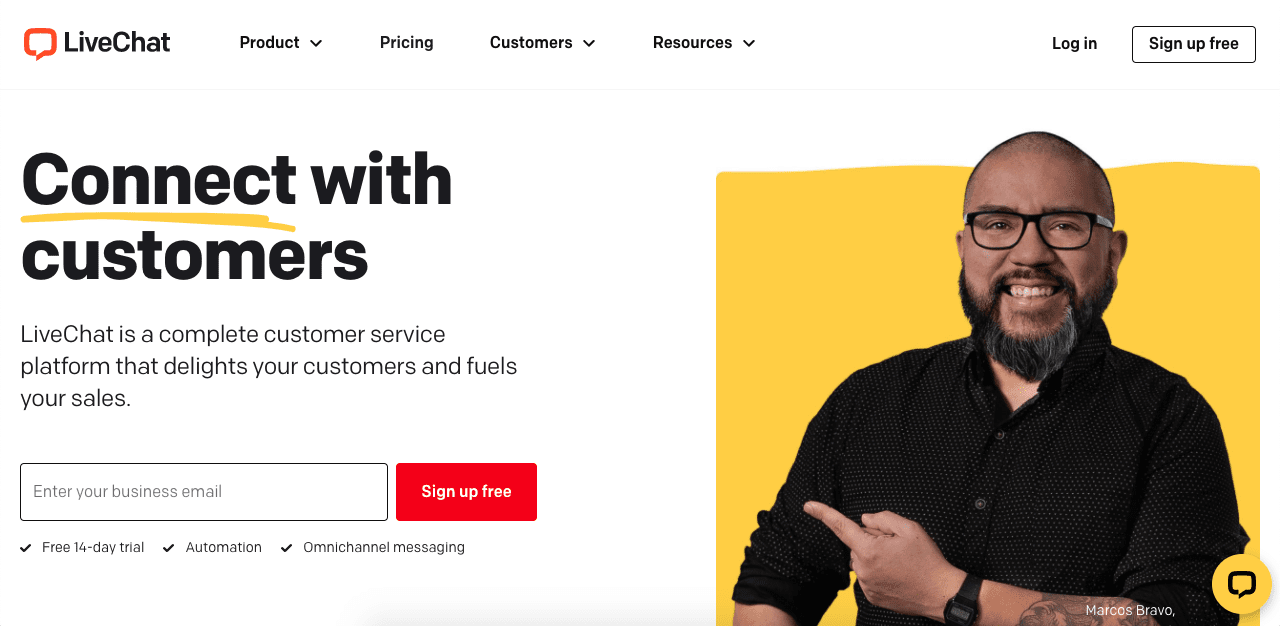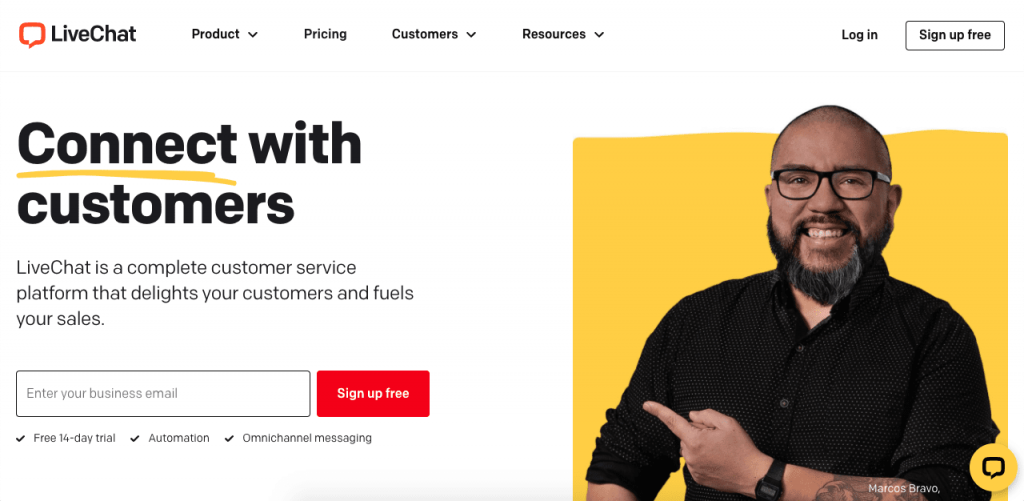 LiveChat is a popular, all-in-one customer service platform that, as the name implies, focuses mostly on its live chat capabilities.
The platform includes many common chat tools, like canned responses, chat transfers, file sharing, and targeted messages. Users also get a fair amount of customization options as well as sufficient reports and analytics to make data-driven decisions around their customer service strategies.
The platform also has its own ticketing system and features that are focused around sales and ecommerce to help sales teams.
LiveChat also has great integrations with multiple platforms, including Shopify, WordPress, Salesforce, and HubSpot, which lets you integrate the tools you already use.
Chatra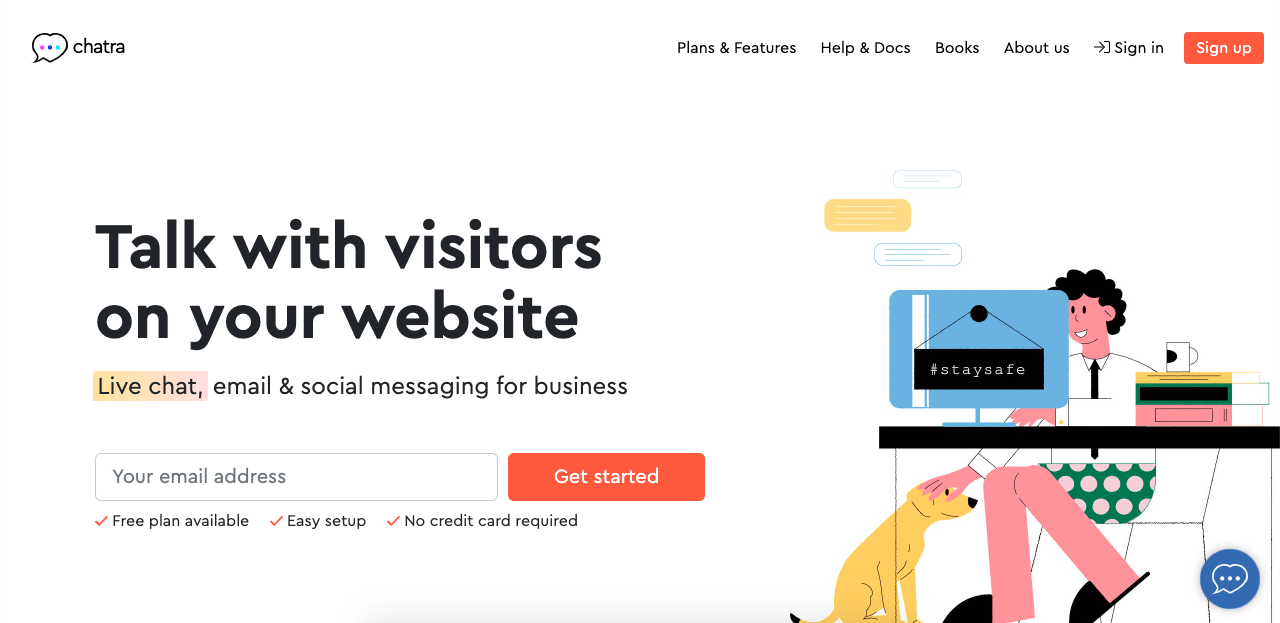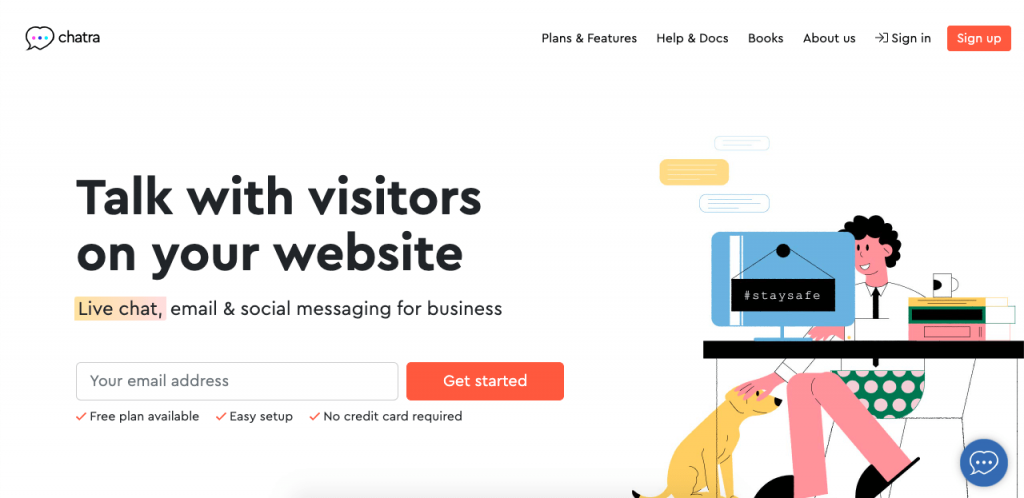 Chatra is another external communication tool for businesses. It's one of the few platforms that offer a free subscription with one agent, unlimited chats, and chat history. This makes it a good free option for small websites that don't need to handle a lot of customer interaction.
The platform can also grow with a business, offering users more basic features once they upgrade to a paid tier, like group chats, customer data, targeted chat messages, additional support agents, detailed customer data, and operating hours, among other things.
However, since the platform lacks advanced features, users may want to upgrade to a more complete platform as soon as they outgrow Chatra.
Tidio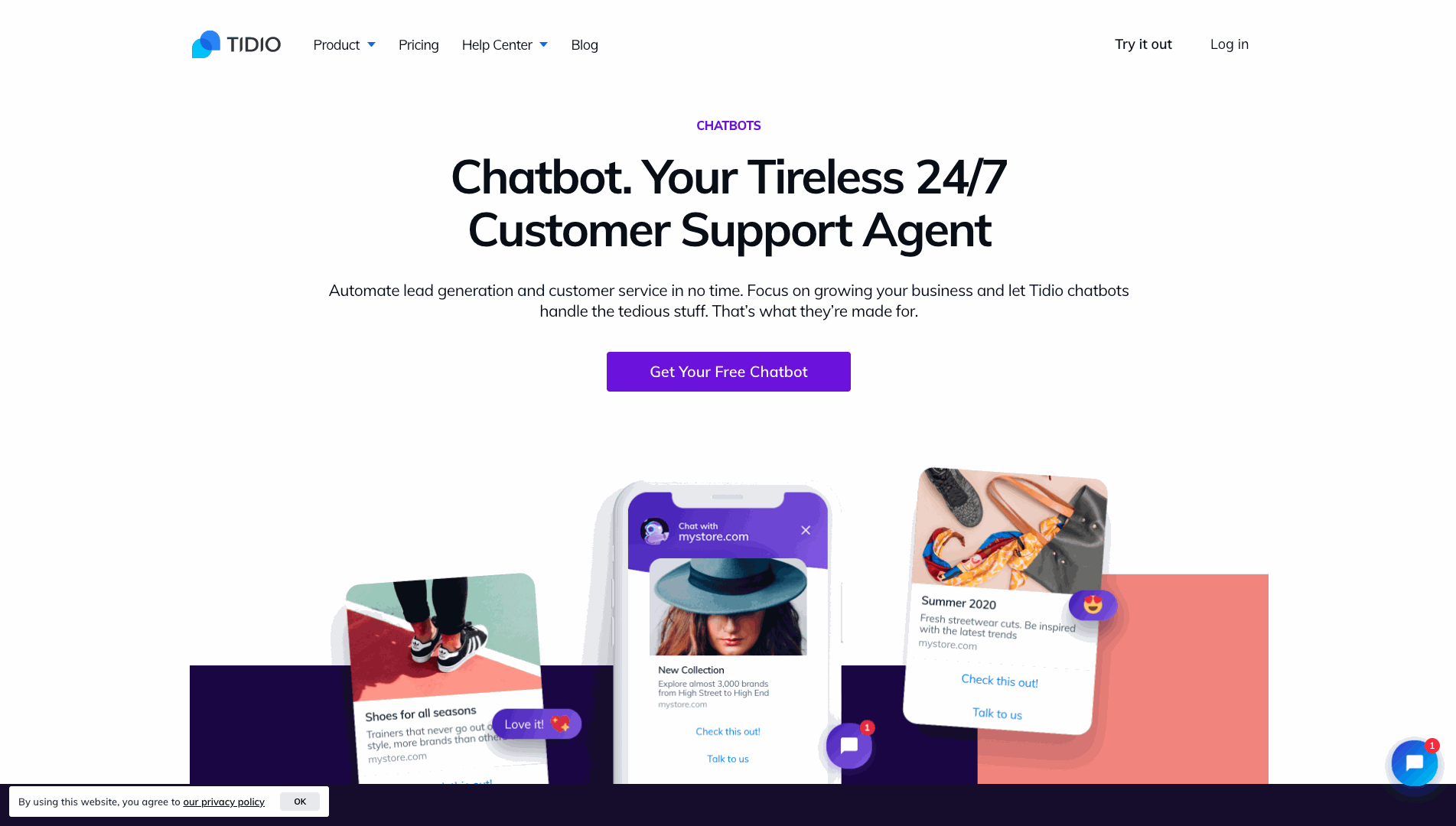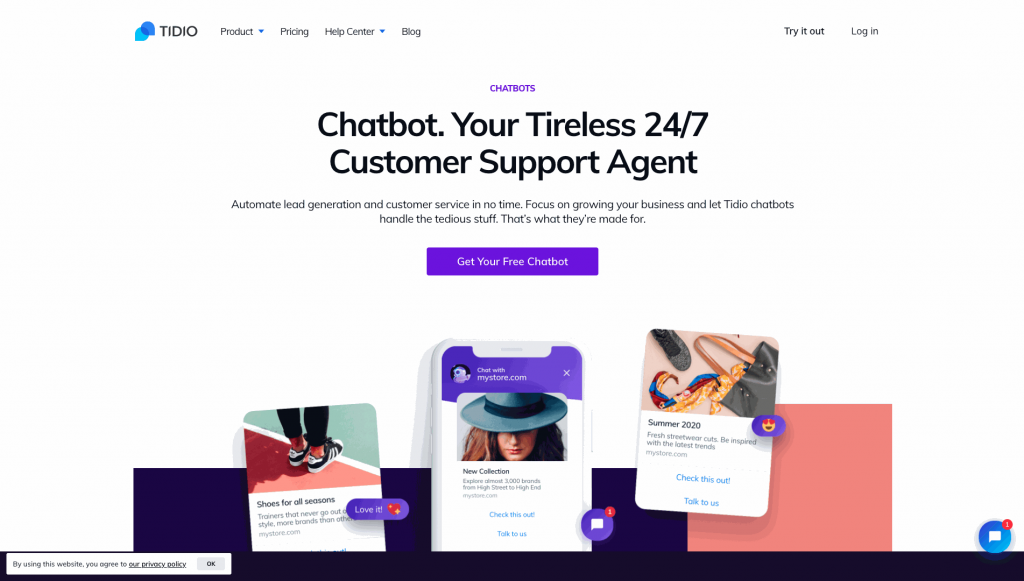 Tidio is a customer service platform that aims to be a 3-in-1 service, covering live chat, email marketing, and chatbots.
The platform also has AI-powered chatbots that allow businesses to send messages about abandoned carts, order status, shipping updates, and much more. This makes it better for B2C selling platforms. Tidio also offers users multiple templates and a simple drag-and-drop chatbot builder to simplify the development.
Tidio only integrates with MailChimp and Zapier, so you have to use Zapier to integrate it with other platforms. It offers a free limited account for up to three operators, with premium accounts starting at $18.
Intercom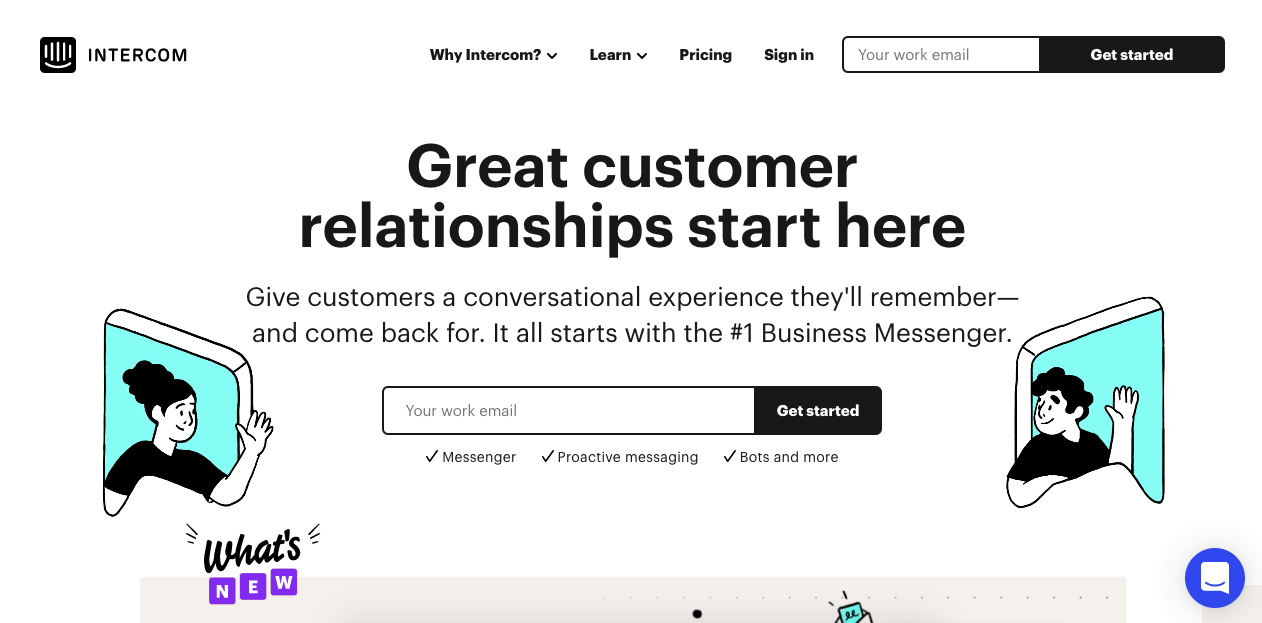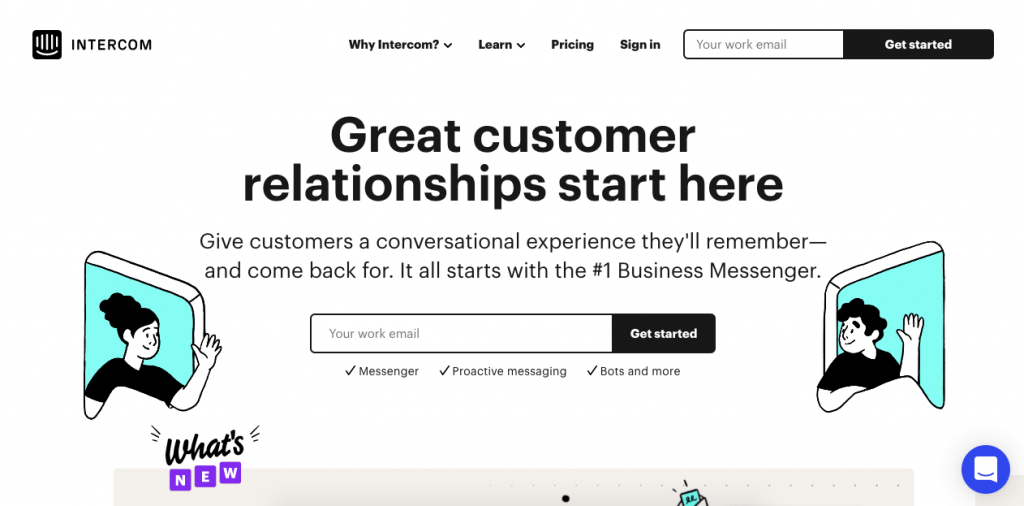 A self-defined Conversational Relationship Platform, Intercom helps users connect with clients as they use your product or website, and improve your communication with them.
This customer-relations-focused platform gives you access to many common customer service features, like behavior-driven messages, predictive responses, and automated targeted content, to name a few.
Although somewhat conventional, its UI and long track record make it attractive to users looking for a simple communication solution for their website or web-based product, and those who don't mind paying more than average for it.
Zendesk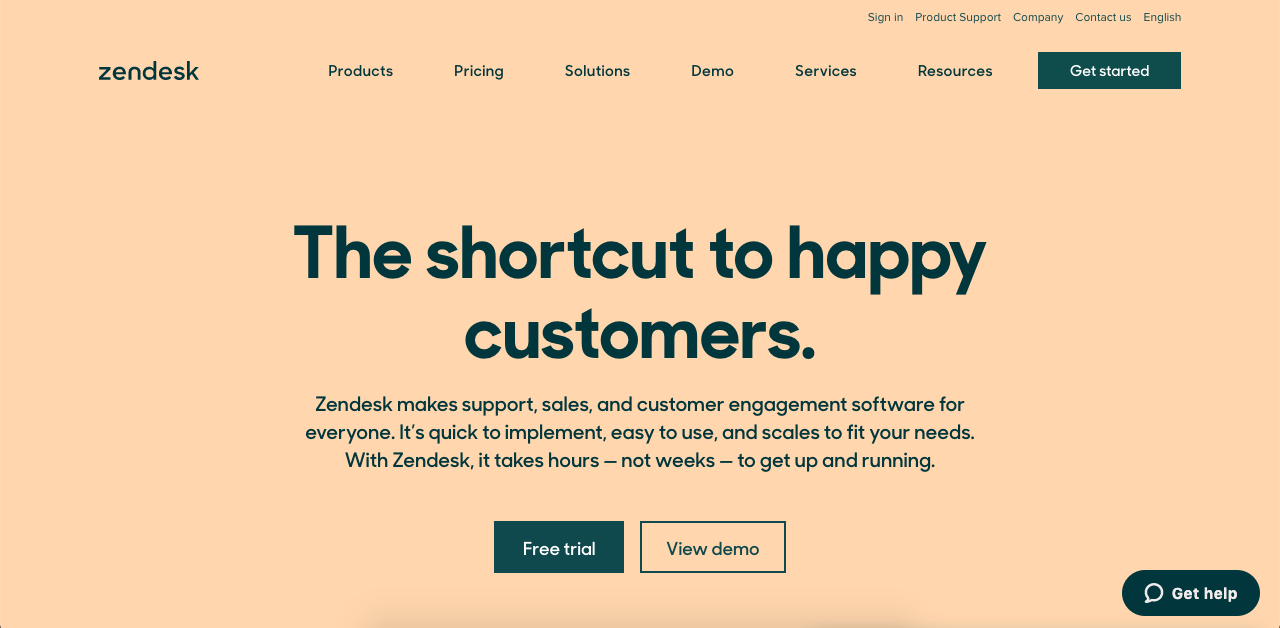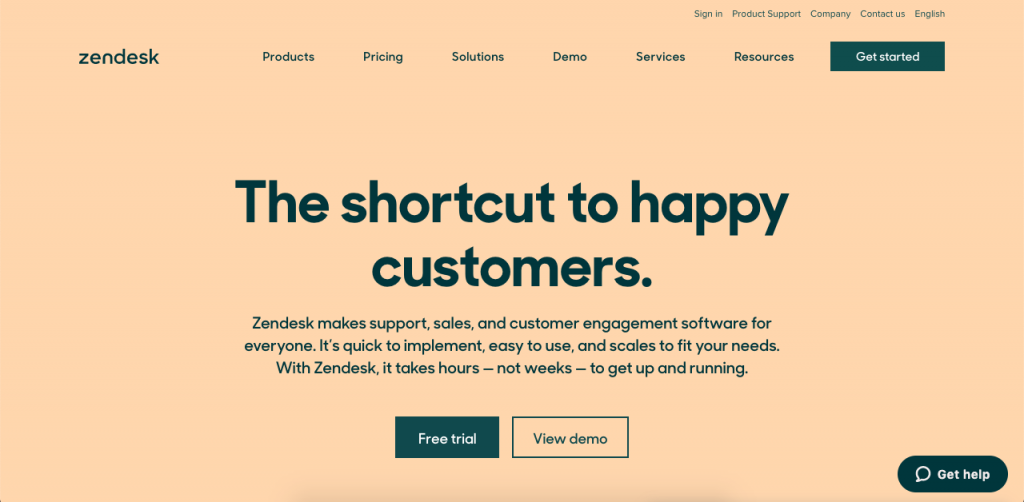 Zendesk is another popular customer service suite with a long list of customers and a good track record.
Businesses can use the Zendesk Support platform to handle live chats, manage cloud call centers, create powerful knowledge bases, and deal with many more customer service needs. It also has a functional ticketing system that includes social media tickets. The platform also integrates with the rest of Zendesk's suite, making it a good option for anyone already using it.
Although it's a proven tool, it does have a potentially high price tag, especially if you want access to the best features.
Hubspot ServiceHub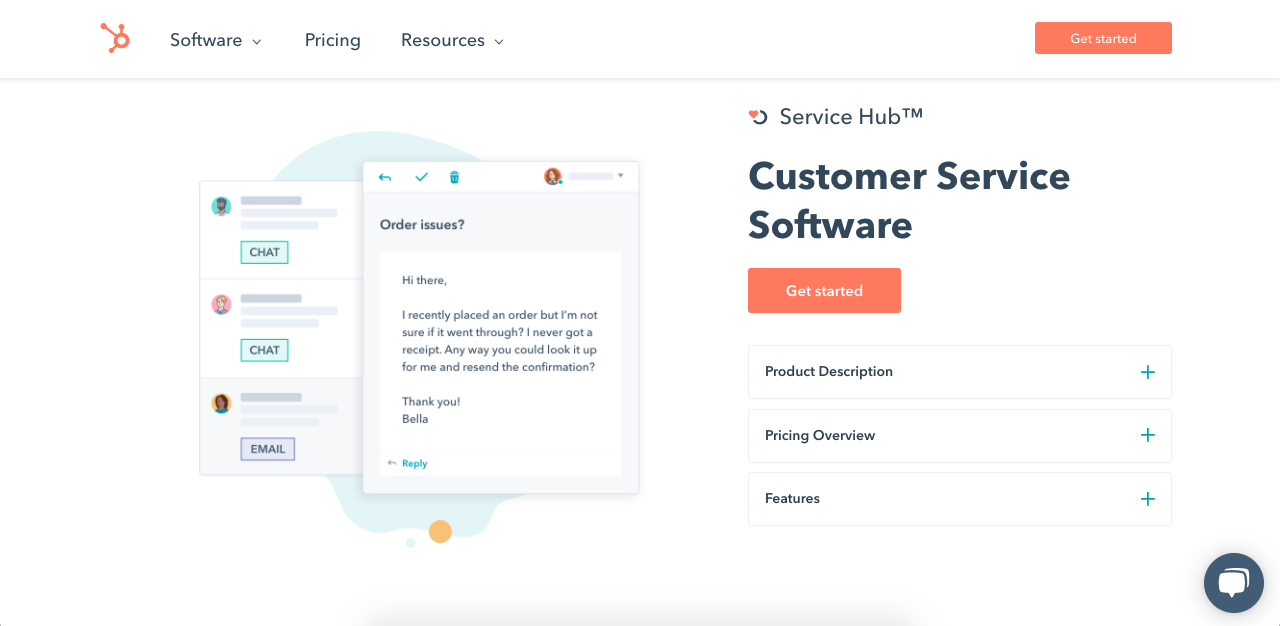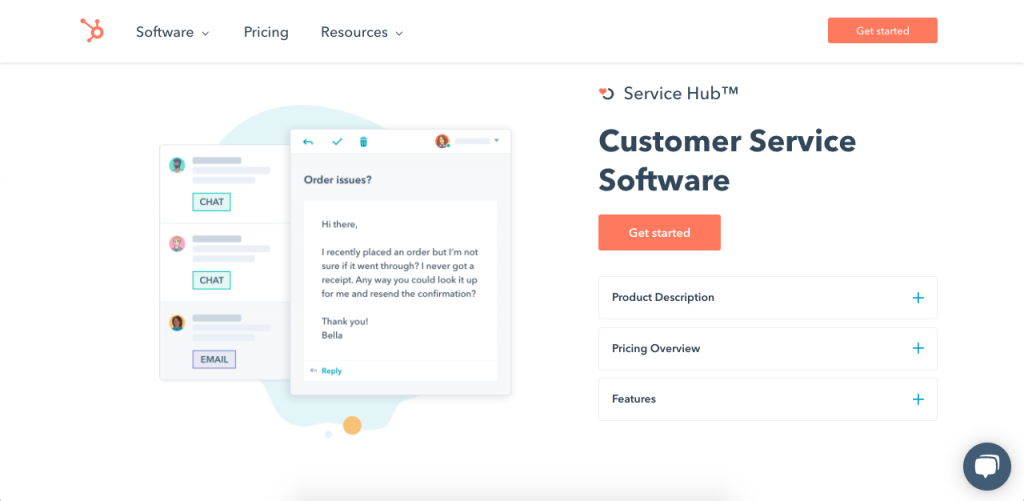 HubSpot's new customer service platform is another versatile option for businesses looking to manage their customer interaction and learn from the data.
With this platform, users can engage with customers in multiple ways and integrate the customer service suite into their marketing campaigns.
The platform also allows service teams to work together and collaborate in one space. It can also handle customer interactions, ticketing, and knowledge base for internal and external purposes. All of the data is consolidated into powerful reporting to help you with your data-driven decisions.
However, at least at the time of writing this article, the platform limits the number of users that can be active on the platform, and the web interface can be slow at times, undoubtedly due to it being a new, unproven tool.
Saleshandy
Saleshandy is a sales engagement platform that helps businesses increase sales through automating and tracking outreach campaigns. You can also send bulk emails, email sequences, and automated follow-ups with SalesHandy.Saleshandy provides the following features: Email Personalization, Real-time email tracking, Email automated sequencing, Autofollowups, Email scheduling, Email templates, Cold emailing.It is best for Customer success, Outbound Sales, Recruitment, Marketers.
Pricing: Plus plan starts at $22/user/month (billed annually).
Team Communication Tools (Internal)
Good communication is the basis of any team. Here are the best tools to handle your company's internal communication needs:
Slack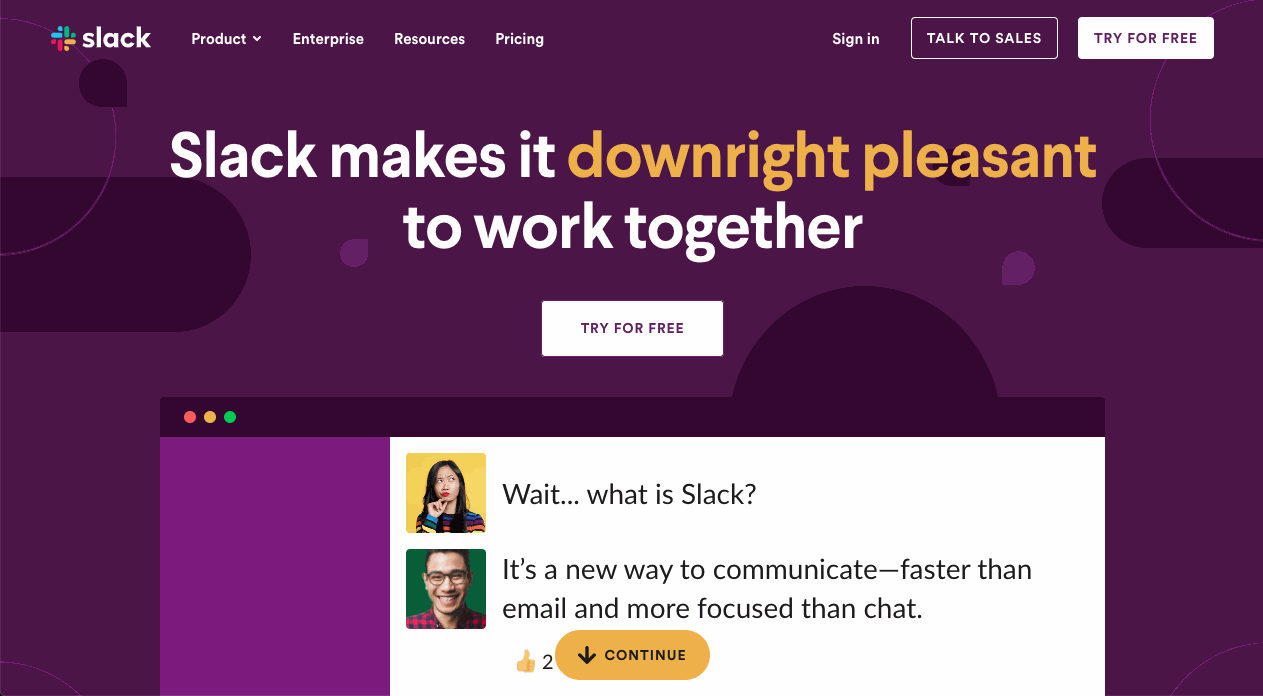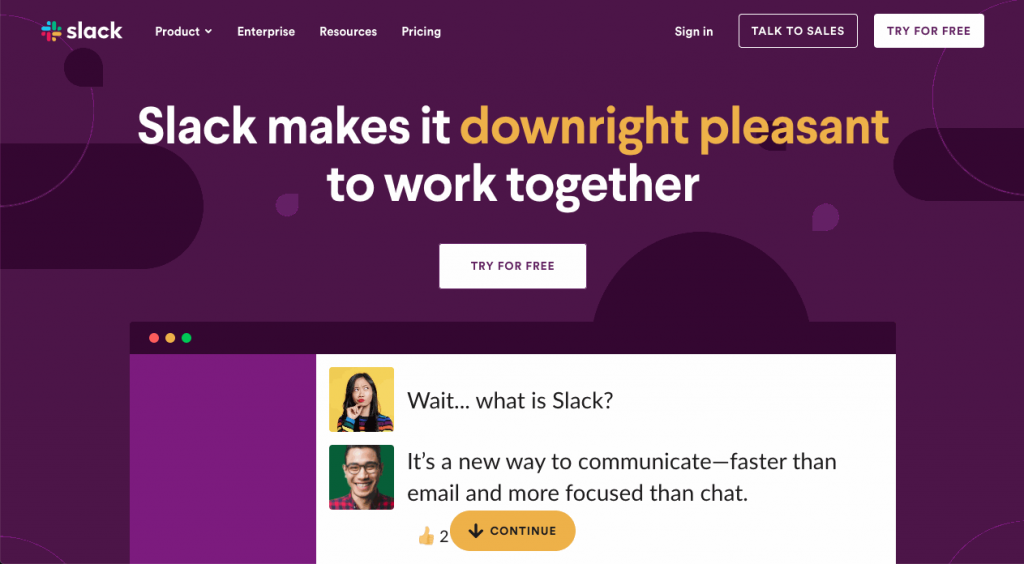 Slack will likely need no introduction. It's one of the most famous and most used internal communication tools, especially when it comes to remote teams and startups. With clients like Airbnb and IBM, it's no surprise to see more and more companies adopting it for their internal communication needs.
One of the main features of Slack is its compartmentalization capabilities. Slack allows users to create groups called "channels" to contextualize information and reach the right users. These channels help keep the communication clear and simple and allows for fun interactions in the appropriate channels. It also integrates with other business apps like G-Suite, Zapier, Fyle, Reclaim, Zoom, etc., making it easy for users to organize and manage all their work from within Slack.
The onboarding experience is seamless and intuitive, making the tool accessible for any new user.
Pricing is also affordable, with a functional free version for smaller companies.
Zoom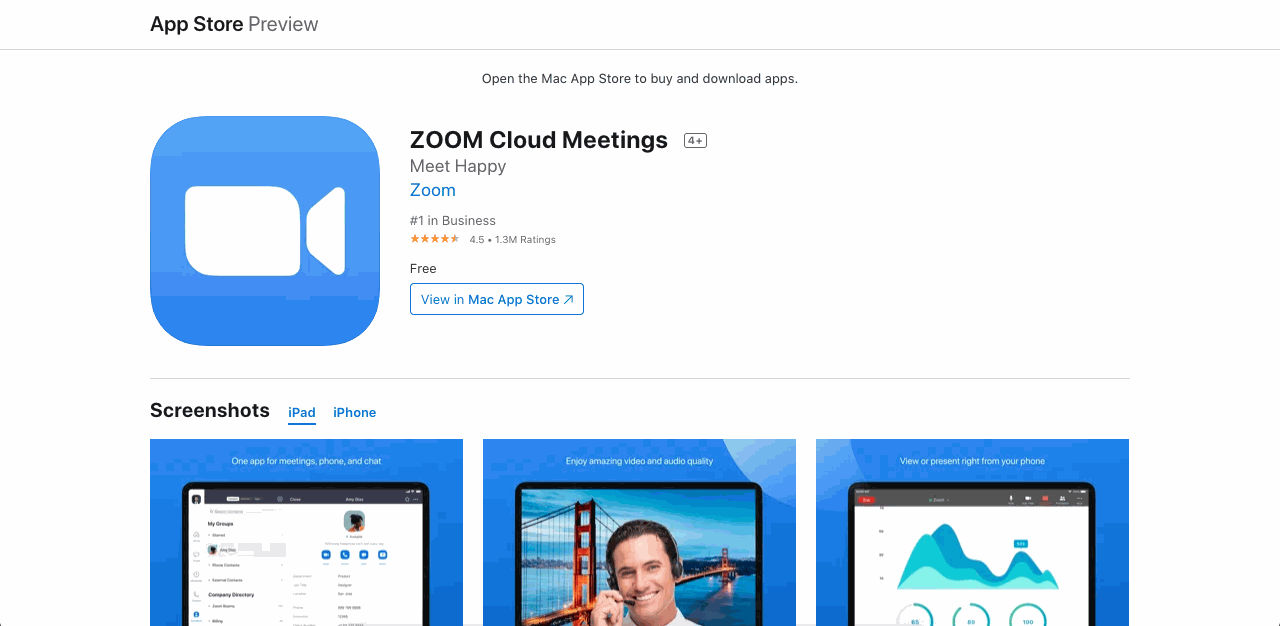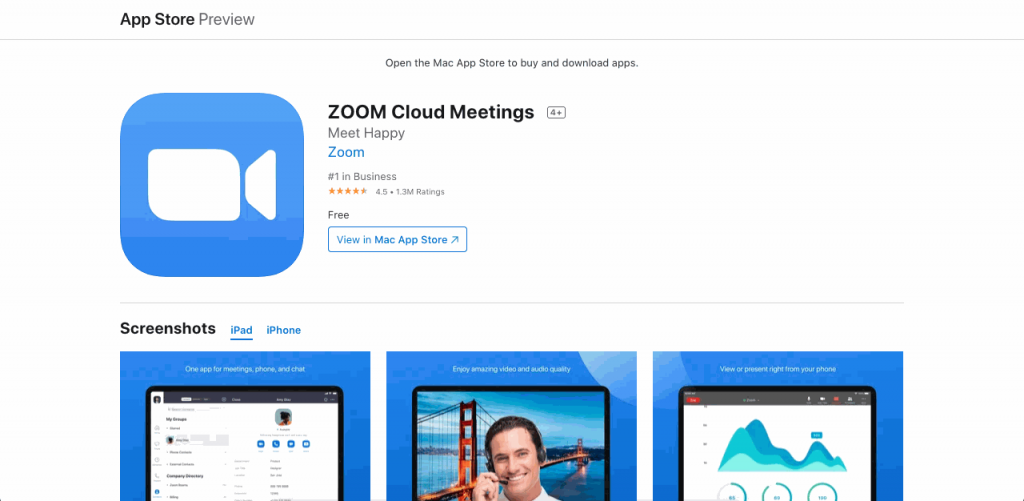 After 2020, Zoom became one of the most popular and widely used video meeting apps, and for good reason.
Zoom's powerful platform allows users to communicate through video calls with clear video and audio. All the user needs is one link, which makes it very convenient to use and easy to manage. The platform is also flexible enough to be handled by larger companies, with features like breakout rooms to segment a large audience.
Zoom comes with a generous free version, making it very accessible for freelancers and smaller companies that want to access features like a whiteboard, screen sharing, and more. And since it's available for Mac, PC, iOS, and Android, virtually anyone can access it through any device.
ARITIC SWARM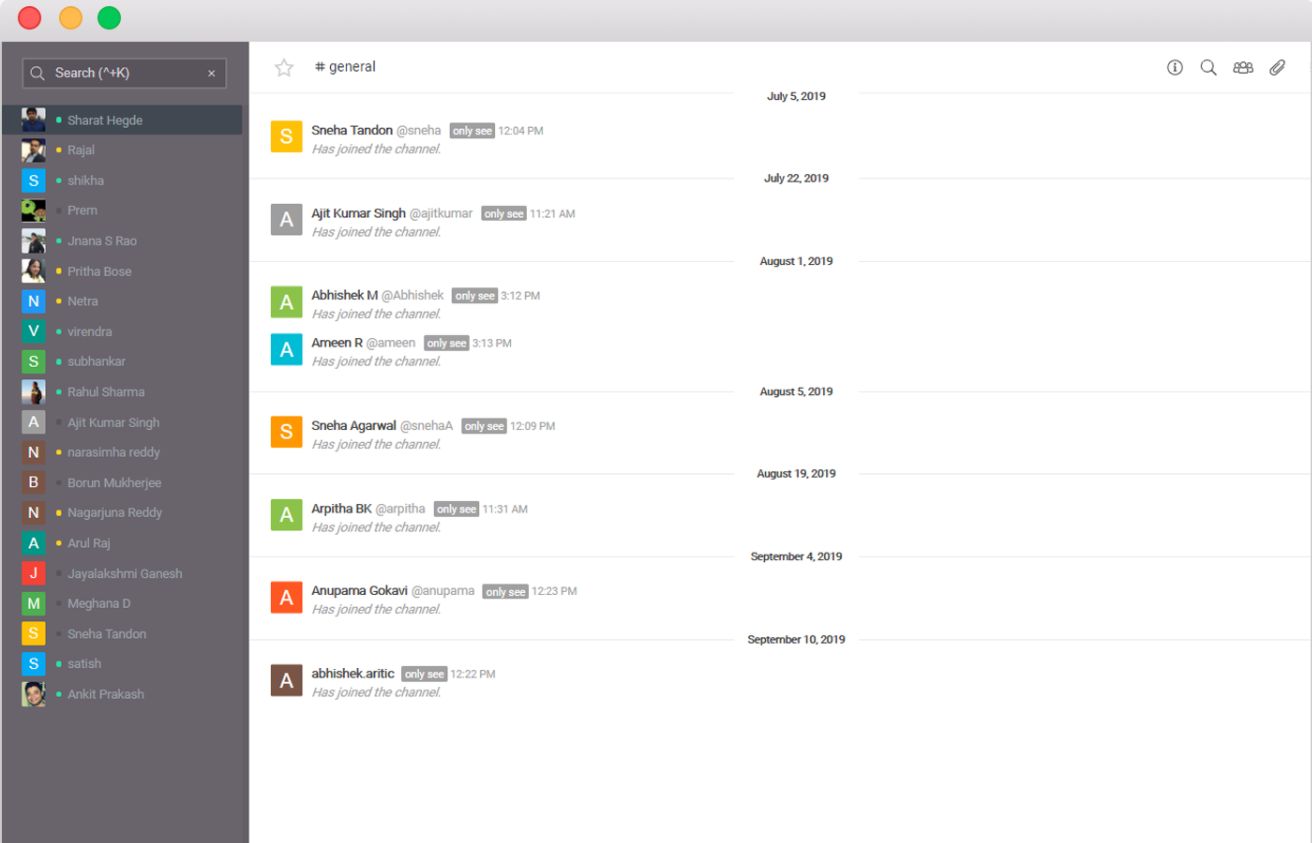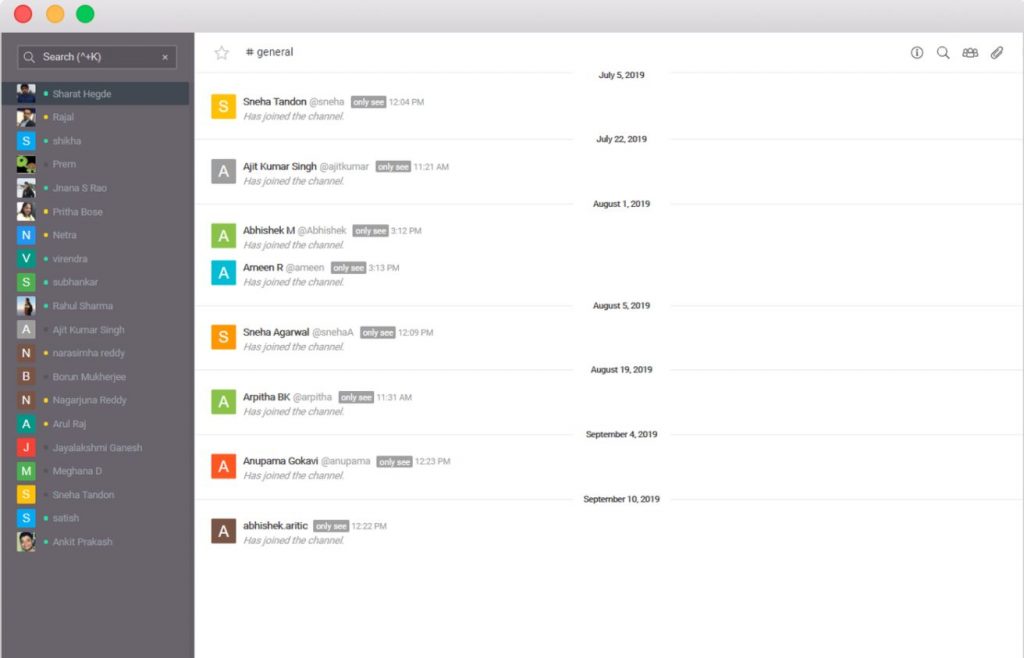 An Instant Messaging Tool for internal company collaborations. Aritic Swarm takes team collaboration to the next level with an encrypted secure messaging option.
The rich UI, along with group messaging features, among others, make Aritic Swarm a go-to-platform for teams that rely on the 'work together' motto.
It brings all your teams together on Aritic Swarm to coordinate and drive business growth.
You can Create message rooms or groups as well as engage in one-on-one messaging. Upload videos, images, documents, and any other type of files, use emojis in messages, write HTML coded messages. Format messages with bold, italics, or strikethrough to emphasise on important aspects of your message.
Fleep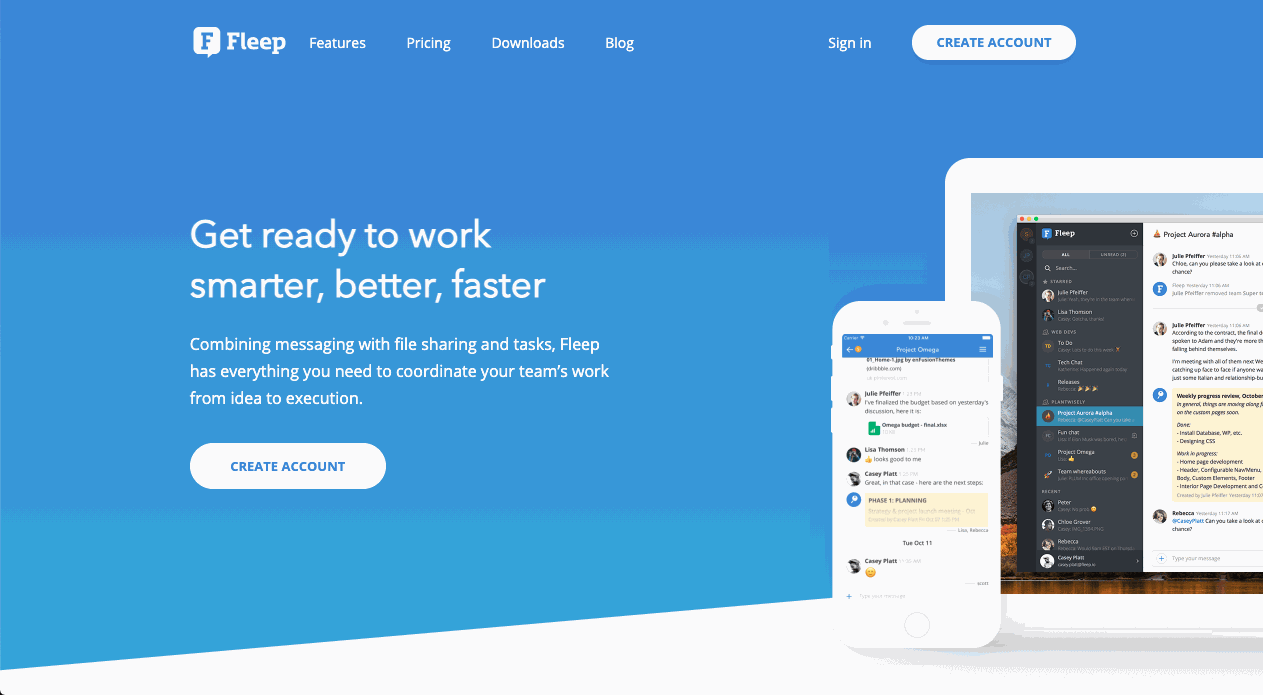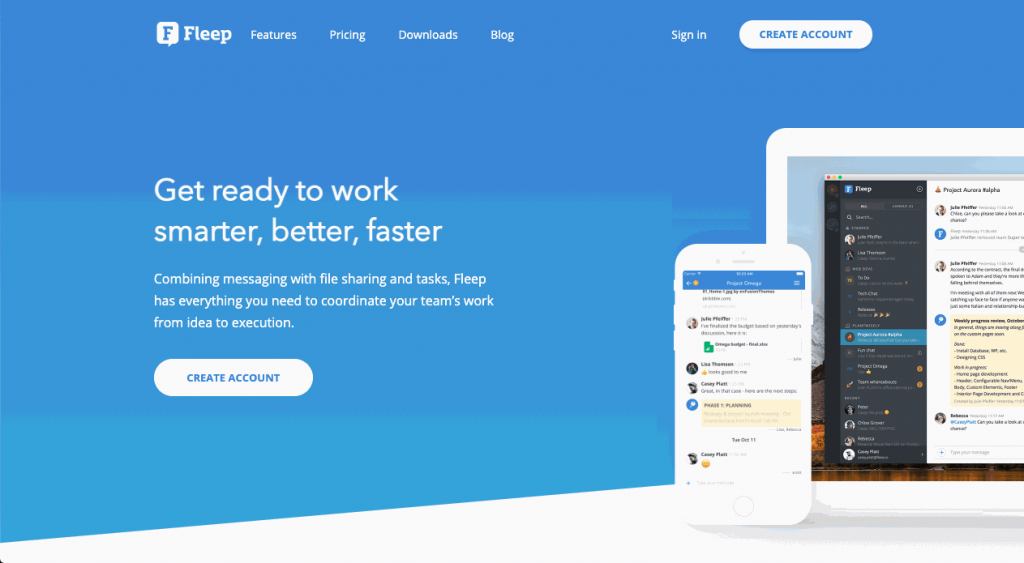 Fleep is a messaging app focused on internal company messaging that aims to compete with Slack by combining task management with internal communication and file sharing. This allows companies to handle projects and communication on a single platform.
With Fleep, users can search, assign, create, and track tasks, all while communicating with each other in context about their projects and teams.
What's more, Fleep has a unique "pinboard" feature. Through the pinboard, users can highlight plans and pin them to a conversation to further contextualize communication. With this feature, all users can see what's happening and be informed about new advancements.
Fleep can be used for free with limited users and its pricing is fairly affordable for larger companies.
GoToMeeting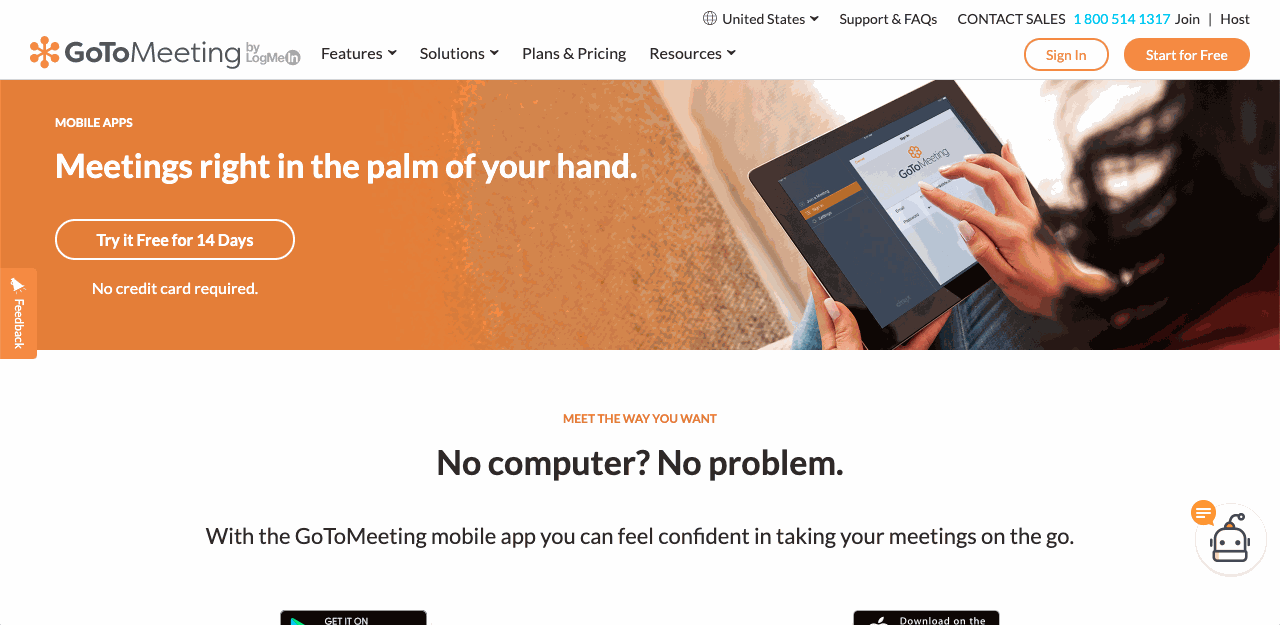 Although not as popular as it once was, GoToMeeting is still a useful mobile video conferencing tool. The platform features a streamlined and user-friendly UI, with features like polling and "raise a hand" that allow users to easily manage larger groups of people.
The platform also includes HD video, screen sharing for all devices, unlimited meetings, and high security. GoToMeeting also offers very powerful Android and iOS mobile apps that give users the same desktop experience on the go.
Users can set up unlimited free online meetings as long as they sign up and can operate meetings for up to 3 participants for as long as 40 minutes.
Yammer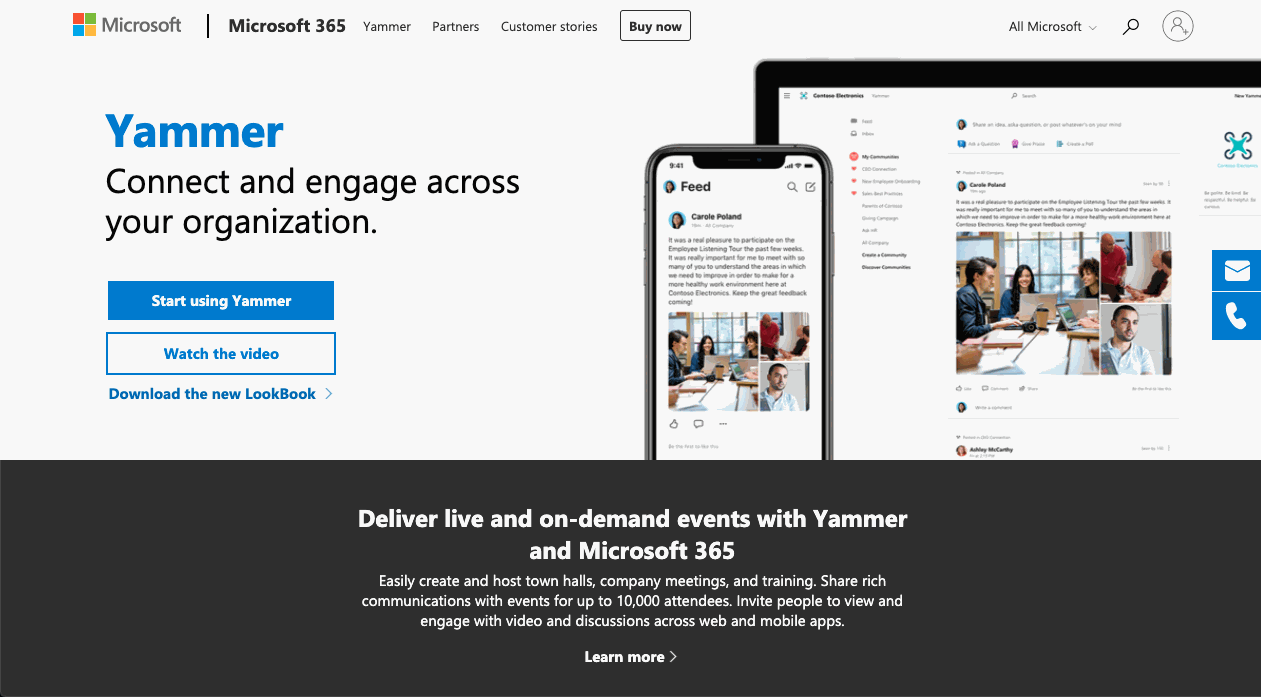 If you and your teammates already use Microsoft products for your work, Yammer will be an obvious choice for your internal communication needs.
Created by Microsoft as a Slack competitor, Yammer aims to be a complete enterprise social network, not just an inner company chat program. While it does have powerful communication features, what sets Yammer apart is the ability to create and join groups that are relevant to their jobs, projects, and interests.
Yammer also allows users to send files, plan meetings, and communicate. It seamlessly integrates with other Microsoft company-focused products like SharePoint and Microsoft Teams and has a generous free plan, which will likely be enough for smaller companies.
Google Meet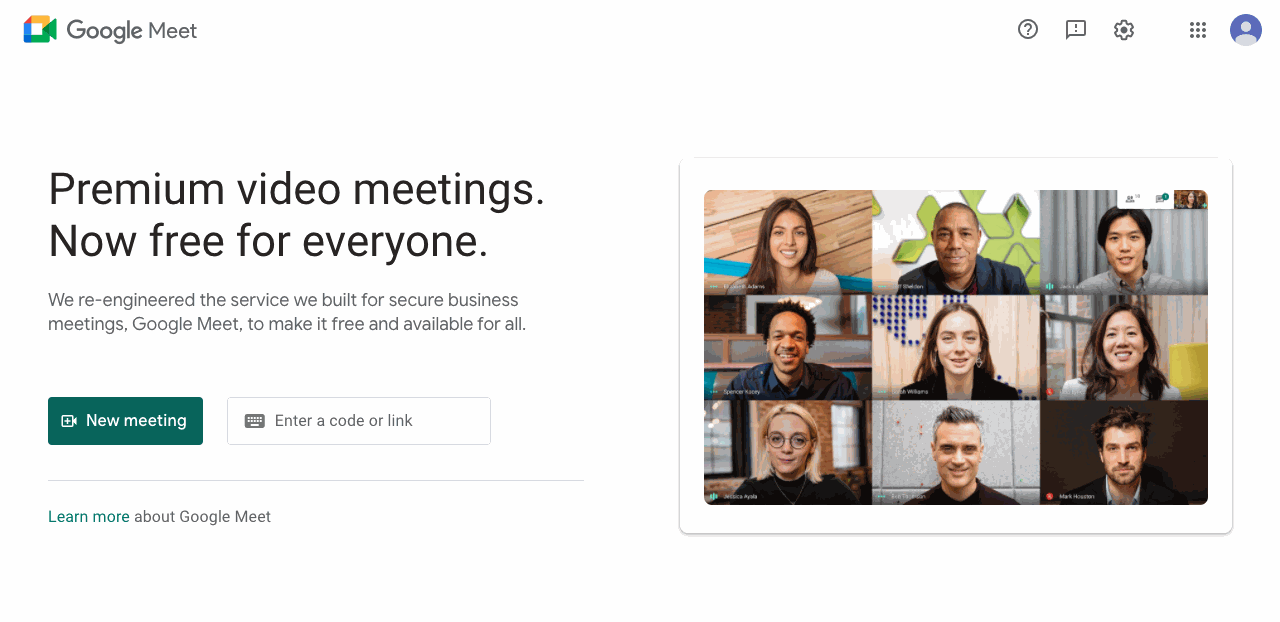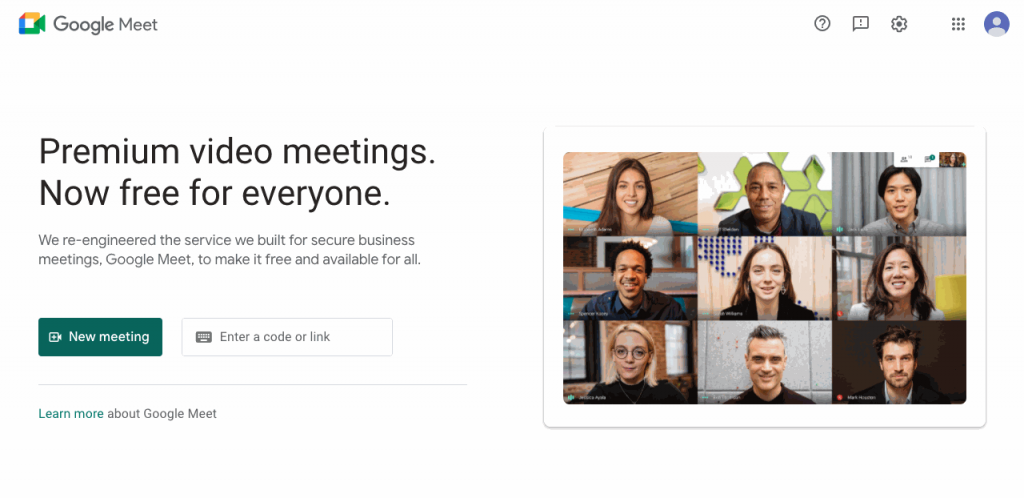 Formerly known as "Hangouts Meet", Google Meet is part of the G Suite office productivity platform.
Like the rest of the Google Suite, Google Meet works flawlessly on all devices, improving the experience of the standard Google Hangouts by fully focusing on business needs. It also has cheaper premium tiers when compared to Zoom, and while it can't handle up to 1000 participants like Zoom, it can still handle a decent 250 users.
Additionally, anyone can access your conference through its dial-in number without needing to install any app beforehand. It also integrates seamlessly with other Google-based platforms, and Google has been adding more useful features to slowly regain the userbase they have lost to Zoom.
Troop Messenger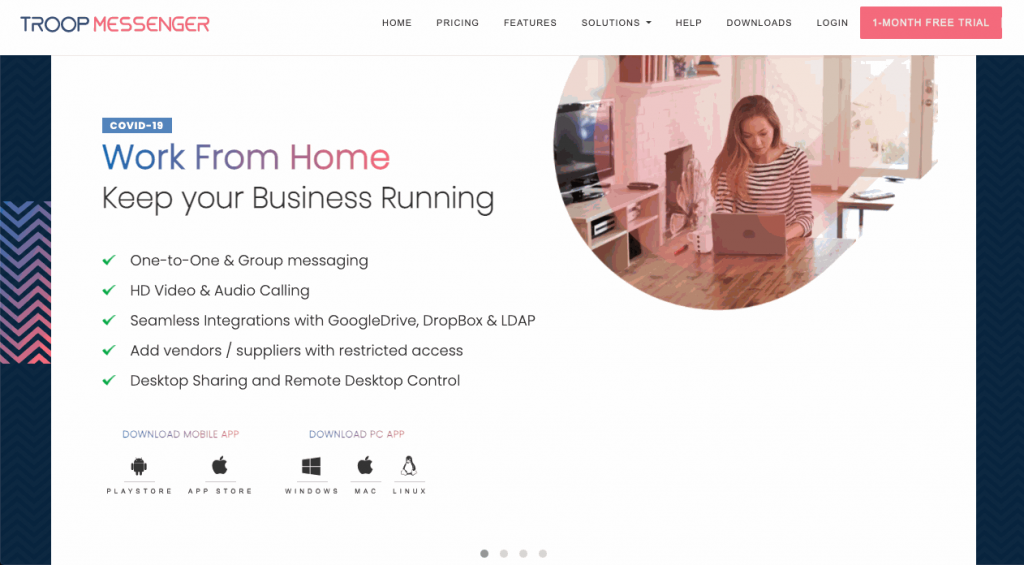 Another platform aiming to be a suitable Slack alternative is Troop Messenger. This platform can not only streamline internal communication but also make it more secure than before. The platform is great for open and live communication, especially for companies with remote workers.
With Troop Messenger, you can communicate through text, audio, and video with groups or individuals, and have access to useful unique features, like live tracking, burnout, flagging, splashboard, and much more. You can also use it for simple troubleshooting by taking advantage of its remote desktop control and screen sharing features.
Troop Messenger has a generous free plan, with the premium plan starting at just $1 per user per month, and it works in Windows, Mac, Android, and iOS.
Project Management Communication Tools (Internal)
Project management tools allow you to supervise and keep track of your projects and strategies, assigning tasks to teammates, and helping you meet your deadlines.
Here are the best project management communication tools for you and your company.
Asana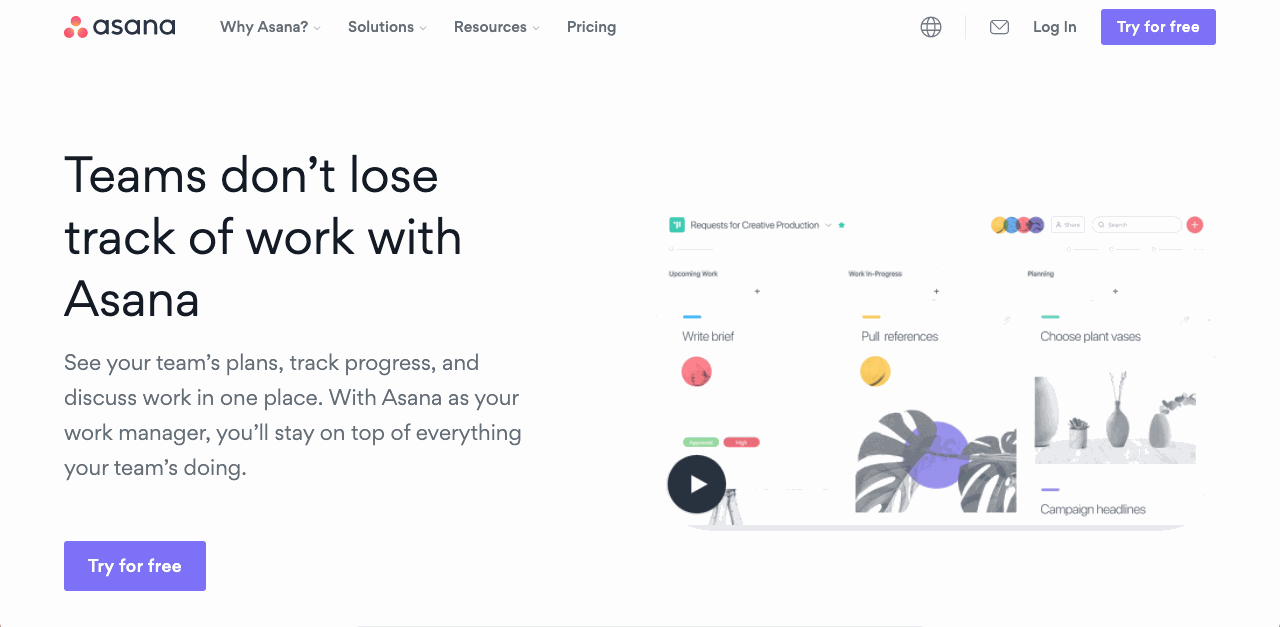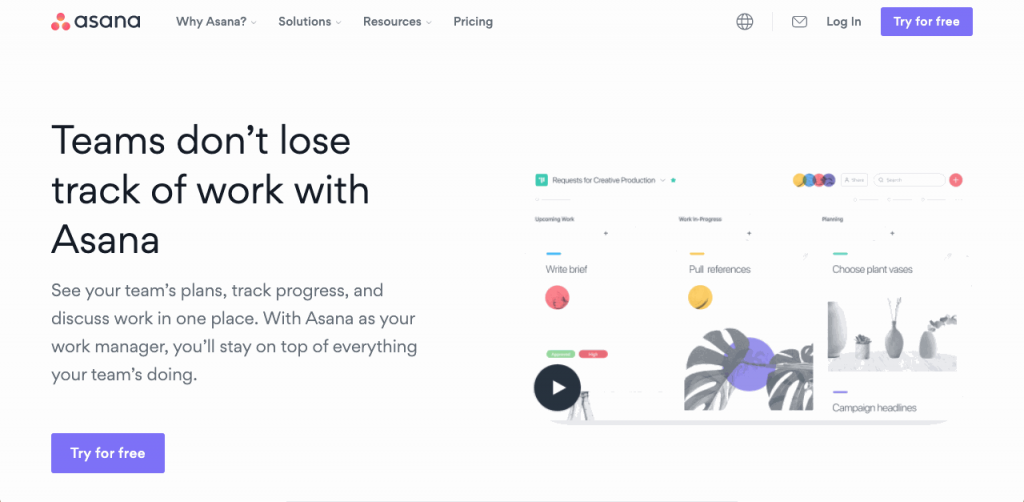 Asana is a popular and versatile task management software. With it, you can manage your teams and projects, assign tasks and project visibility to specific teammates, and keep track of everything with several views. These views allow you, your teammates, and your clients to Ganttvisualize your progress through a variety of lenses to truly reflect how your project is doing.
Asana can also replace all email and online chat communication with announcements sent to the right people instead of printing memos. You can even get online signatures for documents within the app.
This tool integrates with many other tools you may already be using to share information and automate tasks. With its generous free plan, users and startups can easily manage their projects, although prices do go up with premium plans, especially if you're planning on having multiple users access the platform.
ClickUp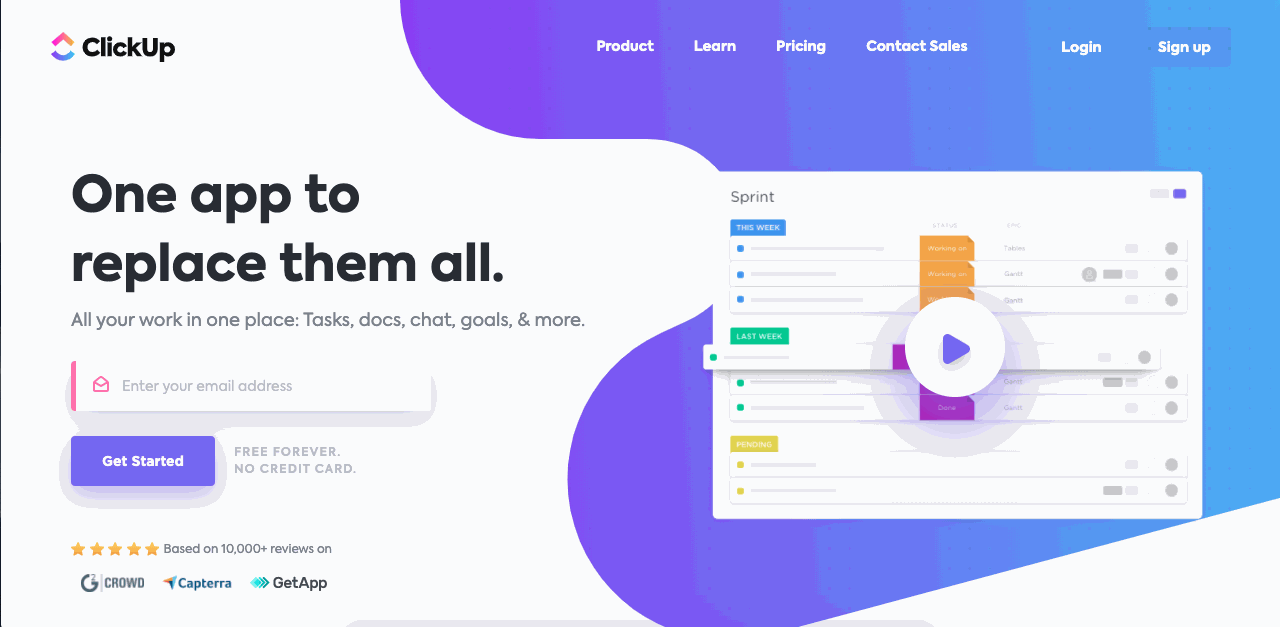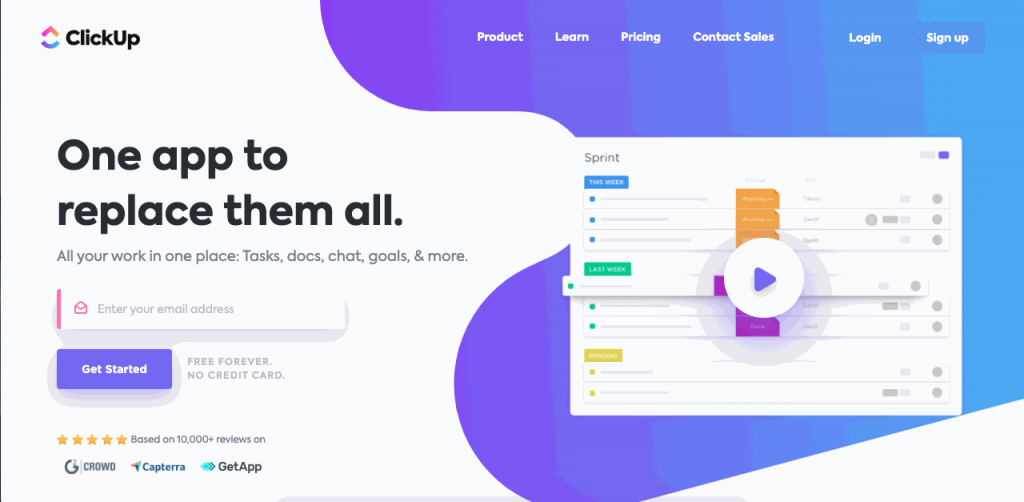 ClickUp is another project management tool with great communication features, With ClickUp, you can easily customize the view of your workflow, ensuring you can always stay on top of the situation, even after the project is done.
With a user-focused design, ClickUp provides its users with a lot of functionality accessed through a clean, sleek, user-friendly interface.
ClickUp's platform and capabilities are also very flexible, adapting to the team's methods instead of forcing the team to adapt to the tool. This is achieved with a highly customizable platform, that can adapt with ease to scrum, spring, and other project management methodologies.
The platform has a free forever plan with unlimited members and tasks, and a Premium plan for $5 per user per month with unlimited storage, integrations, views, and dashboards.
monday.com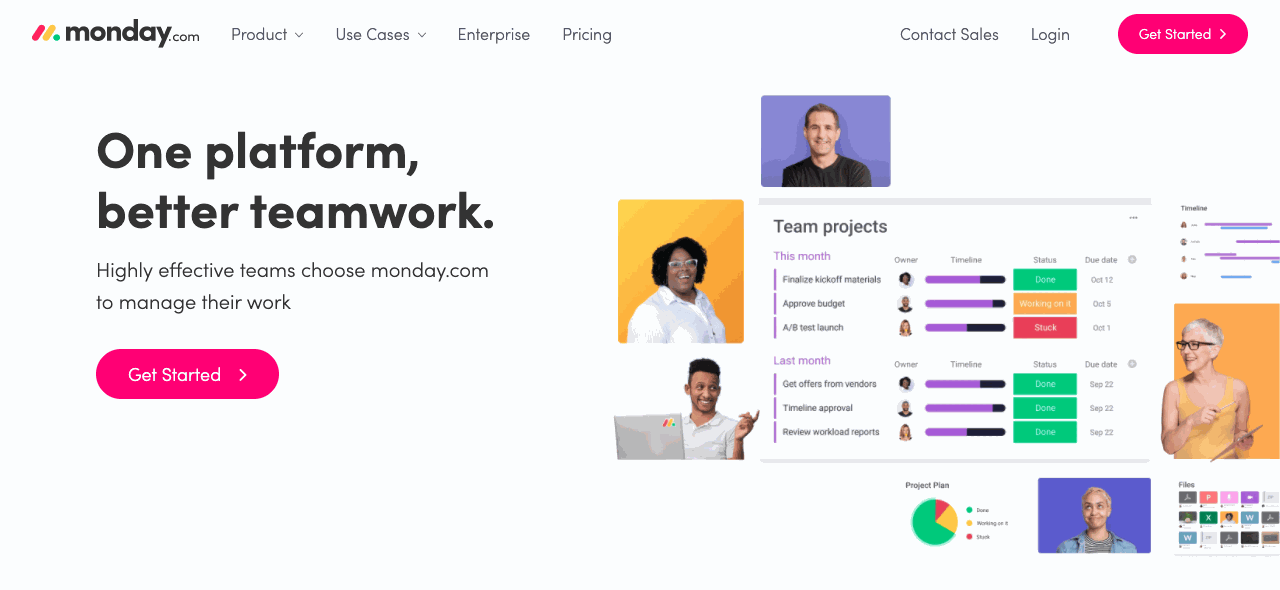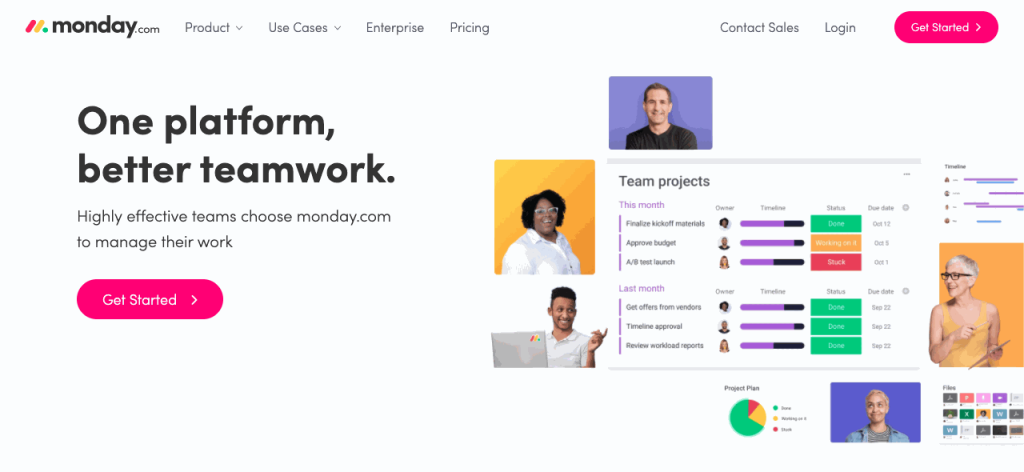 Formerly known as dapulse, monday.com is another online collaboration tool that differentiates itself from its competitors with its focus on visibility and transparency.
The platform is highly customizable and versatile, with great communication features allowing you and your teammates to communicate and share views with other teams to put communication in context. It also features powerful integrations with platforms like Slack, Dropbox, and multiple CRMs.
Its very friendly user interface and powerful capabilities have earned it some serious clients, such as Hulu, Coca-Cola, Universal, and Adobe.
Although the platform is attractive and powerful, it unfortunately, has no free option, with its pricing starting at $160 per seat per month for a minimum of 3 seats. This makes it better for larger companies with higher budgets to spend on a powerful project management tool, instead of a smaller, limited free option.
Trello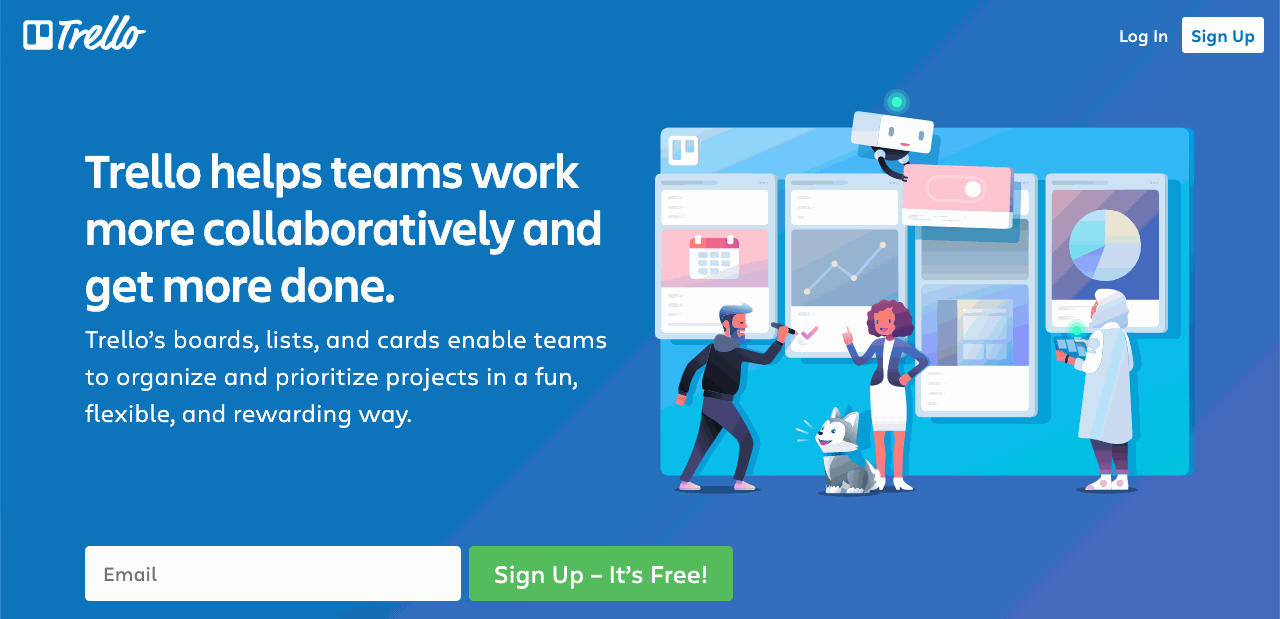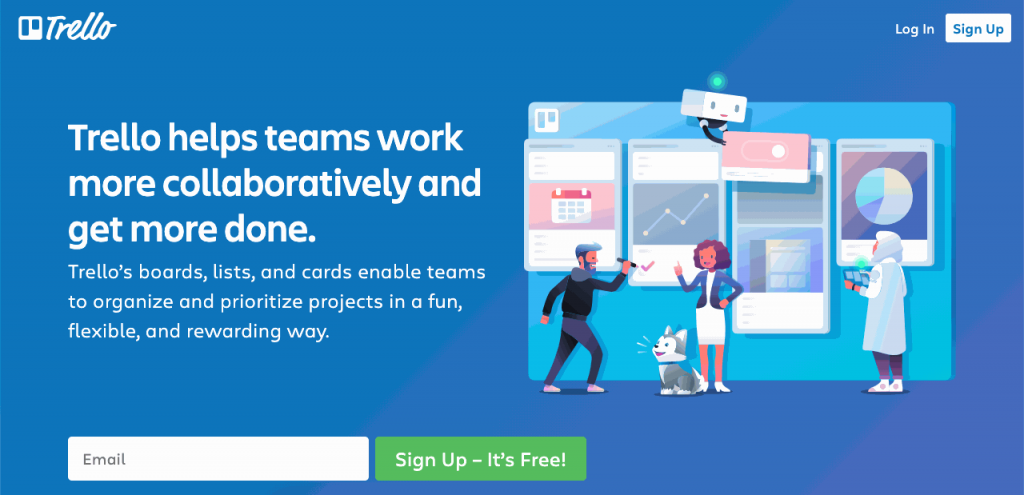 Trello is a simplified and streamlined way of keeping your tasks and projects organized and on track. The onboarding experience is almost automatic due to the UI being so intuitive and easy to understand.
Through cards, boards, and lists, Trello is a visual way to streamline your communication and your projects' development. Adding members is as easy as typing their email to send them access to their profile filled with all their tasks.
The Trello app is also highly popular and has all the functionality of the web app, making it a great choice for people who are always on the go.
Its generous free version with up to 10 team boards and automation capabilities is perfect for small teams and businesses.
Wrike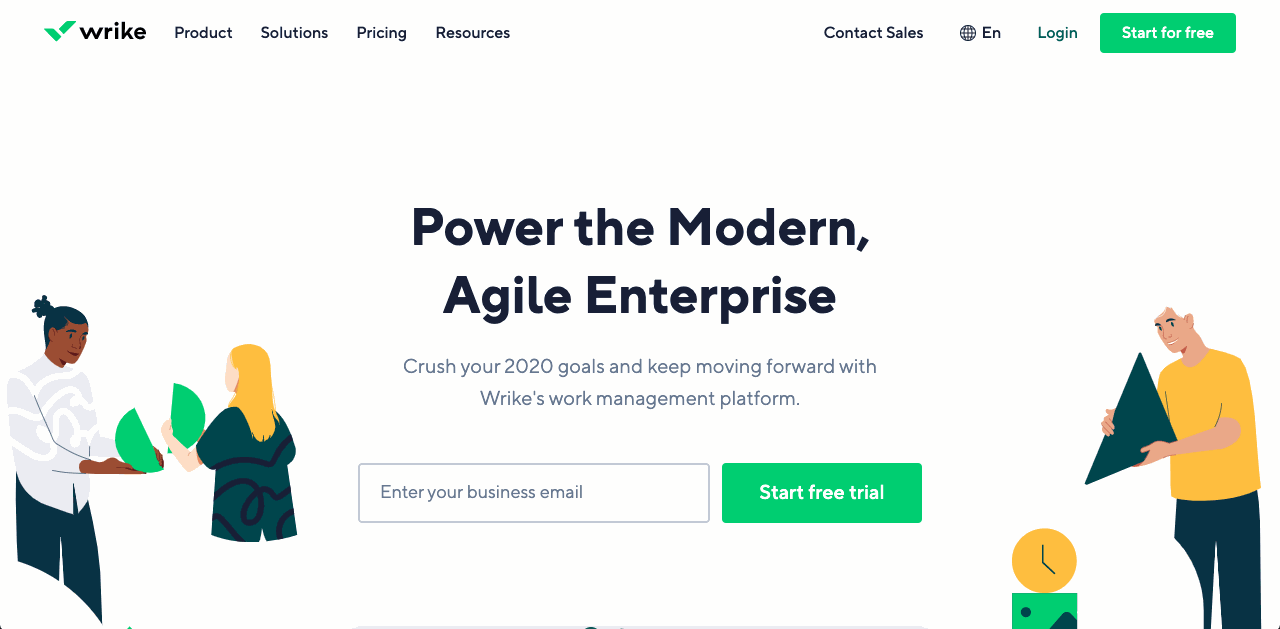 Wrike is another great project management tool for small and large businesses alike. With Wrike, you get full control and visibility of your projects while in progress and after your projects have been completed, so you can document them as quickly and seamlessly as possible. Documentation is simplified further with Wrike's file sharing, document management, and expense tracking.
You also receive comprehensive project management capabilities, making this tool particularly useful for large or complex projects. However, it's these same capabilities that can make it more complex and not as user-friendly as some of the other options.
It has a fairly limited free option, with the best features locked behind paid tiers.
ProcessMaker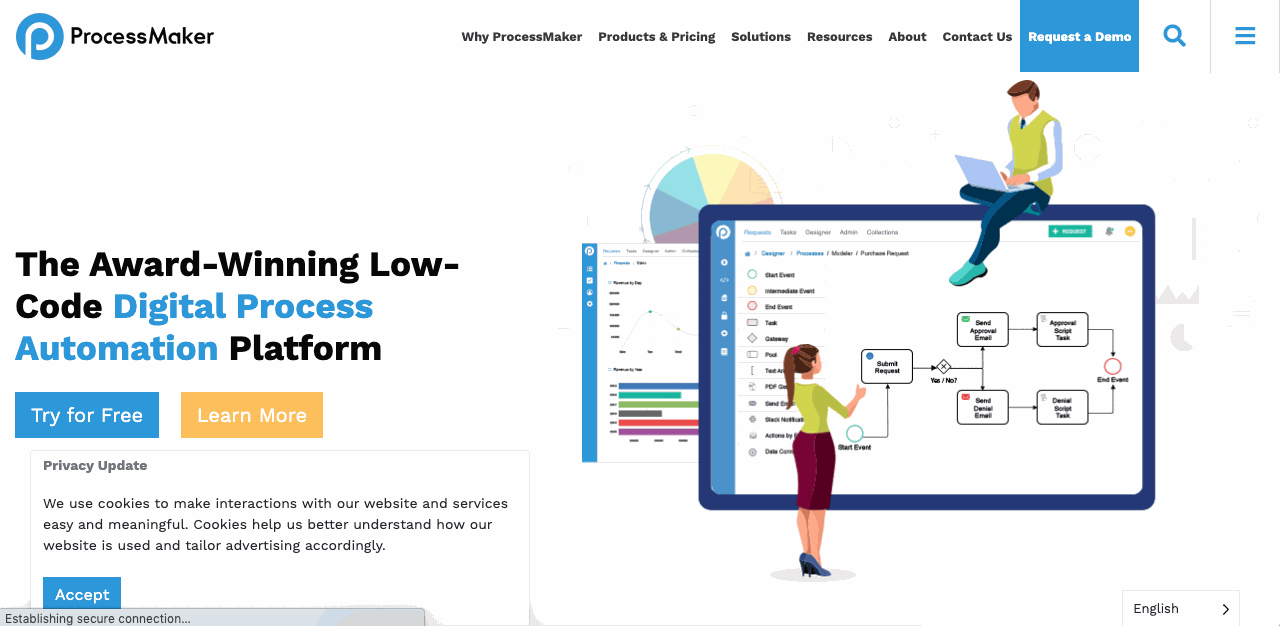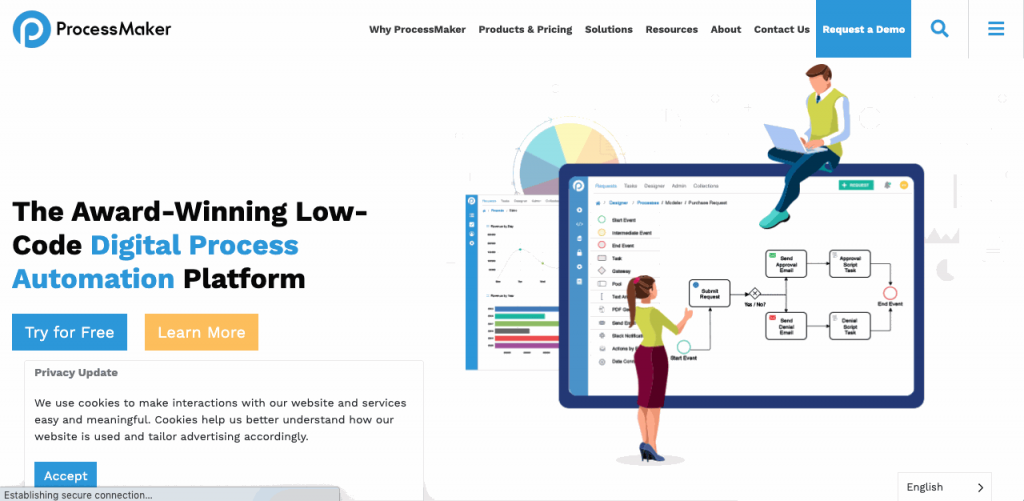 ProcessMaker is an open-source software that's perfect for larger companies and teams looking for easy workflow automations. The platform is a low-code business process management platform that allows users to quickly design and automate any workflows they need.
You can use ProcessMaker to visually design workflows and approve workflow screens, monitor your workflows through visual dashboards, and easily handle process management through its drag-and-drop interface.
Although somewhat expensive, ProcessMaker is perfect for users who are looking for a platform to automate their workflows without any coding experience.
WorkflowMax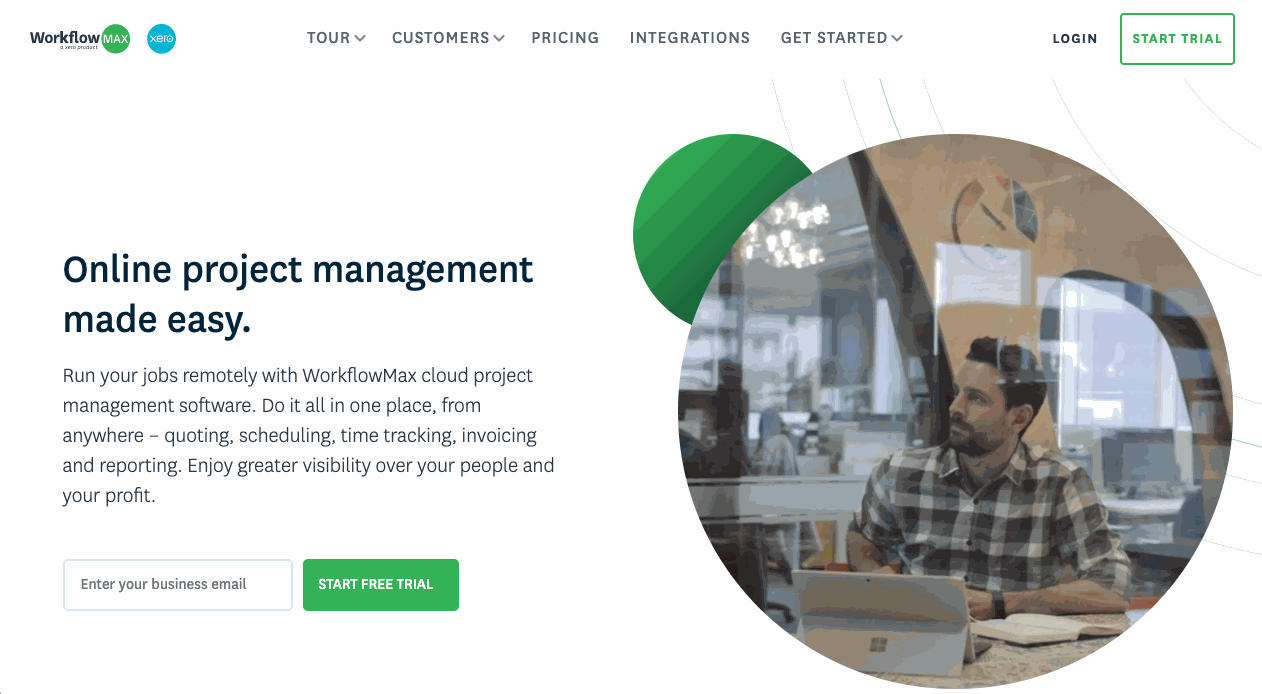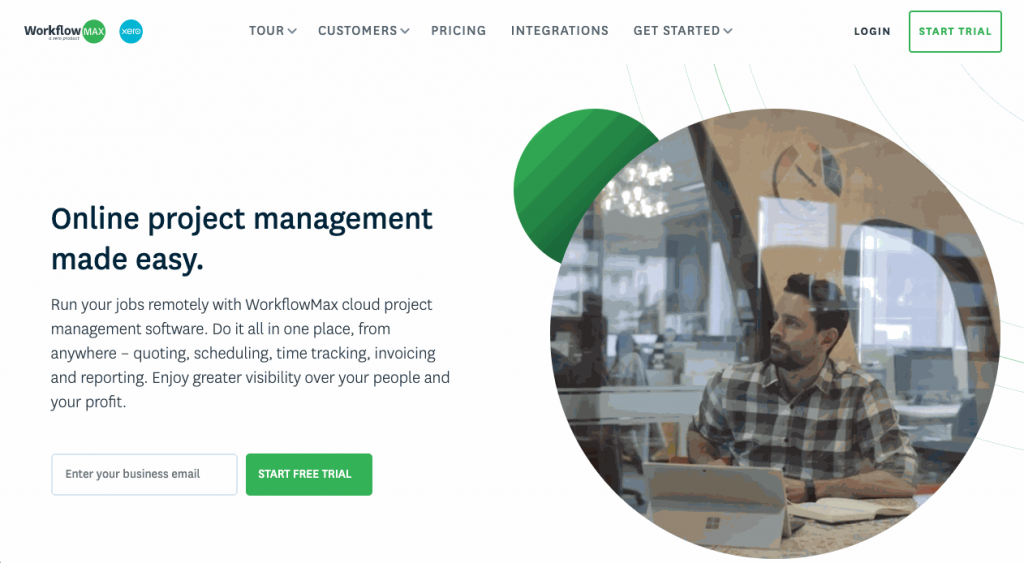 WorkflowMAX is a large and comprehensive project management tool aimed to give you everything you need to manage your projects, your teams, and even your finances. This makes it a great option for anyone looking to consolidate multiple tools into one platform.
With this platform, you can manage remote teams, working on remote projects easily and tracking the time spent working and managing their jobs. You can also manage your leads, send proposals and quotes, and even collect online signatures on documents.
Although it lacks a free tier, its pricing starts at an affordable $15 per month for a single user, with other options for larger teams and companies.
Rooftop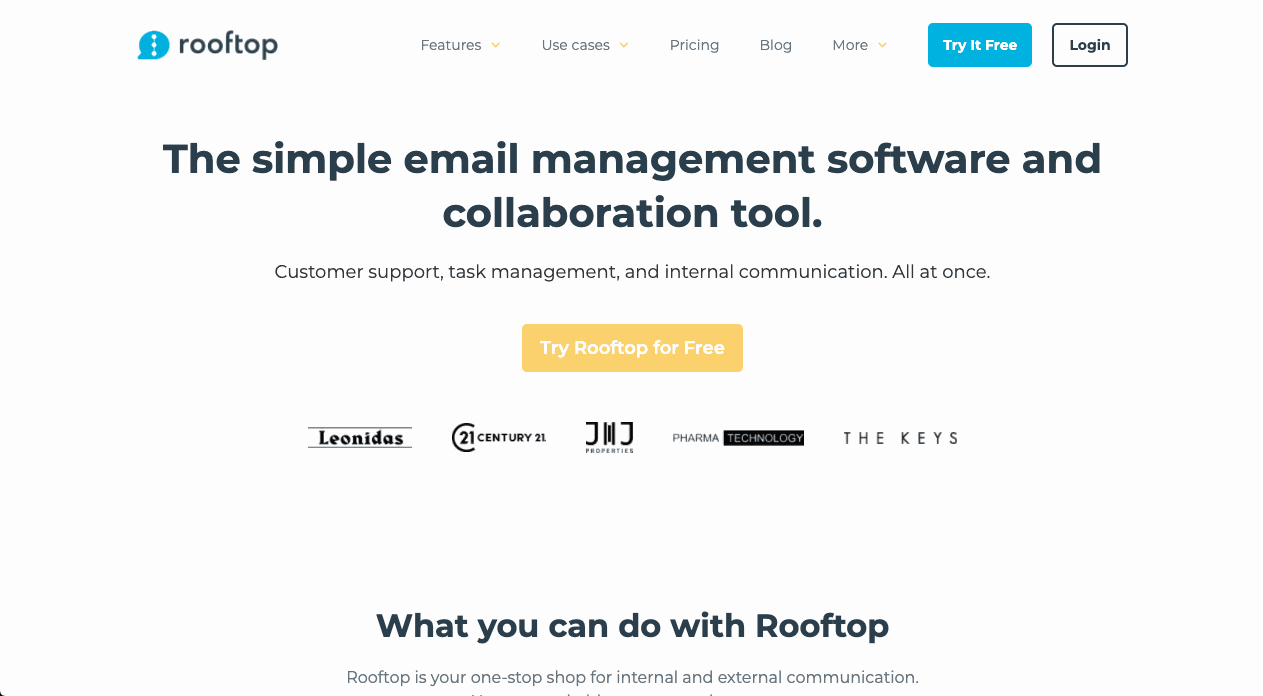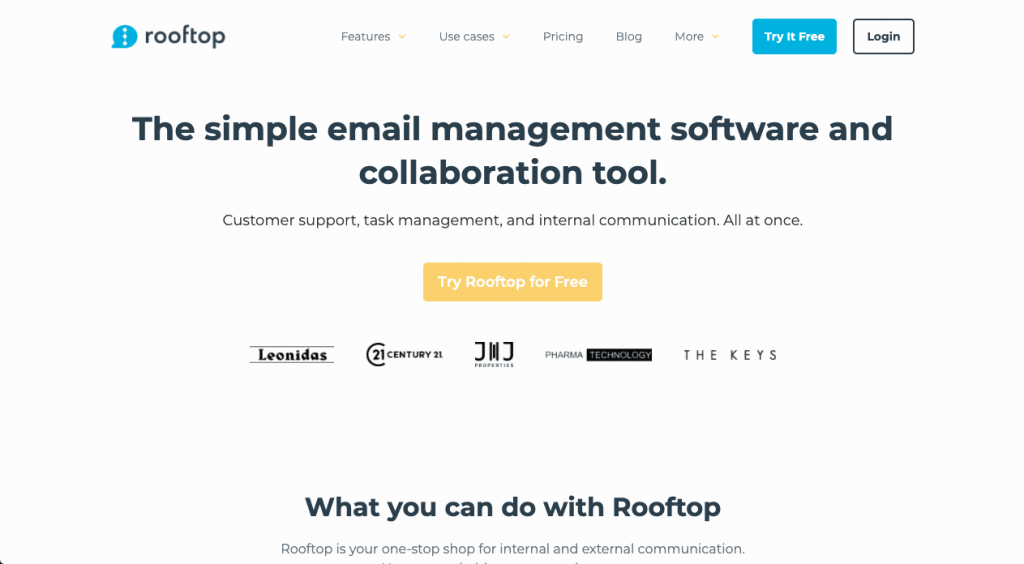 Rooftop is a project and email management software tool, made to primarily handle email projects, whether they come in low or high volumes.
With it, you can handle all your email management needs, provide better customer support, and manage your tasks, projects, workflows, and documents. You can even use it to build a custom CRM with simple automation features.
Rooftop also supports internal and external communication needs, allowing you to do it all with just one platform.
TeamGantt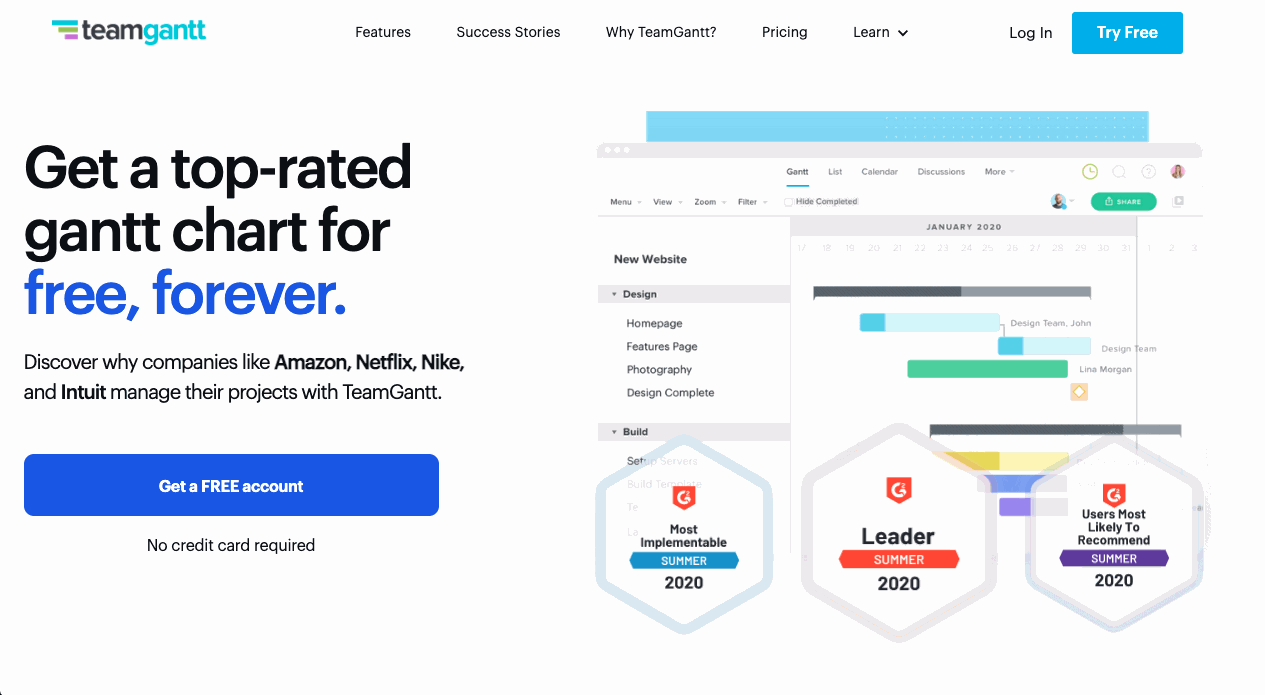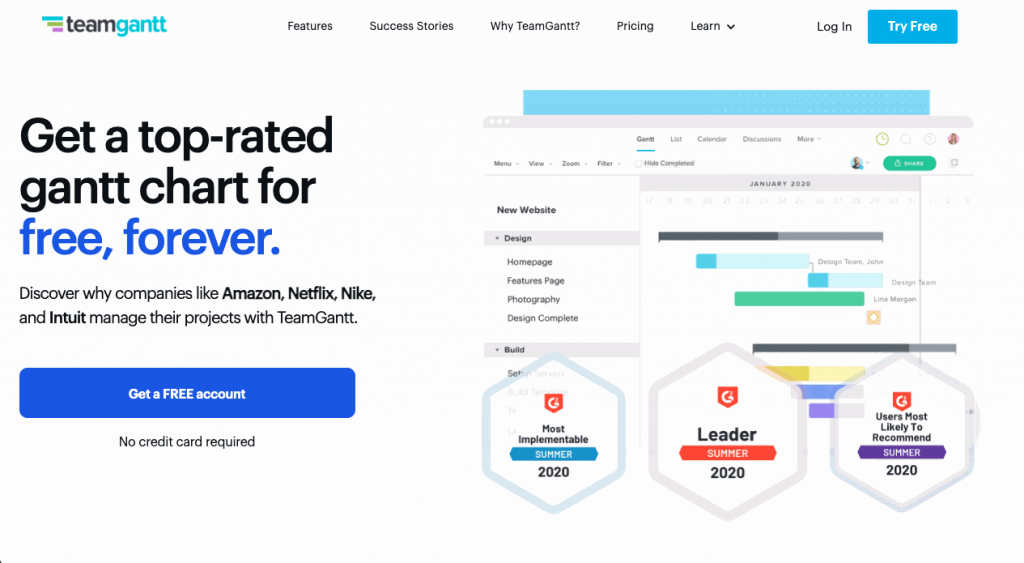 TeamGantt is an award-winning online project management solution built around Gantt charts.
With TeamGantt, you can manage projects easily, making all project updates and documents visible at a glance on a single page. These can be shared internally or externally by inviting clients, teammates, and managers to the project.
The platform isn't limited to Gantt charts either. TeamGantt allows you to switch between Gantt chart, kanban board, or calendar views. Handling projects and creating new ones is easy with its intuitive UI based on dragging and dropping.
The platform integrates with other tools like Slack, Trello, Basecamp, Outlook, Google Calendar, and iCal. You can use it for free for up to 3 users, with paid plans starting at $24.95 per month.
Statusbrew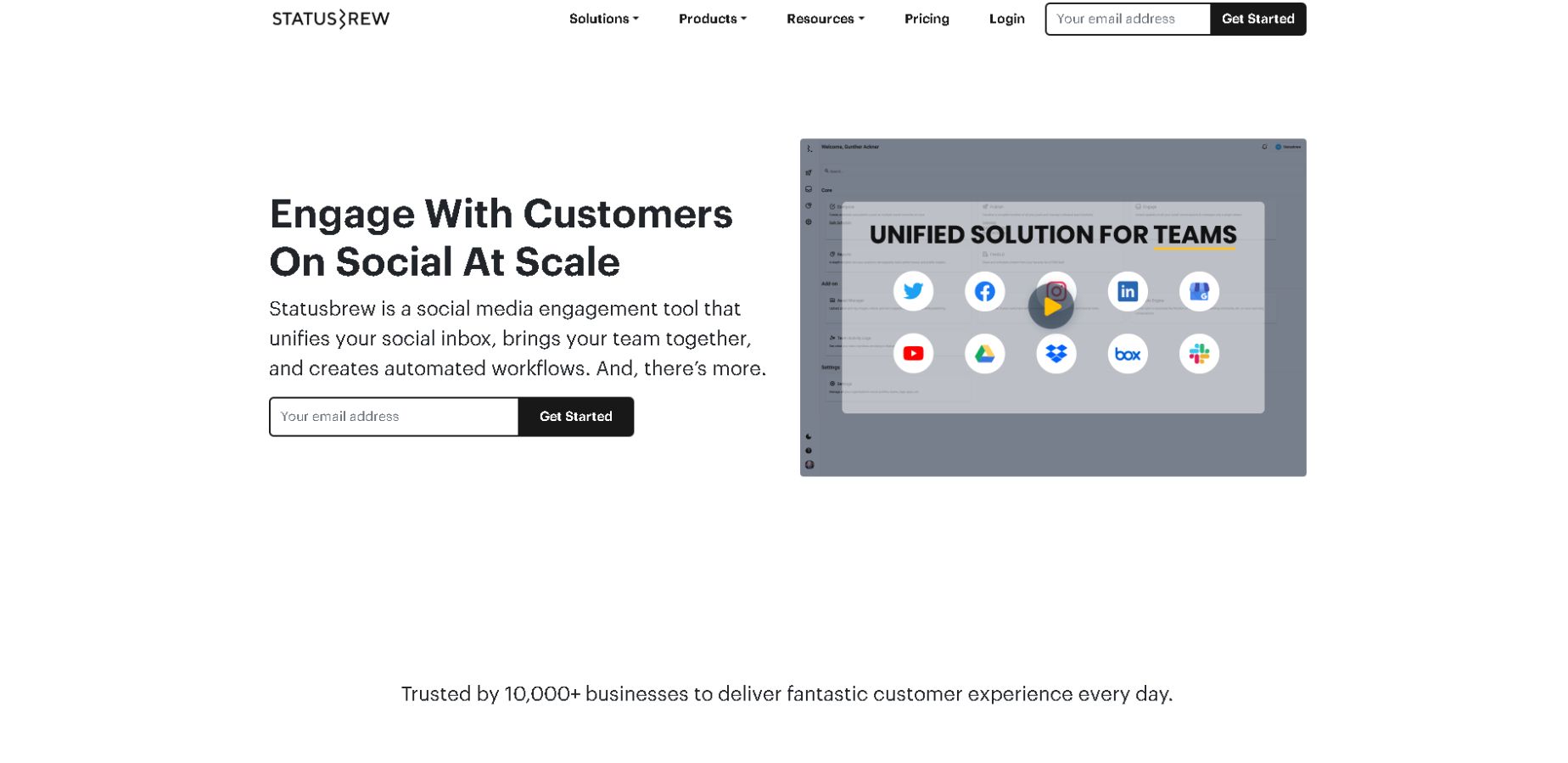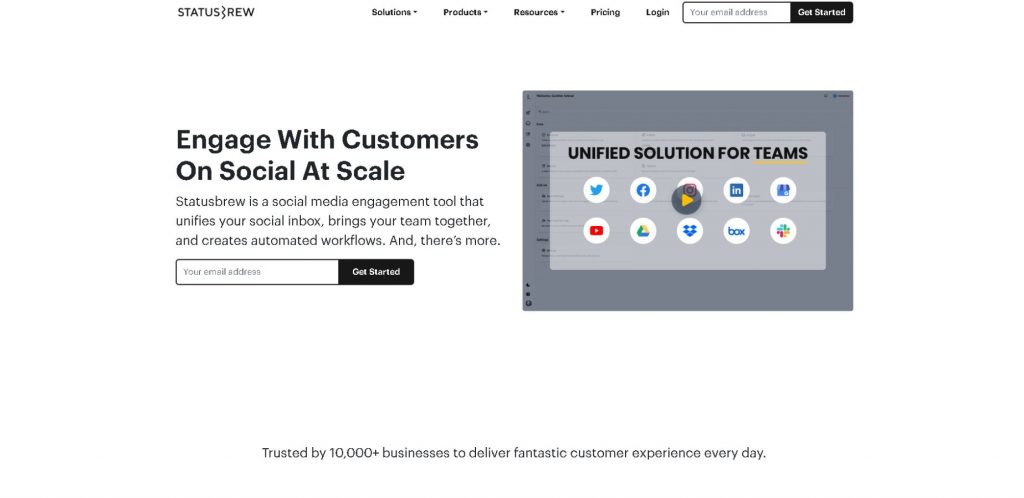 Statusbrew is a leading social media project management tool that elevates management and team collaboration to unparalleled heights. Its Plans feature effortlessly facilitates the creation and management of social campaigns. Also, its Reporting allows for a thorough analysis of campaign performance and provides valuable insights for informed decision-making.
With Statusbrew's smooth team coordination and collaborative workflows, you can efficiently manage social content, engagement, marketing, and reporting as a team. The approval workflows feature also guarantees that all content is regulated, minimizing repetitive work and reducing the chance of errors.
A free trial and platform demo are also available.
Frequently Asked Questions about Communication Tools
Here are the answers to commonly asked questions about communication tools:
What are communication tools?
Communication tools are virtual tools used to communicate remotely through audio, video, or text. In the world of business, communication tools are mainly used to communicate externally with customers and users to provide answers to their queries. They are also used internally with teammates and employees to manage projects and streamline communication.
What are the kinds of business communication tools?
Business communication tools are divided into internal communication tools and external communication tools.
Internal communication tools are tools that allow teams to collaborate internally, share insights, and develop strong business relationships. They're also important when it comes to remote work, allowing users to interact with each other by video calling other teammates and helping them stay on top of their duties. But internal communication tools can be also used to share information in an easy way such as QR code generators or instant messaging apps.
External communication tools are used by a company to communicate with users and clients, answering their queries and increasing the likelihood of a sale. They help companies provide better customer service and automate communications to ensure the right users get the right live reps.
What are the benefits of using communication tools when managing remote teams?
The right communication tools are vital when managing remote teams because they allow you to keep track of your teammates, their progress, and their work.
Communication tools can also be used to establish a rapport between teammates, facilitate collaboration between all parties, develop, organize, supervise, and deploy new strategies, while keeping everyone informed about their tasks and responsibilities.
What's the best team communication tool?
The best team communication tool is the one that your team members can use to fulfill all of their communication needs. It should be a collaboration software that allows for them to work as a team with enough context to streamline communication.
For remote teams, the best team communication tool will likely have a video chat, allow them to share files with cloud storage, feature document collaboration, and have a low learning curve to avoid the need for extensive training.
For local teams, the best team communication tool should be built around collaboration tools that allow all team members to communicate with each other through instant messaging, contextualizing their communication through the proper channels.
What's the best external communication tool?
The best external communication tool will depend on your needs, particularly if you need it for customer service, sales, or both.
For customer service, it should make it easy for your users to contact you and your team members in real time, with enough automations to guarantee your customer service reps only spend their time with users who need them.
For sales, the communication tool should be able to handle all leads, qualifying them before they reach out to your sales reps.
In all cases, your communication software should have enough collaboration features to ensure your reps and teammates can easily communicate with each other.
What are the things to consider when selecting the best communication tool for your business?
You should consider multiple things, like:
Needs: What do you want to get out of your communication tool? How should it help you and your team work closely together? Who will be using it? How will it be used?
Integrations: Which tools does this communication tool integrate with? Does it integrate with the tools you're already using? Will it be tied to a smaller set of tools if you choose a particular option?
Ease of use: How easy will it be for your employees to learn how to use it? How long will future employees need to be trained to fully master this tool? How user-friendly will it be for external users?
Cost: How much money can you spend per month on a tool? If you're using a free version, how expensive will it be to upgrade if your company keeps growing? Which features will you get if/when you decide to expand to the next tier?
Conclusion
As we've seen, communication tools are extremely important when it comes to internal and external communication. With the right communication tools, you and your team will not only be able to communicate better but will spend less time communicating more effectively.
If you're looking for an all-in-one solution to external communication that includes chatbots, shared inboxes, and many more useful features, there's no better choice than Messagely.