A chatbot is an AI virtual tool made to simulate a conversation with a user through apps, websites, and even on the phone. With a chatbot, you can sell your products, get appointments for your services, and provide customer service, all around the clock
In this article, we're going to show you how twenty-five companies use chatbots to boost sales and engage with their customers in the best way possible.
You'll also find:
Tips for setting up a chatbot
Inspiring examples
Lessons from the best companies
New ideas on what to get your chatbot to do
By the end of the article, you'll know exactly how great chatbot software behaves and how to improve it.
Let's get started.
10 Outstanding Sales & Marketing Chatbot Examples
A good chatbot for sales needs to take care of the customers who are ready to make a purchase and give simple assistance to nurture users who are almost ready to make a purchase. That way, you can leave the more detailed selling to your salespeople.
Here's what great sales and marketing chatbots look like:
1. Universal Studios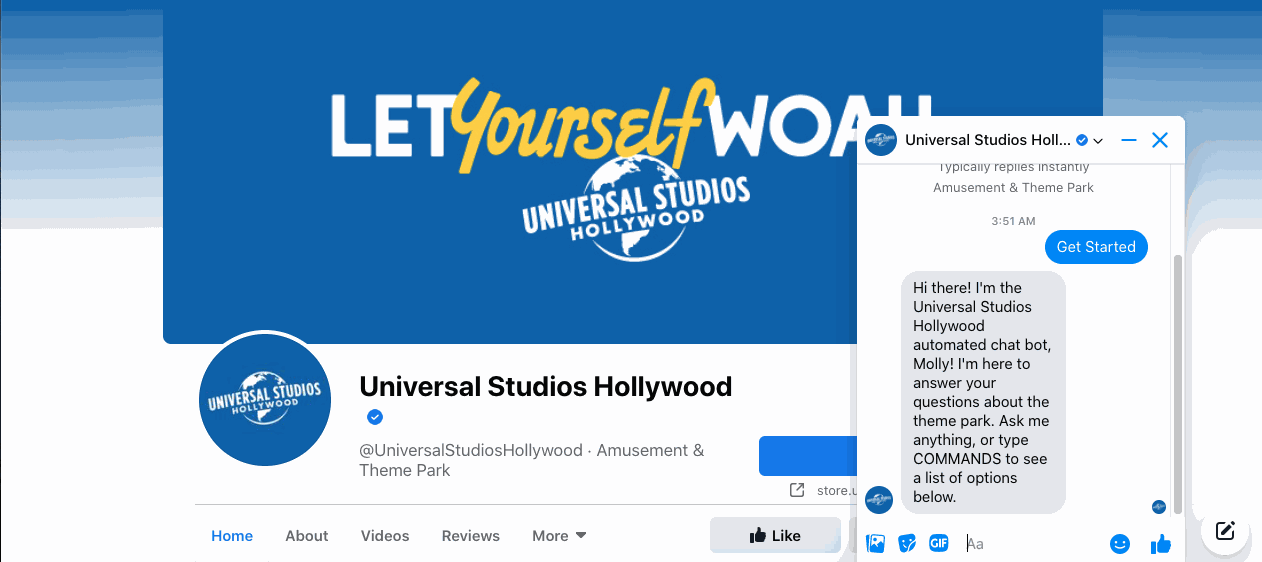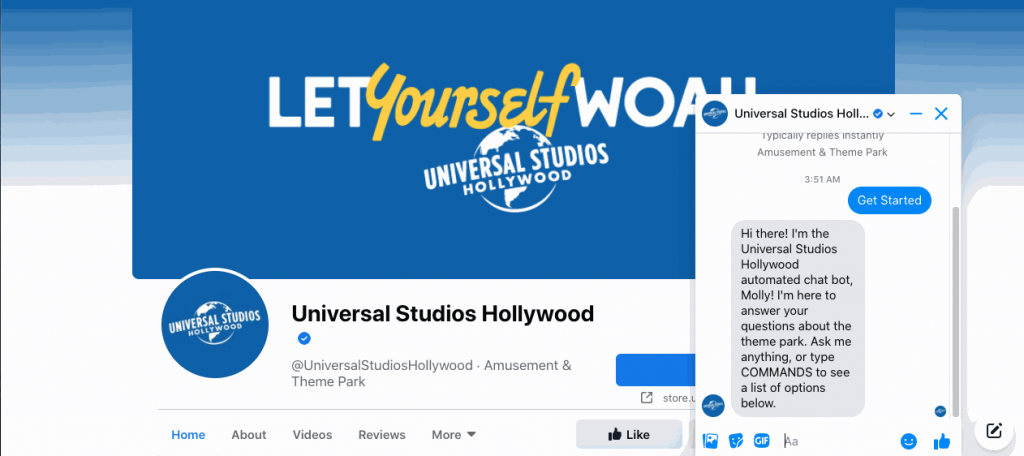 Industry: Amusement parks
Chatbot platform: Facebook
Whereas most of the examples here are about products or services, Universal Studios is in the business of selling experiences. For many, those experiences start with their Facebook chatbot.
Most people are not as comfortable with using a chatbot as they are with talking to a person, especially when it comes to spending hundreds or thousands of dollars. That's why the Universal Studios chatbot lets you know that you can reach a live rep at any time. This eases the user, knowing that the chatbot is there for their convenience, not as an obstacle.
The chatbot doesn't just sell tickets and bookings. It also lets people know which bathrooms or restaurants are nearest to them based on their latest ride, and it even provides information about the rides' waiting times. This duality makes the Universal Studios chatbot extremely functional and convenient for users.
Learn from it
Your chatbot isn't there just to replace your live customer agents. You don't want your users to feel like they're stuck with your chatbot unless they get a magical set of things right to get transferred to a live agent.
Instead, let people know that your live agents are always just a phone call away.
2. HelloFresh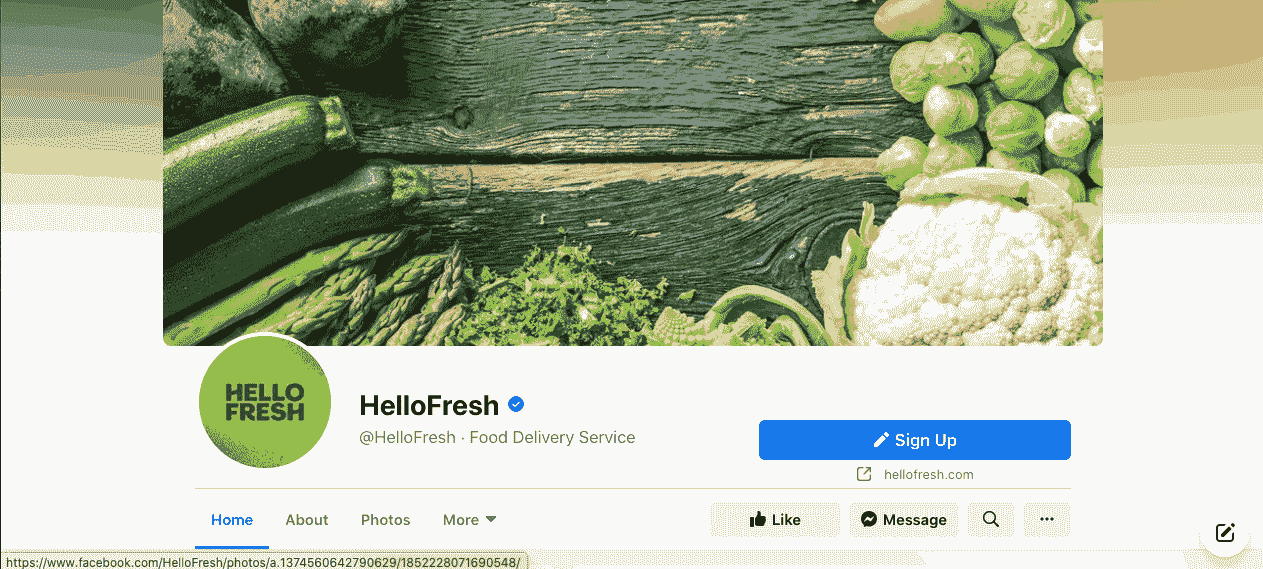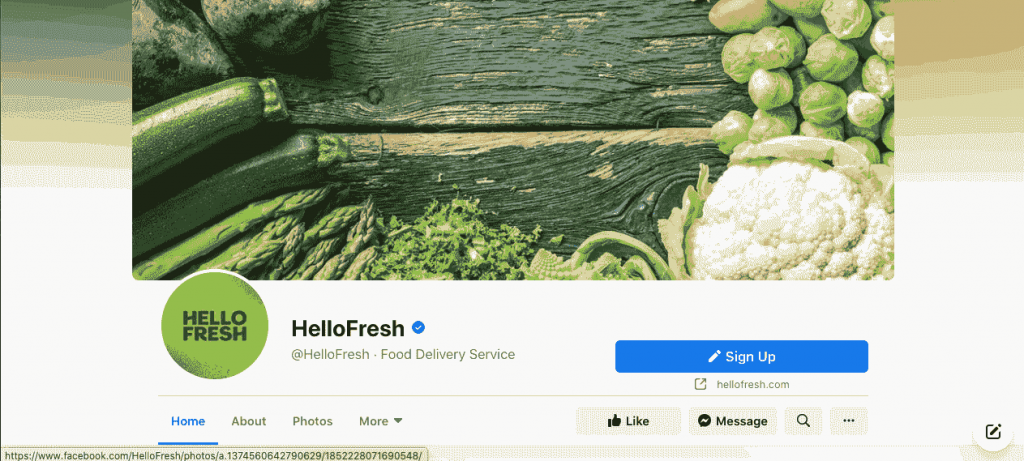 Industry: Food and drinks
Chatbot platform: Facebook
Popularized by a smart marketing campaign, HelloFresh is a meal kit company that sends ingredients along with recipes for users to prepare food in the comfort of their home.
During 2017, the company launched a chatbot called "Freddy", which helped them answer more messages from users and actively engage with visitors through seasonal content. This allowed HelloFresh to automate their approach and engage with users, as Freddy sends out promos and offers, all by itself.
Learn from it:
Chatbots can be a cheaper and better alternative to email marketing since they're easier to set up and they send instant notifications. Automate your marketing campaigns with your chatbots to make sure you're engaging and educating customers during their awareness stage.
3. Whole Foods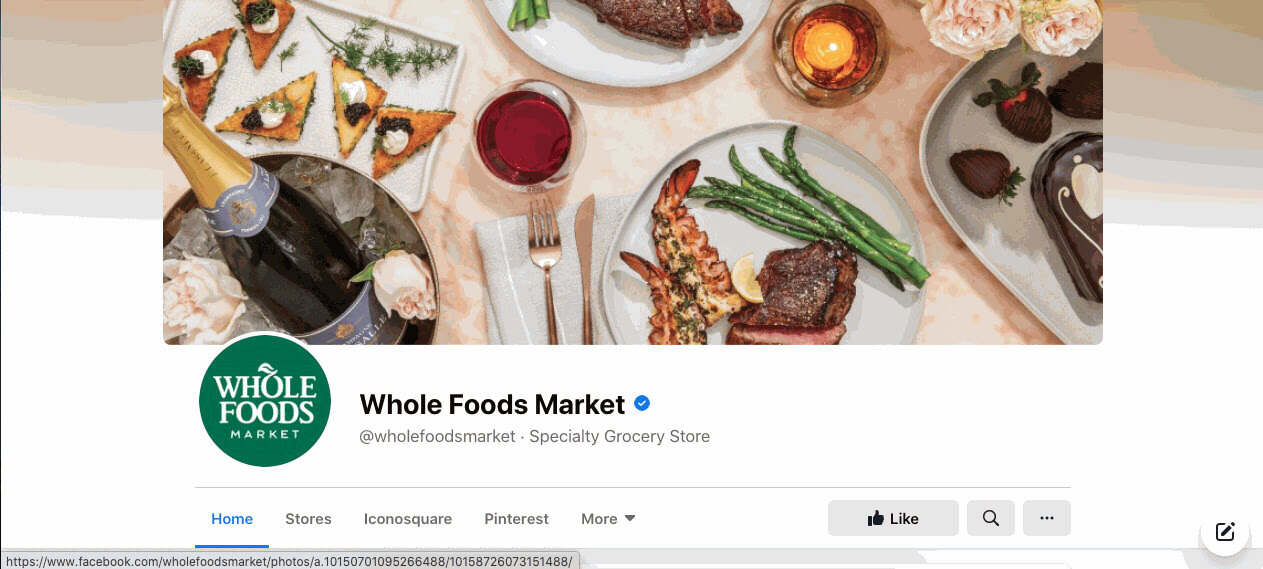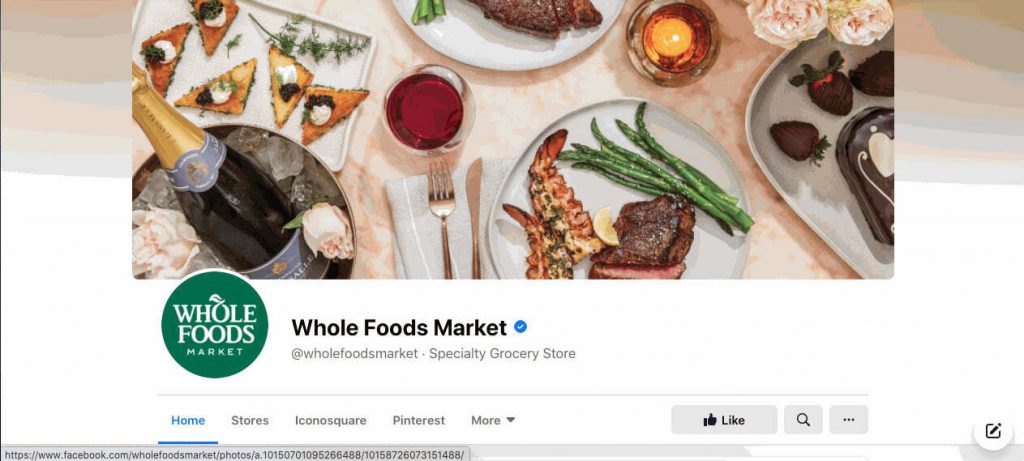 Industry: Supermarket and Grocery Stores
Chatbot platform: Facebook
Unlike other sales chatbots, Whole Foods' chatbot doesn't just try to sell products. Instead, their chatbot focuses on helping people find recipes they like, as well as products and cooking inspiration.
Once the user gives the chatbot enough information, the chatbot will offer the user a few recipe options. And when the user selects the recipe, the chatbot will redirect the user to the Whole Foods website where they can purchase all the ingredients.
Learn from it:
Instead of focusing on only selling products, use your chatbot to provide your user with a service. This will give them a reason to keep coming back to your chatbot.
4. Bud Light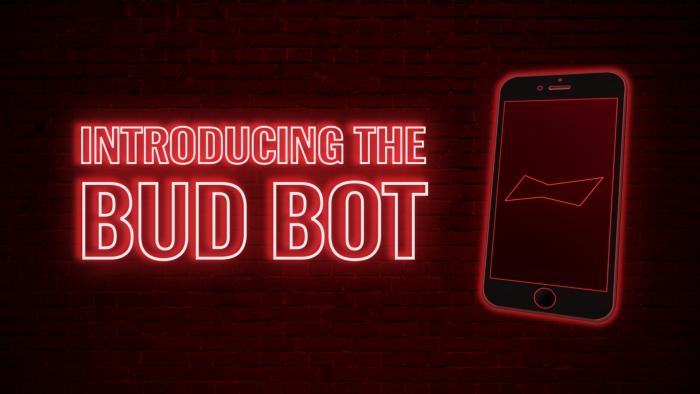 Source: Social Buzz Awards
Industry: Food and drinks
Chatbot platform: Facebook
In 2017, Budweiser launched the Bud Bot. Its purpose is to remind users to stock up their fridges with drinks on game days. It can even arrange to have beer delivered in under an hour during games.
This fairly simple but award-winning idea turned the chatbot into a huge success, seeing an 83% engagement rate during its campaign and creating a memorable experience for its users.
It also helped users solidify their perception of unification between the brand and social events.
Learn from it:
Make your chatbot its own tool. Your chatbot may not market as well as your salespeople, but that's because it is not one of your salespeople. Instead, embrace automation as its own thing, and make a tool out of your chatbot, creating memorable experiences with it.
5. Domino's Pizza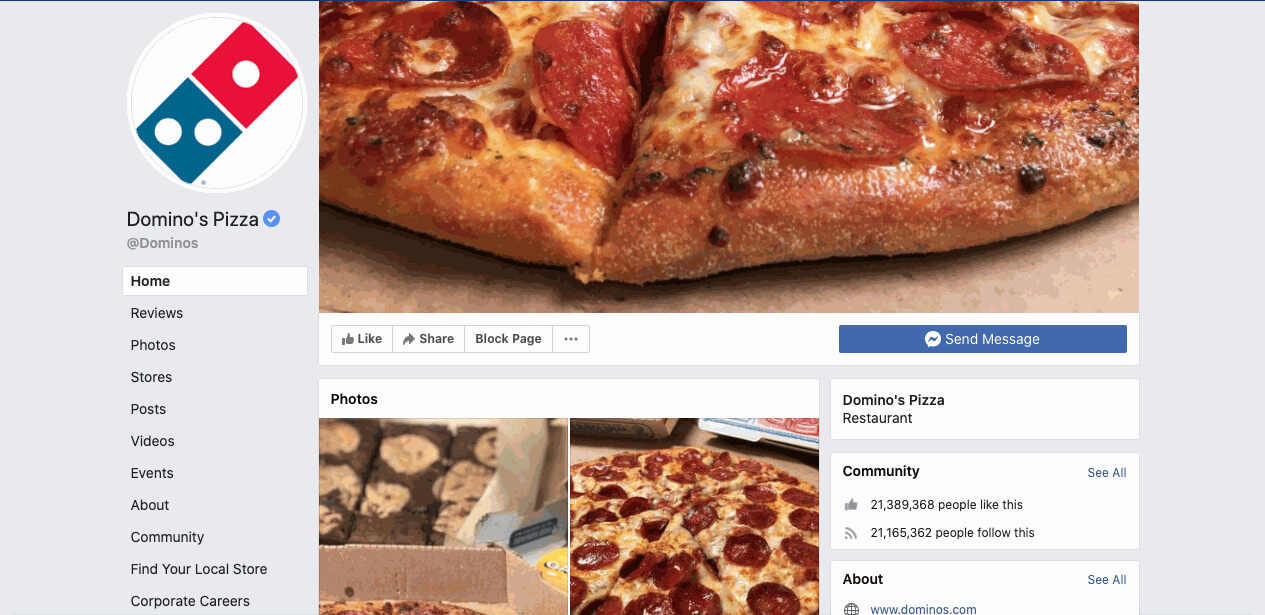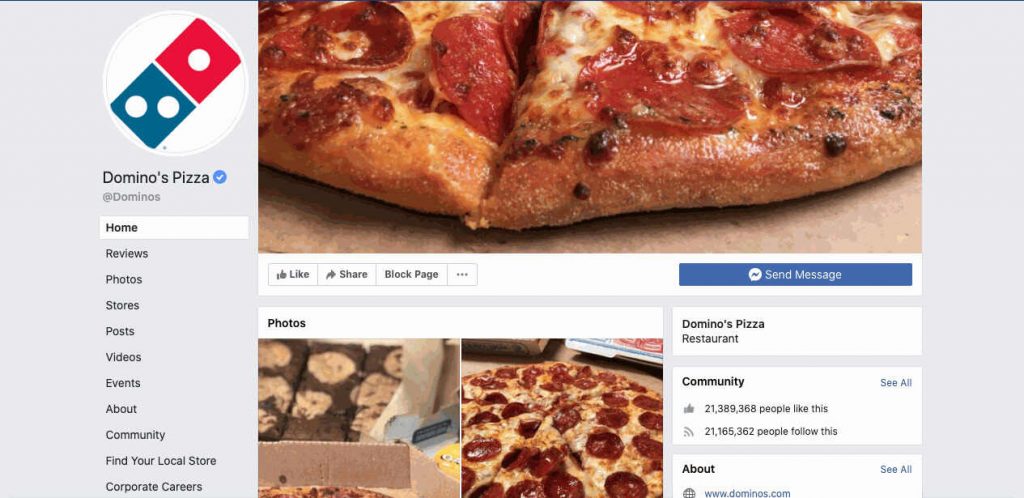 Industry: Food and drinks
Chatbot platform: Facebook
Domino's has gained a lot of clients with their customizable pizza orders on their website and with that same functionality in their app. It allowed people to "create" their pizza step by step before sending the order to the restaurant.
That's why it is unsurprising that their next step was to set up a chatbot to do just that, but on Facebook.
This allowed users to use one of Domino's pizza's most attractive functions, all while navigating on their social media.
Learn from it:
Never stop evolving and adapting. People used to connect with their favorite brands by visiting their websites. These days, most people prefer connecting via social media.
What part of your experience can be automated and transformed into a chatbot?
6. GearBunch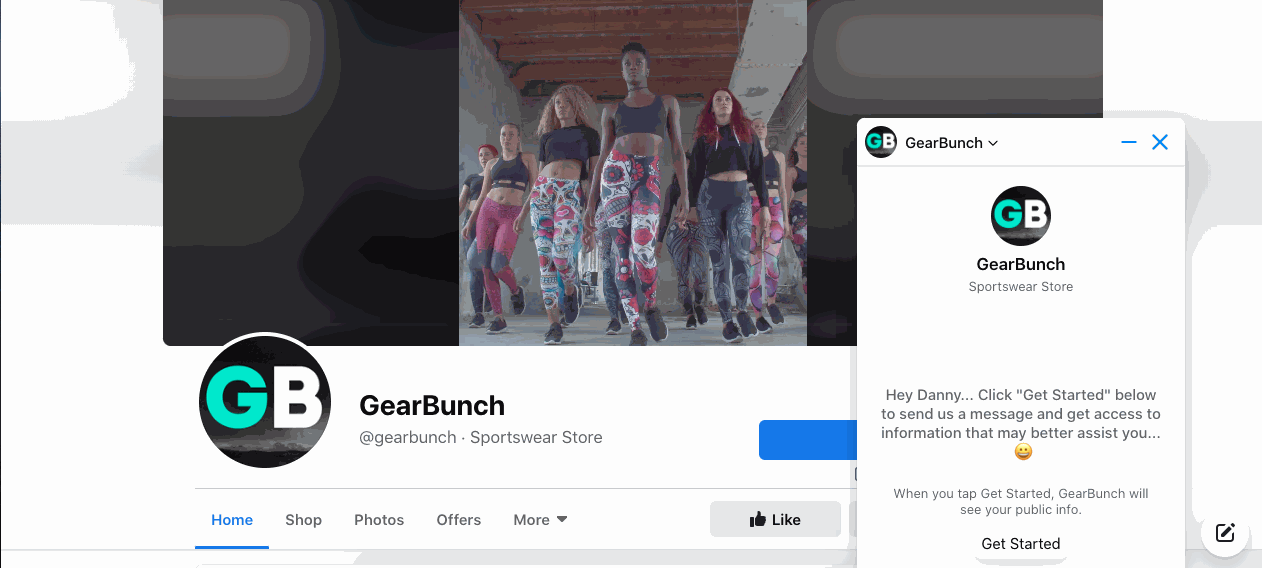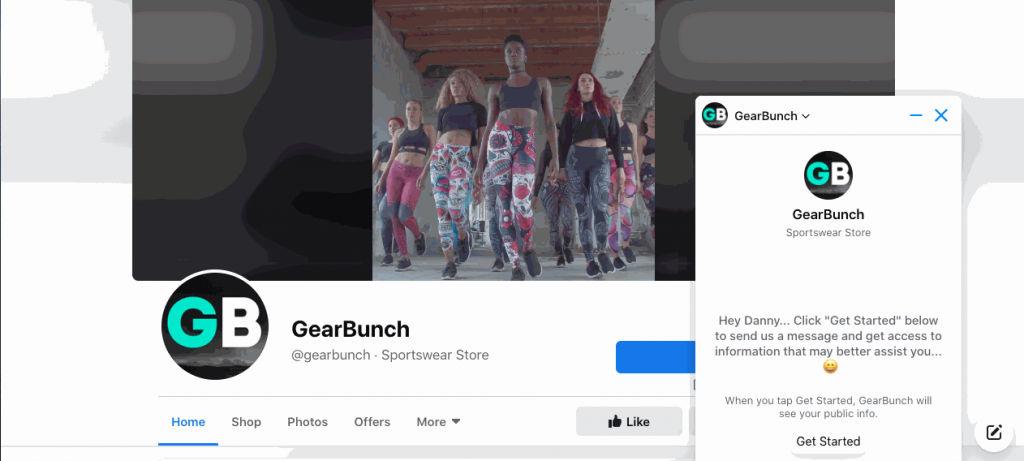 Industry: Sportswear
Chatbot platform: Facebook
GearBunch is a sportswear company that stands out from the rest with its eye-catching prints. With the help of Betty the Facebook bot, users can navigate their eccentric-looking prints to find the ones they like the most.
Betty's role is to be a personal shopper for the user, recommending products and helping the user browse through its catalog. Although this is fairly common, Betty is different because its role doesn't end if a customer doesn't convert.
Instead, Betty follows up with users that have dropped off their customer journey by sending targeted offers, coupon codes, and even recovering abandoned shopping carts.
These incentives help target people who are far more likely to convert later on, instead of fully focusing on just attracting new customers.
Learn from it:
A chatbot's job doesn't necessarily end by either getting a conversion or failing at it. Your chatbots can use information from their past interactions to retarget users, potentially leading to conversion even after the user has failed to convert the first time.
7. BabyCentre UK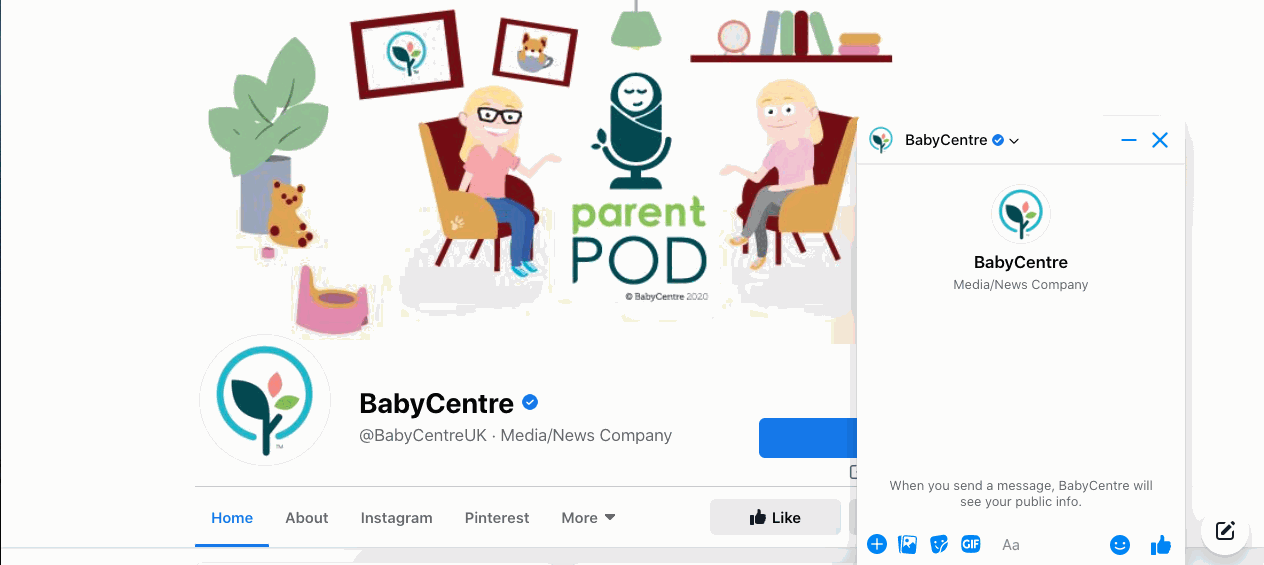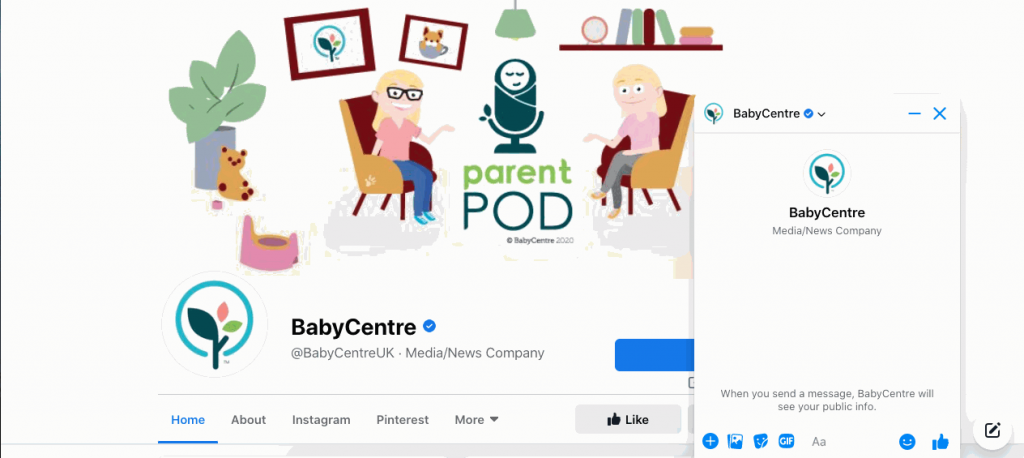 Industry: Pregnancy and childcare
Chatbot platform: Facebook
Owned by Johnson & Johnson, BabyCentre UK is a British pregnancy and childcare resource. As such, it requires powerful capabilities to interact with users and resolve their queries as quickly as possible.
Its Facebook chatbot interacts with users, gathering information about their babies or children, and suggesting personalized content for them.
The key here is the level of personalization the chatbot uses. By getting exactly the amount of information it needs from new parents, BabyCentre UK can offer extremely personalized advice and content linking back to its website, which generates a lot of views and engagement.
Learn from it:
If you want people to engage with your inbound marketing, you need to give them very engaging content. Tweak your chatbot to get the exact amount of information it needs to personalize its attention, without asking for too much information.
This will allow your chatbot to send your user content they actually want to open.
8. Sephora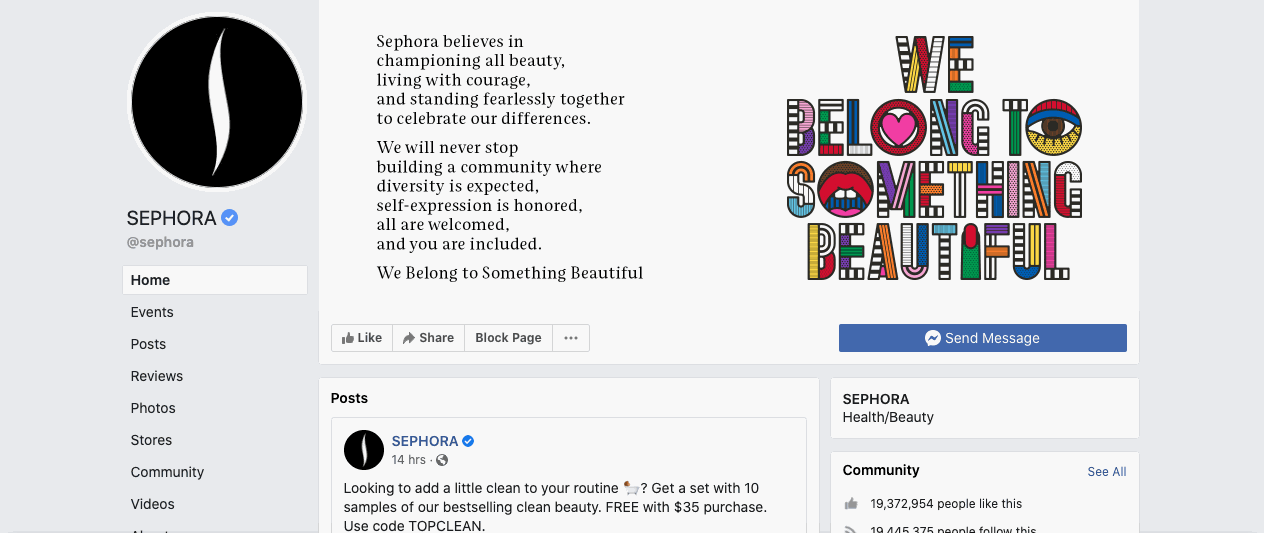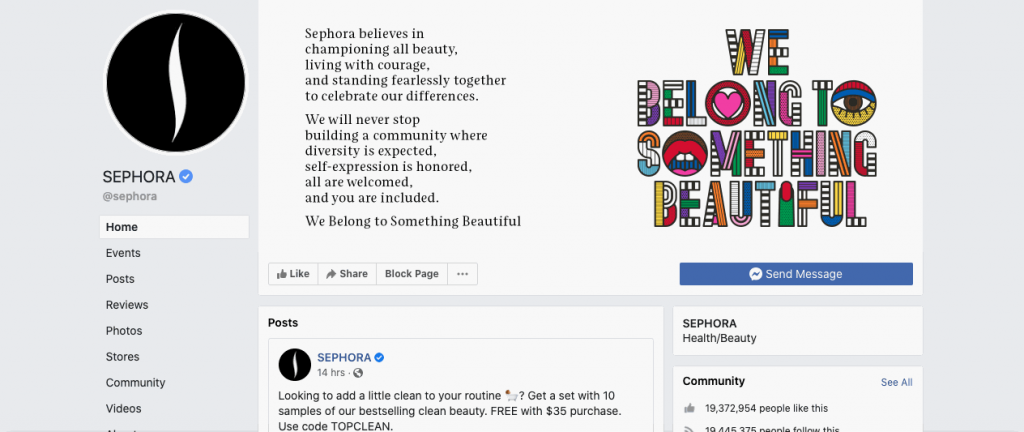 Industry: Fashion
Chatbot platform: Facebook
You can't talk about amazing sales chatbots without mentioning Sephora. Its popular Facebook chatbot is extremely powerful while making everything as simple for the user as possible.
Through its chatbot, people can interact with the brand without ever leaving Facebook Messenger or talking to a live agent. Users can book appointments, browse new products, and even try on makeup through its AR filters—all within the chat. The chatbot then uses user information to let people know about sales, events, and bookings related to the user and happening in their location.
Sephora's chatbot is so popular, it even attracts users who are only interested in interacting with it, making its mere existence a powerful marketing tool.
Learn from it:
Your chatbot may not be very powerful right out of the box, but it doesn't necessarily have to be. Keep your chatbot relevant by making it fun to interact with, and carefully see which interactions users like the most to slowly grow your chatbot into something bigger.
9. Ben & Jerry's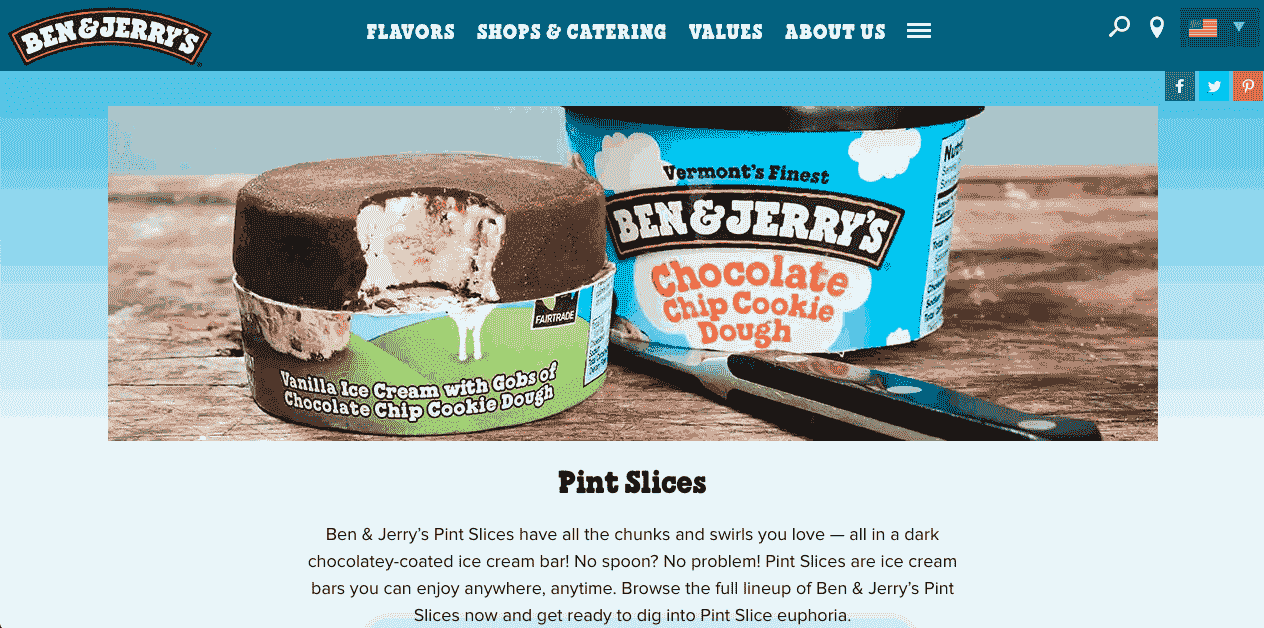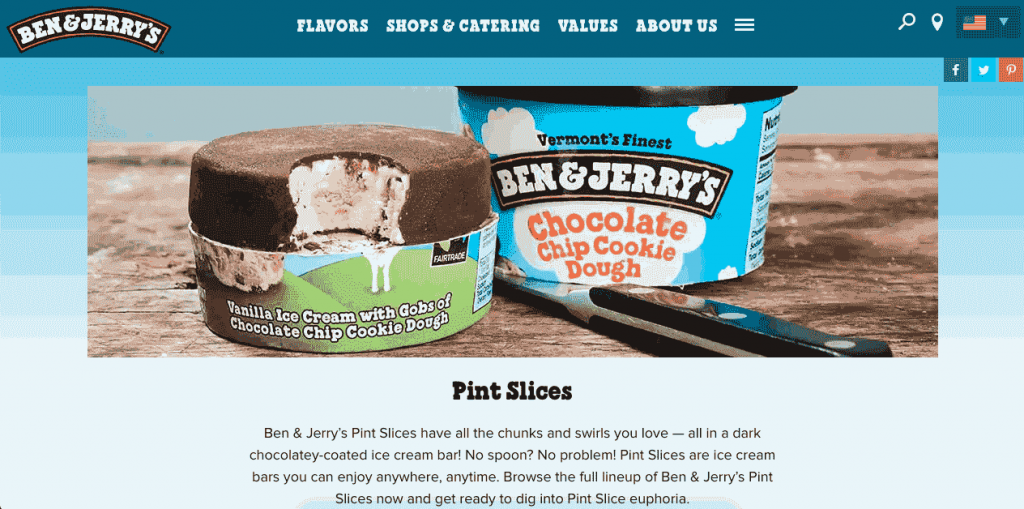 Industry: Food
Chatbot platform: Third party
In 2017, when Ben & Jerry's was launching their new Pint Slices, they developed a huge online marketing campaign to give people free samples.
They bought online ads to promote the campaign and give users QR codes they could exchange for free samples at their vending machines. And to help manage it all, they build a chatbot for their website to engage with the users.
The chatbot answered questions and captured user data to better understand the user in order to cater to them in the future.
Learn from it:
Chatbots aren't only used to sell items. They can be valuable tools to aid you in a particular marketing campaign, they can collecting data, and they can engage with your users.
If you're building a digital campaign, build a chatbot that can go with it to aid your users throughout the process.
10. Expedia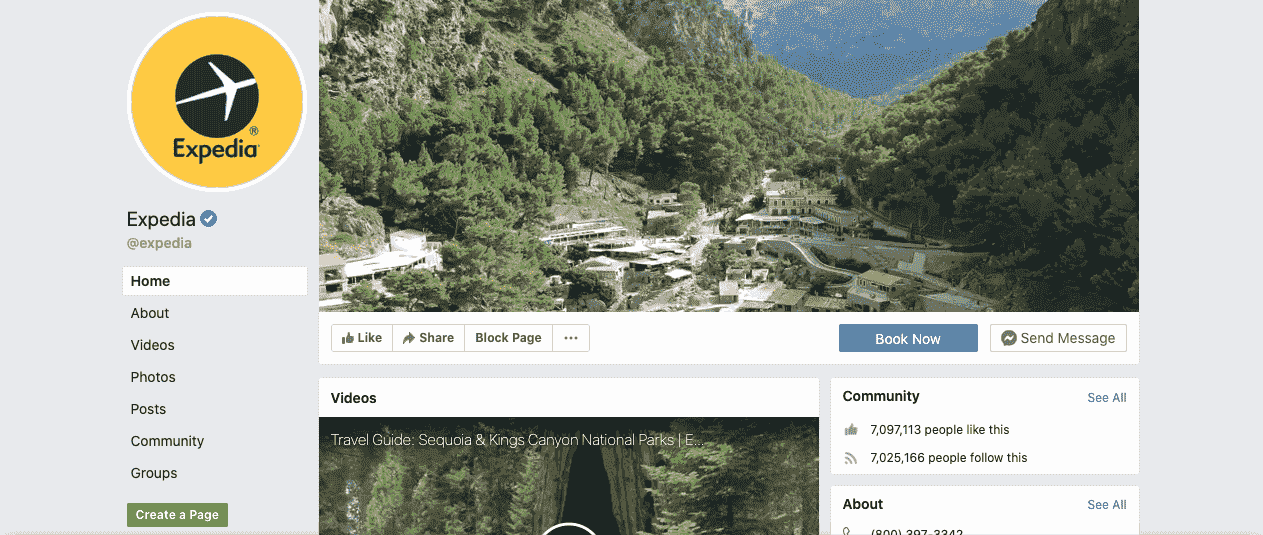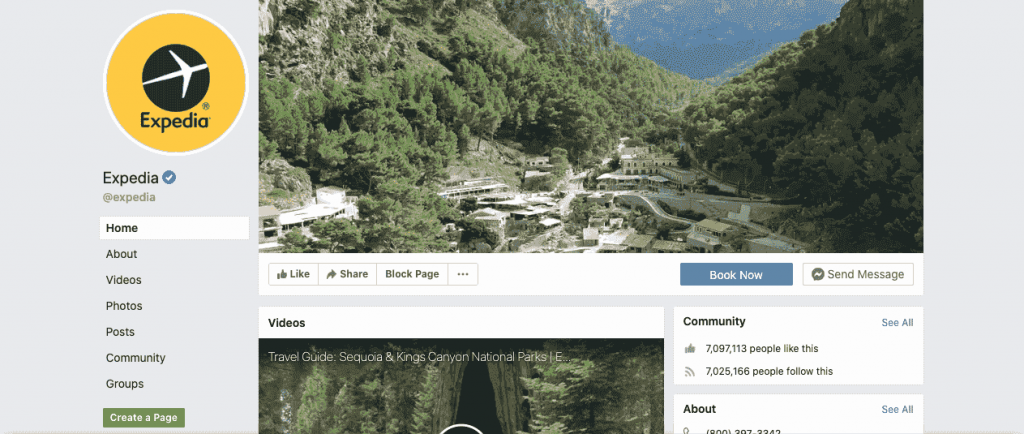 Industry: Fashion
Chatbot platform: Facebook
Expedia has always tried to maintain a presence where it matters, like with skills for Alexa, plugins for Skype, and, of course, a powerful chatbot for its Facebook page.
The Expedia chatbot allows the user to look up hotels in the right area and timeframe and gives the user five options. Then the bot redirects the user to the website to complete their purchase.
However, the bot's job doesn't end there. Once the hotel has been reserved, the chatbot sends the user their booking information and provides the user with customer service for the next couple of months.
Learn from it:
Your sales chatbot can handle more than just sales. Instead, program it so once the sale is completed, it can use the data it already has to switch into a customer support chatbot to aid your customer through their onboarding experience.
11 Outstanding Customer Service & Support Chatbot Examples
Customer service chatbots are an amazing way to provide customer support around the clock and help customers find answers to their queries as they need to—without overwhelming your customer support team.
Here's how companies are using customer service and support chatbots today:
1. Etsy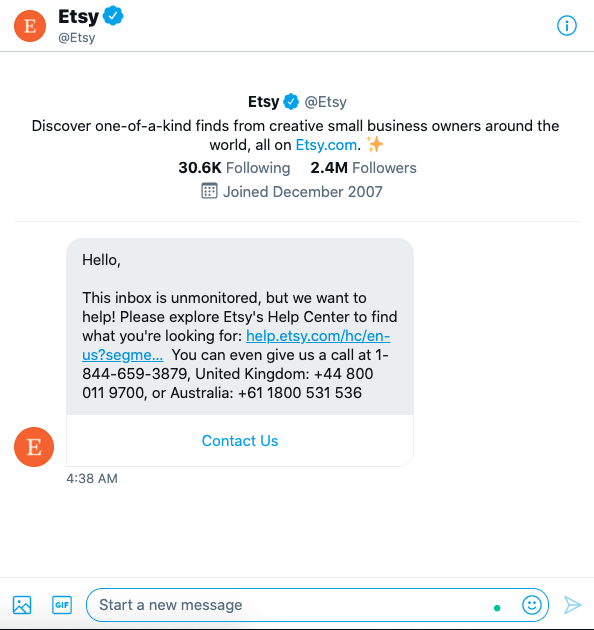 Industry: Online Marketplace
Chatbot platform: Third-party
Etsy is a giant marketplace, and as such, it receives innumerable help requests from buyers and sellers every day. That's why rather than focusing on being fun or quirky, Etsy's chatbot focuses instead on helping the user as quickly as possible.
By interacting with the chatbot, the user is given clear CTA buttons to navigate between potential queries and get the answers they're looking for. Plus, the chatbot opens with ways to contact a live agent from the start.
Learn from it:
Having a fun and quirky chatbot is only fun when the chatbot works to perfection. Instead of focusing so much on tone, start by focusing on value. Program your chatbot with the answers your users are looking for, and make them easy to find.
2. Bank of America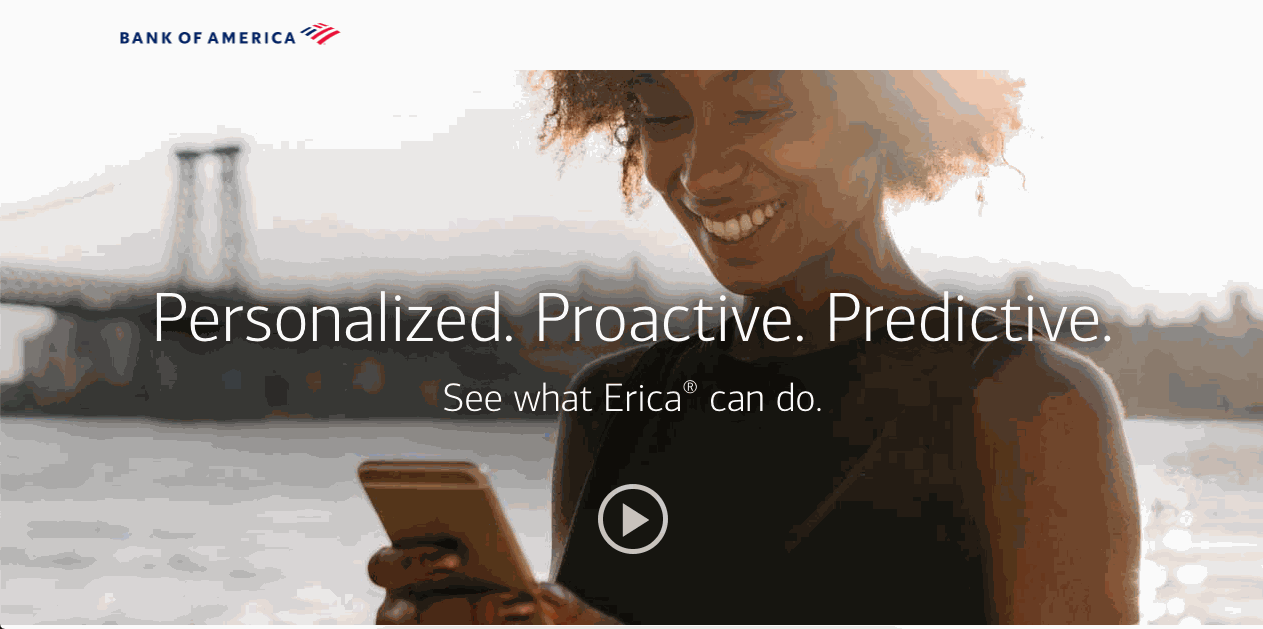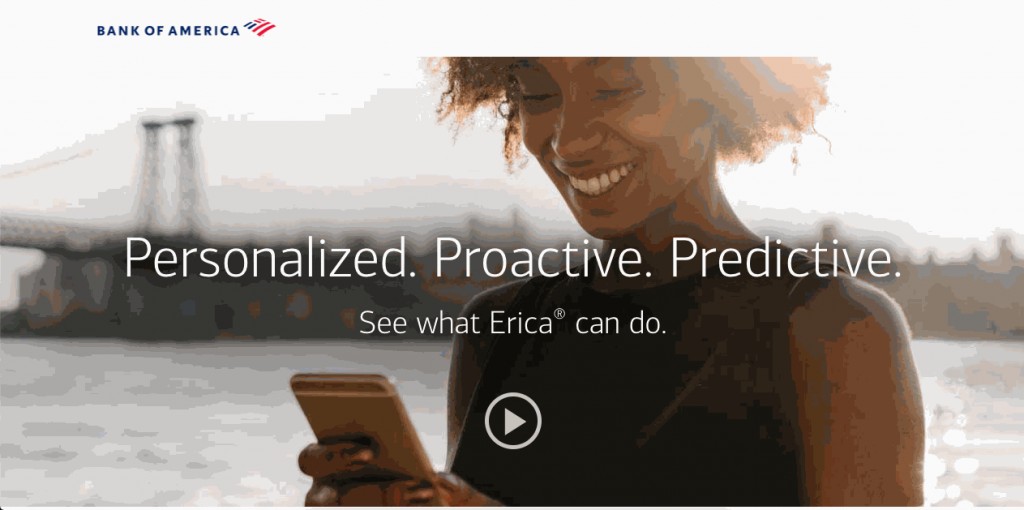 Industry: Finance
Chatbot platform: Third-party
Bank of America knew that a simple Facebook chatbot wasn't going to be enough. After all, the main thing users want from a bank is to get the help they need as quickly as they need it and in a personalized manner.
Instead, Bank of America designed Erica to become an in-app financial assistant. It can provide account balances, schedule payments, pay bills, and even suggest solutions while still maintaining relevance to the user.
Learn from it:
Erica may be a powerful and impressive chatbot, but it didn't start like that. It started with simply scheduling payments. Similarly, you can build a basic but useful chatbot and use customer data to keep expanding it in the right direction.
3. Patrón Tequila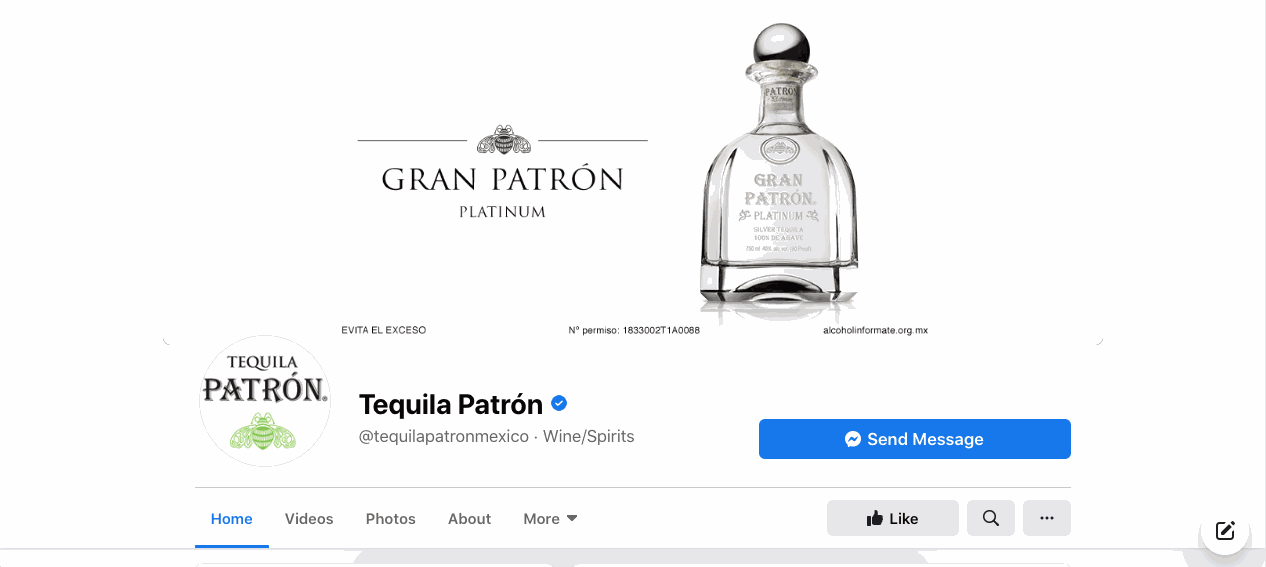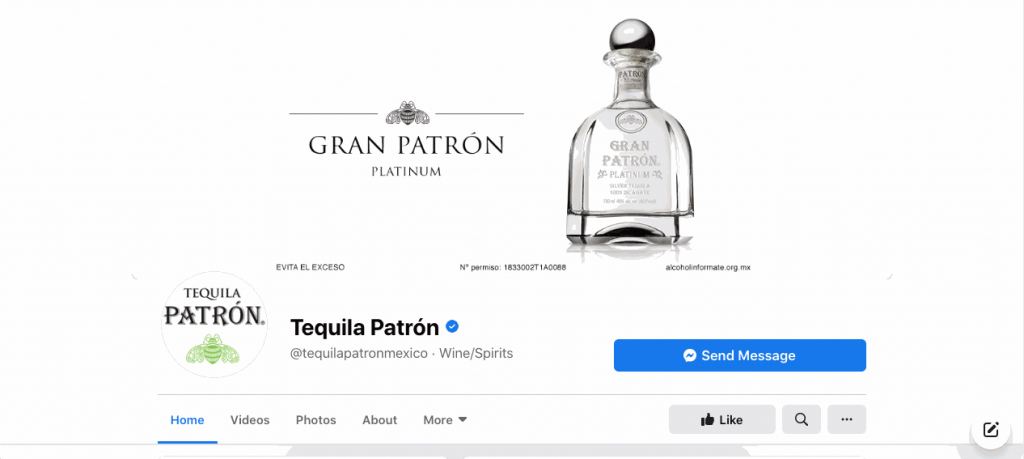 Industry: Food and drinks
Chatbot platform: Facebook
Patrón Tequila's chatbot is a perfect combination of unique style, great customer service, and personalized content delivery. The bot introduces itself as an actual person, and it's loaded with multiple recipes for the user to experiment with their tequila.
Finally, once the user has chosen a recipe, the chatbot encourages the user to share their creation on social media using the #SimplyPerfect hashtag. This encourages a constant flow of user-created content.
Learn from it:
User-generated content is always a good tactic for getting your brand out there. Use your chatbot to encourage people to post about your brand after a having good experience with it.
4. Duolingo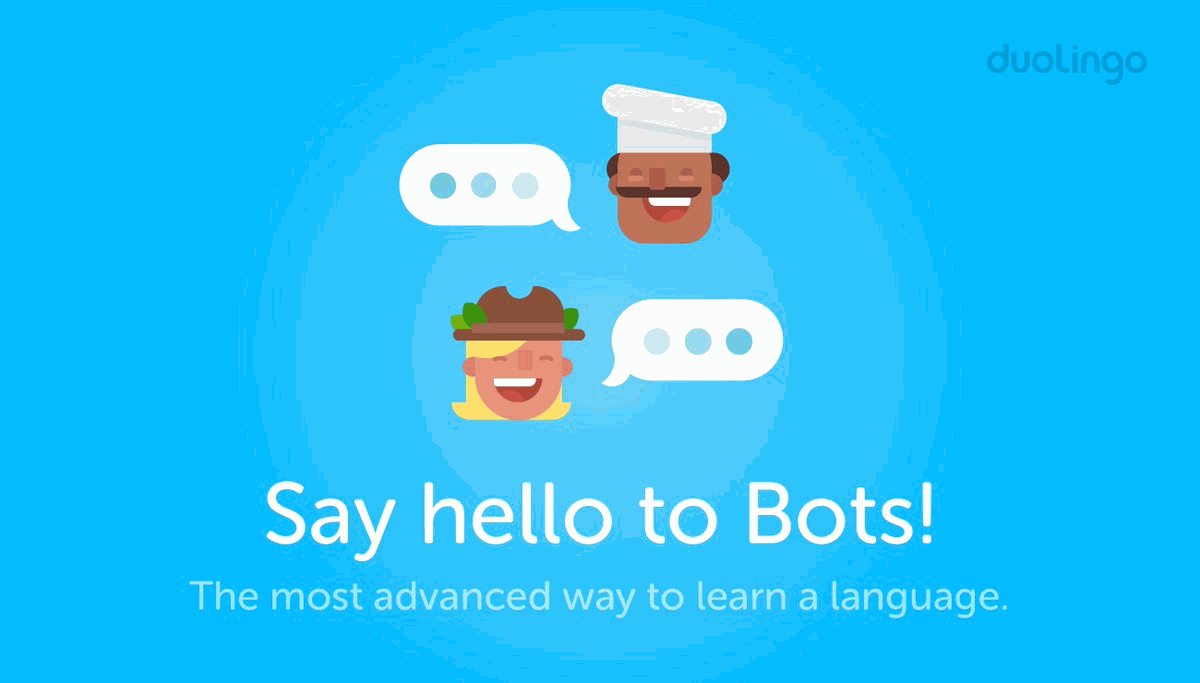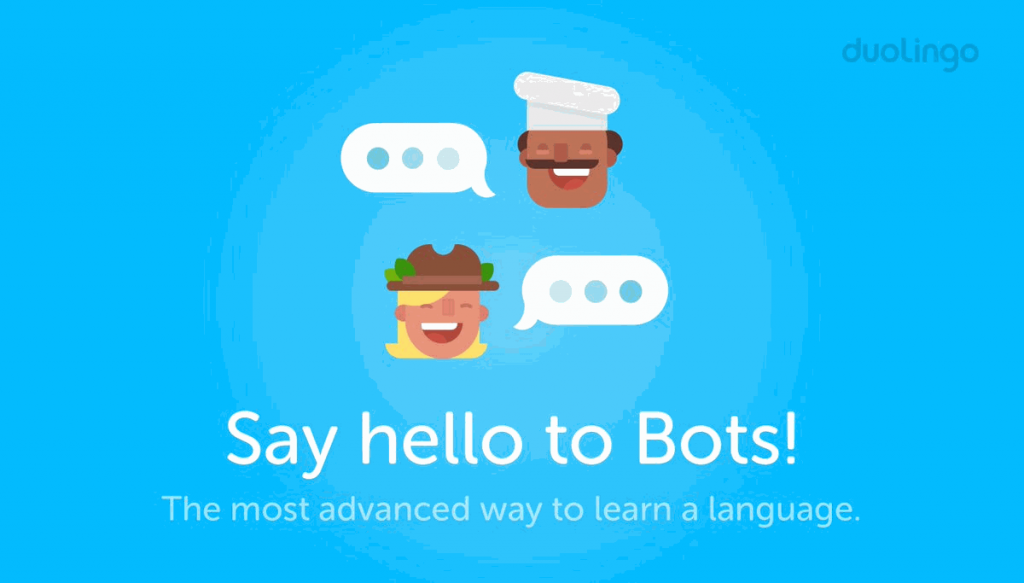 Source: Duolingo
Industry: E-learning
Chatbot platform: Third-party
One of the hardest things when learning a language by yourself is finding people to practice with. That's why, in 2016, Duolingo temporarily launched chatbots to help users practice their new language.
This encouraged people to practice until their confidence was good enough to practice with a real person. Users could practice free of judgment, 24/7. Although Duolingo later took the chatbots down, users today are still asking Duolingo to bring them back.
Learn from it:
The most important thing you can do with a chatbot is to solve your customer's pain points. Create a customer service chatbot with those pain points front and center, and you'll end up with a great chatbot that people actually use.
5. Air France — Chatbot Lucie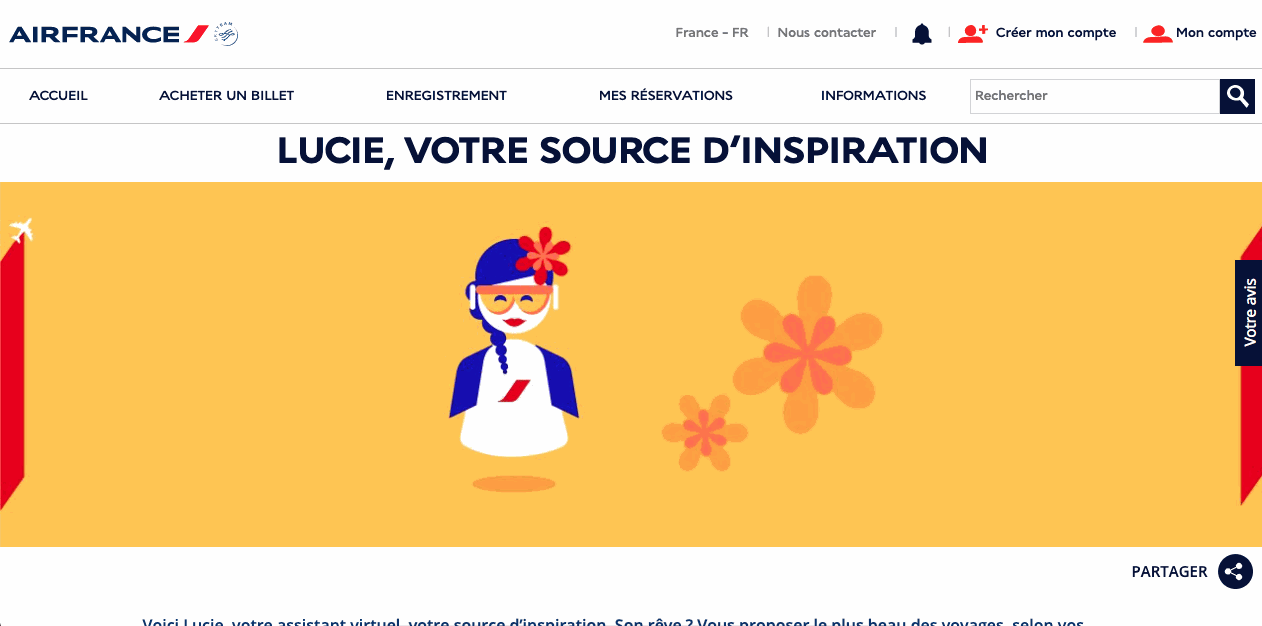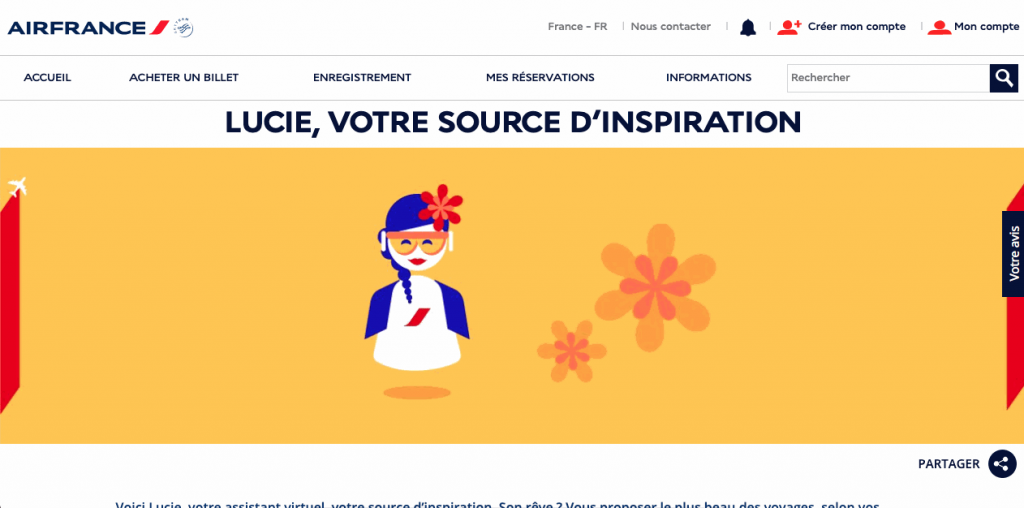 Industry: Travel
Chatbot platform: Third-party
In 2018, Air France created Lucie, a Facebook customer support chatbot designed to help users plan their trips.
Since many users don't have a specific location in mind when deciding to book a vacation, Lucie was meant to suggest potential destinations based on the user's feelings, manifested through emojis.
Although the chatbot isn't online today, it was a very interesting experiment while it lasted.
Learn from it:
While Lucie was a very unique chatbot, it didn't last for long because it wasn't based on enough customer information.
If you want your chatbot to last, a good idea isn't enough. Instead, act on data-driven decisions if you want to fully cater to your audience.
6. Nykaa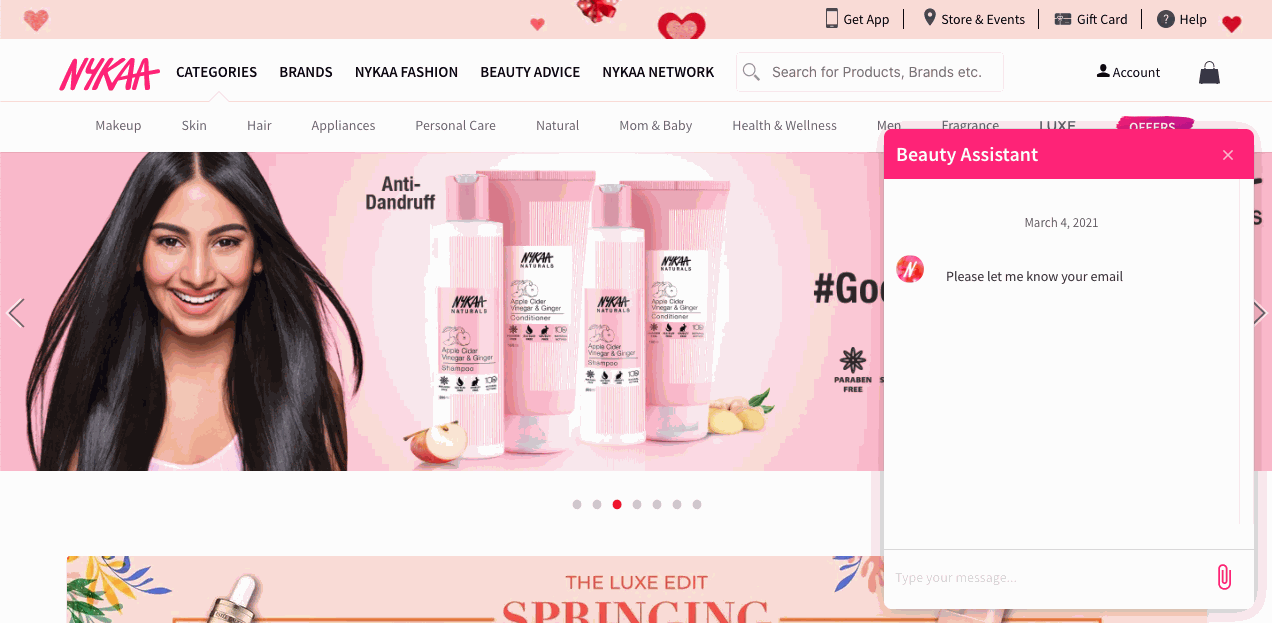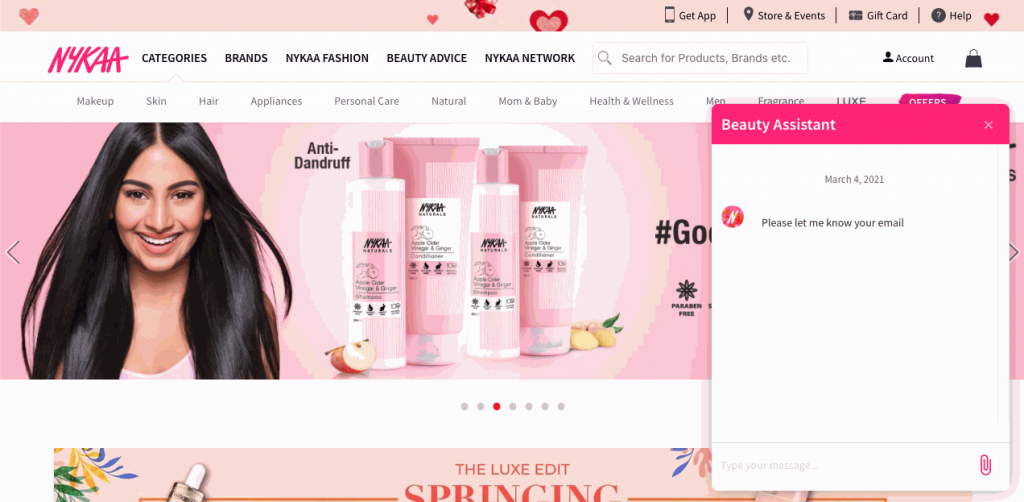 Industry: Beauty products
Chatbot platform: Third-party
Although somewhat unheard of in the Western market, Nykaa is one of India's largest e-commerce businesses. So, instead of going for a very simple chatbot, they went with a Beauty Assistant, helping customers browse through their products while giving them the experience of chatting with someone about their needs.
The result? 1.6 million unique conversations within the first 30 days of using a chatbot.
Learn from it:
This is a very clear example of why every company needs a chatbot. Even the simplest chatbot, when implemented properly, can resolve more customer inquiries, increase customer engagement, and improve customer satisfaction.
7. Caesars Las Vegas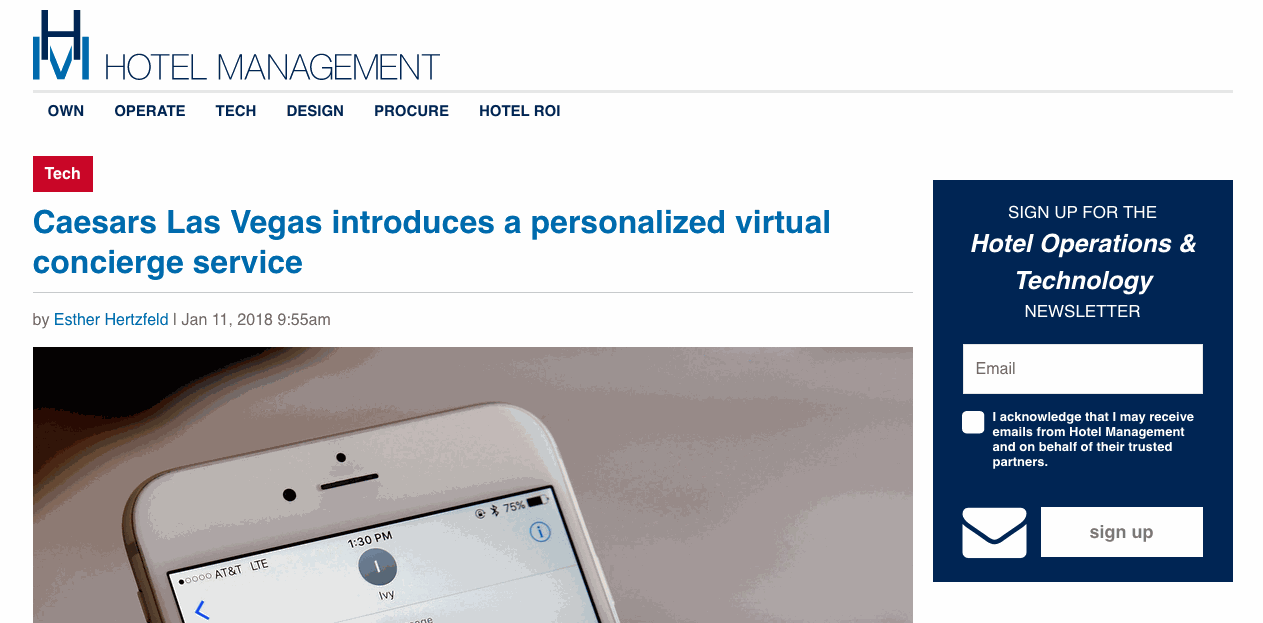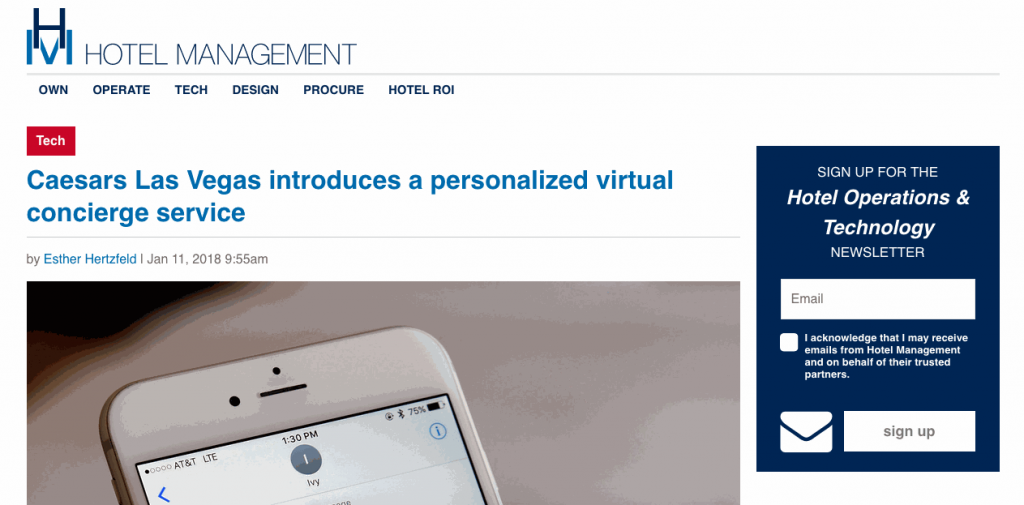 Industry: Hospitality
Chatbot platform: Third-party
The Caesars Entertainment Las Vegas resort had a question: how could they interact with customers and give them the service they need around the clock? The answer was simple: With a chatbot.
At the end of 2016, the company launched Ivy, a 24-hour virtual concierge service that can provide users with the things they needed—anything from room service and general information to a couple of extra towels—all by simply sending an SMS.
Learn from it:
Chatbots can help your customers around the clock. If you want to build a highly-functional chatbot, look into your user's most common requests so you can fulfill them with a chatbot. By doing so, your users will seldom miss your customer support team when they're not available.
8. Techcrunch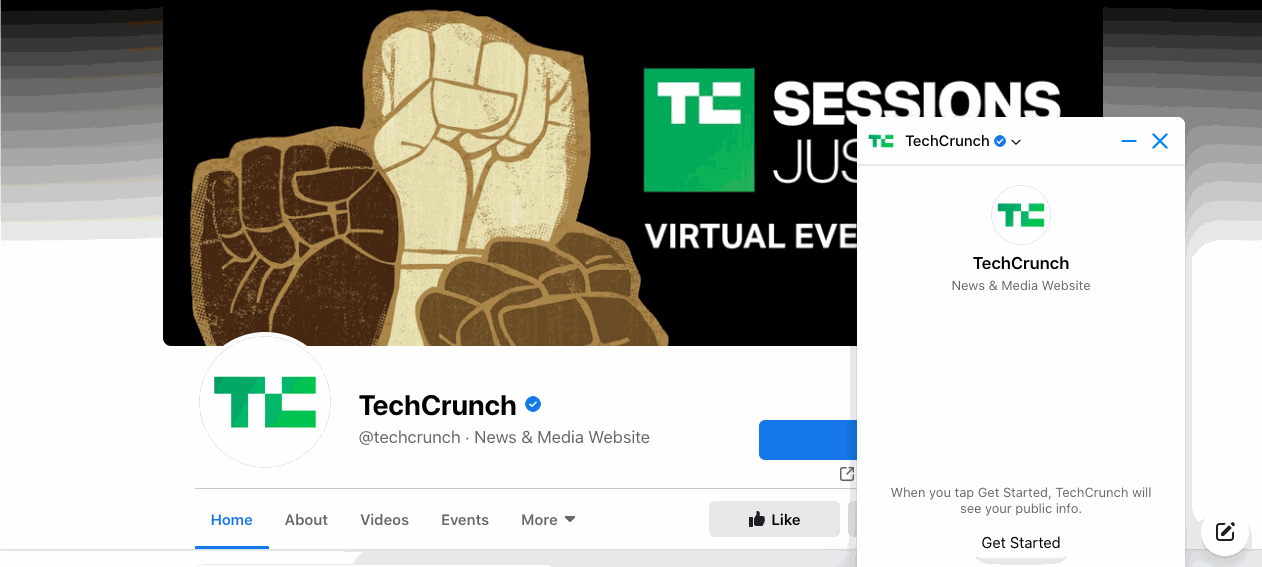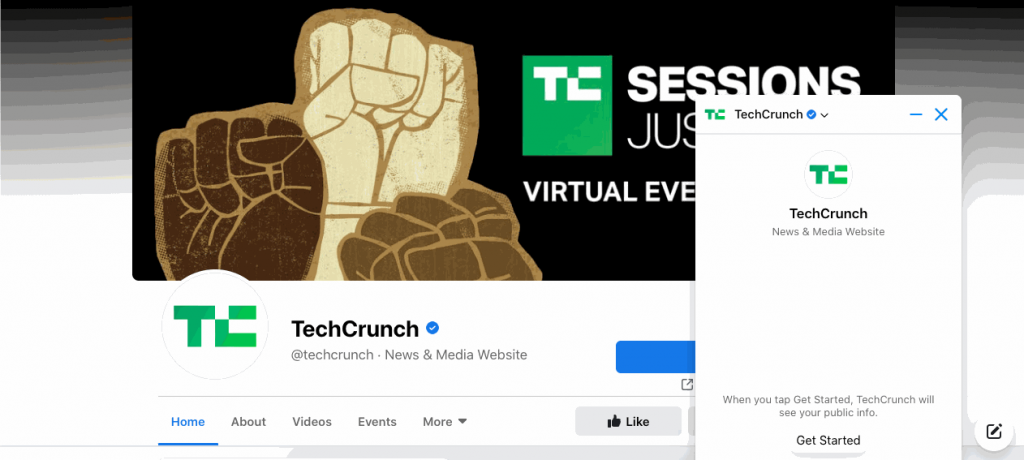 Industry: Technology
Chatbot platform: Facebook
TechCrunch is a popular magazine about technology that uses its chatbots to improve content deliverability.
With a streamlined approach, the TechCrunch chatbot remembers what users have read and what they prefer to read about in order to recommend other stories to them.
By doing so, users can easily narrow down the website's large number of articles into just the ones they're interested in.
Learn from it:
Use chatbots to empower your users while giving them as much value as possible. If your users feel in control, they're more likely to interact with your chatbot.
9. HDFC Bank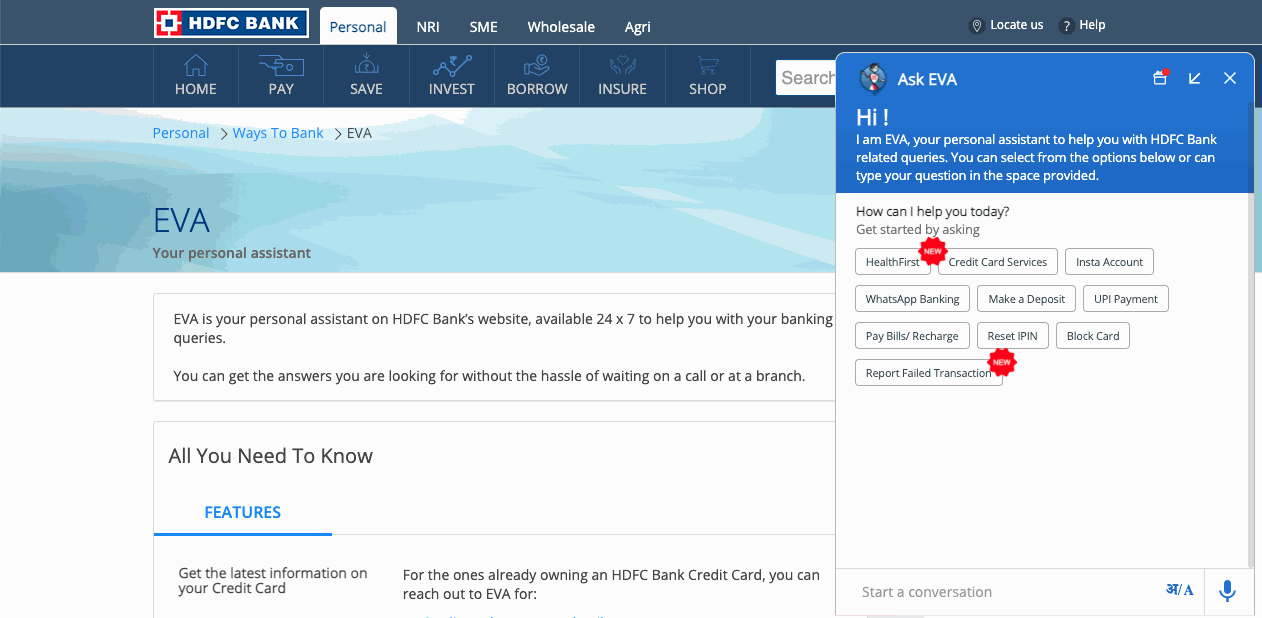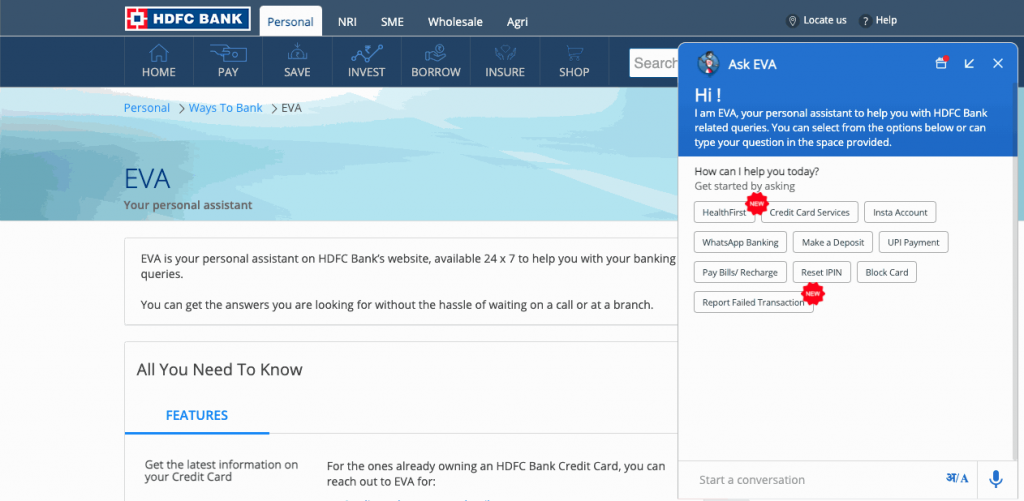 Industry: Finance
Chatbot platform: Third party
We've already seen a great example of chatbots in finance. However, this chatbot may have some of the most powerful technology behind it.
Eva is the HDFC Bank's chatbot and acts as a financing personal assistant. Backed by the latest in AI and NLP technology, it handles over 20,000 conversations with customers every day.
The best part? Eva has practically everything the customer needs, making it a real alternative to picking up the phone or even going to the bank.
Learn from it:
Even the most powerful chatbot will remain unused if not marketed properly. Give your chatbot a name and place it front and center. You may even create its own landing page where you explain exactly what your chatbot can do and how it can help your users, so they will always know what to expect and how to get it.
10. Marriott Hotel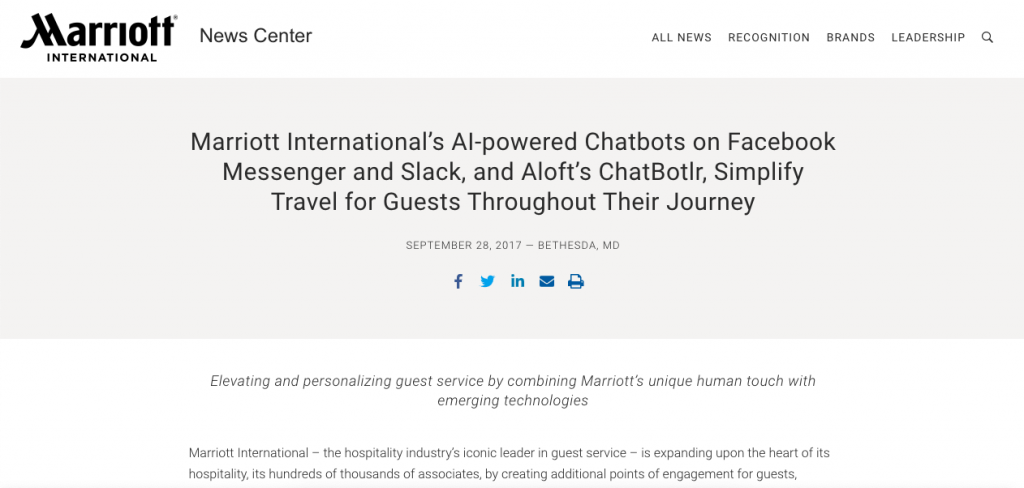 Industry: Hospitality
Chatbot platform: Third party
In 2017, Marriot introduced ChatBotler, a chatbot that users could contact through Facebook Messenger, Slack, WeChat, and even SMS.
The chatbot acted as an in-phone concierge for users to request services, connect to the front desk, and even listen to Marriot's playlist. Plus, Marriot Rewards members could interact with the chatbot to research and book reservations in over 4700 hotels around the world.
Learn from it:
Offer your chatbot as both a simple and a premium service for your customers. This saves your customer service team time by taking care of the most repetitive parts of their jobs. By doing this, you'll know your live reps are only spending time where they really need to.
11. CNN chatbot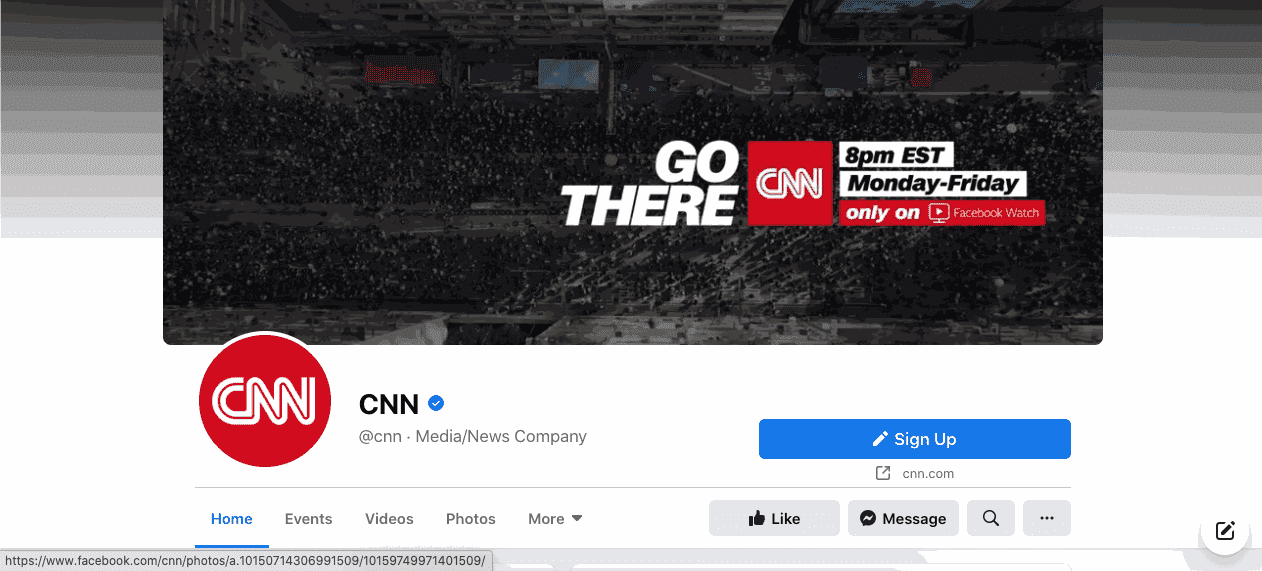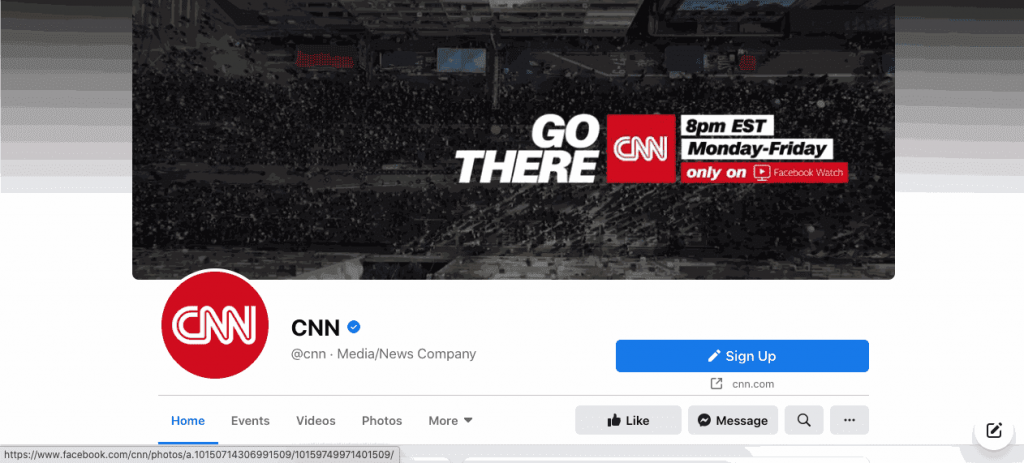 Industry: Media/News
Chatbot platform: Facebook
CNN is a massive corporation that is constantly breaking new stories. No one can (or wants to) read them all.
The solution? A chatbot that curates the news the user wants to read, so they're always informed. When the user continues to engage with the chatbot, the chatbot gets better at making accurate suggestions for the user to read.
Learn from it:
Use customer data to keep improving your chatbot. You can never have a perfect chatbot, but with enough customer data and testing, you can come really close.
Conclusion
Chatbots are here to stay. They can help you in multiple ways and can make your customer service and sales processes improve practically overnight.
If you're looking to build a chatbot the easy way, check out our chatbot services and sign up for Messagely today.