In this article, we'll go through the 20 best chatbot apps that will allow you to create chatbots the easy way.
With chatbots, you can provide better customer service, make more sales, and engage with your audience 24/7, without the expenses of live customer support. They will help you to know that your live reps are spending time with people who need live reps, instead of having them answer the same questions over and over again.
We'll evaluate the chatbot apps based on things like:
Capabilities
Ease of use
Features
Price
By the end of the article, you'll know exactly which tools to use to develop your chatbots.
Let's get started.
Top 20 Chatbot Software for Your Business
Here are the 20 best chatbot tools out there:
1. Messagely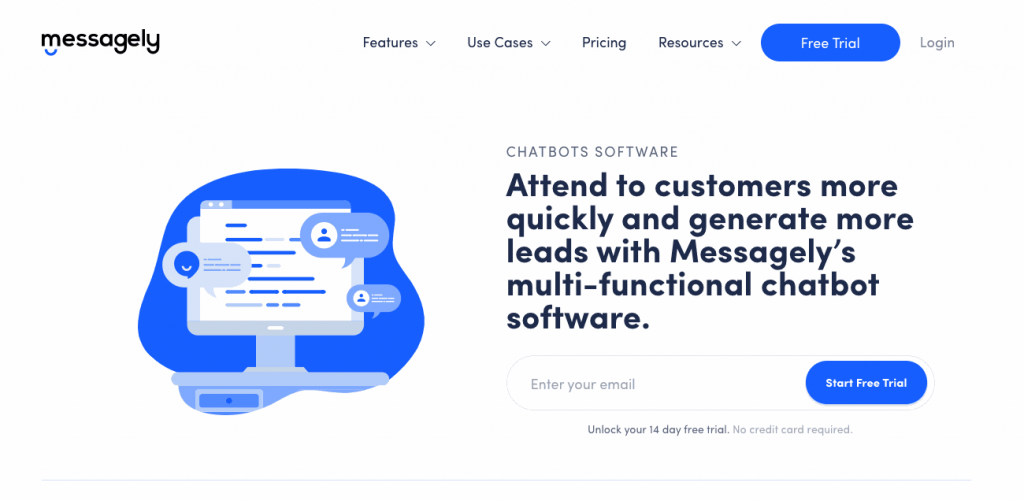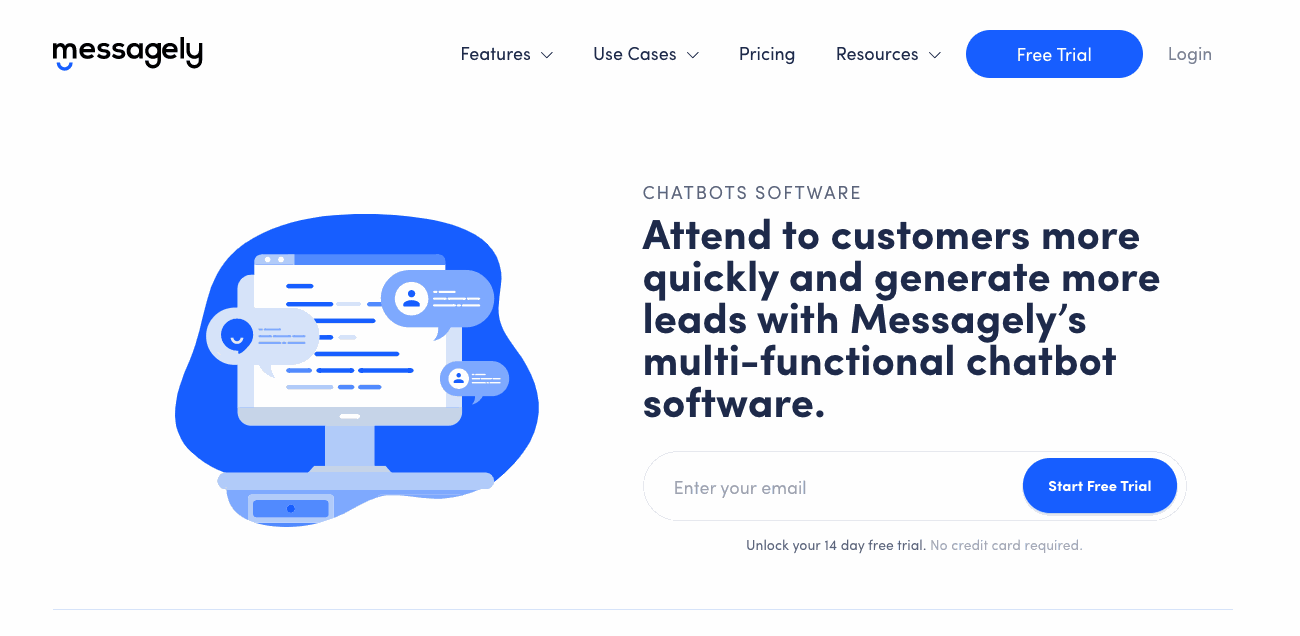 With Messagely, you can handle all of your messaging needs including knowledge bases, live chats, targeted messages, and of course, easy chatbot creation. You'll receive a complete package that will not only fit within your budget but also seamlessly connects with the rest of your communication tools.
Messagely's chatbots allow you to easily handle common customer queries, generate leads, and even qualify leads for you around the clock.
Here's how:
Chatbots for meetings
With Messagely, you can quickly create a chatbot that will take care of your schedule for you. Your chatbot for meetings will behave like a virtual assistant, working for you around the clock.
With it, you can:
Allow qualified users to book appointments with you
Qualify leads to fast track meeting them
Route the best leads to you and your team for follow up
Learn more about Messagely's chatbot for meetings here.
Chatbots for sales
Messagely's sales chatbots can generate and qualify leads for you 24/7, ensuring your sales team always gets the right leads at the right time. With Messagely, you can focus on hiring the best salespeople to finish converting leads, instead of hiring as many people as possible to talk to all leads.
With your sales chatbots, you can:
Generate leads around the clock
Qualify leads
Free up your sales staff from repetitive tasks
Reroute highly qualified leads to the right sales rep
Automatically interact with your leads through behavior triggers
Learn more about Messagely's sales chatbots here.
Chatbots for support
Messagely allows you to easily create chatbots to help you with customer support so you can seamlessly increase customer satisfaction and provide excellent customer service.
With your customer support chatbots, you can:
Answer to your customers instantly at any time of the day or night
Automatically answer common customer questions without a live agent
Connect your customers to self-help articles
Assign the right user to the right live agent
Learn more about Messagely's customer support chatbots here.
With Messagely's chatbots, you can completely automate your meeting scheduling, fast-tracking the highest-qualified leads so you can spend more time converting and less time with leads that won't go anywhere.
Pricing:
If you're looking for Chatbots, Mesagely's pricing starts at just $79 per month. This includes the full capabilities of Messagely:
Live Chat
Targeted Messages
Knowledge Bases
Advanced Reporting
Multi-brand
Account-Based Marketing
Advanced integrations
Since Messagely is for more than just chatbots, you can save money by getting an integral, multichannel platform to handle your customer interactions. And you can save time by making sure your chatbots seamlessly interact with the rest of your messaging capabilities.
Start a free trial with Messagely today.
2. ManyChat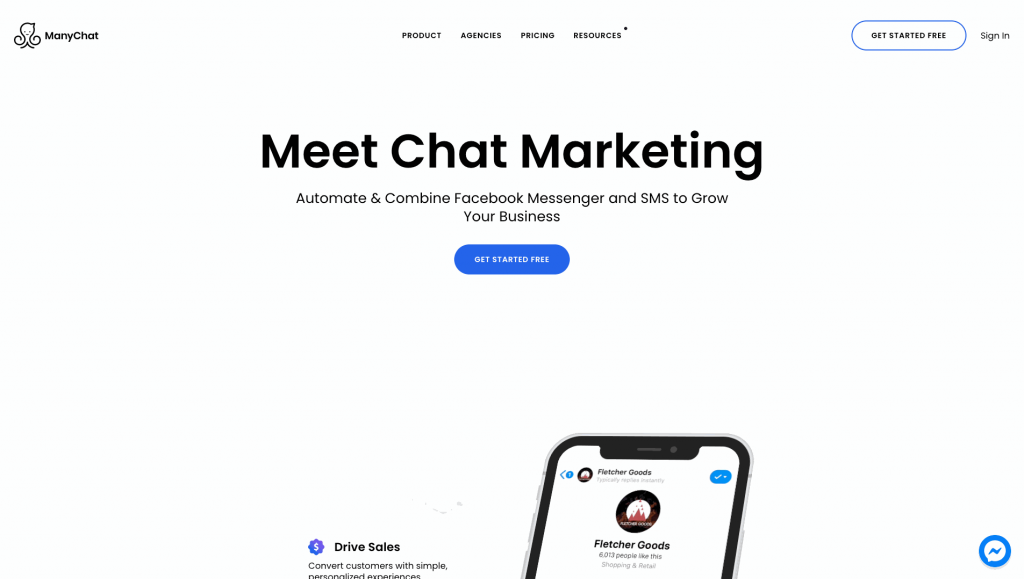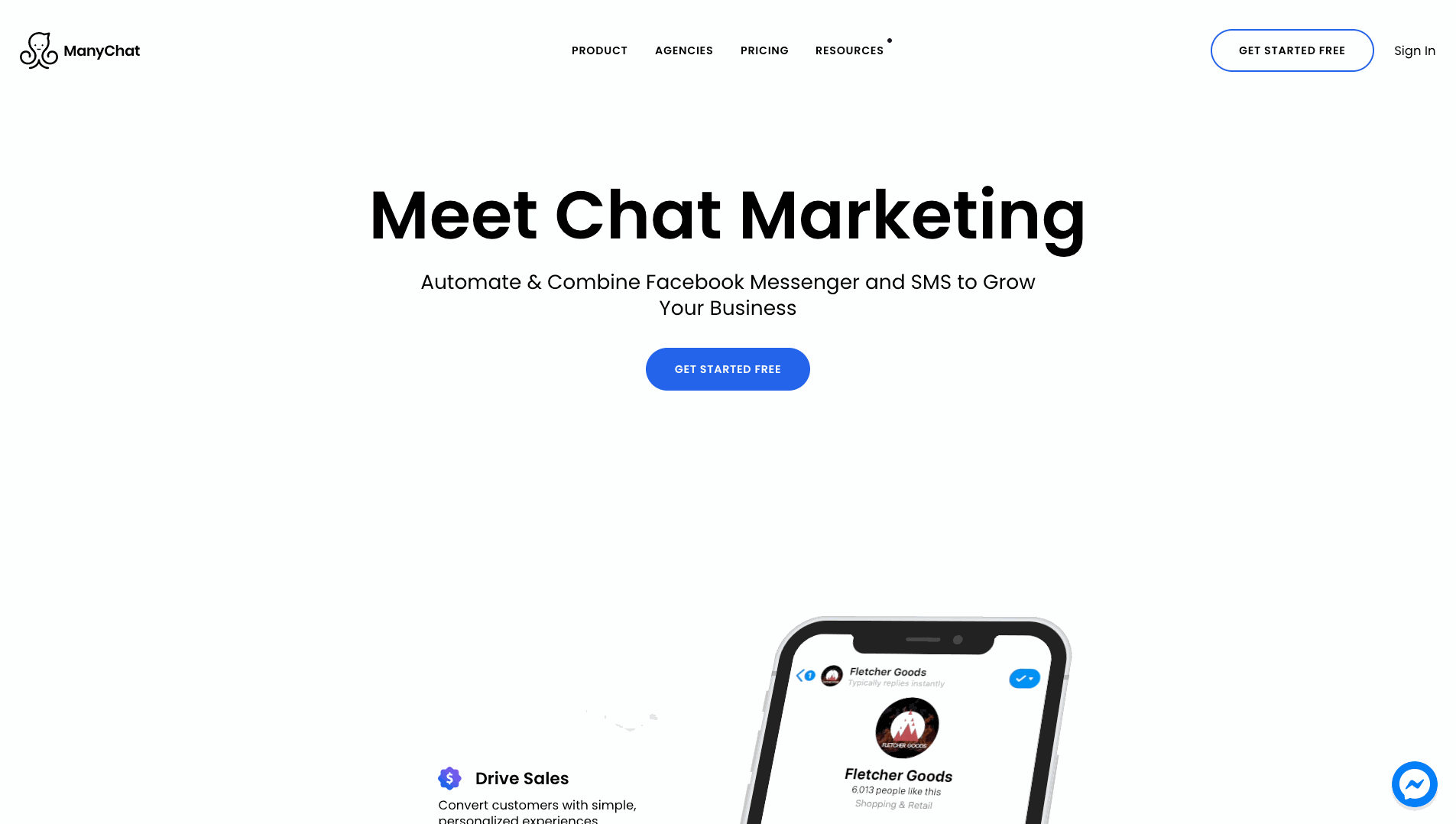 ManyChat is a popular Facebook chatbot creator. It features a very simple drag-and-drop style, making it attractive for novice users. However, its simplicity and its focus on Facebook, Shopify, and SMS may make this platform too simple for users looking for better, more comprehensive chatbots, or chatbots that work in any other platform.
The platform allows users to get started with templates and integrate their chatbots through online tools such as Shopify, MailChimp, HubSpot, and Zapier. Users also get simple segmentation capabilities and analytics.
Price
ManyChat offers a free account with limited features focused on Facebook Messenger chatbots. Paid accounts include Email and SMS, and pricing starts at $10 per month
3. WotNot
WotNot is another no-code chatbot development platform that allows for multichannel chatbot creation. Powered by a drag-and-drop interface, users won't need to understand coding to program chatbots.
The platform features multi-lingual support, live chat capabilities, and analytics to stay on top of everything. It allows users the option of creating chatbots from scratch or using free templates.
Once the chatbot has been deployed, WotNot keeps the user informed with daily updates and assigns users a dedicated account manager. This is included in the monthly subscription.
Pricing:
WotNot costs a flat fee of $99 per month with a limit of 10 bots per account. The platform only starts charging once the chatbot has been deployed.
4. Lobster by EBI.AI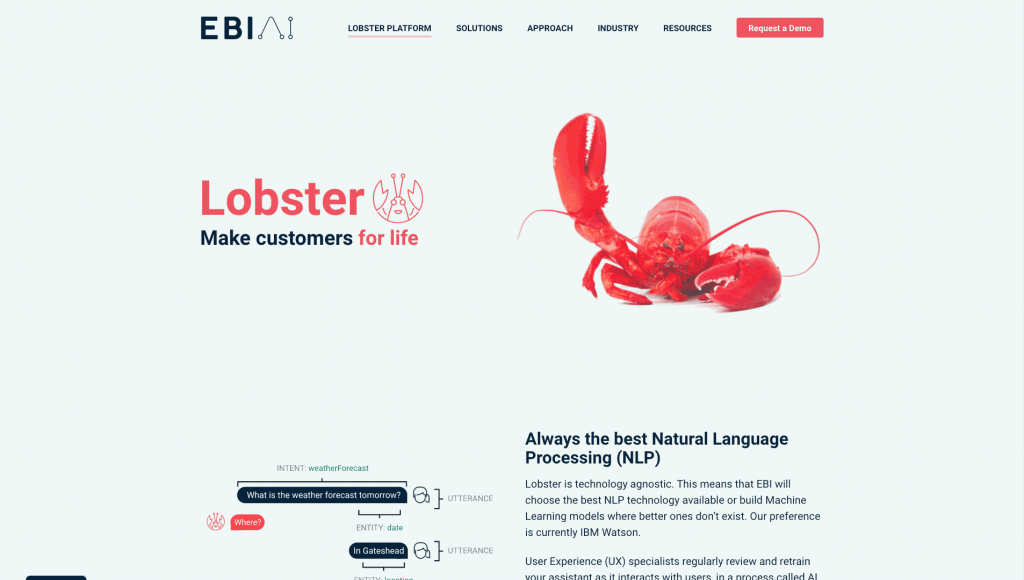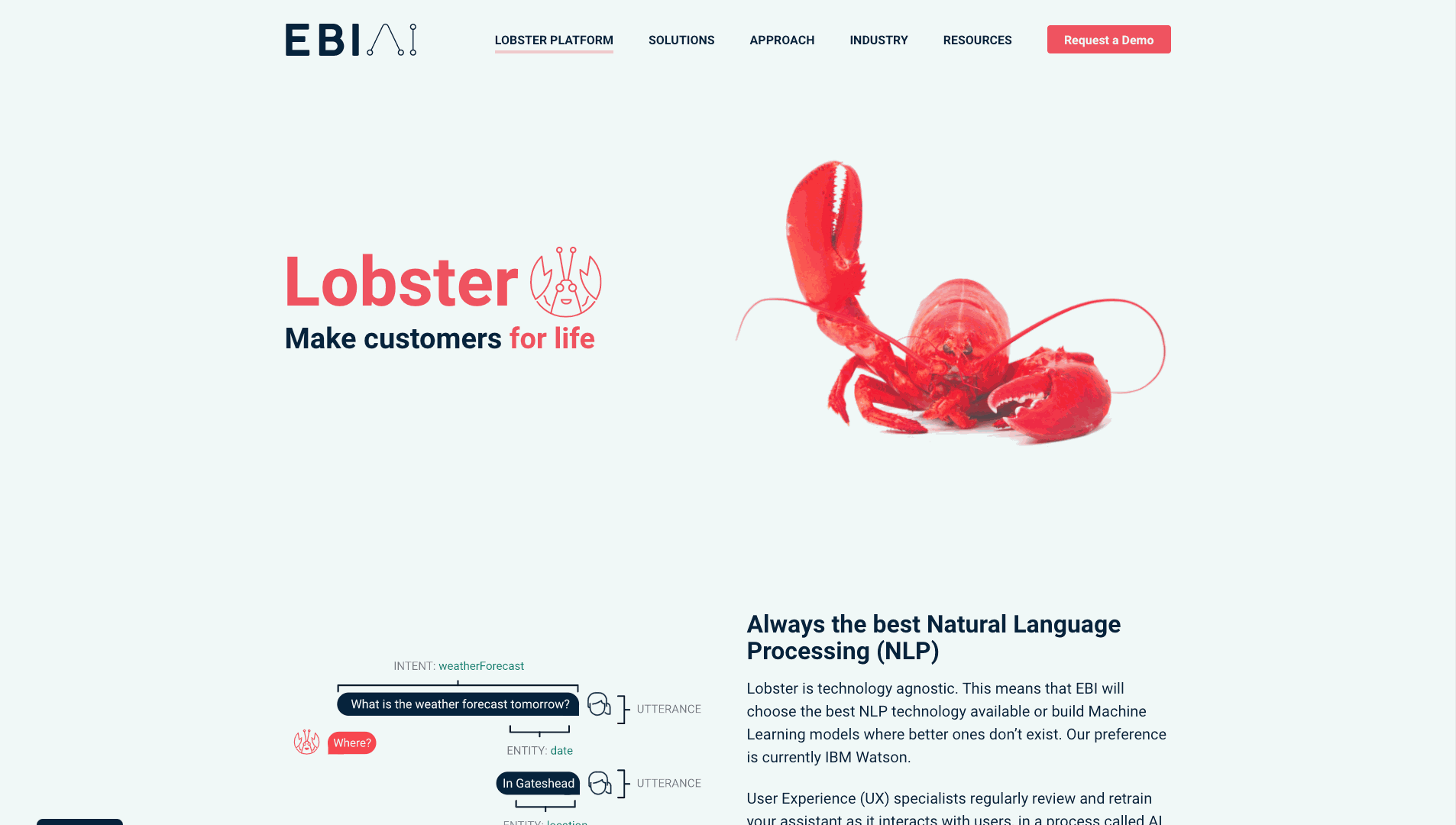 EBI.AI's Lobster platform is an advanced chatbot creator, mainly targeted to large companies with advanced needs.
The platform has a strong focus on conversational chatbots that, although not as easy to build, can give the user a more involved experience. Whereas some other platforms like Messagely allow you to create chatbots within minutes, Lobster's advanced chatbots usually require at least four to six weeks of building before deployment.
This is why their chatbots are usually better for larger companies looking for very advanced solutions—those very large sales and customer service teams that can afford to spend weeks developing intricate chatbots.
Price:
Lobster's pricing isn't public, although reports are placing this solution among the pricier ones on the market.
5. Mobile Monkey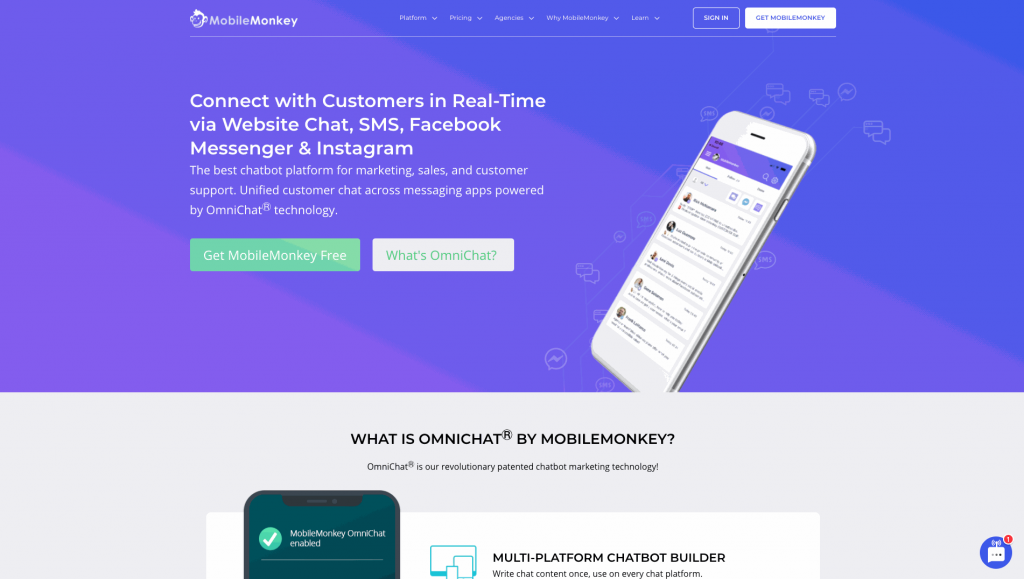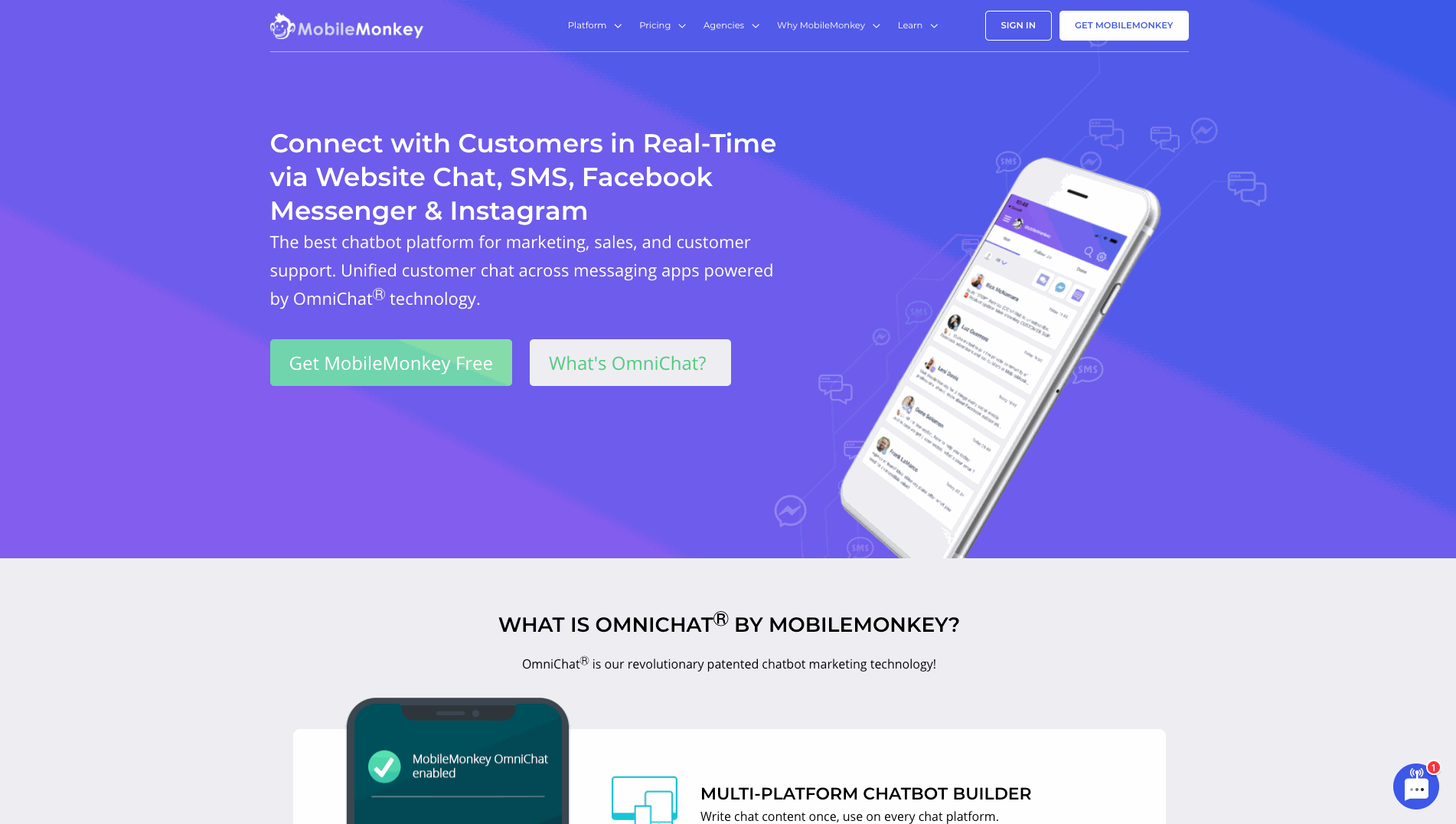 MobileMonkey is a chatbot building platform focused on Facebook chatbots, although it can also be used for native web chats and SMS messaging.
Through a very basic UI, the platform allows you to build chatbots that act on behavioral triggers, qualifying leads, and answering basic customer questions. It also has some basic analytics to keep track of your bot's health, as well as a unified inbox, daily alerts, and specialized Facebook ads capabilities.
It's a popular chatbot for WordPress, allowing users to integrate the widget through a simple plugin.
Although it has limited integrations, it does integrate with Zapier, allowing users to connect it to other tools.
Pricing
MobileMonkey offers a limited free version and paid versions starting at $14.25 per month.
6. Botsify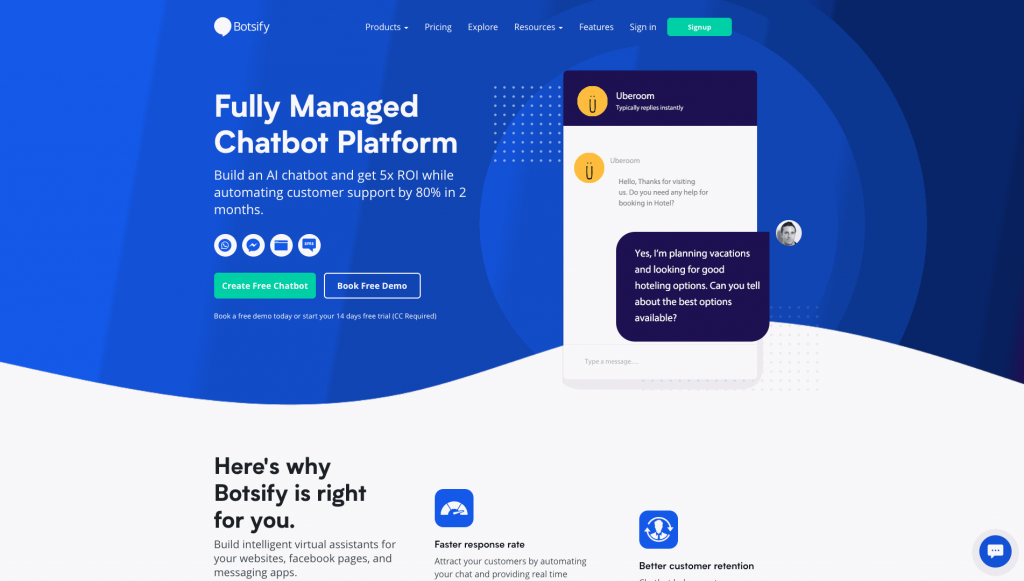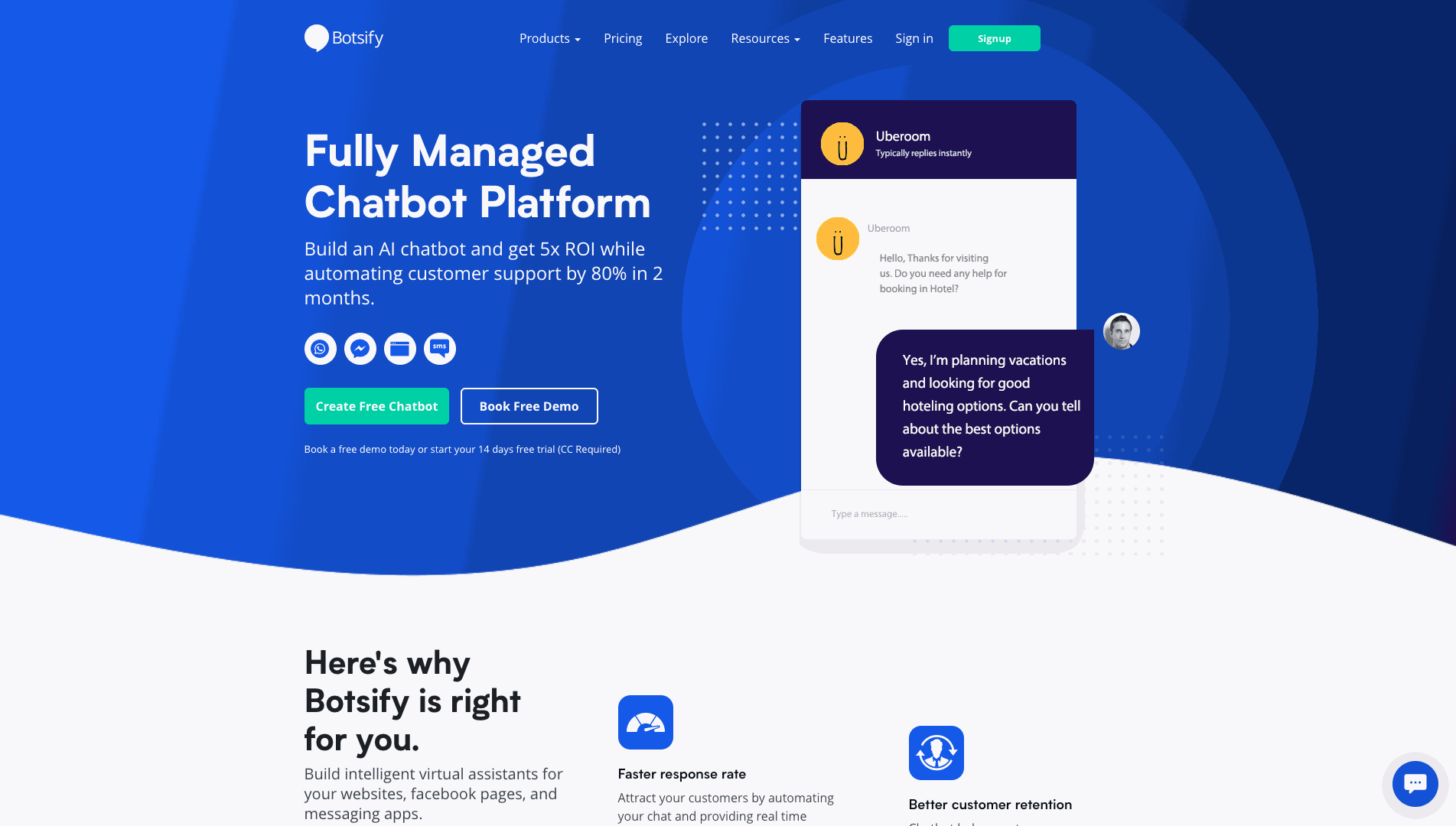 Botsify is another chatbot platform that allows users to create simple chatbots for WhatsApp, Facebook, live chats, and SMS.
Although its features are fairly simple, they do include multilingual support, which allows chatbots to talk in over 190 languages. With Botsify, you can also create chatbots for education, which allow you to use chatbots to educate students on topics such as math, coding, languages, and much more.
This makes it a good chatbot platform for anyone looking to increase the tools they use to engage with their students.
Pricing:
There's a free limited plan available for one user that includes 1,000 monthly credits, or paid plans starting at $50 per month
7. SurveySparrow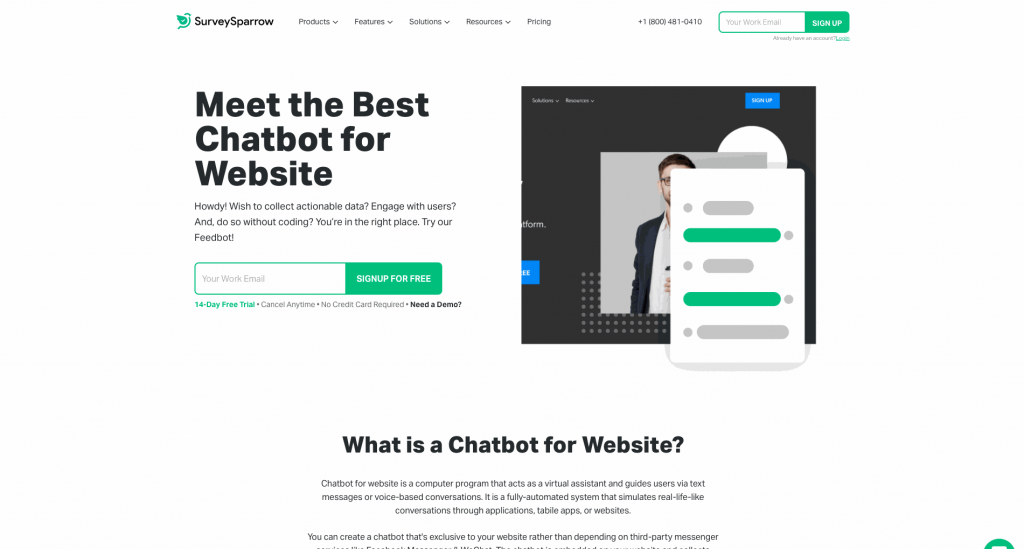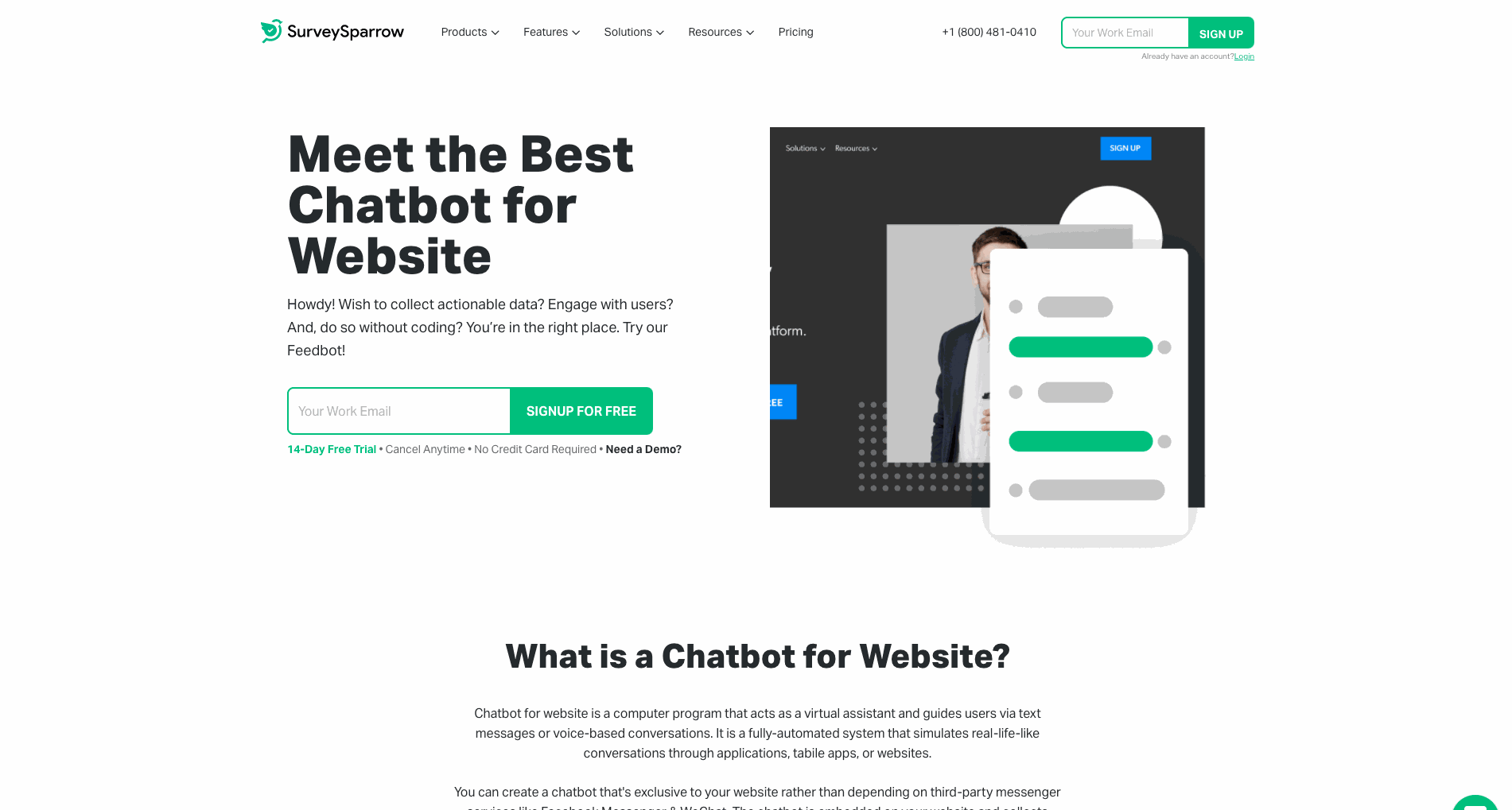 Backed by the popular online survey platform SurveySparrow, this chatbot platform is one of the few products users receive when signing up.
With it, users can display behavioral-triggered pop-up cards, customize their chatbot without any coding, and customize the overall design and size of the chat. The platform also allows users to easily integrate it with WordPress with an automatically-generated shortcode.
SurveySparrow also offers a few basic integrations to Zapier, Salesforce, Hubspot, Zendesk, and Slack. Its customer support team is available 24/7.
The platform is used by many large companies such as Gucci, FedEx, Siemens, and EA.
Pricing:
SurveySparrow's pricing starts at $149 per month billed annually and includes two users, basic integrations, and surveys. There's no free tier available.
8. Tidio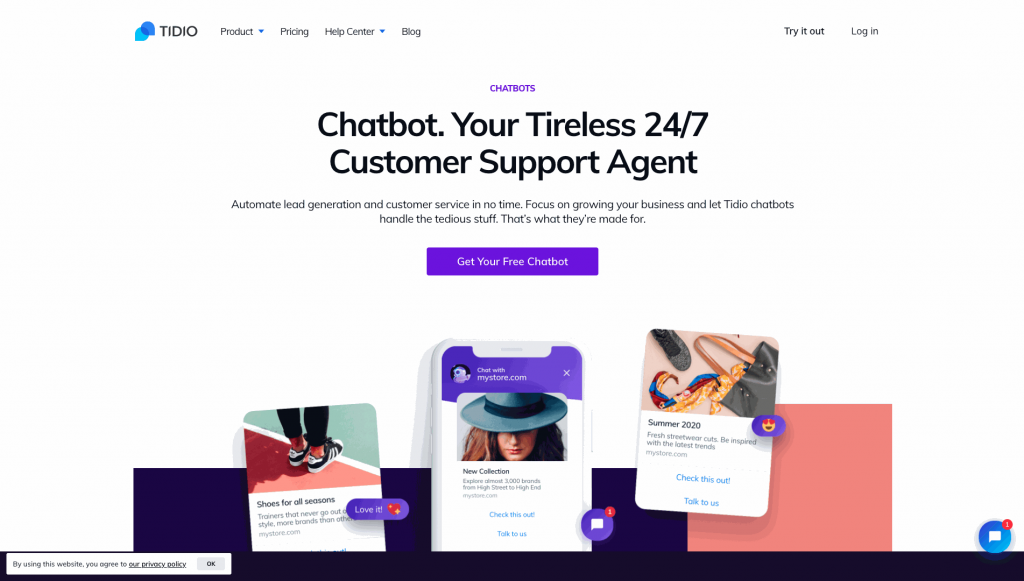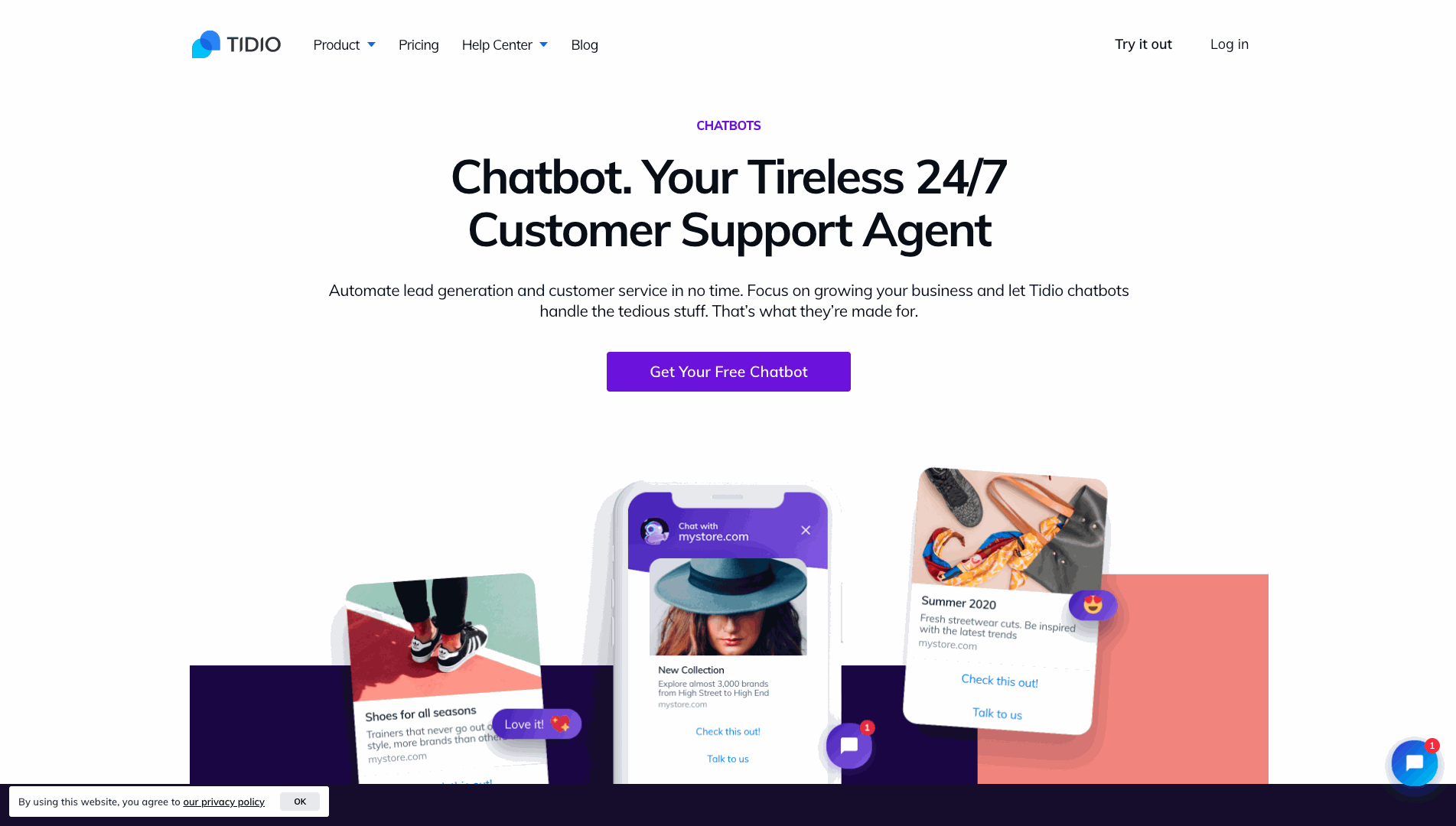 Tidio is a popular 3-in-1 platform that allows you to use live chat, email marketing, and chatbots.
With its AI-powered chatbots, users can send messages about abandoned carts, order status, shipping updates, and much more, being more focused on online B2C selling platforms. Tidio offers users multiple templates and a simple drag-and-drop chatbot builder to simplify the development.
Tidio only integrates to MailChimp and Zapier, so you'd have to use Zapier to integrate it with other platforms.
Pricing:
Tidio offers a free limited account that includes up to three operators, unlimited chats, and 100 unique visitors. Premium accounts start at $18 and give users access to chatbot templates, Zapier integration, and unlimited chatbots.
9. PandoraBots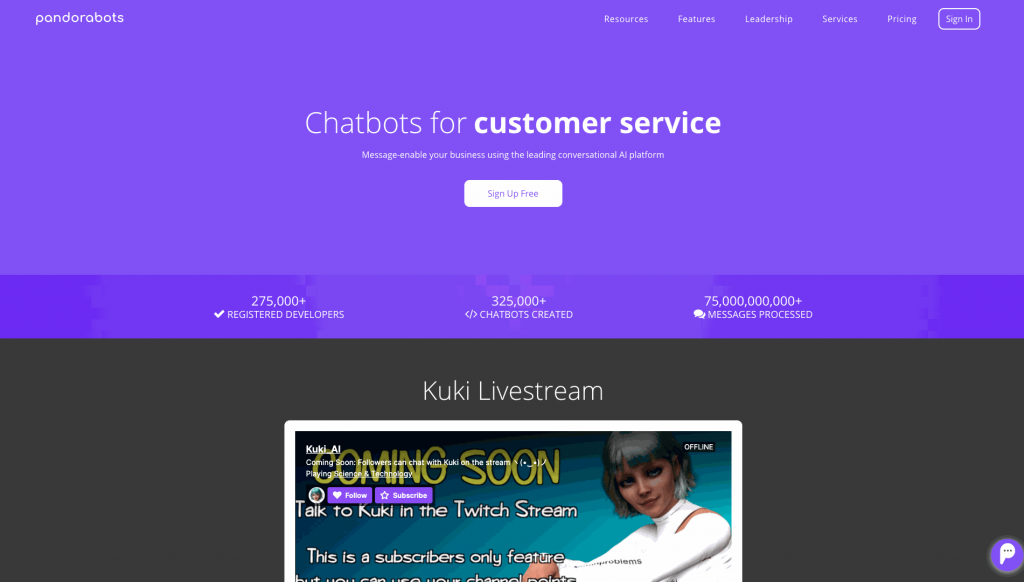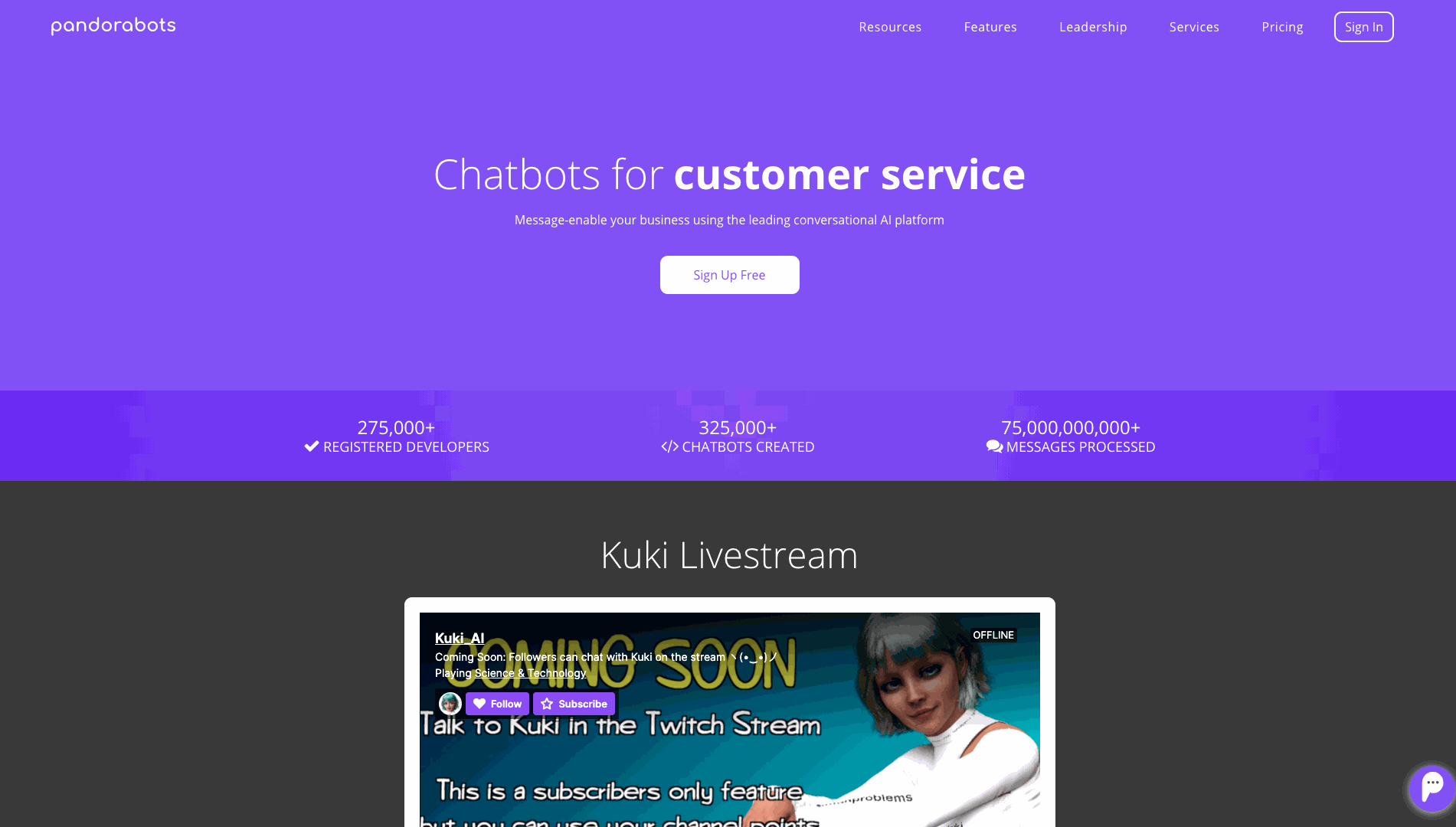 Designed more for developers than for average users, PandoraBots allows users to create chatbots with a deeper level of capabilities.
Through its API, programmers can develop multi-platform chatbots to connect with their audiences. That way, you can develop chatbots for Facebook, Twitter, and multiple messaging platforms like Line, Telegram, and Viber. This allows developers to use an established platform to build chatbots for all platforms, not just Facebook.
Although there are a few features that are somewhat user-friendly, the platform is aimed towards developers who already know how to develop chatbots.
Pricing:
PandoraBots includes free access to the development sandbox, with premium accounts for chatbot creation and deployment starting at $19 per month.
10. Intercom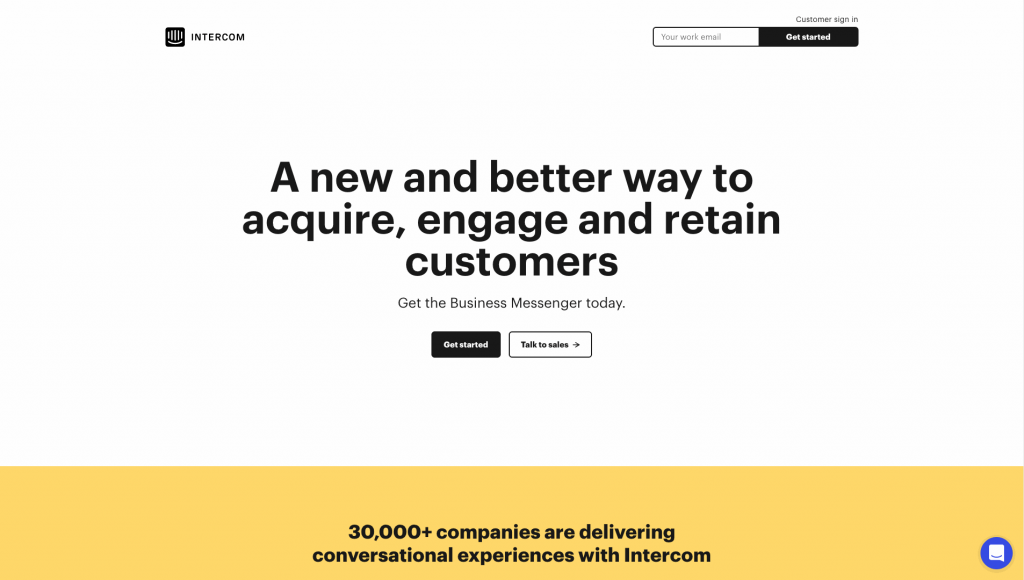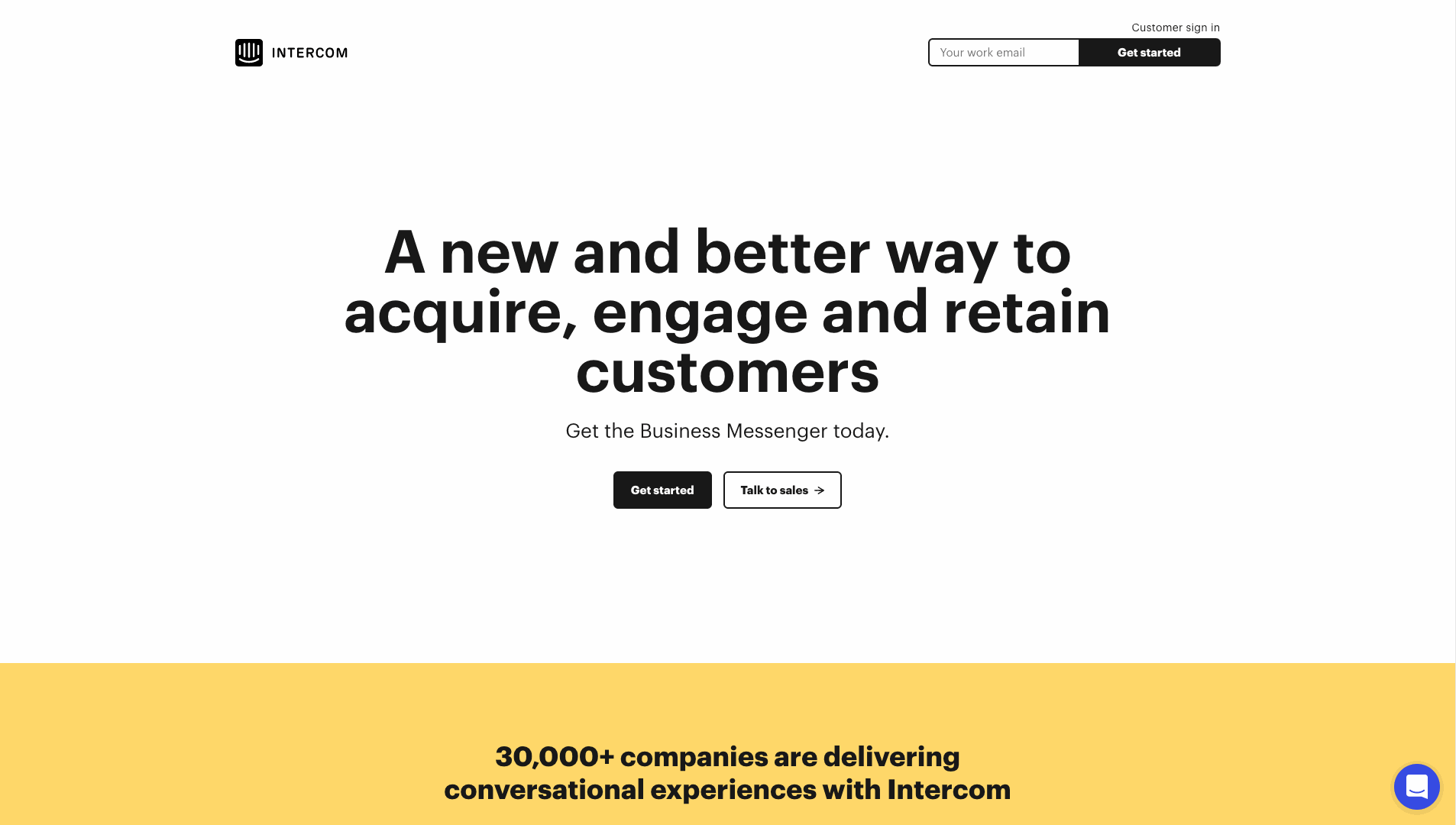 Developed as a fully-fledged messaging platform, Intercom also provides users with custom chatbots for sales, support, and marketing.
Users can integrate the chatbots (and the rest of the platform) to multiple marketing and messaging tools, making them fairly versatile. The chatbots, although somewhat basic, are easy to develop and can be activated through advanced targeting.
However, since chatbots are only a small part of what the platform is designed to do, they're only included in premium tiers, making this a very expensive solution for anyone only looking for chatbots.
Pricing:
There's a free version available, and pricing with chatbots starts at $499 per month, increasing with a large level of conversations.
11. Chatfuel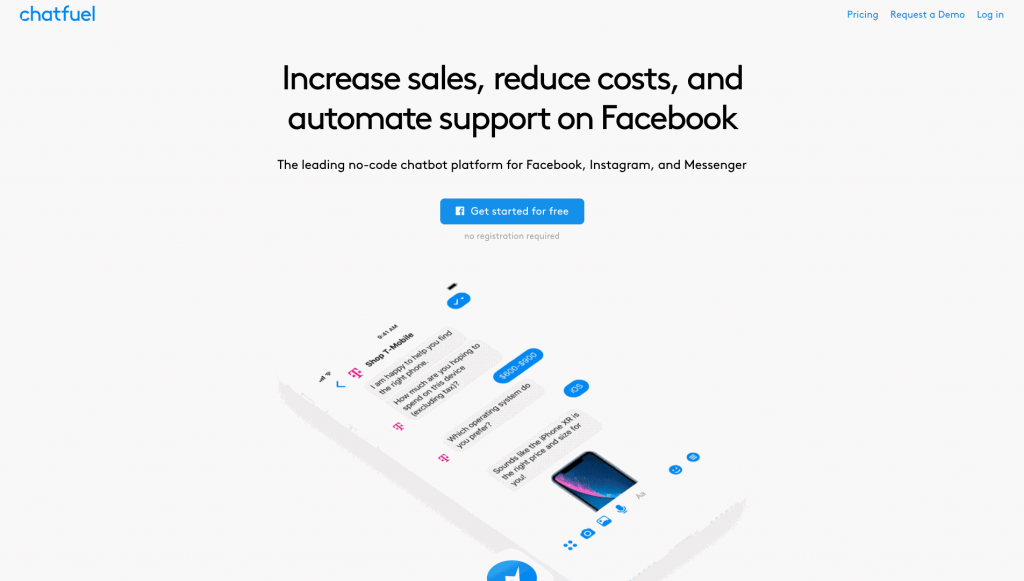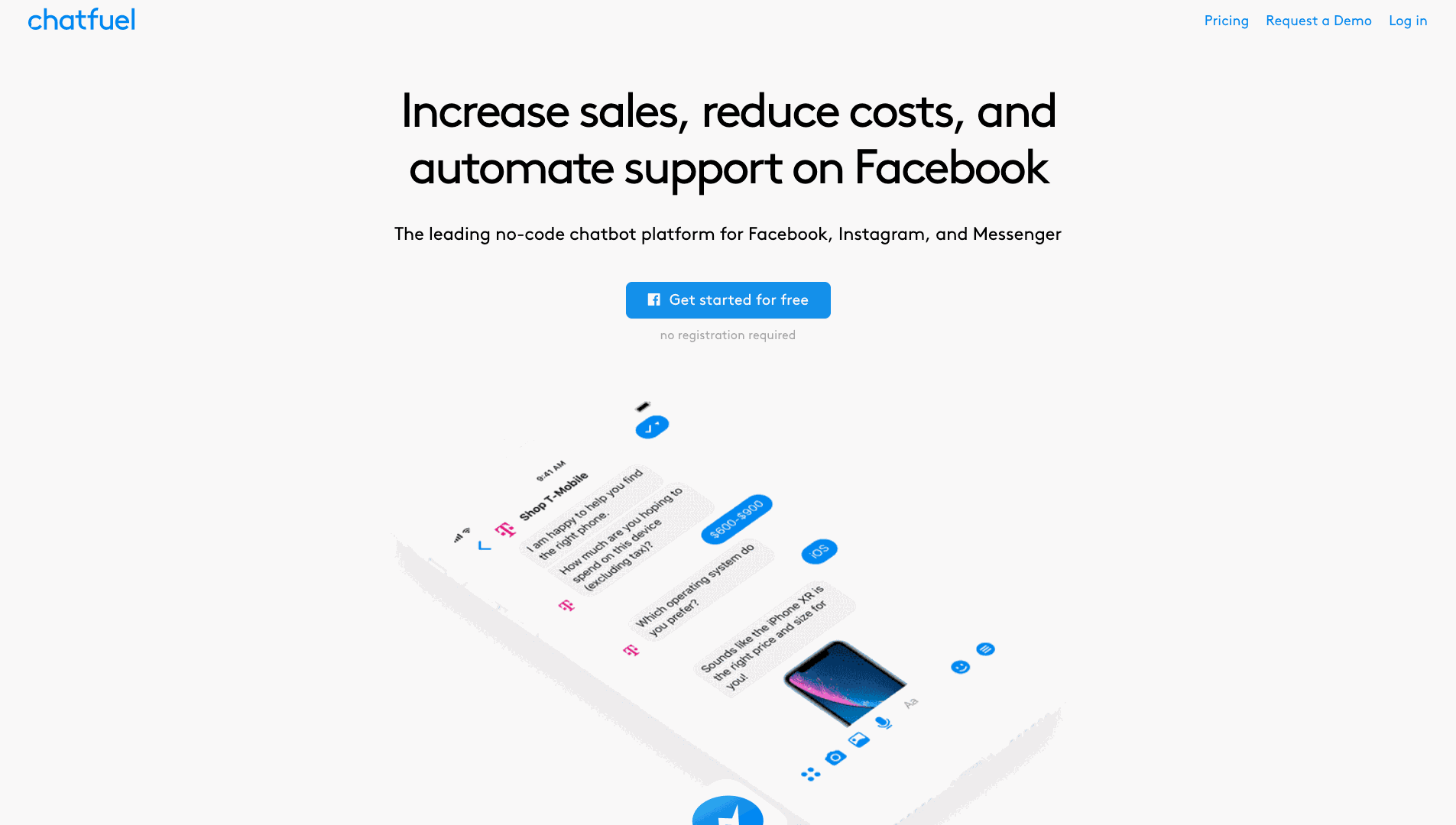 Another simplified platform for chatbot building is Chatfuel. Developed in 2015, and focused around Facebook, users can now also use it for Instagram and Messenger.
With Chatfuel, users can develop NLP-based chatbots without any coding skills, choosing conversational rules and easily modifying the chatbot as more information is needed. The platform allows chatbot creations for multiple purposes, like customer service, sales, event assistant, and more. Once a user interacts with the chatbot, the conversation is logged into the owner's database for a potential follow-up.
Although Chatfuel's chatbots are somewhat limited to a couple of social media platforms, many large companies have used the platform to develop chatbots, like Hello Fresh, Ford, Green Peace, BuzzFeed, Netflix, and Lego. This is undoubtedly why its pricing is surprisingly high for such a limited platform.
Pricing:
Chatfuel offers a free limited platform that includes up to 50 users and a full-featured bot. Paid plans start at $15 per month and have no user limit, better customer support, and more advanced integrations and features.
12. TARS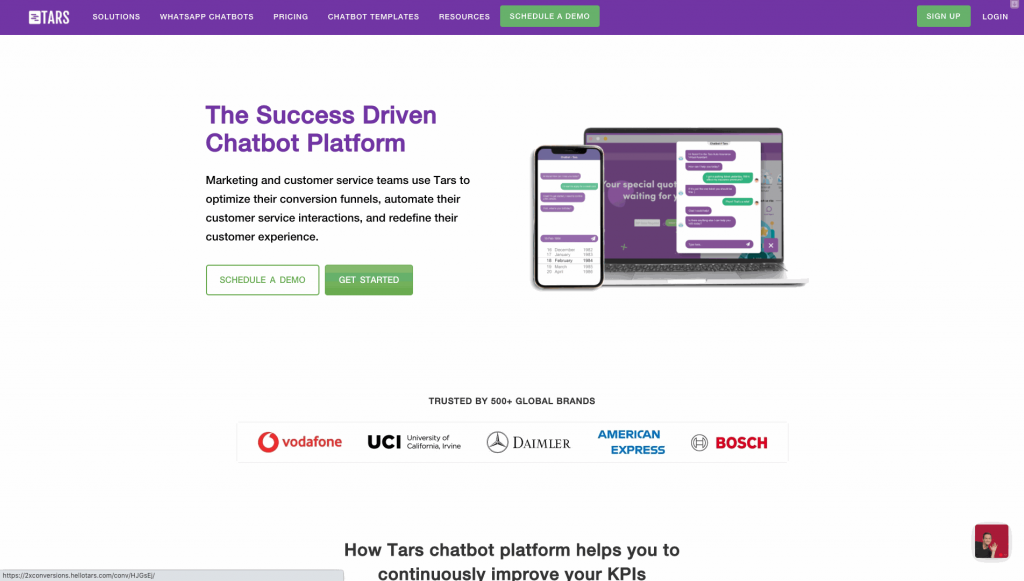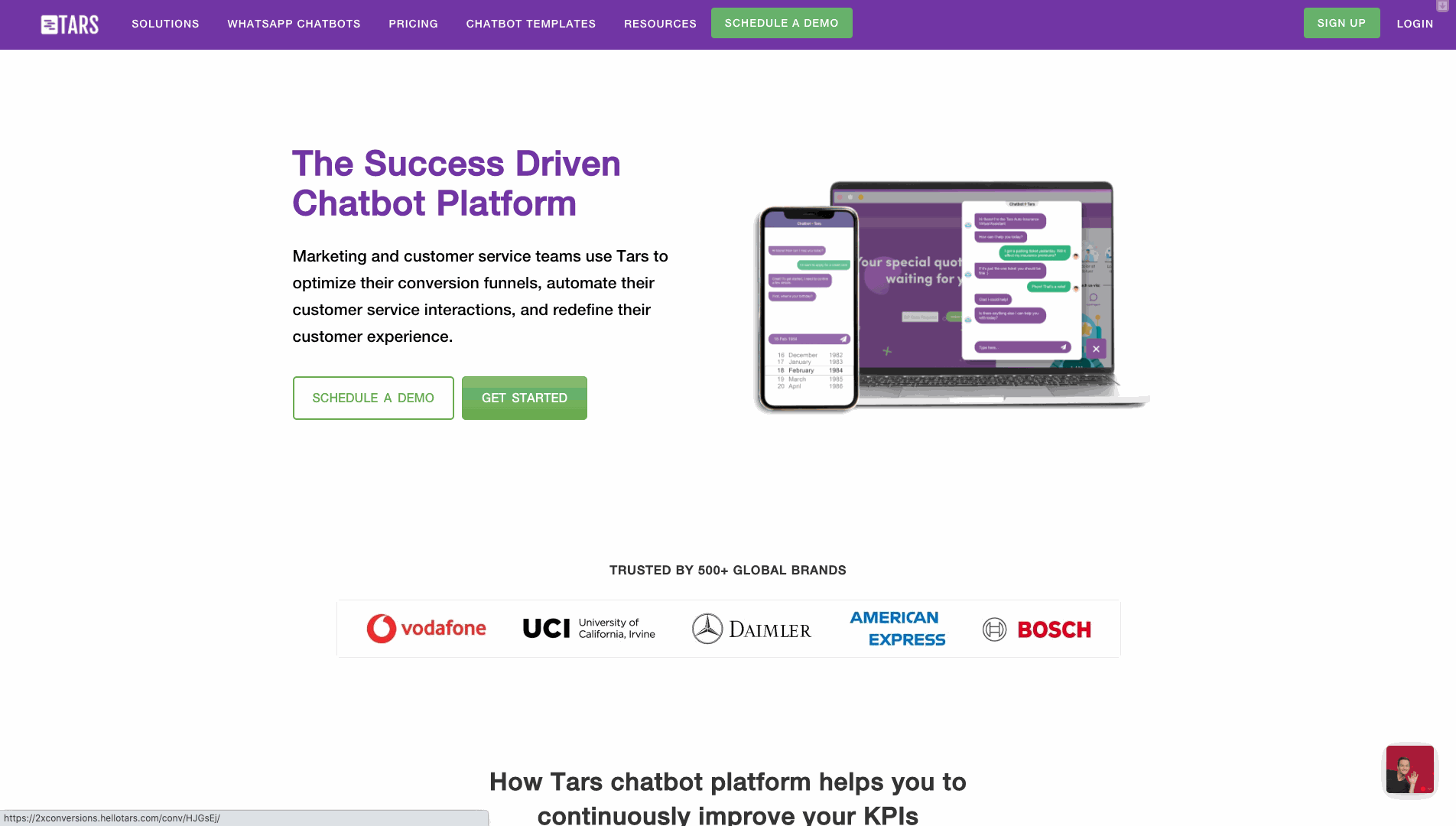 TARS is another chatbot builder with a simple drag-and-drop editor so users can create website chatbots and conversational landing pages.
The platform offers users over 1000 chatbot templates for different purposes and industries. Users can also create chatbots from scratch. The simple editor allows users to focus on creating chatbot conversation workflows. Once developed, the chatbot can be implemented as a widget on a website, landing page, or WhatsApp. This, however, means that you'd need to get a different chatbot builder to develop chatbots for social media.
Like the previous example, TARS is used by a few large companies, like Vodafone, Bosch, and American Express, which is one of the reasons why this platform is more expensive than the average platform.
Pricing:
TARS' pricing is definitely above the industry average, with no free version provided. Plans start at $99 per month for the most basic capabilities.
13. ItsAlive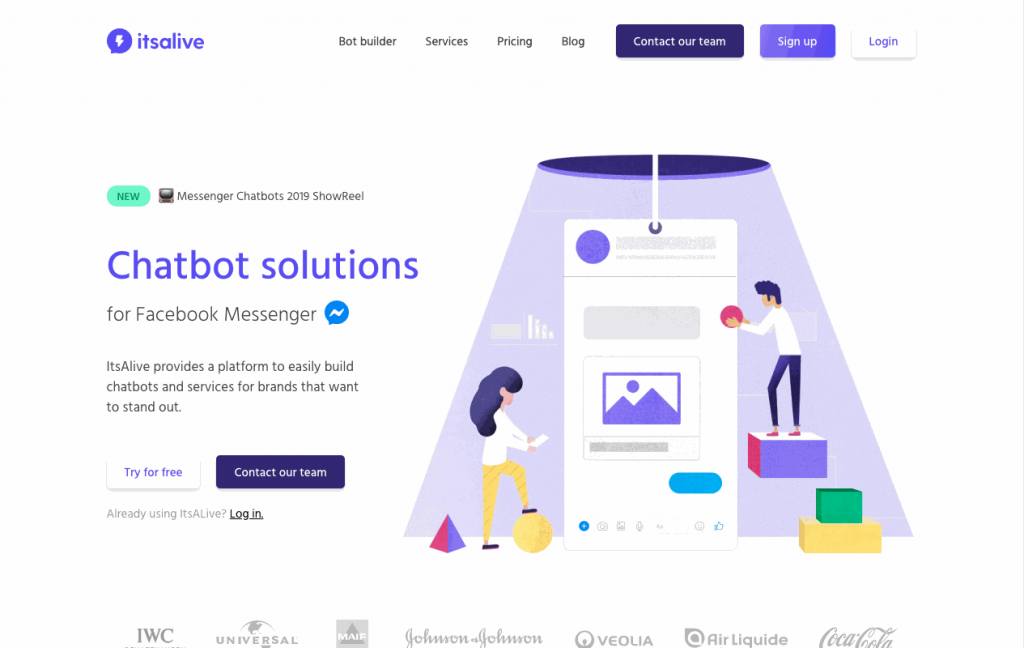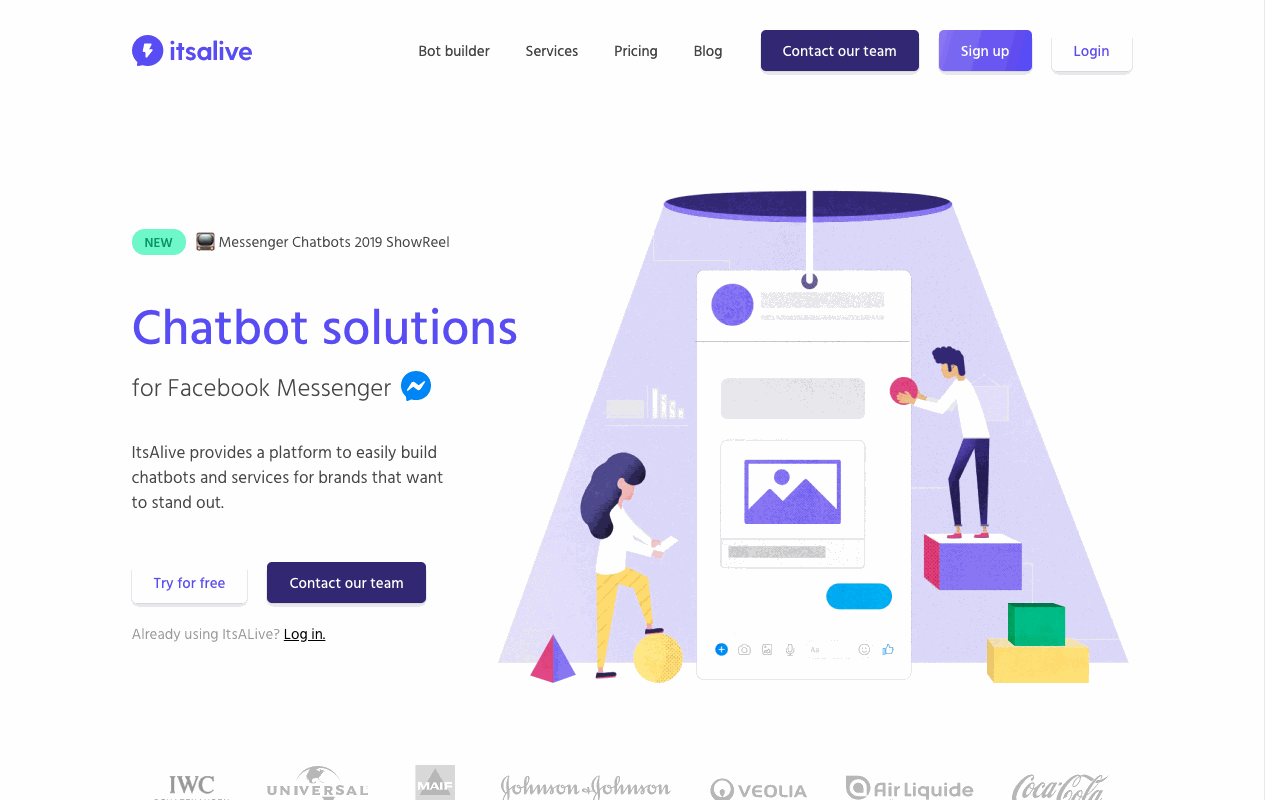 ItsAlive is a French startup focusing on simplified chatbot creation for Facebook Messenger. Although the platform is fairly simple, it still offers more advanced options for tech-savvy users.
With the platform, users can create chatbots that can learn keywords from the users it interacts with to use in the future. That way, the developer can program those keywords into the chatbot's workflow to improve its performance.
Although ItsAlive is exclusively focused on Facebook Messenger, it's still used by many large companies, like Coca-Cola, Universal, and Johnson & Johnson, that can afford to pay the premium price for a chatbot, while also paying other platforms for chatbots for the rest of their communication channels.
Pricing
ItsAlive offers a free limited account with 1,000 messages per month. Premium pricing starting at $99 per month.
14. Microsoft Bot Framework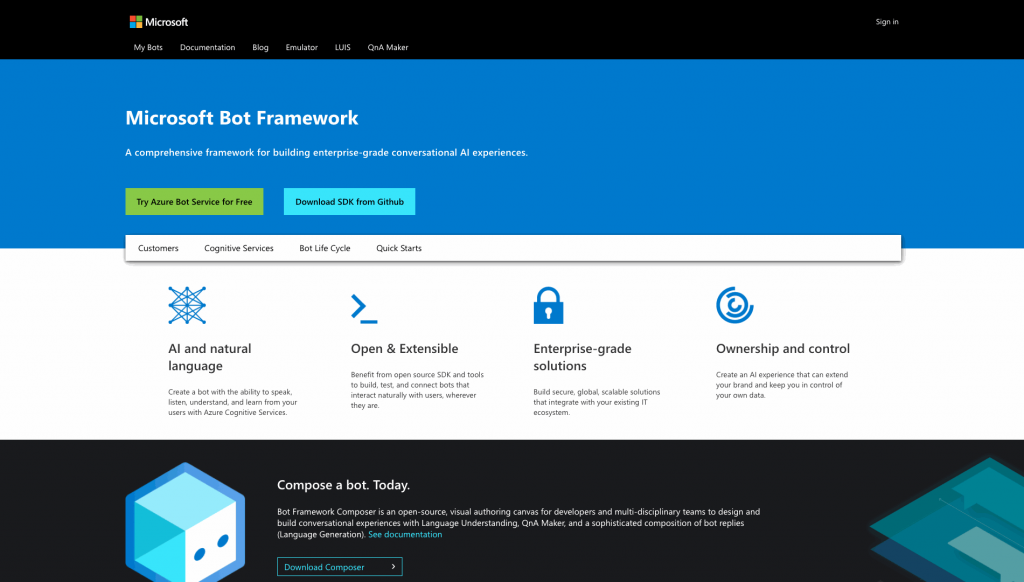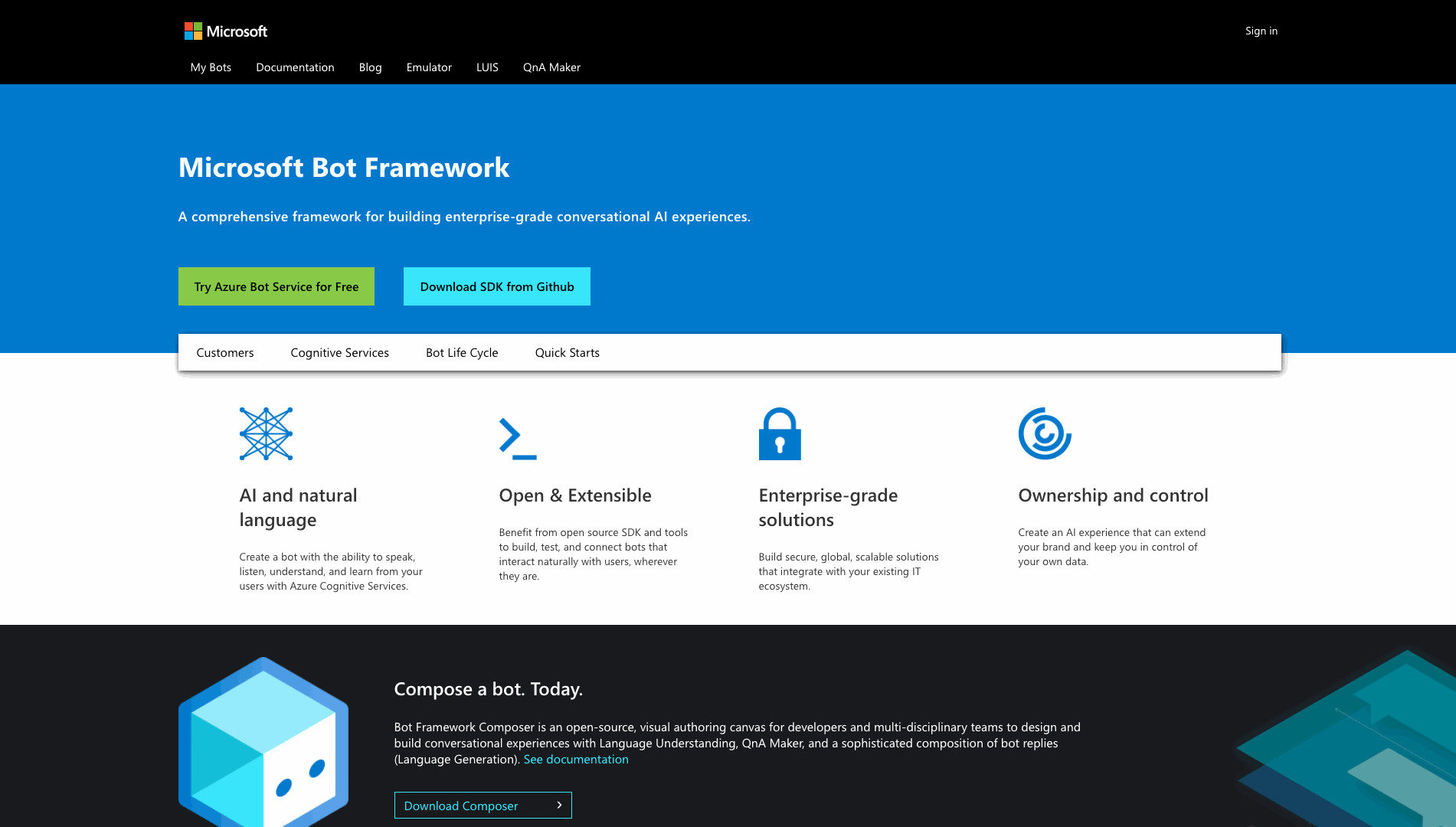 Microsoft's Azure Bot Service focuses on high-end bot creation for tech-savvy individuals. With it, users can build bots that integrate with Bing search as well as Microsoft's Cognitive Services and Text Analytics API.
With an open-source SDK, programmers can build AI-based chatbots capable of natural conversations, mainly used as virtual assistants, for customer care, and for other company needs. Once the bot is deployed, it can connect users through multiple platforms, like websites, apps, Facebook Messenger, SMS, Slack, Skype, and many other apps and programs.
The chatbot is also capable of voice commands, face recognition, and more advanced features, as long as the programmers are savvy enough to use them.
Pricing:
The pricing is tied to the capabilities that the user is looking for, with simple chatbots costing less than $100. You can calculate the cost of your chatbot using the pricing calculator.
15. SnatchBot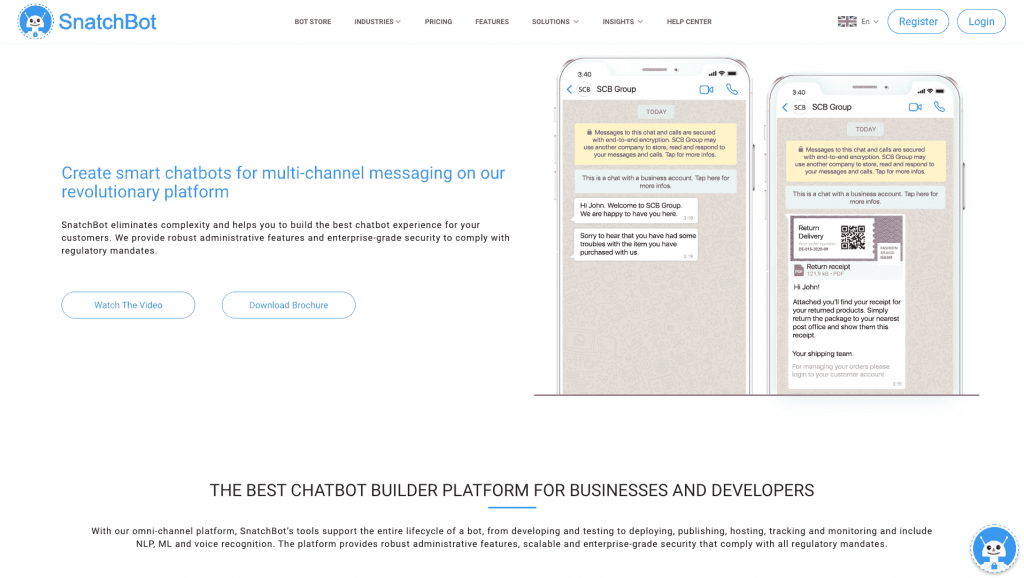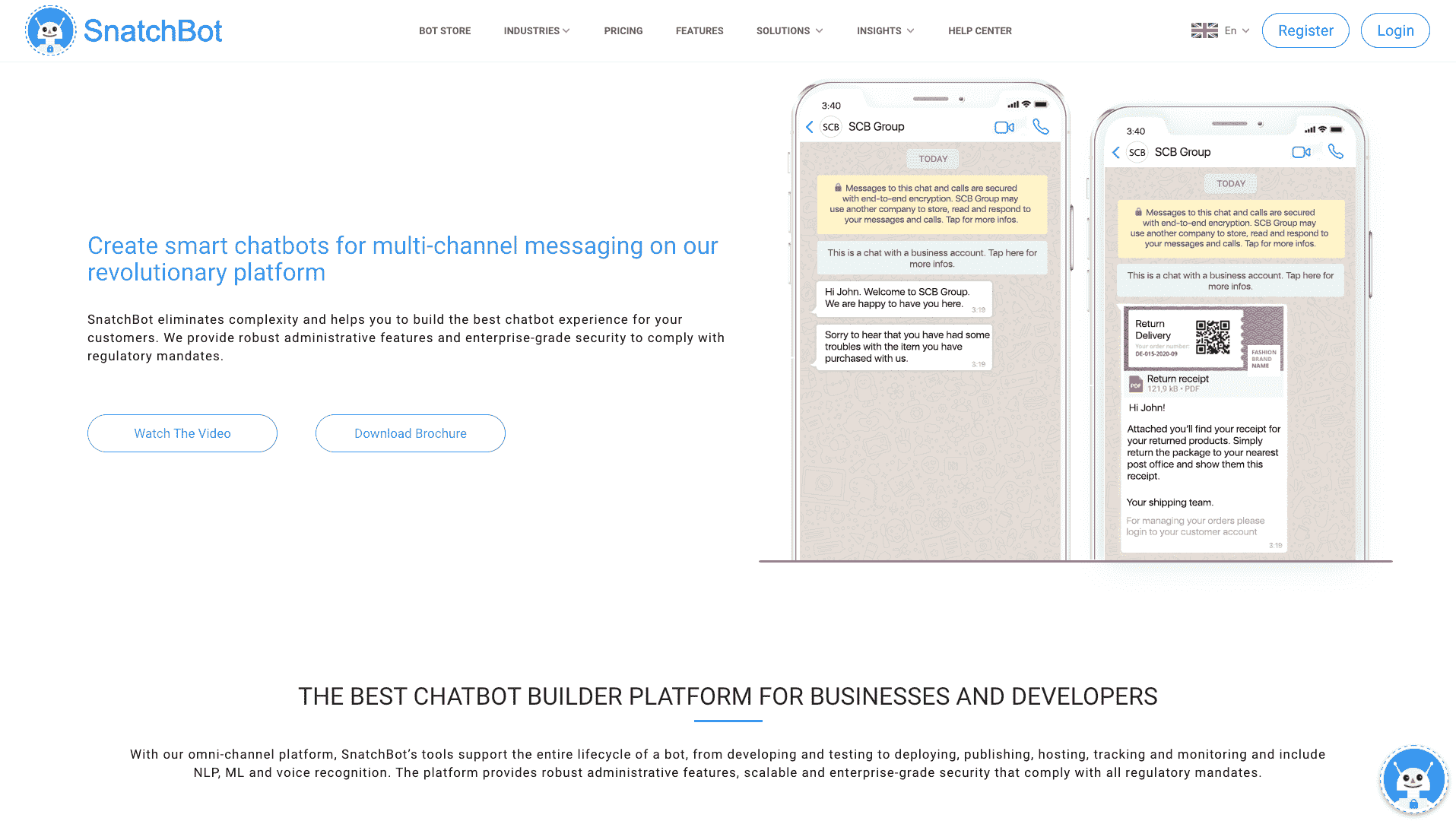 SnatchBot is a chatbot platform that allows users to build bots employing AI. The platform is mainly focused on online stores and medium-sized businesses, allowing users to segment audiences through several criteria, and send them bulk messages to reengage with them.
The platform offers free templates for different industries so users don't need to start from scratch. Users can create bots for multiple purposes, like marketing, importing data, teaching people about finance, supporting customers, and much more.
The chatbots can be developed for platforms like WhatsApp, Line, Telegram SMS, and more.
Pricing:
StachBot offers a limited free plan, with paid plans starting at $30 for 10,000 messages, better customer support, and more advanced features.
16. Imperson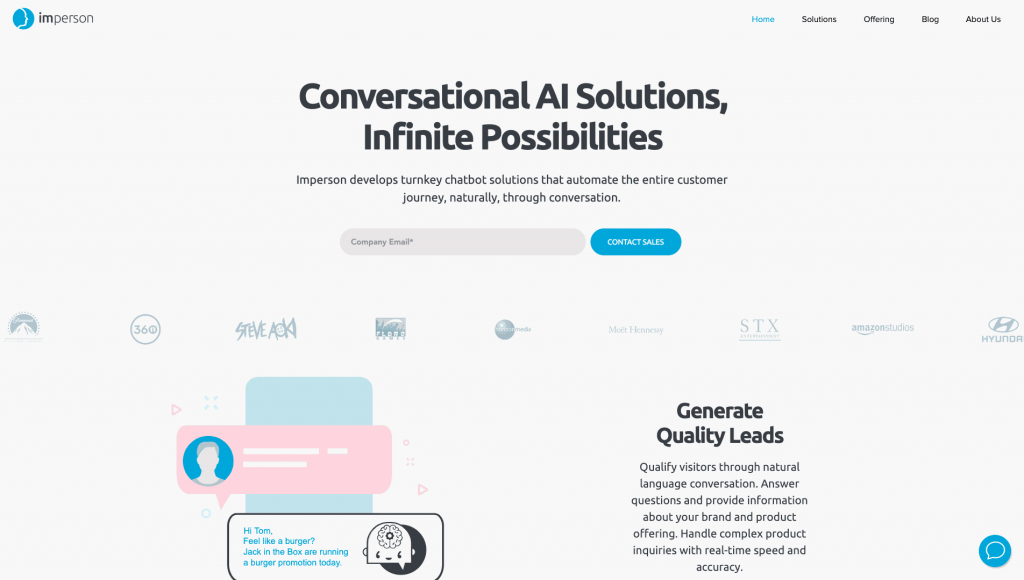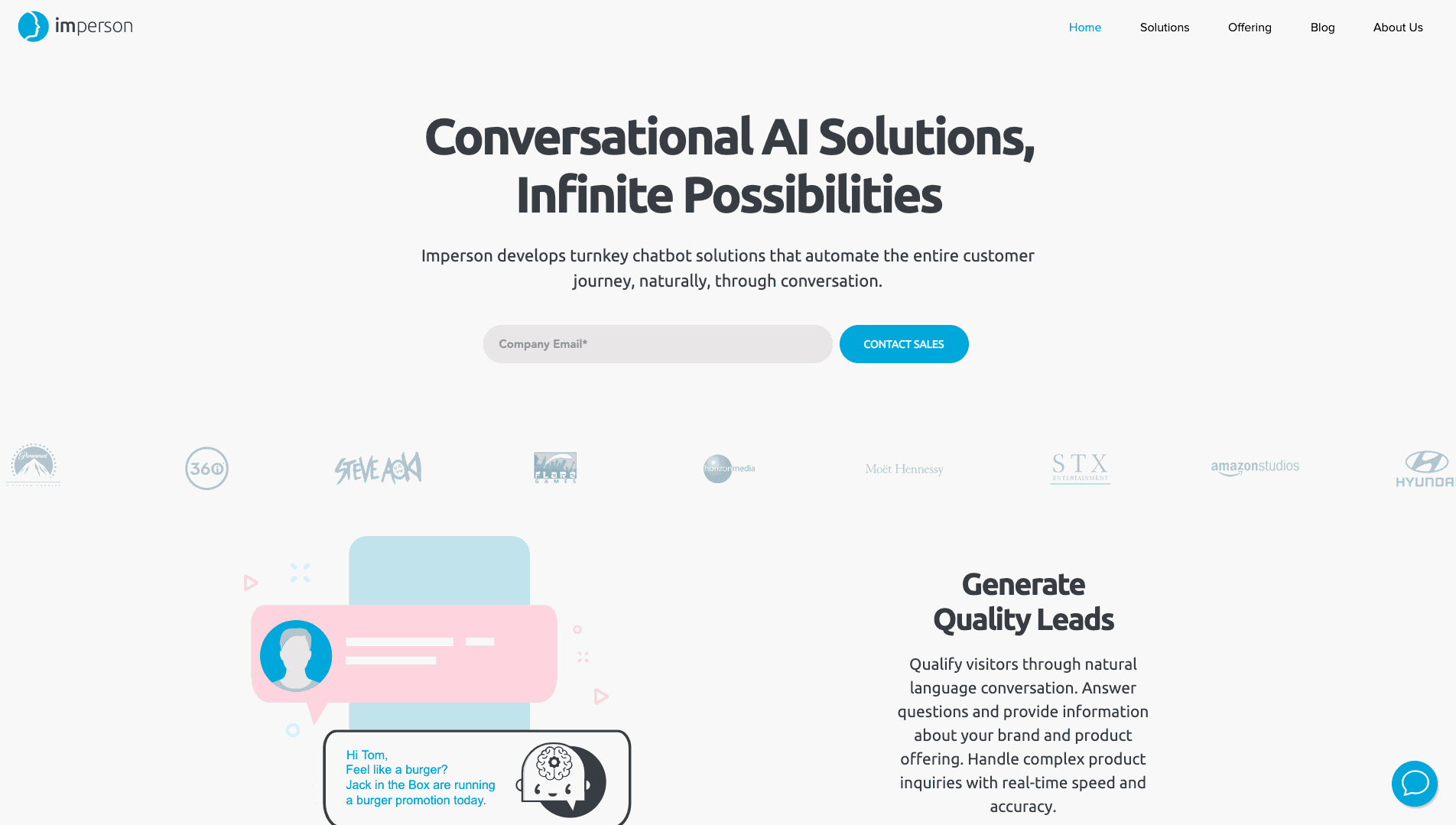 Imperson is a popular chatbot platform with multiple capabilities. Used by large companies like Amazon Studios, Moët Hennessy, Hyundai, and Paramount, the platform is made to help users automate their customer journey through natural conversations with chatbots.
Users can use the platform to build chatbots that support text, audio, video, and even AR and VR in practically all messaging platforms. Once the chatbot is developed, Imperson hosts and deploys the bot, and provides the user with advanced analytics to help them monitor and improve the chatbot.
The chatbot is also moderated with the help of an AI moderator and uses deep dialogue context and relationship memory to provide advanced and natural-sounding conversations.
Pricing:
Imperson doesn't publish its pricing details, forcing you to contact their sales team for information. However, reports indicate this platform to be among the most expensive in the market.
17. Drift Chatbot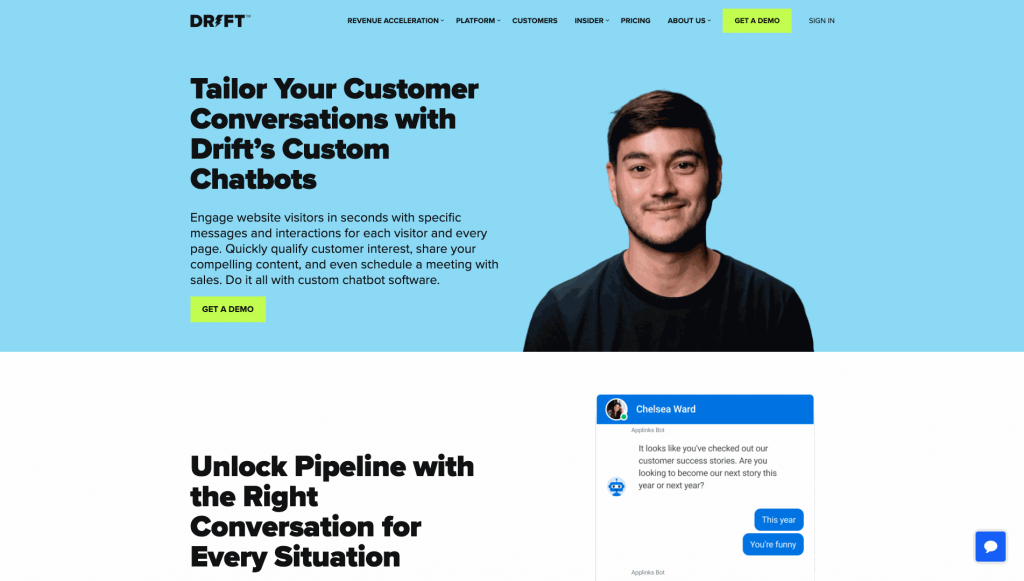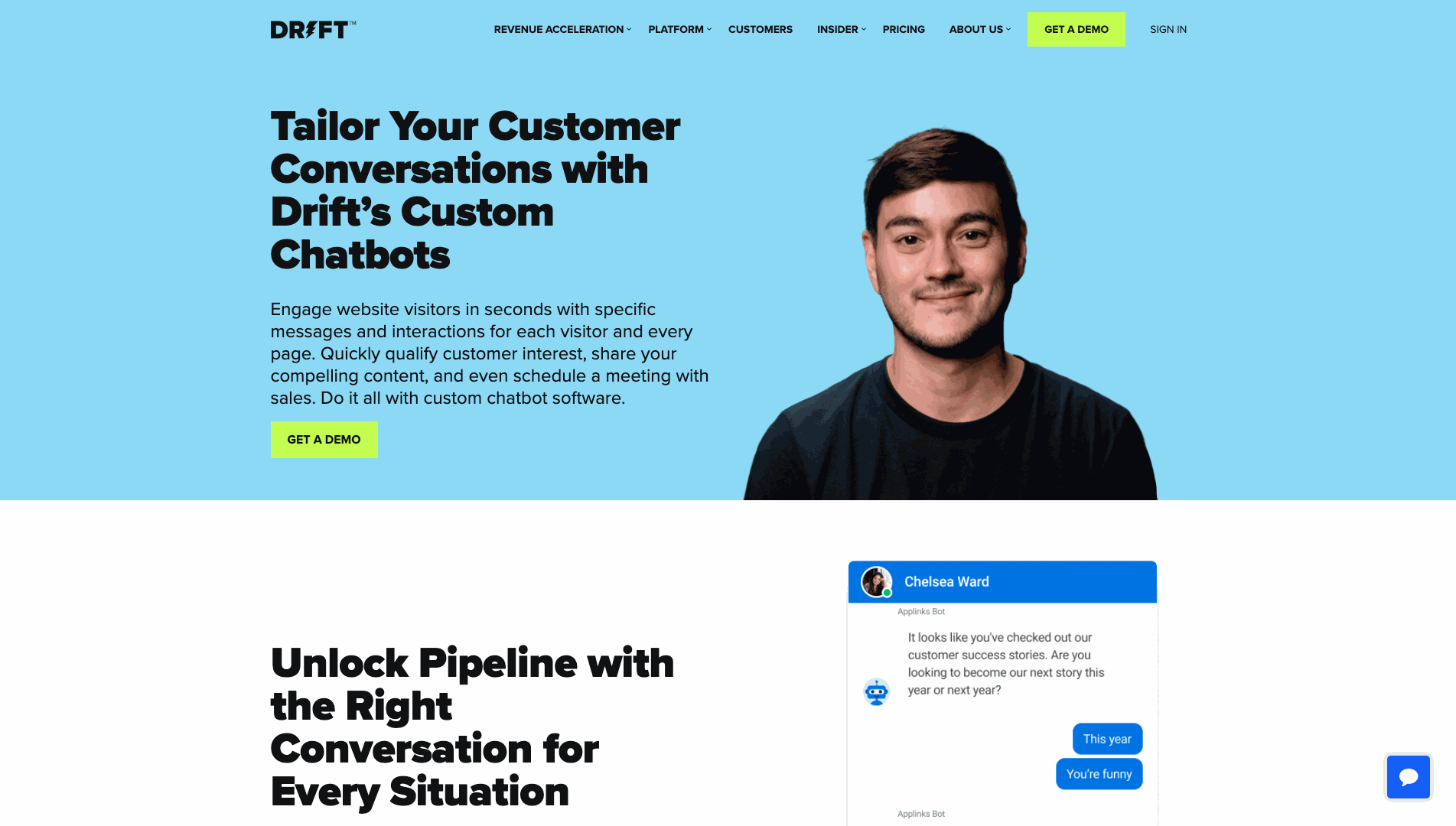 The popular live chat platform Drift has recently started offering chatbot services, allowing users to build simple chatbots for sales and meetings.
With this platform, users can build chatbots that automatically engage with users based on their behavior and qualify users to send them through the funnel. This makes customers more likely to share their information when asked.
Since the chatbots are so basic, Drift allows users to create chatbots to start conversations with users and then hand the users to the customer or sales rep. Since Drift is mostly focused on live chat, the pricing for chatbots is fairly high, since it comes with many other features.
Pricing:
Drift offers a very limited free version for the chat, but pricing for paid plans that include chatbots starts at $400 per month.
18. Aivo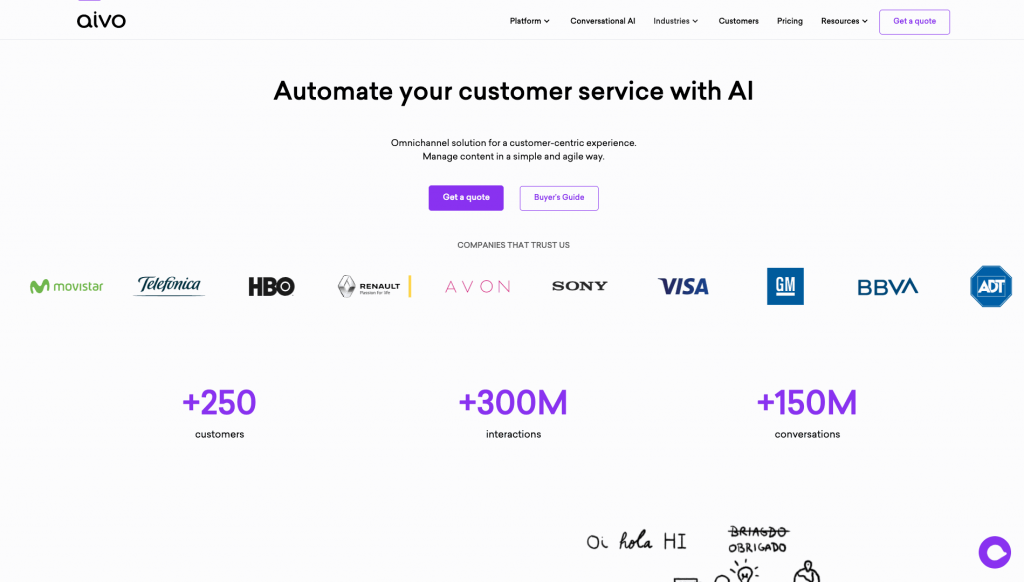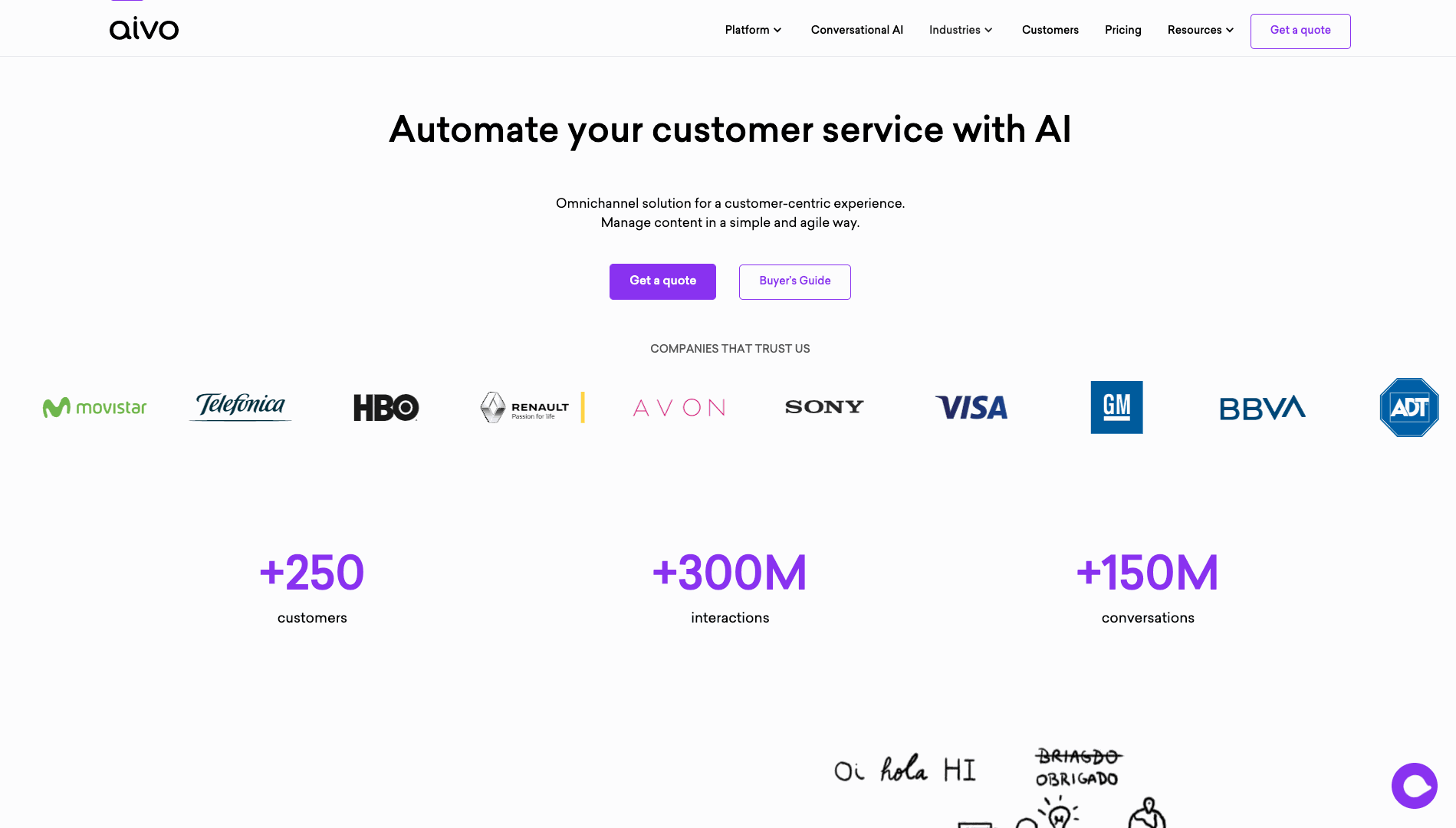 Started in Argentina in 2012, Aivo has offices in nine countries and serves customers like Movistar, HBO, Avon, Sony, and Visa.
The platform allows users to build AI-powered chatbots that can engage with customers through voice and text, in multiple languages. The result is a more conversational engagement with customers without the need for coding knowledge.
Users can use the platform to create chatbots for websites and apps, as well as Messenger, WhatsApp, Slack, and phone calls. This allows users a fair amount of versatility with their chatbots, albeit at a price.
Pricing:
Aivo's AgentBot does not have a free tier, and premium plans start at $240 per month for only 1,000 monthly sessions. After those sessions have been used, you can purchase extra sessions at $26 per 100.
19. Flow XO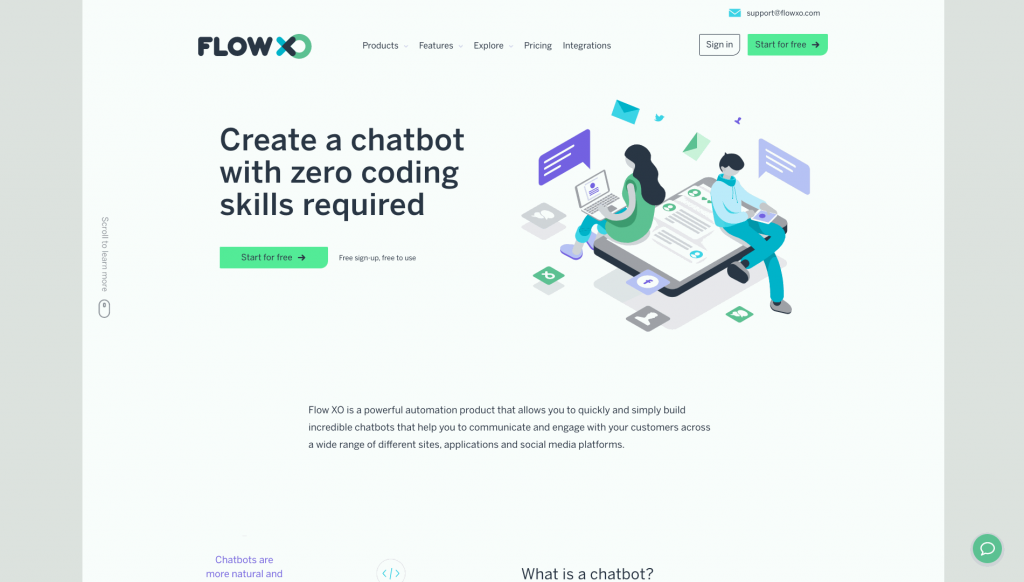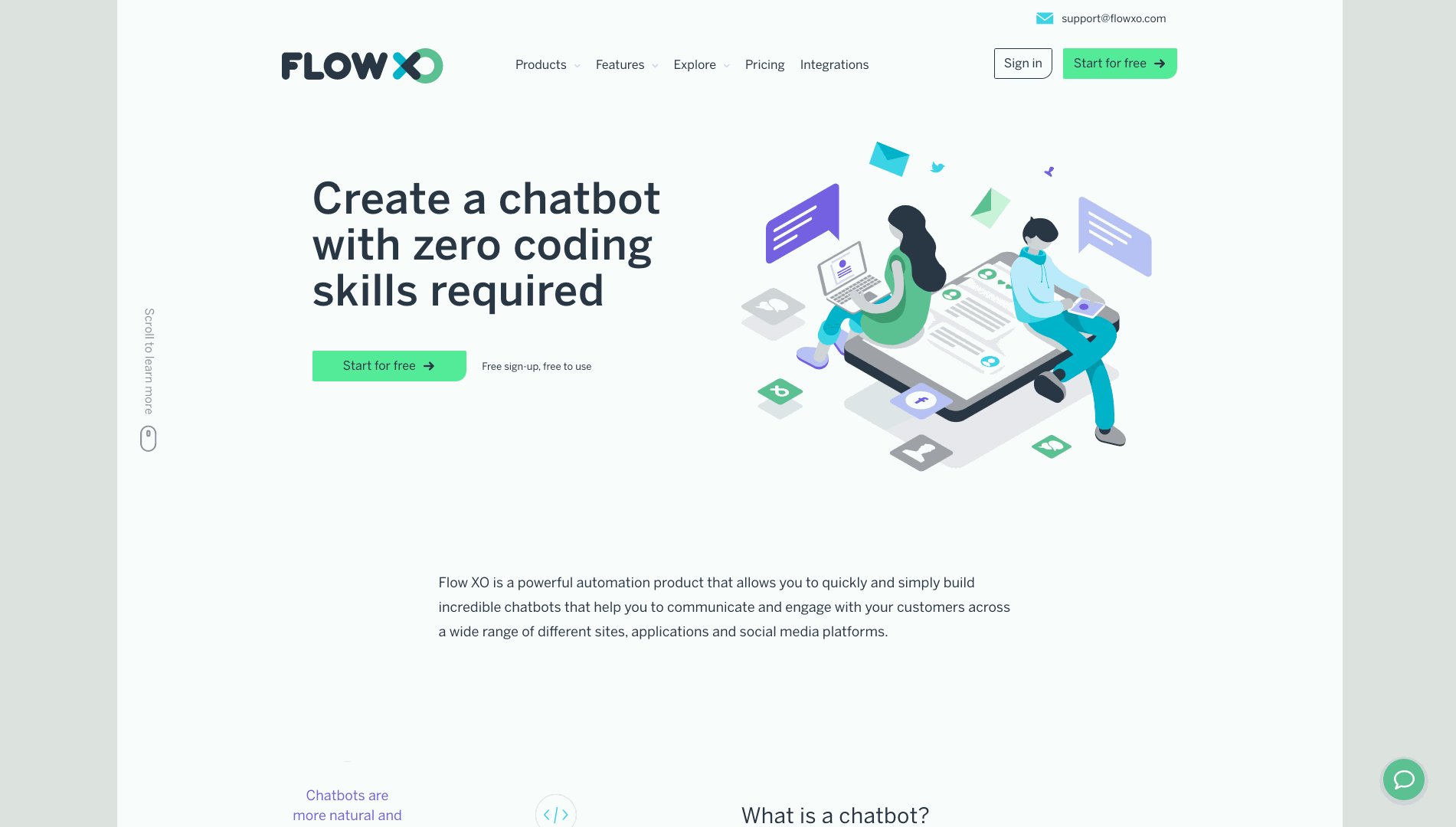 Flow XO is a chatbot building platform that can be used for multiple channels, not just for Facebook Messenger.
With the platform, users can build chatbot widgets for apps, websites, messaging apps, and SMS. The UI is fairly friendly to people with no knowledge of coding or programming, based on simple although somewhat restrictive workflows.
Pricing:
Flow XO offers a limited free version with 500 interactions for up to five bots. Paid versions start at $19 per month, with custom add-ons depending on user needs.
20. ChatterOn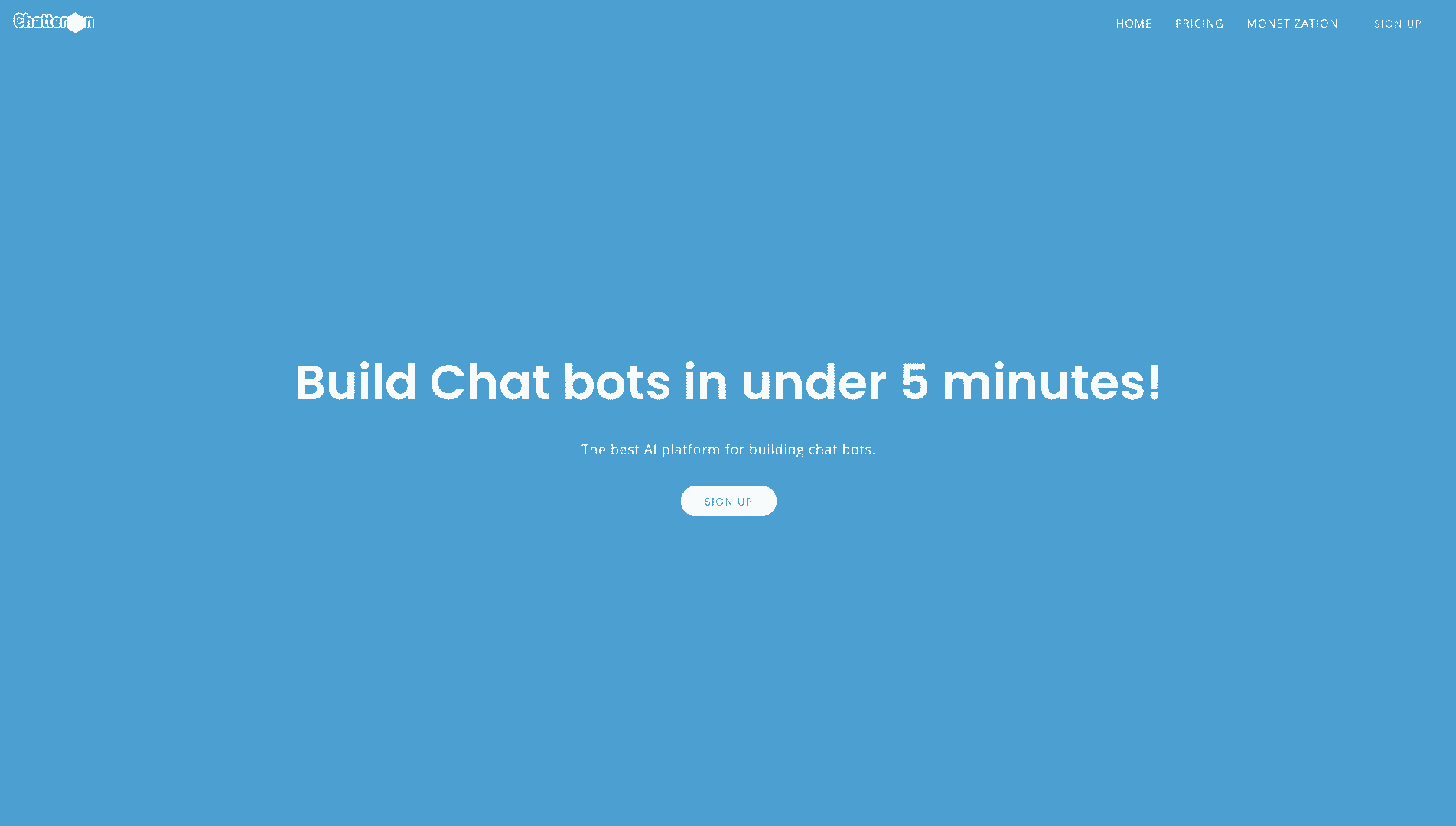 Chatteron is a chatbot development platform promising users that they can build chatbots in less than 5 minutes.
It achieves this by only focusing on Facebook Messenger chatbots that require no coding. Instead, the platform offers users pre-built chatbots to get people started. The platform also uses machine learning to improve as it interacts with users, as well as many interactions with its APIs.
For users who don't want to develop chatbots themselves, Chatteron also offers chatbot building services that are built in-house according to the users' specifications.
Pricing:
Chatteron offers a free tier that includes all features and unlimited chatbots for 15,000 messages per month. For users with bigger needs, Chatteron allows them to pay $0.0010 per message for unlimited messages.
21. ChatSonic AI Bot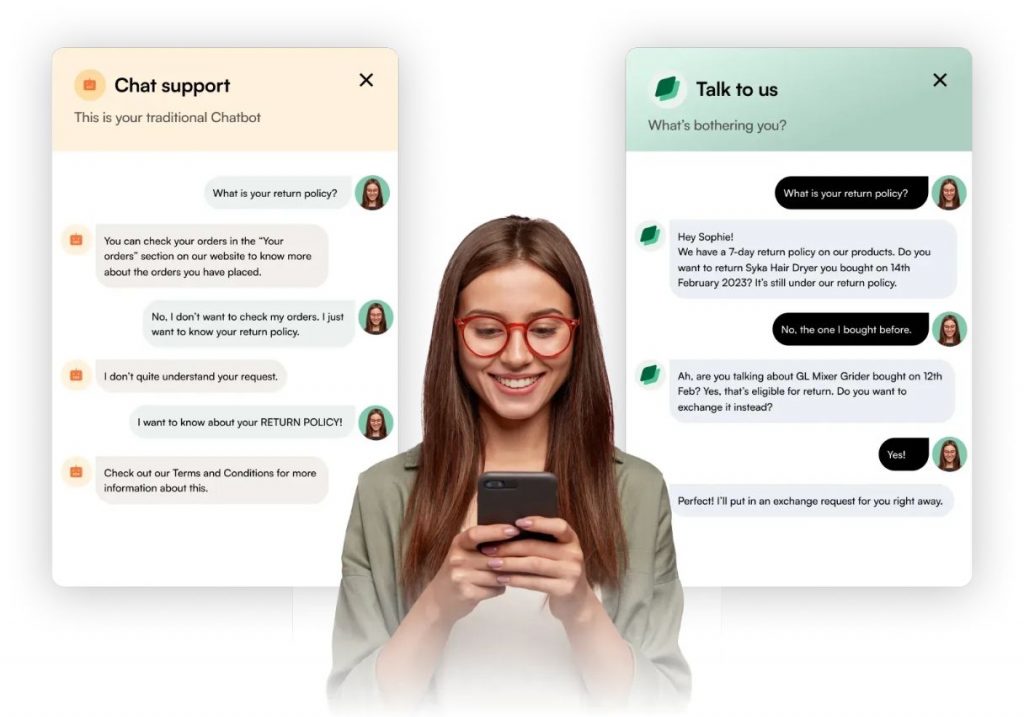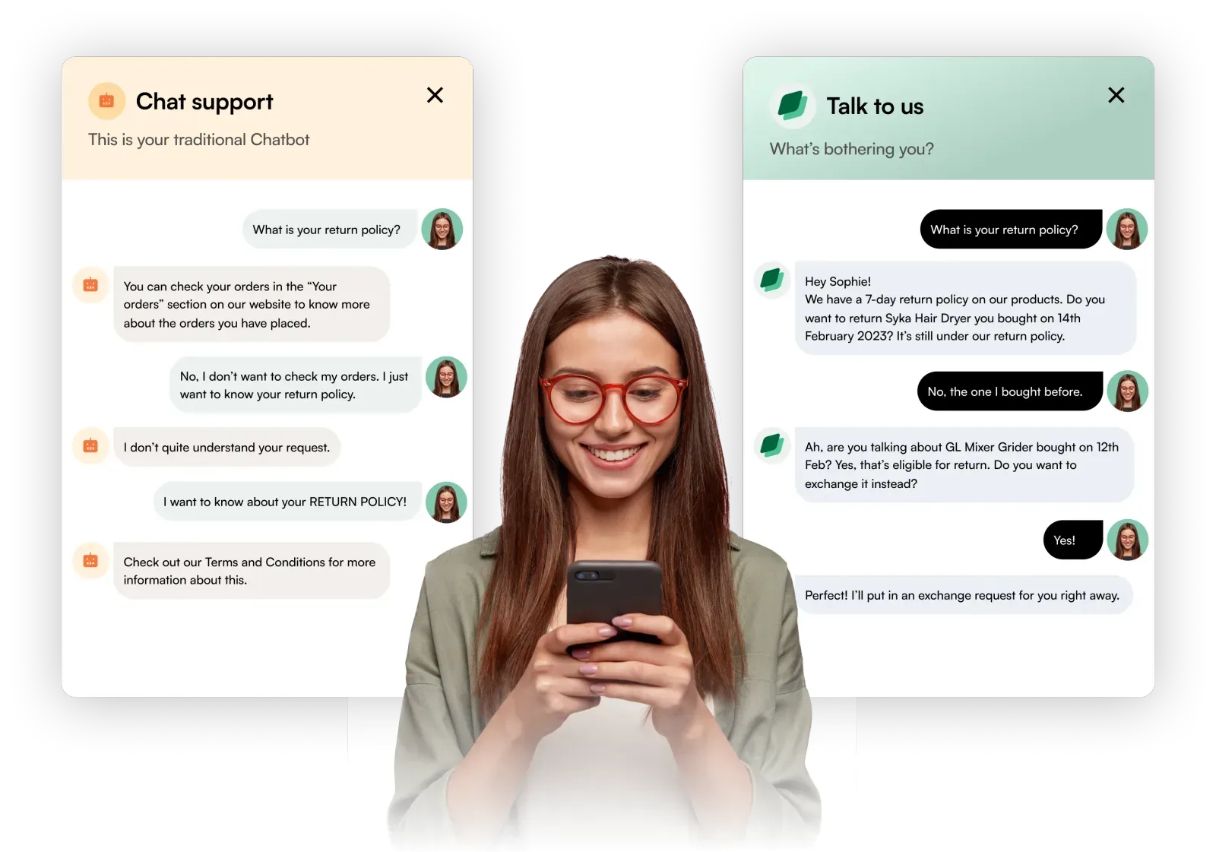 The ChatSonic AI Bot not only converts your knowledge base into AI-driven conversations but also communicates like a real person. Incorporate this GPT-4 powered, no-code AI chatbot to manage customer interactions, address concerns, and gather feedback round-the-clock. Simply input your product or service information, including vital knowledge management documents or PDFs, and you're good to go.
With its sophisticated NLP abilities and GPT-4 capabilities, the ChatSonic AI Bot can tackle even the most complex inquiries. No longer will you have to stress about customers' questions spiralling into endless loops! Rather than being constrained by a narrow range of inquiries, supply Botsonic with your knowledge base, equipping it with all the necessary responses for your customers. Enhance your users' experience by taking advantage of voice commands, automatic speech recognition, advanced conversation management, and natural language comprehension.
Pricing:
Chatsonic Ai Bot has custom pricing. 
Chatbot Apps – FAQ
Here are the answers to commonly asked questions about chatbots:
Do I need a chatbot for my website?
It depends. Although you can hire many reps to take care of customers, it's more cost-effective to develop chatbots that can work 24/7, 365 days a year for you. With a chatbot, users can easily and instantaneously get answers to their questions, while redirecting users who need live support to live agents.
In short: you need chatbots if you want to handle more users while cutting down on costs.
What is a chatbot app?
A chatbot is a computer program designed to mimic a human conversation. Although they're mostly used in text form, some chatbots include spoken conversations.
Chatbots are built to interpret a user query and associate that query to a preset answer and are mainly used as customer support or sales aid.
Should I use a chatbot app or build it from scratch?
It depends on your needs, budget, and skills. Although building chatbots from scratch can be more cost-effective and personalized, you'll likely need a team of dedicated programmers working for a few months before deploying the chatbot. You'll need to test it, check the code, and rely on programmers to regularly fix it, improve it, and maintain it.
With a chatbot app like Messagely, you don't need any coding skills. You can set up your first chatbot within minutes and immediately deploy it. With Messagely, you won't need to spend a large amount of time and money developing the chatbot before you can use it.
What do I look for when choosing a chatbot builder platform?
The best chatbot platform is the one that adapts to your needs. You'll need to find a chatbot builder platform that's easy to use with the skills you already have. It should be capable of producing chatbots for the channels your customers engage you through.
Finally, it should adapt to your budget, offering easy scale-up options to keep growing and improving your chatbot along with your business needs.
Conclusion
Finding the right chatbot platform to start developing bots doesn't have to be hard. All you need is an affordable, simple, and powerful chatbot platform that allows you to easily create chatbots and deploy them as quickly as possible.
If you're looking for a chatbot platform that can be used for meetings, sales, and customer service, take a look at what Messagely can do for you.